Within a stretch of shophouses in Singapore sits a gallery that belongs to a local contemporary art and design collective: PHUNK. The group comprises four friends, Alvin Tan, Jackson Tan, Melvin Chee, and William Chan, who met during their studies at LASALLE College of the Arts. In 1994 PhunkStudio came into being. Sharing one Macintosh in a rented space in Chinatown, the beginnings were rudimentary to say the least. Without anything other than a dream, they drew on each other's friendship and creative talents to reach for the skies.
Emerging from a creative climate that could best be described as a cultural desert, like their hometown of Singapore, this group have grown, evolved and diversified to seek out new opportunities and create new histories. PHUNK represent a new generation of free-thinkers who are forging new professional pathways. Embracing collaboration, and the, 'creative meeting of the minds', their joint efforts have resulted in the establishment of a studio and gallery that works with a range of artists and brands to produce innovative projects.
Each member maintains a different day job while working simultaneously for the collective that informs their approach to PHUNK. Alvin has his own sunglasses line called Mystic Vintage; Jackson works on branding and curatorial projects for various companies; Melvin produces commissioned paintings; and William runs a motion graphics and film production company. While offering a tour of their studio and gallery, they provide some insights into daily life in Singapore and discuss how their ultimate project is always their next collaboration.
Find the second part this portrait on the Singapore based online media platform Haystakt who present a special selection of our pictures here.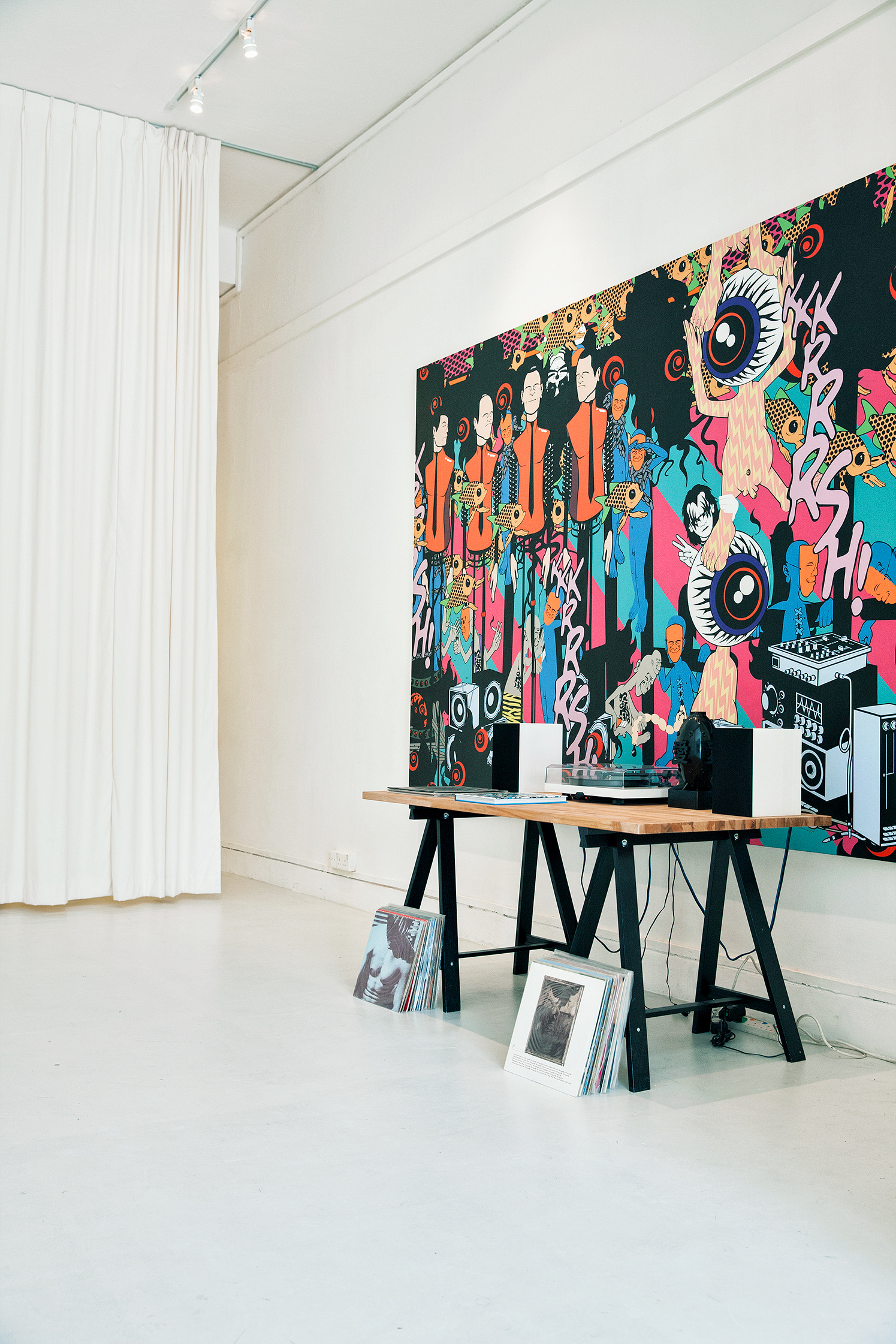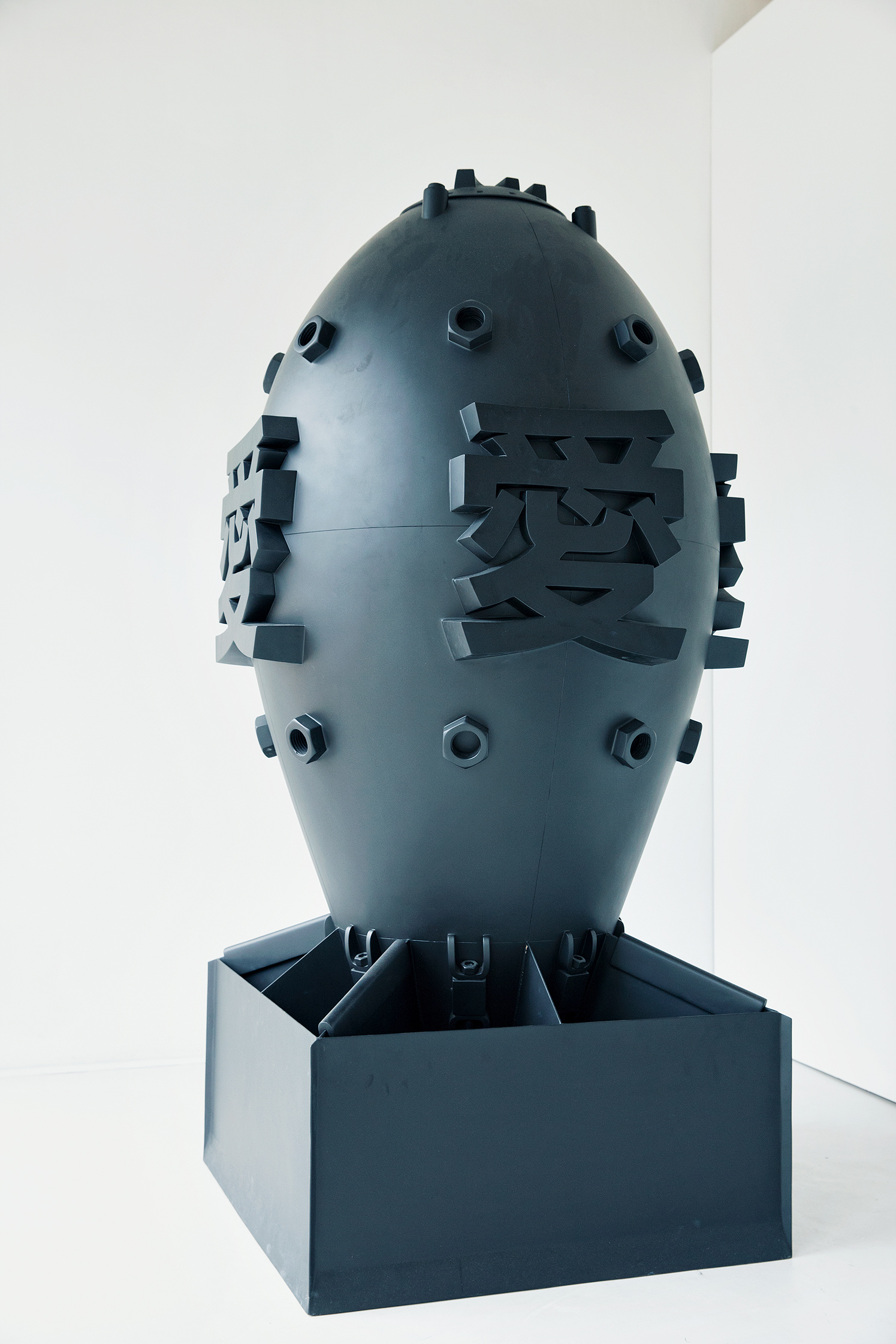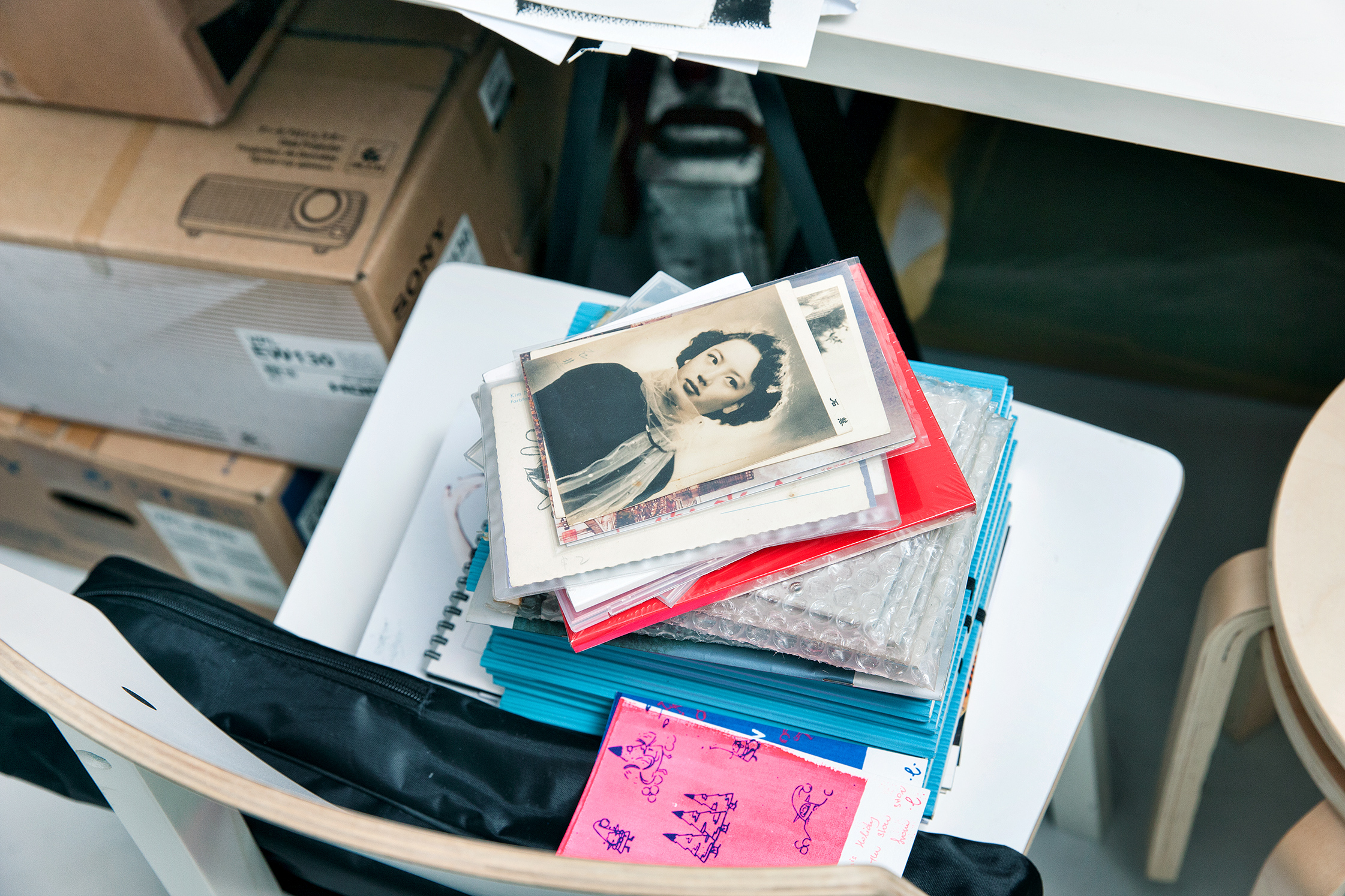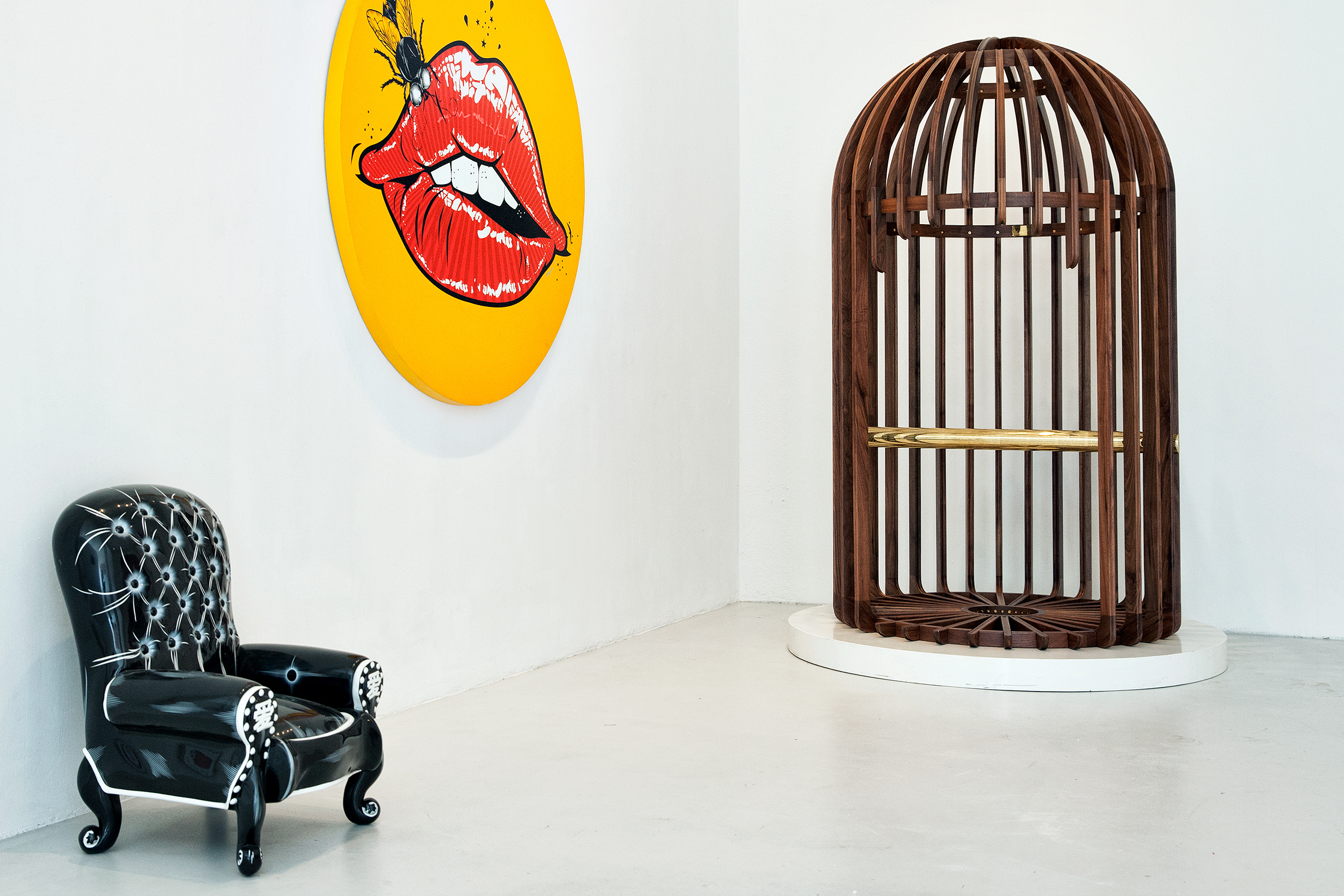 How did PHUNK begin?
When PHUNK first started, we had nothing other than our collective dreams of making great works, pushing creative boundaries and having fun. We shared a Macintosh on a table with four chairs in a rented space in Chinatown to create experimental visuals with digital design softwares. We were carrying a lot of things with us, collected over the years.
Towards the end of 2011, we encountered a disaster when a warehouse fire destroyed all the content of our entire studio. That incident destroyed 17 years of our work. As a result, the fire forced us to us reflect on the original spirit of PHUNK and push towards a new direction. It awakened an awareness within ourselves, allowing us to refocus on what we really wanted to do, which is to make great art, inspire, dream, collaborate, share and have fun.
When all our work was destroyed by the fire, we were left with nothing but a new empty studio space. We decided to use the new studio as a space to make great art, inspire, dream, collaborate, share and have fun. It was designed to be modular and without permanent furnitures. Like a blank canvas. When we are not making art in the space, we can use it to collaborate and share with workshops and exhibitions.
So the fire gave you a new creative perspective?
Yes. It came suddenly. There was no chance to retrieve anything. In a way for us, it was a clean slate – we didn't have the baggage of the past. So, it was very much about looking forward. Looking forward involved looking at what PHUNK really is; looking inside to see what we really feel like doing, which is to collaborate with other and sharing the journey.
Can you describe some of your favorite projects or commissions you have worked on and describe how you work together?
We started in 1994, and before that we were fellow graphic design students at LASALLE College of the Arts. We either went to school or skipped school together (laughs). We hung out in arcades playing pinball machines and billiards, things that teenagers did then.
We loved music and comic books, so we went to a lot of record shops and comic book stores; we were geeks, basically. We wanted to start a band – that was the original intention of PHUNK – so we went to the studio to jam, but realized that our music sucked (laughs). We designed better covers for our albums than making music. So what we did was take that rock and roll ethos and DIY spirit, and transfer it to PHUNK. PHUNK still functions very much like a band. We don't work like a design studio. The way we work and the way we create is similar to how members of a band work together.
Some of our favorite projects have been a range of multi-media artworks and series' such as Empire of Dreams, Electricity (Neon), Universality and collaboration projects with Japanese pop artist, Keiichi Tanaami.
And you have also been included in a range of exhibitions?
We have exhibited and lectured extensively around the world. We launched the solo artist exhibition, 'Universality' at the Museum of Contemporary Art, Taipei in 2007 and represented Singapore at the Gwangju Design Biennale 2005, and the London Design Festival 2006. The Singapore History Museum also hosted our ten year retrospective exhibition 'A Decade of Decadence' in 2005 which we were very proud of.
EMPIRE OF DREAMS was PHUNK's celebration of dreaming. Would you like to tell us more about the project?
EMPIRE OF DREAMS was inspired by epic stories of dreamers. We see things differently and are not fond of rules. Dreamers push the boundaries and move us forward. They change the world, building it around the grandest and wildest of dreams. All dreams are built on the foundation and ethos of Love, Faith and Hope. It is based on the idea of the celebration of dreamers and their dreams. When we first started, the four of us had nothing but a dream. We wanted to make the most out of our friendship and make the most out of our talents, and try to reach for the skies.
EMPIRE OF DREAMS was a call to action for us after the fire broke out in the warehouse where we kept most of our works. As mentioned, it was a call to action to ourselves to remember the core value of PHUNK, which is to chase our dreams and to share those dreams with other people. We want people to allow their dreams to be bigger than their fears, and their faith to be stronger than their feelings.
Since we're on the subject of dreams, what is PHUNK's ultimate dream project?
Our ultimate dream project is always the next project. Yeah. We're always constantly chasing the next dream. The dream project is always about the four of us doing things together that we're happy doing and then surrounding ourselves with the people that we like to work with. Collaboration is a big part of our work.
Is it a challenge working on the same project together?
I think the challenge is always to keep it fresh for ourselves. We are the kind of guys who have very short attention spans and that is one of the reasons why we have to keep it fresh for ourselves all the time. That is why we challenge different mediums and different boundaries, ultimately exploring different ways of working. We like to keep it fresh so that there's always something new while continuing to challenge ourselves and avoid getting bored. If we get bored then the work just don't come out.
Do you have a stable of artists that you represent at the gallery?
Not at this moment, but we showcase our TRANSMISSION apprentices' show there every year as well as artists and collaborators who we admire and like.
Since the day you guys started PHUNK, how has the creative scene evolved in Singapore?
Well, when we first started in 1994 – when we graduated from LASALLE – Singapore was known as a cultural desert. At that time, there was no art as such. Everything was heavily censored. Even getting a style magazine from the UK was very tough. Information was scarce. At the time, there were not many designers or artists in Singapore. But I think it has changed in the last 20 years, but especially in the last 10 years.
There's a new generation of creative people who have emerged in Singapore. There's a new mindset. Singapore is no longer a cultural desert. Today we view Singapore as a city that is exploding with new ideas, talents and creativity. Singapore is now definitely much more open. Of course the Internet helped a lot, because the world became smaller for Singapore. Singapore also became smaller for Singapore. Singaporeans became more affluent. Citizens now travel more and are more educated. I think Singaporeans now challenge the status quo a little more now also. We would like to say that we bend the rules nowadays.
What do you think is lacking in Singapore's creative scene?
I would see it as a double-edged sword: there are pros and cons. The fact that we are a very young culture and very young city, means that we don't have much history and tradition to look back on and draw upon. We don't have a great cultural history. But at the same time, it's also very exciting because that means that whatever you're doing, you're creating from a blank canvas. In essence you're creating history in some way.
What are you guys working on at the moment?
We have recently completed a collaboration project with Tai Ping, one of the biggest luxury carpet makers in the world. We launched a series of carpets in Las Vegas. We were excited about it because we got to see our artworks on the floors in situ. It was very exciting for us.
Where will be the next exhibition be held?
It's just opened in Las Vegas in one of the trade shows. The exhibition will come to Singapore soon. We're now planning for a launch party in Singapore later in the year.
What is PHUNK's favorite city?
Electricity! We have visited many cities that include New York, Berlin, London, Tokyo, Hong Kong and Beijing. These trips have inspired us to create an imaginary metropolis called "Electricity". It is a global cityscape of the world that celebrates rich diversity and does not have distinctions between the East and the West. Love is the common language. Young and fresh creativity powers the city.
What are PHUNK's main sources of inspiration?
PHUNK's sources of inspiration derive from the collaboration between its members. We learn from each other and we rub off on each other. At the same time, it comes from our collaboration with various artists or brands. It is interesting to learn from them and to have that creative synergy. In a way it's a creative meeting of minds. Even though we are from different diverse cultures and mediums, it is the meeting of minds that is interesting.
A good example is our collaboration with the Japanese pop artist, Keiichi Tanami. He was over 70 years old and twice our age. There were language and age barriers but they disappeared once we started working. It was great working with him, it was like a band jamming with a legendary guitarist!
Do you see yourselves as designers or artists?
The official definition of PHUNK is an art and design collective. But this definition is constantly changing, because we reinvent ourselves along the way. We are between both, our art making is informed by our design process and vice versa.
How would you describe PHUNK's overall aesthetic?
It is the visualisation of our inner world, in a state of "Control Chaos", which is also the title of one of our signature artworks. This work was described by a renowned art writer as "a densely populated world animated by hybrid characters that fuse cartoon with horror flick – a kind of punk'd Hieronymus Bosch".
Where does the PHUNK crew recommend grabbing a bite to eat?
Some of the hawker centres in Singapore such as Maxwell Market, Old Airport Road and Beach Road Army Market. They has really good local street food such as Bah Chor Mee (Minced Meat Noodles), Hainanese Chicken Rice and Hokkien Fried Prawn Noodles.
Any last words or quote before we wrap up?
For us, the quote to live by at the moment is Aerosmith's Dream On: 'Dream until your dreams come true.' 'The future is now.'
Many thanks to PHUNK for this interview and offering a window into daily life in Singapore. To find out more about the groups projects and work see their website here.
See more about PHUNK Studio at FormFiftyFive here.
Photography: Yang Tan
Interview & Text: Dewi Juliana