Not only does Morgan Maassen have a hard time staying still, he wouldn't want it any other way. For ten months out of the year, the photographer is on the road, exploring beaches, inlets and the open water.
He heads to all corners of the world seeking haunts of the best surfers, whom he captures in action. Morgan considers his greatest achievement to be the pages of his passport, filled with stamps from exotic locales: Cuba, Greenland, Panama, Australia and the British Virgin Islands. Home is Santa Barbara, California, where Morgan grew up and now owns a house. At night, he's kept awake planning his next departure and adding to his list of places to visit, but while he's away, his dog is all he can think about. These days, he's learned to live with whatever he can carry in his pockets or in his ever-ready suitcase.
In a special FvF photo essay feature, we take you behind the scenes with Morgan, paired with a selection of our favorite images from his body of work.
"Sometimes I like to take a whole day to wait for the right photograph, and other times, my best work happens in 15 minutes of high stress."
Morgan is a surfer himself, but his love of the sport has found another outlet. Using his camera, he confronts the unique challenge of translating dynamic movements into expressive portraits, unpredictable action shots and atmospheric images that would be equally at home as high-end editorial work as they are on the pages of a surf blog.
The nuances of the sport and its lifestyle don't always make their way into mainstream media, partly thanks to the mass market surf films and one-dimensional stereotypes that have permeated pop culture since the rise of North American surf culture in the early 20th century. But the real magic of life in and on the water isn't lost in Morgan's work. His photos avoid sensationalism, instead focusing on intimate details and the sensations of being closely connected with nature.
The intelligence and thoughtfulness of his style is aligned with the way he speaks about surfing and photography: passionate, fearless and full of anticipation.
"In my teens, I worked as hard as possible to save up and buy my own camera and computer. I made a website and blog for free, and uploaded my photos every day, until someone noticed me."
"I always aim to bring two things to the table: respect and preparation."
… On Cultural Experiences and Close Encounters
"Recently, I went to Barbados for a fashion shoot. It was a run-of-the-mill shoot, with girls, white sand beaches, palm trees etc., but I absolutely fell in love with the land and culture. We were fortunate enough to be there during their yearly "Cropover" festival, which celebrates the finish of their yearly harvest, and the whole island was partying in the most extravagant, beautiful costumes I've ever seen. The whole island was exuberant with music, food, and energy.
"I had a near-drowning experience in Australia when a freak wave drilled me into the reef."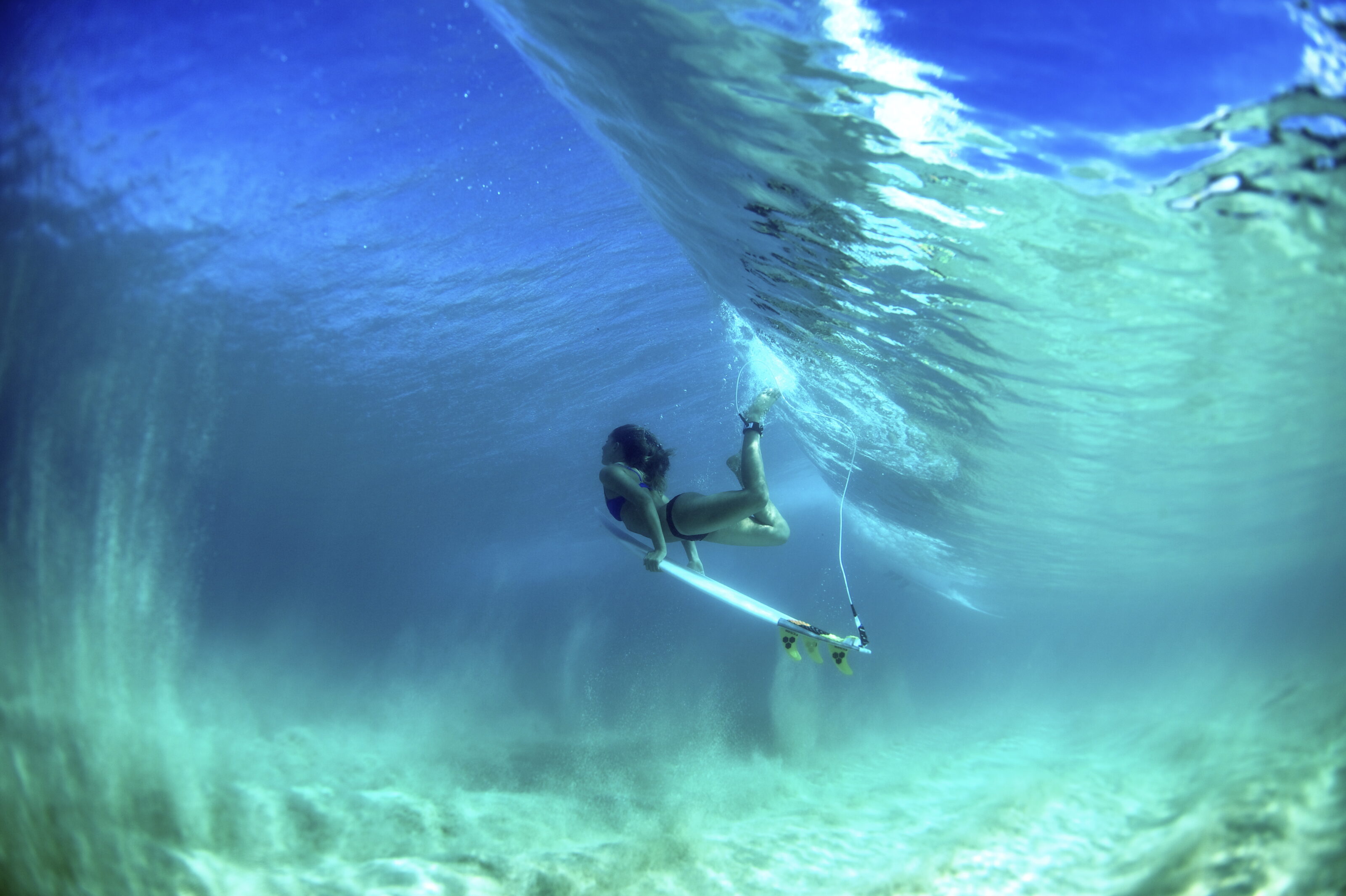 I've had some scary instances, mostly where I was reckless or ignorant to my surroundings. I had a near-drowning experience in Australia when a freak wave drilled me into the reef – it was so strong, my camera lens exploded from hitting the sea floor. And once in the Bahamas, I was going from the beach to the boat when I was circled by a Bull Shark."
… On Breaking into Surf Photography
"While a lot of photographers lament that the internet and digital cameras have killed photography, I argue the opposite – that it has democratized photography. Look at me, I was a high-school drop-out who saved up and bought a camera and a computer. I made a website and blog for free and uploaded my photos every day until someone noticed me. I see this happening to countless other motivated individuals around the world, and I think it's fantastic. Before, it cost thousands of dollars and required expensive schooling or apprenticeships to learn the trade and get your foot in the door."
… On Adapting and Progressing
"As a surf photographer, I've been very fortunate to establish my body of work shooting what I love and know best: the ocean. But moving forward, I've used this medium to connect the dots into shooting the people, places, and lifestyle that comes with traveling for surf. Building off of this, I've been able to grow my photography into the fashion and commercial world and work for clients and take opportunities beyond what the surf industry could offer.
Looking forward, I hope to continue to pursue filmmaking, as that to me is the end-all: telling a story through motion. It was my dream as a kid to make films, and now I am doing everything in my power to make it happen."
"Surfing is such a soulful, beautiful expression of movement."