Growing up in the picturesque desert of the Midwest, Mike Maggiore has always envied the New Yorkers for their broad range of film, theatres, and movies. Fascinated by the huge movie advertisements of the Sunday Times, it was pretty clear to him that one day he would end up in New York, somehow being involved in film or at least being in close proximity and visiting the theatre whenever he wanted. Mike not only managed to reach his goal, but also succeeded in combining his two dreams together in the most canny and fulfilling manner. Nowadays, Mike Maggiore shapes the cinema landscape of New York by taking care of the new films at Film Forum together with Karen Cooper, while Bruce Goldstein selects all of the revivals and movies from the archive.
Maggiore travels throughout most of the year, from small film festivals in Siberia to the big screenings of Cannes, always looking for upcoming talents, forgotten treasures worthy of reappearing on the big screen, or genuine, hidden masterpieces that never had exposure to a large audience. We met Mike where he feels at home the most: in the screening rooms of Film Forum. Between 70mm film reels, film posters and accompanied by the familiar sound of the projectors, we talked to Mike about his consuming passion of film and why it is impossible to have only one favourite film.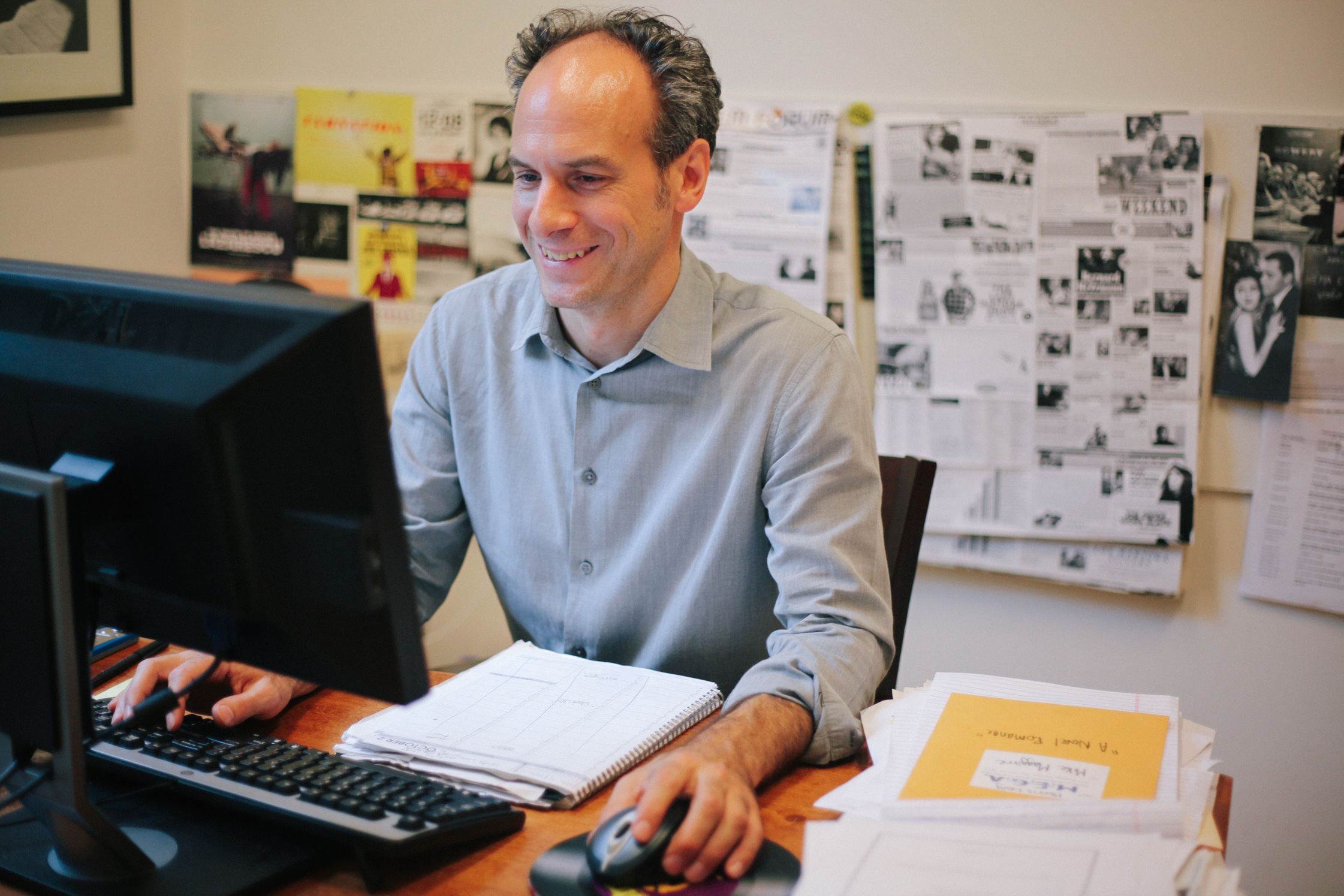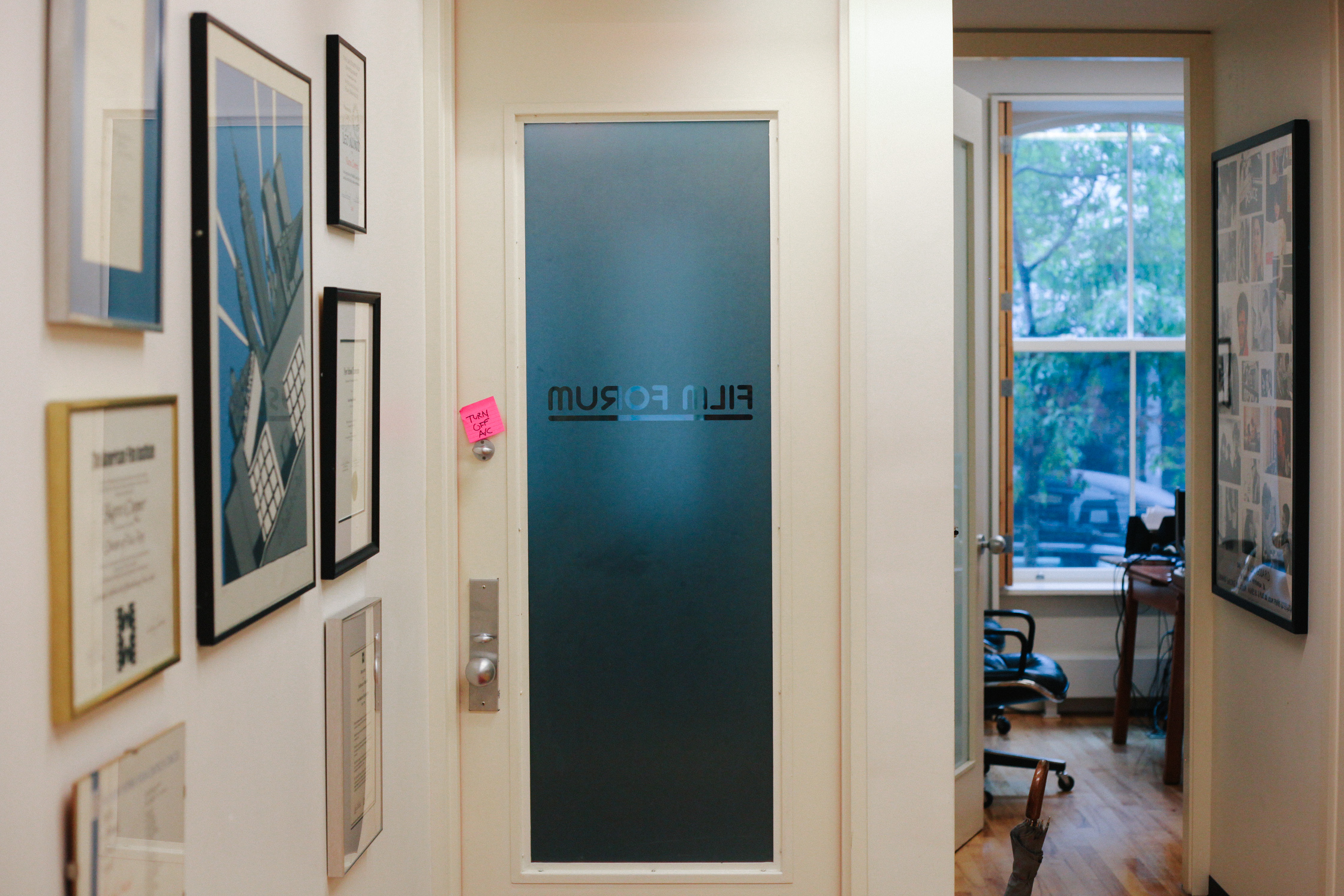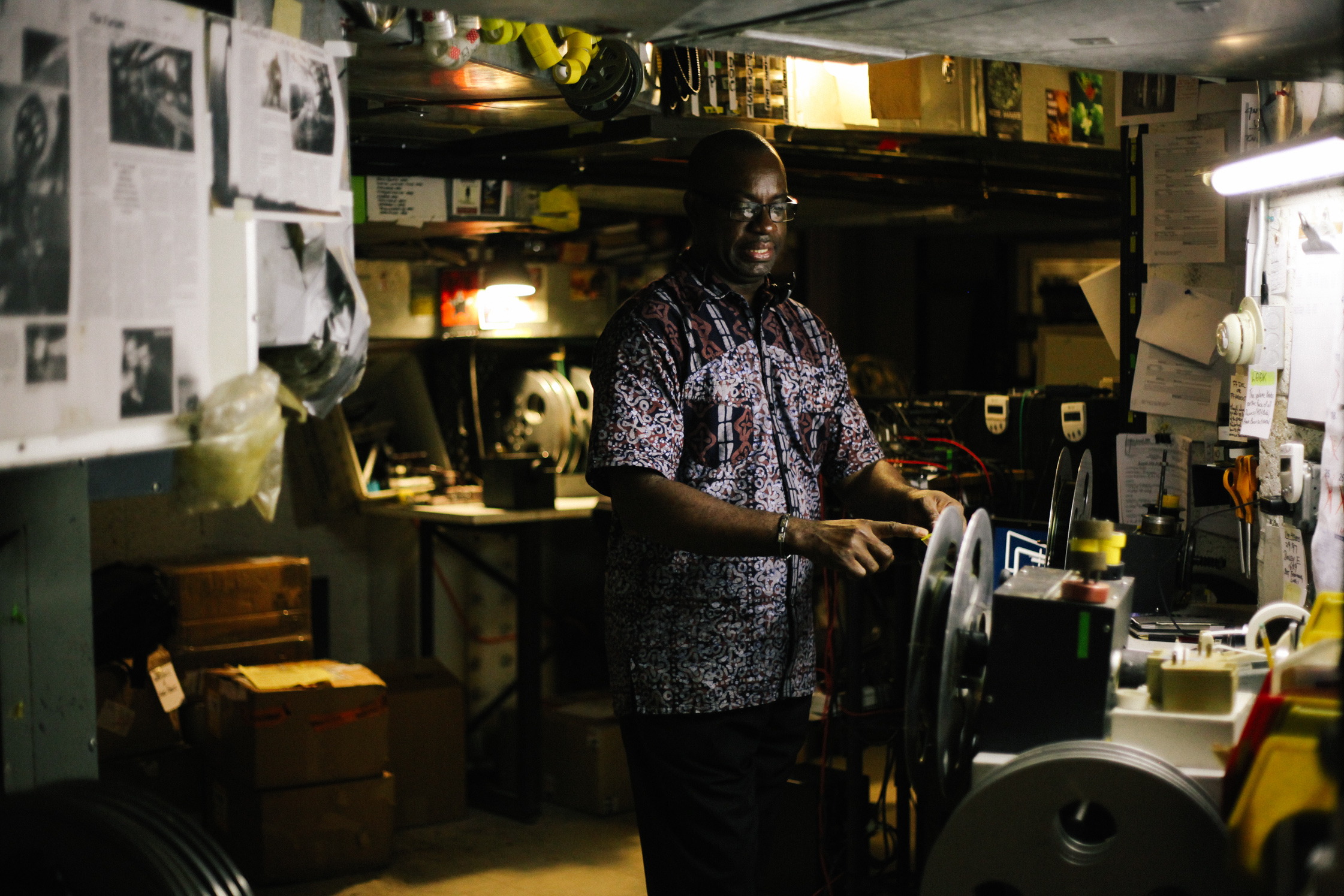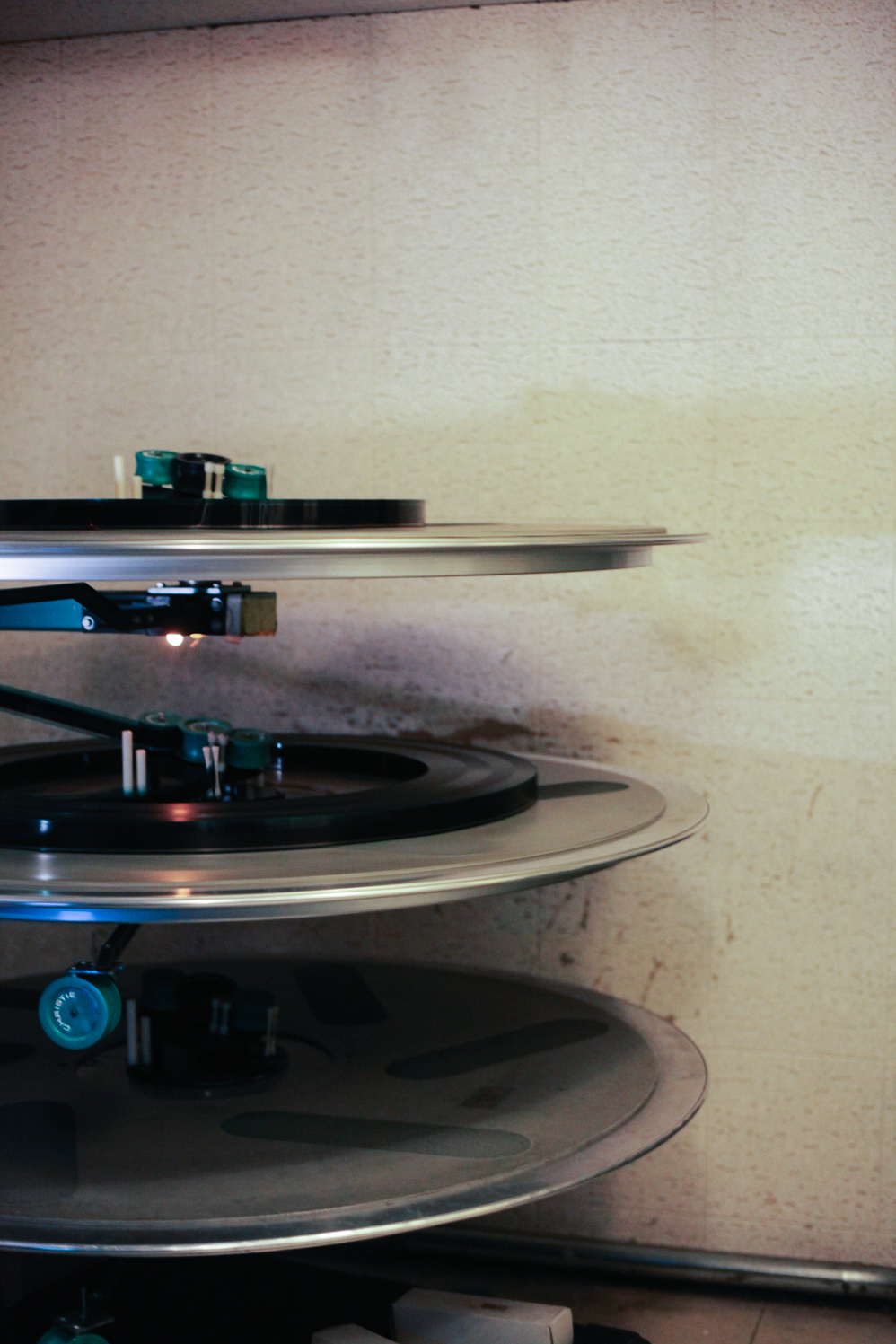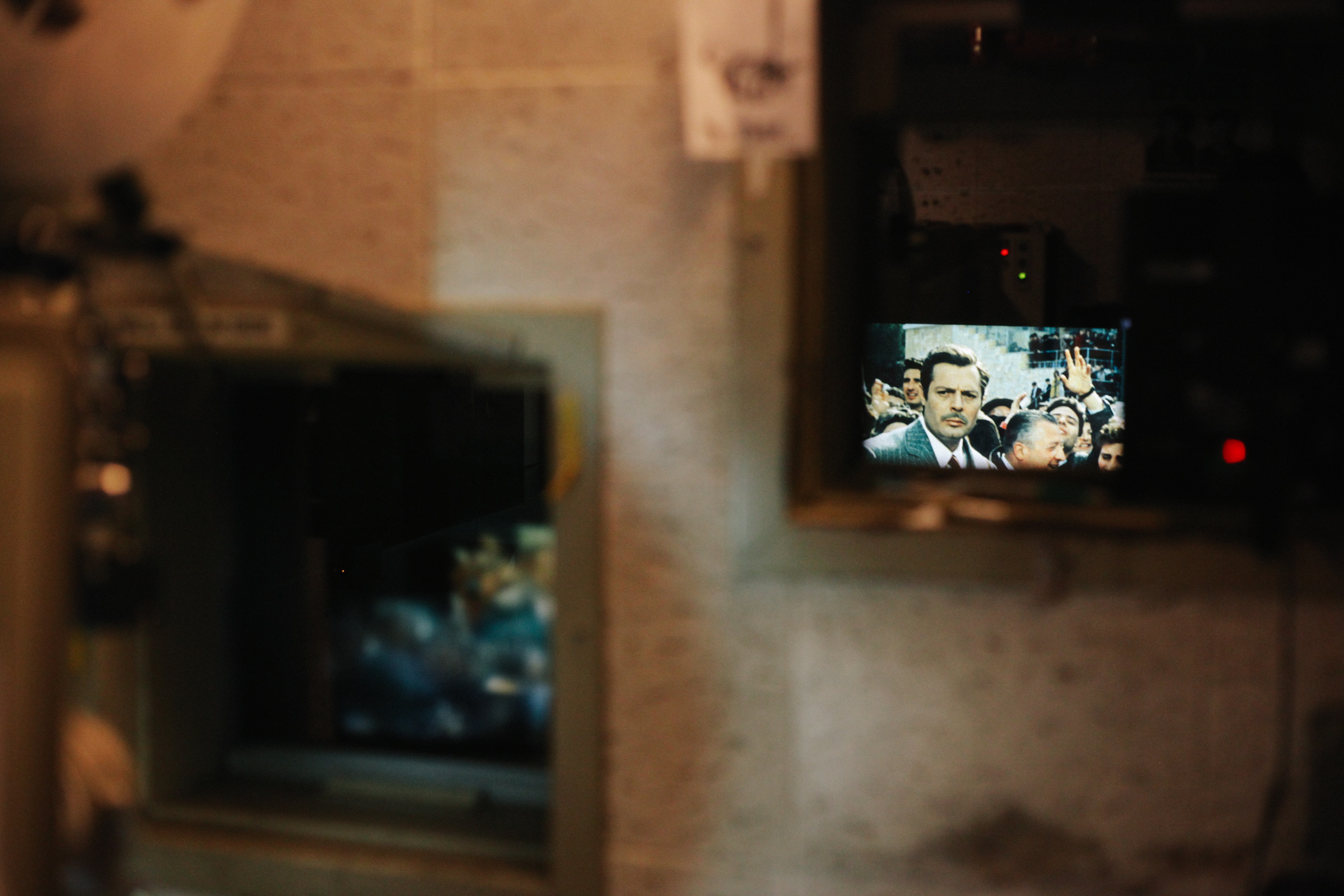 How long have you lived in NY?
I've lived in NYC since 1993.
 
When did you develop this interest for cinema?
As long as I can remember I've been obsessed with movies- my Mother can supply the nascent details. I used to haunt the Oriental Theatre in Milwaukee, my hometown, when I was growing up and they were showing double features of classic and second-run movies regularly. I saw my first R-rated film there ALIEN. The cinema had the benefit that they rarely carded youngsters for R-rated movies.
When I was at the University of Wisconsin, I joined a student-run film committee that ran several film series' on campus. I did this pretty intensely for 3 years at school and learned the ropes of selecting, booking, and promoting film programs. When I graduated, I moved to Minneapolis and worked as an assistant to Curator Bruce Jenkins of the Film/Video department of Walker Art Center for about 4 years. This work deepened my experience in the management of film programs with visiting actors, filmmakers, Q&As, and working with other institutions on touring film programs.
Can you tell us what Film Forum is really about and what you do there?
Film Forum is a 3-screen independent art house cinema in Downtown New York. We show U.S. theatrical premieres of international features, documentaries, and American independents. We also have an ambitious program of revivals and repertory films in new or restored prints, programmed by Bruce Goldstein. I program the premieres with Karen Cooper, the longtime Director of Film Forum, and I also help out with the publicity with our premieres publicist, Adam Walker.
Did you particularly come to NY with the idea that you'd work in this field? Why not LA for instance?
Absolutely. When I was 10 or 11, I started reading my parents' copy of the Sunday New York Times, where all the biggest movie advertisements ran. I still remember the 2-page ads for the restored Napoleon and Apocalypse Now and I was deeply jealous of New Yorkers who had so many different and early screening options. We had nothing like that in the Midwest, not even in Chicago where sometimes I would head to see a film that I feared wouldn't be coming to Milwaukee.
LA, Seattle, the Bay Area and Chicago all have great art house cinemas and cinematheques. But none of them can really compare to New York, in my opinion. In addition to Film Forum, there's MoMA, the Film Society of Lincoln Center, BAM Cinematek, Museum of the Moving Image, Light Industry, Anthology Film Archives, UnionDocs, Rooftop Films, plus too many theatrical art house cinemas and film festivals to count. Frankly, we're spoiled here. There's a competitive but collegial spirit that results in creative, dynamic programming with usually the best possible prints being shown.
 
Why do you think that institutions like the Film Forum, IFC and such are so important?
All of the above are important because we're keeping the experience of seeing films on a big screen, in the dark, with an audience alive. Often we're presenting films with filmmakers, critics or film subjects in person. I hope also that the work we do at Film Forum has an impact beyond New York City and can benefit audiences around the country; we often hear from distributors and other exhibitors that if a film does well with us, it will have a much better chance of getting a release in other cities.
 
How many film festivals do you attend each year? How many films will you generally see?
I attend Toronto, Cannes, and Sundance on an annual basis. I also usually add one or two different festivals to expose ourselves to different programmes or national cinemas. For example, this year I also attended Tokyo Filmex, Trinidad & Tobago, and the Transilvania Film Festivals. I try to see at least 5 films a day, sometimes more or less depending on whether or not I have meetings. If I'm attending a 9 or 10 day festival, I usually see about 35-40 films total.
 
To what extent does it feel like 'work' to watch a film?
The best films never feel like work for me. But masterworks are rare, unfortunately, as much as I hate to think of watching films as work, it's inevitable to feel this way especially when you're seeing so many in a short span of time. I find it impossible to complain about being at a film festival and watching films for "work," but I might find it easier to grumble a bit about the many DVDs we watch throughout the year in our spare time. We rarely find time to screen films during the work day. 
You were in Cannes again this year, can you tell us why you go there, and what happens when you return?
I go to Cannes because I think it's consistently the best-programmed festival I've attended. There's a lot of celebrity noise generated by this festival but this can be ignored if you solely focus on the films. Almost every year I find more films for Film Forum in Cannes than anywhere else; for example, in just the last few years: The White Ribbon, Le Quattro Volte, Tuesday After Christmas, Elena, A Screaming Man, Uncle Boonmee who can recall his past lives, Michael, Once Upon A Time In Anatolia, and others. 
This year I liked Michael Haneke's Amour which we've booked for December, Pablo Larrain's No, Hong Sang-soo's In another Country, Leos Carax's Holy Motors, Carlos Reygadas' Post Tenebras Lux and Joachim Lafosse's Our Children.
If I see something I like, I contact the distributor or sales agent, express our interest and ask to screen the film for Karen. In many cases, films do not yet have U.S. distribution, so we can't necessarily make a booking immediately. But there are instances when distributors will check in with us to gauge our interest in opening films they are considering for acquisition. In this respect, we're an indirect part of the acquisition process; opening a film with us is considered to be a low-risk and high-profile opening for art house films.
 
You have also been a jury member for a few festivals. Which part of this exercise interests you the most? How does it help with your work at the FF?
I usually serve on one jury or so per year, though I don't have time to do much more than that. In the best circumstances, it can deepen your understanding of a national cinema and introduce you to directors and producers you wouldn't meet otherwise; for instance, at the Santiago Film Festival I was on the Chilean film competition jury, where I was able to see only Chilean films. We've followed the films of Chilean directors Pablo Larrain, Sebastian Silva, and Andres Wood for several years now, but Santiago introduced me to a number of emerging talents I might not have seen at other festivals. In terms of the jury's work, it's useful to get a diversity of opinions about films and hopefully debate and argue over the prize-winners with your fellow jurors – usually gaining some different perspectives and insights.
 
Any interesting stories about filmmaker's presenting her/his film for the first time at FF?
Many years ago, Francois Ozon graciously came to the theater to do some interviews for one of his early films and he noticed that we were selling popcorn in the lobby. He saw a young woman sprinkling salt in her bag and then taking it into the theater and he pointed at her and said, "She is not taking it inside??" I told him that of course, this is something Americans are very accustomed to. It's part of the movie-going experience, etc. and he appeared mortified.
How many lists of top ten films of all time have you made? Any films still high up in the untouchable category?
I generally hate top 10 lists, since I find it extremely difficult to narrow my favorites of all time down to just 10. Recently I submitted one to a magazine, though, and it made me realize that there are a handful I would always include, such as Au Hasard Balthazar, Decalogue, Crumb and Trouble in Paradise. I was recently asked for my favorite "NYC films," and the top ones came to me immediately – Sweet Smell of Success, Speedy, In The Street, and The Taking Of Pelham 123.
 
Any recent films you have seen that you think we should see?
Shamelessly, I would recommend everything we have coming up at the theater, but in addition to the ones I mentioned from Cannes,Compliance, Beasts Of The Southern Wild, Room 237, Tabu, and a lovely South Korean documentary called Planet Of Snail – about the relationship between a deaf woman and a blind man, who communicate to each other through delicately touching each other's hands. It's one of the most moving yet non-schmaltzy love stories I've ever seen depicted on film. To my knowledge, all of these films will open in the U.S. before the end of the year.
Do you bring your own films/DVDs to watch on the plane?
I'm writing this survey on my plane trip back from Cluj, Romania, where I attended the Transilvania Film Festival, and I was just watching a film handed to me by a filmmaker there. But yes, I also bring my own DVDs to watch on the plane for as long as the two laptop batteries (I always bring a spare) hold out. I also try to bring at least one or two films for myself; this was a long trip so I took The Friends of Eddie Coyle, which is a great, underrated crime film from the 1970s by Peter Yates starring Robert Mitchum and Peter Boyle, and Shotgun Stories, Jeff Nichols' debut feature which I missed when it was released in 2007.
Thank you Mike for the interview and sharing your fantastic enthusiasm and knowledge of all things film with us. Anyone wishing to see Film Forum's program and find out more about its mission and history should visit the cinema's official site.
This portrait is part of our new format "FvF Workplaces". To get an insight into our concept development for this new section on Freunde von Freunden read our Journalpost about FvF Workplaces.
Photography & Interview: Fette Sans