One associates Mario Lombardo with outstanding design and a Renaissance of sorts in regard to tactile editorial and print design. Behind this melodic name is a man who has shaped the German national as well as international graphic design industry for many years with his distinctive style and approach – even though this career path was originally a mere plan b. He considers himself a translator. With a team of 17 people, Mario continuously searches for new situations in order to meet people and clients. Thereafter this information is interpreted into his very own individual language, which is immediately recognizable and memorable, and could not be more humble.
During our trip to his office, the Argentinian puts on one of the first LPs by The Strokes. Simultaneously, he tells us about his exciting encounter with the band during an early summer in Amsterdam and how he shared a steak with Julian Casablancas. This was only weeks before Mario would make waves within the German design world, essentially creating space for new thoughts by taking over the art direction of the pop culture magazine SPEX.
Shortly after he founded the Bureau Mario Lombardo in Cologne, which took him and his employees to the German capital in 2008. Within the same year his work was recognised with several awards, including 'Visual Leader of the Year'. With his talent in developing aesthetic combinations that intersect language, space, and material, today he is approached by clients for a diversity of projects. Mario also supervises KaDeWe's coffeehouse, Berlin Biennale, and art and fashion magazine Sleek. Additionally, he also designs LP-covers for Max Herre and Scott Matthew, and is counted as one of Mercedes Benz's most important clients. We meet Mario in his office, located in one of Kreuzberg's courtyards and talk about the beginnings of his career and his most significant influences.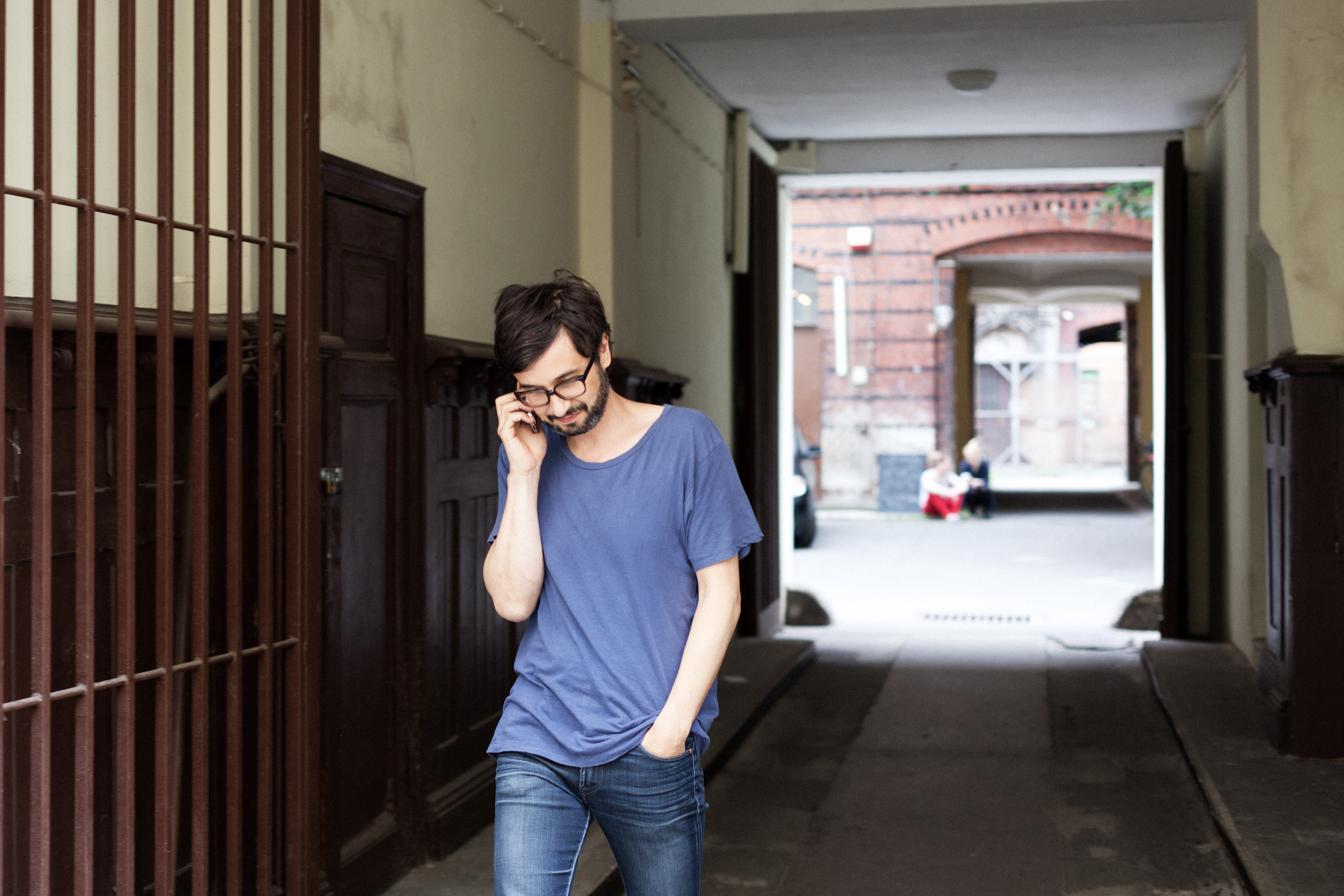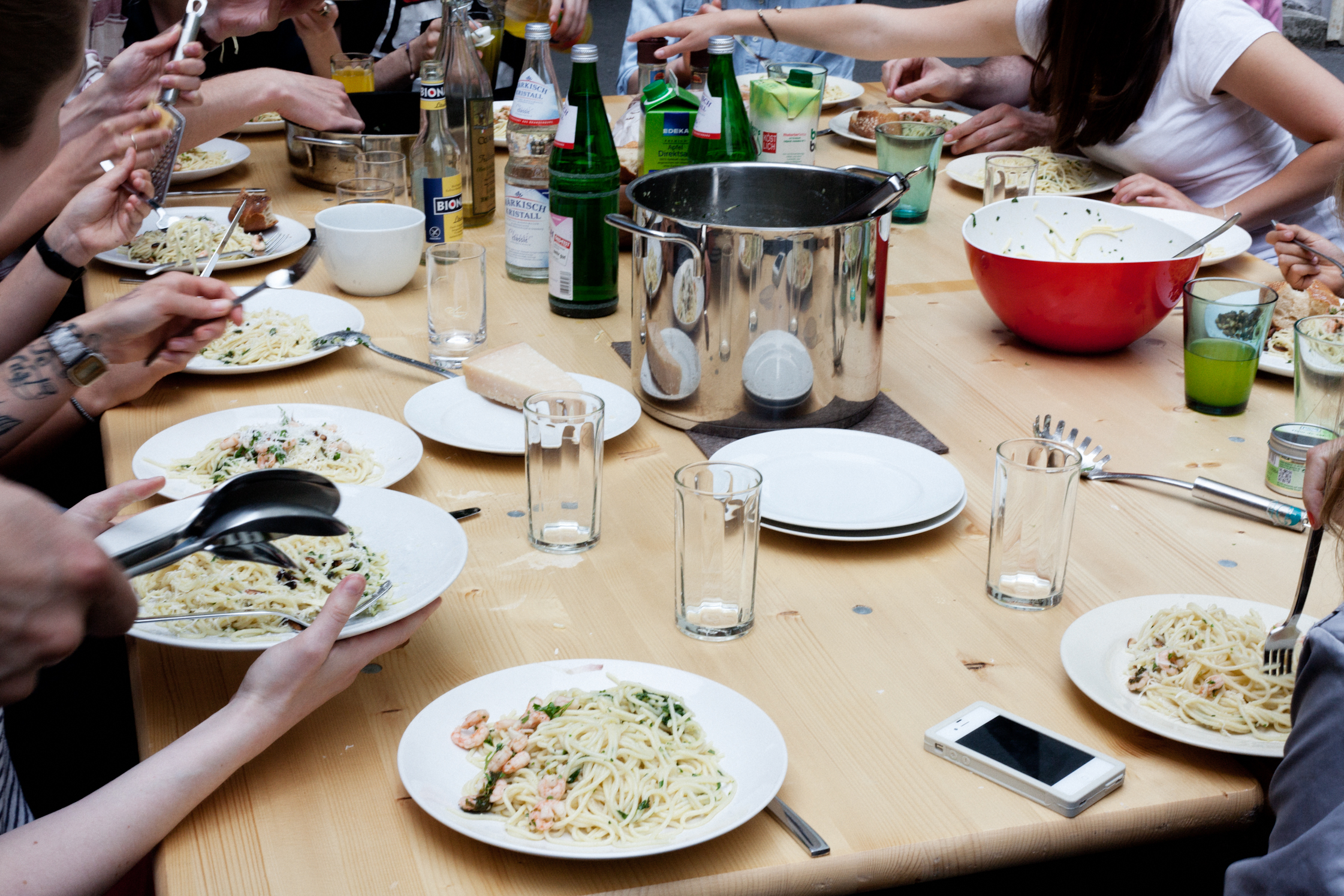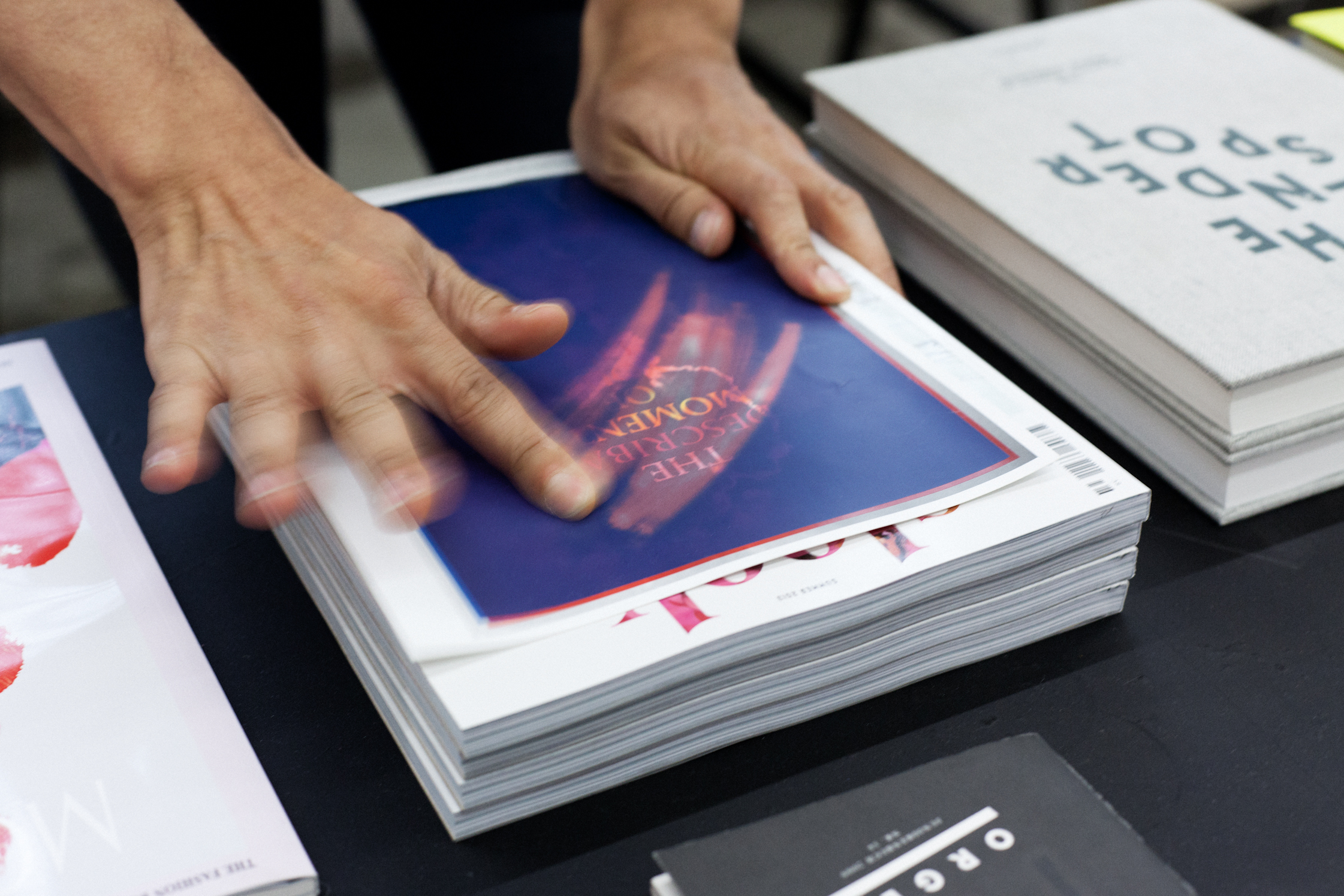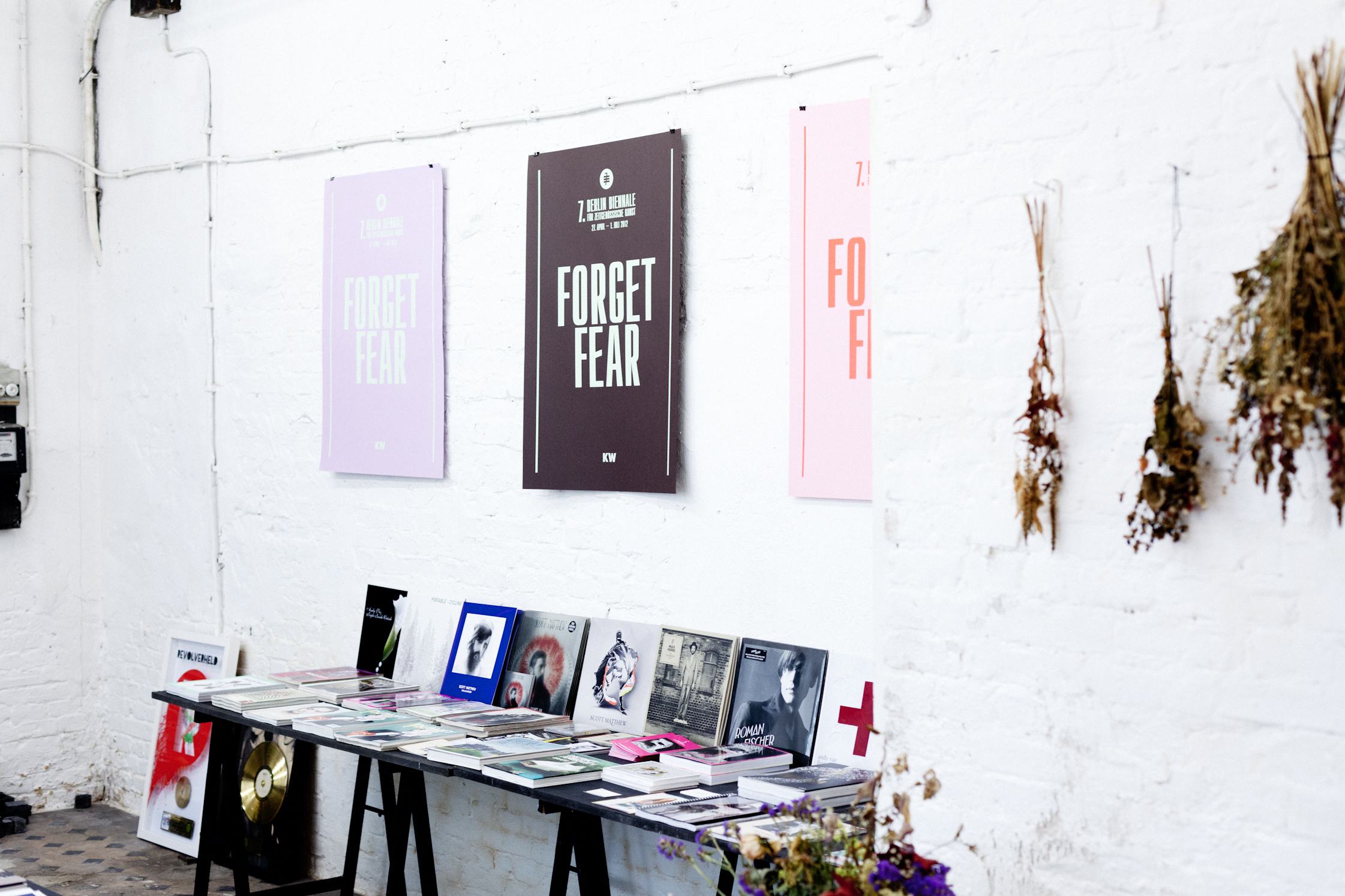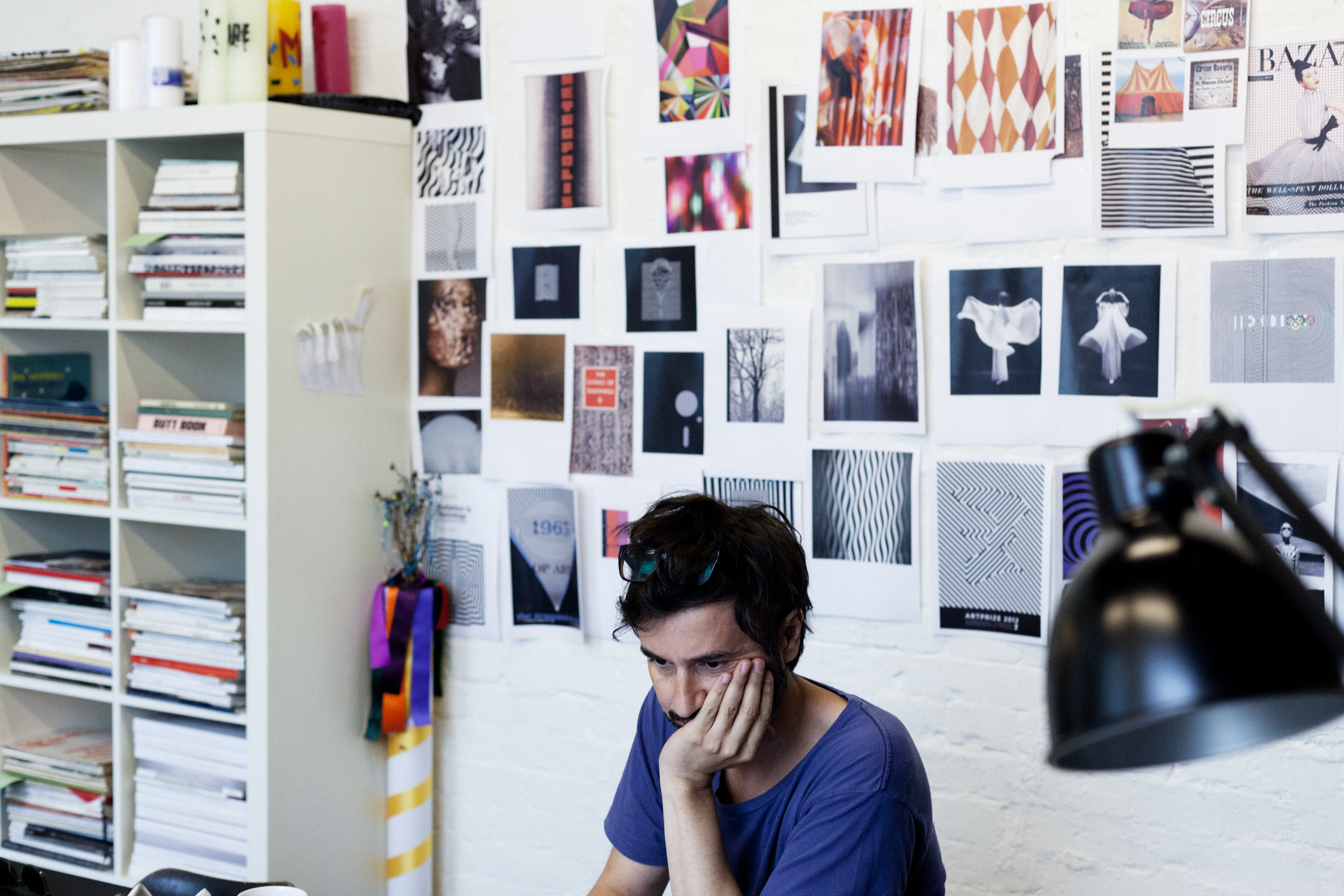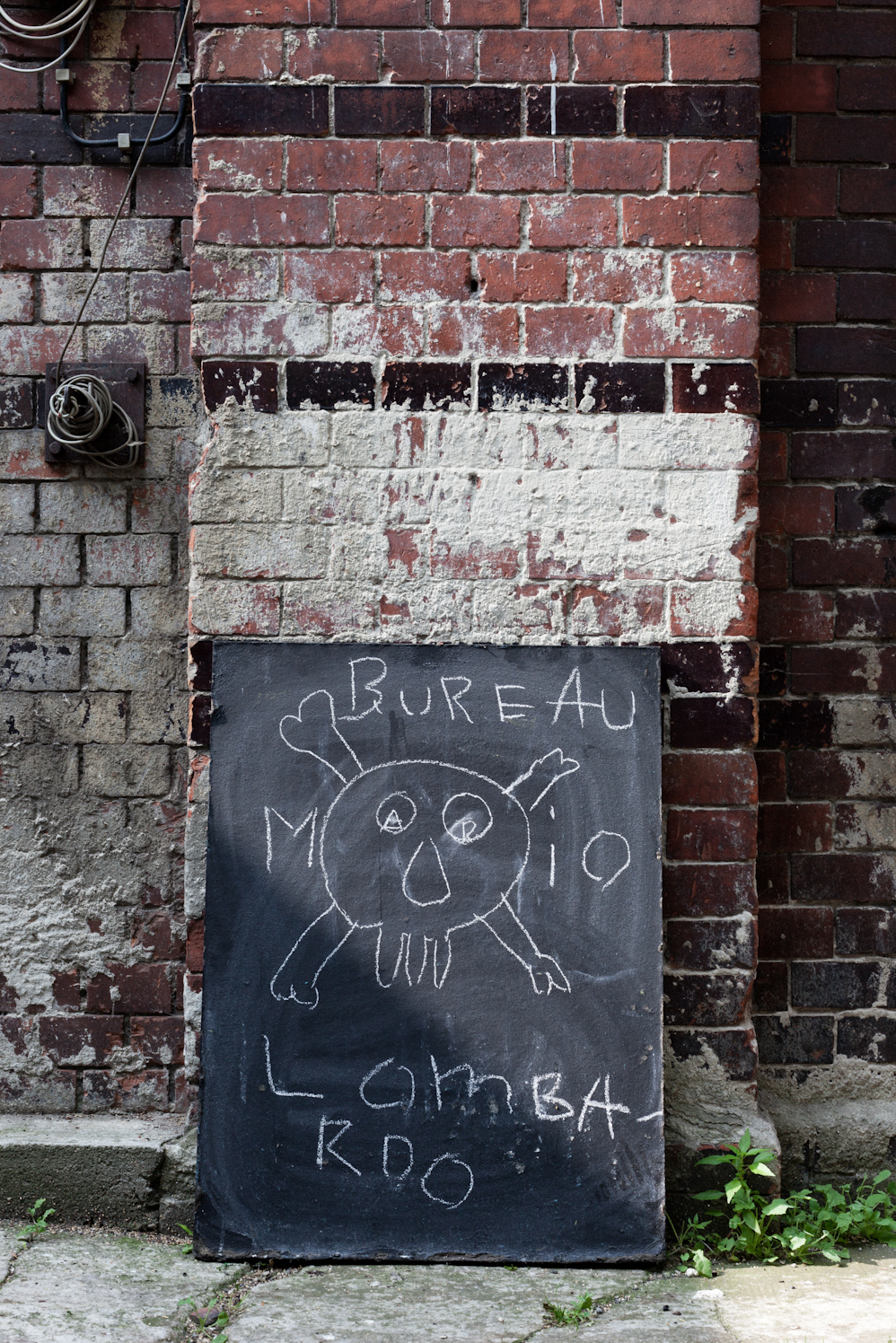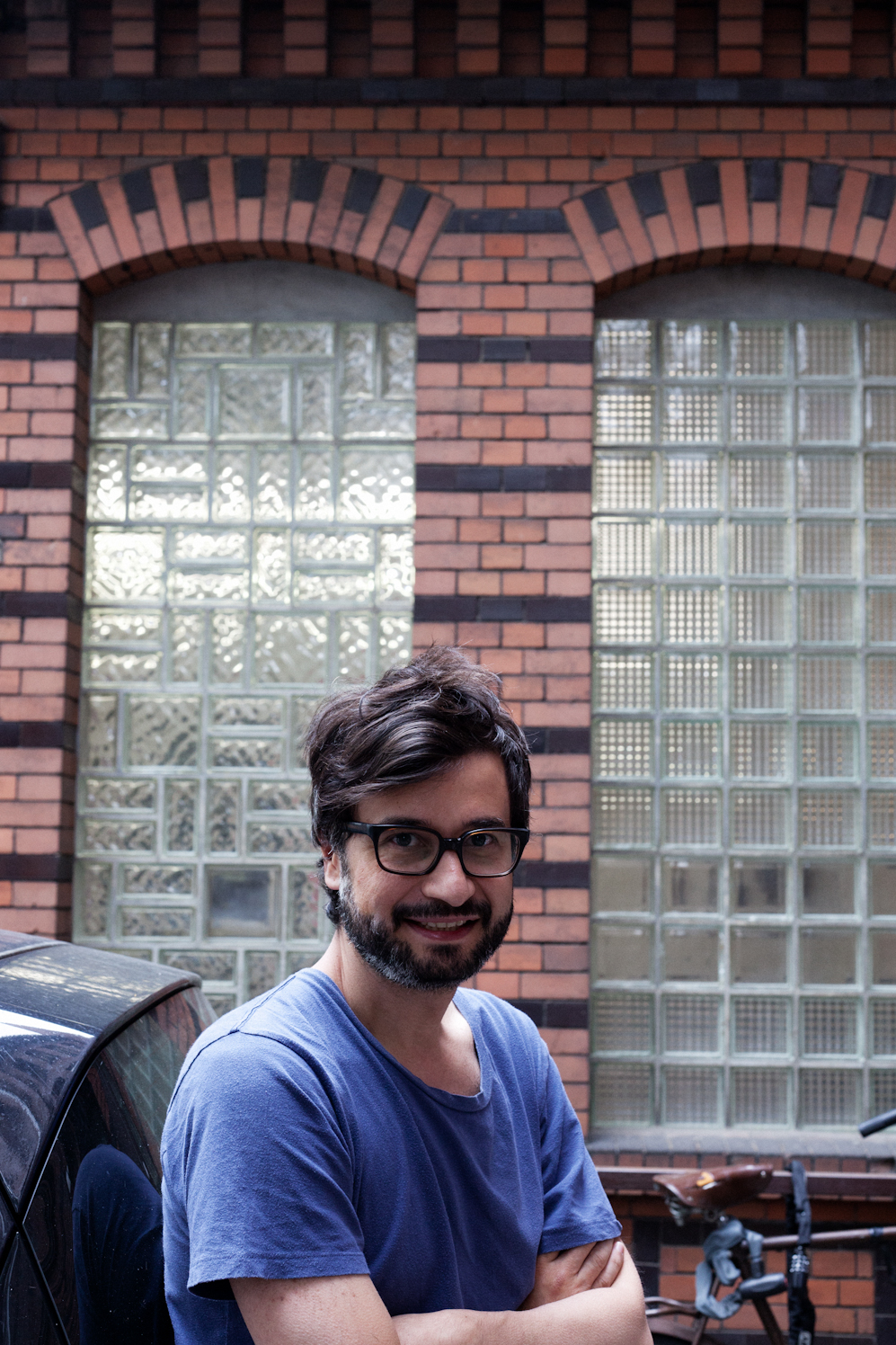 Mario Lombardo was born in Argentina where he spent his first five years. In 1978, his family fled from the military junta to Germany. Mario was strongly influenced by architecture in his younger years. Being a son of an architecture professor, his father brought him closer to forms, symmetries, and transcontextual works. In 1981 his father drove with him from Aachen to Sicily for a one month journey, traversing the west and east coasts. On their adventure they visited places like Weißenhofsiedlung in Stuttgart, Le Corbusier's cement houses in Switzerland, in addition to a range of historical Roman buildings.
The travels with my father were the foundation for my interest in space and the essential question of how a room can blossom or wither due to specific contexts. Graphic design was only my second choice. Architecture was always first. But I had to wait for a place at university so I started to study communication design at FH Aachen in order to pass time. During that time I discovered the strength of design and inherently my own strength in expression. I was mesmerized and would spent weeks at the library.
During those years, I secretly continued to be inspired by Mies van der Rohe. I wasn't that inspired by the houses, but how he would place the structures in relation to their environment. How was I able to transfer that into my work? This approach in print interests me still the most. In what environment would my object, the magazine, be in? What is the specific function of that space and can I keep it in mind? There is always a mutual inspiration.
Mario thinks the act of of going through a magazine or book is short and private. It is an act that is not often repeated.
The moment is quite short in which content and the cover matter. I am currently trying to prolong that time. It is primarily the time during it's first release, when it is 'fresh' and current. That time is too short for me. There is even less time spent on the cover. Most of the time books and magazines stand in shelves or are just stacked somewhere. This is why the back is extremely important to me. You must be able to recognise it at once in a shelf or a stack.
His passion for print and design arose quite early. At the age of thirteen, Mario began to collect magazines like The Face, Interview, Tempo, or I-D Magazine, as well as follow cover designs of LP's by New Wave bands like Joy Division and New Order. While studying, Mario completed an internship with Lo Breier, who was in charge of art direction at Tempo in the 80s.
Suddenly I stood in front of this person who not only sparked my love for this magazine, but also who had worked with all my idols from the 80s. I couldn't believe it. Lo wanted to hire me after a month of working with him. I was about to accept the offer but essentially kept a cool head and finished my studies before moving from Aachen to Cologne.
Upon arrival in Cologne, one of Mario Lombardo's biggest assignments came along: the art direction of pop culture magazine SPEX, the very foundation of his career.
When I began working at SPEX, I had no concrete plan. SPEX is an author magazine, so it seemed obvious for me to function as a design-author. I wanted to work with SPEX's tradition, but in a visual manner. But how would you pursue that? I tried to forget everything that I liked or that had influenced me in the past. This way I was able to solely concentrate on specific tasks and find a personal expression. I tried to trust myself. I think if someone has an idol and begins to imitate, it is very noticeable. The strength of becoming an author always has to come from within. SPEX wasn't doing so well when I began so it was obvious that a new aesthetic was needed. However, that wasn't enough for me, I wanted to create my very own SPEX.
A team of two people began to work on the right expressions day and night. Mario began to produce a tactile, visual translation for every editorial focus. He began to analyze what would work best while being financially plausible.
I started to do many things myself. Back then that would have been called craftsmanship. Obviously that wasn't always possible. As we couldn't pay photographers very well at SPEX I would always dedicate entire issues to them. That's how it often went down and is still even the case sometimes today. I want everybody involved to be proud of the project. I love to make compliments and never forget to thank someone. This creates a very special energy, and the mood is always very important. For instance, I often invite clients and friends over for food or wine. I consciously look for places and situations that are important for visual translation. I have to add that I don't consider myself a designer, but rather a translator and editor. I don't create for, but with people. I translate their stories and create a personal language.
Mario wishes to pass on the art of translating conceptually. This upcoming semester, he will return to lecture at the University of Zürich, after taking a break from diverse lectureships and professorships at institutes like HFK Bremen, HFG Offenbach, Udk Berlin, or Bauhaus University in Weimar.
I had to take a break, I suddenly felt misunderstood with my teaching. I wouldn't like to use the word 'esoteric,' but for me it was important to find the individual strength in people. That goes both for my office and my students. A designer should always be an author as well. I try to discover the particular potential of all my students. That often takes place in long conversations in which I question them about what they are moved or inspired by. Together we find ways of integrating and adding their inspirations to their work.
You need observation skills, knowledge, and empathy in order to bring forth a charismatic presence. I always try to address the specific needs of each person. With this way of teaching you can often slip into a quasi father-role or something similar. Something I wanted to avoid at all costs, at least in that kind of context. Regardless of any intimate encounter, I am still primarily interested in giving them strength for the development of their creative vision. I want to have a continuous flow of young, upcoming talented designers.
Regardless of not having spent much time in Argentina, his original roots are reflected in a new project nevertheless.
After visiting my country again, I was much more moved by the smells and sounds than the houses, the city, the landscape or the people. I felt something I had never felt before. It was mind-blowing. I was home and simultaneously subdued in a stranger's land. Ever since then I cannot get away from those scents. It is such a strong topic for me. I am currently working in adding scented candles to my works. Scents have become an unbelievably important element of life, a carrier of memories and feelings. I have to work with this special form of sensuality.
Mario's most important inspiration is his daughter Mila. He spends every free moment with her. After school Mila regularly comes to the office where she has her very own creative corner and gets to spend time with the children of Mario's colleagues. When leaving the office every single playground in the neighborhood is tested. In the evenings they often sit at Cafe Europe and meet with old friends.
Mila provides me with so many things that are simple but essential. Things that during the process of becoming an adult are forgotten. For instance, directness and being affectionate. Feelings can be so pure and simple. I want this idea to be present everywhere. She is definitely my most important inspiration today.
I am also very inspired by cooking. It is a completely different craft yet requires similar things to design. The foundation for a successful execution is the right environment – a functional and thought-through kitchen with good supplies. After that, one must be acquainted with the right ingredients and where to buy them. Then the phase of creating or preparing starts. You need to learn how to handle the tools, use the right measurements, calculate preparation time, and learn how to perform each step. It is also important to not forget that the food has to be served and that the table must be set and the right drinks have to be there. Much planning, overview, exercise, and sense of taste are required and from this you learn to add or create diverse flavors.
It's exactly the same with graphic design. You need to have a space that permits work. One needs to get things which are used for the realization, and then step by step you build a certain structure around work until everything is ready for print. In the end it has to taste good for the guests, which in this case would be my clients, as well as for the person who created it.
In accordance with his philosophy, the office's centre is the kitchen. Here, where the act of living and working meet, coworkers try to cook together as often as possible. Everyone helps out during our visit in the afternoon. Mila, as well as Tania, who is Mario's former partner and Mila's mother join in at the table inside the courtyard. Instead of having a stressed lunch, our little food break feels like relaxed Sunday morning brunch with best friends. How did this team get together?
Principally, I am convinced that one can learn all sorts of manual skills. I am not a fan of classic job interviews. They are fake to me. Of course everyone wants to show their best side, but you are never always at your best. I am for togetherness. The most important thing is the 'being' of someone. Working in our office means also helping each other. Typography, something I compare with cutting vegetables in regards to the cooking association, can be learned just like photography or making rasters. I enjoy teaching with patience if I get along with the person. So far it has always worked out. The people sitting in the office have been here for a long time and will continue to be. I love taking care of them.
Mario is interested in maintaining relationships. Tania is the best example. They were together for 22 years and met on a school bus. To this day she works in his office. Just like job interviews, Mario considers it utopian and fake to only go through the good times.
Much is asked here. So you have to bring strength and certainly the will to let things in, help each other, and go further. You also needs to be open to the help of others. People, who know me are aware that I like to solve problems – even though I find it hard sometimes. I am not a person who abandons things easily. I like to go through bad and good times.
In the last 15 years Mario internationally regarded work has won an infinite number of prizes, among them Art Directors Club and Type Directors Club and the award for 'Visual Leader' in 2008.
I consider myself a researcher or a translator. I would never start to praise myself as that would suggest I am satisfied. I just always try to give my best. This is how my office and I have managed to find unique solutions and approaches. They are simple thoughts applied in such a manner that it works for both clients and life. This should be the very reason why people should come to us and not because of the name or me.
His project to create a publication with a symbol for the Berlin Biennale created quite the stir. 'Forget Fear' was the first publication of the 7th Berlin Biennale and encompasses works and actions of politicians and artists. The principal of polarization was captured for the design – the associated symbol was heavily discussed.
It was clear to us that our work for the Berlin Biennale would be reflected differently. Many associated it with something Asian. Others thought it represented fascism. Yet others talked about currency symbols. These are all things that we had previously talked about. Right before every release, we conduct a test during which we discuss each other's personal perceptions to an idea. The first impression should always trigger an emotion, within which there should always be different tiers.
There should always be a projection surface, it must be tangible. This is something very important in fashion for instance. The cover of a fashion magazine is extremely important. When it comes to creativity, I personally believe that there should be a projection surface going inward. History and knowledge should be connected. For me it is important to create a personal world for everyone. A German person interprets things very differently to someone from France or England. But it is not about generalizing nationalities. Every viewer should be able to connect their individual story with it.
After taking a tour of his office, Mario's passion for collecting magazines over a 30 year period becomes quite obvious. In one of the stacks we discover the very first issue of 032c right under Interview Magazine issues from the 70s. There are thousands of impressions representing new ideas and trends. Is a designer never afraid of repetition or the danger of falling into the mainstream sphere?
Fear and insecurity are very important motors. The very concern of whether something will work or not brings strength. When I feel such things I achieve a much better result. I have to say that I am not very concerned about others when it comes to the mainstream. Until 2009 we were ant collectors. We did a lot of creative jobs that were very difficult financially. You arrive at the point where you must stop exploiting the self and where you must stop believing that it is enough to live from hand to mouth and just be an artist. I wanted to be able to pay my people well. It was very stressful for me to give into commercial work. The first two issues for KaDeWe were very difficult. Nowadays we are extremely proud of the job, as is the client and it will certainly continue. I have so many wishes and dreams for my office and myself and I firmly believe in the force of dreams.
When Mario walks through magazine stores nowadays he doesn't get absorbed as much as he did in his younger years. When it comes to contemporary publications, Mario certainly prefers continuity rather than exclusivity.
I really like Purple and Arena, especially because of the photography. FAZ and 032c are also amazing. Internationally I like Visionaire or LOVE, even though they might be very commercial. And of course Fantastic Man and Gentlewoman. Gert Jonkers and Jop van Bennekom have been doing great things for many years. My respect goes especially to those who continuously produce good work. Everyone can create something great once in their life. What makes a great designer is to retain a certain freshness and always become better.
Mario is has been a pleasure to spend time with you in your office and hear about your professional design work and your sources of inspiration. To find out more visit his website here.
Photography: Mirjam Wählen
Interview & Text: Zsuzsanna Toth