We are in midst of Neukölln, where a rapid, urban development can be found around every corner. No street is alike. Towards Landwehrkanal in Weichselstraße, there is a former shop that mirrors all characteristics of post-war architecture and simultaneously shelters contemporary objects; Within the last year the interdisciplinary design enterprise NEW TENDENCY has established a showroom and office here.
During their studies at one of the most prominent schools for architecture and design – the Bauhaus University in Weimar – Manuel Goller, alongside other fellow students founded 'My Bauhaus is Better Than Yours.' Under this name, the student initiative translated the fundamental ideas of the Bauhaus-school in contemporary terms and celebrated their first major success during the Milan Furniture Fair in 2009.
Due to an unfortunate lawsuit the designers had to rename the group a short time later. But there was no sense of defeat – on the contrary. With an underlying motivation to implicate new tendencies and approaches in design, NEW TENDENCY has established itself as a company that offers a wide scope of furniture and accessories. Their focus lies in their own collection and development, as well as collaborations with young artists and designers.
NEW TENDENCY aims to transform everyday objects into contemporary design classics, blurring the borders between functionality, conceptual design, and aesthetics. We visited Manuel Goller and Sebastian Schönheit at their showroom in Neukölln. Fortuitously we were able to take part in the production process of their signature piece 'META Side Table' and discuss the brand's genesis, the influences of their time at Weimar University, and the principle of integrated productions.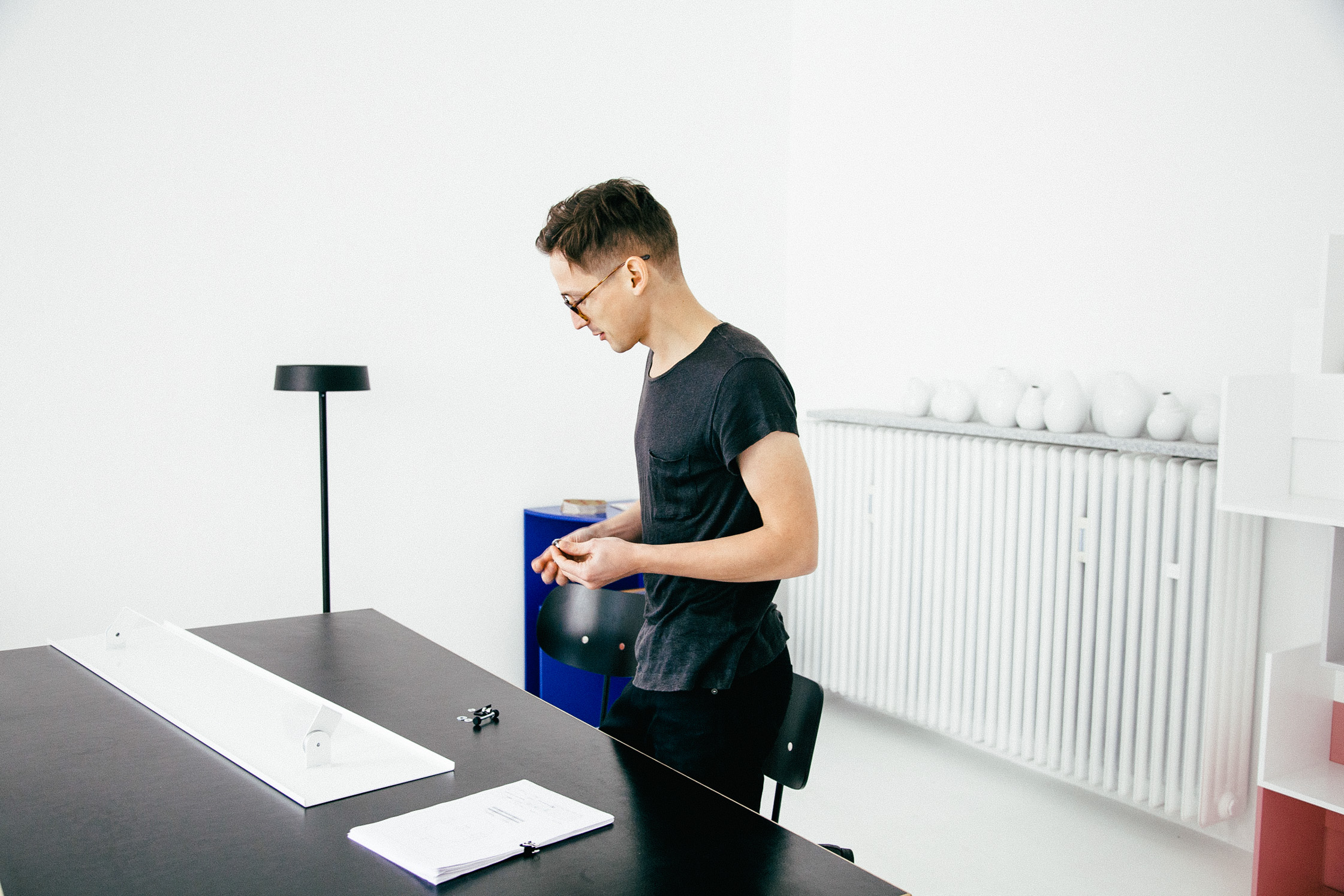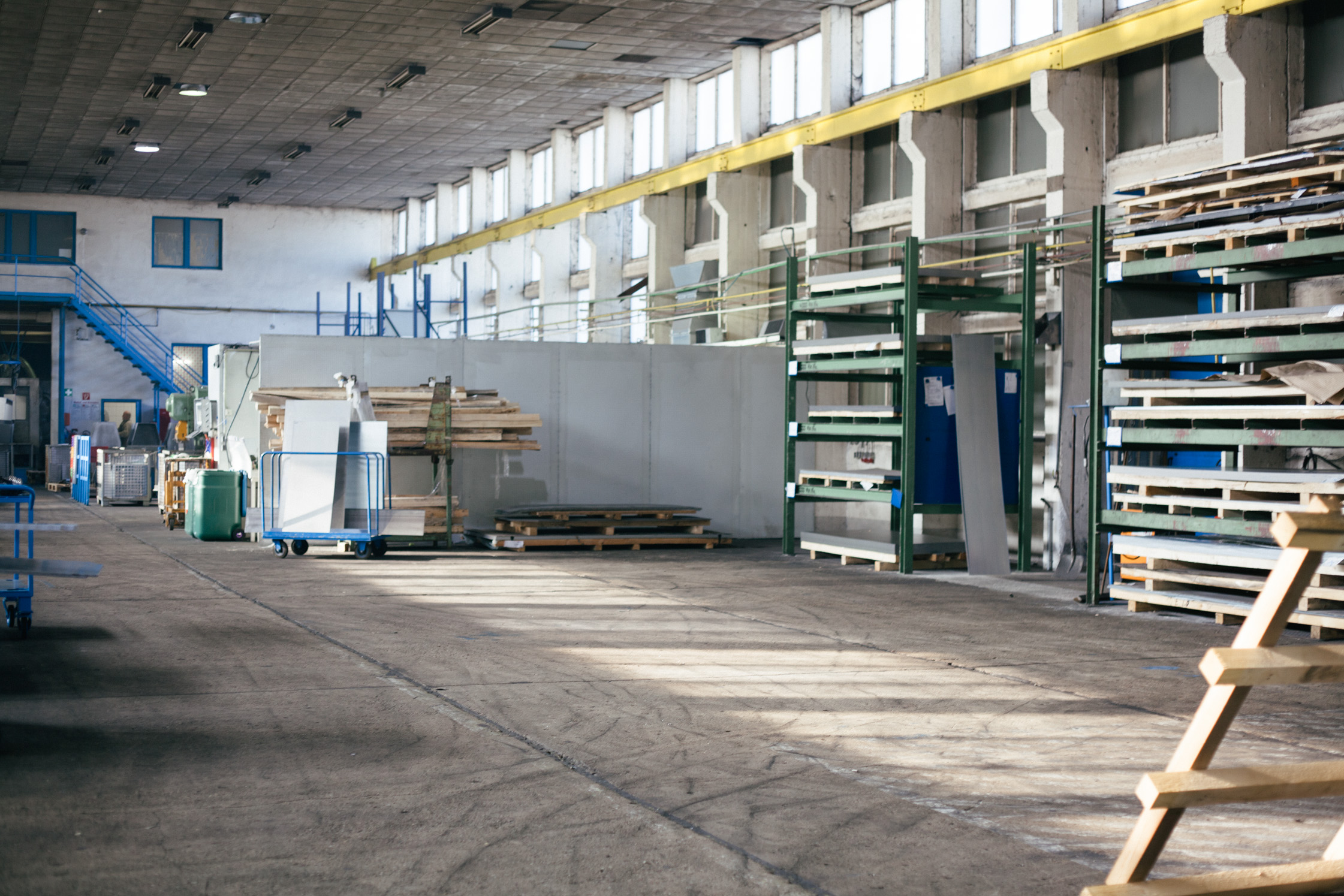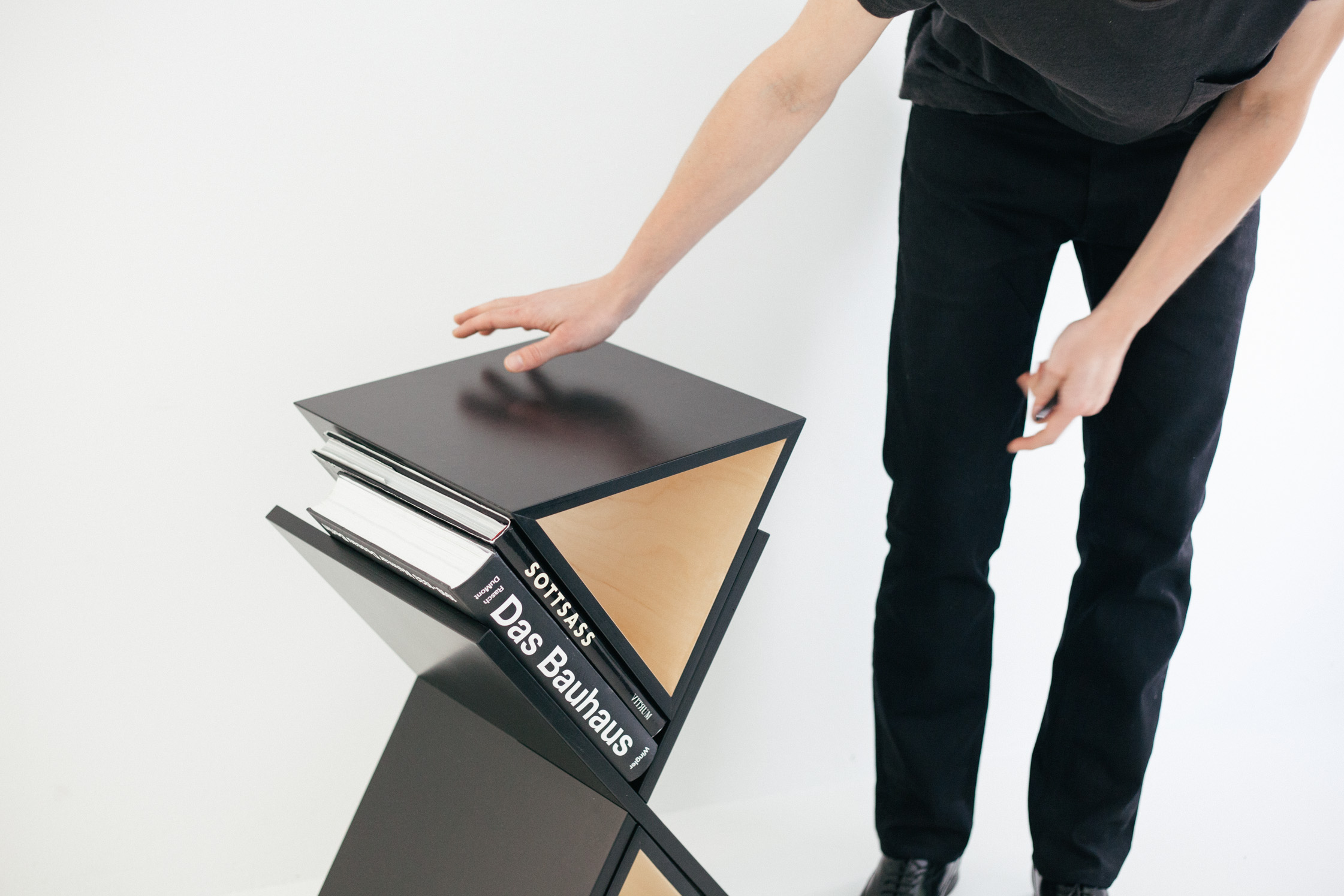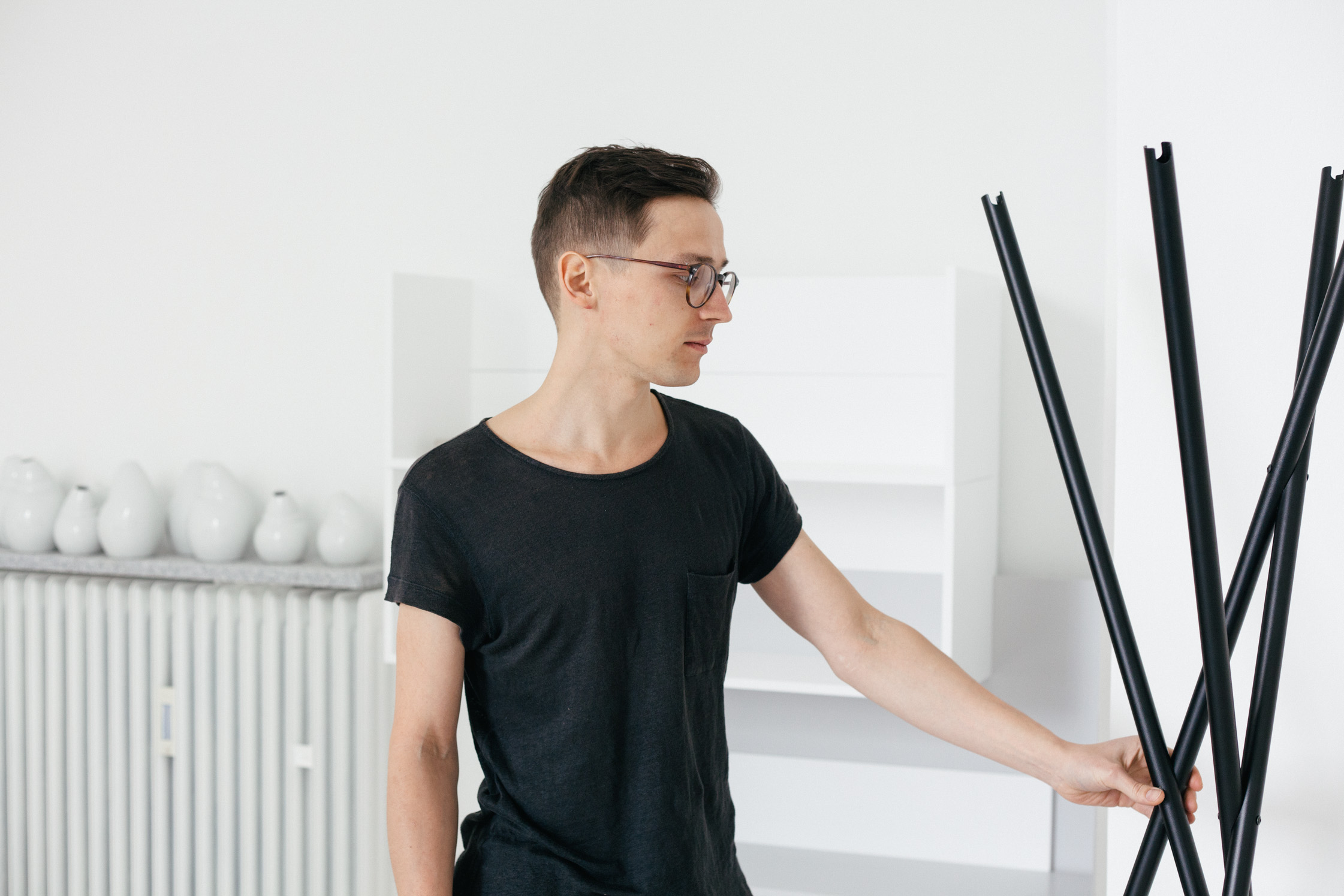 How would you define the project NEW TENDENCY?
Manuel: We are an interdisciplinary lifestyle and design company. Our portfolio consists of our own collection, as well as pieces that are the result of collaborations with chosen designers.
In our designs we work toward building special connections with objects that possess strong, individual character. Everyday objects are very important to us. We want to give objects that are used every day a design that functions well and looks good. We do not define ourselves as a typical furniture company, due to our numerous collaborations with designers, architects, and fashion photographers.
Who does NEW TENDENCY consist of?
Manuel: The main team consists of three people. Sebastian is responsible for the design of our projects and production. My brother Christoph takes care of the business and operative strategy. I am responsible for the artistic administration, conception of the collection, and of it's overall management. Aside from this team, we work together with diverse designers, artists, and architects that include: Marie Burkhard, Christian Metzner, Sigurd Larsen, Manuel Raeder, Jonas Lundstroem, Nathan Cowen, Jacob Klein, Amos Fricke, Timothy Schaumburg, and Stefan Marx.
You originally became known under the name 'My Bauhaus is Better Than Yours.' Why was there a conflict about the name forcing you to change to NEW TENDENCY?
Manuel: 'My Bauhaus is Better Than Yours' came into existence as a student initiative at Bauhaus University in 2009. The idea was to create a platform for young design and put it under one informal banner of branding. 'My Bauhaus is Better Than Yours' was originally written on a whim by Daniel Burchard for a project for university. It was an ironic slogan that critically but humorously grappled with discourse surrounding the Bauhaus and other avant-garde movements. Later on this title became the topic of our joint diploma thesis.
The title attracted a lot of attention. In the beginning we were worried that our university or the Bauhaus foundation would misinterpret the title. But then the platform Bauhaus Online published a big article about us at the beginning of 2011. After this we were really relieved that we could keep working. A day before we were exhibiting at the art fair we received a warning from Bauhaus Baumarkt who weren't in the picture at all. The DIY hardware chain Bauhaus proved their copyright on the name 'Bauhaus' claiming a dispute of 250,000 euros. We set everything in motion but quickly realized we didn't stand a chance. We had to remove all signage at the fair and rebrand ourselves in one week. They were some hardest two weeks I had ever experienced, especially as we had just decided to solely concentrate on NEW TENDENCY around this time.
How did the name come about?
Manuel: At first we thought of only changing the word Bauhaus. But then the slogan would have meant something completely different. My idea was to find a positive, optimistic alternative and this is how NEW TENDENCY came into existence.
But the name didn't bring along a conceptual change?
Manuel: The name represents a lot of energy and courage as we decided to become more professional with our company at the time of this change. The new name is also a symbol for entrepreneurial transition into adulthood however, our principle and concept have remained the same.
Is there a common thread to your collections?
Manuel: The common thread of our collection would be the conceptual demand. It expresses itself much more through the idea than the design. The design process is often a trial in order to answer a question. What makes us unique is our holistic approach to creation, production, and entrepreneurial process. During our student years we had already worked in connection with a diversity of disciplines and adopted an eclectic way of working.
Do the individual products result in a collection which must work within a space, or is it about the context of the individual product in space?
Sebastian: There is the basic theme of functionality, but not everything needs to be placed within a space. I think that points of difference and a single aesthetic are very important.
When it comes to partners, what criteria do you consider when looking to collaborate?
Manuel: When we work with external designers, the idea and personality is about the design. This is developed from a dialogue with a partner. Not only the creation is important, but also the lead up to the creation. When there is a similar understanding with regards to the development of the design at a personal level the products naturally relate to each other.
What was the first NEW TENDENCY product?
Manuel: It's hard to say as everything developed so organically. In order to further develop the company and brand, it is very important for us to invest in sustainable design. We have many approaches and ideas. A good product needs time.
At the moment we are looking forward to the launch of the lightening system we designed for the FvF apartment which will be available at the FvF Onlineshop aswell.
You mentioned sustainability. How do you keep up with demand for products in terms of sustainability?
Manuel: Sustainability must work for us on several levels. On one hand we try to produce timeless products that exist independently from trends. On the other hand we keep in mind the design of production, wrapping, and the sales process. Most of our products are modular and/or stackable, therefore enabling efficiency in wrapping, storage, and transport. We also really care about the production of our products. We consider our products carriers of these values and believe that they also transmit these ideas.
Where do you produce your products?
Sebastian: Our newest product, RIEN glass, is produced in Czech Republic. They have a long tradition in glass production. Most products, however, are produced in regional, central factories in Germany. We work closely with our partners, in order to optimize our individual production processes and ensure the best possible quality. This is very important to us. We don't spend all our time designing, but talking to the producers and suppliers. This direct exchange with producers enables us to spontaneously and individually react and fullfill special wishes of our clients.
Manuel: We also produce many products in customized versions. The best example is the 'Meta Table.' It is produced in Brandenburg and is now available in a range of colors.
Can you tell us a bit about your daily student life at Bauhaus University in Weimar? How did this time shape you?
Sebastian: Sometimes you feel like Weimar is everywhere. As the classes and the city were pretty small a vast exchange took place. Back then we worked together in a group of twenty people including architects, artists, and graphic and product designers. When we would meet up to cook, we would always discuss new projects. I took away more things from evenings like these than from my actual studies.
Manuel: Apart from the prestigious history, I was fascinated by the workshops from the very first day. During the re-opening of the university in the 90s, the workshops were renovated with contemporary furnishings. You could use absolutely any tool and get started with an idea. You could discuss a new project in the evening and start on it the next morning right away. At Weimar we were taught essential 'real life' processes. Anyone wanting to undertake traditional studies is in the wrong place. Self-drive and motivation played an important role at Weimar.
Sebastian: Exactly. At Weimar it was natural to do everything yourself, from construction to realization. This is something that continues to help us today.
Why did you come to Berlin?
Sebastian: After my studies I was automatically drawn here. Berlin can be so diverse, which really fascinated me. This is also mirrored within our work.
Manuel: After a semester abroad at Pratt Institute in New York, I did an internship at Manuel Raeder in Berlin. When my time was up, he asked me if I wanted to work with him. I began to go and back forth between Berlin and Weimar.
Why didn't you choose a more central location for your showroom?
Manuel: Neukölln was a complete coincidence. I looked for a flat around the corner in the Bruno Taut housing estate. I had been fascinated by the architecture of Bruno Taut for a long time. After looking at the apartment, I discovered a space in a former electronic shop. I really liked this kind of post-war architecture with the high ceilings and the detailing in the glazing and brass fittings. I am now a huge Neukölln fan. It's multi-cultural history and rapid changes completely fascinate me and fit perfectly with our approach at NEW TENDENCY.
Is there a designer that you would like to work with in the future?
Manuel: Our main focus lies in the development of our products, but we would like to continue complementing our collection with exciting collaborations. We have wanted to create a piece of furniture with the Munich based designer Stefan Diez for some time. We really love his work and approach.
At NEW TENDENCY the borders between design and functionality intertwine. Can you talk about your design language with an example?
Sebastian: Design and function are inseparable to us. Both depend on each other. The product's composition is mostly created during the construction. For instance, the 'Meta Table' consists of two-dimensional surfaces, which were put together in such a way that the table can be placed over a sofa or used as a book shelf. The classic mikado mirror served as a model for the Hash wardrobe. Comprised of traditional tubes it transforms into a piece of furniture through the application of a milling groove.
Do you also work on behalf of clients, or do you mainly focus on the overall development of your brand?
Sebastian: Aside from NEW TENDENCY, there is also 'NEW TENDENCY Commissions.' This means that we also use our language of design for commissioned works for clients such as Mercedes Benz or Microsoft. For example, for a product presentation with Mercedes Benz we created an over-sized carpet from 100 meters of synthetic woven hose through the use of 750 machines to create a gigantic web. The idea was to place a traditional handcraft in another context through scaling.
How would you describe the typical NEW TENDENCY client?
Manuel: Outside of Germany we send many products to Asia – primarily to Japan. We also seem to be quite popular with Italian mothers! Not surprisingly the demographic of our clients are older. People in their twenties are often yet to have a complete stylistically confident apartment. Personality and taste take time to ripen. But at the same time we hope to reach young people with our work. Our signature piece 'META' – which is also our cheapest – is quite popular with younger people. To be honest, there are some people who buy jeans for 200 euros and then there are some people who buy a table that lasts forever.
Many thanks Manuel and Sebastian for taking time out of your schedule to show us around NEW TENDENCY. For more information, see their website here.
NEW TENDENCY is exhibiting at the imm cologne in January 2014 for the first time, presenting a collection of new products in Pure Village, hall 2.2, booth O-018.
Photography: Marlen Mueller
Interview & Text: Zsuzsanna Toth