I met Jordan Sullivan three years ago. The New York Times had asked me to write about my favorite artist books and I'd included one of his, Natural History.
He contacted me after reading the article and we met over iced tea and grapes at a Moroccan cafe in Silver Lake – he'd just moved to Los Angeles from Brooklyn. We talked about Cy Twombly, Anselm Kiefer, books, Los Angeles, New York City, making things. His resolve struck me, as did his aesthetic interests and influences.
His studio in Downtown Los Angeles is on the second floor of a mostly abandoned building, located on one of the city's most landmarked streets. Next door is The Bradbury Building of neo-noir Blade Runner fame. The Million Dollar Theater, one of the first movie palaces built in the United States, is across the street. You walk past a quinceañera dress shop and a small, carpeted wedding chapel to get to Jordan's studio. Unlike every other major art center in the world – except maybe Berlin – spaces like these still exist in Los Angeles. Leftover from the turn-of-the-century heyday some 100 years ago, the city is filled with semi-abandoned architecture and semi-permanent storefronts. Reminiscent of New York in the 1940s, artists inhabit the spaces in between.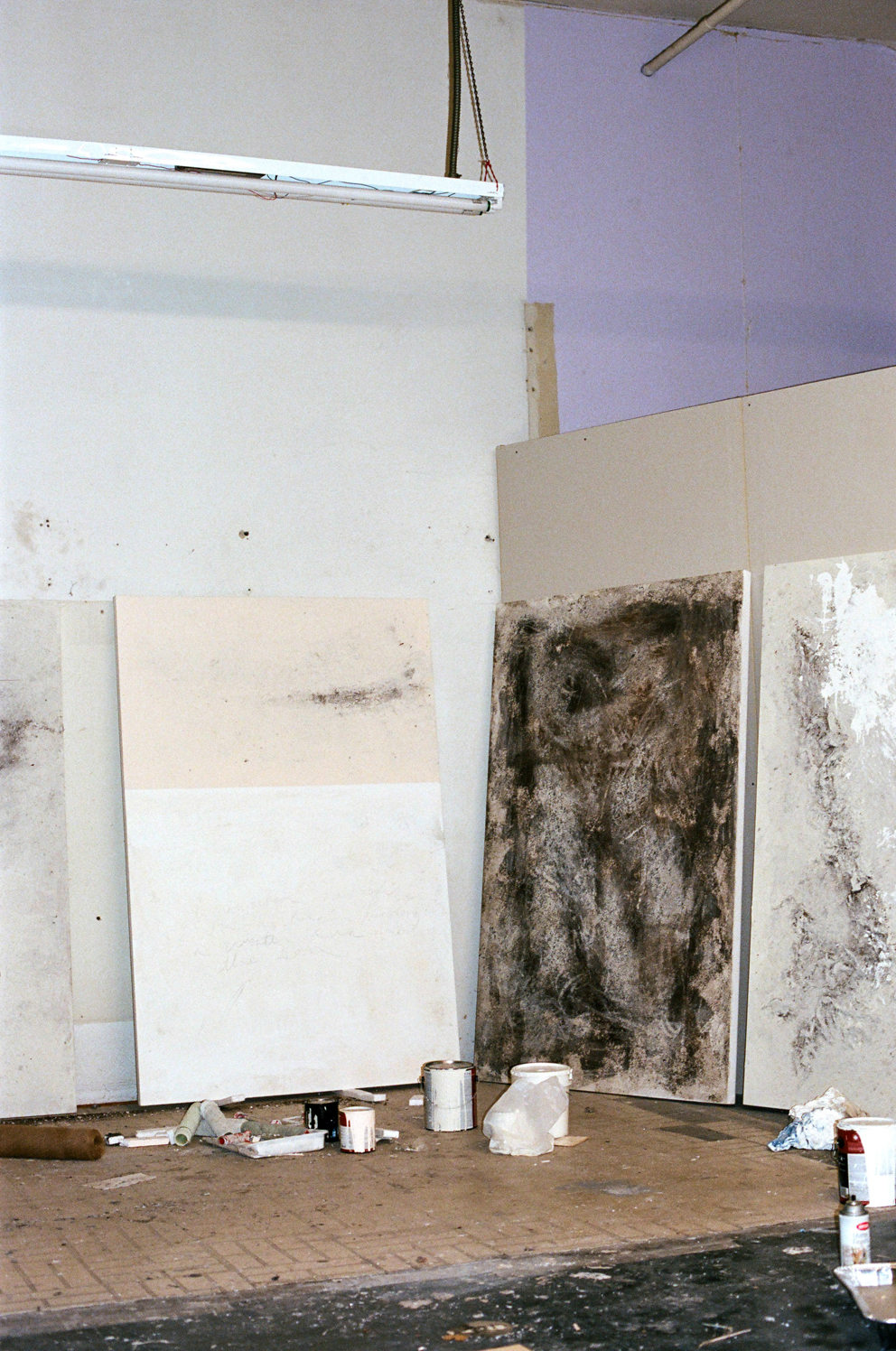 I caught Jordan days before the opening of his first solo show, an exhibition he titled "Celestial Railroad." The show is divided into two parts: "The Burial Cloud," a conceptual letter to his mother that examines her experience as a teenage rape victim in Petacalco, Mexico in 1973 through seven paintings and seven assemblages, and "An Island in the Moon," stemming from a Peter Matthiesson quote: "Form is emptiness and emptiness is form." The show is displayed as a constellation of objects and images scattered across the floor and wall. It is a taxonomy of decayed wood, collages, miniature photographs in matchboxes and of the female form. There's a romantic intensity to Jordan's work; it's sad, beautiful, nostalgic, tragic and intensely considered. His studio was filled with work for the show, and he let me photograph the early stages of one of his paintings – him throwing a paint-soaked towel and dirt at a canvas.
In his own words, Jordan shares his thoughts on major influences and a few sources of inspiration: the color blue, Krzysztof Kieslowski, Texas, music and holding on to objects.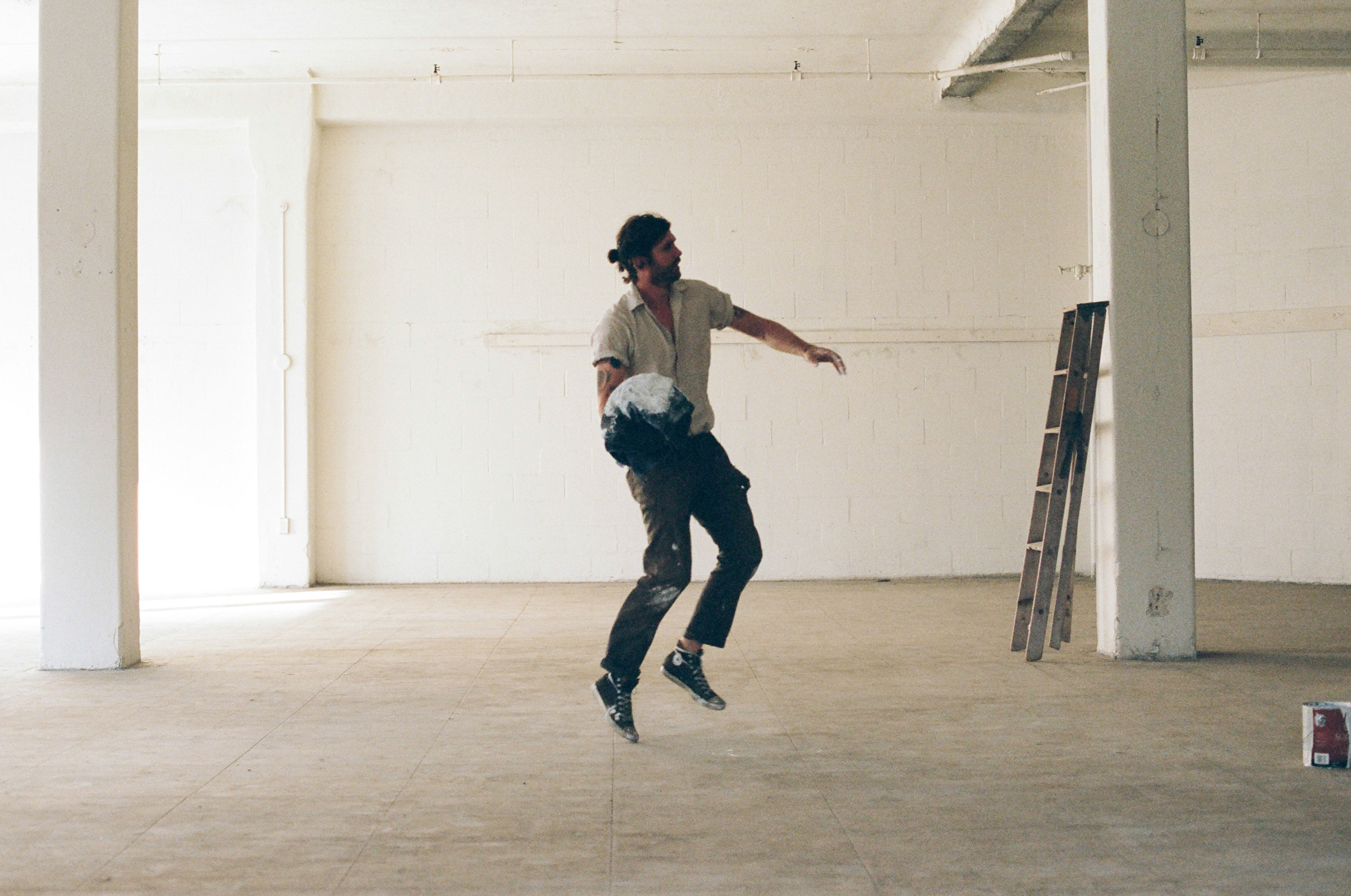 …on a color that he is drawn to.
"Blue is maybe the first color I ever noticed, perhaps because it is the color of my eyes. Blue is the name of one of my favorite films. Blue is the color of the evening and the moonlight. Blue is the sky and the sea. Blue is sadness and silence. Blue is blue.
Color and aesthetics, or what people feel when they experience color, could be an endless conversation. I tend to make work that is meant to be felt, so every material and element that goes into my process is considered for its emotional potential. Generally, my use of color is abundant but my work is not colorful. My paintings and photographs are often muted or faded because that's the way I see time – as this thing that's drifting backwards, a thing we are constantly losing. Perhaps, for me, color is time."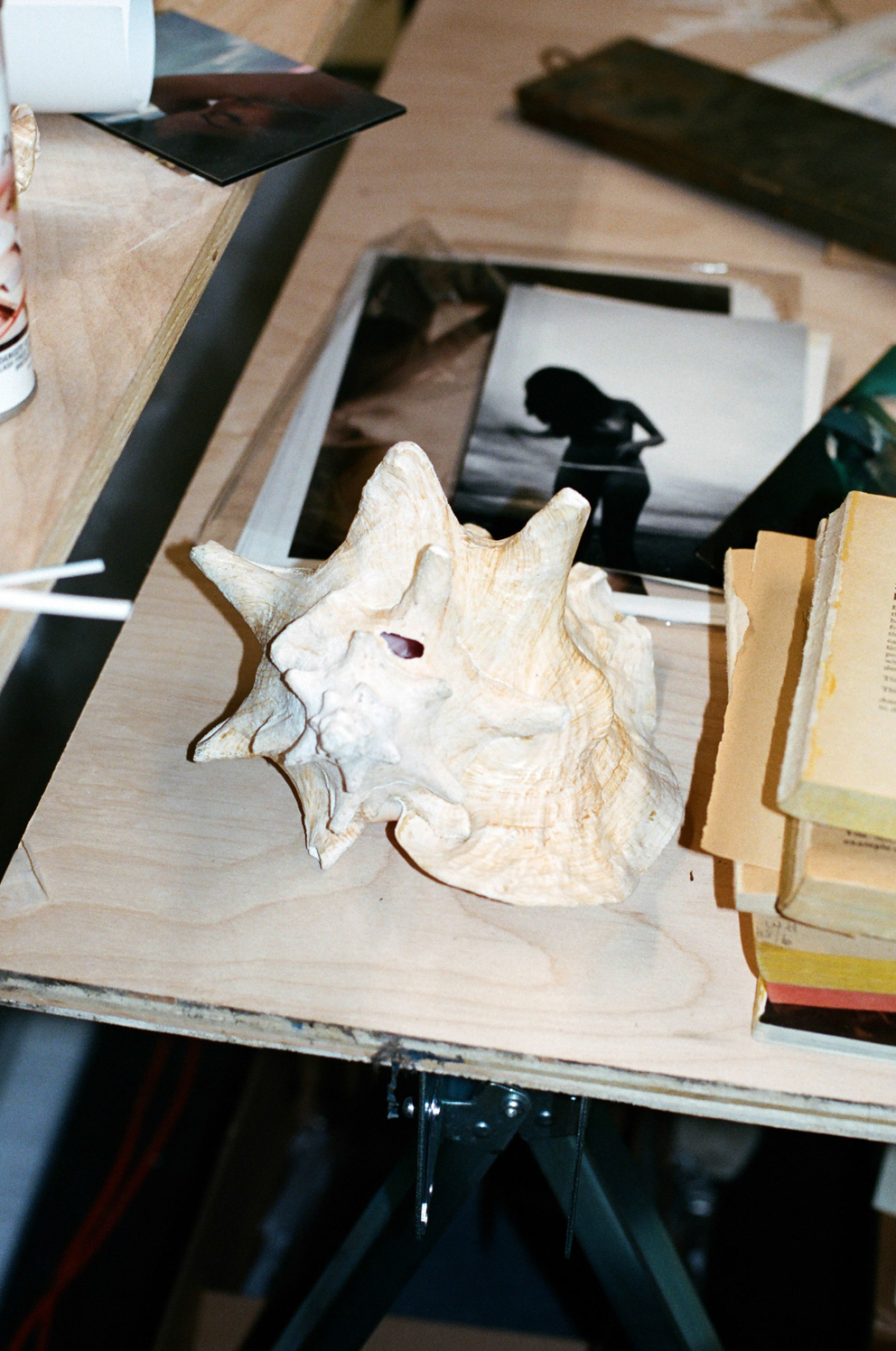 …on being influenced by film.
"Continuing our color conversation,  I have to talk about the film Blue by Krzysztof Kieslowski. The film immediately uses color as an emotional tool. The opening scene is a bleak landscape shrouded in the blue of evening. A car coming around a bend slams into a lone tree; in the car is the main character, played by Juliette Binoche. She survives the crash, while her husband and young son die, and what results is a film about grief and secrets. Most of my favorite films place mood, color and scenery in front of plot. Kieslowski's work is all atmosphere. One can watch his films with the sound off and still have a rich experience. Alternately, I have even listened to his films without looking at the picture, even though I don't speak French, but the sound design throughout all his work is so amazing that his pictures can be listened to like a record or a radio drama."
Themes of memory, reality and relationships run throughout "An Island in the Moon," a collection of muted photographs and assemblages.
…on a piece of music.
"To say music is everything to me feels silly, but it's true. My favorite music has grown up and continues to evolve with me. One piece in particular is 'Spiegel im Spiegel' by Arvo Pärt – I could listen to it over and over. It's sad and hopeful and calm, and it somehow plays off whatever the noise in the room is. I first heard it in a Tarkovsky film and then rediscovered it a few years later. 'Spiegel im Spiegel' always transports me to a place I can only describe as spiritual, and that sounds really hippie, but I prefer when music creates self-reflection or brings back memories or just transports me somewhere else, or, alternately, makes me feel closer to the moment I am in."
The elemental, barren landscapes of Jordan's photographic series "Death Valley" capture feelings of absence and loss.
…on being inspired by place.
"A significant place is definitely Highway 35 in Texas. It cuts right through the middle of the state, and I used to drive it on the weekends when I lived there. I remember one drive on an early Saturday morning – the most incredible fog was covering the empty highway for miles, and I kept stopping to take pictures of all these harvested fields and abandoned houses. The world that morning felt so mysterious and massive. I was sort of looking for something that year inside myself and around me, and I found part of it that morning. I was just getting into photography then, too, and the whole world was suddenly opening up to me. Circling back to the issue of color and aesthetics, I can say that I wasn't seeing things because they were visible, but they were visible because I was seeing them."
…on physical objects.
"There's this trilobite fossil that my parents gave me when I was a kid, and I think a lot of its importance hinges on the fact that it's the only thing from that time I haven't lost. I constantly get rid of stuff, sometimes foolishly."