The sign in the window reads "Creative direction in elegant creativity". It's as eloquent and ambitious as the person behind it: Joachim Baan. He's the co-founder of Amsterdam's most renowned denim shop and label Tenue de Nîmes. His passion lies in building brands: be it a brand of sunglasses, watches or a new concept for a restaurant. In all of this work, Joachim switches seamlessly between multiple disciplines such as fashion, graphic and product design. Despite the fact that he never finished school. Or maybe thanks to it? In any case, he believes that great ideas don't depend on a diplomas, but on self-teaching and curiosity. His studio is located on Schippersgracht in the historic heart of Amsterdam. It's as contemporary as it gets and still somehow timeless. When we step inside, we discover an eclectic collection of designer dolls, stuffed animals and furniture classics, while Joachim serves us freshly brewed coffee – from a Chemex, of course.
This portrait is part of a series with Vitra. Visit Vitra Magazine to find out more about Joachim's design pieces and other individual interior concepts.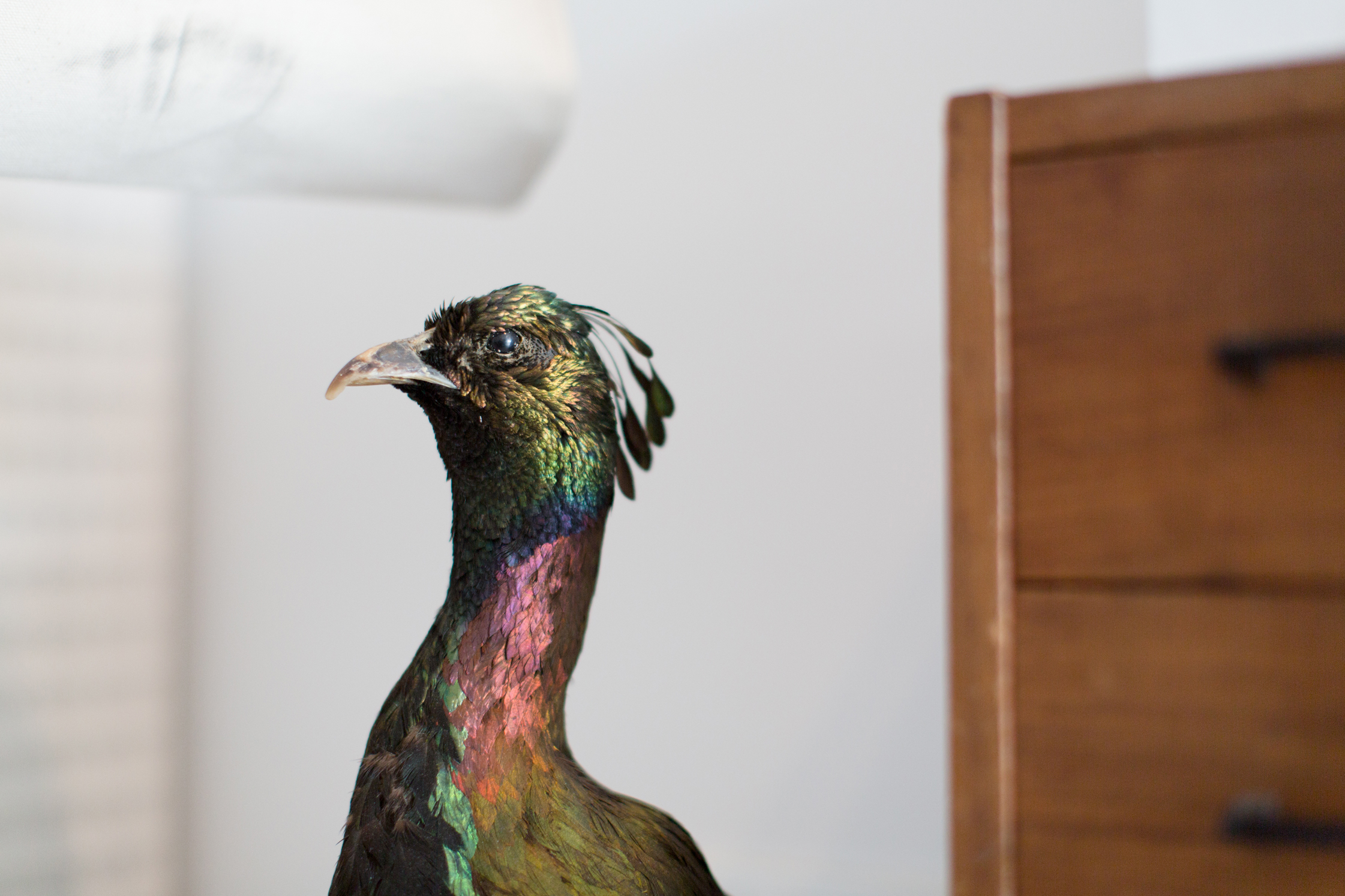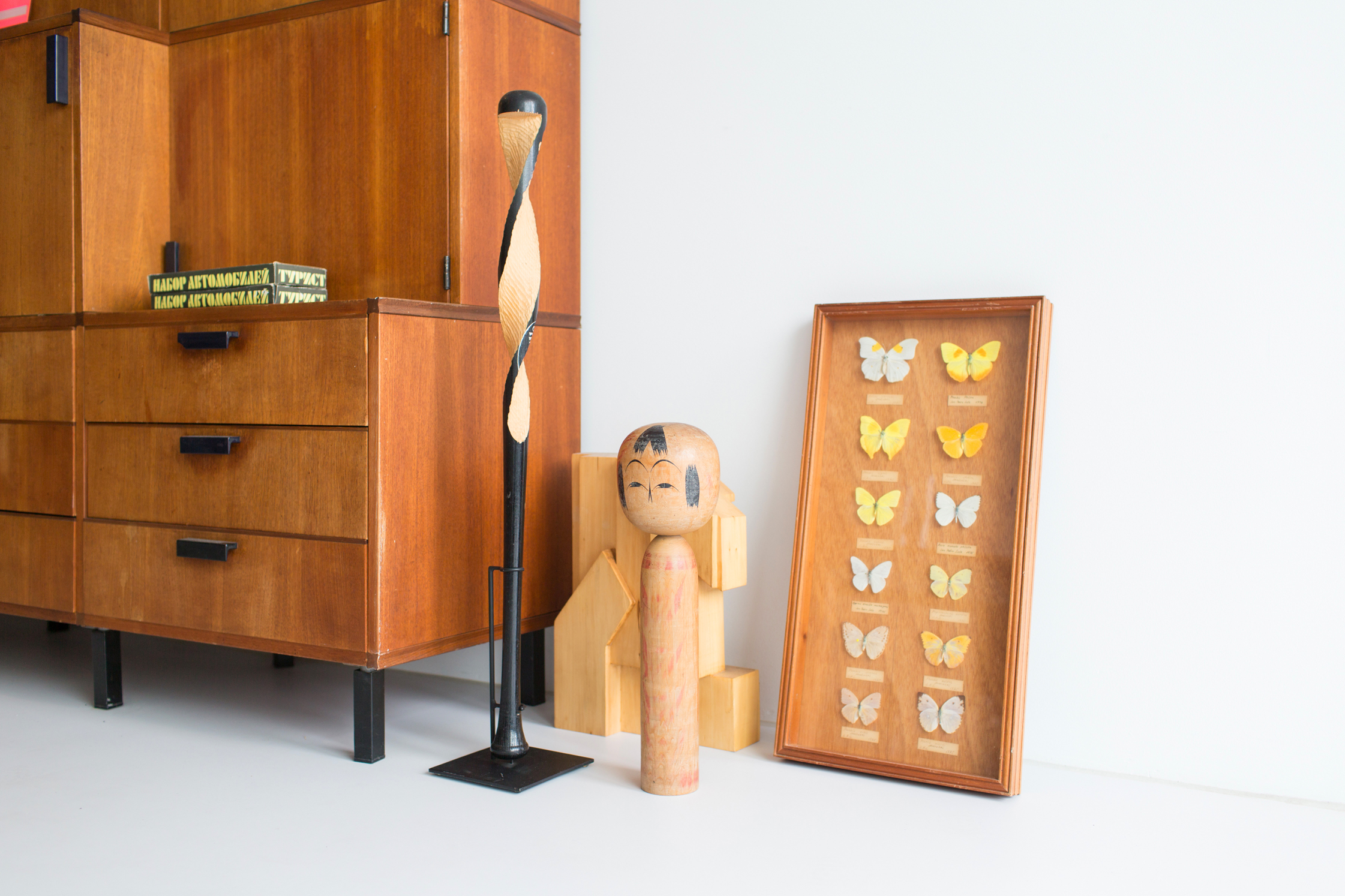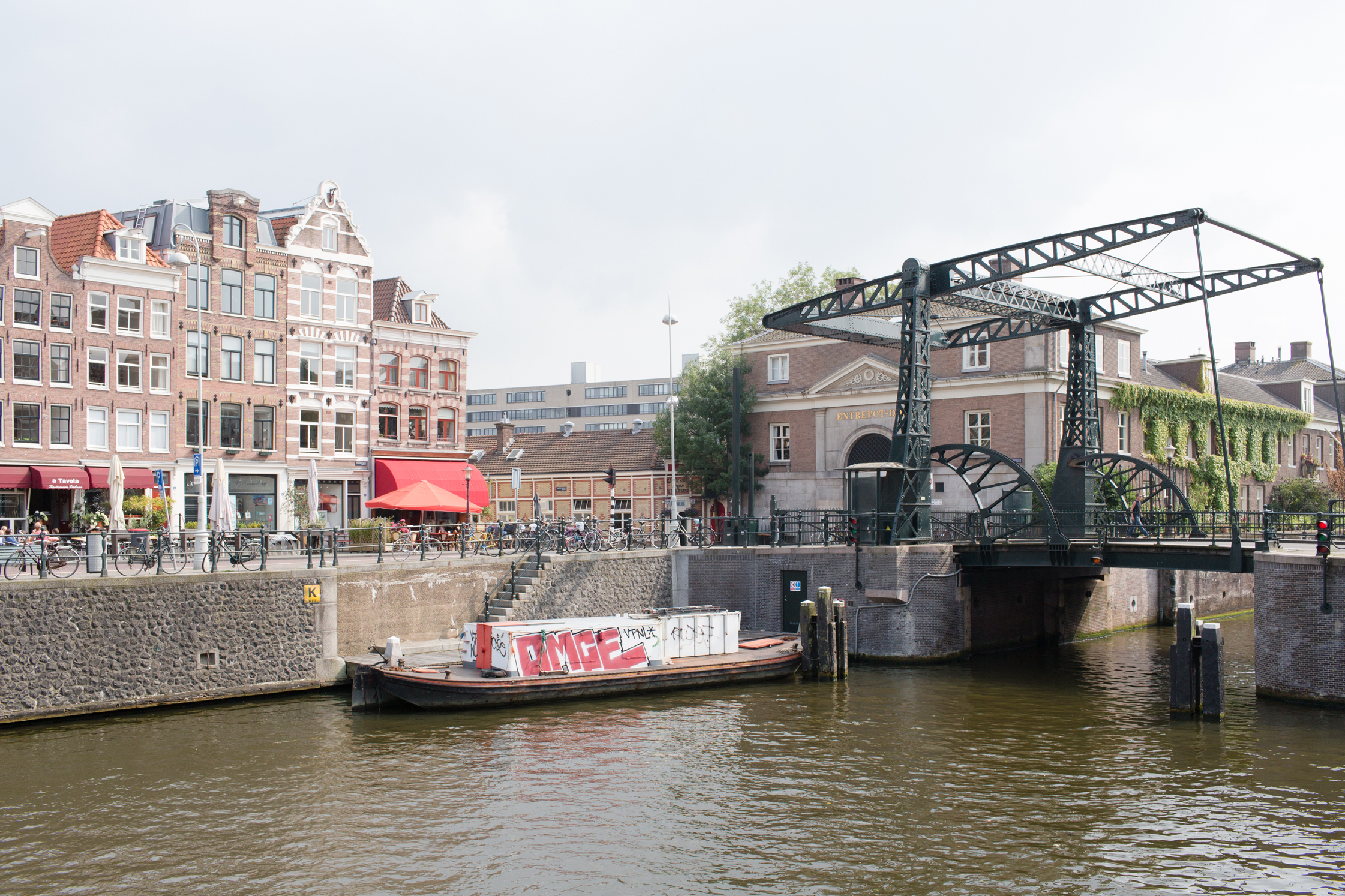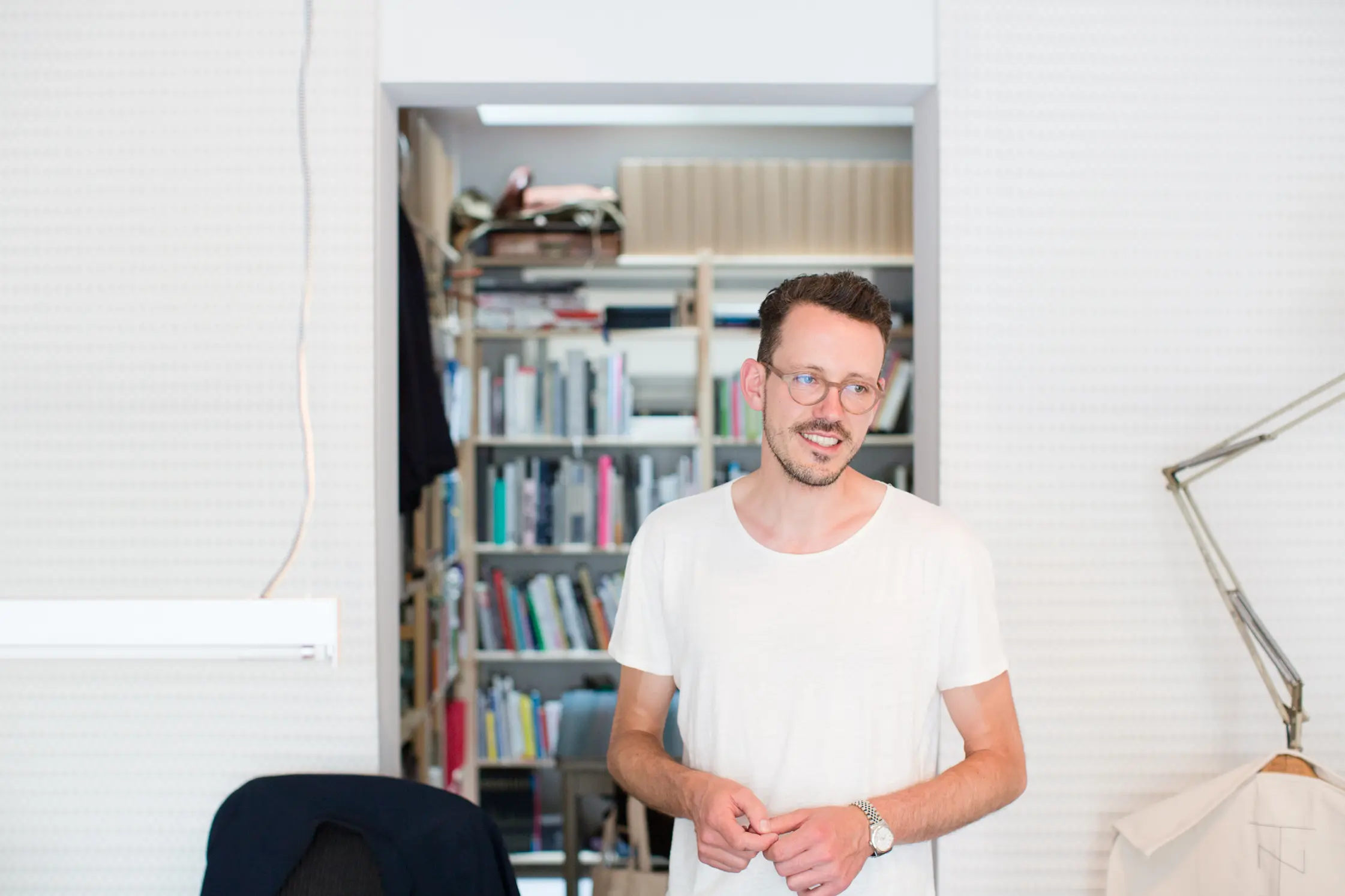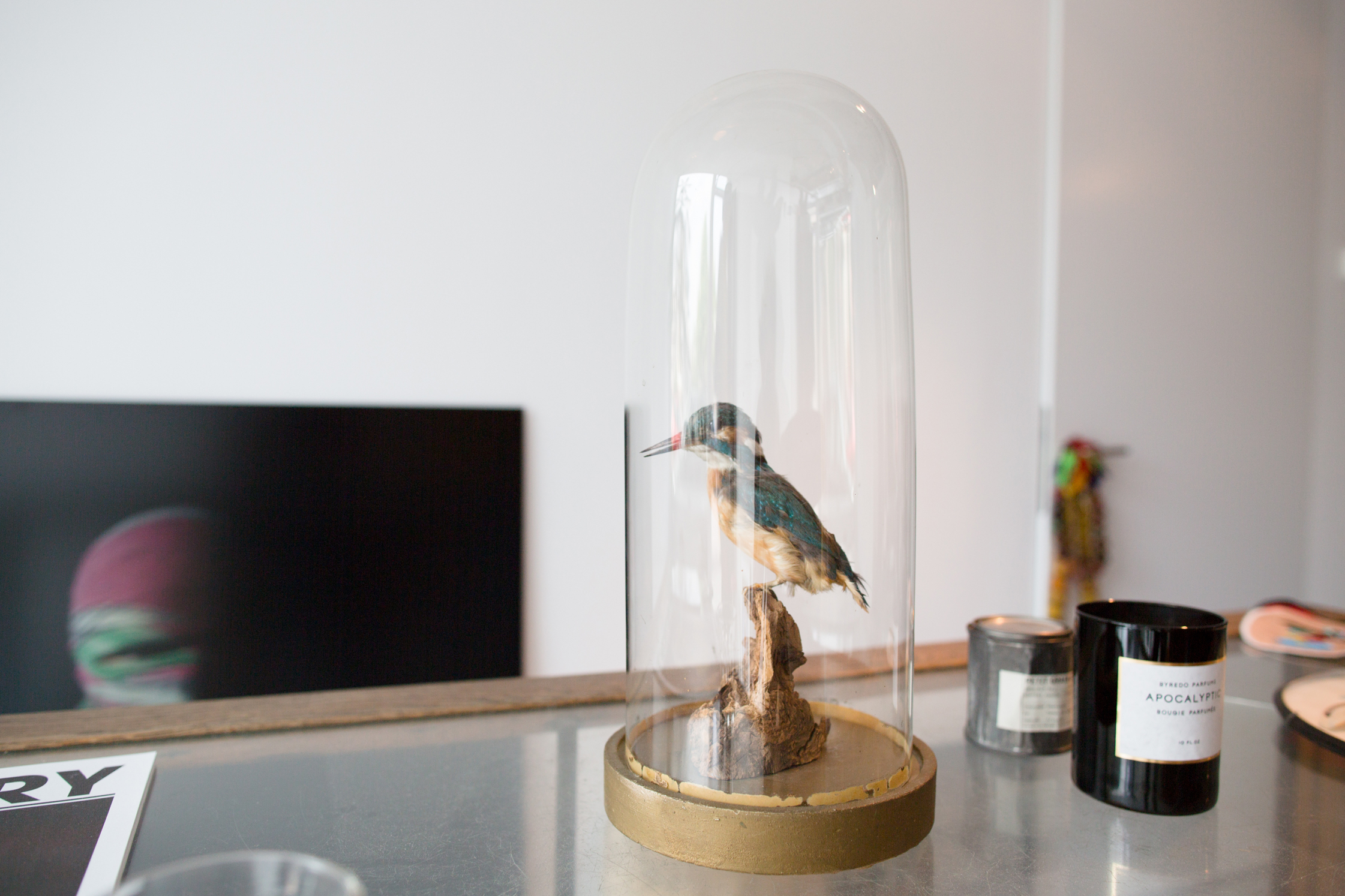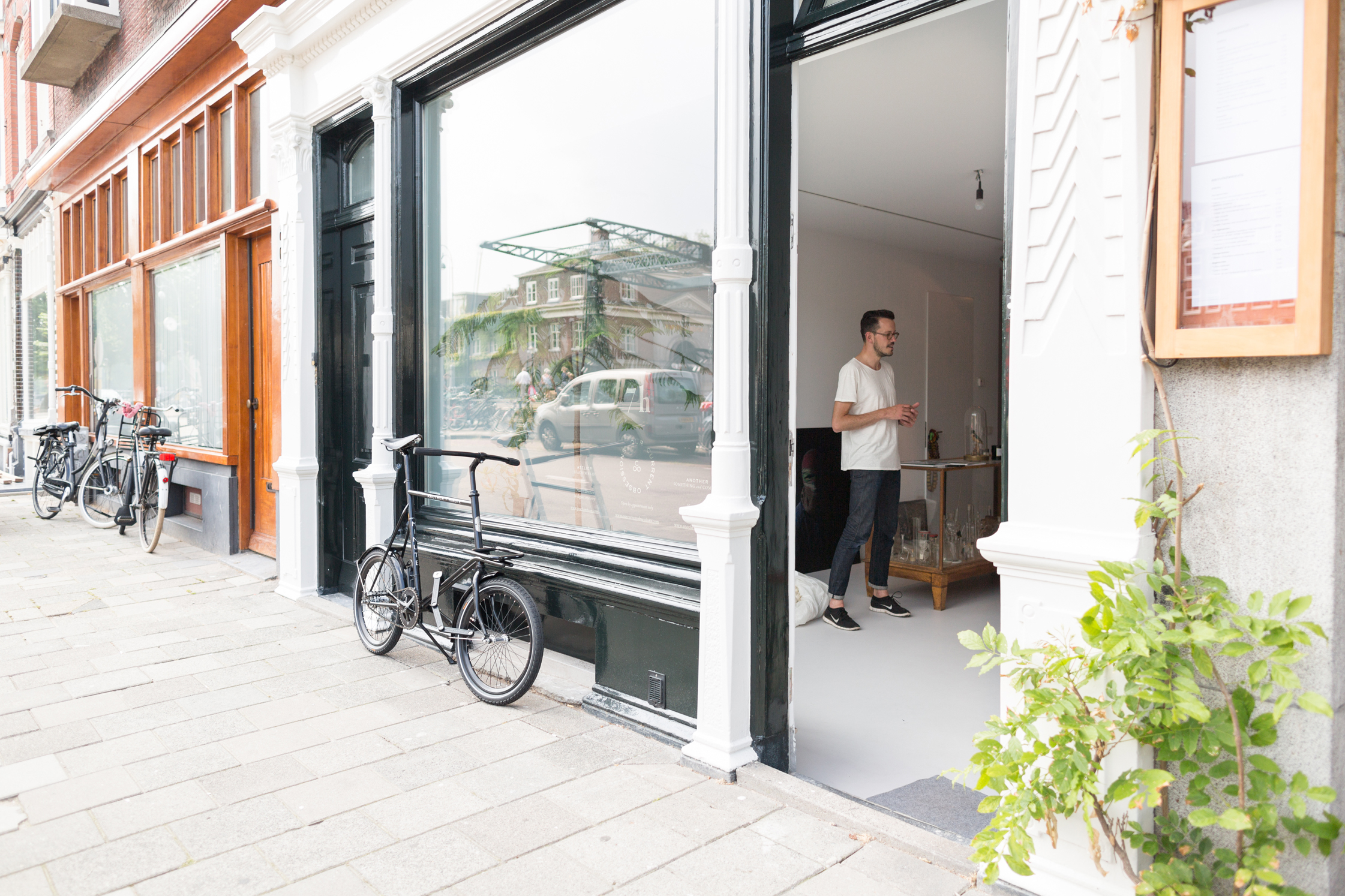 You're lucky with the location of your studio. Schippersgracht is amazing. It's probably not easy to find a place here.
Yes, it was luck. I got it via my brother Iwan who lives upstairs. He bought the house a few years back and needed someone to take care of it while he was travelling around the world. And I needed a space that would work as a crossover of a gallery, shop and studio. Now my brother and I run the gallery together.
When did you move in?
A few months ago. Originally our studio was in Amsterdam's west, together with Tenue de Nîmes. I used to work under the name Another Company but decided to do commercial work under my own name and leave the blog Another Something & Co. And this is where it happened. It's a great space with a great view but still, I'd like to have a curtain on the window. At some point I will get around to make one out of this vintage parachutes from the Vietnam era.
Do you live close by as well?
No, I actually live in Utrecht. During the summer I'm in the studio in Amsterdam for three days a week and then four days with the kids in Utrecht. We used to live here in Amsterdam eight years ago, but then we moved due to my girlfriend's job. I'm more flexible with mine.
What are you currently working on?
Two dream projects: One is for a watch brand and the other is a new brand of sunglasses. It's a long road – finding the right factory, prototyping and so on – but we're slowly getting there. As you can imagine, creating watches is obviously so much more work than producing a T-shirt brand. But it's a luxury to build something from scratch. And the best thing is: it's the kind of products I would like to have myself.
How did you end up designing sunglasses?
The sunglasses started out in a funny way. I found this picture of a girl sitting on the beach surrounded by skulls. Really bizarre. So I researched and collected more of these pictures and eventually thought: "Ok, what can I do with all that?" So I sat down with an optician friend of mine and discussed the idea of creating a brand around sunglasses specifically for funerals, as so many people wear them for that occasion.
So, is it about finding a new twist to a well-known product?
Yes, that's what I like. It's going to be called Mottainai, Japanese for 'what a waste'. The name is derived from the way raw buffalo horn is used to make sunglasses. Actually, you need six of these layers pressed together to produce just one pair of glasses. Almost 90% of the material gets wasted – that's the start to our story.
It kind of reflects how you work: trying to find an interesting angle for every project, whether it's interior design or sunglasses or watches.
Yes, my favorite projects are probably Tenue de Nîmes and Journal de Nîmes, precisely because of that: because we managed to establish a whole world around these products. But whatever new project or product I work on, they inspire me anew every time. I have the same excitement and dedication for each one as if it was my first project. That keeps me alive.
Coming back to your studio: with those butterflies and the stuffed owl it looks a bit like a national history museum. Adding that to those sunglasses designed for funerals, do you happen to have a particular fascination for death?
I think it's a coincidence. I simply like to conserve things. Animals, traditions and materials.
Or laboratory glassware. You're definitely the first person I ever meet who has a collection of it.
I bought loads of this laboratory glassware for Tenue de Nîmes. As we had so many, I started to decorate my studio with it. I like to have these things around me, rather than locking them up and not being able to touch them because I could ruin them. I like tangibility.
What about these small dolls here? They're beautiful.
Ideed, they're a real gem. They're Japanese Kokeshi dolls. From the moment we found the first one at Tortoise General Store in Los Angeles we have been fascinated and impressed by the craft that goes into the production of the dolls. Initially they were intended as children's dolls, but later on they were mostly sold to visitors of North-East Japan.
And they're not the only dolls in here. These are the wooden dolls by Alexander Girard, aren't they? How did you come to collect those?
I got the first one at the Vitra Design Museum in Weil am Rhein and completely fell in love with them. I think it's the combination of the hand painted wood, the fresh colors, strange lines and weird faces that makes them so damn attractive. They appear almost like primitive African figures, yet very modern and timeless at the same time.
I love your bookshelf. It's a kind of a walk-in book shelf.
Yes, it is. I'm collecting a lot, maybe even too much! Like the Monocle subscription over here. I cancelled it once because I thought I would never be able to read through them all. Then I looked at the unfinished collection and immediately ordered the ones I missed out on!
Do you usually sit here? It's also a Vitra chair, right?
Yes, this is my black Plywood Chair. As far as I know it's from the very beginning of the collaboration between the Eames and Vitra.
What do you generally look for in a piece of furniture?
I look for materials that age well. Or for vintage furniture that has a beautiful patina. Usually, I don't think about where it could fit in my home, studio or stores, I just buy it.
And does that always work?
Well, of course, the surroundings have to match with the object's colors and materials. But I once bought a vintage chair simply because I loved the wood and how it had aged, but the seating fabric was super ugly. So I removed the first layer and beneath it there was a wonderful vintage Scandinavian design fabric! These are the kind of surprises you want!
Talking about surprises: Are you sometimes surprised by your own career? How did it actually begin?
Well, to some people it may seem surprising: I dropped out of school and made my way through self-directed research and self-initiated teaching – and a little bit of luck I guess. I worked in a graphic design studio where I got the chance to learn a lot from a super experienced guy who worked there. After that I worked for a couple of years at …,staat before starting my own gig.
Do you feel it has been more difficult to make it without a diploma?
I do think you need the basics of graphic design to start off, but it's mostly up to your own style, language and passion to become really good at it. Art school won't help you get a job or find out which field you are really good at. But self-discipline and practice will eventually get you there.
So no regrets?
Not at all. Funnily enough, the art school that originally rejected me, has since invited me to do guest lectures.
Text & Interview: Felicitas Olschewski
Photography: Jordi Huisman