The fire station at the ground floor is still in use, with fire engines rushing out now and then to save the city of Rotterdam. The second floor houses firemen on duty. Tough looking guys hang out in the courtyard smoking cigarettes or joints, as they wrap up their day of community service. Across the street second hand car dealers wax their merchandise. On the top floor of the old Roteb cleaning and rubbish removal building, city cleaners used to start and finish their shifts. Some fifteen washing cabins stand empty along the hallway, where the workforce once scrubbed the street filth off their backs, arms and faces; a quiet reminder of the place's former occupants.
The hallway is cramped with old tailor dummies, partly dismantled installations, wooden frames, and unidentifiable requisites. The members of the recognised artistic collective Het Wilde Weten set up shop here some time ago. At the end of the hallway we find the studio of photographer and visual artist Hans Wilschut. Huge photos mostly of intriguing cityscapes cover the walls of the cluttered space. The groceries in a corner of a table and the drying bathing towel on a chair reveal that Hans spends most of his time here. But it turns out he is mostly on the road doing what he likes best: exploring places with his Hasselblad.
This is the first portrait of a series of photographer and photography collector portraits in partnership with Unseen Photo Fair.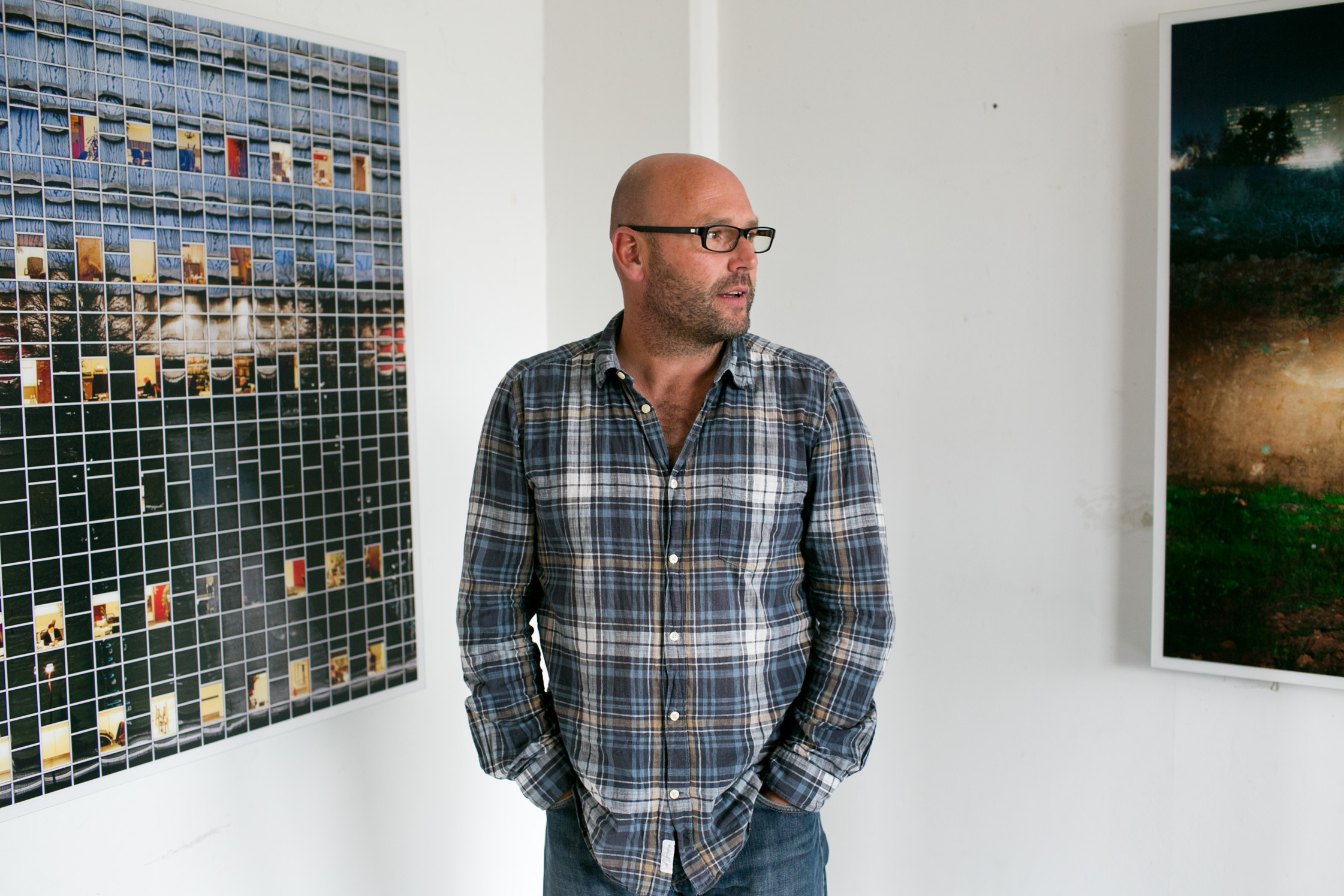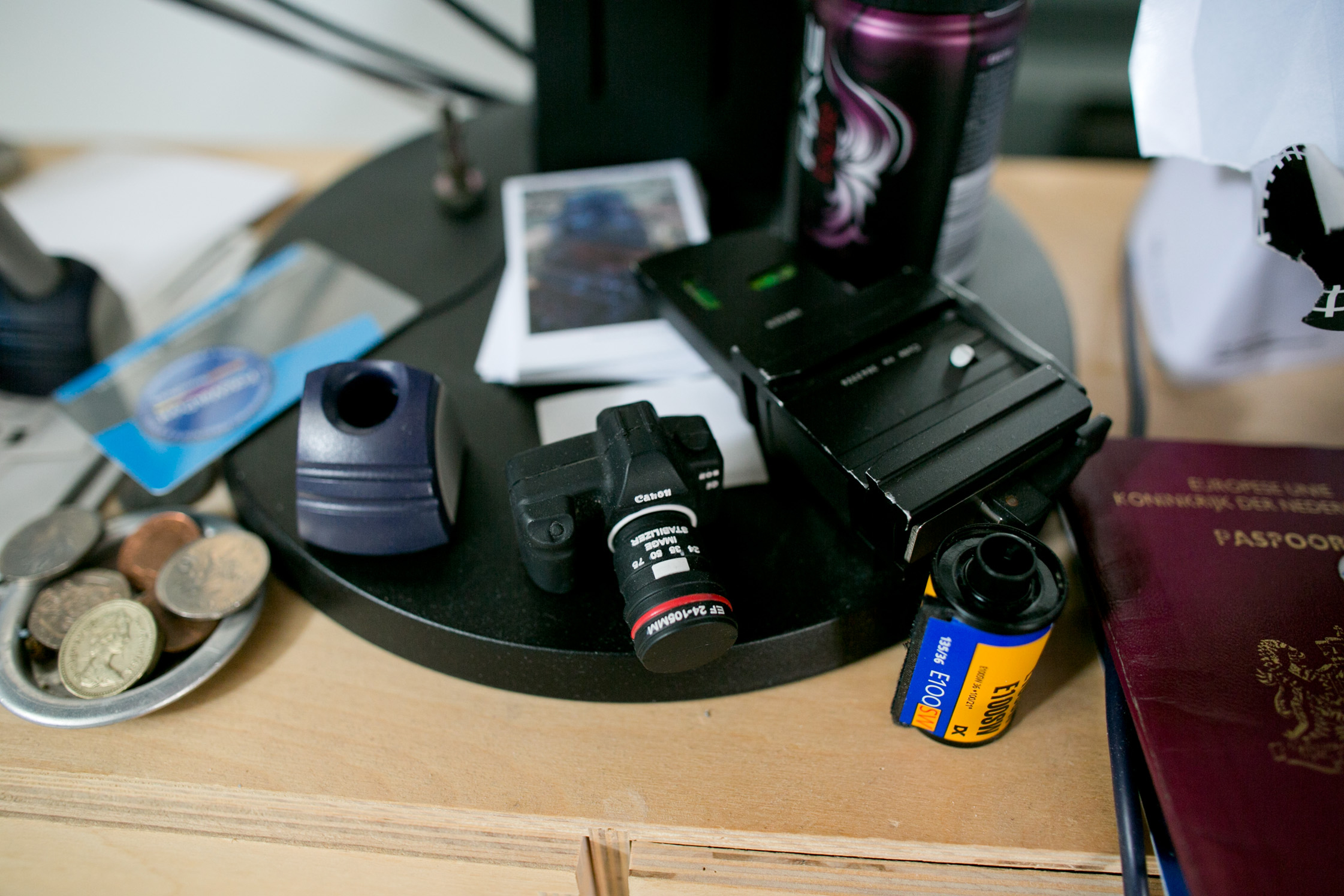 This is a fascinating place you have. How did you find this studio?
I moved in some 8 years ago, shortly after the rest of the collective Het Wilde Weten set up camp here. The collective used to be situated elsewhere in the city, but we were forced to move out. I found a studio for myself, but soon started missing the people I had worked with for so long. They're like a family, and I decided to rejoin the group. We are not working very closely nowadays though. Everyone got to a point where careers were picking up, work became more serious, and left less time for joint projects.
So did yours. Why did you choose to become a photographer?
I did not really choose to become a photographer, but rather I evolved into being one. My first introduction to the visual arts happened at a gallery in Gorinchem – the place where I grew up. A show by artists of the "Formele School" triggered something in me. It is hard to say what exactly, but this show made me aware of the profundity of the visual arts. When still in high school I took up painting: minimalistic images, which were mostly reflections of colors. The paintings proved to be my entry ticket for the Willem de Kooning Academie. Unfortunately, being overly headstrong I was kicked out after one year.
Unfortunately? Considering how you have developed yourself, it seems like you did not really need the Academy anyway.
True, maybe. But in retrospect I regret my strong views from those days. Being challenged by different ideas and perspectives surely provides a stronger foundation to work from. After the Academy I found my compatriots in the collective Het Wilde Weten, and the exhibitions we organized and work we made in those days strongly formed me. I continued painting and also got into making installations. At some point my entire studio was cramped with furniture-like sculptures. It got difficult to move around my workshop, and this is how photography came into my life: I started taking pictures of my installations.
Your installations have made way for cityscapes. Is there any resemblance between the pictures of installations and the ones of urban landscapes?
My interest in urban landscapes dates back to the early 2000's. Cities fascinate me tremendously, especially the relation between man and the structures we have built. For me it is a metaphor for the insignificance of man within the overpowering city. Answering your question, when it comes to subjects: there is very little resemblance. But there definitely are similarities when you look at the way I create my pictures. My way of working is highly systemic. Taking a photo comes with a lot of preparation: finding the right location to set up my equipment, waiting for the right light, finding the right time of day.
You are living and working in the centre of Rotterdam, a busy and lively city itself. Do you find inspiration in your hometown?
I hardly take photos in Rotterdam. You can't see your own city the way you see others places. It is the same when I am holiday: I just stick to snap shots of my family and the surroundings.
There is a map of Hong Kong on your desk. Are you currently planning a trip?
I have visited Hong Kong frequently the past couple of years. It is a wonderful and challenging city to work in. The place strongly combines what I call the "mega-city" with the "non-city", the formal with the informal. This juxtaposition of the planned and orderly city with the organic sprawl of urban development fascinates me strongly. Increasingly I have become interested in the changes that urban landscapes undergo. I have started to visit specific places multiple times, and focus on the changes over time.
I still try to avoid making series'. I consider making a series to be too easy. For some reason in the field of photography, a series is regarded as the litmus test for a photographer. For me making a series feels like producing and reproducing one idea over and over again. A strong idea or concept can also be caught in a single image.
Your photos will be exhibited at the Unseen Photo Fair in Amsterdam later this month. What can we expect?
"Interlude" is one of the photos I will be presenting. The photo shows a suburb of Hong Kong with the city centre in the background. The picture shows the city with tremendous rain clouds forming above it. Locals call these thunderstorms Black Rain, the skies literally turn black. I remember feeling a little afraid at the moment I took this image. It was such a dramatic sight.
I am really looking forward to the Unseen Photography Fair. Last year's first edition was very successful. The presentation of little known photographers alongside renowned ones proves a fruitful concept, and makes the festival approachable for a mixed and young public.
From the studio Hans takes us for a walk through the neighborhood. We end up at Tropicana, an abandoned tropical swimming paradise adjacent to the river Maas. Hans' apartment can just be seen across the river. The run-down paradise has been recently turned into a hip bar and club. The contrast between the dilapidated interior and Tropicana's new function feels like a reflection of Hans' work. He surely is in his element here.
Does this area hold many memories for you?
I remember taking my daughter here for her swimming lessons. One day we were swimming, she on my back holding me tight with her arms around my neck. And all of sudden, she let go and was swimming on her own. I have so many recollections here. Now look at the place. It is all crumbled, but the crumbling itself brings a new atmosphere. It is beautiful.
Thank you Hans for showing us your workplace and taking us on a little tour through Rotterdam.
We are looking forward to seeing Hans Wilschut's photographs as part of the Unseen Photo Fair in Amsterdam from the 26th-29th of September. You can also view the portrait of Hans Wilschut on Unseen's website.
Read more on the recent collaboration of FvF and Unseen here.
Photography: Jordi Huisman
Interview & Text: Thijs van Velzen