Barcelona has always been a city known for its cultural and artistic richness, as well as its tremendous quality of life. It has been a source of inspiration for countless artists who initially come for a year and are then slowly drawn into its beauty and find themselves establishing their life and work there. Such is the case for designer and entrepreneur Carolina L. Iriarte.
Carolina came to Barcelona in 2006 to study in the famous Massana School and continue her education after finishing Fine Arts, Art Direction & Set Design in Buenos Aires. However, she never began. Finding a job working alongside a local shoe designer, for the next two years she learned the ins and outs of the trade before starting her own project in 2009, designing unique handmade leather bags.
Always using her hands, Carolina succeeds in creating one of a kind purses with the level of quality you seem only to find with antiques, they too are meant to last. Iriarte Iriarte, Carolina's project, continues to grow and is fast becoming internationally recognized. Her studio and showroom is located in the heart of Barcelona in Plaza Real. This square is a window to the world, with all walks of life crossing through on any given day providing a continuous stream of energy and source of inspiration for each collection. This newly refurbished flat is illuminated with Barcelona's singular warm light. Carolina's carefully selected antique furniture present Iriarte Iriarte's newest creation enveloped by the sounds of old tunes from her vinyl collection. The fantastic open space allows each bag a place for display in an environment where simplicity and elegance are the key.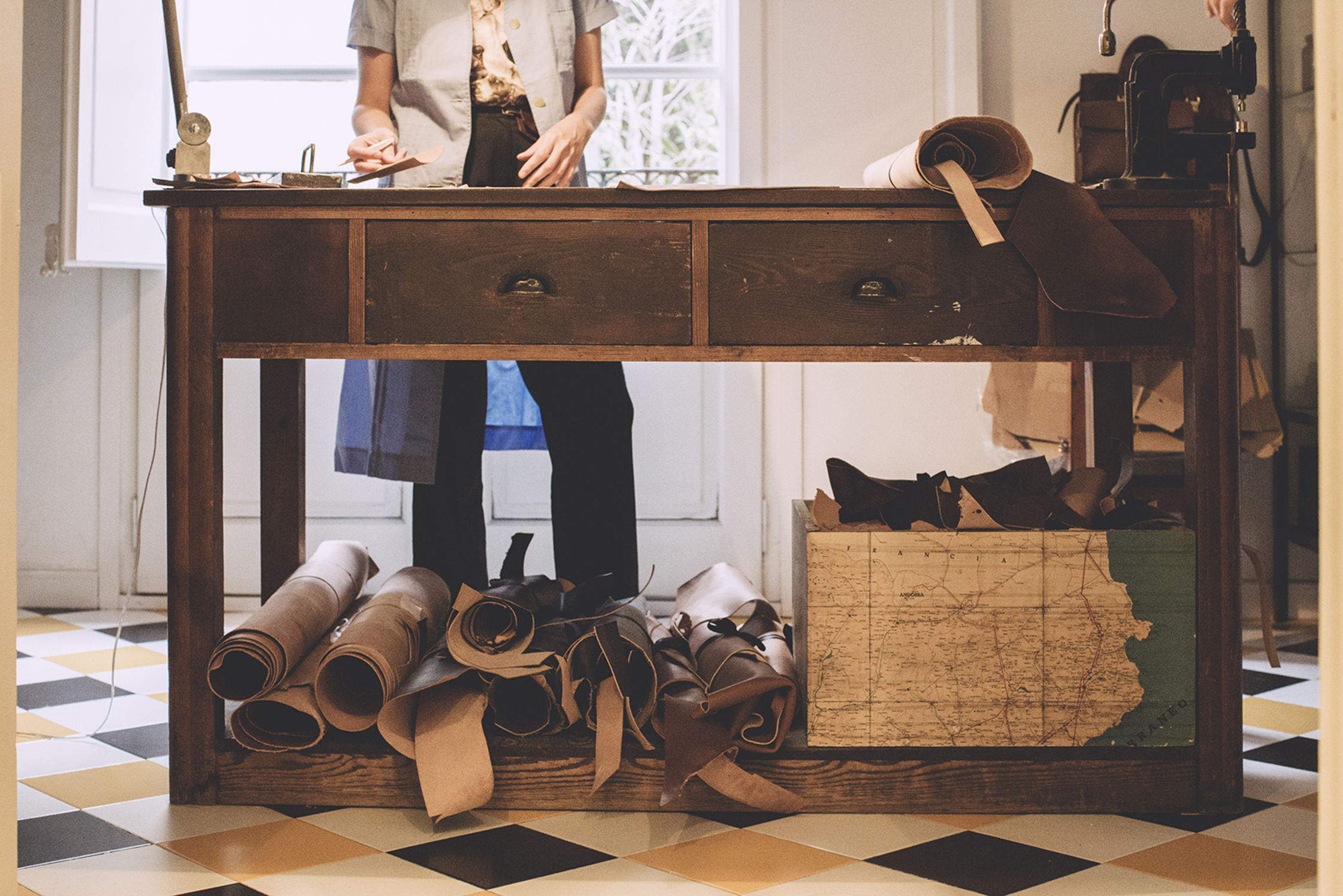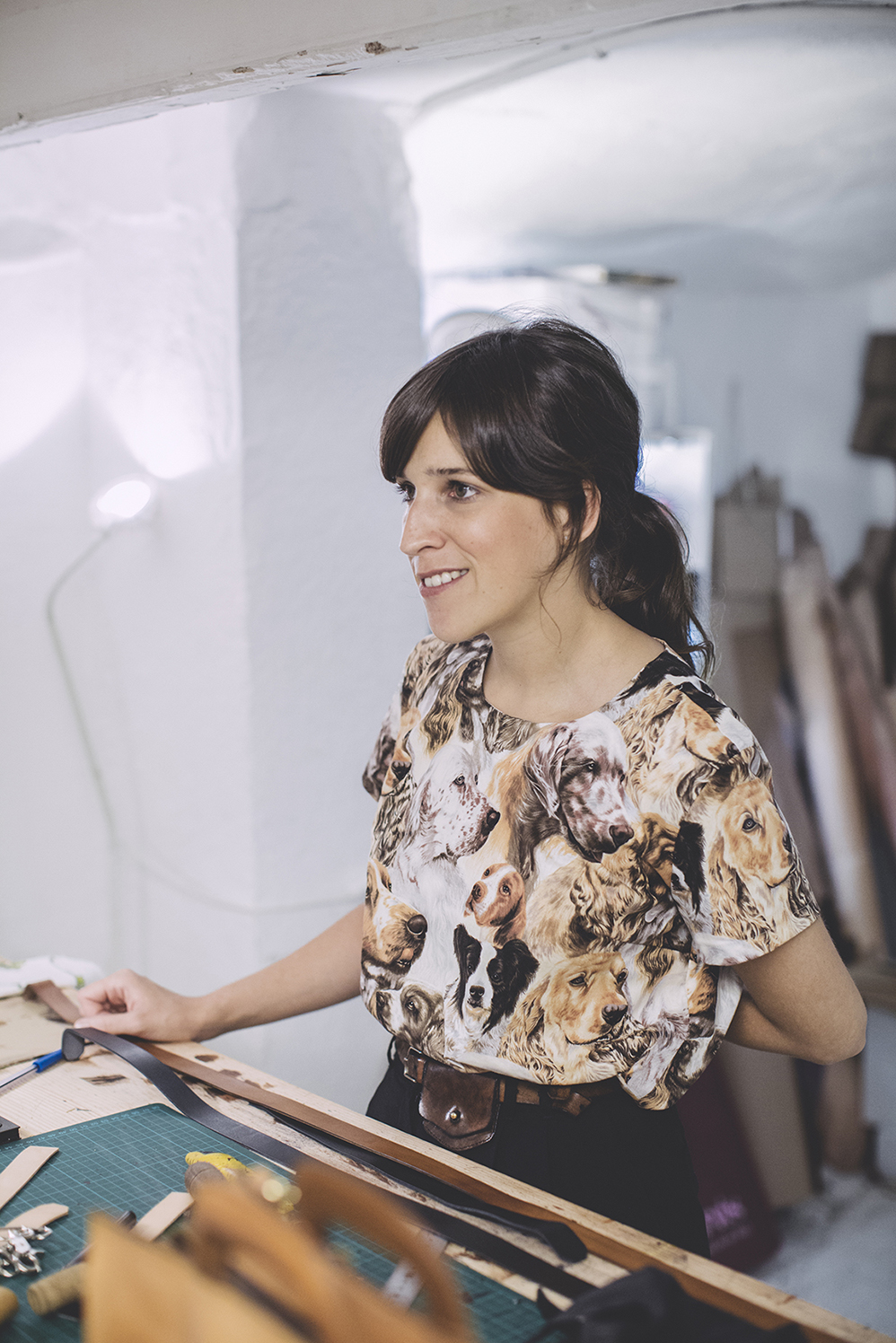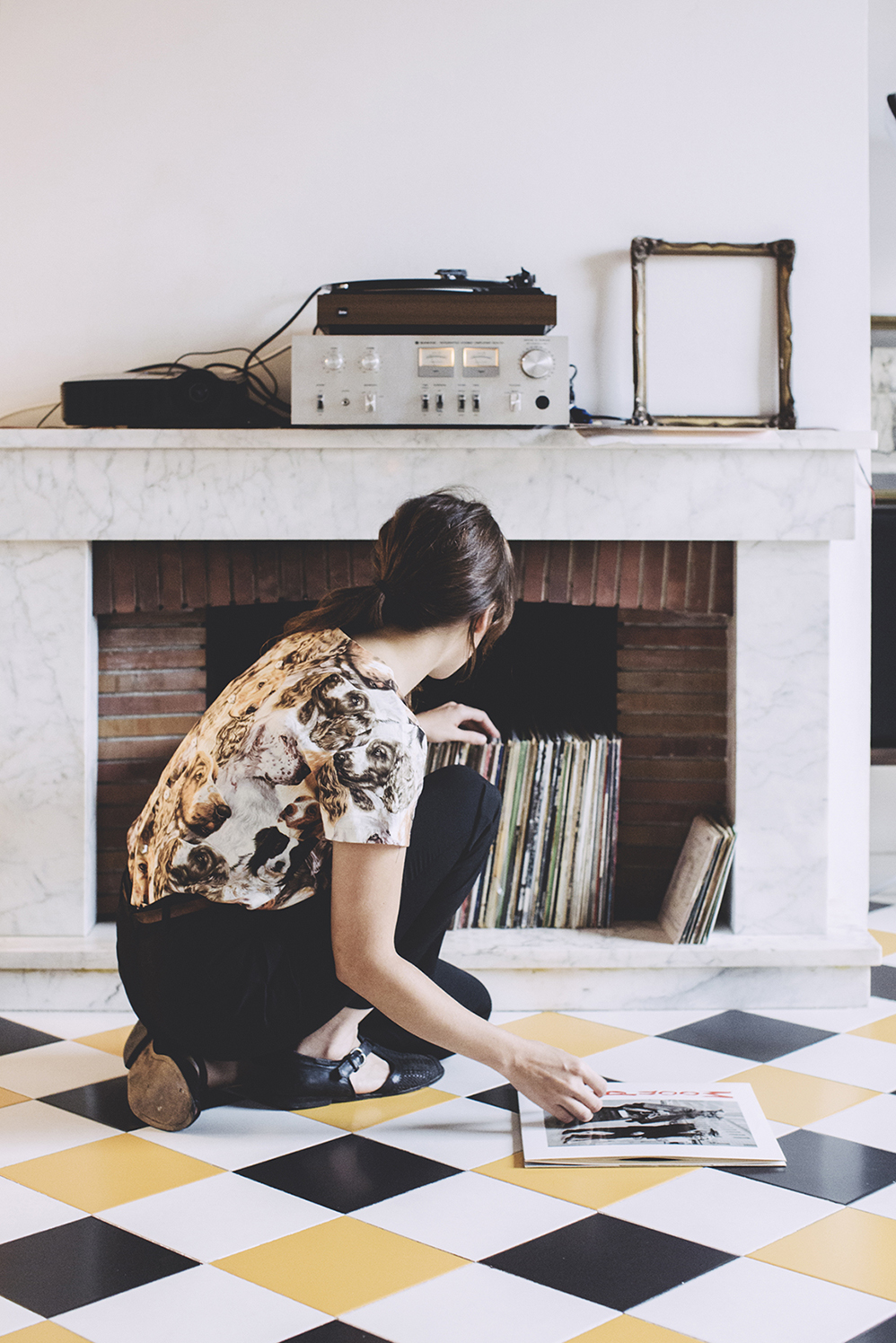 Tell us about your training, it´s been quite varied, right?
I studied Fine Arts at the University of Buenos Aires and made a parallel career in Art Direction. I also did a brilliant scenography workshop at the Teatro Colón. I was submerged there all day, it was very intensive. Once I finished these studies I moved to Barcelona and spent three years working in a shoe designer's. During this time I lost my fear of doing things that I had no experience in. This particular designer did everything from cutting, sewing and dyeing, to communicating with his customers and international stores, managing orders and preparing presentations for fashion week in Paris.
And when did you start creating handbags?
In early 2009 I felt the need to start my own project. After learning the basic skills, I made the first prototype and since then everything started to naturally take shape, step by step. After renovating a small shop in an alley in Born and establishing the workshop, I started making bags visible to the general public. A couple of months later I presented the first collection.
How does your varied background in different creative disciplines help your design?
In design, all these skills that I have acquired over the years are crucial. For starters Fine Arts, Art Direction & Set Design help me to conceptualize and create the aesthetic universe that surrounds each collection. In the second phase, artistic drawing, technical drawing and building models are essential in developing and visualizing each model. Then finally, there is the art and technique of leather processing. This expertise allows me to experiment and materialize my designs without intermediaries while also working within my capabilities and knowing my limitations.
What is it like being an entrepreneur so young?
It means growing together with your project. Doing what you love so young, without a boss, is very rewarding. At first it's difficult because you face many problems and while you learn to solve them, you also experience stressful moments. You have to give up a lot of things and dedicate a lot of time to it, even if you're not physically working, your head is always there. Anyways, I come from a family of entrepreneurs so I knew more or less what I was getting into and that all the effort is rewarded in the end.
How has your style evolved over the years?
I think that my technique has evolved. At first I was still learning so I was somewhat limited. Now I get to create more complex designs, which gives me a lot more creative freedom and allows me to get better finishes and results. On the other hand, when I started I was very young and now, when I see my old collections, I can see how I´ve grown. The first collection is inspired by vintage school aesthetics.
What inspires your collections?
The first collection is called 'Truant' which refers to skipping school. The names of handbags are subjects such as Geography, History and Poetry. The second is called Farewell and is inspired by the old trains and the names of the purses are the English ttrain routes: York, Cambridge etc. The following collection is inspired by wood and the organic forms of the Black Forest. The latter is inspired by the literary movement from Buenos Aires following the birth of "South Magazine" and its founder Victoria Ocampo. The campaign photos were made in her farm in San Isidro, Buenos Aires, where she receives lots of visitors that include writers, architects, and artists from around the world.
Does the city inspire you?
I am inspired by Barcelona's open and dynamic nature and the continuous movement of people everywhere. At times it is very easy to get distracted but if you know how to deal with it, it can be very enriching. It is also a very cinematic city, full of history. In winter I love getting lost in the streets of the Gothic past and imagine old stories and times gone by.
You have many different antique collections – music, furniture, and pictures – why do you look so much to the past?
I like past objects that transcend their physical existence and transport us to other times. They have history. They also have the merit of having made it to us so they are usually of good quality. I find it very inspiring to observe old objects and see how they are made. Therefore, I have chosen to work with traditional techniques and quality materials so that they endure over time and are passed on from generation to generation. That is my intention with my work.
How do you compare the creative world of Buenos Aires to Barcelona?
I think that in recent years there have been very talented artists and designers in both cities. In times of crisis people often risk more, betting on their own projects, and in that sense I find Buenos Aires more interesting. However, it is more challenging to have a real impact being so far away from the centers of fashion and design. Luckily, thanks to internet that is changing.
What is it like working in the heart of Barcelona?
Working in the center of Barcelona opens a window to the world. After five months of opening the studio The New York Times contacted us and soon after we were on the pages of The Guardian. It is also comfortable and easy to get around. Both studios are a five minute walk away and everyone knows Real Plaza as it is a very symbolic place with a beautiful fountain, palm trees and porches.
What do you like most about the showroom? Why did you choose this space?
What I like most is the light and the space it has. My former workshop overlooked a narrow street where hardly a ray of sunlight came in. To work in natural light is one of the things I value most. additionally, the distribution and dimensions are perfectly suited to this idea of being able to do everything in one space.
Your work is almost exclusively focused on manual handmade craftsmanship. Why did you decide to work with your hands?
I find it natural. I always made my own clothes. Although I did not have the technique or the know how all the time I managed to get a good result. Being in contact with the material and shaping my ideas through my hands seemed fundamental and useful. I like to experiment and see what works with an idea or design. In the end it shows when you do things one by one, with care and attention. You get unique pieces that stand the test of time.
Photography: Natalia Guarín and Ruben Ortiz
Interview & Text: Natalia Guarín