The founders of Jeschkelanger, Marie Jeschke and Anja Langer, welcome us into their colorful world and invite us to appreciate the artistic potential of recycled glass.
The studio has always been a sacred space to artists Marie Jeschke and Anja Langer. First introduced by a friend in Berghain, they began working from opposite ends of a shared L-shaped studio space—the same one they still inhabit now, though in a slightly different form—soon afterwards. But it wasn't until 2016, when a curator came to visit and suggested showing their work side-by-side, that they decided to create together as a single entity. "We instinctively chose glass," they explain, "making our first glass pieces together for this exhibition. From that moment on, we worked together and never stopped." Jeschkelanger Studio was born.
In their hands, cast-off glass becomes a precious gemstone, a palette of colours to paint with, and a transparent lens that at once changes the appearance of the world on the other side, and almost disappears. The duo have made their name creating functional artworks which elevate and celebrate remnants that might otherwise be discarded as a waste product of artistic and architectural processes. Working together in this way they have developed their own material composite, Basis Rho, with which they continue to push at the boundaries of what is possible—composing artworks as well as functional objects flecked with vivid fragments of jewel-like glass. Their experiments happen both in the studio, and beyond it.
As their practice has evolved, their workspace, housed in what used to be a GDR care home for the elderly in Berlin's Lichtenberg district, has grown to accommodate it. It is bright and ever-changing, with artworks, found objects, plants and people moving through it week on week. They have added rooms and workshops, welcomed their own young families—both mothers, Marie and Anja have a young son and daughter respectively—and invited guests to cook, eat, practise yoga and meditate there. "For us, it's an amazing place," they say. "We really, really enjoy being here."
This interview is part of "Inside with…" a series of home stories and studio visits produced in collaboration with the Scandinavian design brand Muuto. Through dialogue with different creatives, the series explores the ever-evolving concept of personal space.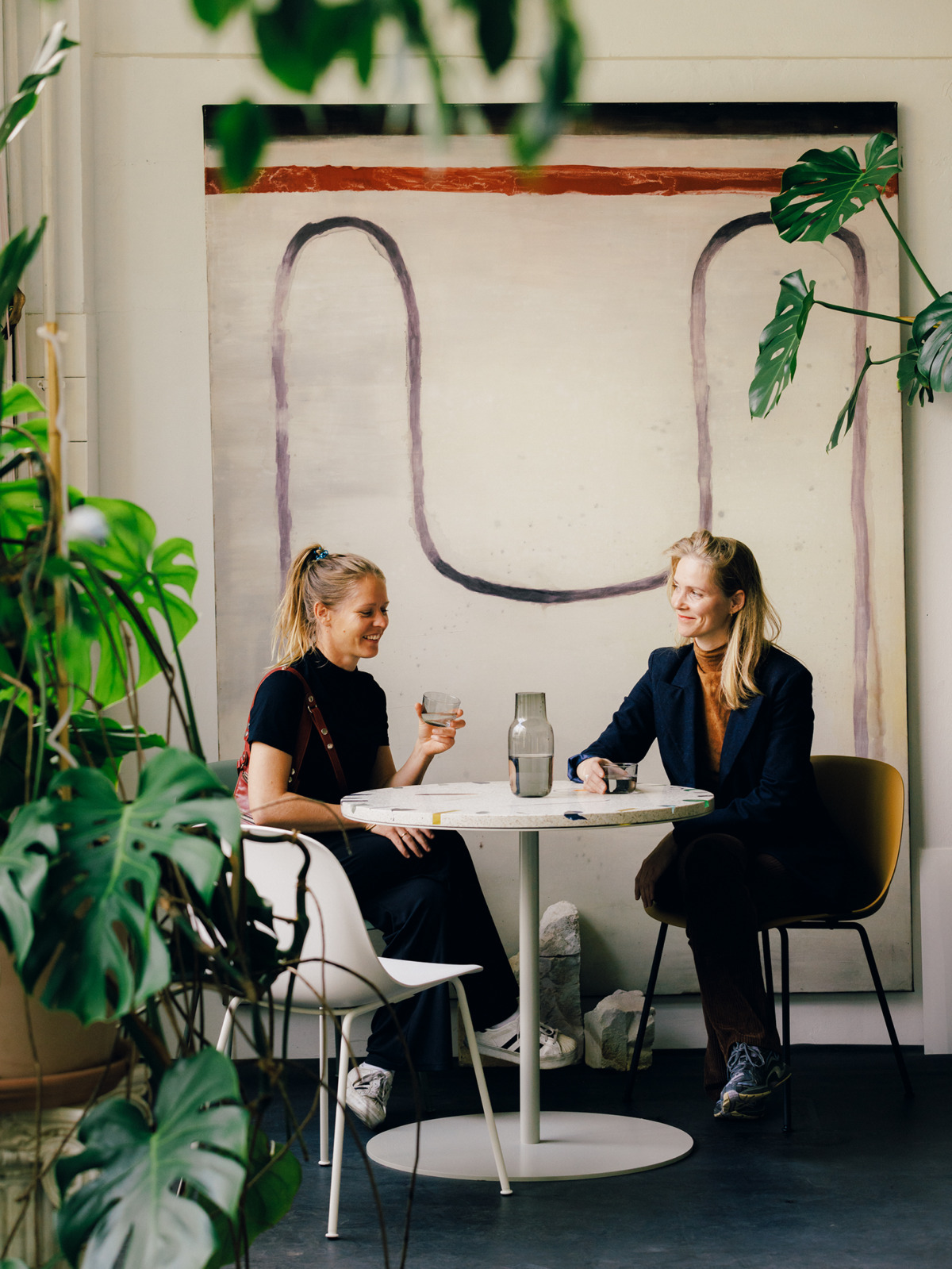 You've shared this studio since before you began working together. What was it like back then?

In the beginning it was like a little laboratory-cave, because we didn't know much about glass. We had to invent our own colours, our own reactions, our own ways of dealing with the super slippery surface. We were always so curious, how would it turn out if we made this colour? What happens when it dries? So we used to eat here, sleep here, and wake up in the morning to check it. It was quite intense.

What drew you to this space?

Already in 2015, there had been a big sell-out all over Berlin, and it was hard to find studios. A friend offered us this space. It was big, it was affordable, and we could reach it by bike easily from both of our homes. The first time we saw it, we almost ran away in fear. It used to be an old GDR care home for the elderly, and it's this super ugly building. But inside was a space with double-height ceilings and super big windows that used to be a kitchen, which became our first space. 

Inside, you don't have the feeling of being in Berlin. It's quiet. And the whole house has its own community. The kitchen became a very important symbol for us, a place where people come together and meet.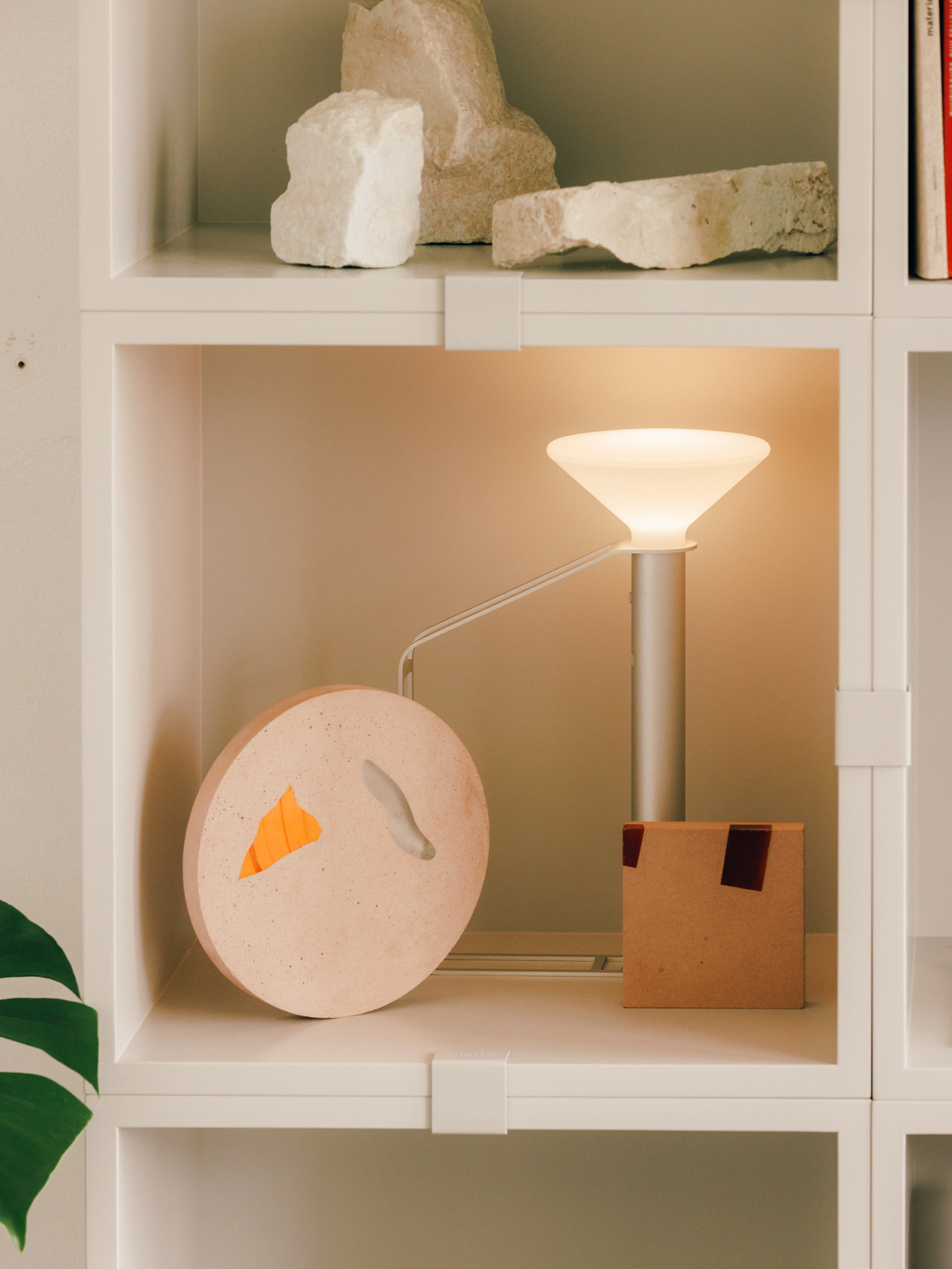 What's the neighbourhood like?

It's in Lichtenberg, which means 'the lit mountain', in the former east part of Berlin. There are some studio spaces around the corner, and big galleries have their storage spaces here, but it's not super gentrified, like other neighbourhoods. If you want to grab a cafe latte, no chance! You would need to go to a petrol station. But that means you don't get distracted by other things. You're really here.

How has the studio evolved to accommodate your practice?

In the beginning, we had one room we shared. But little by little we got more tools, and it became more professional. Now we have more rooms, and each room has its own function.
Why is it important to you to recycle remnants of glass in your work? 

We find them and then we place them at the centre of our works to give them the visibility we think they deserve. In all of our works, the authorship of the others is important. We call it 'shared ownership aesthetics', because the people who used this stuff before us already left their trace. Basis Rho is the climax of that idea for us, because it's made using remnants found in the ovens of glasshouses, left by other artists and architects. For technical reasons, they cannot be used anymore, but they are as beautiful as gemstones. We give them another life, because we paint with them. They become our colour palette.
"[The glass remnants] cannot be used anymore, for technical reasons, but they are as beautiful as gemstones. We give them another life, because we paint with them. They become our color palette."
What drew you to glass in the first place?

We were drawn instinctively to glass. We really like the polarity of the material. It is connected to the inside of architecture, and to the outside. Think of your phone: you touch it from the outside, but then there's so much inside. There is no fore- or background. In architecture, you don't even realize that you see glass, some of the time—you just see what's in front of and behind it.

Maybe it's also a reference to us being women. Being active in this world, it's not the easiest! Glass is so feminine—because of its beauty when it's reflecting and mirroring. Because of its slickness and sleekness. It's soft, but at the same time it can be sharp, and harm you very easily. It's challenging. It can enhance you, but you have to be careful with it at the same time, because it can break so easily. It's an opponent, in a way.

What does the studio smell like?

Dusty! Of course we have a special tent for sawing the glass, but you cannot avoid the dust.
What kind of artwork do you have hanging? How do you choose it?

They are our pieces, or pieces by friends. The pictures we have hanging change frequently, depending on the guests we have or who we are collaborating with. It's like a playground. Everything can be a canvas. A room itself is a canvas, you know? It's an art piece—how you arrange things in a room, how you move around them. For us, the studio is a canvas, with all these objects inside. What piece should be where is fluid and negotiable. It's all a process.
"A room itself is a canvas, you know? It's an art piece—how you arrange things in a room, how you move around it. For us, the studio is a canvas, with all these objects inside."
We have been cooking together every lunchtime since the beginning, creating that time to sit down, eat, speak. No work-related things. It's just about pleasure, and taking care of our souls. We've also started a yoga class here, with other artists, that takes place once a week, and that's an important ritual for us. It changes the energy for us. When you're a parent there's not much space for oneself—especially if you are a mother. We both realized how little time and space is left if you don't fight for it, if you don't create it. That's what we are always trying to do, every day.

What's your favourite time of day?

When we arrive here in the very early mornings, let's say between seven and eight, nine, maybe, the main studio is completely flooded with light. Whatever our stress level is, we press the pause button the moment we enter the space. It's so bright, and the light catches the glass everywhere. The paintings activate the room differently each time. It really slows down time. This one moment, I would say, is enchanting for both of us.
Jeschkelanger Studio was founded in 2016 by artists Marie Jeschke and Anja Langer. Together, they interrogate the limitations of recycled glass, exploring the challenges and the endless potential of extending its useful life. The studio has made its name by salvaging glass remnants from artistic and architectural processes and developing its own material composite, Basis Rho—a new compound which they use to create functional artworks. In their hands, glass is by turns a precious gemstone, a palette of colours to paint with, and a transparent lens through which to view the world.

Text: Maisie Skidmore
Photography: Felix Brüggemann