In creative industries it is very common for someone to switch between different fields of specialization in order to further explore their ideas and potential. Artem Letunov and Alexey Inshakov are no exception, having both had their share of experimentation with a variety of professions before finding their niche in carpentry. However, unlike most people, these two restless Muscovites have gone through quite an expansive list of occupations for one lifetime: from car mechanic, librarian and tattoo artist to florist, pastry cook and a handful of side gigs.
After initially disliking each other, Artem and Alexey soon established a common respect and thereafter founded the wood workshop and design collective Wood Deed. Moving beyond their professional fields in commerce, Wood Deed is now a close-knit company of seven people who have been recruited based on their personality and individuality rather than just their carpentry skills and formal education.
With Wood Deed, they design and produce eco-friendly furniture with a strong focus on Russian identity and folk motifs. By incorporating the country's unique tradition of wood crafts, they attempt to reinvent and salvage this heritage. Their workspace is a great example of how antiquated techniques can be used to form a newfound perspective of contemporary interior design.
We met the Wood Deed team in their studio and discussed their creative initiative, obsession for rescuing chairs from the trash, as well as the world of entrepreneurship in Russia. Afterwards, we drove around Moscow in a vintage Russian Volga and visited Artem's favorite building from 1856 followed by a coffee at the popular moto-bar Enthusiast.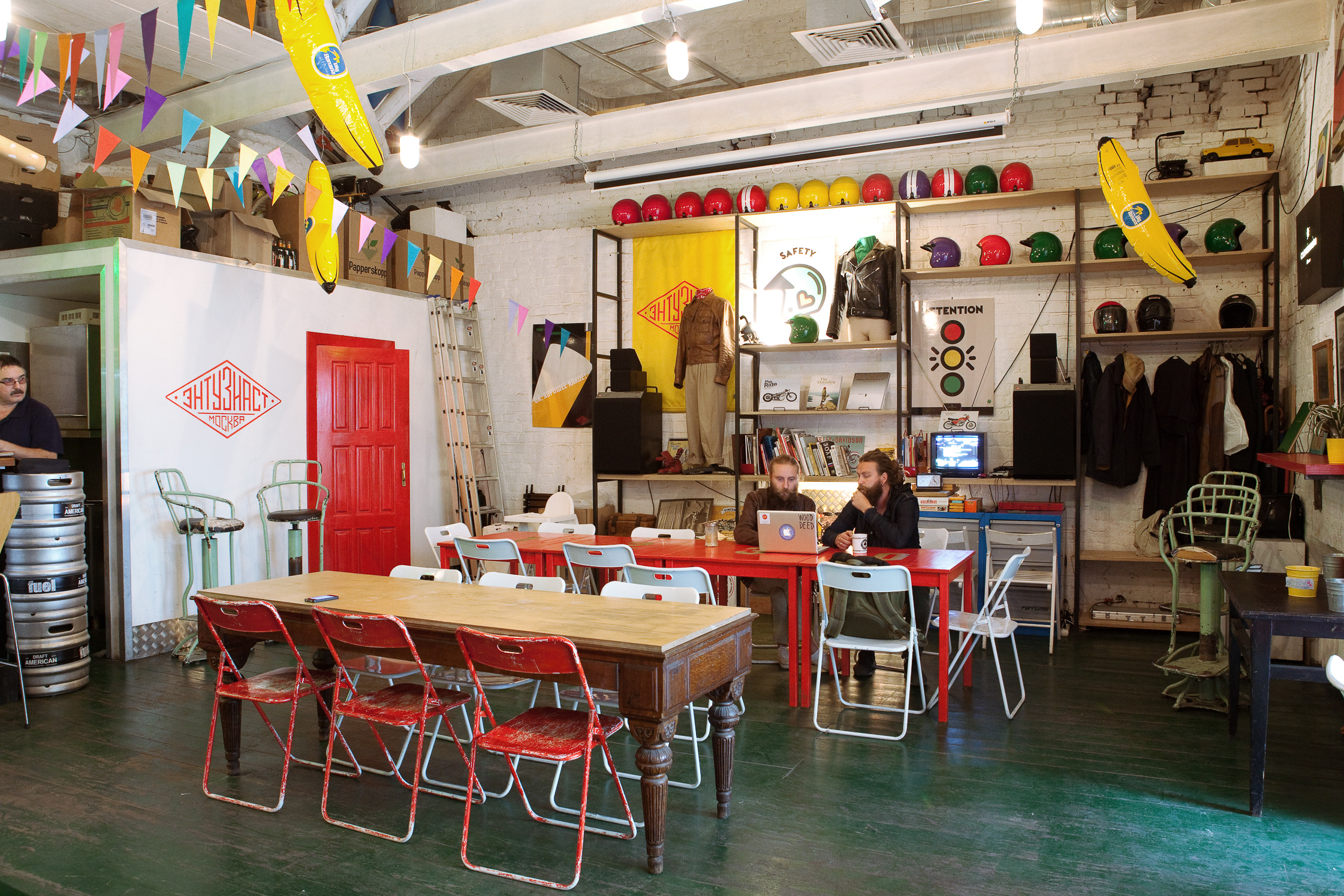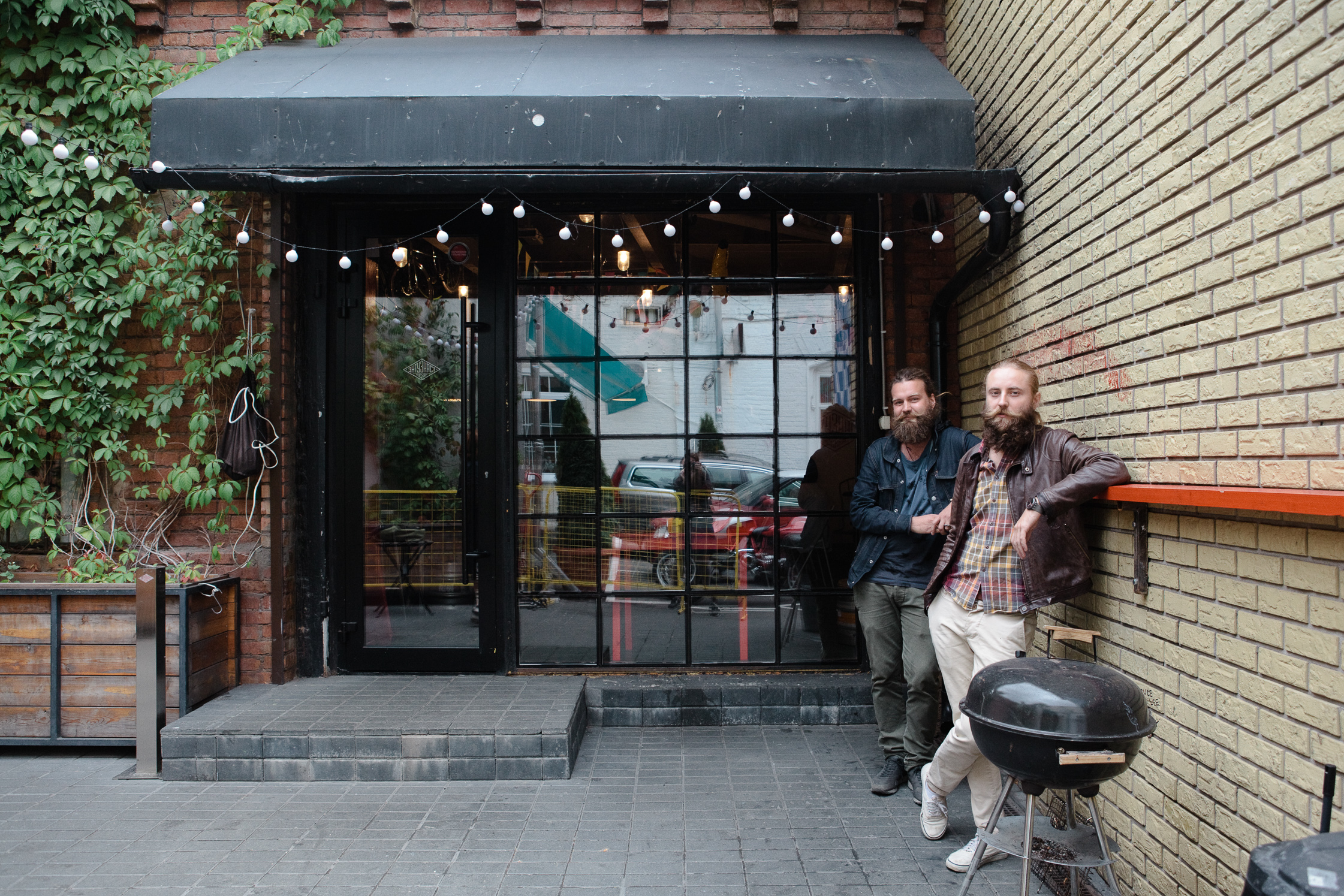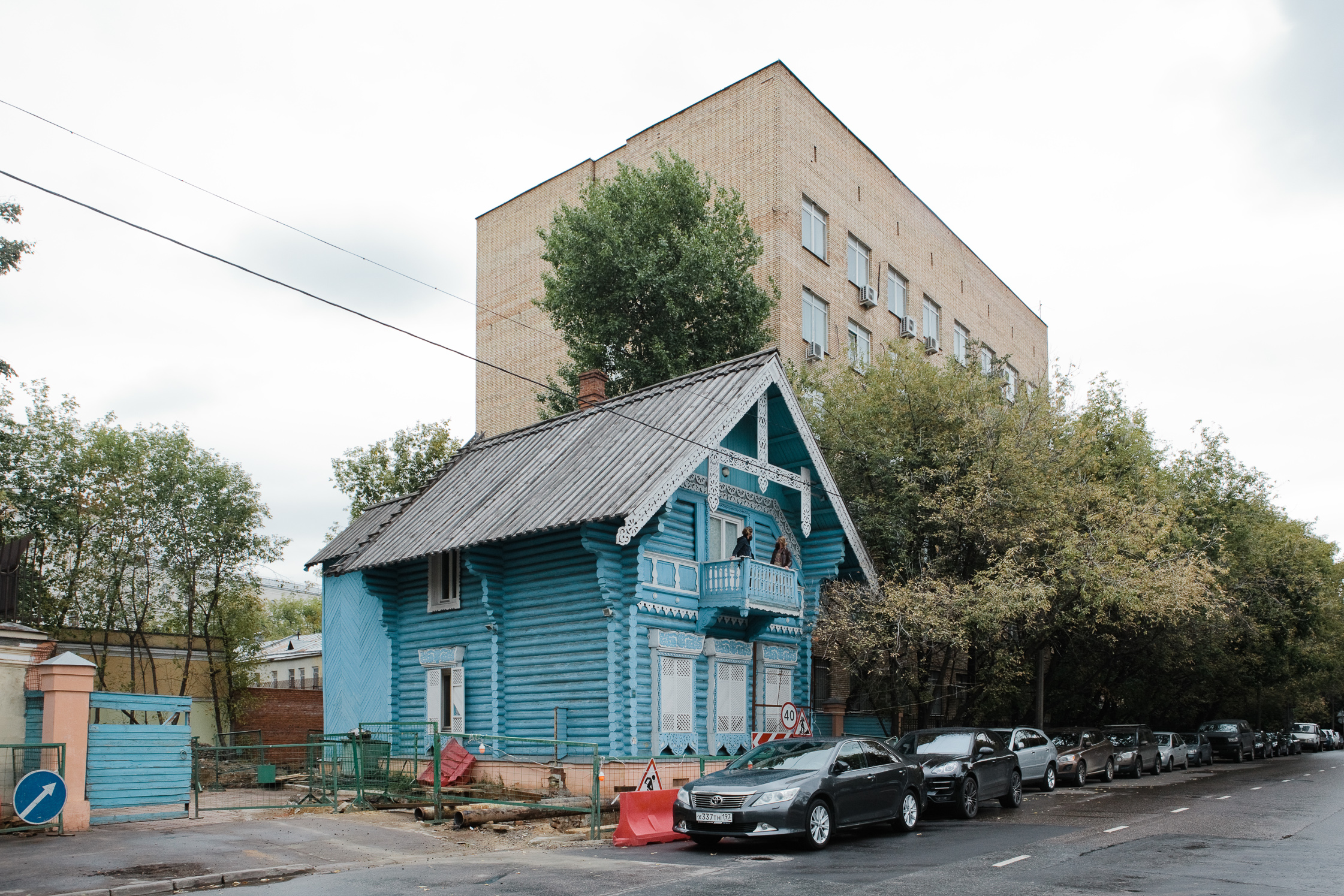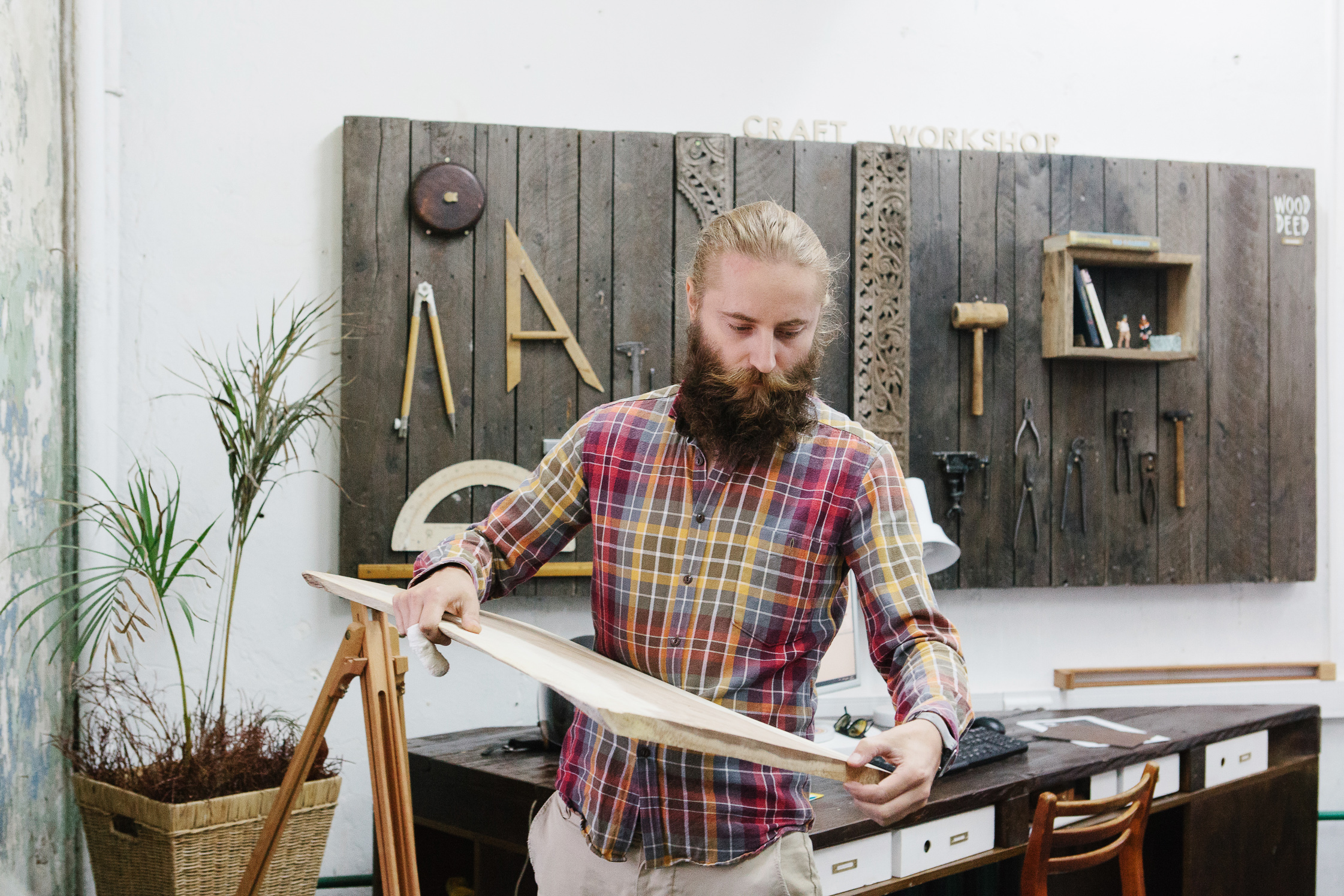 How did you two meet?
Alexey: We met ten years ago at the Diesel store where we both worked at the time. The story itself is quite funny, we got to know each other while I was piercing Artem's nipples.
Artem: Alexey disliked me at first, and for some reason I felt the same.
Alexey: But then we spent more and more time together and became friends – the team at Diesel was very close-knit and ever since we haven't experienced the same atmosphere in other companies. Now with Wood Deed, we are finally able to bring back this kind of working situation.
What is the story of Wood Deed?
Artem: While working in merchandizing, we noticed a lack of small well-designed wooden decorative pieces for retail spaces and showrooms in Russia. So, we started making them ourselves for our own projects. During that time we got to know the founder of LOFT Design, Oleg Isayev. He let us use his space as a production base and taught us everything we needed to know. That's how we started the business. Soon after that, more and more orders started coming in and we decided to hire an extra person to increase the capacity. We've always received a lot of emails from people who want to work with us and one of them was Alexey 'Junior' – 'Junior' because we have two Alexey's in the workshop. Alexey 'Junior' used to be a stage designer for theater productions when someone showed him our Facebook page. He liked what we were doing so much that he quit his job and joined us, even though we couldn't afford to pay him a big salary. For one and a half years it was just the three of us. At some point we couldn't fit in the LOFT Design's space anymore so we rented this room here, which we initially used as a workshop and is now our office.
How did you find this space and grow as a team?
Alexey: We were very lucky because the guys who were renting the office just next to our initial space in LOFT Design, moved out and we took over. Step by step we expanded to the ground floor's 110 square meter space, then rented the storage and so on… You know how it goes. Also, we have been actively promoting the area for other creative people to move into. There's already a cluster of creatives here.
Artem: The other two people involved in Wood Deed are Nikita and Arkadiy. Nikita is a musician whom we met at a festival. Whilst spending a weekend together in the countryside I asked Nikita if he wanted to work with us. So, he came to the office on the Monday after the festival and he's been a part of our team ever since.
You are working with wood, a material that requires a lot of technique. However, you don't seem to care so much about carpentry skills when choosing the people you work with. What are the main criteria?
Artem: Well, both Nikita and Arkadiy learned everything at LOFT Design.
Alexey: Every Wood Deed team member is very creative, so I think creativity is the main indicator.
Artem: Then, sense of beauty, motivation, responsibility and dedication are also important.
Alexey: For example, Arkadiy had an office job beforehand but he learned how to paint within a week.
And what about you, what is your background?
Artem: After secondary school, I finished college as a car mechanic. Then I studied at university and graduated with a librarian's diploma.
Alexey: I was a pastry cook. I worked for one and a half years in the field and then quit to work as a tattoo artist. I also studied in the field of hospitality and tourism.
Artem: Then Alexey started to work with merchandising. I had a small flower shop at the time, where I made all the furniture by myself. However, it was very hard to make ends meet so I had to close it down. Apart from flowers being a perishable product, you have to wake up at 6am and go to bed at 2am in order to run that kind of business. It's something that you have to dedicate your life to and actually love flowers.
Alexey: I pushed Artem to join me in commerce!
Artem: At the same time I had moved to a new spacious and empty apartment, and I thought I could build some things like a podium and bookshelves myself. At this point we also met Oleg and the whole story with Wood Deed started.
How does it feel to be a young entrepreneur in Russia?
Artem: I can formulate it in one sentence: it's a lot of fun. It is very unstable, but I think it is like this everywhere give or take. For instance at the beginning of this summer we had three million rubles in our account and now we have fifty thousand as expenses grow every month. But we are not giving up – we've accepted the fact that there is no stability in entrepreneurship even when there are a lot of clients and orders.
Alexey: I can say that I don't regret anything. This job gives me freedom, even though I am constantly busy. Of course there are difficulties, but I realized that this is exactly what I want to be doing and it is a pleasure when you are part of such a wonderful team.
Your office is very distinctive; I see many Russian folk motifs. Whose idea was it to use them here?
Artem: We have been doing a lot of research to find our own style. We were looking for something that would set us apart from the rest and we naturally got an idea to use a Russian theme, but not from the Soviet period. I am talking about connecting with roots and revisiting Zodchestvo in particular. There is a lot of wood in Russia and a very long tradition of working with it. Things like "nalichniki" – a traditional wood carving technique used in house exteriors – are fascinating. Unfortunately this tradition is not very popular among Russian design studios; most of them prefer to copy European style. I don't understand it. These things exist already so why not focus on our identity from a different viewpoint instead? I think one can integrate the Russian style into contemporary pieces and arrive at some really cool results. This is something new and fresh. It could become popular in the near future because I think people have had enough of Scandinavian minimalism.
Alexey: We furnished the office slowly as time went by. I got these "nalichniki", for example, through a friend who called me one day from his country house and said: "A house around here is being taken down. Stop by and take a look." Of course the next day we were there but only three windows remained as the rest had unfortunately been burned.
Artem: Basically, most of the furniture you see in here we've rescued from one place or another. For example, we were asked to collect these old closets otherwise they would have been thrown away.
And what about the chairs? Artem you have a big collection of them, right?
Artem: I started collecting them a while ago. I picked up my first chair from the trash and then it became sort of an obsession as everyone around got involved. Whenever anyone sees a chair or an old table in the trash they call us immediately. We also have about ten chairs from the old ship "Brusov" – they threw away about 200 chairs, can you imagine? Of course most of them need restoration and this requires time. For now, they are all part of our collection, but in the future we will sell them.
Apart from Russian motifs what else sets you work apart from other wood craftsmen?
Artem: As true vegetarians we aim to use eco-friendly materials only. When it comes to paints and varnishes, we are not using super toxic stuff, even though it's way cheaper. We found a very expensive brand of varnish which is even safe to use for children toys.
Alexey: Using eco-friendly materials introduced us to a new side of working with wood. Now it's even more interesting and challenging as we have to find alternative ways of doing things.
You mentioned you are 'true vegetarians'. Where would you go for that cuisine in Moscow?
Alexey: I am very happy that there are more and more interesting and inexpensive places with vegetarian food opening in Moscow. Jagannath is my favorite; they have a very good atmosphere and tasty food. Also, the falafel hype has finally come to Moscow, so now you can have tasty food without meat.
Have you got any words of advice for people who are designing their own space?
Artem: In most cases, people want to buy something new and throw away everything old. It's not an efficient method both for economical as well as ecological reasons. Nowadays, there is more and more stuff in the garbage. I think the best way to go about this is to buy a few key quality objects and then add everything else from what you already have or get things from flea markets.
Alexey: Another important thing for us is that you should never forget your roots. There are so many unique things and traditions that only exist in Russia and can disappear any minute if we don't don't pay attention to them.
What are your plans for the future?
Alexey: We wanted to do an educational program from the very beginning but at the moment our capacity is limited and we are not ready for it yet. Eventually we will do it. We recently organized a workshop as part of a festival and it was very successful. Many people turned up for it so the demand is there. For now we will focus on one-off workshops and later on will do something more fundamental.
When you are not in the workshop, where do you go for a weekend getaway?
Artem: The Kaluga region is one of our favorites and we adore Nikola-Lenivets – an expanse of 650 hectares where you can find 28 site-specific art installations, international art festivals and workshops.
Where would you take a friend who is in Moscow for the first time?
Alexey: I take everyone to the Biryulevsky Arboretum, where I spent my childhood. I love nature and this park is very unique as you can find more than 250 different types of trees in there. The Arboretum flows into Tsaritsyno Park, but I wouldn't recommend going there on a weekend – it is way too crowded. I would take them to Nikola-Lenivets, which is far from Moscow, but is an outstanding place. Then I would probably take them to Pereslavl Zalessky – 140 km northeast of Moscow. Also, for a party night we would head to the Cult club back in Moscow.
Artem: I would definitely take them to Strelka, especially in the summer, as they throw great parties there. Another cool place is Neskuchny Sad in Gorky Park. Krylatsky Hills is also one of the spots I like.
Alexey: Yes, it is very beautiful out there. There is also this huge 12 km bicycle track. On Solyanka Street 1, we used to go to the rooftop of a building but I don't know if it is still open. The access to the roof was open and we would have picnics and drink wine watching the sunset from up there.
Artem: Some of my favorite buildings in Moscow are the wooden "izba" – traditional Russian countryside dwelling – built in the 19th century on Savvinskaya Embankment, I highly recommend visitors to see these.
Alexey: Architecturally, I really like the building behind the Aram Khachaturian Monument in Brusov Lane. It is more of a contemporary architecture aesthetic with a lot of glass and asymmetric columns. Also the Telegraph building on Tverskaya Street and a group of seven Stalinist skyscrapers – The Seven Sisters.
Thank you Artem and Alexey for introducing us to the Wood Deed team and showing us around your studio and favorite spots.
Photography: Natalia Pokrovskaya
Interview & Text: Kristina Kulakova