Just a few blocks away from Jaffa Beach in Tel Aviv, Israel, sits the bright and lively office of Andrey Grishko and Shay Nifusi.
Together, these two modern craftsmen make up the creative duo behind AndreyAndShay – an industrial design studio they founded together in 2011.
Andrey spent his childhood in the Ukraine and moved to Israel when he was 12, while Shay has always called Israel home. After the two met at Shenkar University in Ramat Gan, they quickly bonded over a shared passion for product design and decided to start a company in the unique city of Tel Aviv. They both felt that the processes of design and manufacturing should go hand-in-hand, so Andrey and Shay built their business around that concept. Today the pair still focus on their initial goal of crafting designs at reasonable prices while never compromising on quality.
Between bites of freshly made pita and hummus, and sips of coffee, Andrey and Shay told us the story of how they became young designers and what they enjoy most about the creative landscape of this vibrant Middle Eastern city.
The two of you met in college and decided to start AndreyAndShay. What did each of you study, and how did that help in your journey towards opening a design studio?

Shay: We both studied industrial design at Shenkar College and graduated in 2013. During our studies, we always used to pretend to own our own studio. We felt like kids who were dreaming of one day becoming grown ups. Eventually the play came to life in the shape of AndreyAndShay. It was in 2011, during the middle of our second year, when we debuted our collection "Useful Leather Objects". We started off by making the pieces just for personal use and fun, but then we were pushed by our friends to start selling them. From that moment on, the progression into opening a design studio happened pretty naturally.

How did you find out that you both shared a similar passion for design? What made you decide to start the company together?

Andrey: I approached Shay on the first day of school during the very first year of our studies at the design faculty. We started talking and realized we had a lot in common, and we've been best friends since that day. Mixing business and pleasure can actually be a really good thing; it allows us to enjoy every single day and go to work with pleasure. If you're having a bad day, you always have a friend sitting next to you that you can rely on. If we grow larger, we plan to hire not only good designers, but also nice and fun people to work with.

Did you always want to be designers? What was your dream job when you were younger?

Shay: When I was younger, I didn't really know I had a creative side. I was around 20 when I started to discover that side of myself. That was the age and time period in my life when I started to feel a desire to express my creativity more and more. By then, I had to decide on my college degree and just knew I had to learn Industrial Design. The rest is history!

Andrey: When I was younger, I spent most of my time painting. I went on to study architecture in school, but I always wanted to combine that education and knowledge with a deeper feeling for designing products. Even when we're designing everyday objects, I want to use my imagination and work with my hands as much as I can.
What are the roles within your team? Do you each have specific tasks that you're responsible for, or do you work together on everything?

Shay: We try not to place ourselves into different roles, but I certainly count on Andrey for solving engineering issues and he counts on me when it comes to shapes and styles. Our minds work in very different ways – Andrey plans his moves ten times before he does something! He is always very careful and meticulous, while I am more of an impulsive person. We really rely on each other's thought and judgment processes, because we know we can be 100% frank with each other when discussing design issues. Ego does not play a part in our work. The same notion goes for our working relationships with clients; we always try to interact with them as honestly as we can. The combination of having two different mindsets and ways of doing things has brought us very positive results as a team.

What kind of materials do you like to use and why?

Andrey: We use everything from natural materials to highly engineered materials. Most recently, we've done some brass casting, copper spinning, ceramic molding, plastic thermoforming and carpentry. We always try to keep in mind that every material has its own unique characteristics – the goal is to match the right material with its specific purpose.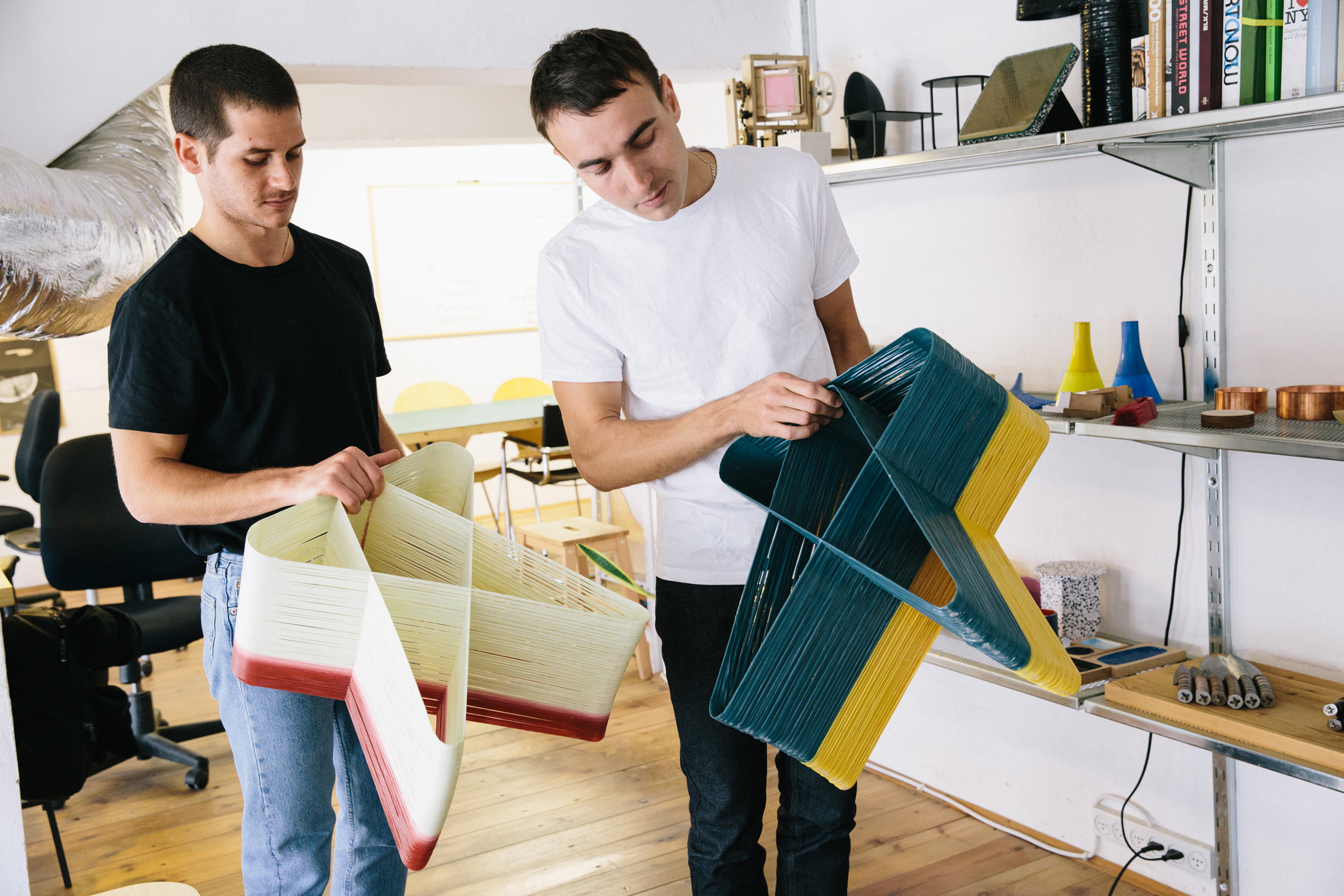 Tell us about the Cheap Monday pop-up. How did you become involved with the brand, and how did people respond to the designs of AndreyAndShay?

Shay: This project was commissioned by Cheap Monday's Israeli distributors. For the pop-up, the store had a vibe that was centered around the theme "Here today; gone tomorrow." Because of this, we wanted to create stand-alone furniture that wasn't connected to any walls. We used OSB surfaces and made 29 pieces, including high and low tables, mirrors, clothing racks, stools and a counter top. The material we used for manufacturing is commonly used in construction sites as a temporary surface. If you know how to use it in the right way, it perfectly fits the pop-up vibe and can look very good. The concept we wanted to get across was the idea of grasping the associative difference between cheap and low cost. The event was a huge success sales-wise and was crowded every day!

Andrey, tell us about your project "Woven" and the furniture building machine you created.

Andrey: It started as my bachelor's degree project at Shenkar College. The idea behind it was to combine the mass production method with various options for more individualized customization. The project was meant to support the empowerment of designers by giving them the ability to produce their own designs. As a first pilot, we made a table, a lamp and a stool that were each so light that I could hold them with two fingers. Most recently, we've been working on a potential collaboration with a big software company that would take the Woven technology method to the next level. They would combine Woven's techniques with their own knowledge of mechanical and software engineering.
What do you like most about the design landscape of Tel Aviv? Do you think Israel is a good location for this kind of creative work?

Shay: To begin with, Tel Aviv is a great city to live in. The area is filled with cafés, nightlife and sandy beaches. What more can we ask for? Plus, the world continues to feel smaller and smaller. Working with international clients becomes easier every day, and it doesn't present a struggle for us anymore. We get to work on many nice projects for clients in Tel Aviv, but we also have the opportunity to work with clients who are abroad; such as the recent collaboration we had with Florentine Kitchen Knives and a restaurant called The Jane in Antwerp.

What Israeli and foreign businessmen have to understand is that we are crucial for their work. Good design doesn't have to be expensive by definition; it can also be affordable without looking cheap.

In your design work, what have been your biggest challenges and biggest accomplishments?

Shay: The biggest challenge is always in keeping our work significant and relevant to the needs of others, while not giving up any creativity. Our wish is to always be aware of what people need and how we can be our best when approaching future projects. We want to learn from criticism and grow from it, instead of becoming disheartened or upset. Another more practical challenge is in finding the right clients. We look for clients with a certain vision but also people who are open-minded enough to welcome different ideas and suggestions.
How do you think your work is useful? What has it taught you?

Andrey: As industrial designers by trade, we need to know a bit about everything. Once we get a new brief, we dive into it and study the case as extensively as we can. It's useful for us, because we're able to really learn and take part in every step of the process and see things with fresh eyes. Industrial designers have a basic knowledge of many production processes. Sometimes we take care of the entire process of designing a new piece, from the very first drafts and drawings, to the actual creation of the product.

Although it sounds a bit cliché, our biggest accomplishment is having new work everyday that keeps us busy doing what we love. Right now, we're excited about designing the office of an advertising firm in a fresh, cozy and contemporary way. Being busy in this field of design is such a blessing for us – that's something that never ceases to be true.

You first started designing under AndreyAndShay in 2011. What is your main goal for the company right now? What are your plans for the future?

Shay: Our plan is to be able to keep doing what we do. We hope to continue having new opportunities to work with important design companies, as well as with private clients in Israel and abroad. We want to take part in as many projects as we can and simply keep getting better and better. We don't strive to be the biggest studio, but we do wish to be the best in what we do.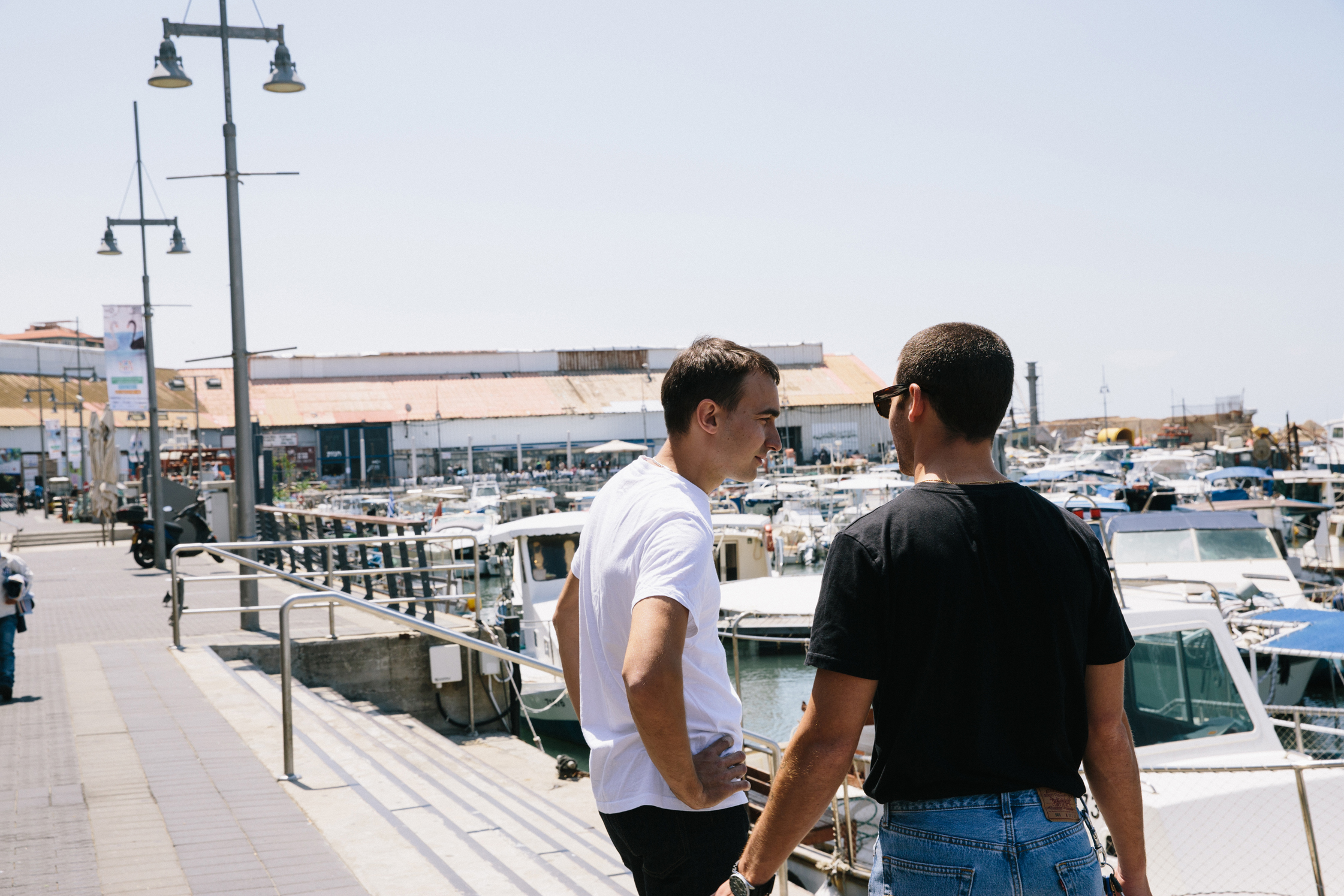 For more information about the design studio AndreyAndShay, check out their website.
Photography: Flora Deborah
Interview: Sonia Hason