Standing around in the rain and doing arduous, miserable things is a very British institution. Where the French have pride in their cuisine, we have pride in our endurance of the mundane. It can be the only explanation for car boot sales. Every week, they demonstrate our devotion to expending the greatest amount of energy for the least reward.
To the regulars, or 'booters', there's more to car boot sales than a mild sense of achievement. More than a hobby, more than a career, booting is a way of life. Surprisingly, it hasn't been around for long, and even more surprisingly it's not something the UK can claim as its own.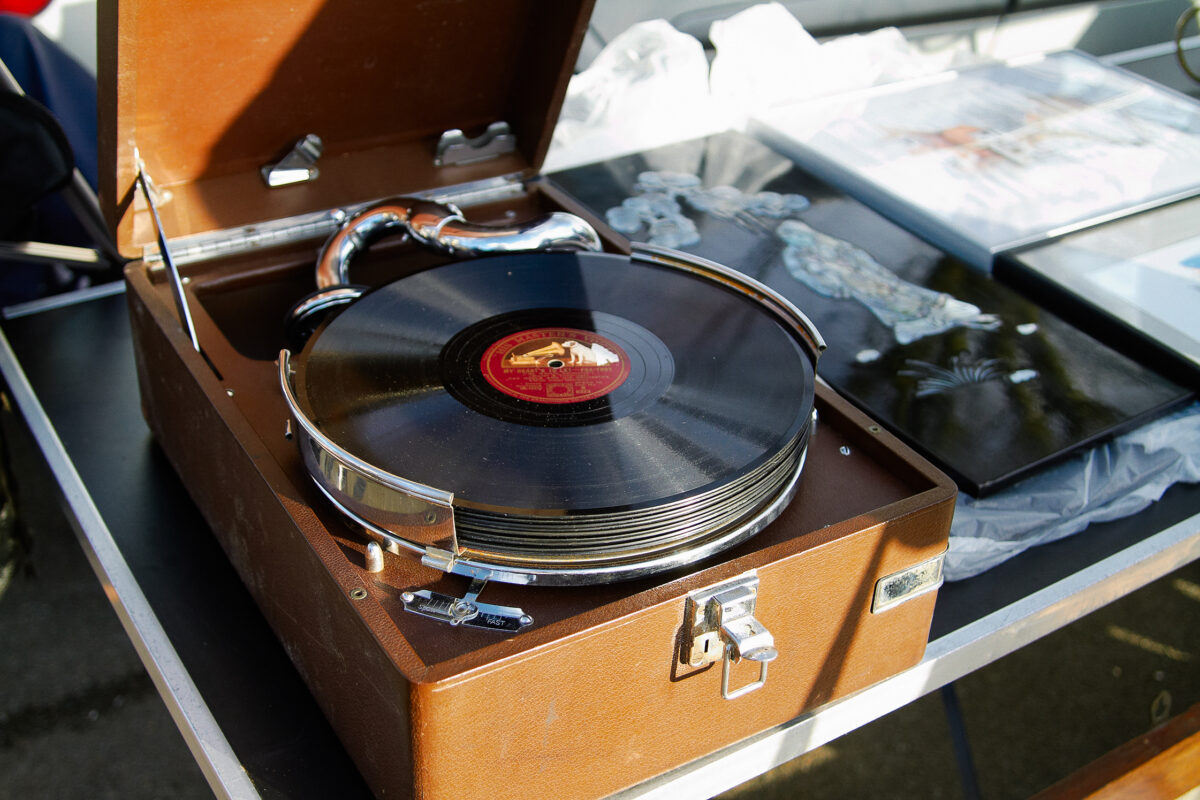 While holidaying in Canada in the 70s, Father Harry Clarke from Stockport came across a car boot sale. Thinking it would be a good way to raise funds for his Catholic church, he brought the idea home with him. People took to it with an almost religious fervency, trudging out to school car parks in the snow, standing shivering on bits of old carpet. For a time, booting was the reserve of wiry-haired octogenarians, classic car enthusiasts and the slightly barmy, but things have changed.
Battersea Carboot Sale, arguably London's best known, is booting for all. Opening it's gates in 1999, it's a car boot sale with a difference – highly organized and promoted online as much as through word of mouth. It's a fancier website than you'd expect. The FAQ page has answers to 47 questions, and that's just the frequently asked ones. And look at all the testimonials.
A jewel among jewels feels worthless, but there's something about finding treasure – however valuable – amongst junk that gets the adrenaline going.
On and offline, Battersea has a legion of loyal followers. Regularity also keeps the crowds coming. Car booting tends to be a summer activity but Battersea is open all year round. Plus, it only opens at midday, which means there's a healthy cross-section of the general public at Battersea on this particular Sunday. Sprightly veterans, young families, fashion students and the hungover queue around the block.
Once inside the gates, the looters meet the booters. Hungry for bargains, they approach tables with a mixture of mistrust and urgency. First up is a 'bits and bobs' stand run by Chris and Bob. "We sell a lot of toiletries because I like buying them and they bring people over," says Chris, Bob's wife. "We sell underclothes, too, but they always go first thing.
We've been coming here for 14 years so everyone knows us." It's not just the other booters and regulars who recognize the couple. They are used to media attention, too. "We had Channel 5 here last week," says Bob, who used to work in insurance.
Plenty of well-known daytime auction shows are frequent visitors to the site and it appears that Bob, looking like a head-banging member of Saxon, has become a minor celebrity – not that he wants to be. Like most of the sellers at Battersea, he shies away at the glimpse of a camera. You get the impression that one or two of those ducking like moles might have something to hide. There's hushed talk of the odd benefits swindler. With Bob, it's just that it's the selling he's passionate about, not the attention.
"He loves it," she adds. "I'd be happy sitting on the sofa on a Sunday but it's his life."
She's smiling but the pastime is clearly less of an obsession for Chris. "We started it because both my son and daughter were on the verge of getting married, so we planned to raise ten thousand pounds to help them out. When we were done I thought, thank god that's over, but Bob kept buying." "I spent £700 the other day. This is less than one per cent of what we've got, much less," Bob proudly interjects.
"I've got a massive, four-bedroom house," says Chris, "and I can't get into any of the rooms, but that doesn't stop him. He's addicted. He knows he is because if someone sees all the clutter in the house, like the man who came to deliver the dishwasher the other day, he tells them that it's me that buys it all. He loves it," she adds. "I'd be happy sitting on the sofa on a Sunday but it's his life."
What's been Bob's most lucrative investment? "I paid a fiver for a crate of dream catchers and made a thousand quid," says Bob, and he's not the only one who booting has paid off for. In 2006, Kenneth Anderson-Jones paid a pound for a signed piece of paper that turned out to be an order of Congress written by Abraham Lincoln in 1864.
A woman in West Virginia unwittingly bought 'On the banks of the Seine' by Pierre-Auguste Renoir in a £5 box of scraps, which was valued at £50,000.
A painting by Albert Challen went for £130,000 after being bought for a couple of quid.
A René Lalique vase, bought for a pound at a car boot sale in Dumfries in 2008, later fetched £32,450 at Christie's.
They are gold rush stories, the sort that get dollar signs rolling in eyes. A jewel among jewels feels worthless, but there's something about finding treasure – however valuable – amongst junk that gets the adrenaline going. Nothing inspires quite the same rush of satisfaction and exhilaration as finding a £2 Prince record among Englebert Humperdincks. It's the challenge, the perseverance and the discovery that makes the reward worthwhile.
"You lose some, you win some. That's why it's such good fun."
Moving on at Battersea, the second hand book stand has quite the selection. From Tony Blair's 'A Journey' on one side of the table to Philip K. Dick on the other, with Jane Green somewhere in between, it's an ideological battlefield.
At the foot of the next table is an open suitcase with a bunch of old screwdrivers sitting forlornly inside under an antique globe. Just behind, three gilded lamps stand proudly on the roof of a Ford Mondeo. Nothing seems out of context or unexpected. "Four pounds for the johnnies," shouts a seller as a punter eyes up four packets of condoms in a tupperware box.
A cake stand offers a relief from all the jumble, and there are no pitiful looking cupcakes or bog-standard iced buns here. The table is covered with gourmet tarts, cookies, samosas, pies and quiches. "Try a bit of this quiche. The goat's cheese is back on. All the prices went sky high after last year's shortage."
Robert has been here for three years but used to own a deli and catering business in Islington. "I can't actually say I make money but I meet people, you know. My partner died several years ago and friends have gone to live in Hong Kong and South Africa and I'm getting old. You can make friends here."
"I can't actually say I make money but I meet people, you know. You can make friends here."
It's like a community center, old and new friends brought together through a hankering for bargains and the dream of hitting upon one of Qianlong's ming vases. As soon as they're through the gates, locals and strangers become part of this comforting – still slightly barmy – community. It's about 4:30 and getting cold. People are starting to clear out.
"How much for this hat?" "Fiver." "Can you do £4.50?" "£4.70." The girl hands over the money. "It's all part of the banter," she says.