From a chaotic student project an aspiring design label emerged. With the sole goal of creating enduring and timeless products, 'A Kind of Guise' (AKOG) was founded in 2009 in Germany's Southern centre by couple, Yasar Ceviker and Susi Streich. After bags came shirts, then belts and knitted pullovers, eventually leading to an entire fashion label. The designs are strongly mirrored and inspired by international journeys and diverse cultural influences. Nowadays, AKOG products are being sold in over 50 stores worldwide. In Fall 2012, Yasar and Susi opened their first store in Schwabing, displaying their own collections alongside selected pieces by other labels.
When the urge to leave behind the exhausting world of fashion arises, this active pair like to take walks with their Douge de Bordeaux Whilma or drive to the mountains to hit the slopes with their snowboards. Staying true to the self and retaining independence are Yasar and Susi's mottos in life. Today they continue to uphold these values professionally and personally and live happily in a two-room apartment in the quiet and comfortable area of Neuhausen in Munich.
We stopped by for a visit and took some time out in their kitchen – the heart of their flat – to hear Yasar and Susi narrate the beginnings of their designer careers, the history behind their collections, and what they would do with ten million euros.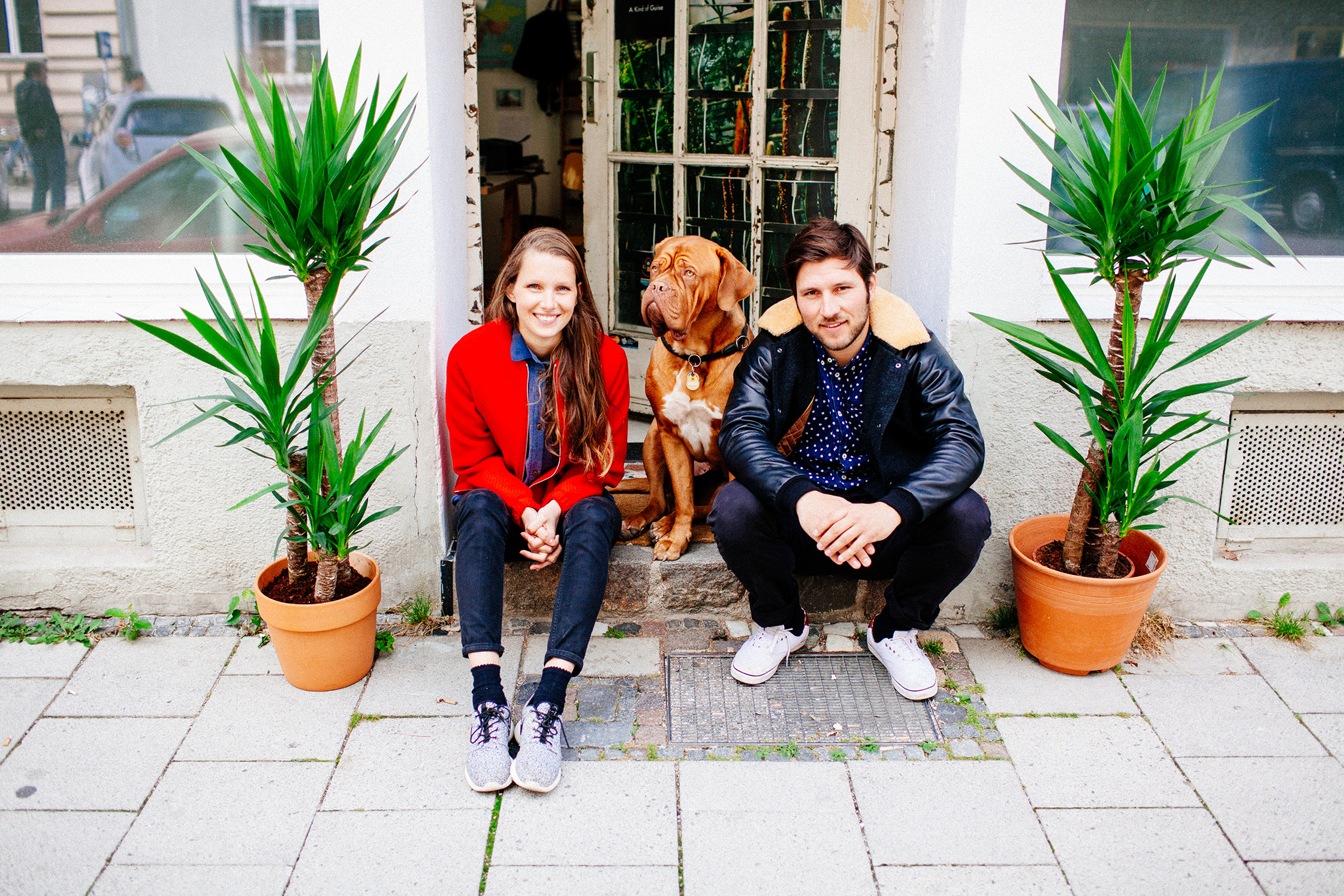 When did you decide to establish a label?
Yasar: Everything started in 2009 when I wanted to make myself a duffle bag out of leather. As I had patchwork leather I decided to make a bag out of it. Strangers and friends asked me where they would be able to get a bag like that. So Susi and I decided to buy more leather and made about 25 bags.
Susi: We had three styles: duffle bag, travel bag or weekender, and a small tote bag. That was our very first mini collection!
And how did it continue?
Yasar: During that time a good friend of mine opened 'Harvest,' his diploma project, in Munich. In order to make the shop look more packed we made shirts for him. After that project we wanted to carry on, so we made belts and gym bags out of suede and silk. We also worked together with knitters who made sweaters for us.
What was the feedback like?
Yasar: Good. Wood Wood's Laus noticed a black, self-knitted short-sleeved jacket and also really liked the rest. He asked us if we wanted to do something for Wood Wood for Berlin Fashion Week. We created 14 outfits, which all were sold. By now I am quite upset at myself for not having kept a piece. But this is how we financed ourselves and established freedom for new ideas.
How did you transform these ideas?
Yasar: After being in Berlin an agency from Japan asked us whether we wanted to be represented by them. We agreed, even though we didn't have any production at that stage yet. This was the moment when we realized that we needed one.
We found one in Allgäu, which at the beginning would only produce a small amount for us due to our small budget. Shortly afterwards our first small and straightforward collection was finalized. It was ordered in small amounts by 'Schwittenberg' and 'Harvest' in Munich, 'Wood Wood' in Berlin, and 'Making Things' in Zurich and Japan. That's how the ball started rolling and we just carried on doing our thing.
What was important here?
Yasar: A harmonic twist. From the beginning we had the idea to bring new interpretations to classic pieces with upscale and unconventional materials, without wanting to reinvent entirely.
How did you get to the name 'A Kind of Guise?'
Yasar: We sat together one evening and music of 'The Wonderers' was playing. Even though it was playing in the background, the line 'I'm the kind of guy…' got stuck in my head. Out of that came the plural form 'A Kind of Guys.' A friend from England was quite impressed that we knew that word, as she thought we meant the old English expression 'guise.' She gave us the idea and that is how 'A Kind of Guise' came into existence.
What inspires you in regards to designing your collection?
Susi: We see many things every day that inspire us. I personally notice a lot the details in antique clothing.
Yasar: We try to go out a lot and actualize our inspirations. For the Beirut collection we spent ten days in Lebanon where we noticed lots of strong colors and broad trousers. We always take many pictures and later, when we are back in Germany, we process these impressions within our designs. We have a feeling for how these influences will be reflected within our next collection. Through this, such experiences are used quite consciously and intensively.
Could you name a few?
Yasar: Our Spring/Summer collection 2013, 'Viva la Mexico', came into existence due to an invitation from the Weltkulturmuseum in Frankfurt, where we subsequently spent five weeks. As we are really interested in Mexico, we took advantage of the museum's archive, something that was truly inspiring. Just like that we were able to create a very authentic collection, even though we have never been to Mexico.
We traveled through Lebanon, Syria, Iran, and Morocco to get inspiration for the 'Kiliam-Bags.' We were fascinated by the strong patterns and graphics of the carpets. We bought about 50 of them and made bags out of them. Conveniently enough, during that very time, these particular carpet patterns came back into fashion, so 'we had the finger on the pulse' so to speak. That specific project brought us a step further, as it also received a lot of attention within the media.
What plays the biggest role within your label?
Susi: Functionality. Our clothing should be functional. We don't design a winter jacket with short sleeves only because of its pleasing aesthetic.
Yasar: We also produce everything sustainably. Not one piece has been made outside of Germany. It doesn't matter whether it is knitwear, leather bags, or accessories – that is a standard here. We produce everything locally and as long as this is possible we shall continue. We communicate this idea, but don't advertise it.
How would you describe your label in three sentences and three words?
Yasar: That is difficult. I would say that we make upscale, classic clothing that should possess some kind of sustainability. We intend to keep everything as local as possible and have high expectations in regards to value and design. We like to design basics but want them to have an interesting twist.
Describing the label in three words is quite hard but I would say: upscale, individual, and local. Our clothes speaks for themselves. It is difficult to put it into words.
Who are your clients?
Yasar: We have many middle-aged clients who work within the fields of design and architecture. That type of audience perceives us quite differently, as someone who is interested and values design is most likely more open to buy one of our suits. There are no specific customer prototypes or demographic, however, an architect in his late thirties is likely to buy one of our suits because he appreciates that it is 'made in Germany.'
If one would plass ten million euros into your hand – what sort of collection would you make?
Yasar: None at all! But an island would be interesting (laughs). Joke! But I don't think I would make a collection. I would have too many ideas outside of fashion. Of course one has more opportunities if the money is there and sometimes we have ideas that are only possible if there is a certain budget. We don't have investors. Even though we get requests here and there, we want to stay independent. This is perhaps harder and often contains many sleepless nights, but at the end one stays true to the self. It is similar to the stores that we work with. We reject many shops because it is important to us to be situated well.
And where would that be?
Yasar: Nowadays in 50 stores all around the world. In Germany: 'Harvest' and 'Schwittenberg' in Munich; 'Soto' and 'Voo' in Berlin; 'Cream' in Hamburg; 'Plan 12' in Nürnberg; and 'Culitzm' in Münster. Generally, we are positioned well in Europe as there are many good stores. For example: 'Hunting & Collecting' in Brussels; 'Centre Commercial' in Paris; 'Making Things' in Zurich; and other shops in Spain and Italy. Additionally there is also Korea, Japan, Taiwan, and United States.
Your own shop is in Schwabing. Why?
Yasar: That was by chance. But if I had the choice, I still would have chosen that store. It used to be an old bookstore with old shutters. Maybe it is not the most central, but it is a beautiful store and we were able to renovate it ourselves. Free spaces in Munich are either impossibly expensive or one gets a shop that was renovated by some real estate company with terrible taste.
What do you like about Munich and why is this city worthwhile for a visit?
Susi: I like that nature, the mountains, and Italy are nearby. I also appreciate that Munich is not such a big city. One always encounters acquaintances and I really like the atmosphere here.
Yasar: Just for the beer alone! (laughs) I like the charm of Munich. It's not too big and not too small. It has a nice size and offers a specific quality of life which I wouldn't want to miss. The 'Biergarten' culture is unique, the river Isar is amazing, and Allacher Forst – which is a natural reserve with a small hidden lake – is an insiders' tip.
Are there places you specifically like to visit?
Yasar: I like 'Charlie,' both the restaurant and club. Sandra Forster, who is the owner, is a friend of ours, so we go there quite a lot. As I have worked within the nightlife myself, I know a lot of people and always like to see them. For example at 'Robinson Bar.' My favorite cafe is 'Cafe Marais.'
What is your opinion about Munich being judged as a conservative, bourgeois, and closed-minded city?
Yasar: I think that is a question concerning certain generations, even though it can't be generalized. There will always be people who will think this way. It seems as though a stranger would actually perceive Munich like that. I have to admit that I also had some kind of prejudice, despite not even knowing the city very well.
If one has spent enough time in Munich, one really gets to appreciate it and knows all the corners that offer personal comfort. Everybody should make his own image about Munich. If one gives in to the city, one will quickly realize that it has a lot to offer. Of course it depends on the type of person. But whoever appreciates a quiet time, still wants to go out, and a certain coziness, will consider Munich as home.
How do you cope with your label's gaining success?
Yasar: Is that even true? To this point we haven't even done something big. We really just do our own thing, because we like to create. If it is appreciated and valued, even better. Good feedback is always welcome!
Would there be an alternative plan?
Yasar: No (laughs)! But there never has been a plan. We act very much according to our senses. A business plan or an economical approach would influence our creativity, and we really want to stay away from that. Of course, it is important to keep an eye on things. But as soon as someone asks questions concerning financial aspects, limitations begin to rise. So far it has worked out. If the future proves differently than that's how it's going to be.
Is there a specific distribution within the process of a fashion collection?
Yasar: We all do the design together, but then everybody gets different parts. I take care of the concepts, visual structure, silhouettes, models, and marketing. Susi does the design of the cuts and is being supported in the production order.
How many are in the team?
Susi: We are a team of eight but we don't all sit together in the studio as not all of us are here. Everyone is a friend, chemistry is very important to us.
You guys also spent time together outside of work. How does that work?
Yasar: (Laughs) Our relationship and business started parallel. There is a saying: 'Don't work with what you love,' but that doesn't apply to us. We have been in luck! So far it has worked out really well.
Are there times when you have fashion overload? If so, how do you distract yourself?
Susi: Yes, because one is constantly involved in it. When it's enough, it's enough. If I want to relax, I take Whilma into nature and take a walk. I also like to visit the mountains on weekends.
Yasar: I like to play football or skate, even though it is difficult to make time for it. During the Winter we try to snowboard regularly. But I also like to be at home in the evening and get temporarily hypnotized by the TV.
Are there already ideas in place for a new collection or does it need to be planned first?
Yasar: It is doesn't need to be planned, it just happens. We just recently in Japan and got lots of impressions. An eventual trip to Iran is also on the horizon. Our continuation is an open secret.
Yasar and Susi it has been extremely interesting to hear how A Kind of Guise got off the ground and get some insiders tips on your hometown of Munich. To find out more about their label see their website here.
Interview & Text: Julia Stoklasa
Translation: Lara Konrad
Photography: Christoph Schaller