Tero Kuitunen creates intimate spaces and objects that are allowed to be touched—and may just touch you back.
Filled with relief, Tero Kuitunen relaxes in his tiny ceramic workspace gazing at the ceramic cones he has just picked out of the kiln. The color is just perfect, even better than he could have hoped for. The cones are components for objects he will exhibit on his stand at Salone Satellite in Milan within a couple of months. With these works, Kuitunen wants to leave room for an element of surprise. The principle comes naturally with ceramics when one simply cannot know beforehand what the final outcome will turn out to be. Not until the door of the kiln is opened. He applies the same principle to other kinds of work, too. Only after seeing how many fellow designers plan everything by the millimeter, not leaving any room for a chance, did Kuitunen notice that his way of working was somewhat deviant.
In terms of titles, Kuitunen doesn't like to draw any lines. As well as a product designer he is a spatial designer, sometimes a curator, and in many projects a producer. One of the turning points in his career was the Keskeneräiset Utopiat exhibition he initiated in 2017, collaborating with artists Raimo Saarinen and Karoliina Hellberg. The exhibition was held at Kantola, a residence in the town of Kotka designed by Alvar Aalto for the head of the area's cellulose factory. The exhibition Kuitunen curated showcased works from these three artists. "Keskeneräiset Utopiat was my very first big project that taught me a lot," he says. "It was empowering to gather different talents and elements that together created something entirely new."
Finland is going to be the guest country of Vienna Design Week, 2019. Kuitunen has been invited to curate an exhibition showcasing fresh Finnish design in collaboration with the Finnish Institute in Germany. He's also in charge of the concept and the exhibition design. "I really think that Finnish design has room for something totally different," he says. "With my work, I want to encourage others to think anew." The exhibition in Vienna, which will eventually tour Stockholm and Tokyo, is called Wild at Heart.
"With my work, I want to encourage others to think anew."
"I consider myself a risk-taker and somehow that feeling of uncertainty is the place where I feel most comfortable in. I know something is good when I'm not one hundred percent sure what exactly it will be." While Kuitunen allows his works to surprise him, he also leaves room for them to touch and move him, too. Touch is an essential theme in his work, both mentally and physically. Though living in the age of touch screens, it's digital surfaces that have started to overrun our traditional haptic experiences. Kuitunen wants to allow people to feel connected with his works. With touch, the user adds their own story level to it and simultaneously the object touches back. It's like maintaining the continuum of touch from the designer all the way to the end user.
"I never really sat down to think that creating things could be my actual profession."
Kuitunen's first work as a curator was in an old barn his cousin's family owned. He would gather all the bits and bobs, rusty hooks and other scrap he could find and call it an exhibition. Though his parents didn't work in the creative field they always fully supported his urge to express himself. "I never really sat down to think that creating things could be my actual profession," he says. "Somehow I just accidentally grew into it." From his entrepreneur family Kuitunen learned good work ethics and principles of livelihood. Growing up, working in the family-owned donut bakery was most of the times a real drag but afterwards he learned to appreciate the experience. And when he comes to think of it, donut glazing and decorating wasn't that bad at all.
The ceramic cones are still slightly warm, retaining the temperature of over one thousand celsius in the kiln. Inspired by The Majorelle Garden in Marrakech and the Villa Paul Sinoir designed in the 1930s, Kuitunen is going to combine deep azure blue to the warm shade of the terracotta. "It's funny, since I haven't even been there yet, I've only seen pictures of the place. Still, the impact it has made has been powerful!"
Selected Works by Kuitunen
Kuitunen was a founding member of Finnish design brand, Andbros.

Boudoir Mirrors, 2018.

Fiskars Summer House Exhibition, which presented nine rooms inspired the summer life of artists. Kuitunen designed a fireplace room with Hakola inspired by artist Rauha Mäkilä.

How home Feels Exhibition, designed in collaboration with Helsinki Contemporary gallery and artist Rauha Mäkilä.

Kuitunen's Marrakesh Mirrors, inspired by the Garden Majorelle in Marrakesh.

Torikoju is a concept for a traditional Finnish market. Kuitunen was in charge of creating the porcelain tableware set and the pine tree trays.
Recently on an artist residency in Paris Kuitunen visited several museums and got inspired by non-European ritual objects that have had a huge impact on his very recent works. The conceptual idea for the Wild at Heart exhibition will be inspired by Tove Jansson's book Moominsummer Madness from the 1950s in which a flood carries a floating theater to the Moomin Valley. "A mind is like an ocean where memories, objects, ideas and other things float around," he explains. "Sometimes they sink, sometimes they rise up to the surface. Or sometimes things collide. You never know what will trigger an initiative for something new."
It seems like for Kuitunen the element of color is so self-evident that it's not even up for discussion. "In the end, I always work driven by intuition, analyzing myself very little. Colors have always played a huge role in my life and adding color comes so naturally for me, it's almost unconscious." One of his objects, the Fringe mirror, was born after he visited an old fabric store in Spain which felt like a visit to a candy store. He bought meters of colorful fringes and later on created a mirror that attracts the viewer to touch its rim. "It's interesting how certain colors can evoke certain emotions and some color combinations are like a symbol for a certain period in history," he says. Right now he is excited of the color lilac. In a few weeks, it might be something else. Because if anything is for certain, it's that the invisible factor always gives surprises. You just have to leave room for them.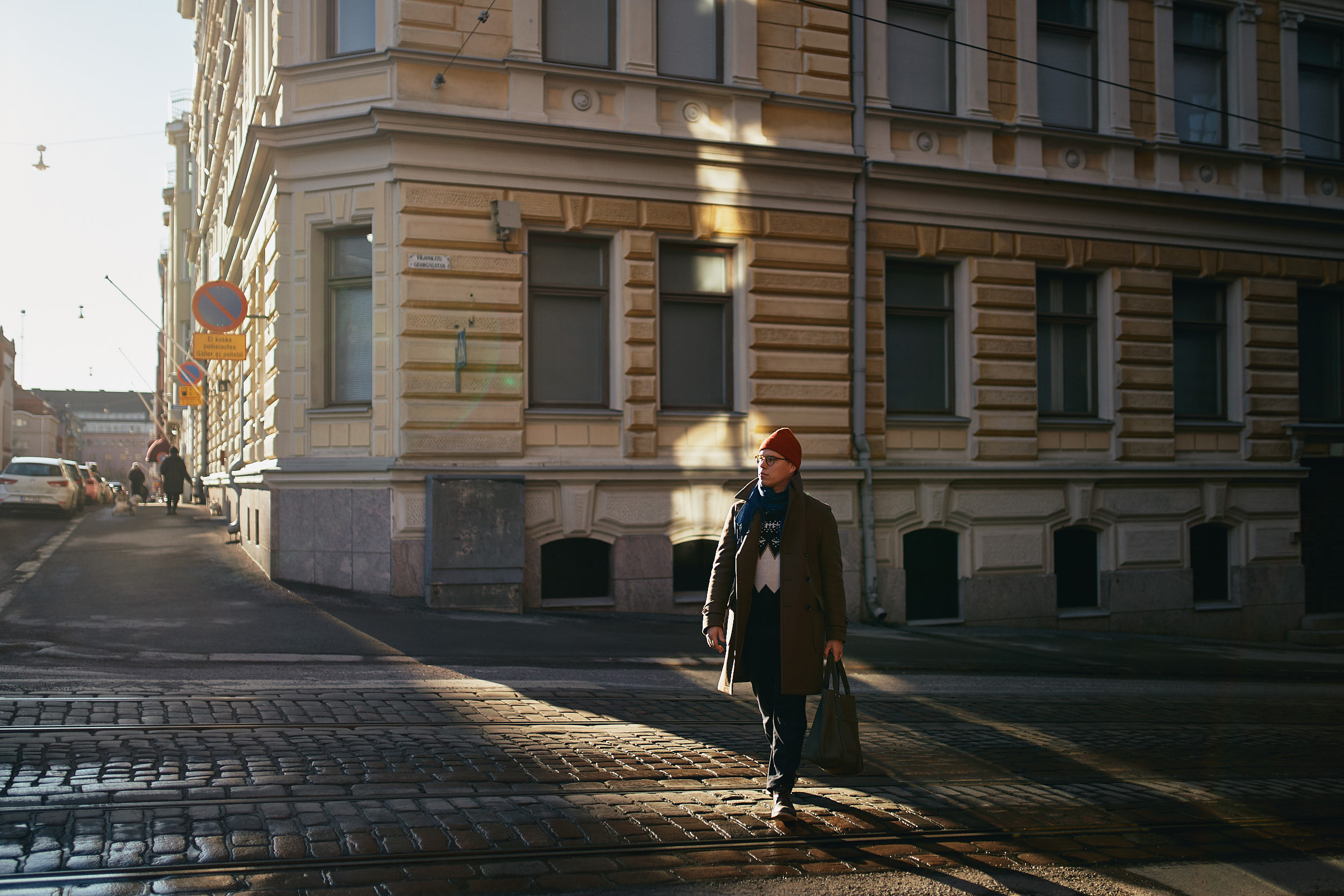 Tero Kuitunen is a Helsinki-based spatial and product designer working across product, concept and interior design. He has participated in international exhibitions and fairs in locations like Beirut, Stockholm, Japan, and Italy.
This story is part of our ongoing collaboration with German fashion brand Windsor, as part of which we have recently portrayed Guadalupe Garcia, the creative director of Casa Cavia, a complex that merges gastronomy, literature, and olfactory arts in Buenos Aires.
Text: Hanna-Katariina Mononen
Photography: Sebastian Wolf