When Turning first hit the bookstores in 2017, Jessica J. Lee wasn't prepared for this new experiential feeling that would come over her soon after her debut was published: the sensation of being read.
Turning, the memoir depicting all she had learned from swimming Berlin's lakes each week for the course of a year—from summer to winter and back—reveals as much about the inner landscape of its protagonist as it does about the outer scenery. While the seasons change, lakes turn over, and layers of ice break open, something also shifts in Lee, who had set herself on a swimming mission in a bid to escape the isolation of academic writing.
For Lee, immersing herself in a body of water has become "an exercise in getting to know a place," but also an act of self-care—and there's a possibility that these two things might actually be one and the same. "Every time I swim in cold water, I feel I'm getting that shock of air in my lungs," she says. "It feels like I'm actually being in the place that I'm in. There's a feeling of incredible brightness after a swim. It always cuts through. It sharpens everything." When Lee speaks about why she started swimming, it is easy to understand how her memoir has resonated with such a large number of readers and reviewers. The solace that can be found in Turning is one that many people today seek in their personal quests for meaning and connection.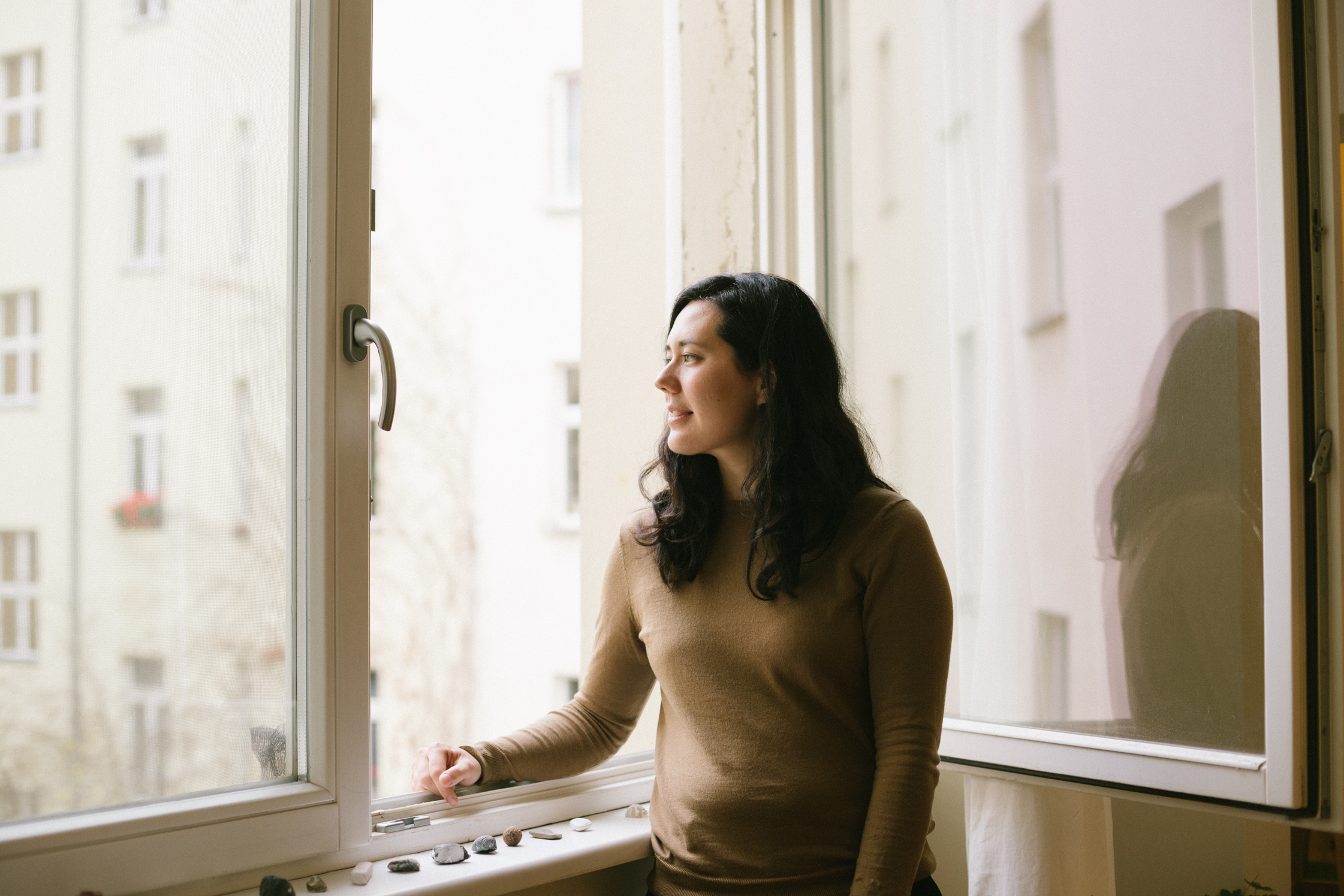 Contrary to expectations, Lee isn't a natural-born water lover. "I really wasn't an outdoorsy kid," she jokes, looking back on her childhood in Canada, a country certainly not devoid of lakes. As a matter of fact, she remembers being rather scared of water. "Throwing myself into this now feels like a weird act of compensation," she goes on. But the fear didn't just go away by itself. Lee credits her late passion for swimming to her education. Still in Canada, she studied Environmental Aesthetics followed by Environmental History. She then spent the best part of a decade between the UK and Canada, continuing her research and fieldwork for her PhD. She recounts learning about the work of Arnold Berleant: "Do you know that feeling when you read something and you know this is the thing that's going to change your course? That was that moment for me." For her PhD research, Lee went to visit the bathing ponds on London's Hampstead Heath. At the ladies pond a swimmer told her: "I love it here, because it is free of men, babies, dogs, and mobile phones." Then she was hooked.
When she moved to Berlin to continue research for her PhD, it was obvious to Lee that she needed to explore the city by its countless lakes, which soon turned into the idea of swimming one different lake every week, for one year, through all seasons. That her side project would result in yet more work—from which she initially tried to take a break by swimming—wasn't her intention. But perhaps it was foreseeable that an experience as profound as this one would take on the form of a text when the person having it is a writer. Working on Turning and her dissertation simultaneously was exhausting, but also a means that put her degree into perspective: "Writing the book at the same time helped me see that this is going to be one of many things I'm going to write in my life and that I don't have to put so much pressure on this one piece of work." It made her think: "I will do my best with it, but I can also let go."
"There's a feeling of incredible brightness after a swim. It always cuts through. It sharpens everything."
When her supervisor read a chapter draft of her dissertation, she reminded her not to confuse the two projects, which for Lee was an invitation to think about how a PhD should be written, but also what a memoir could include. "There were books that I was reading for my PhD, that I quote in Turning and vice versa. It goes both ways," she says, reflecting on why one thing has so much to do with the other. To Lee, writing is "a way distilling all of these disparate things" in her life: her interest in ecology and the environment, in the ways we connect with places, but also the cultural histories inherent in landscape. "Environmental Aesthetics is about how we exist in the environment and how we confront the environment," which is far from passive, according to Lee. "We're not gazing at this distant thing like a painting. When we're in the world, we're engaging with it and we're creating it, too. We're co-creating it."
Swimming is just one of many ways to engage with one's environment, but perhaps it's the most intimate one. Winter swimming, especially, requires a heightened sense of awareness—of both oneself and the surroundings. In the beginning, getting into freezing cold water is a matter of great willpower: "You just need to be slow. Keep breathing, keep moving. It's like meditation: slow down your breath, count your strokes, go at your own pace." The body acclimatizes to the procedure after just a few iterations, and a few minutes in the water are enough to experience a rewarding endorphin rush. Although regular winter swimming is ascribed with multiple health benefits, from a stronger immune system and better blood circulation to reducing stress and anxiety, Lee stresses that all that counts among winter swimmers is the amazing feeling afterwards. "I know that it's good for me because I can feel it. It makes a huge difference experiencing it first-hand."
It's this directness of experience that Lee also wants to convey to her readers, because it puts the large and complex problems like climate change and the loss of our ecosystems into perspective: "I write about the lake ice in Turning because it's really important for me to think about disappearing ice in other places in the world." She describes writing as a way "to make these very big things feel close at hand in the small things, so that we can understand them and care about them, even if they aren't personal." There are summer days when Lee finds a lake full of blue-green algae, a sign that a lake has gotten too warm: "I can't lie to myself about it and I can't say I don't know exactly what's going on there." It's this type of embodied knowledge that Lee's writing is indebted to—all the molecular ways of knowing a place that make us notice the change without having to see the factual numbers.
Nature writing as such is still a rather niche genre, but it's been getting more attention in recent years as its voices diversify and its concern becomes more urgent and apparent than ever. Shortly after her debut had been published, Lee went on to initiate The Willowherb Review, a nature writing journal showcasing the work of emerging writers of color. When she speaks about how it was to see her own work get published and promoted, she emanates a sense of care for other writers, especially female ones: "It's really helpful to talk to each other as women writers, especially about their vulnerability, and that no matter what you publish as a woman, if it's fiction or nonfiction, people will always closely associate it with you." She recounts a situation where she, together with a writer friend, were giving a debut author the advice they had always missed: "We were like: okay, let's talk through how this is going to be. Because no one did that for us!" Still, the process of writing is treated with much secrecy among authors, when it is mainly hard work and a lot of discipline. Like Lee, many writers work multiple side jobs to support themselves, which for her is a circumstance important to acknowledge and to include in conversations about the process of writing and in conversations "among writers, especially."
"You just need to be slow. Keep breathing, keep moving. It's like meditation: slow down your breath, count your strokes, go at your own pace."
After an intense period of six months promoting Turning and giving interviews, the 'what next?' question has forced itself on Lee. "There's a lot of pressure on debut authors to come out with their second book right away," she explains. Her natural reaction was to resist it and take a break in Taiwan, where her mother had grown up and where her grandparents started a new life after they had to leave China. Returning to one of her many homes also unleashed the comeback of an earlier book draft: "When my grandfather died, we found these memoirs that he had written before he started to develop Alzheimer's disease. I had been wanting to write his story for a long time and I thought perhaps it's time now." This winter, Lee releases her second book Two Trees Make a Forest. It is the story of her grandparents which blends personal memory, migration and the complicated history of Taiwan. And it is also a book on the inheritance and intricacy of her own sense of belonging.
"How do you negotiate where you belong, when there are forces so much bigger than you?" Lee has often asked herself. She found answers in determining "home" on her own terms. Her Instagram account lists four cities: London, Toronto, Berlin, and Taipei. Each of them she added when she moved and couldn't get rid of the last one. "I really like to hold all of them at once," she says, although she can only live in one place at a time. But perhaps it's more that those places all live in her.
Jessica J. Lee is a Canadian author and cold-water swimmer currently based in Berlin. Her debut memoir, Turning, recounts the lessons she's learned from swimming in the German capital's lakes for the course of a year, and promotes the activity as an intimate way to connect with the environment. Her latest book Two Trees Make a Forest was released in November 2019, and is an exploration of the quakes that brought her family from Taiwan to Canada.
This portrait was created in collaboration with Werde, born from a common interest in creative work with a basis in the natural world. You can read this story in German on their website, or, if you'd like to know more about our collaboration with Werde, take a look at some of the other stories we've produced with them here.
Text: Vanessa Oberin
Photos: Jenny Penas