With her undone blonde locks, oversized white T-Shirt, and her loyal dog companion Simba, designer Tracy Wilkinson could pass as the epitome of a Californian girl. But born in the rural surroundings of Yorkshire in northern England, life didn't always look so sunny: "When you grow up in a quiet place and you are shy and introverted, you develop a fairly elaborate fantasy life," says Tracy about her childhood and the origin of her creativity.
Growing up, her interest in fashion and the act of creating something quickly began to spark. She attended every rummage sale and visited every Oxfam store she could find, in order to create her very own form of expression through clothing. With a lot of free time on her hands, she started not only to sew clothes for her dolls, but eventually came up with patterns and cuts for her very own outfits. Being more and more certain of having found her creative outlet, she studied fashion design at The Royal College of Art and worked in London's fashion field before a fateful letter from a friend who migrated to the US, should change her destiny for good.
As life in the US seemed way more exciting than in her native England, without looking back she packed her belongings and moved overseas. Almost 20 years later, she now lives in a beautiful house in Mount Washington, overlooking the L.A. hills and spends her days exploring different types of handcrafts, ranging from pottery to blacksmithing and weaving. When you look at the materials Tracy chooses to work with – clay, natural cane, wood and cotton, you see that her artisanal artworks not only breath the free spirit of the 70s, but always remind us of the imperfection and the beauty of life.
This portrait is part of our ongoing collaboration with ZEIT Online who presents a special curation of our pictures on their site.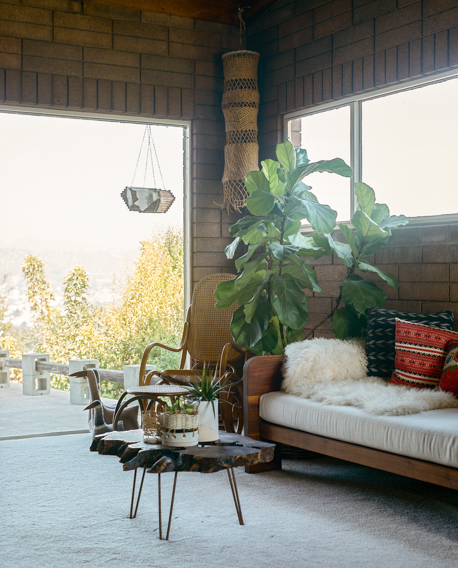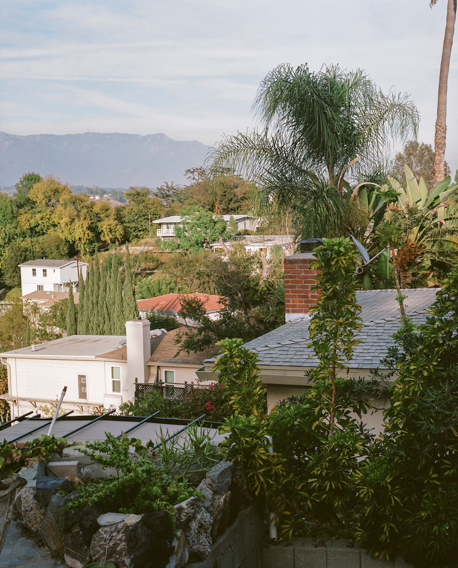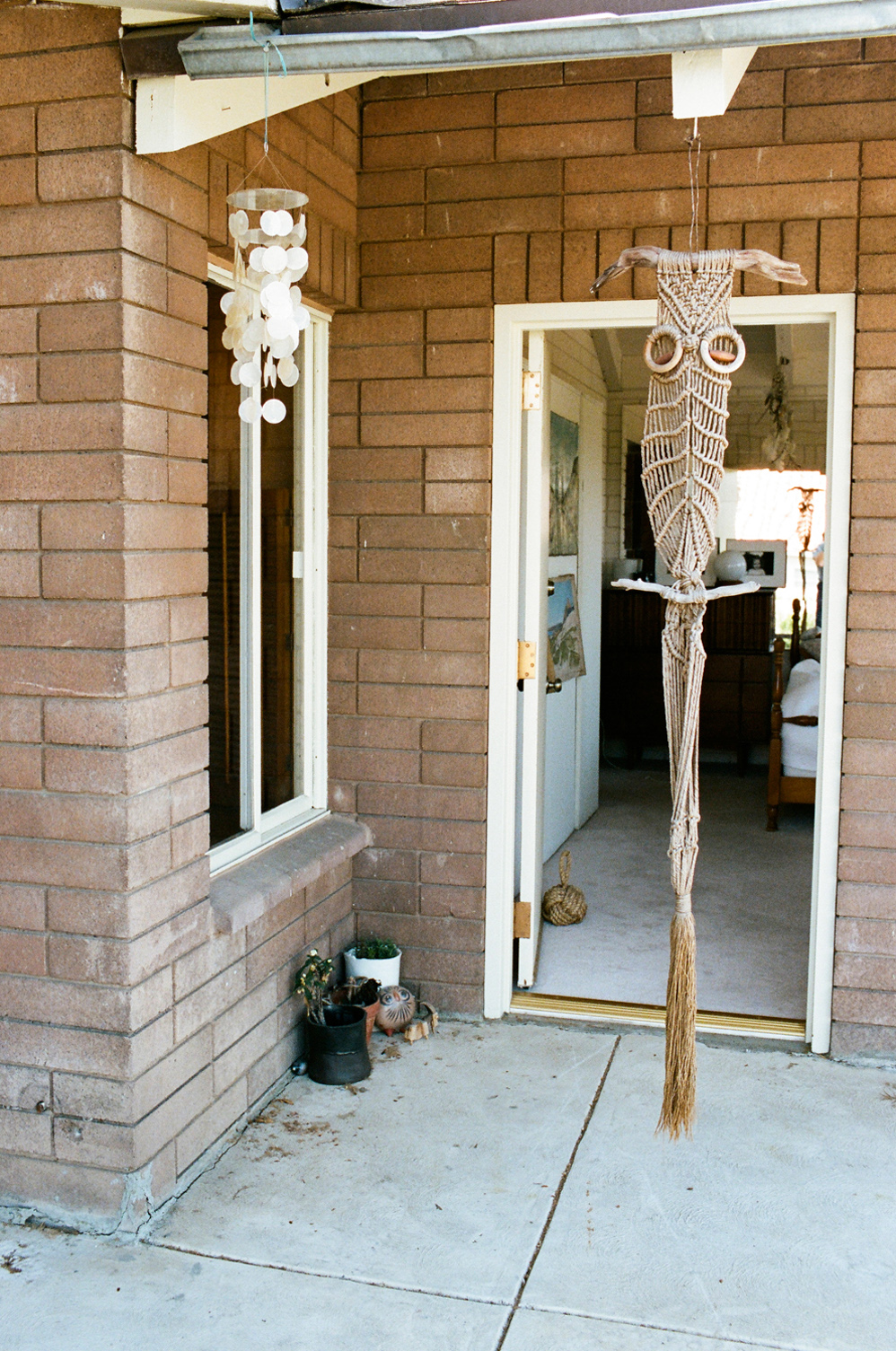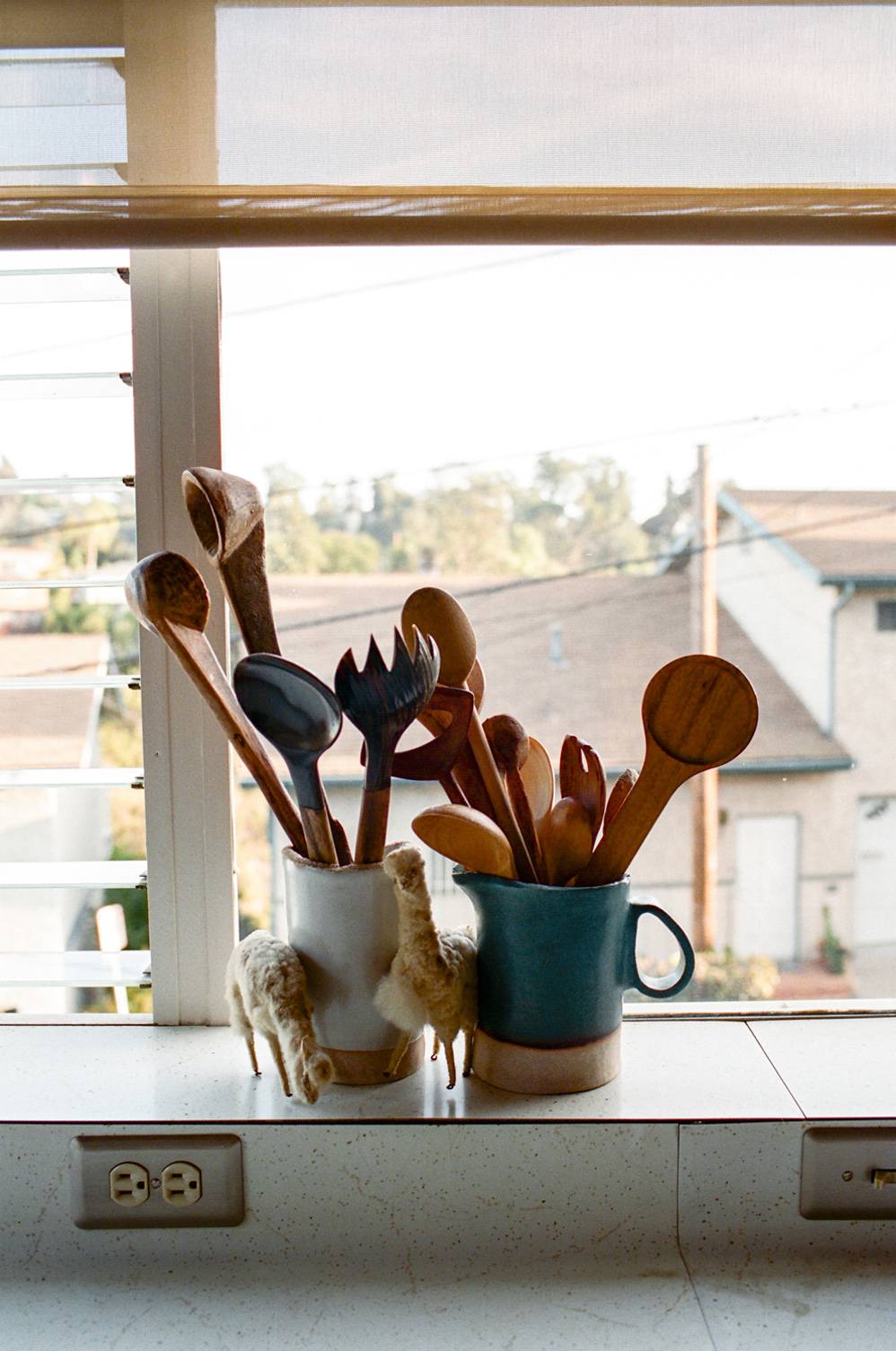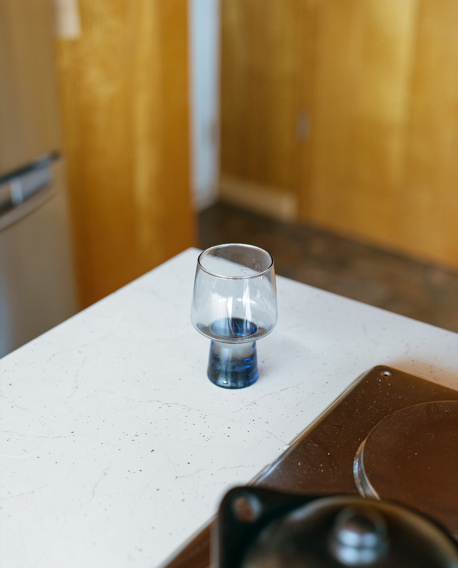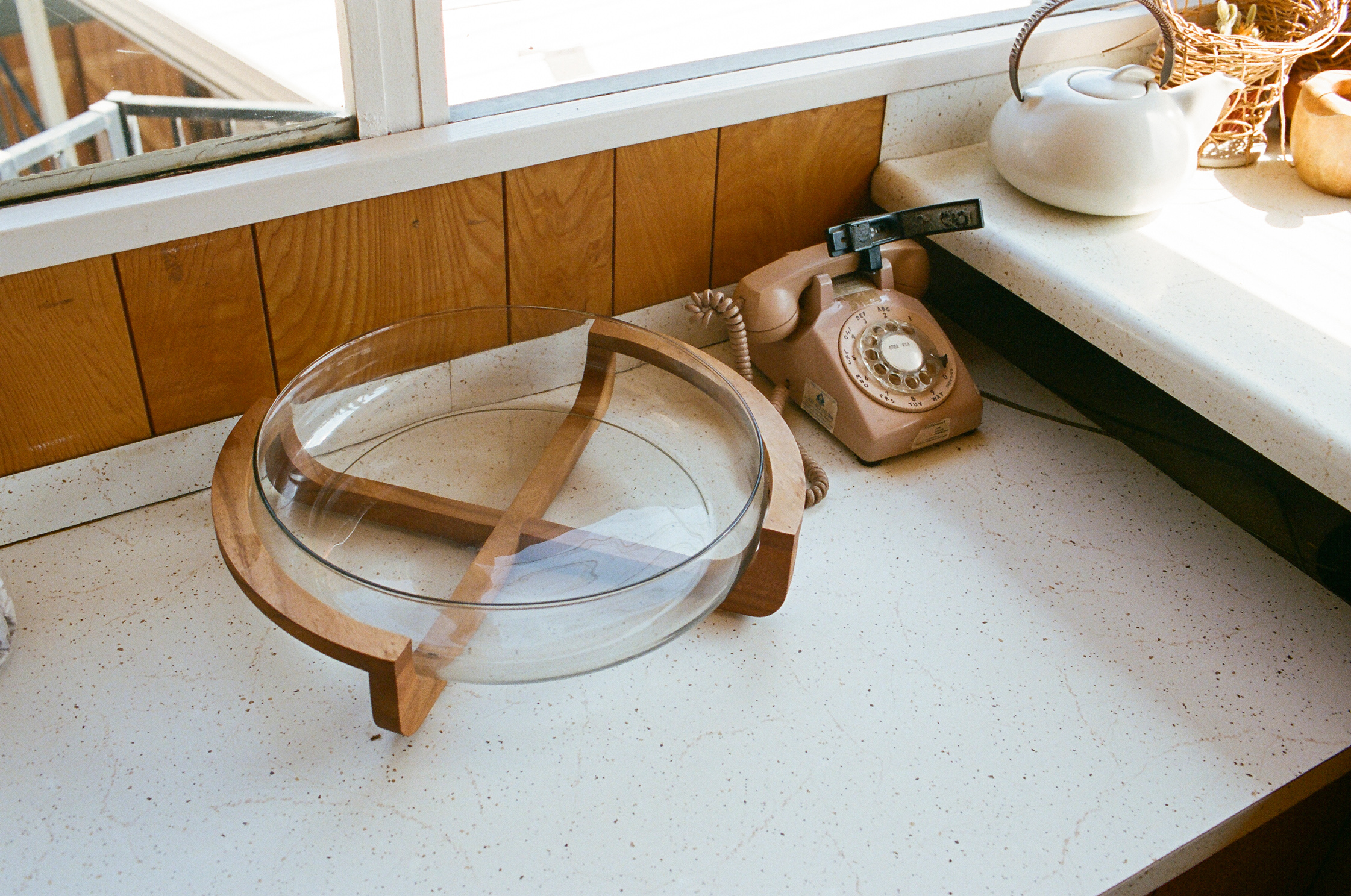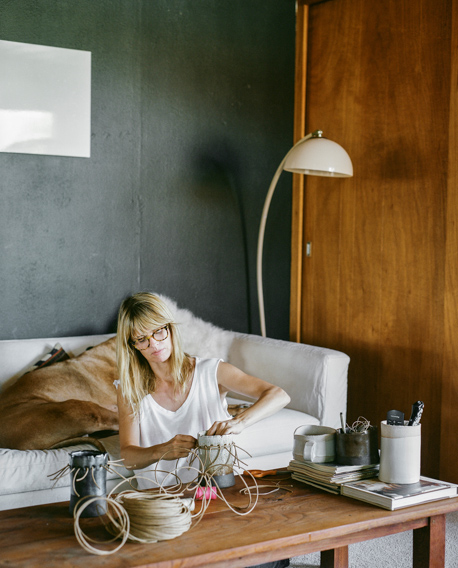 Tell us a bit about your background. What did you study, which path brought you to your current position?
I had a typical upbringing in Yorkshire, in the north of England. I hope to not offend my Barnsley mates by saying this… but there wasn't much to do. The highlight of the week was going to WH Smith to buy a record on a Saturday morning. I think when you grow up in a quiet place and you are shy and introverted, you develop a fairly elaborate fantasy life. I was always drawing and making things.
It was the Seventies. I had lady crushes on the older girls who wore platforms, oxford bags, and listened to Rumours. I would scour rummage sales to get the cast off shoes that were way too old for me and parade around the neighbourhood. I am still a bit obsessed with that era, so I can pinpoint the exact source of my inspiration to those girls! When I discovered Oxfam, things got really interesting for me. My grandmother had taught me how to sew, so I would buy old clothes and alter them. I could never find exactly what I wanted at Topshop.
One thing led to another and by the time I was 13 or 14 I was making clothes from scratch by just figuring out the overall shape and cutting into the fabric… not very accurate but luckily for me baby doll dresses and squareish tops were in at the time… I lobbied my high school to allow me to take an A level in Patternmaking/Needlework as well as Art and got into fashion school straight from high school, bypassing the typical year long foundation courses. From here I went on to The Royal College of Art, where I got my Masters Degree in Fashion Design.
I had been working in London for a few months when I got a letter from a college classmate who was living in New York. His life seemed so exciting compared to mine… all night diners, parties, a glamorous fashion life, and living in a brownstone in Brooklyn. It sounded brilliant so I packed up and headed to New York City. There I worked for larger fashion companies such as Banana Republic, J. Crew, and Nautica.
After a few years I was offered a job with one of my mentors for a company based in Los Angeles. I drove across the country to start a new life here. During the first few years in LA, I also worked for some of the larger retailers but then launched my own collection that I ran for 9 years, selling in the US, Europe, and Japan. It was 2 years ago when I decided that I wanted to design other products in addition to clothing. I closed my company and began to work on a consultancy basis. I designing for Anthroplogie, Graham and Spencer, and Juicy Couture while also developing items designed under the tw workshop brand.
Fashion and a traditional craft is an interesting combination – do these two fields join each other or do you separate them completely?
I also design in glass, cane, and wood. So cotton is just another material and I feel they are all connected by my general aesthetic. My interest in fashion is less about telling a particular story with a collection and more about that special item.The T-Shirt is so simple but it has to have every element in place to make it the right thing. I felt like the design I had in mind had all these elements. I would not have made tees just to make clothes. They were a particular idea I needed to express and something I personally wanted to wear. I am planning on adding aprons and leather bags to the list of items I will make in 2013.
What do you like about ceramics as a material? Does it have any personal background?
None. I started using clay a couple of years ago. It was a way for me to start working with my hands again. I love the smell and feel of clay, but no more than I do with wood or the type of cane I use.
How do you define your aesthetic?
I think of my aesthetic as being simple and modern, but I do think some of the techniques I use and the handcrafted looks were inspired by what I absorbed growing up. I am mostly interested in using natural elements in organic shapes. I love naive forms, unfinished edges, rounded shapes and circles with frayed or worn treatments. I think these elements are carried through everything I design.
What's so special about your shirts?
They are your favourite tee. The one tee you had forever that you loved the feel and fit of and wish you still had. Like other things I design, I think they tap into a memory of something you have seen, owned and loved before, while still feeling new. The fabric is soft but structured, the proportion and styling just works and they have subtle but unique detailing.
You were born in the UK, now you live in Los Angeles. What are the main differences in regards to lifestyle and the overall working environment between these two places?
I only worked in the UK for a few months after graduating college so it would be hard to compare, but I do have a theory about living and working in Los Angeles that makes it unique. It's a city that appears to be full of freelancers… actors, directors, crew, stylists, designers, architects, artists etc. But there is also a huge immigrant population who set up businesses here in production, manufacturing, fabricating. This is lots of what would be considered traditional craftsmen and labourers. It almost seems like self employment and entrepreneurship is the norm. When I first came here it irritated me slightly that people would start a fashion collection without any schooling or training and many succeeded. Now I am impressed by anyone that does that. It takes courage to know that you don't know what you should do and just do it anyway. I like that the emphasis is on the importance of the idea.This city and possibly America in general changed my personality. I am way more assertive and more willing to take risks. I don't believe I would be doing what I am doing now if I had stayed in England.
Can you imagine moving back to Europe?
In 2013 I will have lived in America as long as I lived in England. I love going back to Europe on holiday and I feel completely at home in Yorkshire. But the reality is that over time you develop strong friendships, buy a house, get a dog, and then you have roots. I don't know if I would want to start again now. Plus, I love it here.
What is your day-to-day life like? How do you prefer starting a day?
I start my day with a hike in the hills close to my home with my dog. We have been walking the same route for years to the Monks Walk – presumably named after the monks at the Self Realization Center close by, in what used to be the old Mount Washington Hotel. It's a lovely quiet walk with views for miles on a clear day.
Since I started working on my own collection of products, each day is very different. Some days I will be in the studio hand building or taking dry pots to be fired in Pasadena. There are days I may be at the dye house or running around downtown with the manufacturers and some days I work at home, shipping goods ordered on Store-LA or weaving. At least once a week I am researching or working for one of my freelance clients.
Many of the people I know are self-employed, so I will see them during the day for lunch in Silverlake or Echo Park… sometimes an afternoon ice cream or donut. It sounds idyllic and I do feel really lucky, but the down side is I don't really take a chunk of time off. Its rare that I will not work on the weekend or holidays.
What's your favorite piece of all the things you have created?
The daybed I built shown in the photos. I had decided that I needed a couch and enrolled in a woodworking class at Otis College of Design here in LA to make one. I had never made furniture before. After weeks of watching the teacher make a bunch of joints, we were unleashed on the machines. Its not easy to get a 6 ft long support onto the planing machines, but with some help I managed to complete it on time and it is my most treasured possession. It was incredibly satisfying to build something on that scale that you can use and keep forever.
What is your main source of inspiration?
Other designers and makers inspire me. Coming from a fashion background the pace is so fast that it is a completely absorbing career. It was only when I took a step back that another world opened up. I was inspired by my business partner, architect Simon Storey. I would visit his workshop and find him drawing a light… or a couch, or speakers… He would be routinely having some new idea developed or something fabricated. He seemed unfazed by moving from plastics, to glass to wood to fabric and really inspired me to branch out into areas other than just clothing. I am also inspired by crafts people like Sam Maloof, JB Blunk, Paolo Soleri, Barbara Hepworth, and Nadir Kahlili. I love their aesthetic and that they worked with natural materials in unique and beautiful ways.
Is there any other field of manual labor you would like to try?
I have tried welding, glass blowing, blacksmithing, and would love to do more. I would also love to design in metal and do some foundry work.
How do you escape LA?
If I have couple of days, I generally escape to the desert around Joshua Tree. I have been staying at the 29 Palms Inn for 16 years and still love to go there. I go thrifting on the way in, spend the days by the pool with an evening hike in the park, and enjoy dinner and music in Pioneertown. If I have more time I take off to Big Sur. Quite different landscape but equally magical. Great hiking trails for my dog and me. Lunch at Nepenthe and dinner at Deetjens. The cabins at Deetjens are also great. They are rustic and cosy. I stay there if I can get in, but it's always booked!
What are your favorite spots in town when you take a day off?
Venice is fantastic for the beach, shopping and eating at Gjelina or Axe on Abbot Kinney. If I am downtown at one of the museums, I will pop over to the most awesome ceviche truck on Breed Street in Boyle Heights. Sometimes I take the freeway through the valley and drive through Topanga Canyon to the beach in Malibu. I like the quietness of El Matador or Leo Carillo Beach and then lunch at Malibu Country Mart.
My home is close to the San Gabriel mountains so I can also go hiking at Switzer Falls off the Angeles Crest Highway and take a picnic. Or come down the hill and continue on to San Gabriel for dumplings and a chinese foot massage. The most usual event would be a hike in Griffith Park with beautiful views of the city, maybe have lunch at Trails Cafe.
Do you listen to music while working?
I recently had my record player repaired so have been listening to my old records – Laura Nyro's 'New York Tenderberry,' Kate Bush's 'A kick Inside' and Nina Simone's 'Baltimore.' I prefer to work to podcasts and documentaries though. I think it is because I work alone I enjoy listening to discussions or stories. Some friends and I have found a studio to share in Chinatown so I expect I will be listening to less talk and more music soon.
Are you working a lot with digital media? How does it help in regards to your working environment?
I do work with digital media. I have had a blog for almost 5 years and loved to have that as a place to store things I liked such as images, interesting architecture, style, music clips etc. I still have it but it has taken a big hit from Instagram and Pinterest. I resisted Pinterest for a long time but recently really got into it in an obsessive way. I also started an online store with friend and now business partner Simon Storey of Anonymous Architects. As I mentioned earlier, Simon builds amazing furniture, designs wallpaper and lighting. As well, he is a busy architect, so we joined forces to sell our work together on Store LA. I personally love the way the internet has changed the retail environment. It makes the process of hand making and selling your designs so much more satisfying when you know who the buyer is and that he/she will use it or enjoy it. I like having the direct contact with the customer.
Thank you very much Tracy for your time! If you would like to see Tracy's work, visit her website here and check out her personal blog here.
This portrait is part of our ongoing collaboration with ZEIT Online who presents a special curation of our pictures on their site. Have a look here!
Photography: Brian W. Ferry
Text: Sarah Weinknecht
Interview: FvF