"One man's rubbish is another man's treasure". There is considerable truth in this statement specifically in relation to London based artists, Tim Noble and Sue Webster, who construct and assemble sculptures from unconventionally found objects. When snooping around their studio one can find a gigantic, bright and illuminated dollar sign in one corner, various tools and splintered wood that demonstrate their love for discarded objects.Their studio, in the heart of East London, is an incubator for experimentation and imagination. Tim and Sue consistently aim to challenge the boundaries of abstraction in their work. The surrounding area is now known for crowds of cool kids with hipster haircuts looking for a night out. This change in demographic can be attributed to many artists like, Webster and Noble, relocating to the neighborhood to take advantage of the cheaper cost of living. Today is it one of the most sought after areas to live in with a fusion of charismatic businesses such as pubs, gallery spaces, thrift stores, markets and chic restaurants like the Albion.Sue and Tim are part of a new culture of creative individuals that emerged in the the UK in the 2000s. Soon after finishing their studies, they became associated with the post-YBA (Young British Artists) group – a secondary wave of artists following the original and highly influential YBAs that included artists such as Tracey Emin and Damien Hirst. Sue and Tim's works are held in the collections of the Guggenheim Museum, New York; the National Portrait Gallery, London; and the Arken Museum of Modern Art, Copenhagen.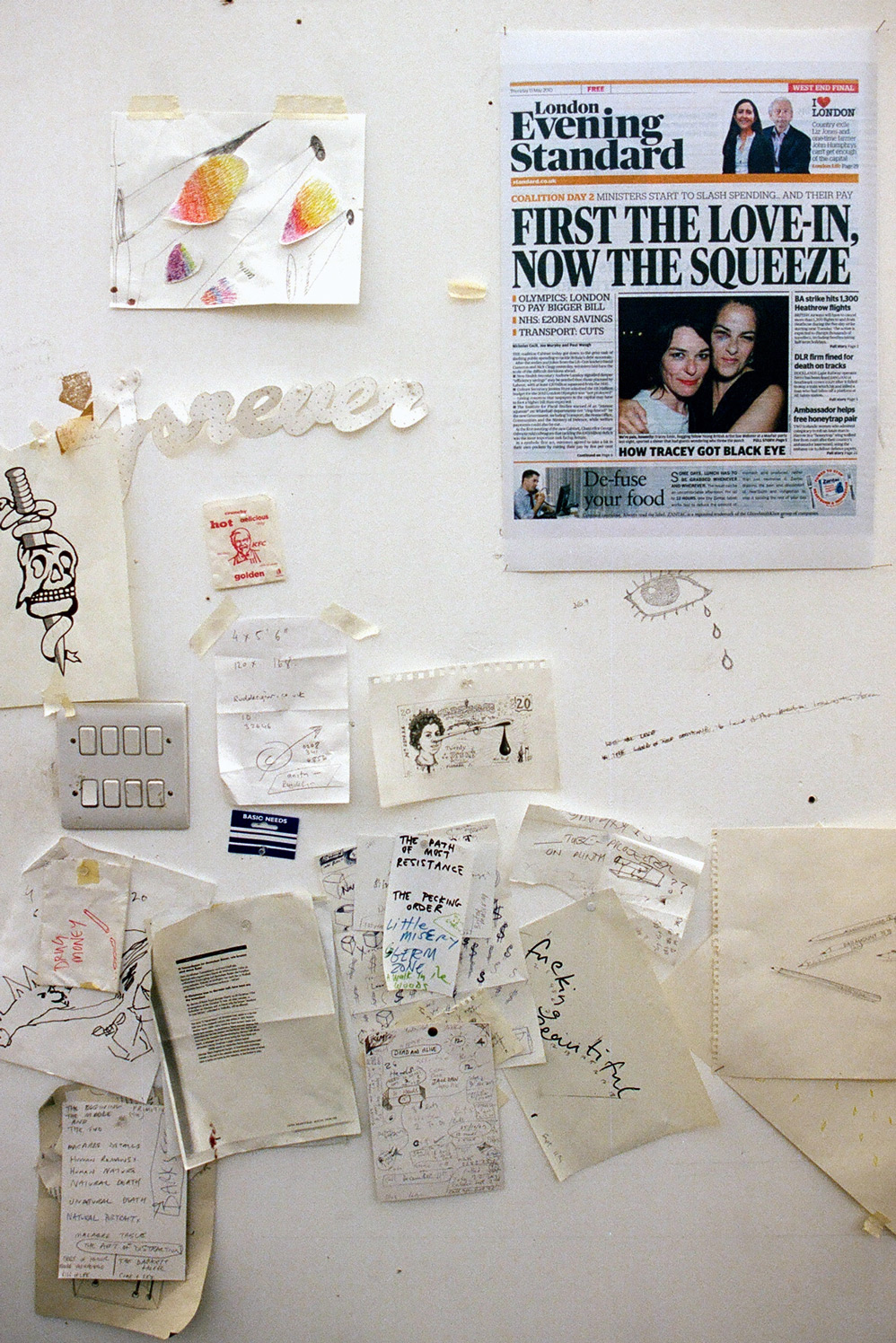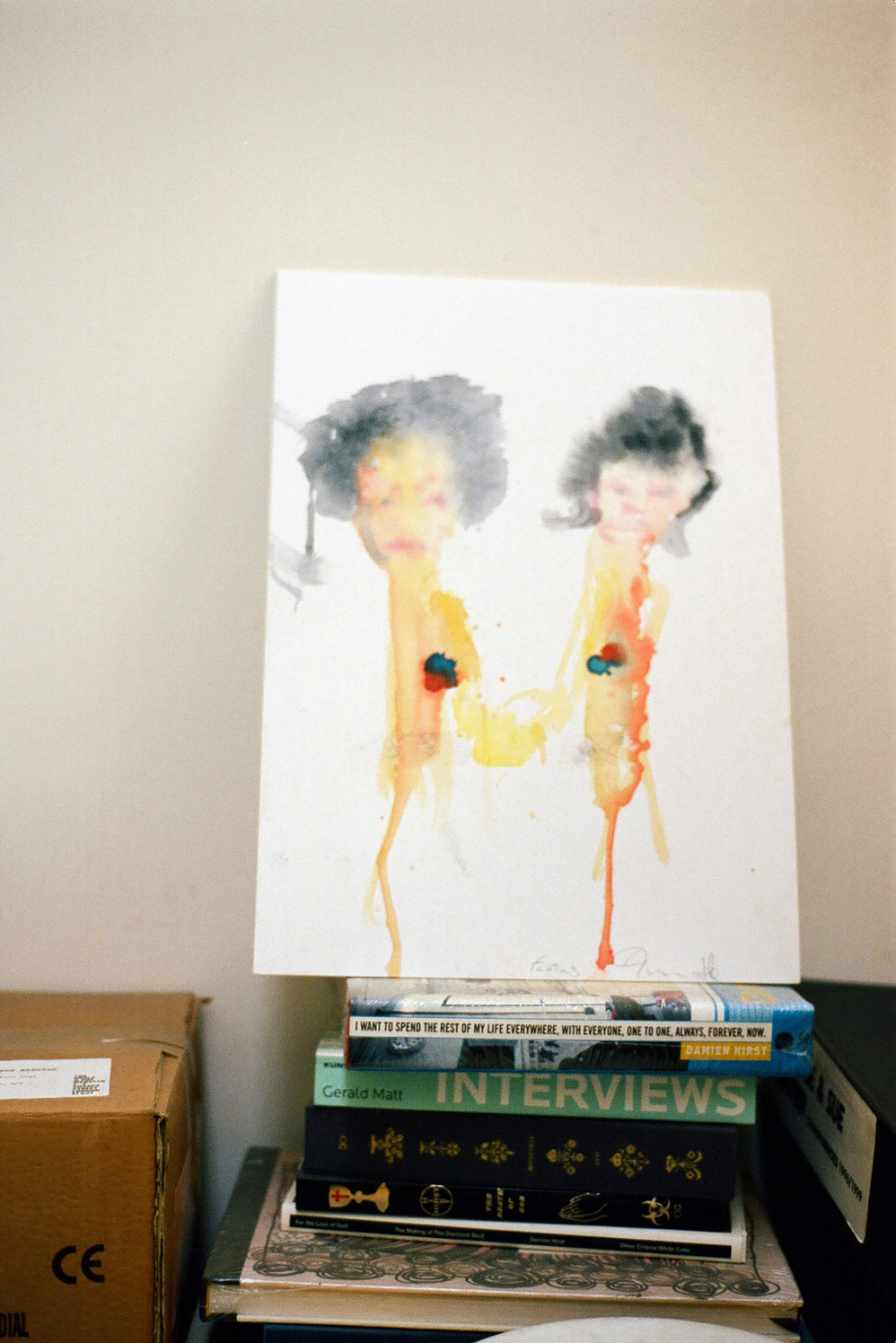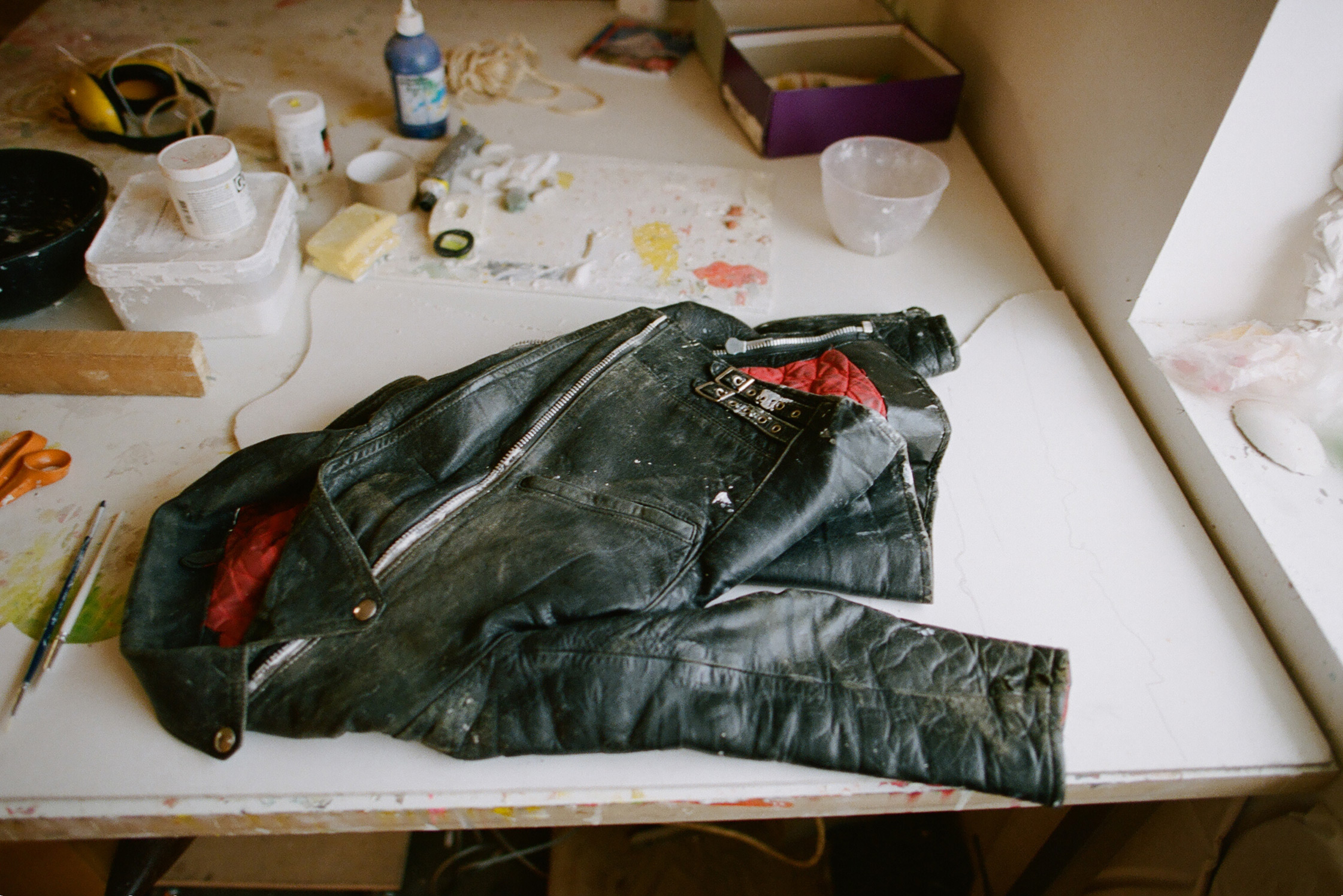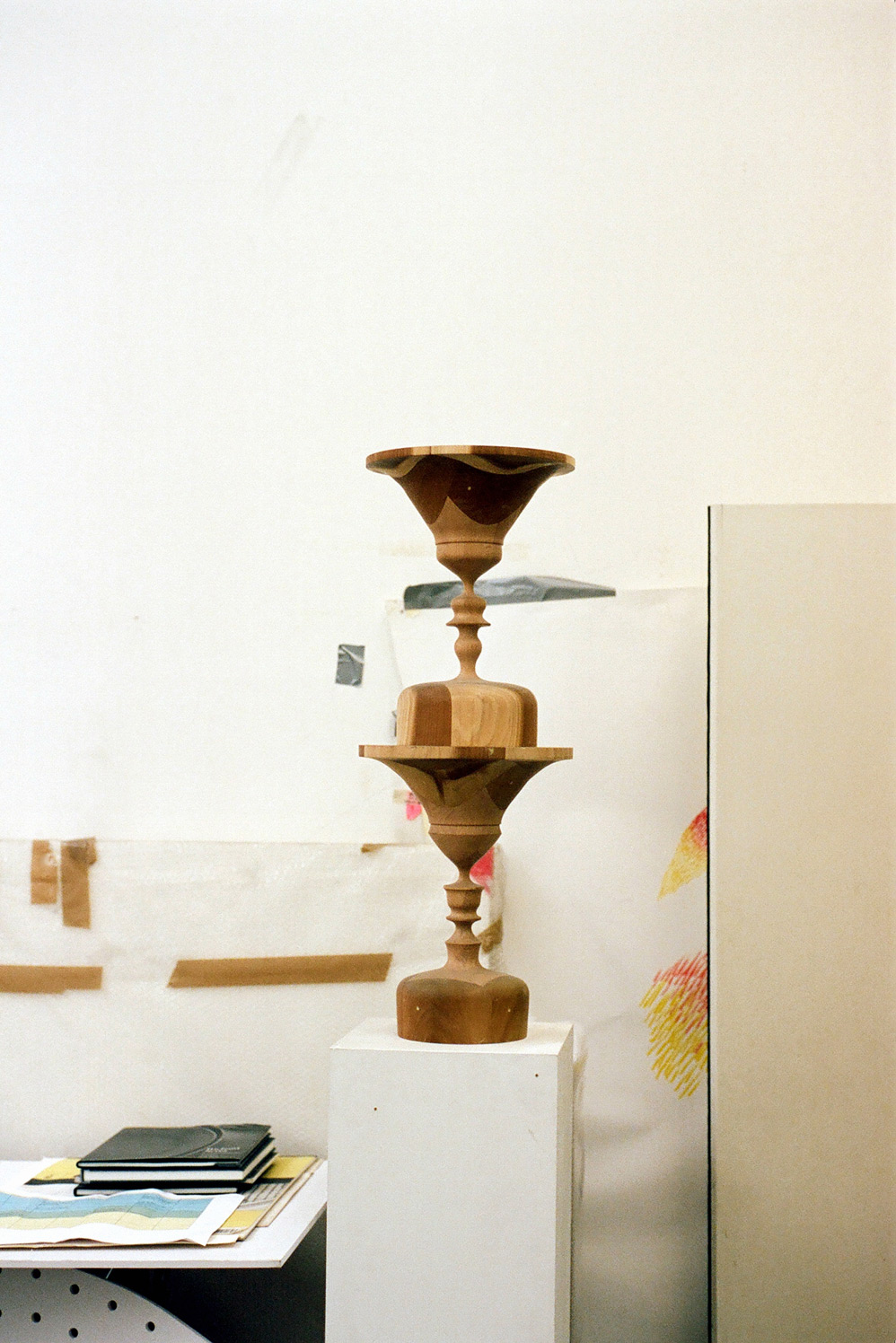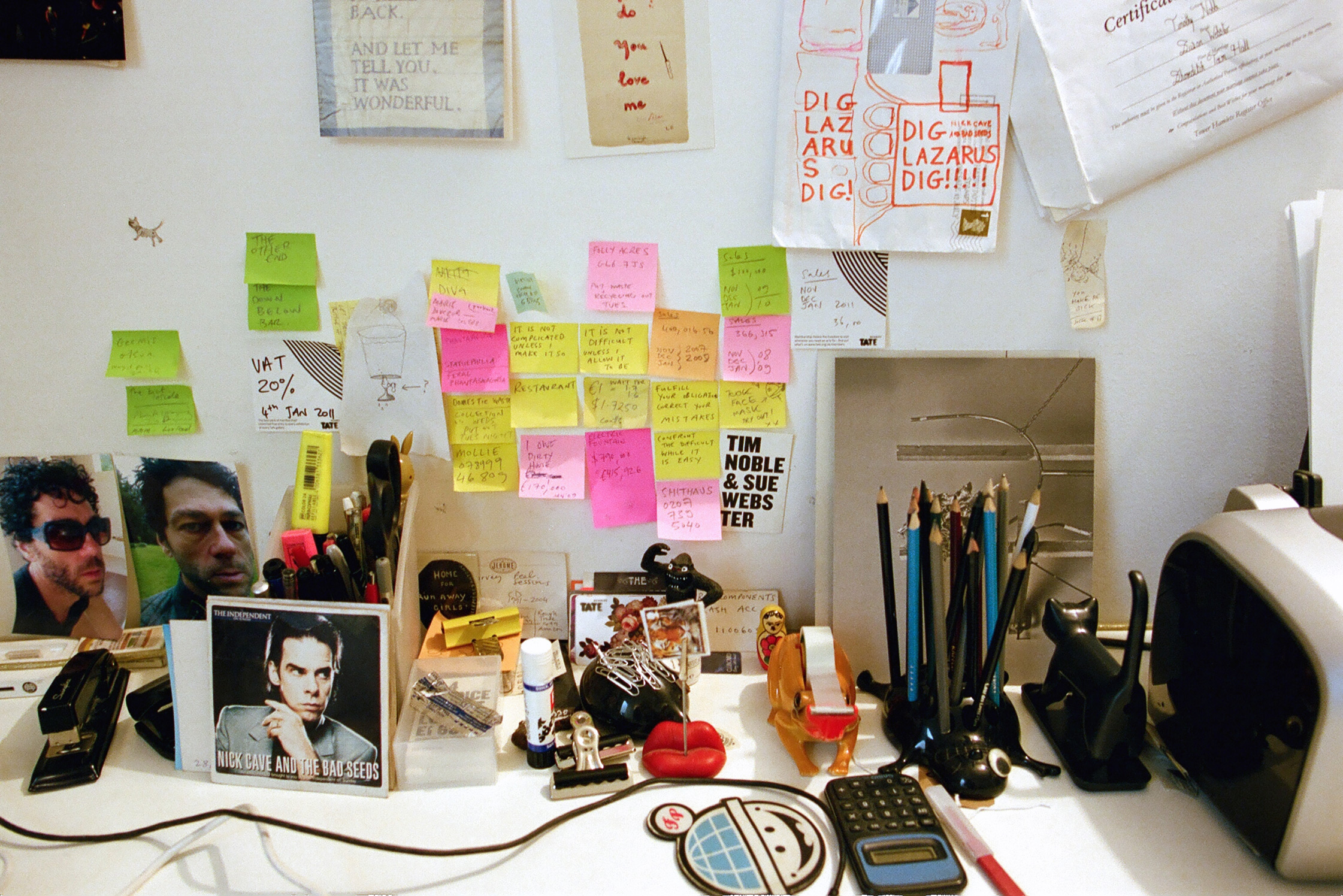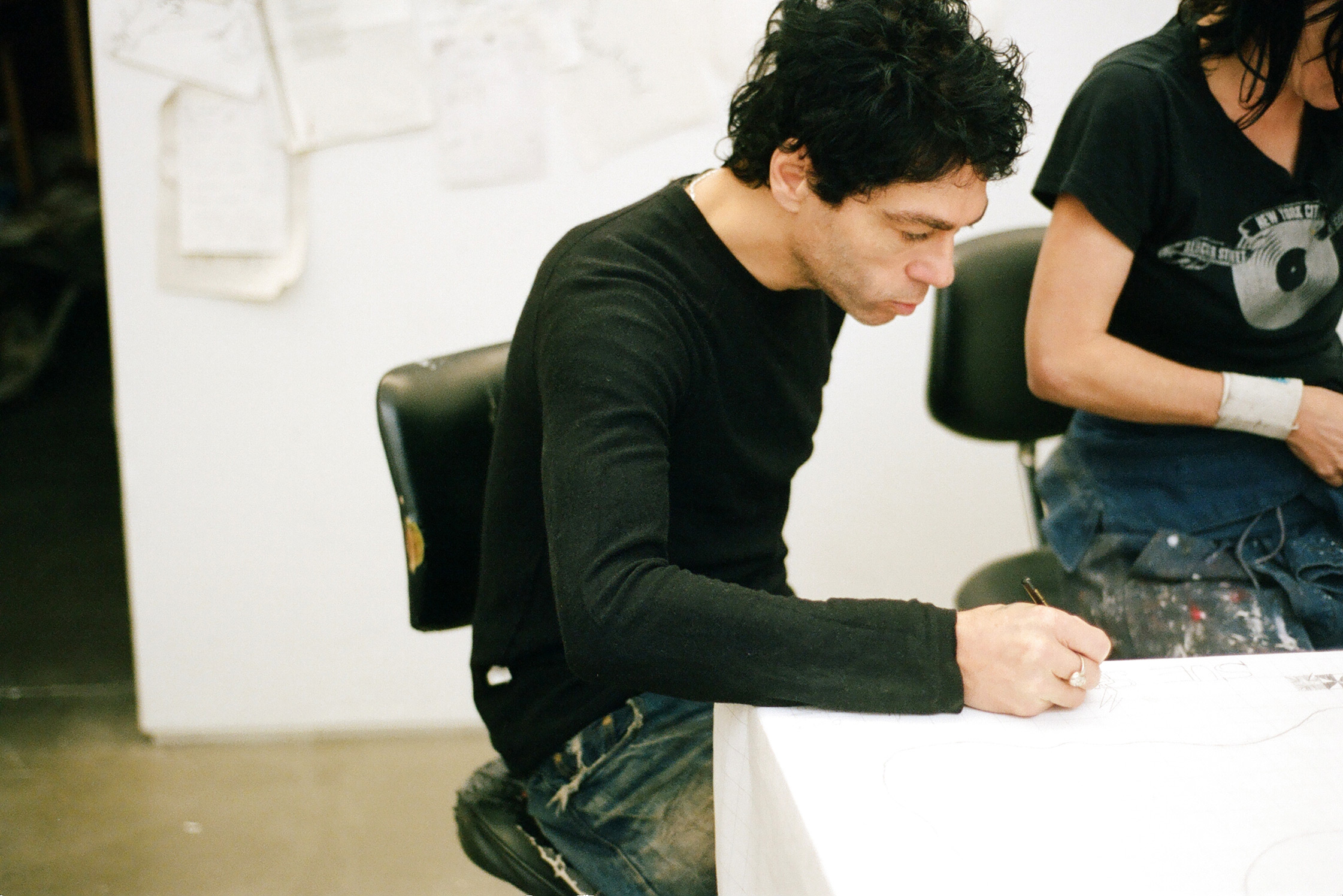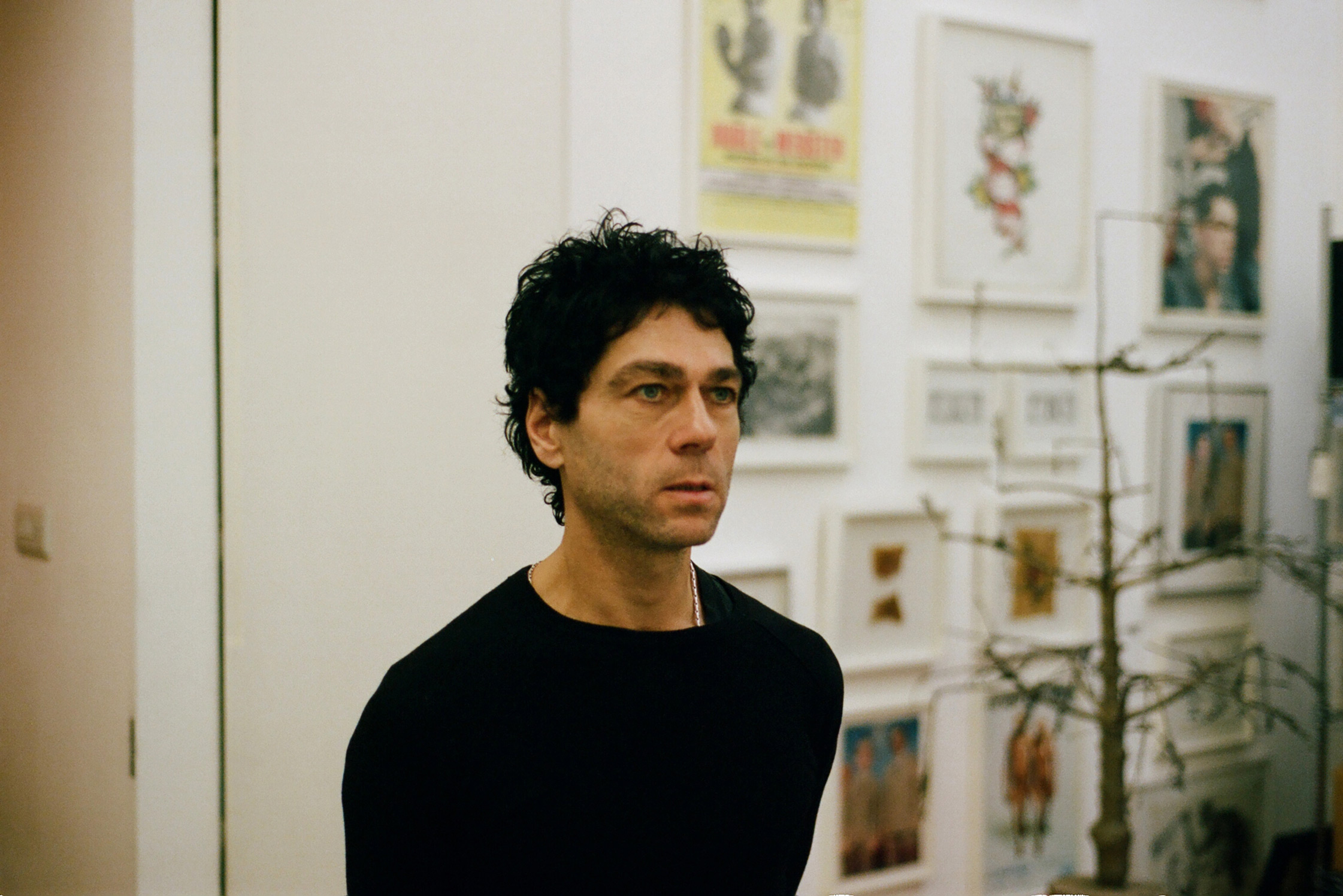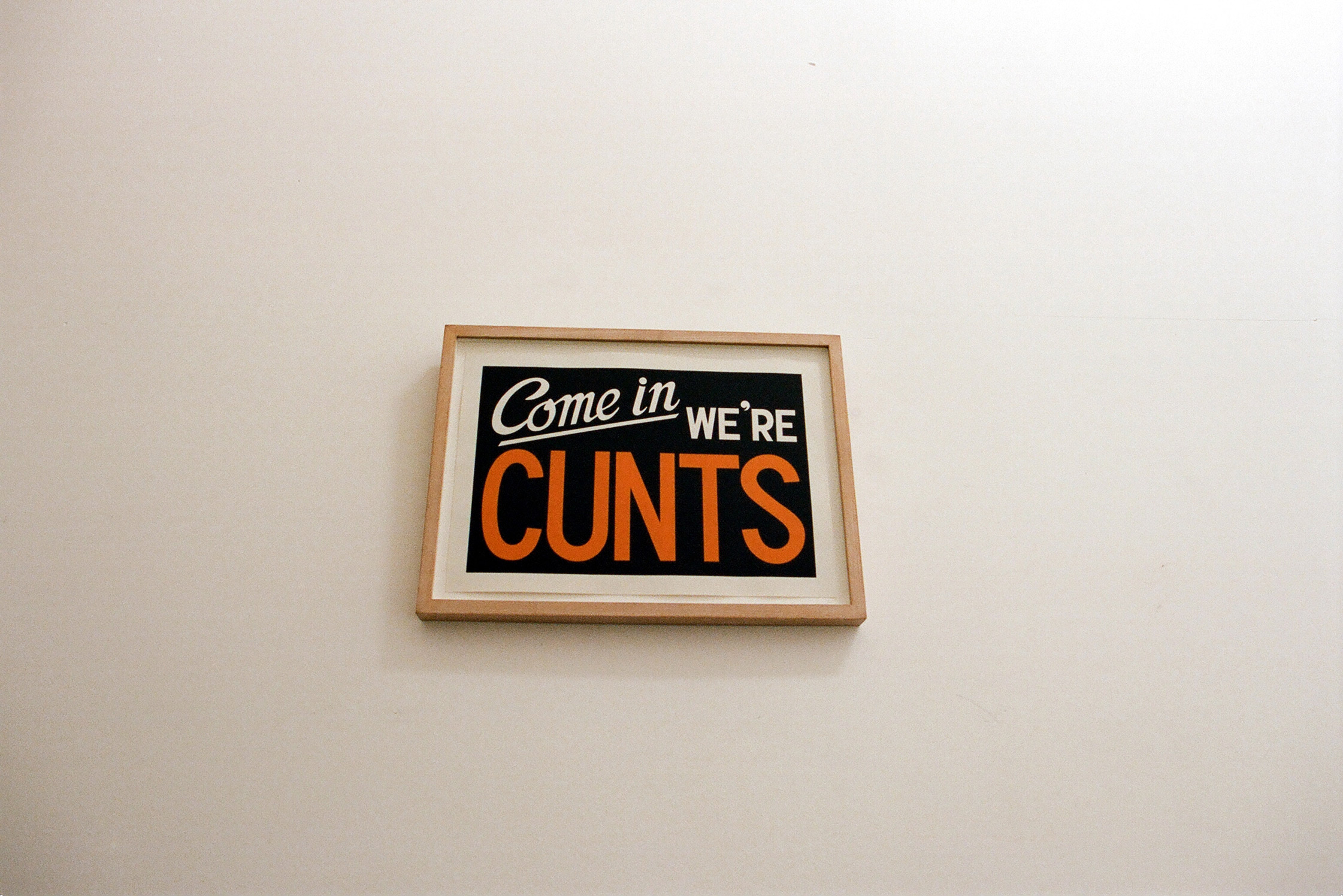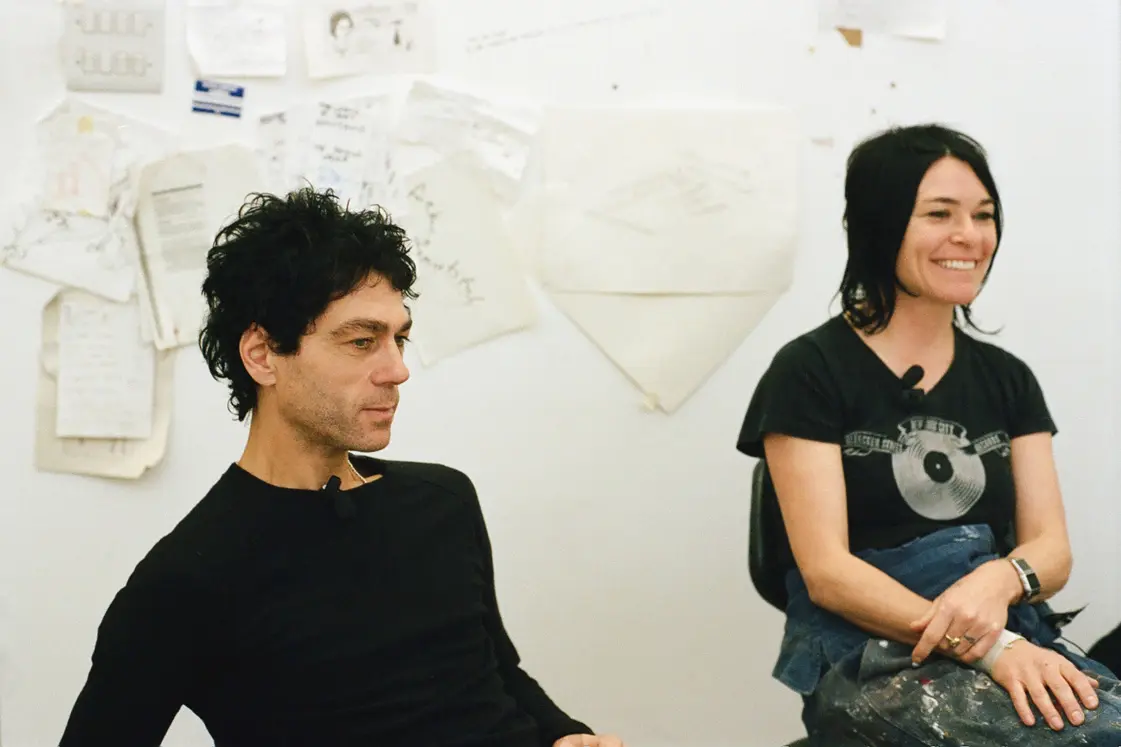 Does the entire house belong to you both or do you share it?
Tim: All you can see is ours. We got quite lucky with this place. We rode around on our bicycles for about two years looking to find the building. When we first saw it, we immediately fell in love with its square shape. The initial idea was to live upstairs and have the studio downstairs.
Sue: But then of course everything turned around when David Adjaye, brought along his vision and took it to something more extreme. For a long time he'd been wanting to do something with us. When he saw the place he was basically wetting himself. The structure was perfect for him and the ideas that have been floating around his head. Dirty House, which was the name given by David, still has all the original windows and floors from the previous factory, which gives it a special atmosphere.
So how important is architecture to you?
Sue: Our house was something very special. We had an architect here from New York who was just mind-blown by the possibilities. He suggested to turn it into a typical loft and paint the walls white. But we knew we had to try harder than that. So then David Adaje came into the picture, and it was obvious it was going to go to another dimension.
Tim: In general it is very inspirational to look at the abundance of space and light. It is impossible to understand it unless one has been completely consumed by it. So I think there is something other than the art that is informing the atmosphere of our place. Special architecture has an extraordinary way of doing that. Two things can become quite powerful and subtle. David just trusted light and simple materials.
Did do grow up in London?
Sue: No. I grew up around 100 miles north of London. I moved to here about 18 years ago to pursue my studies.
Tim: I have also been here for quite a while now, definitely over ten years. It is bizarre to see a place transform so rapidly in front of your own eyes. We used to live close from here, and back then there was just nothing. Now everybody is building like crazy around us. We probably will be surrounded soon by shopping centers.
What was the best thing about coming to London in the early 90s?
Tim: It was to be at the beginning of something that was truly unrehearsed, something literally unfolding before your very eyes; to be a part of the influence and direction of that unfolding…
So you were basically in the middle of everything, considering the time period you came here?
Sue: I suppose we are in the middle of it now. I was here when the art scene exploded, but wasn't really part of the music scene. I was unfortunately too late for the punk rock era. I came to London in the early 90s, a time during which britpop was at its prime. It was absolute rubbish. However, it was definitely great to see the art scene flourish as you would come here without nothing – not even expectations. Nowadays it seems everybody has these assumptions of being here and become a famous artist. I am glad we didn't start with that expectation. I think it is a much better and wiser way to start an artistic career.
But wasn't it a goal of yours to make money with art?
Tim: Of course, that is a bonus. The goal was always to be free and not to work for anybody. We just wanted to do whatever we wanted and see where it would go. But there was never a goal in art. The idea of that would be absurd. Nowadays it is assumed that this is a goal for people.
Let's talk a bit about your art. How long does it take you to work?
Sue: Ah, it is difficult to know. It is impossible to work all day, so we create for about four to five hours a day. Then it lasts for about four weeks to finish a piece. Sometimes longer.
How do you start off with a piece?
Tim: Well, we draw on each other. There are different ways of doing it. We are still experimenting with how to exactly do it. Walking around helps a lot, because you can see the work very well and realize in what direction the piece is going. If you stick everything in one place it becomes too fugitive.
Sue: I think you have an idea and you work with it and see where it takes you. A deadline is something good to have as it means that you have to stop at some point and exhibit it. Otherwise you would end up with a room full of undone sculptures and ideas.
Can you describe a little more about your process and how a Tim Noble and Sue Webster piece come into fruition?
Tim: Often one will go to the room, start making something, and kind of figure out what is being done. Then probably someone else will come in and take a look at it and see where it could go. This is how it has happened a few times now. The process makes the whole thing exciting. It comes from an instinctual desire to make the designs.
Sue: Yeah, because you keep correcting things and you don't know why. And the great thing is that it is free material.
Tim: We originally started out with rubbish, which is kind of anti-social. We use all kinds of things, like taxidermied animals, dollar bills, pounds, and just recently, we used silver and gold in Berlin.
Sue: Now it has gone back to not even using rubbish but splinters of woods. It is the getting rid-off something you can identify with. In general we try to keep it really minimal.
Tim: This is what is so great about having a studio because you start fiddling with things and accidents start to happen. You split chair legs, and then you split again and slowly something forms out of it.
You give it a new meaning.
Tim: It is mediation, isn't it. It is very different from sitting at a table, answering the phone and commanding others. It is really going back to being a caveman and doing things with your hands. I think it translates in your mind.
As collaborative artists, would you say your individual approaches are similar or different? What is the working dynamic like between you?
Sue: Unlike other collaborative artists – we are most definitely not unified – one of us represents the dark side and the other the light. For us it is a relationship based on tension that is required in order for us to create.
Do you have mirror windows from the outside of the building? This is quite intriguing.
Sue: Yeah, they definitely are very different. The windows let light in, but we cannot see outside, which offers an interesting perspective.
Tim: We don't want to see outside (he laughs).
Sue: Not many people know that they won't be able to look in. I want to keep it like that, because otherwise we wouldn't have those nose prints on the glass, trying to take a peak. It is an amusing sight.
You project shadows onto your sculptures to reveal identifiable shapes. What is the premise behind this?
Sue: I think it comes from taking something abstract, absurd and seemingly meaningless, and then transforming this chaos into something representational and wanted – thus creating the suspension of disbelief.
You hear everywhere how great London is. Can you tell us something that sucks about London?
Sue: It's full of shadows – I used to think that to be an artist made you different from everybody else – now everybody wants the same things that you have – they want to walk in your shadow – it just means that now I'm forced to cross the road more often.
Can you imagine yourself creating somewhere else other than London?
Tim: Where once we needed the chaos of the city in order to create – we now need the distraction of nature and the countryside in order to think more freely.
What are you currently working on?
Sue: I'm not working – I'm thinking and travelling – I guess that's called researching…
What is the most absurd thing you have found in the trash?
Tim: I couldn't isolate one thing. It's always absurd to find beauty within the horror.
If making art hadn't worked out, what do you think you might have pursued instead?
Sue: In the words of Ian Dury, 'I could have been the catalyst that sparked the revolution or the inmate in a long-term institution..'
A big thanks to Tim and Sue for giving us the tour of their fantastic and very inspiring London studio. This portrait is part of our new category 'FvF Workplaces'. To find out more about this new section visit our journal post FvF Workplaces here.
Thanks to Blain Southern for their support, Nicolai Niermann and Markus Werner for the filming and Hendrik Thul for the edit. The photographs were taken by Brian W. Ferry