In recent years, the term 'artisanal craft' has become something of an eye-roller—an overused descriptive for local makers that helped ignite a trend—and in doing so, created a stylized and squeaky-clean image of designers and their honed skills.
The craze hasn't waned, and while more attention to local, small-scale handmade goods can only be a positive, the hype isn't without its backlash. 'Artisanal' is now widely used by many corporate brands and marketeers to describe products they deem authentic and handmade. But do these labels diminish the output of individual skilled artists creating functional products? And in a bid to be niche and socially responsible, shouldn't we be looking directly to the source? It might not be as curated or as glossy, but then if we wanted that, we could go to Ikea.
When it comes to the tactile skill of pottery, two things it is not, are clean and minimal. The very nature of working with clay is dirty, gritty and physically intensive. Results' be they simple forms or functional tableware may look easy to achieve, but in fact, they take years of dedicated practice to perfect. "I really wasn't aware of the crafts and handmade movement that was happening," says Brooklyn-based potter Helen Levi. "I studied photography and was focused on a different kind of art experience, namely taking pictures and doing documentary photography. I was totally oblivious to the popularity of the handmade object," she adds.
Born and raised in New York's East Village, Helen first took pottery classes in elementary school and continued to practice through high school. By the time she reached college, (where she surprisingly didn't study the craft), she was teaching wheel throwing techniques to students. Prior to starting her own name line, which is now a successful venture comprising of functional pieces from hanging planters, mugs, pitchers and tumblers, Helen continued to teach, this time back at some of the same Manhattan studios where she practiced as a child.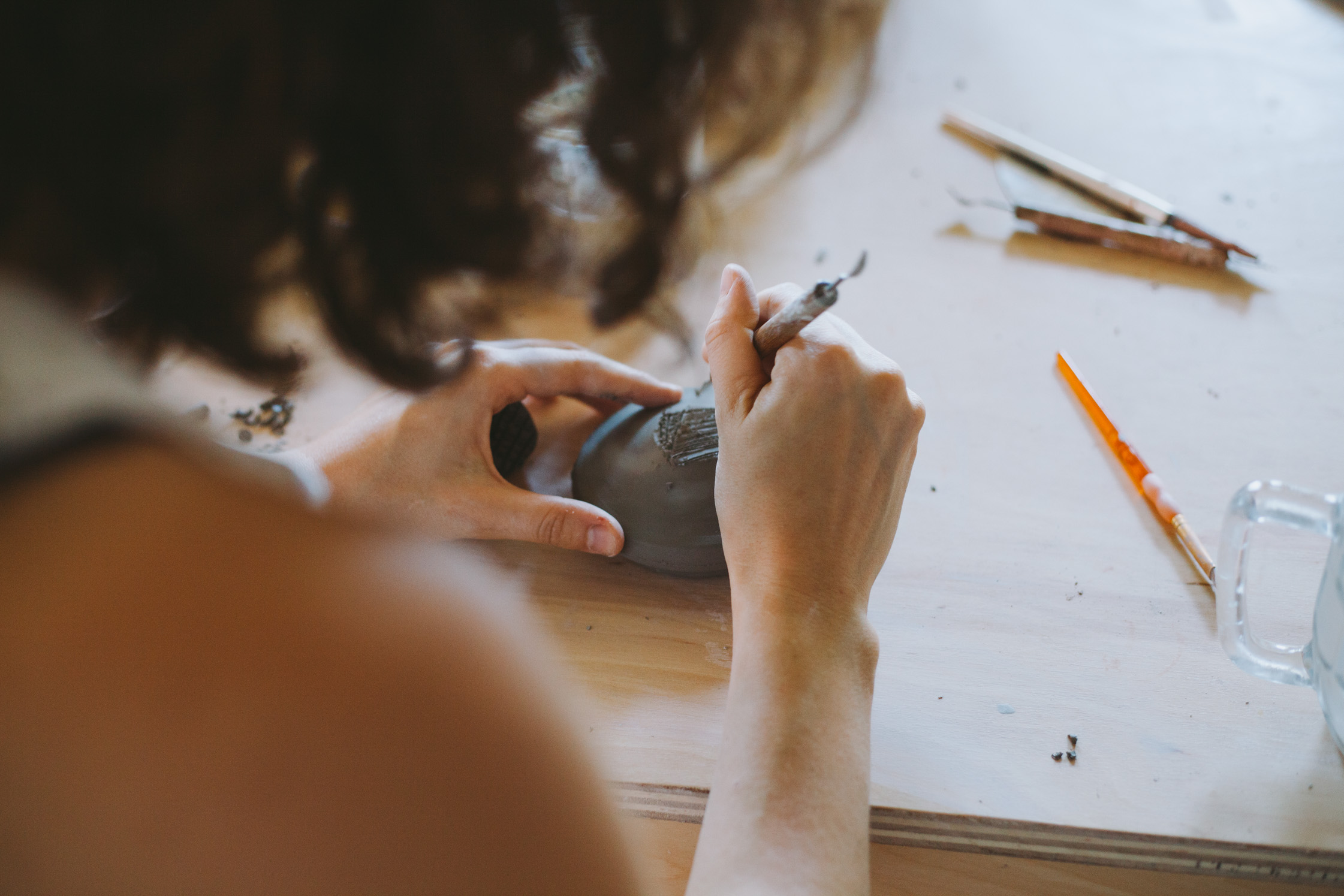 Now based in Brooklyn, Helen has recently acquired a new studio in the industrial yet quiet waterfront neighborhood of Red Hook—an area that was once an important maritime hub. "Having my own studio is such a treat and I feel so lucky that I have this space because whenever I get a random idea I can just try it, you know? I don't have to set aside time for new ideas, I just give it a go and see," she says. The two-storey brick building is typical of the area with exposed beams and an overall aesthetic that's "a little scrappy round the edges." Nestling alongside residential houses and larger concrete loft spaces it feels incredibly tranquil and calm. "My old studio was a third of the size, it had a mousetrap manufacturer below us so there was constant machinery noise all the time," says Helen. "Now I feel like I'm in this sleepy little neighborhood—the building's quiet, the street is quiet, everything's quiet, so when a truck goes by you really notice because it punctuates the silence."
"With pottery there's a certain attitude you have to adopt of just letting go."
Like most New Yorkers, Helen exudes a palpable, vivacious energy that comes from living and working in the frenetic, non-stop city. Her job running a small business certainly lends itself to this pace, but the day to day life of a potter seems at complete odds with this lifestyle. "I've always felt that I'm an impatient person and I don't know if that's because I'm from New York or it's just a coincidence, but it bites me in the butt all the time in the studio!" says Helen with a laugh. "You think I would have learned at this point but I still try to rush things and every time the clay is like 'uh, uh, uh' you can't do that. It's a very hard lesson to learn! I break pieces still, I drop them on the floor and I don't catch them but you cannot let it upset you because it's gonna keep happening—I work with a fragile medium so you do learn to let go!"
Helen's Signature Marbled and Gilded Designs
Beach Series: Giant Mug, Traditional Mug and Espresso Mug

Beach Series: Creamers

Tree Planter: Carved Terracotta

Gilded Hand Necklace, Solid Bronze or Brass

Tree Planter: Marbled Terracotta
"I've experimented using found materials like dirt in my glazes and I'd say I'm directly inspired by the landscape."
Helen's work was discovered by the fashion designer and boutique owner, Steven Alan. "Helen does pottery," a friend had recommended, prompting her to consider the potential of her hobby: "I thought no, I don't really do it—just because I'd never really conceptualized it as that—it was just something I always loved," says Helen today. He was the first to place an order and the oversized planter piece from that very first selection is still something she makes today. "I've been experimenting with terracotta planters. I like them to be big enough to hold a small indoor tree," she explains. This focus on nature flows through all of Helen's work and she prefers to make distinctions through the type and color of clay she uses than through elaborate glazing methods. "I get more inspired by colors of material than I do by glaze so I work a lot with tinted clay and marbling for that reason," she explains.
Her collections vary in the waves of colored clay and the chosen styles of objects but all are inspired by the elements. 'Beach', 'Ocean', 'Desert' and 'Celestial' are just a few in the Helen Levi series. "I've experimented using found materials like dirt in my glazes and I'd say I'm directly inspired by the landscape," she enthuses. "It's the source of the most beautiful shapes, textures, and colors…" So much so that a blue/grey-hued tumbler echoed the horizon line at the beach in Islay, Scotland where Helen collaborated on a whisky series with Scotch distillery, Bruichladdich. "That tumbler worked out so beautifully with the water but I didn't color match it—it just worked out that way. Sometimes you can't plan it. With pottery there's a certain attitude you have to adopt of just letting go." Another happy accident for Helen (although she argues most are not happy, just frustrating) was her celestial glaze that didn't activate in the way she had planned but now she really loves it.
Taking time out of her day to walk her dog Billy in Red Hook Park, Helen describes the importance of having that freedom and time away from the wheel to help her progress. "At the weekends I love taking Billy to Prospect park right in the middle of Brooklyn. It's so big that once you start walking you really don't hear the street anymore, you don't see buildings anymore, you feel much more remote than you actually are, that's important for me." Helen is arguably one of a few notable emerging ceramic artists in the US. Her spirited pots are both a result of her attention and inspiration taken from her surroundings, and importantly, a lifetime of growing to learn the characteristics of clay and what can be achieved with the medium. "It feels most exciting to me that there's always going to be more I can learn about it, there's always going to be different techniques like using colored slip for example. I get a lot of ideas just from the actual physical technique. And to me, that feels endless."