Simon Mullan is a true Berlin artist. He may have grown up in Vienna, but from the industrial themes present throughout his work, to his disinterest in the pretension of the art world, he embodies the values that the modern incarnation of the German capital is built on.
Our conversation takes place in a small flat in the London borough of Hackney. Despite its unassuming layout; the same low-ceilinged, purpose-built home that any Londoner is all too familiar with, the flat is unique. Taken over by Mullan and his girlfriend, a fashion designer, it looks less 'lived in' than 'created in', as the whole place appears solely dedicated to producing artwork. Unfinished pieces hang from the walls, paint-spattered tools, sewing machines and scissors sufficiently clutter the space to the point where it feels more like a studio than a home. And then there is Simon himself: in workman's overalls and the groomed moustache of an East London hipster, he is dismissive of the city he currently calls home, "Obviously London is very expensive and it's very hard to get spaces. I'm not a big pub fan and so going out feels very restricted, compared to Berlin."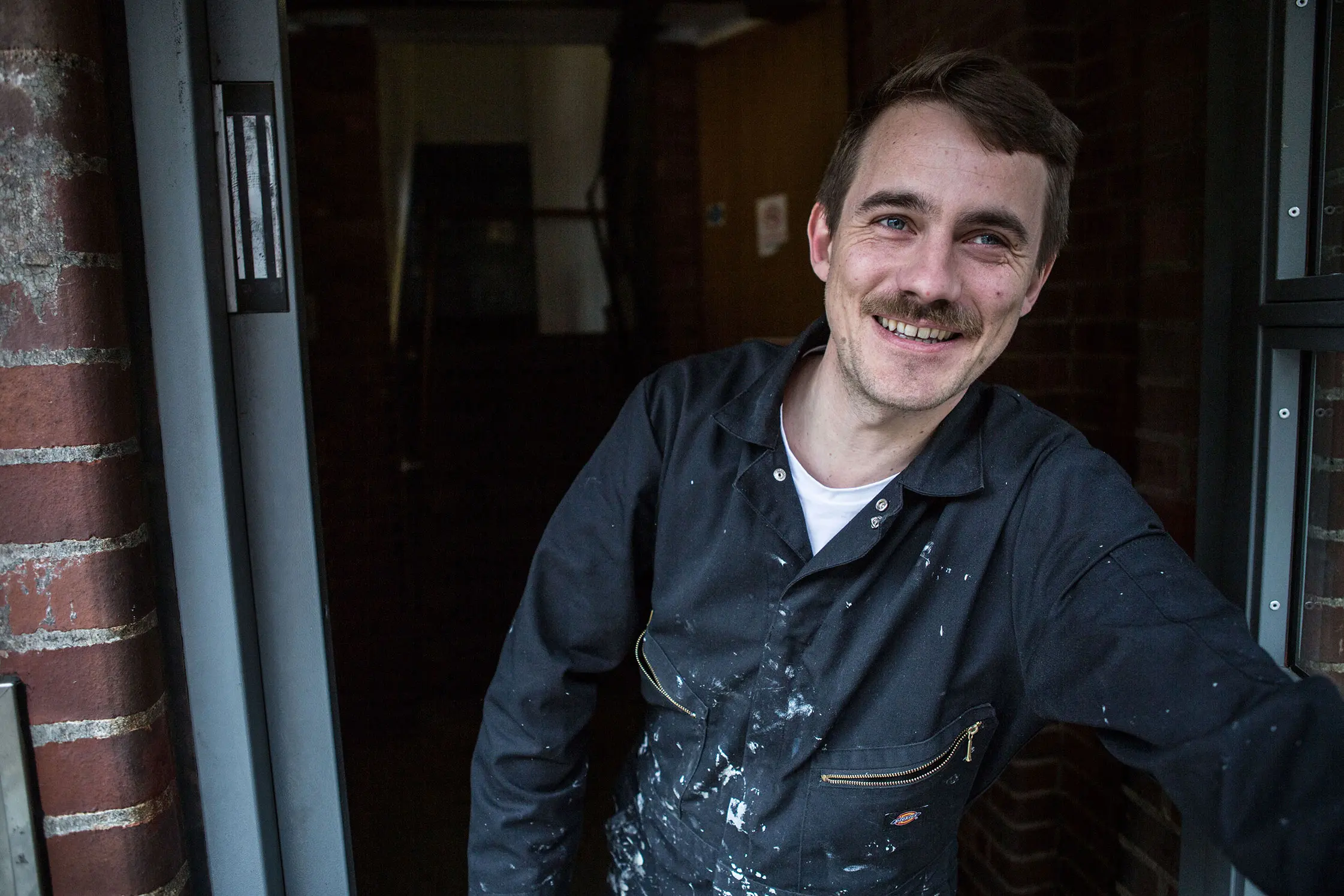 Indeed, for Mullan, coming to London was a strategic move, following a pattern that has led him around Europe over the past ten years. "I moved to Stockholm to study at the Royal Academy as a project student. I had a vision: I need a solo show and a gallery, and I gave myself a year to achieve that. It took me five years," he says with a laugh. "When I finally had that granted, I thought, 'It's time to move on', and moved to Berlin with the same expectations." Unsurprisingly, things worked out a lot quicker in Berlin and he quickly caught the eye of collector Axel Haubrok. "He introduced me to a lot of people and opened a lot of doors for me. So, after one year, I had made it in Berlin. Then I thought, let's try London, and I'm in the middle of that now."
"I don't go to the art supply store to get my art supplies, I go to the building store."
The work he has been creating in London is a continuation of projects and interests he has been pursuing for years. Multi-disciplinary and following industrial and militaristic themes, Mullan seeks to create work that is useful and serves a purpose. "I studied at the Academy of Applied Arts in Vienna, which I think is really important. I don't go to the art supply store to get my art supplies, I go to the building store." Influenced by Arte Povera and Alberto Burri, ready-made and non-art objects, such as tiles and bomber jackets make up a huge part of his practice. "My materials are basic and cheap, and I create fine art pieces out of them. For me, that has some sort of magic to it."
"I have a big problem with repetition, it makes me very nervous. I am sort of an anti-artist in that sense."
A pervading love of photography forms a solid base of Mullan's practice. "My younger brother Julian is also a photographer and we had a battle going on for years, who gets the best picture at home. We always had very different views: he always looked up, and I looked down. He always shot on the diagonal and I always shot flat." His photographer's eye is preoccupied by creating the perfect frame, something he then builds upon, constantly seeking to push forward and remain experimental. "I have a big problem with repetition, it makes me very nervous. I am sort of an anti-artist in that sense. I also have a concentration span of about 90 minutes, that's why I am very happy to work on multiple series simultaneously."
One of his most prolific series is his work with bomber jackets. "It came about after I asked the gallery staff at my exhibition in Stockholm to all wear white t-shirts, bomber jackets and blue jeans. We did performances where we had a mail guy dancing on a pole. Looking through the pictures of the performances, I realized I loved having these bomber jackets everywhere, and wanted to start working directly with them." Part of this urge to explore the iconography of the bomber was born out of his interest in subcultures. "Especially in the working-class cultures, mainly because I see myself being part of that. As a teenager I had to decide whether I wanted to be academic and go to university, or whether I wanted to start repairing cars."
Although he has many years of formal training, he clearly sees himself as an outsider in the world of fine art. "I did seven years of art school and ended up laying tiles. In fact, recently, I've been doing tiling jobs, big bathrooms in fancy restaurants and other jobs like that." His lack of interest in stability and a steady income allows him to stay single minded in his pursuit of a career in art, but he acknowledges the difficulty of choosing this path. "It is definitely a tough decision. You have to be very committed and go through very rough times. Not many have the will. I've also already been offered projects for commercial companies, I could have made good money by now, I could afford a good car, a nice house. But instead, just last year I was collecting glasses in a techno club in Berlin at 34 years old!"
Simon Says: Look Here!
Incredibly self-aware, you get the sense that Mullan is proud of this lack of attachment to any kind of stability and his rejection of a normal career path. In fact, he admits to succumbing to idealism at points, "I think in all my works there is this labor theme, sometimes a romantic view on the labor itself."
With his recent exhibition at London gallery PM/AM, it seems that Mullan has achieved what he set out to in London, and undoubtedly his adopted home will pull him back soon. "I see the future of my studio and production in Berlin. At the minute I have one foot on each dance floor, I tell people in London that I'm mainly in Berlin, and I tell people in Berlin that I'm mainly in London. But I love Berlin, it's so much easier, it's cheaper, there's endless space to produce. Endless possibilities."
Thank you Simon, for showing us around your base in London. Explore more of his work and see more of our portraits from the capital.
Photography: Hamish Stephenson
Interview & Text: Maddy Tickner