More than twenty years have passed since Mårten Claesson, Eero Koivisto and Ola Rune met while studying architecture at Konstfack University, Stockholm.
Despite their strikingly different personalities, the three soon became close friends. Two years later, while still in college, they launched an architecture and design firm, Claesson Koivisto Rune; now, two decades down the road, they haven't looked back.
Though many have been quick to label their aesthetic as Scandinavian, the designers rather it be thought of as essential—every idea reduced to its strongest point. Over the course of their career—punctuated by work for clients such as Asplund, Muuto, Skultuna and Tacchini—their initial friendship has served as a filter to shape a unique visual language. "It is easy to forget that we do what we do and we have been doing it for a long time," says Eero. "I have been working with these two more than any of us have been in a relationship with someone."
"All three of us, regardless of our different backgrounds, share a very strong drive," Mårten adds. "Together that became a force that made us what we are today."
Meeting at their studio in the heart of Södermalm's SoFo, the team discuss work, creative process, and embracing life's most mind-boggling (and momentous) coincidences.
"I have been working with these two more than any of us has been in a relationship with anybody."
Take us back to when you met at university. How did you decide to become business partners?

Mårten: We became very close friends at university. We stayed friends, and only friends, for two or three years before we played around with the idea of doing something together. When we were still at college, we did some projects including a couple of competitions that we won. This gave us the idea that perhaps we could continue working together.

While at university, we were also commissioned to do a couple of projects. One of them was for a major corporation and it required registering a company. After that, we went back and forth: we changed schools, we traveled to different countries and studied different things but we got back together in Stockholm and graduated in 1994.

At that time, there was a big recession going on. The unemployment level among architects was around 50%. But we had our company and a couple of projects in the making, so we kept going. 22 years later, our offices are a little better, we have a few employees, but we are still the same.

In your opinion, what is it that makes you a strong team?

Eero: There are some funny similarities in our backgrounds. All of us have brothers and sisters. Among us Mårten is the youngest, Ola is the middle one and I am the oldest. In our families, Mårten is again the youngest, Ola is the middle sibling and I am the oldest.

Ola: Besides that, what makes us interesting as a team is that we have very different personalities. I think that helps because we don't interfere with each other's spheres. We respect each other. We understand that we can be different but still have good ideas. That's the key for us.

Your studio covers both architecture and design—how did that happen?

E: The studio was born from an interest in both objects and buildings. There are many architects that do a design or two, and many designers that do a house or two. We have done over 100 architectural projects and we're equally interested in design.

M: We take design seriously, but we never forget that we are architects. We approach design from an architectural mindset and not the other way around. Most of our design products fit very well into the architecture. They don't overtake it, which is a common mistake.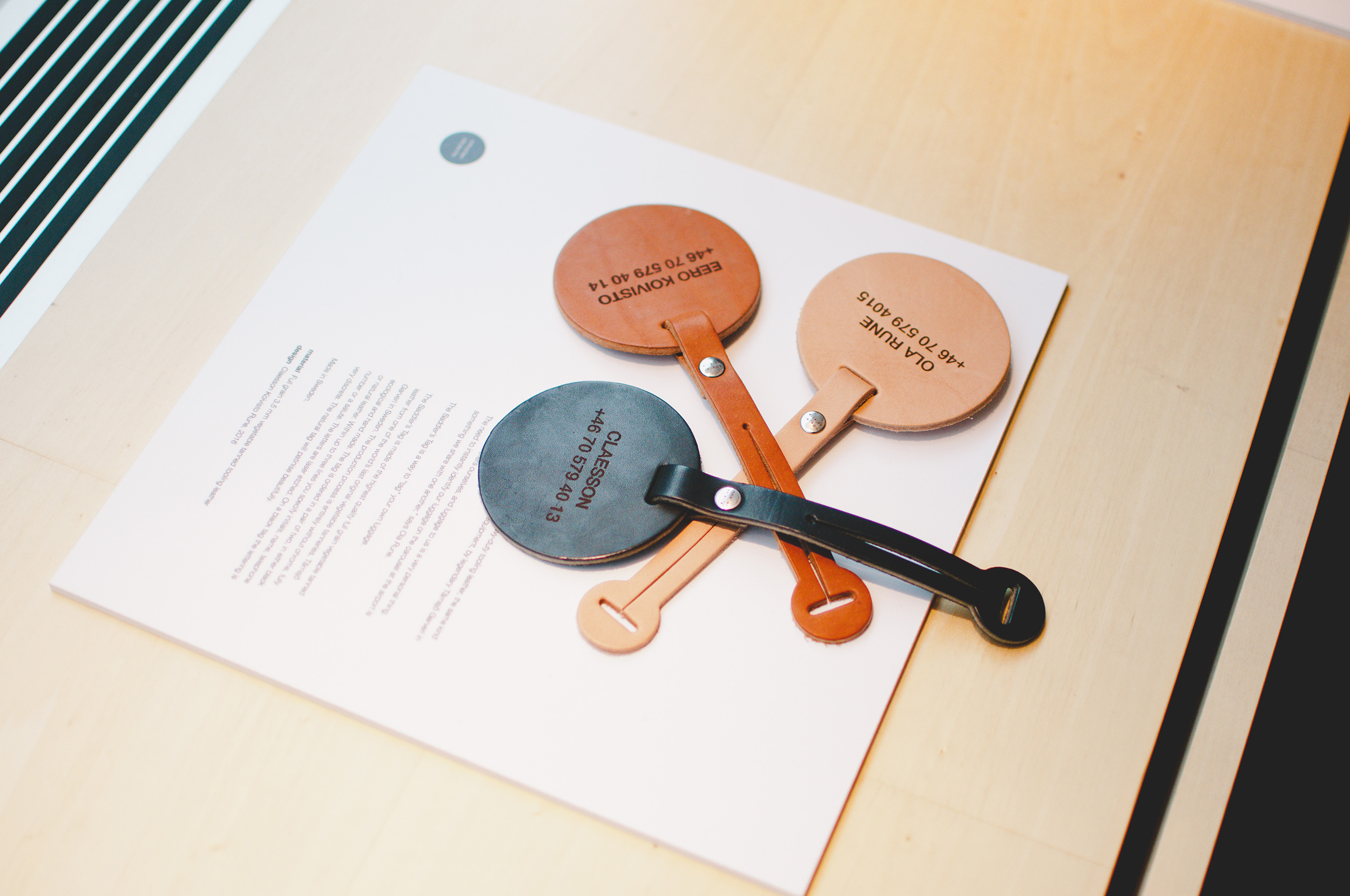 "What makes us interesting as a team is that we have very different personalities."
Would you say that architecture was your first love, and design your second?

M: We started our studio as an architecture firm. Design was never alien to us. It is part of our education. So it was always about both. In some academic circles, architecture is considered more important. That is not true, we believe they are equally important. They are just different things. That's something old architects and designers understood. Le Corbusier, Frank Lloyd Wright, Alvar Aalto, Arne Jacobsen—those are our role models. They all improved architecture and design without even thinking if one was inferior or not. We want to do that, too. You look around and architecture and design are still separate, maybe because of the education system. But we want to bring them back together.

How would you define your aesthetic?

M: In the beginning, we were disturbed when people called what we do 'Scandinavian.' But style is just superficial. If it is Scandinavian, then let it be. There's not much that we can do about it. We were born and raised here. Beneath that, though, lies the essence and the quality of the work. That's what's interesting to us. We try to keep it clear but with substance. It doesn't mean reducing all the way to nothing. It's about reducing to the point where the idea is as strong as it can get.

E: I think our aesthetic is very rational, but we always add a layer of depth and emotion where other minimal architects may not. That layer is influenced by our Swedish background and also by Japanese architecture.

O: In my opinion, whatever you do as an architect has to be honest. It has to be you. I believe the worst kind of architecture is the fake kind. The kind in which you are copying someone else's style, or doing something just because you were commissioned to. That is useless.

Can you describe your work process? How do you approach new projects?

E: Discussions, discussions, discussions, some model making, some sketching, more discussions, some sketching, more discussions, final drawings—then, the product gets built.

M: Eero describes it as linear. But it is not a linear process. When we receive a brief or commission, I don't know what the result will look like. But I can look the client in the eye and say, 'In six weeks you will have a result and it will be good.' I know we can do it. I have no idea what it will be and I don't know exactly how we'll get to that point. But I know that we will.

E: There is a famous experiment in which some researchers wanted to trace a fly's flight around a room. They had assumed there was some structure to it. But they found out there was no pattern at all. What I mean by this is that as people, we want to categorize, we want to find systems, we want to understand our surroundings. But flies are not so interested in that. It is the same for a creative process. You really want to understand why a glass looks the way it does. Of course there was a process involved, but in the end you just have to take it as it comes.
"You look around and architecture and design are still separate, maybe because of the education system. But we want to bring them back together."
Does structure kill creativity?

E: You need some structure: you need to know that everything in the studio is working, that salaries are getting paid every month, and that someone is taking care of all the little things which need to be done. But you also need a space that is playful, where your brain works in crazy waves. It is at that point when you are completely removed that you bring new things to the discussion. It's absolutely impossible to pinpoint what led to the idea but I am sure the only thing that will kill it is to stress too much.

O: I agree that stress is no good, but pressure is. I think it is good to have a timeline; otherwise, you just hang around being an artist. You need to have some kind of force to get things done.

M: At the same time, I think this pressure comes from inside. There is an inner drive. But you definitely need deadlines from clients because otherwise, you tend to always think you can improve it a little bit more.

Which projects are you most proud of?

O: There is a set of tea light holders that we did for Skultuna a few years back. We did it for a hotel lobby and it became so popular that now you find it everywhere. I'm quite proud that things we have made became popular. On the other hand, we made a chair a couple of years ago with a Japanese company. It is called Wafer because it has dark and light wood mixed together. The perfection they reached with that chair is one of the things I am most proud of—and they sold only one.

M: For me it is a gallery building in Marfa, Texas. We finished it in 2015 after nine-and-a-half years of work. After working on it for so long, it has special meaning.

E: My favorite project is a set of pots we did for iittala. We worked on them for three years, and we all use them every day. After we finished the project we had a lot of cooks trying them out and we fixed them accordingly. They are the best cooking pots ever designed, in my opinion. But they were only on the market for a year because they said they looked too strange. Sometimes, even when design is really good, it doesn't help if people don't appreciate it.
Birdhaus • OTHR • 2015

Armchair • Tacchini • 2015

Stacking Chair • Modus • 2015

Tray/Boards • Monitillo Marmi • 2015

Bracelet • Gallery Pascale • 2008
"Design is not only about ecology; it is also about the expression of human nature."
What are the common influences that the three of you share?

E: We all went on scholarship trips to Japan while we were still at university. At that time, it wasn't the hip country that it is now. We traveled around for months. I'm very sure that influenced us a lot. Apart from that, we are all fascinated by the work of the American sculptor Donald Judd. As a joke, I say he is the original hipster. This idea that you should know where things come from, that things should be honest—he had those 20 years before anybody else.

Lastly, do you believe sustainability is a part of the future of design?

E: Definitely. Of course design has to be useful, and work, and be aesthetically pleasant if possible, but that's just one part of it.

M: Design has always been about improving things. However, it is not good to say design will entirely solve the problem. Every part of society has to work on it. Design is not only about ecology; it is also about the expression of human nature. To find a way to do that in a sustainable way is the work of designers nowadays.
Thank you, Mårten, Eero and Ola for sharing your time and work with us. Learn more about Claesson Koivisto Rune on their website.
This portrait is part of an ongoing collaboration with OTHR, a vibrant hub for unique ideas and new possibilities in design. Visit OTHR for more on this story and the designers they work with and see our previous portraits together here.
Visit our archive to meet more inspiring personalities from Stockholm.

Interview and Text: Maria Solares
Photography: Marta Vargas