There are few people who do not dream of cruising on America's freeways sometime in their life. Liberating oneself from the chains of everyday routine, and entering in the footsteps of Dennis Hopper's Easy Rider-outlaws. Most people give up on these aspirations and never see their plans come to fruition. But photographer, Samira Kafala, and graphic designer, Jake Noakes, did not. They journeyed around the states for six months and eventually ended up in the country of tulips and canals, finding a base in Amsterdam.
The narrow streets of the Dutch capital felt almost oppressive after months spent in the vast sweeping plains of America's landscape. However, despite their love of freedom, the British couple decided to pitch their tent in The Netherlands. Now Samira, Jake and their son, Ramzy, and daughter, Raya have settled in a former school building. The building's rather dull looking façade conceals a hidden gem. Their stunning apartment is filled with a special collection of artworks, records, sneakers and a selection of their own creative work. Samira and Jake may have changed their lives quite dramatically since they left London a decade ago, but nevertheless, they have stayed true to their roots: the school-turned-apartment breaths a familiar British coziness and snug family life.
This portrait is part of our ongoing collaboration with ZEIT Online who present a special curation of our pictures on their site.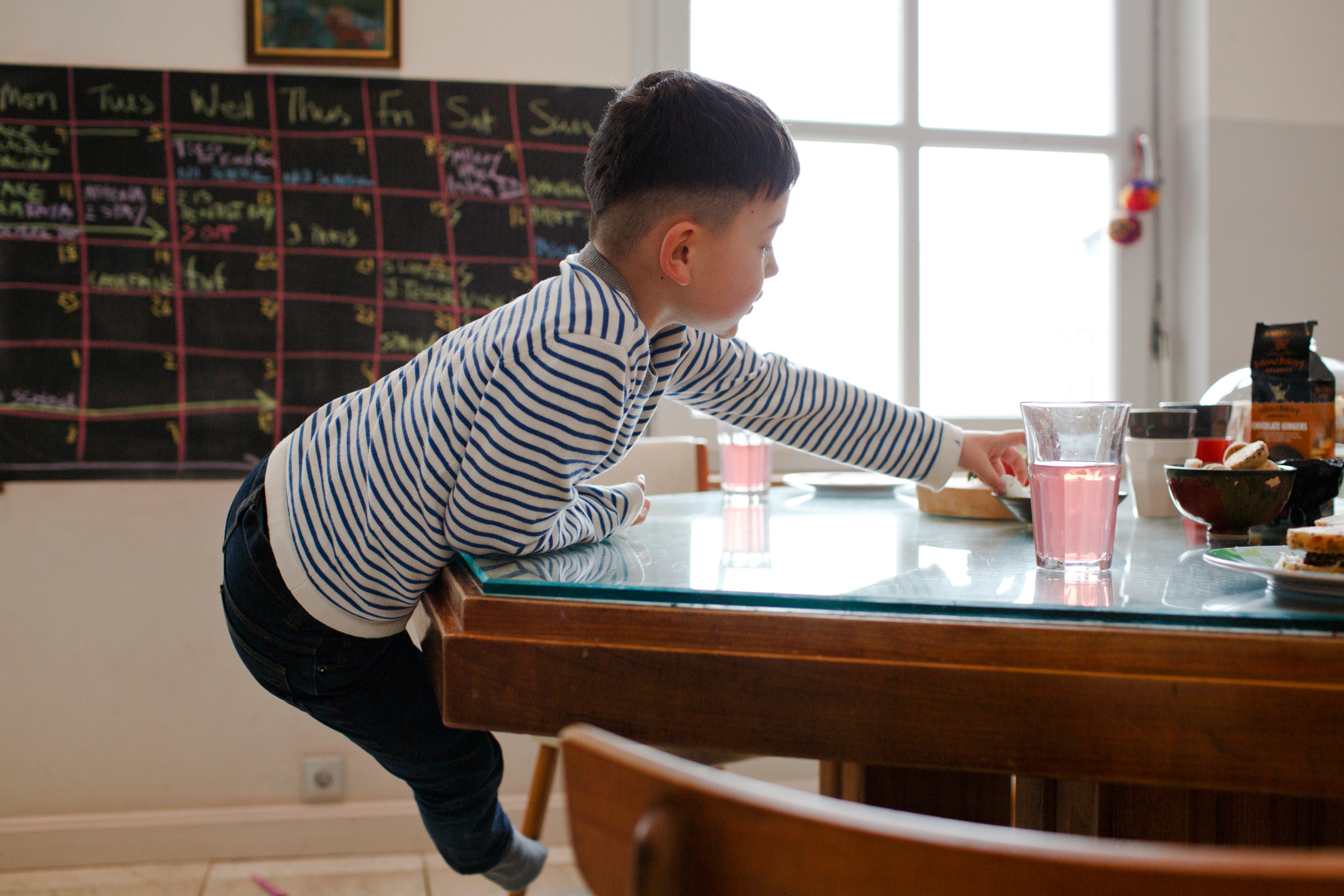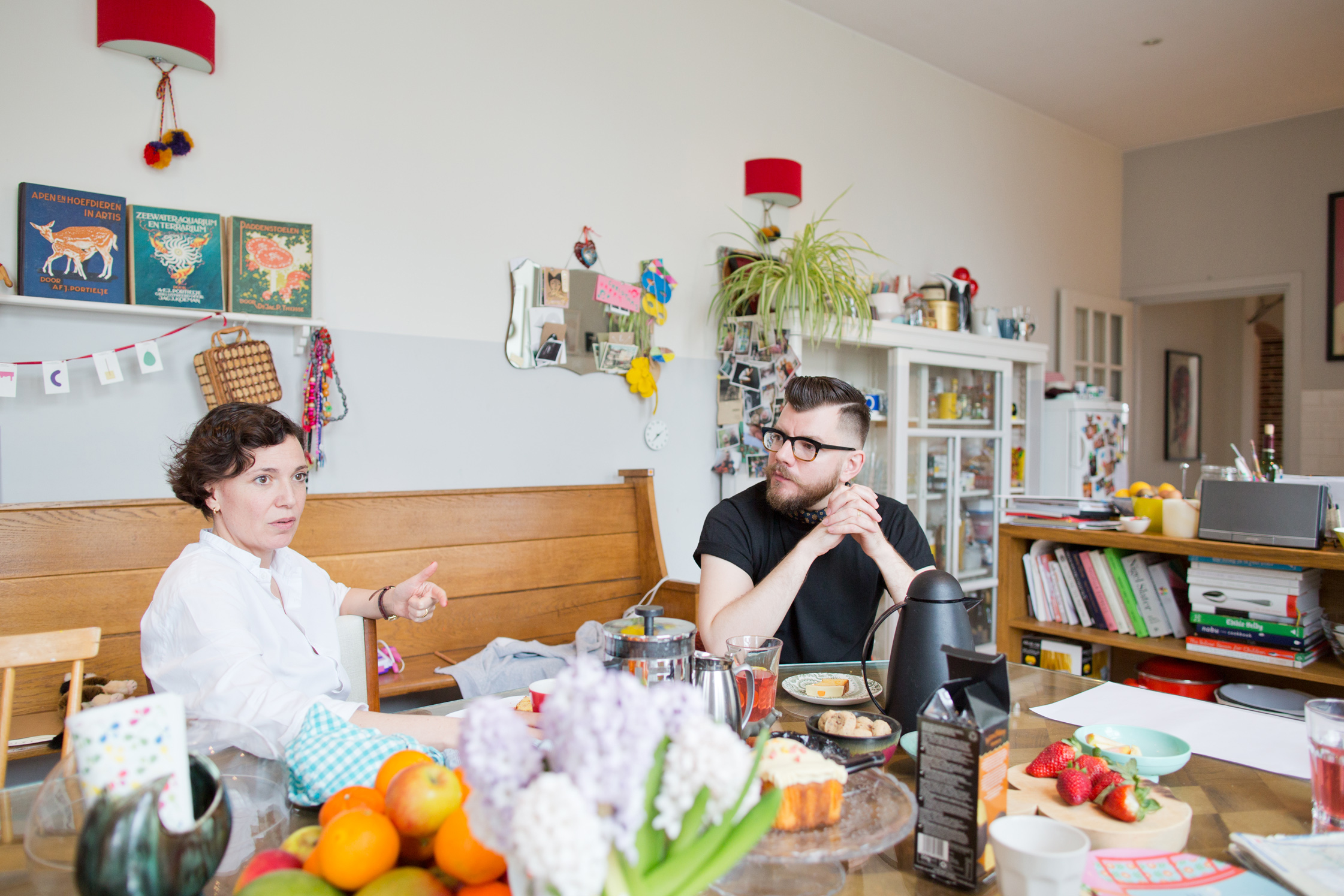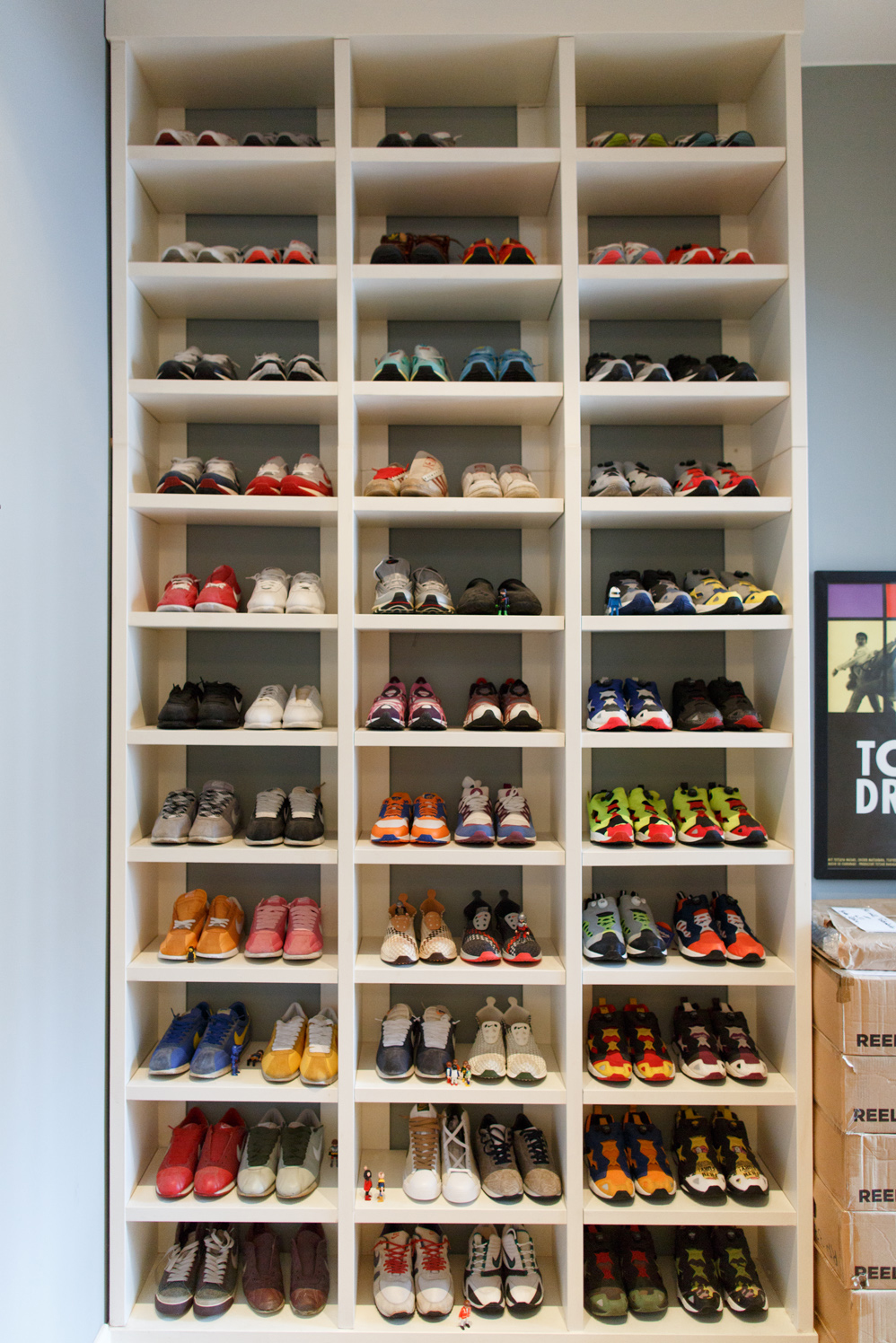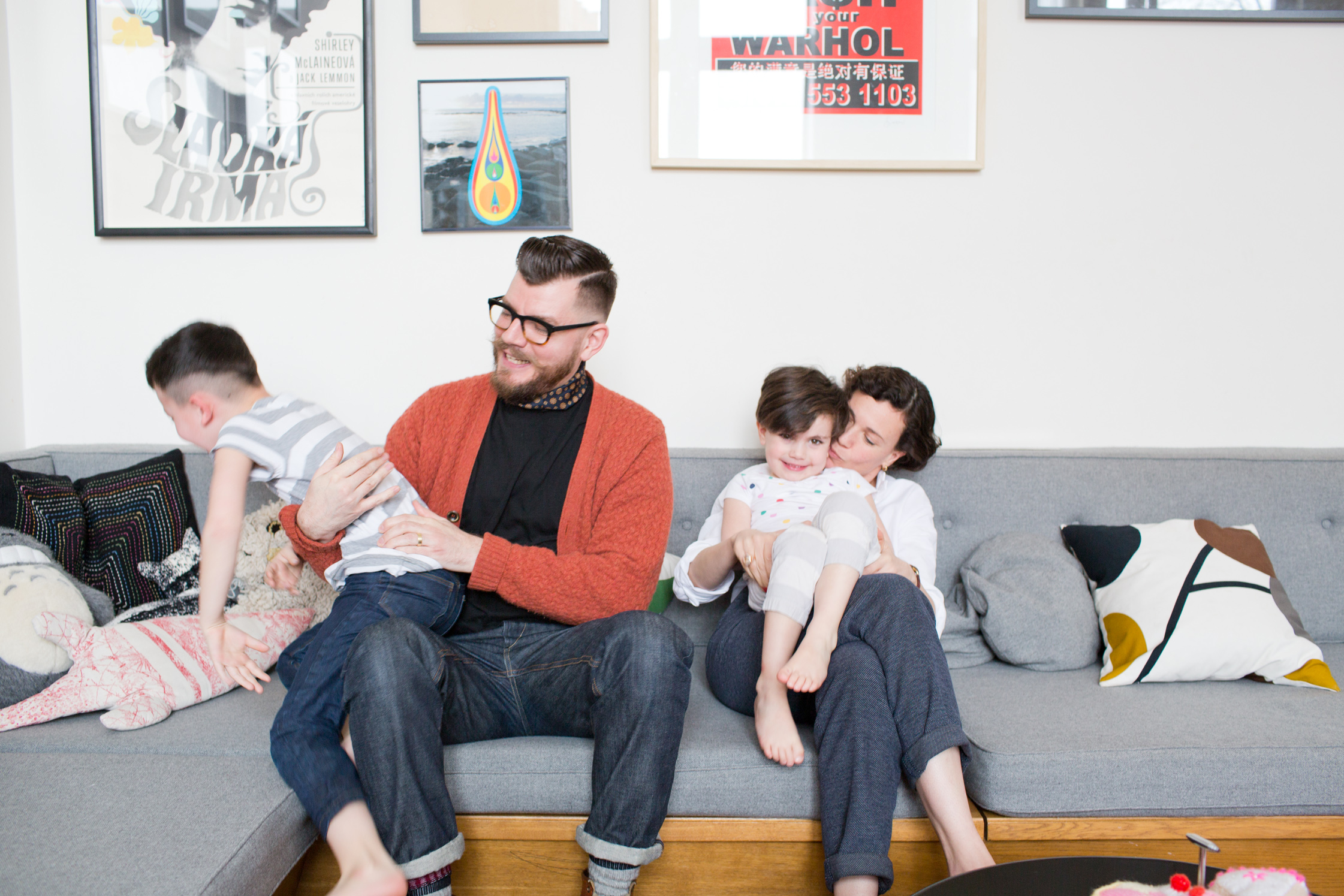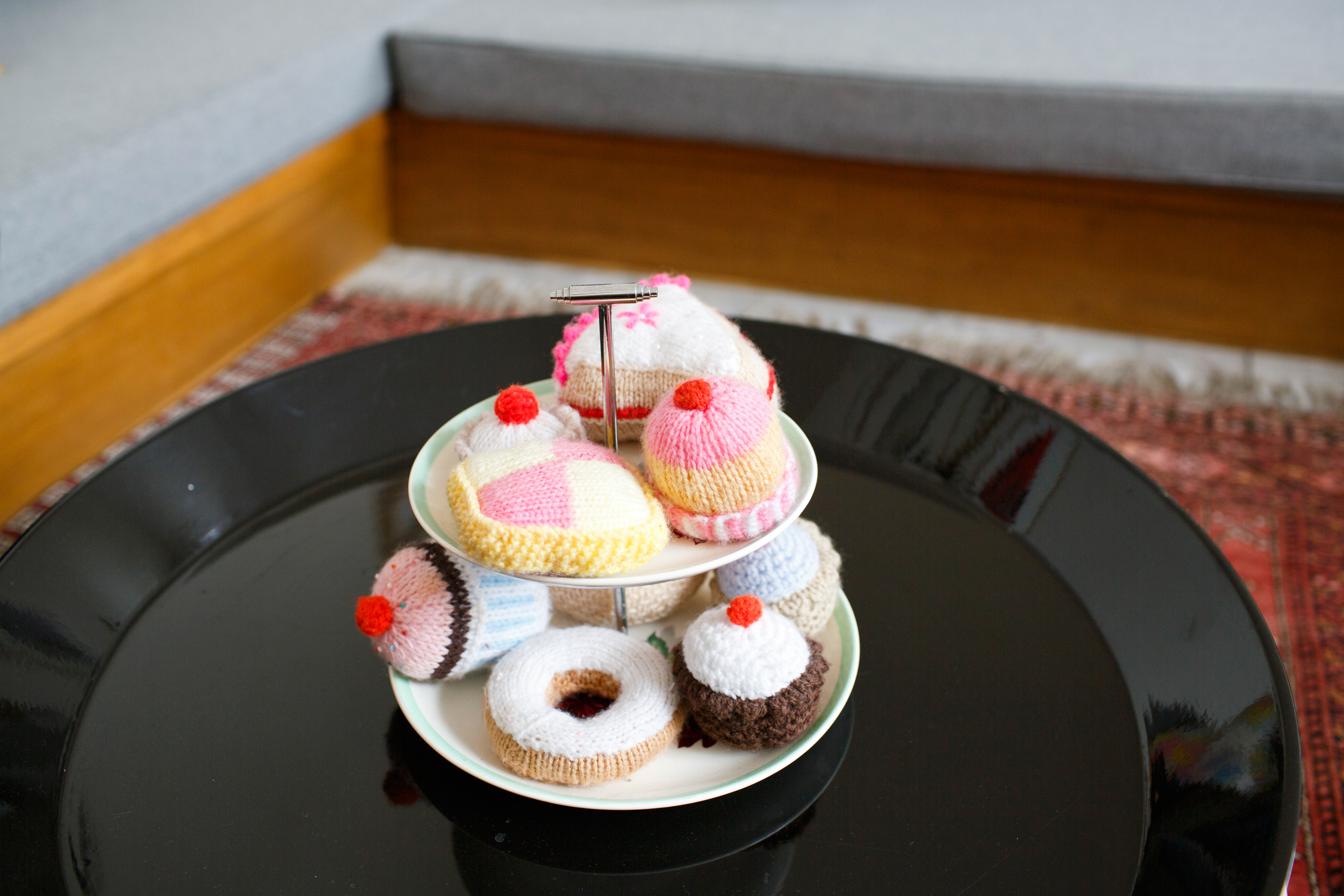 Arcade Fire is playing loudly from the computer. Ramzy and Raya are horsing around, nicking chocolate eggs and strawberries from the kitchen table. Jake and Samira prepare sandwiches, coffee, and tea. Their son Ramzy rattles on a computer, working on his new book. He shows his most recent booklet, titled "Mythical Men", and provides explanations with every image. The stunning layout of the cover gives away some of his dad's involvement.
How did you two meet? What was the first impression of each other?
Samira: We met at art school, I was studying painting and Jake was studying graphics. I remember being drawn to him in that way that you are when you meet someone you want to know. I was acutely aware of him. We became best friends. We would spend a lot of time just hanging out & talking, that was 20 years ago!
Jake: My first impression of Samira was that she was very 'exotic' I'd never met anyone like her, she just seemed exciting and I wanted to know more about her.
Where do you spend most of your time?
Jake: The kitchen is the centre of our house. It is here that we spend most of our time together. Here we have pizzas with friends on Fridays
Samira: We both work from home. Jake works as a graphic designer and art director, and has a studio one flight down. I am photographer, and have my office one flight up. The kitchen is literally in between.
Jake, how would you characterize your work?
Jake: I find it hard to characterize my work, because I try not to stick to a particular style, but focus on exploring instead. Most of my work revolves around print though. Digital does not interest me that much. I prefer the tactile, I love to feel texture, and have something in my hands. Currently I am working on a publication with a cover made from slate.
Can you describe your photographic work, Samira?
Samira: My work is all analogue, I would describe it as fine art photography that is autobiographical, with my pictures I try to capture the scenes or objects that fascinate me in everyday life, I'm looking for the poetic in the everyday.
How did you end up in Amsterdam?
Samira: We are from London originally. We met each other there when I was 21 and Jake 19. London is exciting, and thrilling, but it is also a tough city. There is a lot of negative energy, requiring you to have your armor up all day.
Jake: At a certain point we were just done with London. We were both worn out by our jobs and the city. So we decided to quit our jobs, and left London for a six month road trip through America.
And en route you decided to move to Holland?
Jake: Not at all. We cruised around the States for half a year with a car, a tent, and some basics. During the trip we realized we did not necessarily needed to go back to London. But it was only on our way home that Amsterdam popped up on the radar.
Samira: We had a stopover in Amsterdam, and decided to visit my sister who lived here at the time, but was about to move to Montreal. We spent some days in the city, decided over dinner to stay here, and took over my sister's apartment.
Ten years on you are still here.
Samira: Jake started as a graphic designer, I focused exclusively on photography. Jake's work really took off, I had slower start. And besides I got pregnant with Ramzy.
Jake: In the meantime we also moved five times, before we found this place. The spacious old school building with its high ceilings felt perfect straight away.
Why did this place attract you so strongly?
Jake: It allows us to combine every day life with work, which we find of great importance. Almost everything takes place between the four walls of this apartment.
Spending most of your time at the same place; doesn't that make you numb? Where do you get your inspiration?
Jake: I am just too busy to get numb or bored. And the dynamics of our household and family life provides lots of inspiration.
Samira: Ramzy and Raya are a great source of inspiration for me. In my work I embrace the people and things close to me. I completely agree with Sally Mann who once said: "The things that are close to you are the things that you can photograph the best, unless you photograph what you love you are never going to make great art"…it's always been my philosophy to make art out of the everyday and the ordinary. It never occurred to me to leave home to make art.
What are your favorite places in your neighbourhood?
Samira: We are in the Oud West which is central but just out side the canal belt, so it's not flooded by tourists. It is very much a neighbourhood in transition, lots of new places are opening. Our  favourite spots include Bilder & de Clerk, a great new gourmet grocery store. My new best place to eat out for dinner is Fa Spejkervet, where you can also go for lunch, they do an amazing pulled pork sandwich, good wines and proper service, it's very understated and it's all about the food, a real restaurant. For coffee or breakfast if you can get a table there is Harvest & Co a recently opened furniture emporium filled with a wonderfully curated collection of desirable stuff. At the front is a fantastic little coffee shop run by Head First Coffee Roasters. The coffee is exceptional and so is the muesli with yogurt. Nice people, great atmosphere.  Our house opens out onto a speelstraat (play street) which is basically a street that has been turned into a play ground, so some days we don't go anywhere, we just take down some wine and invite friends round.
Where do you go when you want to escape the city on weekends?
Jake: There are loads of good places to go near Amsterdam, the beach is 30 mins away. Beautiful on any day in summer or winter, endless horizon and amazing light, good for a windy walk to blow away the cobwebs. In summer all the beach cafes are open, there is a well established and vibrant beach culture here, bars, cafes, restaurants, clubs to suit every taste from the low key surfer spots to the high end beach bars. Our favourite spots include Parnasia in the winter and Tijn Akerslot in the summer. We've also been known to escape to a little house in the woods in Dalfsen, usually with a big group of friends and kids and lots of food and wine, everyone cooks, we eat huge extended meals, light the fire and walk in the woods.
Thank you Samira and Jake for welcoming us to your colorful family home.
For more info on their work, have a look at Samira's and Jakes respective websites.
This portrait is part of our ongoing collaboration with ZEIT Online who present a special curation of our pictures on their site. Have a look here.
Interview: Thijs van Velzen
Photography: Jordi Huisman