It is a scenery that can only be fully understood with vigilant eyes. It is a labyrinth that consists of corridors whose purpose is to take its audience out of the daily happenings and kidnap it just for a while into another sphere. It is a place where stories are being written and told. Exactly here, Olivia Gräser has established herself through the many roles she has played, continuously satisfying her visitors.
As we were meandering through the intertwined premises of the Deutsches Theater, every step seemed to lead to another dimension and one was fully aware of its utter privilege. It is a world loaded by emotions, imprinted by architecture and scenery in which one would like to enclose himself even just for one night. Located within the very prominent centre of Berlin, the theatre seems to be able to escape the restless city and permit actors, like Olivia Gräser, to fully blossom within their temporary personifications.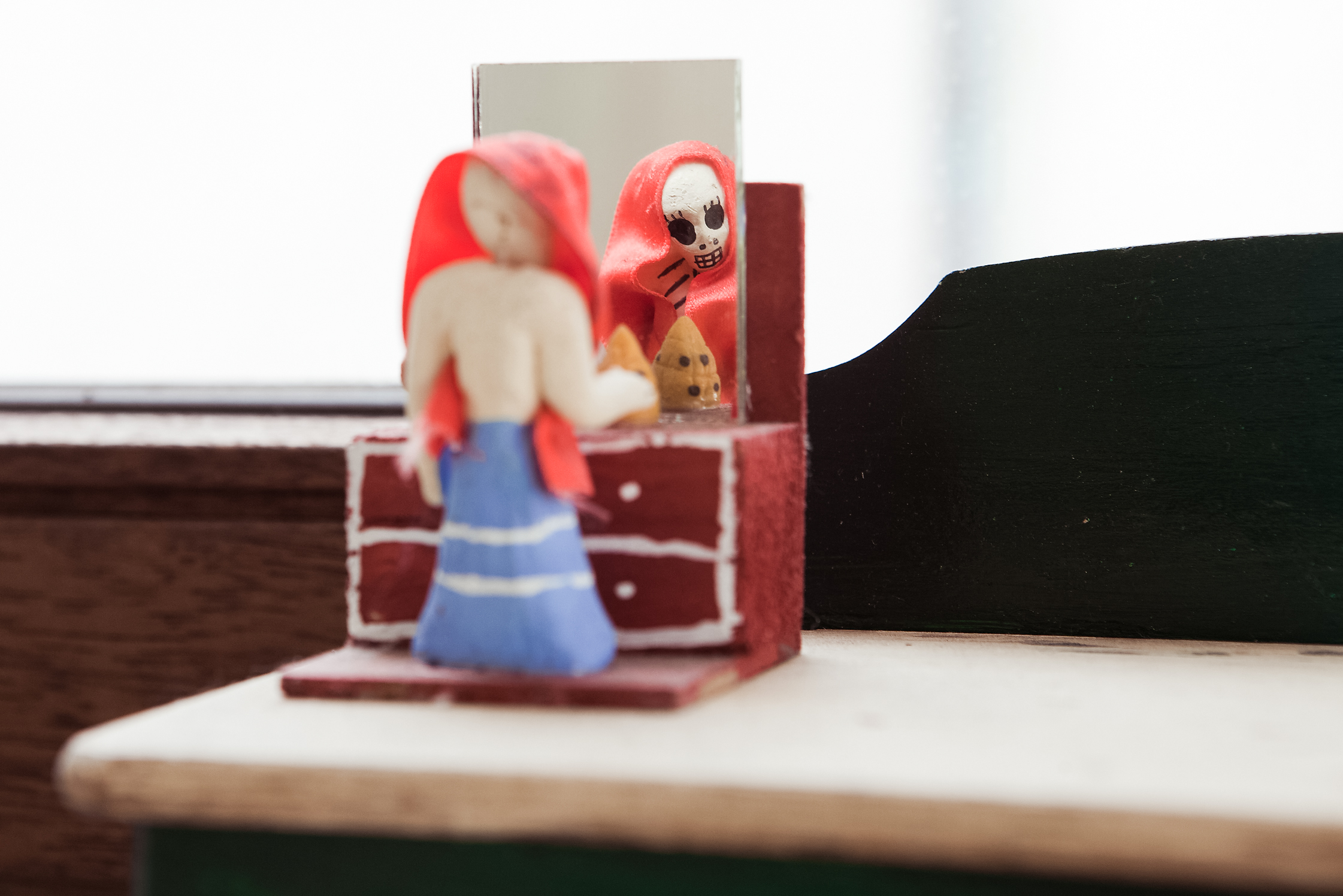 Olivia was born in Prenzlauer Berg, Berlin, and did not hesitate even at young age to pursue her passion: acting. Barely nine years old, she enrolled at the children's assembly at Friedrichstadtpalast, and spent her time with dancing, elocution lessons, and the art of role playing on a regular basis. After finishing school, Olivia decided to travel with good friends for a year around South America and think about her future. Upon return, she went for Latin American studies, but after three days decided to let this path die: I immediately realized that sitting at a table and listening to someone for hours without actively doing something was too rational. This was the moment when Olivia decided to chase her dream and become a professional actress.
After she finished her studies in acting at UdK Berlin, Olivia worked for two years at the Schauspielhaus Köln and at the Thalia Theater in Hamburg. She then was brought back to the pulsating capital: Berlin is Germany's best theatre place. However, she didn't wish to end in the same familiar corner. Due to this, she decided to move to Kreuzberg and try something new. It has been three years now, And that is exactly what is so amazing about Berlin. It offers such different sites and places at once. Moving to this new area was like being in a completely new city.
Besides occupying herself within the theatre scene, Olivia played in short films like "Stilleben" or German-speaking cinema productions like "Fenster zum Sommer." Even though these are very different realms, they both offer their interesting parts: Theatre creates various connections of arts, for instance Music, visual art or video. In comparison to film, there is always a live-moment in theatre. However, I don't want to compare these two acting forms. I feel extremely comfortable in both mediums.
As soon as Olivia is assigned a new role, she familiarizes herself with the part through discussions with her colleagues and an intensive study of similar works and the overall author's world. This particular world gains in realness over the next weeks: The best part about acting are the unique entr'acte of the theoretical quarrels and inner riots. The more emotional the part, the harder it gets to distance oneself from the character within the everyday life. This idea is very much present within protagonist roles like "Romeo and Julia" or Georg Seidel's "Carmen Kittle." Rolls that carry a complex humane relationship become very personal. It definitely happens at times that even after my work day has finished, I still will rerun certain themes within my head on my way home. And I actually really want to, she says.
She enjoys wandering around the former airport Tempelhof's landscape or spend time at the little 'Prisma Pavillon' that is located at the Admiralsbücke in Kreuzberg: On a summer's night there is nothing better than sitting on a chair directly at the water while watching the canal's happenings. As soon as she is nestled in within her little, private kingdom, she likes to serve strongly spiced Moroccan mocha. The fact that it gets regularly burned provides the last charming seasoning. Olivia is the only creative person in her family besides her cousin's mother who became famous as a traditional folk singer within her native land Bulgaria: Do want to listen to it? Of course we do. The indigenous but somehow magical sound accompanied us for the rest of the afternoon.
In order to get to know Olivia's four walls one should bring along a bit of time, even though it does not convince in big size and had basically just been furnished. As one walks through the into-each-other merging rooms, it feels as if a personal film strip is suspended among the walls. Memory lane breathes in every corner. The charming aesthetic that she established within her private ensemble shines through as soon as she talks about her experience moving in, After I had long nights of decorating the place, a friend of mine showed me a trick. I should put together my fist into a telescope like form. I looked through it, augmented and condensed the hole, and asked myself, 'Can I imagine this as my home?'She could…
It is hard to fixate one's gaze upon one single item as human-sized cardboard dragonflies, a Spanish historical painted wall, and gold-bronze, circular hanging rails reign over her apartment. Olivia's favorite pieces, Tim Burton figurines from New York, almost disappear within this impressive, fantastical chaos. Besides this cozy palace, Olivia was able to create a little corner under the open sky. In the Meditarranean courtyard of her building one completely forgets Kreuzberg's surrounding and is immediately consumed by Olivia's self-created vegetable patch. The yard is shared with the neighbors, who are quite relaxed and familiar. It was very important not move into an impersonal house. I have always found it strange when people have lived together under the same roof for years and still do not manage to say hello to each other.
As I ask Olivia in midst of this urban wildness, about an anecdote of her acting career, she tells me of a situation during a performance. In order to envision this perfectly one must actually only spend a few minutes with her. I had a laughing fit in the middle of a performance. Just like that. It was that much that it wasn't even funny anymore. My colleagues began to laugh, too. I could not continue acting for a moment. But that is something great about the theatre that one is not able to simply replace something. Whatever happens in that moment happens and there is no rewind.
Thank you very much Olivia for this astonishing afternoon! If you wish to see more of Olivia Gräser's work, visit her website.
Text: Zsuzsanna Toth
Photography: Torben Höke
Translation: Lara Konrad