Marco Annunziata is an invaluable member of our FvF network. Originally from Florence and having spent time in Milan, today Marco lives between California and Tuscany. With a undeniable flair for producing strikingly crisp, expressive and skillfully composed images he has introduced us to personalities such as filmmaker Jason Baffa, artists Cyril Kuhn and Becky Kolsrud, and model Stéphane Olivier in LA. Whilst on travels in Milan, Marco also produced a range of stunning portraits that include, illustrator Olimpia Zagnoli, artist Rudy de Amicis and Massimo Cannavacciuolo.
With an interest in capturing creative individuals, Marco has a particular focus on tattooing and has covered many features for magazines such as Inked Magazine, The Wild Magazine, Total Tattoo UK, and attended a range of tattoo conventions.
We get to know Marco and little better and talk about art, his penchant for films from the 30s, traveling between Italy and the States, and his tips on the best places to visit in LA.
What's your favorite daily ritual?
Combing my hair like a greaser while enjoying a cappuccino.
What do you do when you are not working with FvF?
I shoot photos, and write for other magazines. Also, I like getting tattooed, and watching weird movies from the 30s.
Where do you go when you want to relax or get inspired in your city?
When I am in Florence, and the weather is nice I like to ride my bike to Cascine Park and have a sandwich and some wine sitting near the river. When I am in California, I drive to the beach. I love going to Laguna Beach, Crystal Cove, Zuma Beach, and sometimes to Venice Beach.
How has technology influenced you?
I don't consider myself a very technological person. I am 34 and I got my first smartphone just a couple of months ago. As for my photography I have always used digital cameras so it's just like a standard. Also, I still print emails and write notes on them.
Best travel memory?
Pompeii. Every time I've been there I love it.
Your latest artistic discovery (musical, art or design)?
I really like the first Jonathan Wilson record, Gentle Spirit. A few days ago I had the chance to listen to his new album and I hated it. Sometimes I don't understand why musicians have to record more than one album. As for the other arts I follow the work of Rudy De Amicis, Yanyan Huang, Margherita Cesaretti, Cyril Kuhn, Rex Van Minnen, and many other artists that I know personally.
What was the last great meal you ate and where?
Pacific Dining Car, Los Angeles, last Christmas eve. I had a steak and fries dinner with my family visiting from Italy after the Clippers game at the Staples Center. Sitting at one of their tables is just like being on a train in a spaghetti western movie, I would live in that restaurant.
Three websites – more or less – you visit daily?
I like to buy random crap on eBay. Also, I check the weather reports and read bad news in the morning.
Who would you like to see featured next on FvF?
James Goldstein, and I'll try my best to do this feature myself.
What photographers or artists influence you the most?
I like the work of Richard Kern, and Charles Peterson however, I don't think these two photographers really influenced my way of taking photos.
What's your favorite picture on FvF?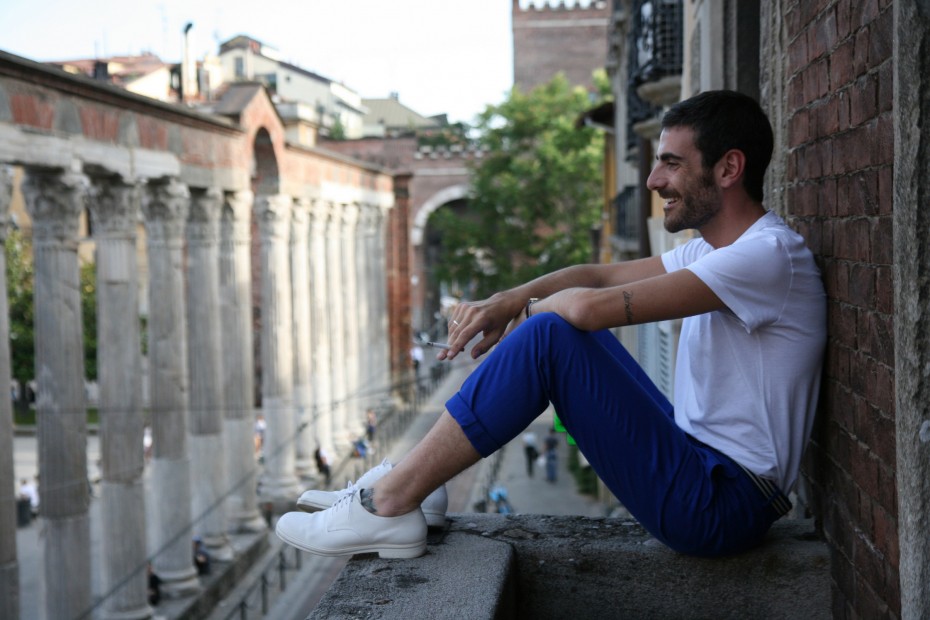 My photo of Massimo Cannavacciuolo, sitting with a cigarette on the balcony of his house in Milan.
What's your favorite portrait (story) on FvF?
I found Ed and Deanna Templeton's story quite inspiring.
Where will your next travel lead you to?
In a few weeks I am going back to California to escape the winter.
Thank you Marco for continuing to provide your talent behind the lens for Freunde von Freunden. If you want to check out all of his portraits on FvF, click here.