FvF Contributor Leigh Patterson has delivered us with a selection of insightful interviews with a range of fascinating personalities that include: Austin-based artist Alyson Fox, architectural designer Jack Sanders and LA based designer Joe Sadler.
Writing is one of Leigh's many talents. Her concepts for editorial and visual projects have seen her work for a range of fashion labels that include Sparton and APIECE APART, while providing content for Alldayeveryday and Remodelista. Together with her friend Amelia Giller, Leigh founded synonym journal – a website and biannual print journal that serves as a collection of photography, interviews, art, design, style and writing, centering around a specific thematic each issue.
It is almost impossible to isolate Leigh's personal aesthetic or overall approach to her work as her inspiration and motivations continue to galvanize and evolve with each and every project. One constant however, is her unwavering pursuit for new and interesting projects that shed light on the work of inspiring individuals while addressing the ways style, art and design interconnect. We get to know this Austin based lass a little better in our interview below.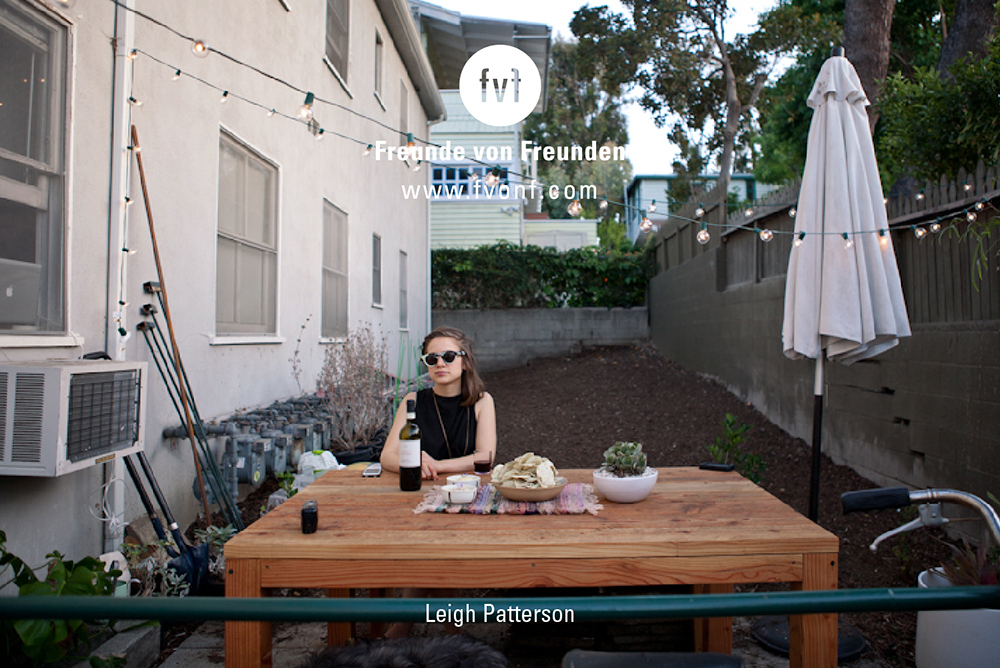 What's your favorite daily ritual?
Daily yoga and a pour-over coffee at my kitchen table.
Where do you go when you want to relax or get inspired in your city?
The ceramics studio at the art school at Laguna Gloria.
How has technology influenced you?
There are a lot of really obvious answers to this question, but one really great thing technology has allowed me to do is connect with like minded people that otherwise I would have never met. I owe some of my closest friendships – and my job – to that.
Your best travel memory?
Last summer I took a road trip with my mom from San Francisco to Texas. One afternoon when we were driving through Santa Barbara we pulled over for a little driving break and sat in a park, both of us just laying in the grass by the ocean. That's kind of an anticlimactic answer, but it was personally a really special moment of feeling aware of my place and situation.
Your latest artistic discovery (musical, art or design)?
I am nearly burned out on the heels of a Beck obsession.
What current global or local topics are you currently fascinated with?
I am currently working on a new issue of the journal I make, synonym, which seems to temporarily color the way I look at news, images and concepts. Recently I have been interested in: lists of wants, rituals, conspiracy theories, Japanese folk textiles, Wegner's Flag Halyard chair and the combination of pastel and terra cotta.
What was the last great meal you ate and where?
Sway restaurant here in Austin.
Three websites you – more or less – visit daily?
I read the New York Times every day, The Paris Review's blog most days and my life is run by Google docs!
Who would you like to see featured next on FvF?
I realized that from a consumer's perspective I am interested in people that are either very much like me or people who are nothing like me. Nothing in-between.
What's your most favorite interview on FvF?
I really love the piece on Jessica Barensfeld and Simon Howell, beautifully shot by Brian W. Ferry. Also the interview with Marina van Goor, whose career and work I admire and respect so much; she's a longtime figure on my list of people I want to meet.
And your favorite image on FvF?
It is an image of my sweet friend Lili Cuzor taken by Claire Cottrell.