Mark Firth places equal importance on the origin of his produce as he does creating a hospitable dining experience. Most nights his rustic, foodie hangout, Prairie Whale, in Great Barrington, is packed with young locals, organic farmers, families, and those stopping by the restaurant for a warm destination on the way through town. His locally sourced new American menu even proved a draw for renowned American food writers such as Ruth Reichl and Michael Pollan, who chose Prairie Whale, formerly known as Bell & Anchor, as the perfect place to meet and discuss the culinary revolution. Mark a laid-back forty-something with humor and drive, grew up in Zambia and traveled to Europe before moving to New York. There he worked for restaurateur Keith McNally, and co-founded Brooklyn's pre-eminent Diner and Marlow & Sons.
In search of a change of pace, Mark relocated with his wife Bettina and two children, to the Berkshires – a rural community bordering Massachusetts and New York State. He now lives and works on an 82-acre farm protected under agricultural conservancy, helping to produce some of what's served at the restaurant table. While days are spent tending the land, at night he puts on a dress shirt and spends evenings at Prairie Whale. He greets regulars by name, mingles with staff, swings through the kitchen doors to consult with head chef Stephen Browning or dines with his family. Hailing from the other side of the world, this farmer and restaurateur, is in ways, as local as they come.
This portrait is part of our ongoing collaboration with ZEIT Online who present a special curation of our pictures on their site.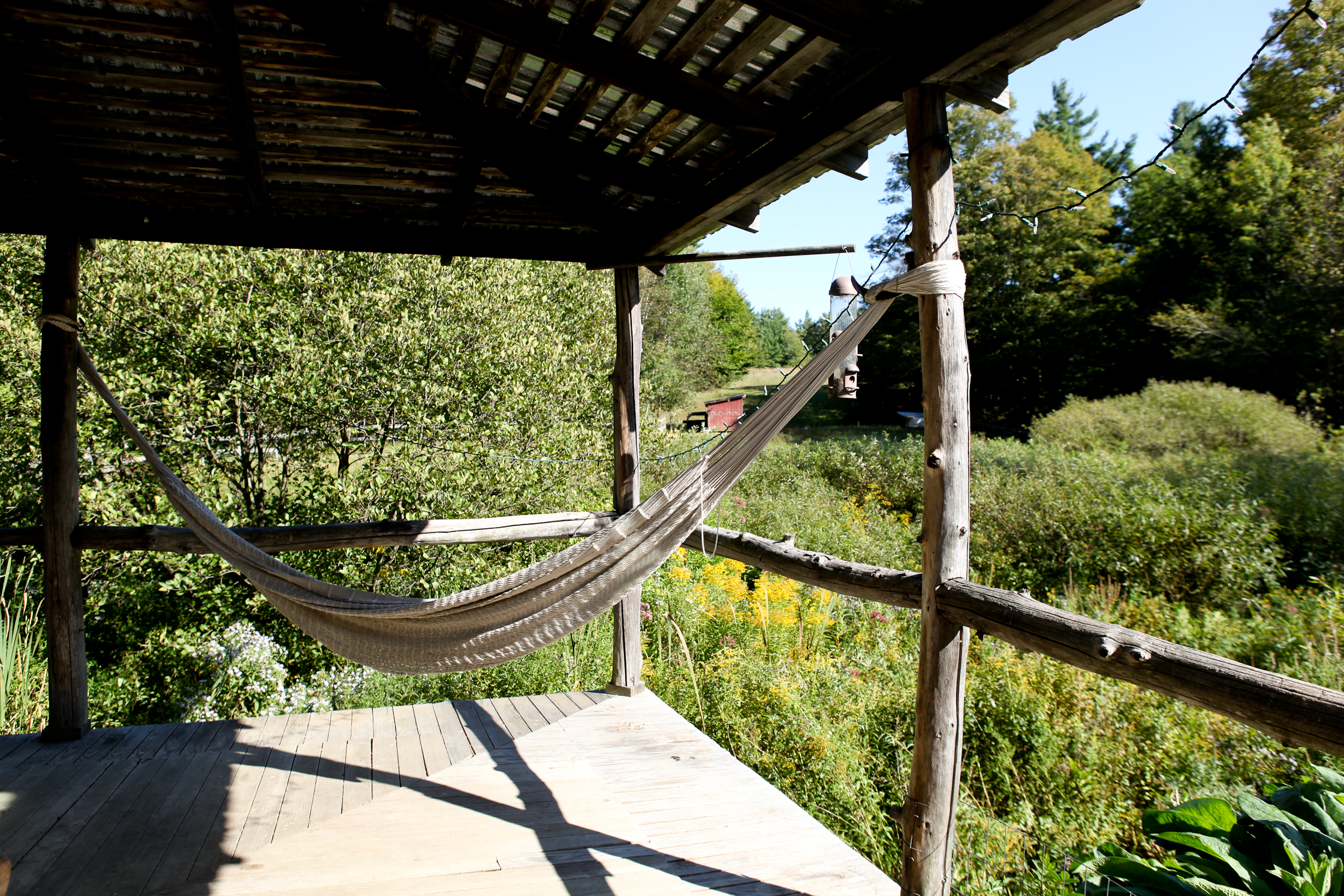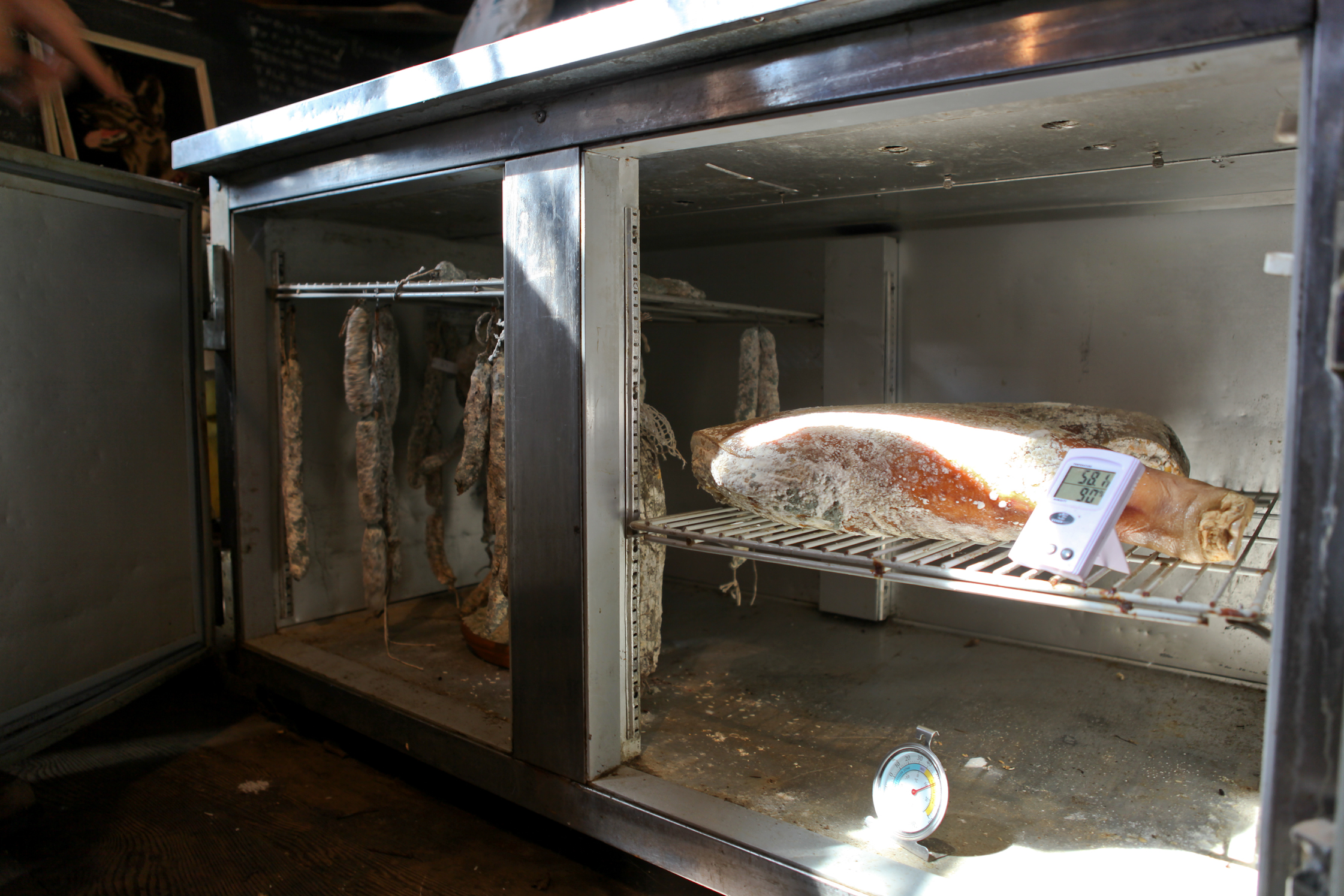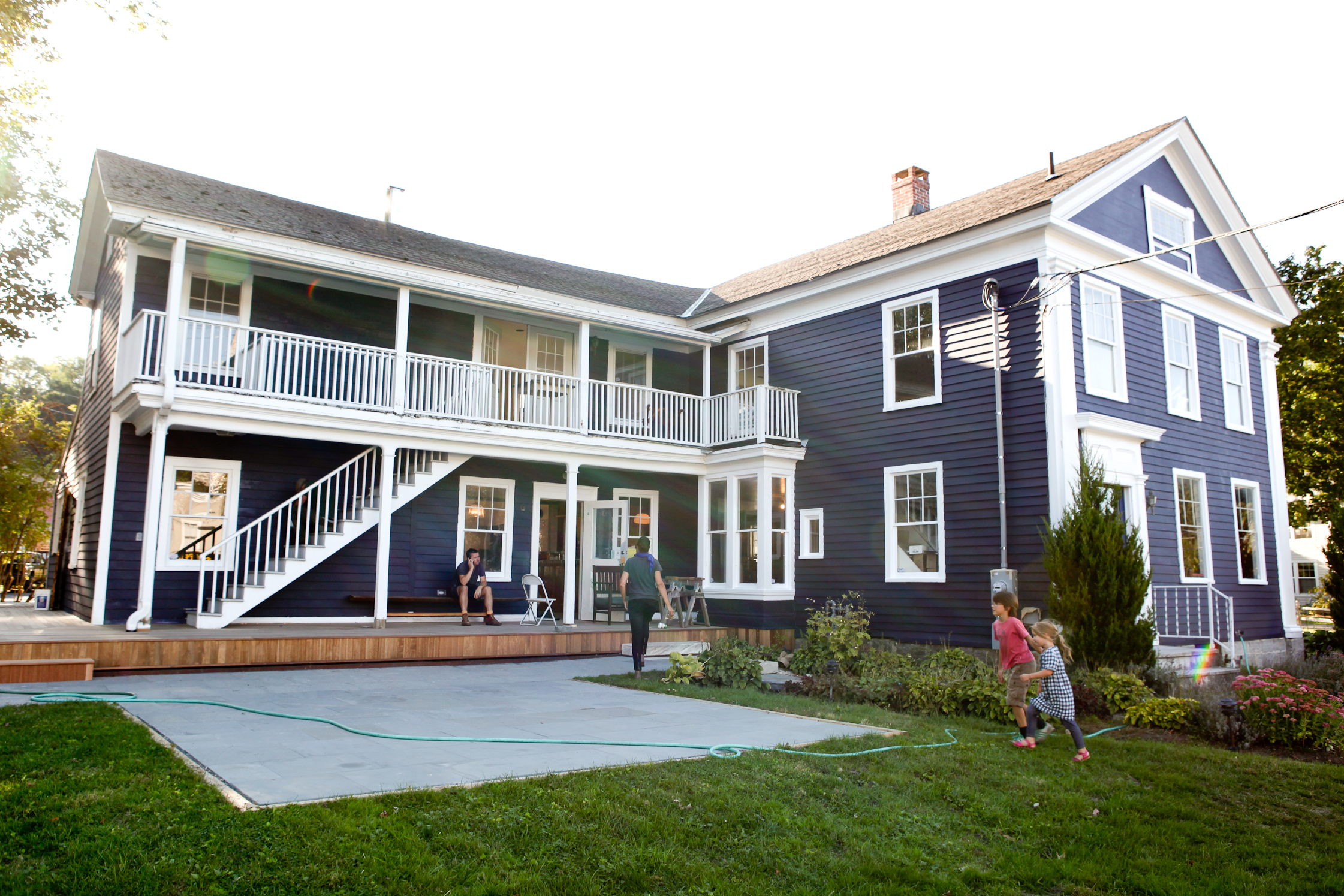 What were your motivations for moving here? Why Massachusetts?
We were looking in New York state for ages and it never really occurred to us to come to Massachusetts. The taxes are high in Connecticut and the restaurants were in New York so we thought this is where we should be. Then we came to visit friends here in the Berkshires and thought 'Wow, it's really nice.' Shortly after we found the farm, but the owner had it priced kind of high. We had a budget and she said 'I like you guys. Why don't you talk to the land trust and see if they can help you out.'
So we talked to the land trust and got along. So now 78 of the 82 acres are protected under agricultural conservancy. We can farm, we can build barns, or whatever we want with it, but the land can never be developed.
Where is the farm located exactly?
The farm is in Monterey, a town nine miles east of Great Barrington. The first time we drove from our farm to Great Barrington it felt like a long way. But now I'm doing the commute two or three times a day. I ride my bike because we're going up and it's a slow up. We're at nearly 1,500 feet. I think Great Barrington is at seven hundred.
What was the first restaurant you opened and ran?
It was Diner. I started it in 1998 followed by Bonita, and then by Marlow & Sons.
The concept of the Paririe Whale appears to be the same as Diner in some ways…
Yup, absolutely. Sustainable, farm-to-table, super local. Everybody here is so close, we're in the same town, and I buy from all these farms. We all get on very well. I enjoy the freedom of owning the building in Great Barrington because in Brooklyn everything was rented.
How did you get the word out about the restaurant?
People started calling early on and were excited about a new place opening up. I know all the farmers in the area and received a lot of support. The word spread quickly.
Have you always been an outdoors type of person?
I grew up in Zambia, which is a large country, but my town Chingola was small. It was like growing up in the Midwest here. I had a motorcycle when I was eleven. My dad and I would go for hours into the bush because Chingola was a little town with hundreds of miles of just bush and tracks and nothing. But I've moved all over. I lived in Florence for three years, then continued to London for a bit. I've spent time in South Africa; in Johannesburg and Cape Town. I worked in Barcelona for 10 months on the Olympic Hotel for the games in '92. I lived in New York and now I've ended here.
So you went from living in the bush, to cities, and then back to living in nature again. What was the catalyst for your change of direction?
You meet all these people in the restaurant business. You meet the guy who makes the amazing prosciutto, the guy who raises the cows at Kinderhook Farm, the guy that grows the tomatoes. I got to a point where I wanted to be that person that did these things.
I built a restaurant and I sat there drinking wine and doing schedules. I felt like I was just shuffling paperwork and writing paychecks for people. It was demoralizing. I think it is what you call a midlife crisis. I was like 'What do I produce? What is my value to the world?' I wasn't learning anymore. I wanted to do something new, something that I had a passion for.
I was interested in everything. I wanted to hang my own prosciutto, to make my own saucisson, and raise my own pig and take it to the slaughterhouse. I do all of that now.
Would you say you are self-sufficient?
I'm close to being self-sufficient. We have a well but what I need now is solar electricity. I run the truck 100% on vegetable oil. When I make dinner now 99% of our ingredients are our own. I'm not making my own bread and pasta, but I don't really eat bread or pasta. The potatoes, rosemary, garlic, zucchini, the pork, duck….all that stuff is ours.
So you don't go to the supermarket ever?
I go for toilet paper, maybe. But what else is there?
How knowledgeable were you about farming before doing this?
I mean I had Google and I had common sense but basically Google was everything. Like how do you raise pigs? Google. Why is your chicken molting? Google. And when you Google something then there is a YouTube video. The dog has fleas? Throw a handful of Diatomaceous Earth at it. There is all this all this stuff, you have no idea.
It's quite an education. I noticed you also keep bees…
Yes I maintain a few beehives. If there is one thing I have learned about bees, it's that if you are calm the bees are calm. Bees don't attack, they defend. A bee dies when it stings you and is just trying to warn you to stay away. They think you are trying to steal the honey.
Do you have a bee suit?
I have a hat and a full suit. For the first swarm a couple of years ago, I was only wearing flip flops, shorts and a hat. I didn't get stung once. Funny enough, sometimes when you wear a suit, I feel like you get stung even worse.
What's in your fridge?
This is all from the garden. And this is my last pig. I've got coppa in there, I've got saucisson, and I've got these big salamis.
And saucisson you also Googled that, right?
The butcher came from Marlow & Daughters and we took the whole pig down to the local butcher and in a day we turned everything into saucisson. In three days this will go down and hang in his curing room.
Do you breed many pigs?
The pigs we have at the moment were tiny three weeks ago. I've just been feeding them so much. The father is a large black and the mother is a Gloucestershire Old Spot. These guys have little tiger stripes on their sides. I feed them fallen apples from my friend and mix it with animal feed. I just ran out of straw this week and need to get some more. You give them straw and they chew it up. They eat everything.
I guess your cow is just on loan for butter?
Yes. She is mowing the meadow and building up the soil. She's getting used to being out here. It's like leasing a lawn mower.
Never a dull moment. You have so many projects on the go, it never stops?
Yeah…that's it. The canoe you can see used to be on the pond. We took it down when the dam burst. When we bought the place the water level was half a meter higher.
Is there as much activity in the winter months?
In winter there's so much to do here. It's beautiful. We go snowshoeing, we go cross-country skiing – or I try, I'm not very good. The lady who lived here before us had a bonfire party in the middle of winter, like a January full moon, ice skating party. They'd have a huge bonfire in the middle of the ice and skate around it.
You have a healthy curiosity. What is your average day like – besides waking up at 6:30?
I feed the pigs, feed the chickens and feed the ducks. In the evening we lock most of the animals up, so in the morning I unlock the pens. Then I have my raw milk smoothie with a banana, frozen blueberries and honey, and go to the restaurant. Before the restaurant it was all animals and projects: weeding, cleaning out the chicken coop, taking care of all the seedlings, working in the barn, fixing fences, trying to find a cheap tractor. It is an all-consuming 24 hour job.
Do you have certain rules for your kids?
We try and keep all electronic devices down to half an hour a day. It doesn't matter where your kid is, if they have a computer they are going to sit in front of it. The rules are to help. Help with the animals. Iris is really into feeding the animals; the chickens and pigs are her favorite. Lucien is more into building projects. When we need to build something he'll help me with that. Another rule is to respect where your food comes from, and to stay away from the bees.
You also have an impressive little wine cellar.
I really like wine so in the basement I have a little cellar. I worked with a great wine importer, Joe Dressner, who championed the natural wine movement.
What types of dishes have you made with your own ingredients?
Do you know wild ramps, the little garlicky onion that grows only in the spring? Well I found a two-acre field and it was ramps as far as you could see. So I roasted a chicken and picked the ramps. When the chicken was done I took the chicken out and soaked the ramps in all the oil, garlic and potatoes and then flash sautéd them for a minute. It was a meal that was fully ours. Everything. Foraged, raised, grown, slaughtered, eviscerated, everything. And it was the perfect meal. I also recently cooked a Coq au vin. If the rooster is attacking the kids, we eat it. If the guinea hen is attacking our guests, we eat it.
Is that the consequence here at Kingdom Firth?
Yes, if you mess up baby you're in the pot.
You're an avid knife collector. How do you take care of your knives?
Never leave them in water. This is something people do all the time. Wash them separately and don't wash them excessively.
I can see you have quite the boot collection. What's your interest in fashion?
I have a collection of Red Wing boots which I find at yard sales or on ebay. They have been collected for almost 20 years.
In terms of fashion, I have a ridiculous wardrobe that needs to be worn in the winter. That's the city boy in me. The superficial thing that you can't shake. I have always been interested in clothing. I wanted to start my own clothing line 25 years ago, but I never did. When I was living in Florence I worked days in the market at my friends leather stand and sold leather bags. I also have all these jackets because I used to be obsessed with buying clothes. Every place I go has a jacket; Upstairs, downstairs, in the restaurant, and in the barn. So if I need a jacket there's one right there.
What's your favorite season here?
I love them all. But probably spring because the ramps come up, the garlic shoots come up and the bees come out. That whole excitement. The summer is great, but it's hot and I worry that if it doesn't rain enough the well will go dry and I won't be able to irrigate the vegetables. I also love it when it's really cold out. I love getting in the car and seeing that it's minus four.
Mark, thank you for letting us stomp around the property with you. Find out more information about his restaurant here.
Photography: Grace Villamil
Interview: Oliver Kann
Text: Fiona Breslin