While the humanitarian situation in Syria and Iraq remains an international crisis, Mark Aoun organises upbeat hiking trips to the Lebanese mountains 770 kilometres further east. The 38-year-old started his business during the Israeli-Lebanese war in July 2006, his first hike was one month after the ceasefire and had 50 participants.
The distance from his apartment in Jounieh to the highway is about 50 meters. From there it takes 30 minutes by car to get to the buzz that is Beirut and 20 minutes to the mountains. One half of his place in Jounieh functions as a storage place for his hiking equipment, the other is filled with bright furniture, Lebanese culinary treats and liquors and colorful coffee table books.
Mark's second home, that of his parents and his childhood in the mountains of Zeaitre, is closer to his heart. Figs, walnuts, apples, tomatoes and pumpkins are just a small selection of what grows in the 5,000 square meter garden. An underground cave here served as a shelter during the civil war, now it's decorated with stylish eye-catching cushions and an oven.Although Lebanon is experiencing political tensions in Arsal and Tripoli, ecotourism has become a successful business model for both foreigners and locals who want to experience a slice of untouched, peaceful and pristine nature. Mark took us on one of these trips – discussions of politics or religion were strictly forbidden.
How did the civil war affect your childhood?

After the civil war started in 1976 our family had to leave Jounieh and go up into the mountains for safety. We used to go to the forest every day during the summer. Summers weren't easy though, you couldn't just go to the beach or the cities because bombs made it a constant risk. Our house in the mountains was our permanent home. We rented different places while my brother, my three sisters and I were at school or university in cities.

How old were you when the civil war started?

The war and I almost started together, so my birth wasn't so lucky for Lebanon. There were different stages of the civil war. The first period wasn't that violent in my area but as we went on to go to university, it got really difficult.
Was there a particular moment of fear during that time that you remember clearly?

Of course! In 1988 the Syrian army attacked my village for the first time. We went down to the cave because it was the safest place in the whole village. There aren't many underground places to hide up there. We only had this cave and a lot of neighbors also came to hide from the bombs. At that moment we were afraid but at the same time, we believed in the country and we believed in the Lebanese Army. I sometimes think that you need to endure some bad moments here in order to get to the good ones.
"If we stay at home, become afraid, then we can't carry on living. We had a difficult history but that makes us stronger, more positive and resilient. It lets us believe in life."
You still associate mountains with safety from the occasionally dangerous city of Beirut. What's your relationship to the capital?

Everything is happening in Beirut. The mosaic of Lebanon and its 18 religions turn the city into a fascinating place. At the same time you can't always avoid clashes. Jews, Orthodox, Armenians, Shia, Sunni, all kinds of people live together and make Beirut a special city. Of course there's a difference between north and south Beirut.But I still see this mosaic as a positive concept, others have a more negative view.

There's so much happening in Hamra and Mar Mikhael [districts in Beirut]. There have been recent projects likeWalk Beirut or Bike Beirut. These guys work with us to cultivate ecotourism inside Beirut. Beirut is a bit of a weirdo – you either love or hate it. But in a positive way! The driving is horrible, there are daily electricity cuts and sometimes there's no water. But it's full of life. The Lebanese love Beirut, they believe in life. Most of them at least.
How do the Lebanese cope with rapidly shifting political tensions in the Middle East?

We have hard times here. Every year there's something terrible happening. But we can carry on life after that. That's a very important mentality here. If we stay at home and afraid, then we can't carry on living. We've had a difficult history but that makes us stronger, more positive and resilient. It lets us believe in life. We get bombs inside of Beirut, but after a week everything's back to normal. It's as if nothing has happened. Beirut was destroyed seven times but it came back to life on every occasion.
How does the instability in Lebanon affect the picture people in the outside world have of it?

People in Europe or the U.S. associate bombs and terrorism with the country. But all of them change their mind after visiting and hiking here. Of course we have problems, of course the situation isn't ideal but it's not as bad as they think it is. Showing that to people is the main drive behind my work.
What does the Lebanon that you want to show the world look like?

It's a wonderful country! People should come and see the real beauty and nature of Lebanon. They should visit the villages, not just Beirut or Byblos. Do some ecotourism and get off the beaten track.

What's your favorite place in Lebanon?

That's a good question, but I love every region. The best place fully depends on the season. Being next to the rivers in spring is wonderful. Hiking up the mountains in summer or winter, when they're covered in snow; or visiting the Bekaa Valley in spring or autumn –Lebanon is a small country, but each region has something different. If I had to mention something specific, that would be Byblos/Jbeil and Tyre. The two cities are the most Venetian cities, maybe that's why I like them most.

Do you have a favorite restaurant or caféin Jounieh?

I prefer sitting in the mountains with locals and eat their homemade products. There is an association called Souk el Tayeb, they do something different to encourage women in villages to bring their cuisine to Beirut, so that people there eat organic products and taste something other than fast food! Tawlet Ammiq, a local restaurant in West Beeka, is part of that.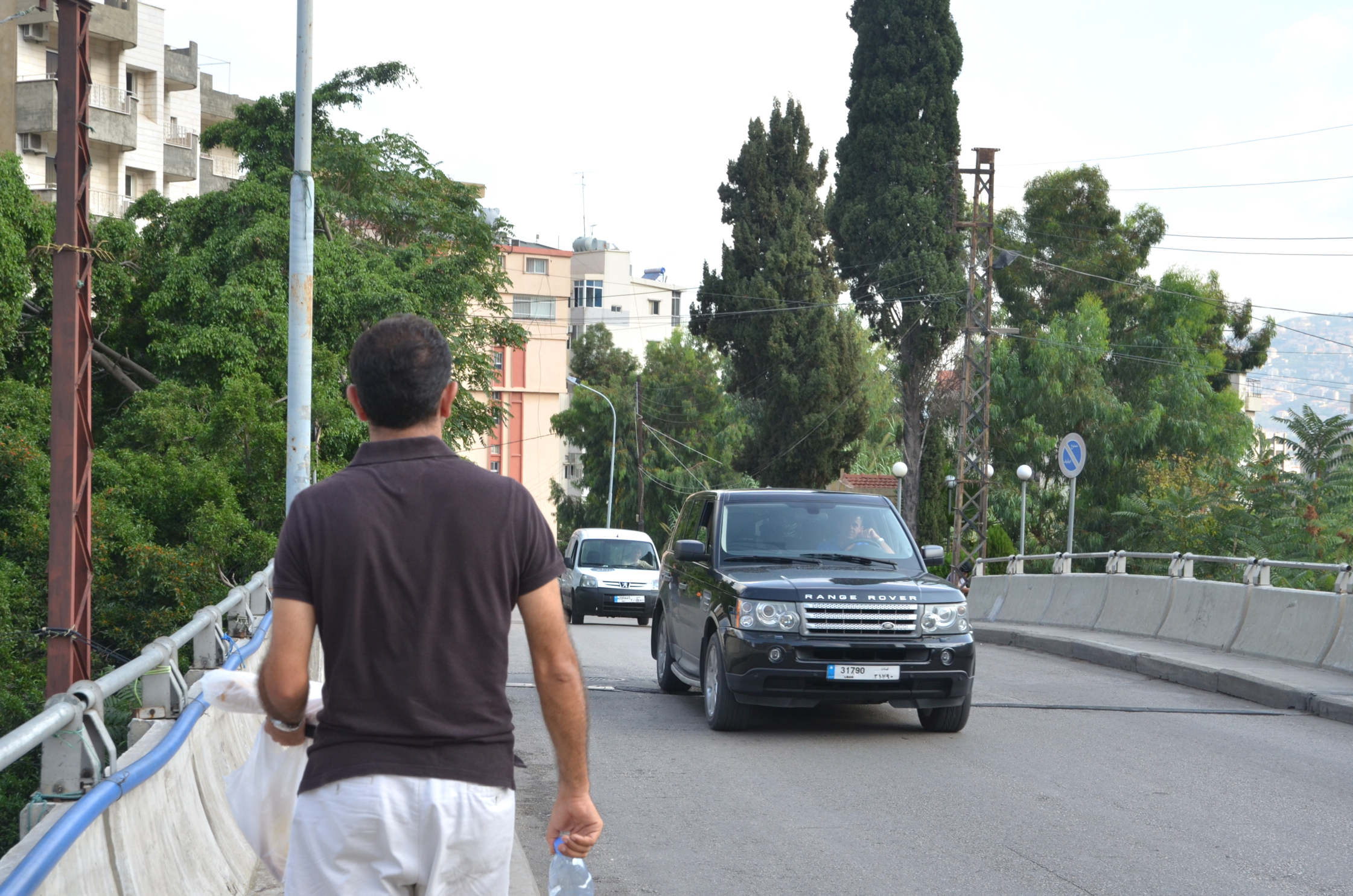 Where do you travel for holidays or a weekend getaway?

I hike with my club Vamos Todos so I'm somewhere different each weekend. People sometimes ask me why I work every single weekend, but to me it's not work, it's a passion – or maybe even an addiction – to nature. Outside of Lebanon, the best country I've ever visited was Sri Lanka. The people are very friendly and have a similar attitude towards responsible tourism.

I have a 4×4 most of the time. In Lebanon it's safer than anything else. We don't have good roads all over the country so in winter driving can get a bit tricky. Your car needs to be strong.

Nature! When I started hiking and exploring at 14 or 15, I learned something new during each trip. Every time I went to a new place I instantly wanted to come back. You gain so much positive energy from nature. All the stress that you're getting from your girlfriend (laughs), work, traffic inside Beirut or politics, you can leave all of that behind in nature.
What did you do before you got involved with ecotourism?

I studied business at Usek University in Kaslik next to Jounieh. I also did a degree in theology because I was curious and wanted to know more about all the beliefs that live alongside each other in this country. Then I started to work in shipping – import and export. It's still technically my main job, ecotourism was just a hobby. After 2006 I opened my own shipping office with a partner. But it turned out I had more free time than I thought I would and decided to open Vamos Todos. Now that takes up 70 percent of my time.
"Ecotourism allows you to discover nature and the country by yourself and meet some new people on the way. We think that exchange of culture is much more exciting and sustainable in the long run."
What's the difference between ecotourism and traditional tourism?

Ecotourism is not only about discovering nature. One of its major roles is to sustain rural life and support villagers. While in Beirut or other traditionally touristy cities you'd receive culture on a silver plate, ecotourism allows you to discover the country by yourself and meet some new people along the way. We think that exchange of culture is much more exciting and sustainable in the long run.
What do you do in preparation for these trips, especially in terms of security?

That depends on the region. In the south, close to the Syrian border, we need to talk to the Lebanese Army and Hezbollah and tell them we'll come with lots of people. In some places foreigners need special permission to come. We have to be professional. There are places where you could come across mines so it's important to walk with a legal club. From three in 2006, there are now 25 clubs and very few of them have the legal authorisation.
How do you communicate with Hezbollah? Are they supportive?

We have a good connection with all groups in Lebanon. I tell everyone not to talk about politics on hikes. Just love nature, respect each other and all kinds of parties and politicians. It's forbidden to talk about it, so people from all backgrounds welcome and support us. Hezbollah are very clear and strict, but sometimes some even walk with us.
Do you remember the first ever trip you did at 14?

I started off with my friend. When we were children we went to the forest alone. It was then that I discovered that there's such a thing as a club that prepares everything in nature, they did hikes every Sunday, so I said "Let's go try it." We went, it was a long trip, 18 kilometres. We were so tired afterwards but decided to return whenever possible.

I kept coming back to the mountains on weekends until I opened the Vamos Todos club in 2006. Israel had just attacked Lebanon and I wanted to do something different after that. I told some friends about the plan and they said "Mark, are you crazy? There are no bridges, everything is destroyed!"But I told them that the war will eventually stop and that people will want to explore their country again. It worked.
"I told some friends about the plan and they said "Mark, are you crazy? There are no bridges, everything is destroyed!" But I told them that the war will stop eventually and that people will want to explore their country again. It worked."