The wistful and fun-loving photographer, Luciana Massarino, has expanded on her talents behind the lens, transforming her career into the various roles of: teacher, art curator and gallery manager. She now runs the gallery, Studio 488, located inside the Patio del Liceo – an elegant old building that was once a school and shopping center. Surrounded by various fashion and music stores, this area is now a burgeoning artistic and bohemian hub within Buenos Aires. Here one can relax after catching the latest exhibition and doing some shopping in the greenery of the open air courtyard. As the only gallery specialising in emerging photography in Buenos Aires, Studio 488 presents fresh and innovative photographic impressions from a range of contemporary photographers such as: Lena Szankay, Nico Hardy, Gustavo Di Mario and Martín Castillo Morales.
Having lived in Río de Janeiro for a time and traveling extensively around the world, Luciana now calls the capital of Argentina her home. Her apartment is only a short walk from the gallery. Met by immaculate black wrought iron doors, upon entering her colorful interior that is filled with books, cushions and a collection of vintage cameras, one can observe how her apartment follows a similar format to her gallery. Like a permanent exhibition, various pictures are displayed on the walls of her friends from around the globe. Everything is organized around large windows that overlook the city. The apartment's spectacular rooftop is the perfect place to relax in Luciana's pink hammock and watch the clouds go by while playing with her dog and cat.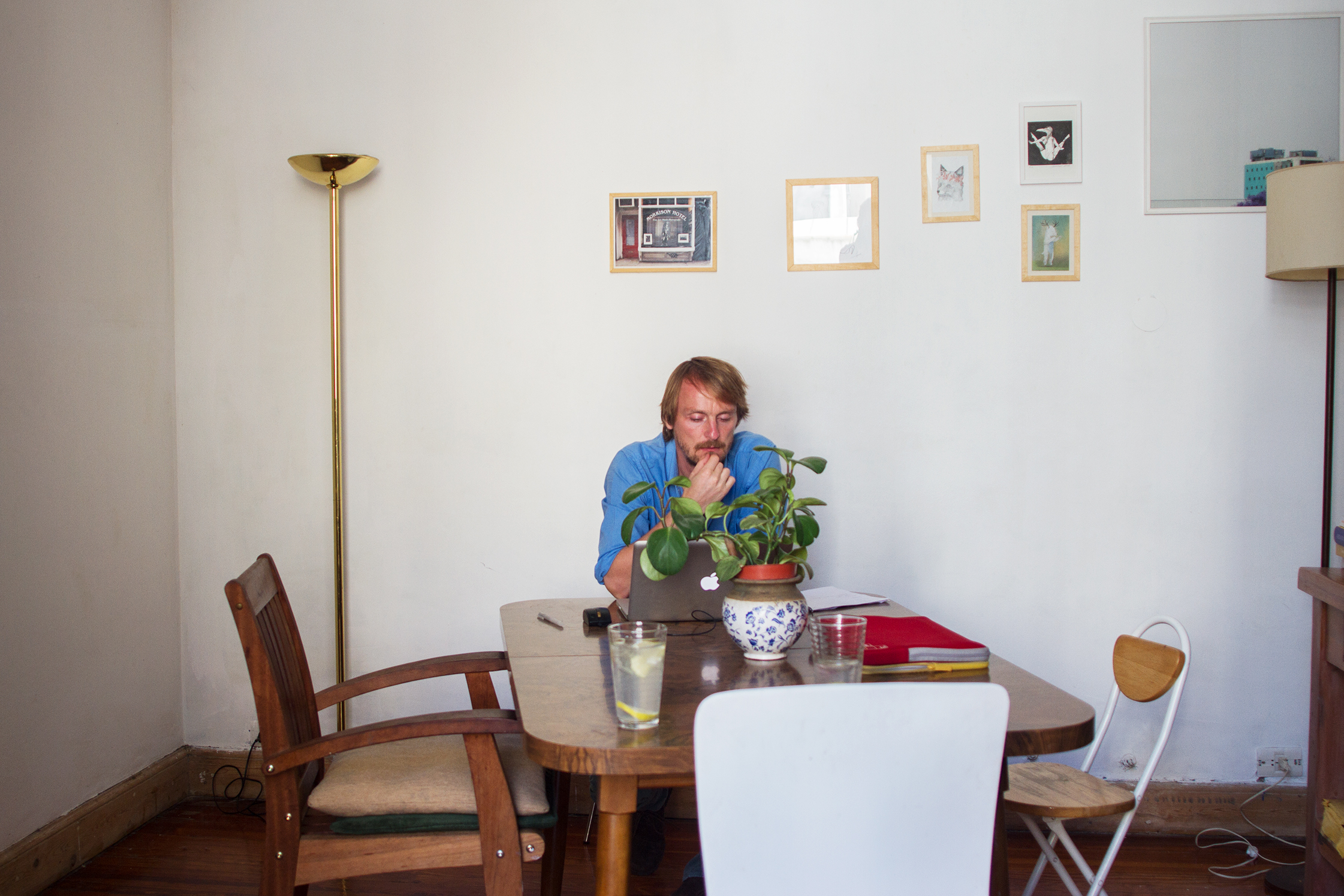 You were born in Rio Negro, Argentina, how long did you live there? Do you feel a certain nostalgia for those days?
I remember very little, I was only there two years. I have a memory of an image from that time in my mind. It is of my Uncle's house with a very 70's table and garden.
What was your experience of living in Rio de Janeiro like? Do you feel the landscape and environment influence your work at all?
I began studying photography in Barcelona, then in Buenos Aires. After I graduated I went to live in Rio de Janeiro for five years. At that time I started to produce artwork. Actually I was influenced by travelling, being in action, and seeing different cities and different colors. On one hand all of these different inspirations are good, however, on the other hand it is also bad because you're changing your approach and direction all the time. Influences are strong. Most of time I been more influenced by the Argentinians. In the beginning I was not so connected with photography itself, but more with art in general. I always worked with photography but a lot of my friends are working in lots of different media. Eventually I turned to photography and now I'm working with it.
Where did you study?
I studied in the Escuela Argentina de Fotografia – Argentina School of Photography. I went to a lot of workshops. However, I learnt management and curatorship on my own through first-hand experience. At first, I didn't know how to handle the numbers of the photographic series and certificates. It was my friend Nestor from Pabellón 4 – a gallery from B.A. – who helped me alot. He was my guide, he took me everywhere, to all the art fairs and this is where I got my exposure within the arts industry.
Are you currently developing your own work or are you fully involved in curating and working in the gallery?
Two years ago I actually stopped making work, but this year I am starting again. I'm going to Bogota for an exhibition of mine actually. It's in a gallery called Desborde. Last year I went to a show and the invitation came out of this. I'm going with Lena Szankay and Lorena Marchetti. The photos are new portraits, and the subject matter covers issue relating to the middle class in Argentina.
Did your job as curator and gallerist change your relationship to the way you take photographs and relate to photography?
Yes, very much. I became a little more professional, more serious about my own work. It used to be like: I have a series of works, but often left it incomplete. Previously I was not so professional, now I have become a bit obsessed. As curator of photography, it is an advantage to be a photographer because there are not so many curators who are photographers. The point of view is different, knowing about the technical aspects. Knowing how to actually make a picture yourself. I think this is important. I believe that being a photographer and a gallery owner really assists and nurtures each other.
What projects would you like to develop in the future? You mentioned you have a strong focus on work by Latin American artists and their networks.
I am interested in Latin America because I feel comfortable with this subject. Suppose you're in Spain or Germany working with this subject matter; you are not a local and you have an outsiders perspective. Here, you deal with the same codes, it varies, but it is the same direction. For closeness and other reasons, it flows. I started working and creating strong links with Brazil and Colombia in order to spread Studio 488. My plan is to manage large projects. Personally I want to show my artwork in other countries. I love to travel, I will not lie about it! In Brazil I have showed several times, this will be the first time in Colombia. The next year brings a lot of projects. I am always trying to expand. I find this really interesting.
I have been to Bogotá, Lima to discover new artists. Artist from this part of the world are doing great abroad. People like them and they have an existing client base. I've been building the gallery step by step, quite slowly. It is a different market. In future, I also want to start working not only with photography, but also video images and documentary performance. I want to move away a little bit from still photography solely – even though I love it and it is my passion – and get in touch with video and installations more. I like the idea of the photo not only as a still images. I guess I'll have to change the studio logo, because the camera is really representative only of photography…
How did Studio 488, come about? Is it your first project as a gallerist?
It actually began as a game, I was with a French friend from Paris, talking about where to show photography and why there wasn't an emerging photography circuit in BA. Then I thought, what if I create this place? The idea was to call friends and create a space. I found a place in San Telmo, and rented it. Three months later my friend who I was sharing the space with said "it's not for me, so I'm going". So it was just me in the studio. As a gallery owner it was my first project. It started through friends, Martin Morales, Gustavo Di Mario – he began with us – and Nico Hardy too. The project was growing so I moved to Patio del Liceo. All up it has been one year and a half in San Telmo, and two and half years here. In San Telmo the place was very lonely and isolated. I like the Patio much more. It has a specific style and it is a very accessible space. I love it. The name Studio 488 comes from the address of the first gallery in San Telmo, which was on Estados Unidos 488 street.
What is the profile of the artists exhibiting in Studio 488?
The profile, well as artists and photographers they all have a very strong identity in their art work. I'm interested in their authenticity and inner force that distinguishes them from one another. Generally I get involved, it is important. Exhibitions and montages are according to the artist, the Tillmans way, clips, ribbons…it's really cool.
What is the Maria Group art project?
As a promoter, when I was 23 years old, I formed a Latino American photography group of women called Maria. They were women from Venezuela, Ecuador and Uruguay. Each one of us worked in our own country presenting our work through the internet on different topics such as identity and childhood. I began to promote the various works and artists on a small scale, introducing them in different exhibition spaces: C.C.Recoleta and Festival de la Luz, in Río de Janeiro and Venezuela.
As a teacher also, what do you recommend to your students besides photography?
Photography is about finding your own way, your identity as a photographer. Class to class I can see the direction the students follow. This may be a bit psychoanalytical perhaps, but the artworks are totally autobiographical. Even if the students don't realize it, their work is deeply related to them. It is the search of every artist. It takes a long time. That's something I often say to them: don't be anxious, it takes many years. They are a very few who have a strong work at the age of 22 or 25. Maybe some will get in tune with their work in their 30's. In general, recognized artists are older. It is a journey. I am interested in the studio as a reference of learning. Courses are important. This also accompanies the profile of the gallery and what happens around the shows.
What continues to hold your interest with photography the most?
I love the way images are malleable. A picture can have different meanings depending on the context, the text, the curatorial direction. Photography is very powerful.
Luciana, thank you so much for your time and inviting us into your home and gallery. To find out more about Studio 488 visit the website here. You can see examples of Luciana's own works on her website here.
Photography: Paula Surraco
Interview: Belen Charpentier