In Barcelona, Lucía Vergara's name is synonymous with her striking jewelry line, a refined aesthetic with a touch of the 80s, and, at least for the last three years, the late night tap of a ping-pong ball on a table.
Her success with her jewelry line, Après Ski shows, she's one of those undeniable examples of how sometimes having an eye for the world around you achieves more than traditional forms of study. Still, she did study Audiovisual Communication, and after completing her degree she moved to Barcelona where she began to work for the notable Spanish designer, Lydia Delgado. It was during this time, that Lucía was able to develop her own talents and direction as a designer. She was self-taught and, as is often the case, her first necklaces were made for friends. Nevertheless, little by little she realized she could make a living from her craft and in 2009 she launched her very first collection.
Lucía is an enthusiast of the vintage aesthetic. She deeply appreciates the value of artisan work and detests companies who purloin the designs of the "little guys." As a creator, she enjoys the imaginative challenge of designing – it's become her favorite part of the process. We visited her at home and in her atelier, a workplace she shares with Carolina Iriarte. In addition, she led us to some of her favorite spots of the city, such as Satan's Coffee Corner and AOO.
This portrait is part of our ongoing collaboration with ZEIT Online who presents a special curation of our pictures on ZEIT Magazin Online.
You studied Audiovisual Communication, when did you realize you wanted to become a designer?

I began my internship at Lydia Delgado without having any previous experience in the fashion field, but with great interest and enthusiasm. From the very beginning she thought I would be good at designing accessories, so I started developing my skills in this area and learned as I went. I've always liked working with my hands but it took me a while to figure out where I wanted to devote my time. Truth is, I consider myself an artisan more than a designer.

How was the time you spent working for Lydia?

Extremely positive – I got the chance to learn the practical side of things. It was difficult at times, because I had no background in design. My best memories are from when I had to design accessories for her shows: She gave me lots of freedom and I loved creating pieces without having to worry about their commercial purpose.

At which point did you decide to run your own business? Was it a hard or a clear decision?

When the financial crisis erupted, I stopped working at Lydia Delgado and I started designing pieces for myself. My friends showed interest and asked me to make some for them. Little by little, production increased and, after a few months, it was enough for me to cover my expenses. It was never a considered decision, I just let myself be carried along. For the first two years I was working at home and practically in my PJs all day. It's difficult to think someone is able to build anything serious this way.
What's the best and worst part of running your own business?

The best part is the freedom you have when making decisions as well as the opportunity to get as close as possible to how you like things done. Having a flexible schedule is something I appreciate – I like having time for myself in the mornings. The worst part, I'd say, is having to be responsible for a whole team. I have never liked directing or managing. I'm interested in sharing and working with a group but having to be the "boss" is something I struggle with. Another negative side is that it's difficult to disconnect or take much free time.

You launched your first collection in 2009. When you look back, what do you think of that time?

Starting a brand and maintaining it takes time and effort, but for me the most important aspect is still what I learn during the process. I try to focus on the present and enjoy my daily life doing what I love. Setting goals and moving towards them is a great thing, but each has to find its own rhythm.

You seem to embrace vintage aesthetics. What do you find charming about that particular style?

I'm especially fascinated by traditional techniques. The concept of handcrafted had greater value in the past. Whenever I can, I try to visit museums of decorative arts and observe everyday objects which have managed to survive the passage of time. It's an excellent source of inspiration.
What influences your creative explorations?

Traveling. When I'm traveling I pay extra attention to my surroundings and absorb all the new knowledge I come across. I notice things around me even more and I have the time to come up with new ideas.

From what you told me, your newest acquisition is a ping-pong table, which is rather odd. Where does your love for the sport come from?

To be honest, I don't have a clue. Ever since the first time I played it, I've been fascinated by its aesthetic and logic. Three years ago I had an accident – I broke a bone in my hand and had to stop doing yoga, one of my favorite activities, so, as a joke, my physiotherapist suggested I tried ping-pong instead. I took it seriously and I've been hooked ever since. I never played it as a kid!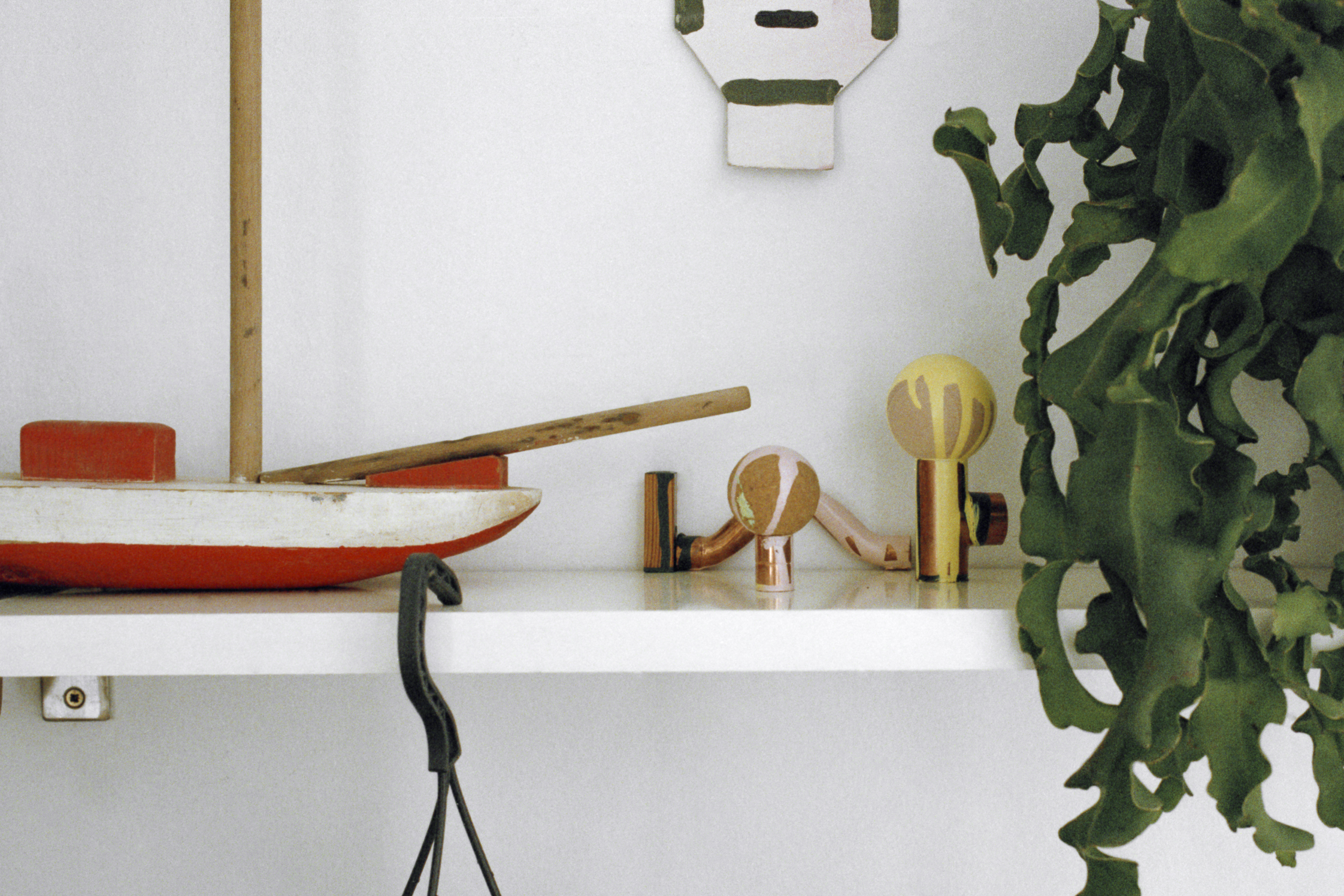 Could you tell us the story behind your table?

Since I spent most of my mornings working, I needed to find a place where I could play ping-pong at night. But in Barcelona there's no such place, so I decided to make my own. I have a huge living room and my friend Alfredo López is great with wood – it all made sense. I was thrilled to have my own ping-pong table, so we designed it together and he made it.

Do you meet with friends to play here in the living room?

Yes! We usually meet on Sundays to play. My brother lives across the street and there are nights when we just can't stop playing. A good round in our pyjamas right before going to bed is always a pretty good plan (laughs).

What else do you do in your spare time?

I mostly spend time with my friends. The good thing about living in a small city is that I can be with them every day. I have even joined a ceramics course with them. I'm quite excited so I think I'm going to be spending a great amount of time there.
Studio
Your studio is located in El Born. How do you find this area?

Carolina from Iriarte Iriarte suggested it. I was a client of hers and, as we were both starting our own projects, we shared many tips and experiences. I thought it was a perfect street, as it's central but not too busy.

Your work is entirely handmade, could you walk us through the process?

When it comes to the wooden necklaces, the first step is mixing the colors. Then, I sand the pieces and sometimes apply a layer of sealer. Afterwards, they're lacquered with two, three or four layers, depending on the pieces. In some cases, they're adorned with lines or other geometric motifs and, lastly, assembled in a chain.

Which part do you enjoy the most?

Designing new pieces is something I enjoy a great deal because of the creative challenge it presents and the way it pushes me to learn new things. I find color mixing and painting the pieces very entertaining. If it's a quiet day in the studio, it becomes a sort of meditative exercise.
How many collections have you produced since you first started?

At first, my creations didn't have the structure of a typical collection. I gradually introduced new pieces and had lots of fun doing it, although it was very chaotic when managing the production. Once I started taking part in fairs, I had to form collections and, since then, I have launched three: Our Garden Needs Its Flowers, Twilight and L'Esprit Nouveau.

So you don't follow the standard seasons that fashion dictates, do you?

No, since the very beginning I knew I didn't want to do that. Fashion's pace is too fast to follow – something I don't identify with at all. I'm more inclined to create timeless pieces that offer a greater sense of creative freedom. I release a new collection once a year, more or less, and on top of that I add a few pieces and maintain the production of previous collections as well.

Can you talk to us about the project Dentro y Fuera (Inside and Outside), which you worked on with several illustrators?

The idea arose while talking about possible packaging for my necklaces with my friend Antonio Ladrillo. We thought it was interesting how matchboxes have worked as advertising platforms for restaurants and hotels for so many years. Their design is simple and suits the necklaces' character – they're like small blank canvases. Thus, inviting other people to draw illustrations on them was the perfect excuse to collaborate with artists I admire. Also, I've always been attracted to collecting objects with illustrated imagery, such as stamps or stickers.
You are selling your jewelry both here in Barcelona and abroad. Which market works better?

Our pieces have been very successful in Barcelona since we started. It makes me happy to see that I can still retain the same sale points and many clients who have appreciated our brand for years. More and more shops abroad show interest in selling our products. I'd say that our pieces work really well in countries such as Japan, China or Australia.

Do you agree that Barcelona is a great city for creatives and new initiatives?

Yes. It's not as expensive as others and allows you to devote more time to personal projects. You just have to resist the typical temptations of good weather and outgoing friends – these two elements can easily convince you to spend all day outdoors. For the kind of products I make, I think Barcelona offers me a good platform but I do need international clients in order to sustain the business. There are a few very talented people here that are excellent examples of how you can build a good project and make it work in Barcelona: such as AOO, my favourite shop, or Satan's Coffee Corner.
What do you like most about this city?

I like the weather, the energy of the city, how easy it is to meet people and collaborate with others. Right now, there are quite a few initiatives that encourage creatives to share their work and undertake projects of their own. Also, all of this creative activity makes the weekends very interesting with a lot of events going on.

It's evident that your taste for design goes beyond jewelry. Are you thinking of expanding your art to other disciplines?

Yes, I would love to introduce more products and collaborate with more people. At the moment, I'm really focused in learning ceramics and I might end up doing something with this medium.
How do you see the future of your line, Après Ski?

I find it hard to imagine the future of the brand in the long run. I like to think that it will gain a more solid structure and work as an umbrella for other products. I'm not sure how but I would really like to create more unique pieces – I find repetition a bit boring. However, I'm also quite open to changes so I'm not excluding the possibility of starting a completely different project in the future; that's why I'd rather concentrate on the present. In an ideal world I'd see myself traveling and learning an endless amount of artisan techniques, but who knows!
Thank you Lucía for sharing your home, atelier and wonderful sense of good cheer! See more of Lucía's jewelry lines.
This portrait is part of our ongoing series with Vitra. Visit Vitra Magazine to find out more about Lucía's design pieces and special aesthetic touches.
Barcelona's creative scene is always on our radar – Meet the people we've portrayed thus far.
Interview & Photography: Silvia Conde