There is a special discovery to be found behind a doorway on the boulevard Raspail. In contrast to the ambiance of the street, a group of secluded historically significant artist studios with an early 20th-century charm are tucked away. Louise Brody and Charles Poisay moved in and styled one of these studios where, among others, Picasso lived for some time. While also living within these spaces, Louise and Charles occasionally present a range of art exhibitions. Warm and welcoming, Louise is full of enthusiasm and charm with her distinct English accent. Charles, on the other hand, is a little more mysterious initially, but soon opens up to discuss his love of architecture and his fascinating creative projects and research. These two characters undeniably are bound by the passion of their professions.
Through the generous living room window, a warm Winter light spills into the interior. Afternoon tea is a tradition that Louise retains from her life in London as an important daily routine. Preparing a very flowery infused tea she also serves her favorite fruit cake not easily sourced in Paris, that in her opinion, tastes like real cake. While obeying this cherished ritual in Louise and Charles' impressive interior, they share their personal stories about their art collection, décor and professional experience.
This portrait is part of our ongoing collaboration with ZEIT Online who presents a special curation of our pictures on their site.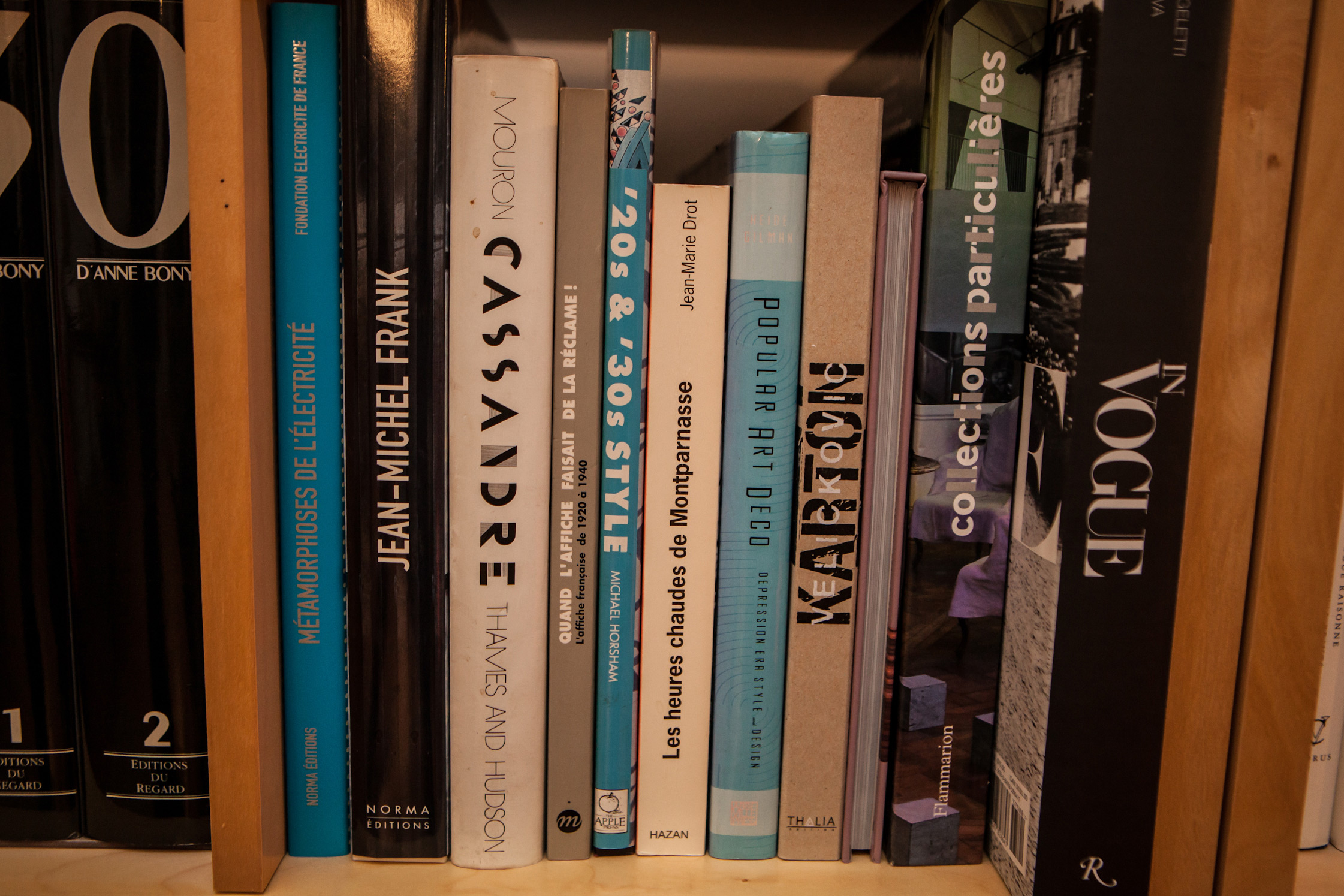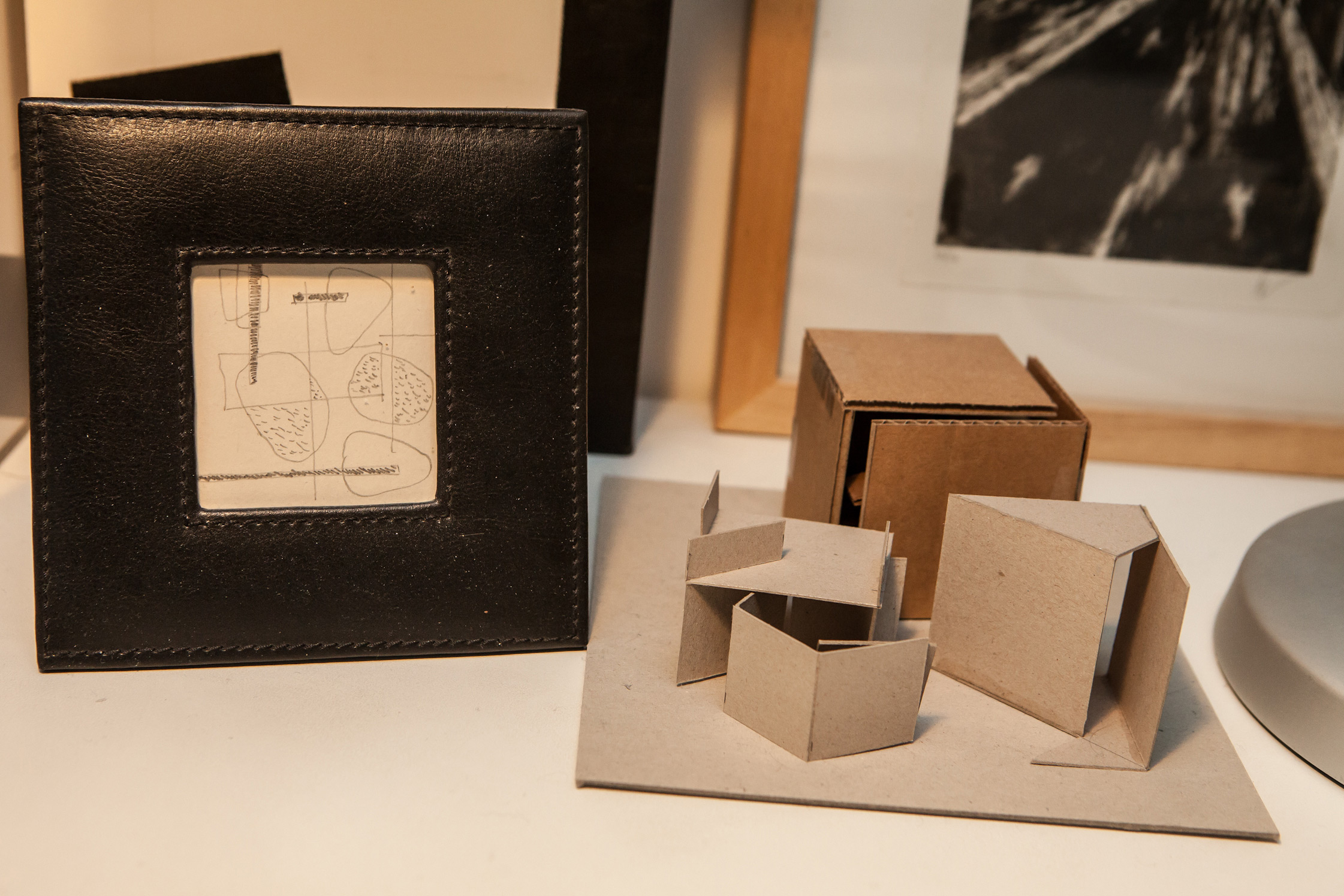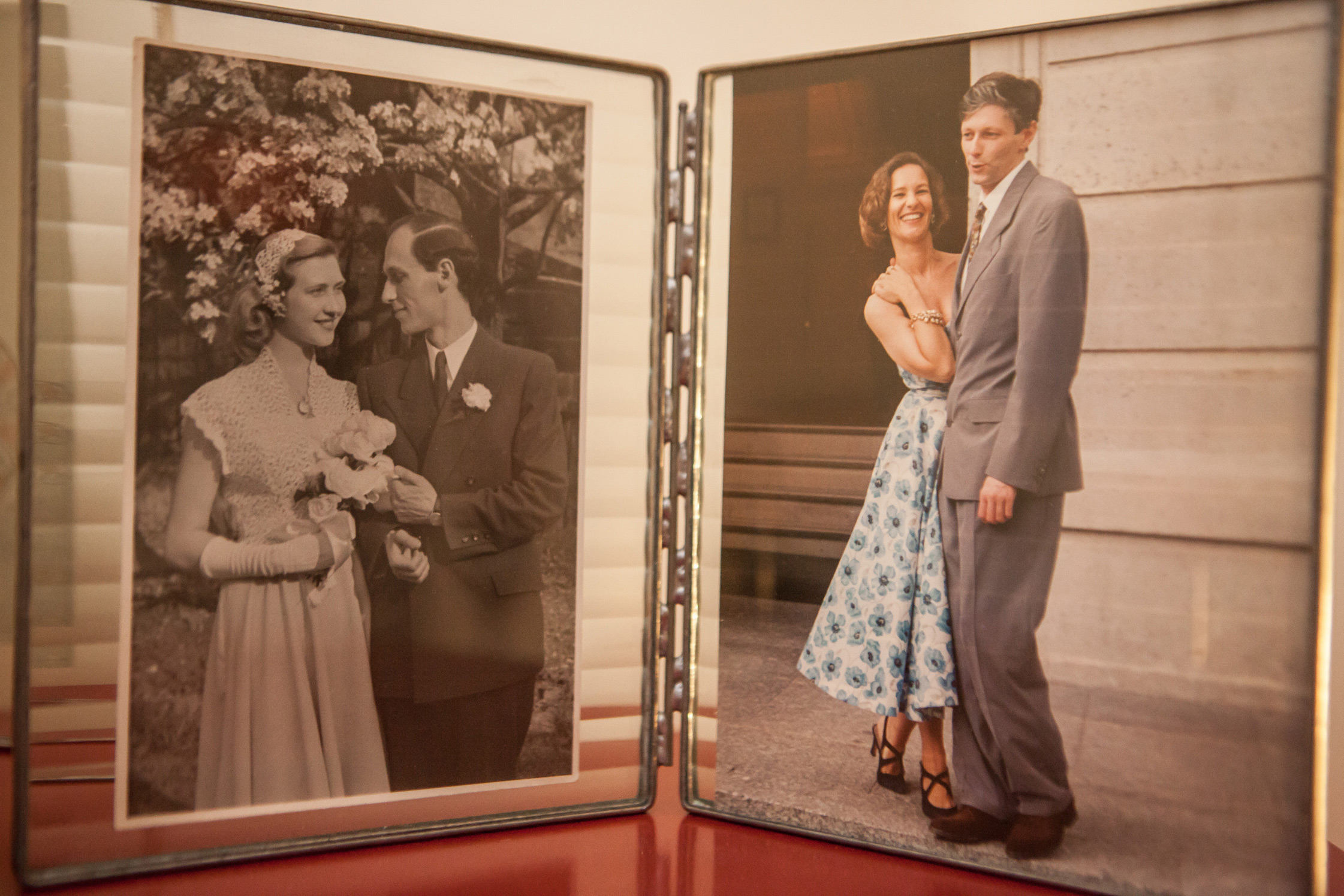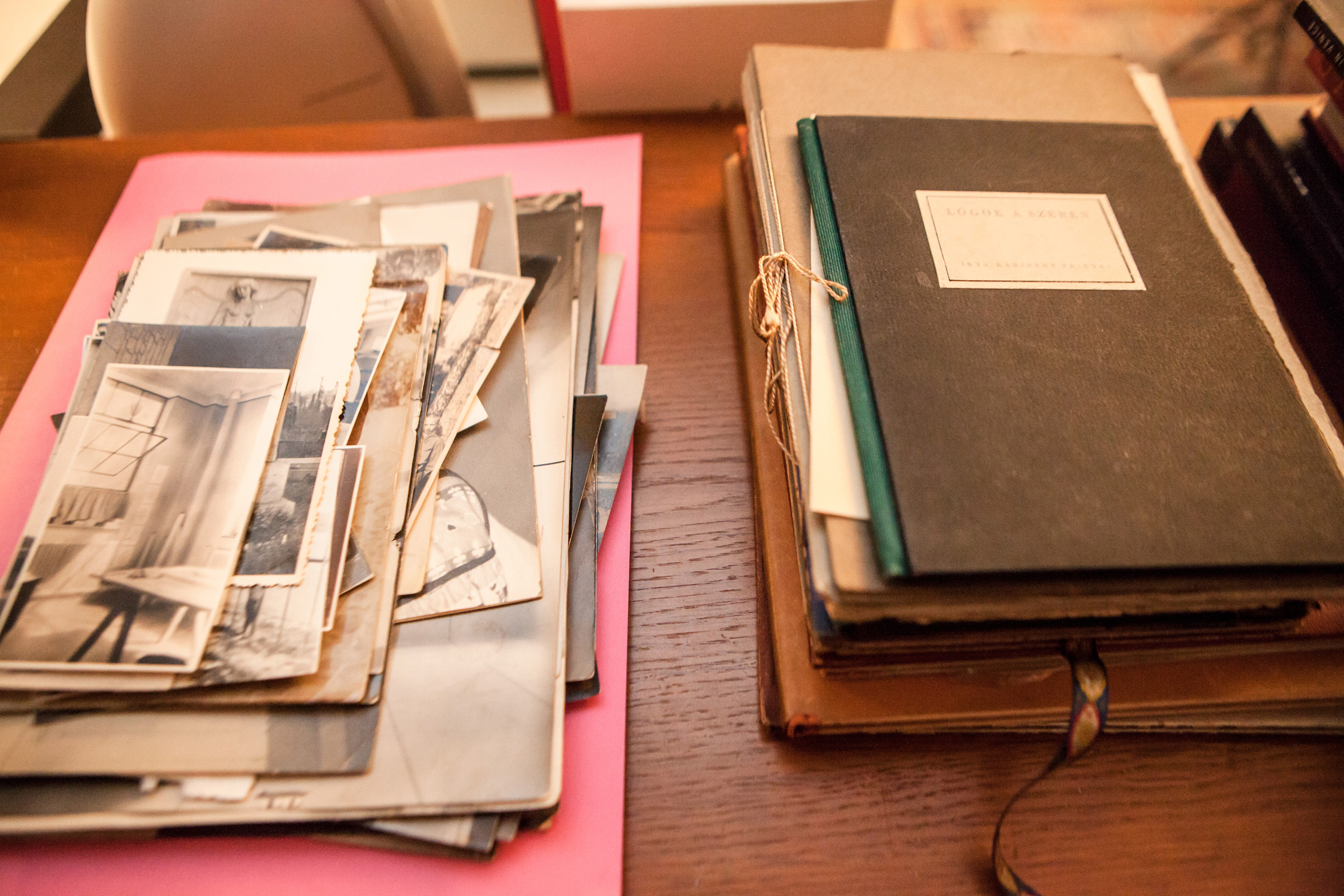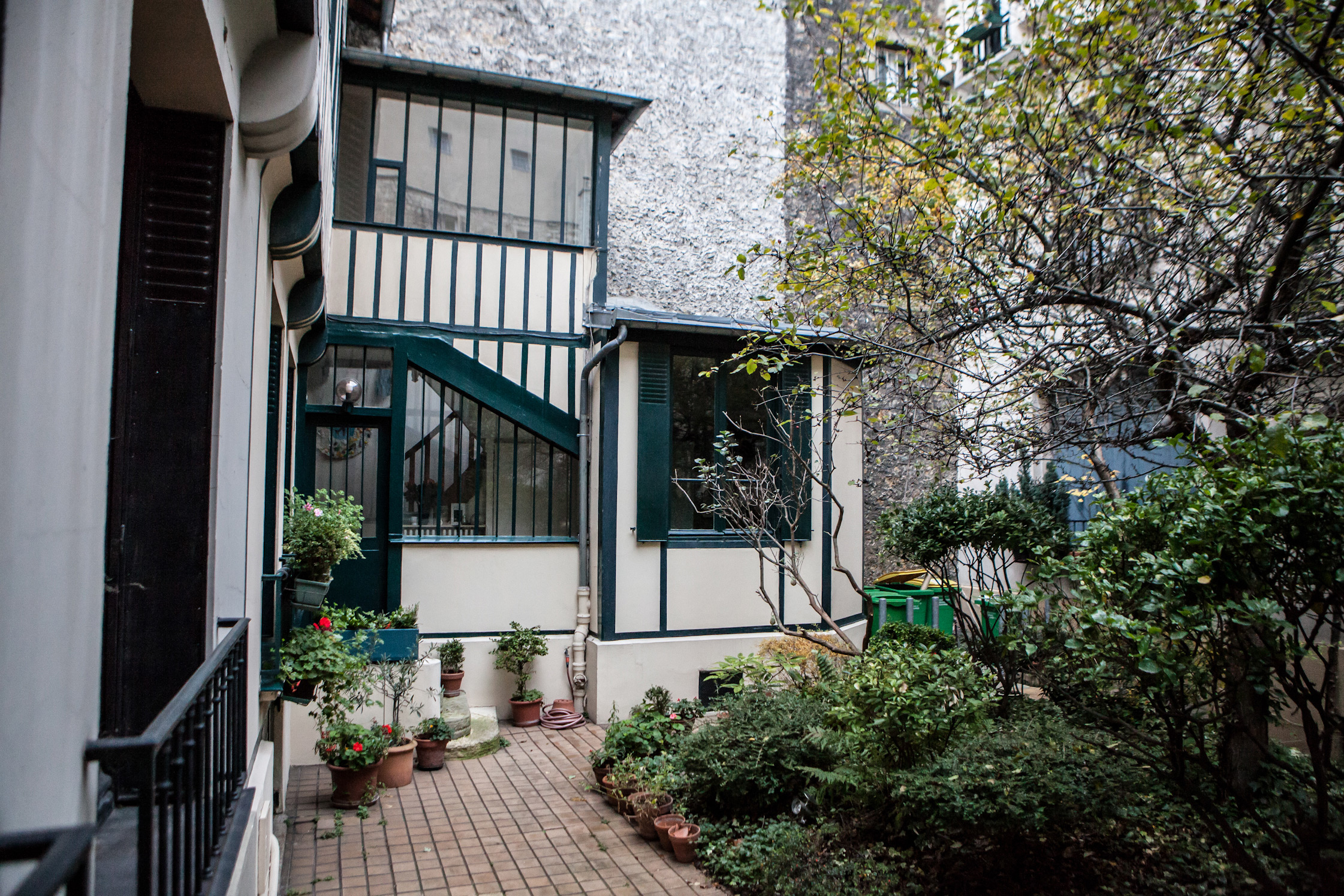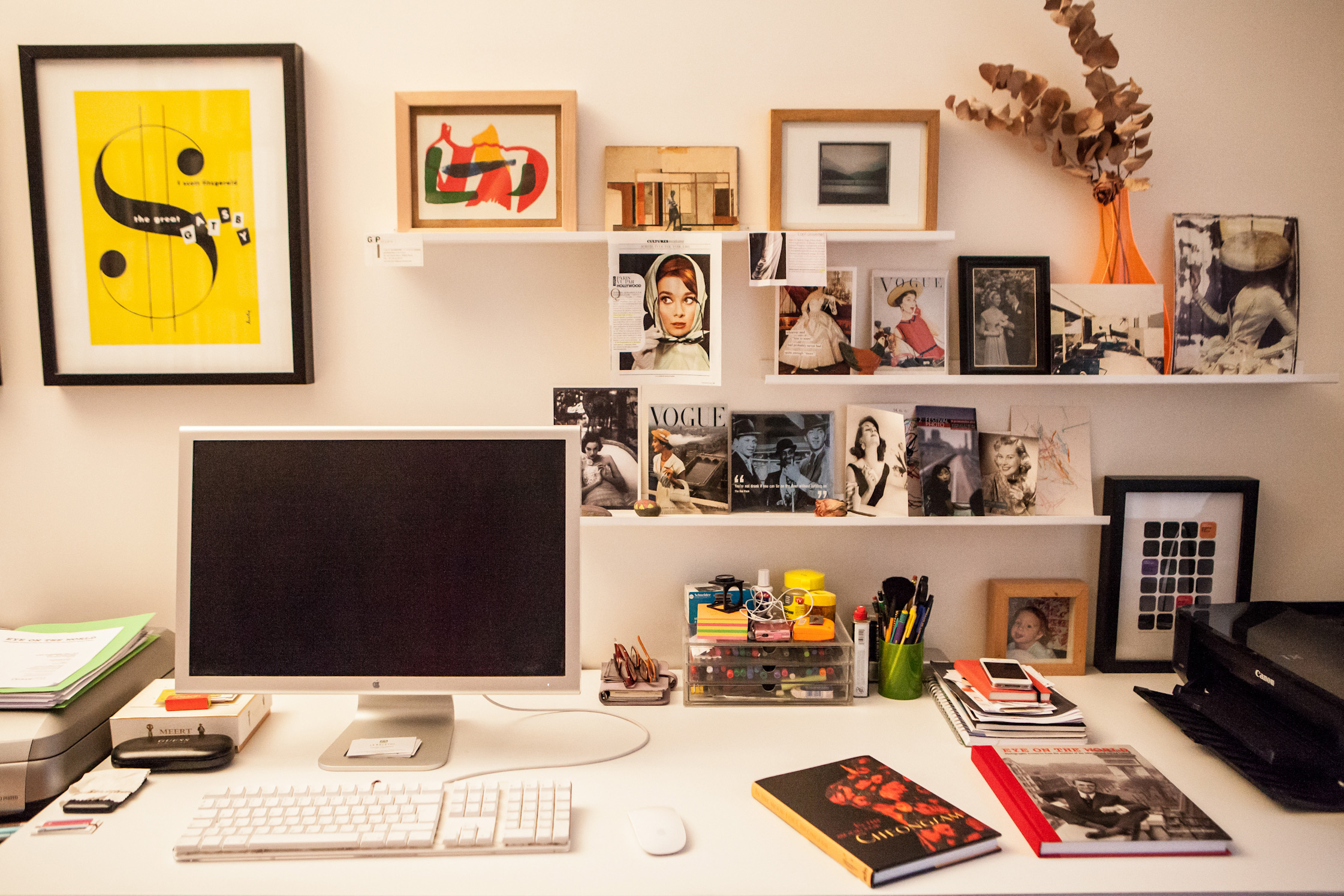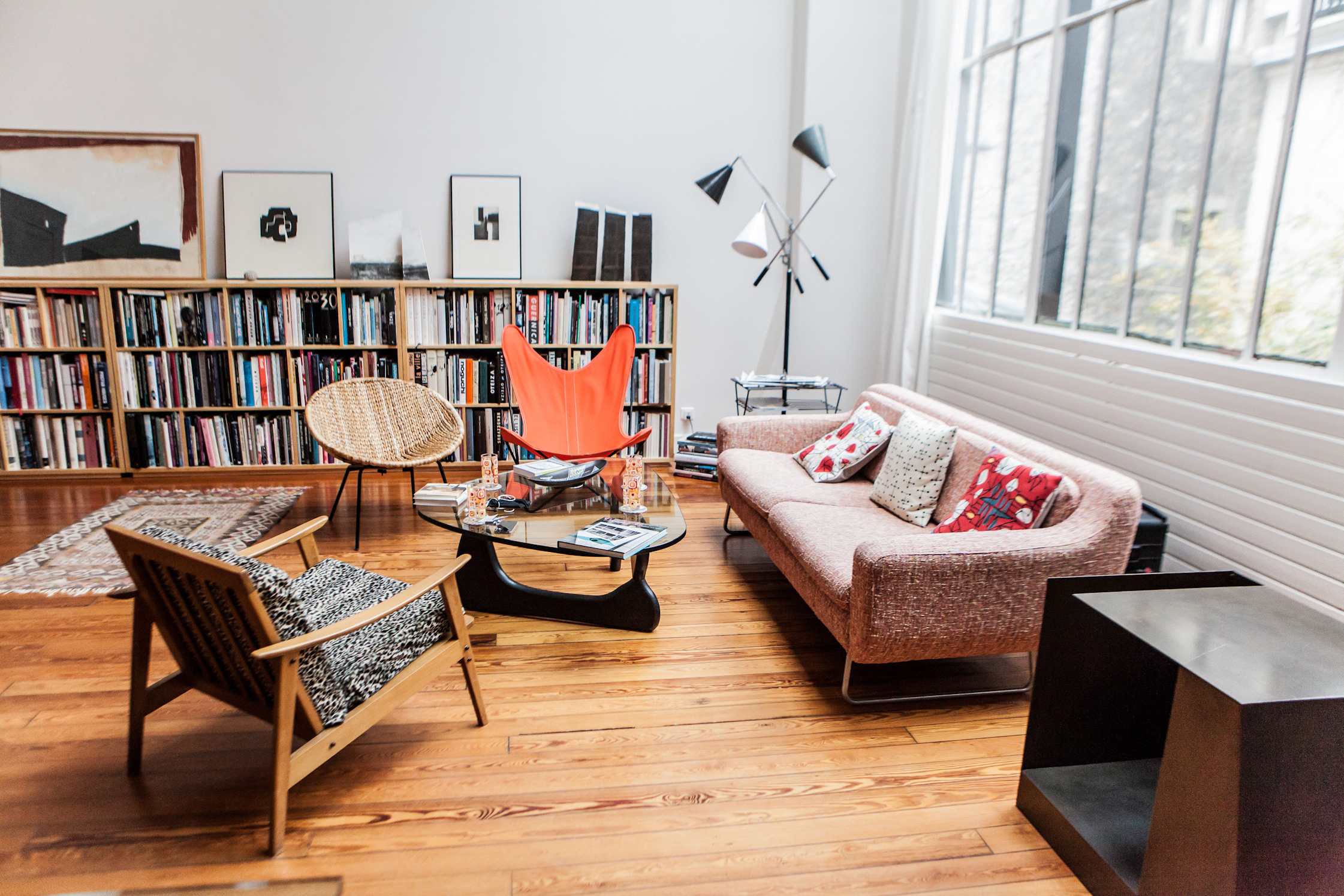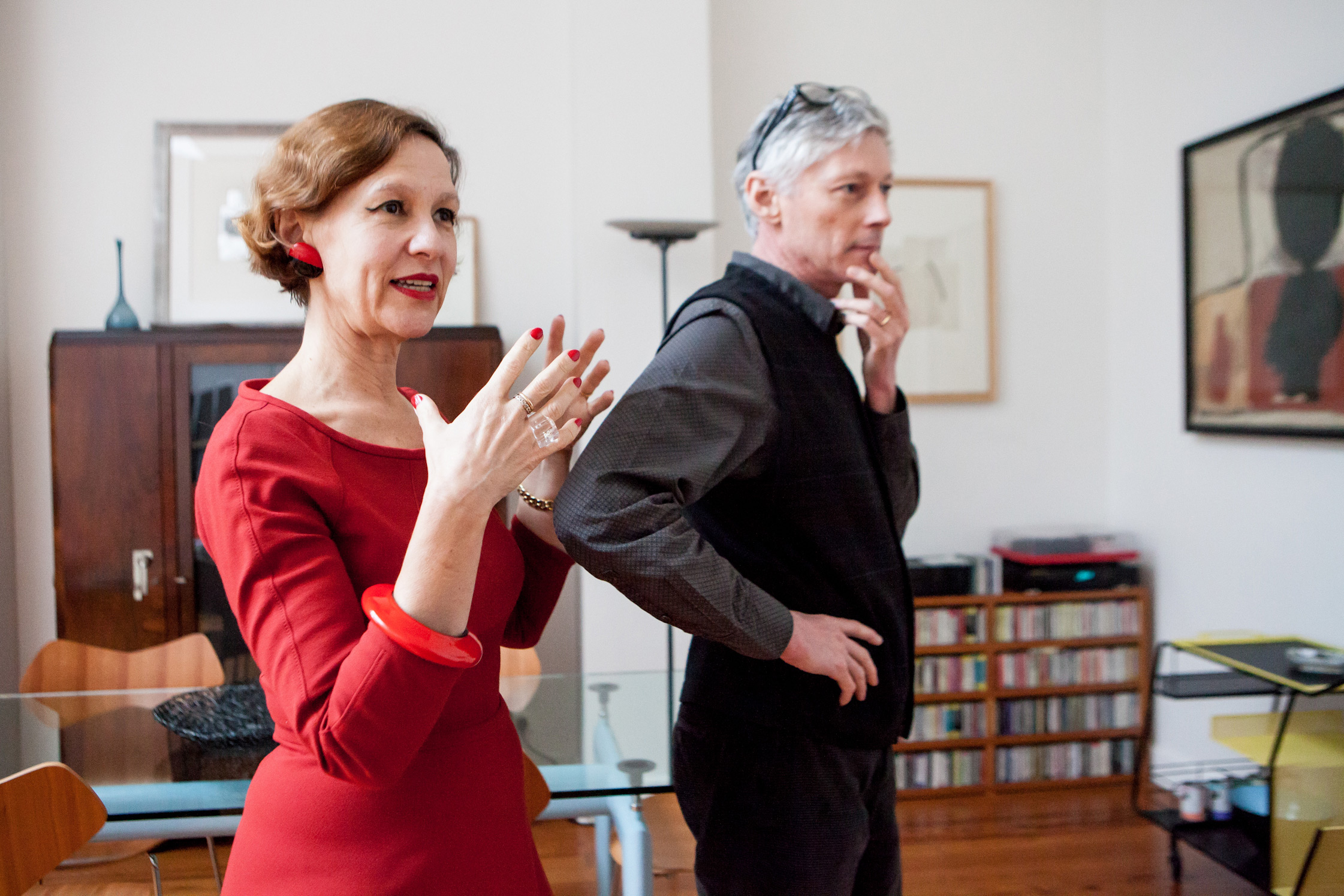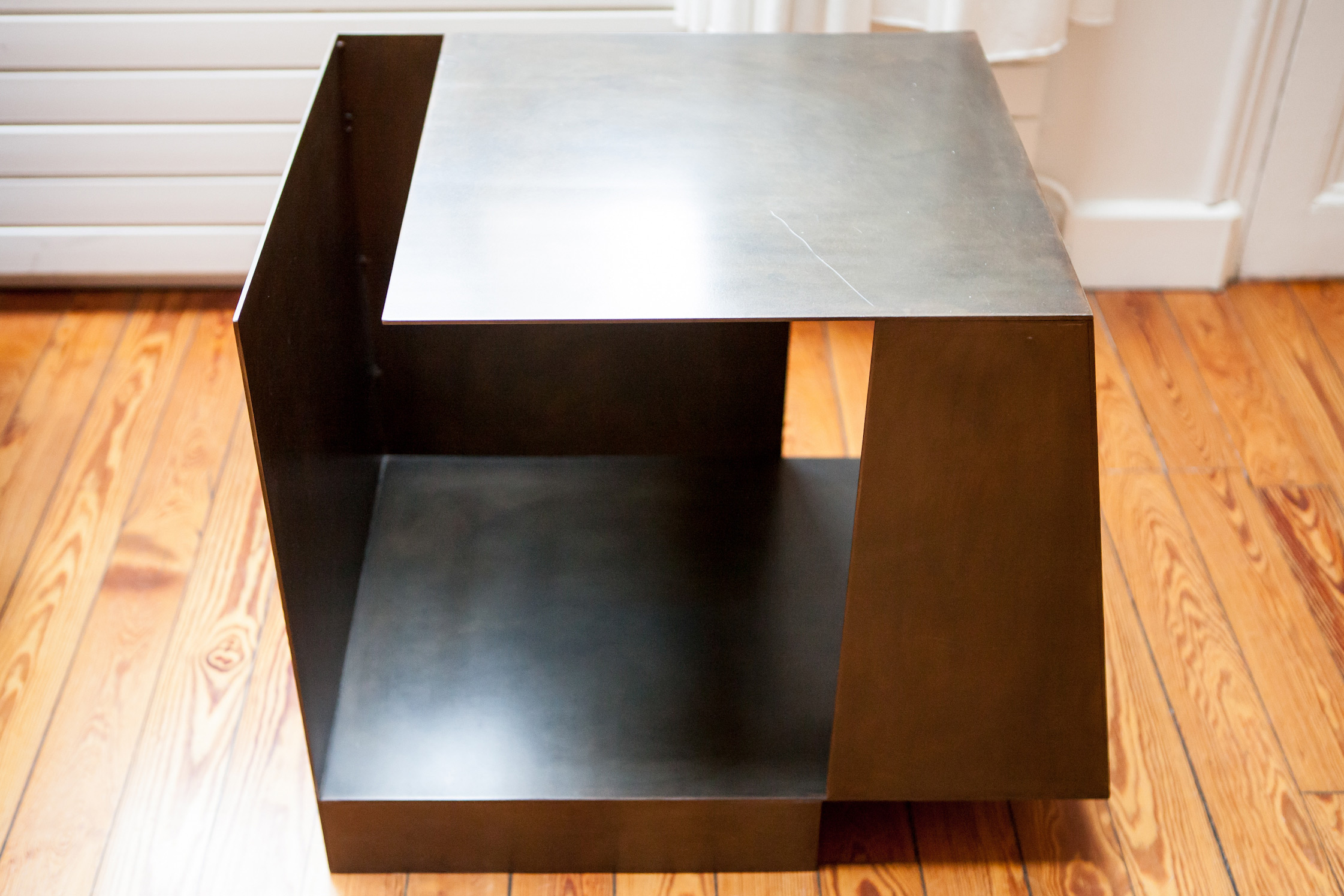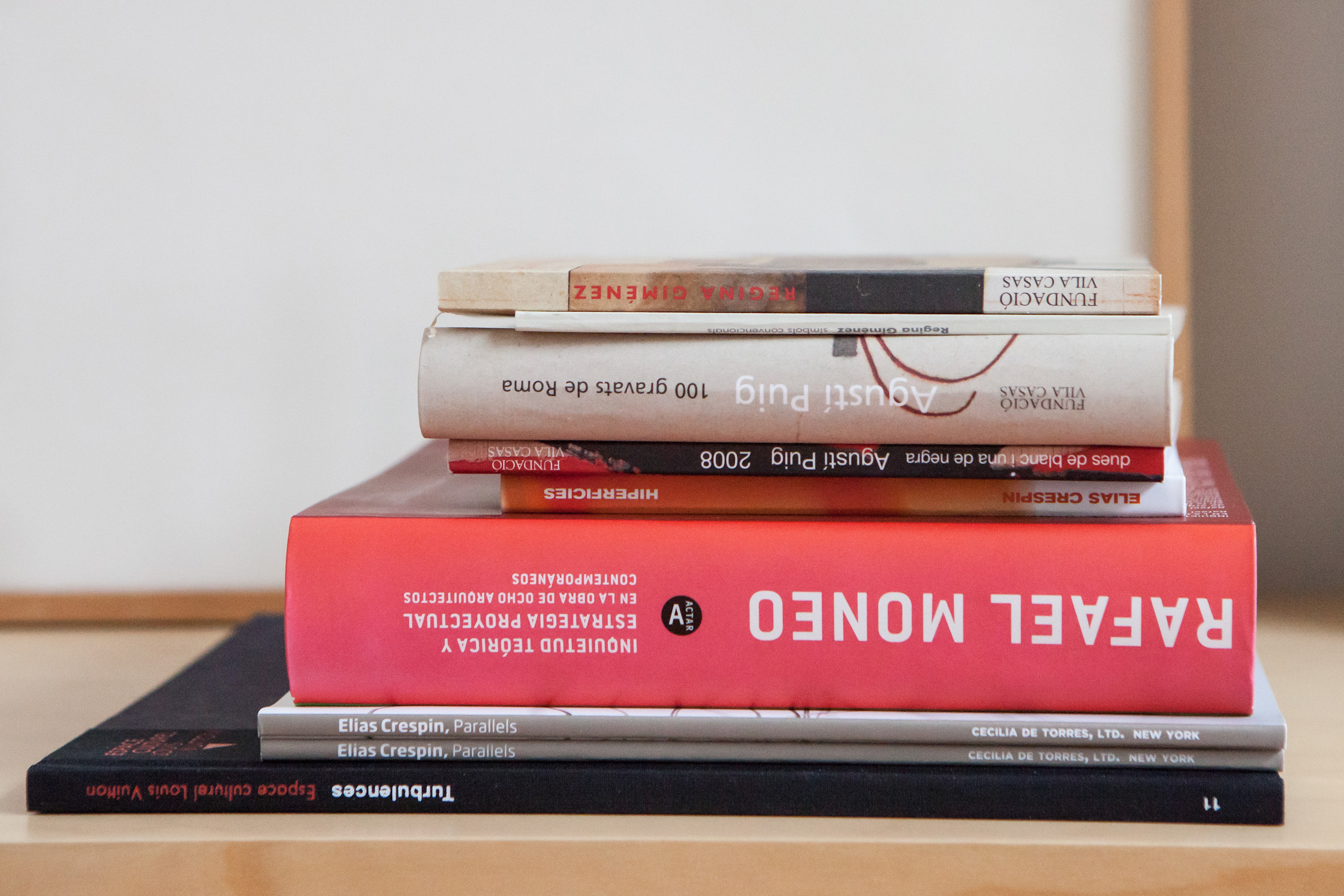 You were born in London but you grew up in the U.S.A? How was your American childhood?
Louise: It was a very happy childhood. My father was a professor and researcher in physics. He was offered the position of research director for Westinghouse in Pittsburgh, Pennsylvania. I was three when my parents decided to leave for America. My brother and two sisters were born there. My father was Hungarian and my mother British, due to their origins, we kept contacts in Europe returning every two years. To me, my roots were definitely in Europe. At the age of seventeen, I decided to go back to study Art History and Design, in London. I stayed there two years after the end of my studies. There were fewer professional opportunities than I was hoping for, which turned London into a gloomy and harsh place. As a result, in 1989, based on a friend's advice, I moved to Paris. I packed my car with as much stuff as possible, arrived in the city without money, no friends and no job. Luckily, I adored the city and fifteen days later I had found myself a job.
Did you meet your husband Charles while you were in Paris?
Louise: We met through mutual architect friends. I have been living in Paris now for twenty-three years. At the beginning I didn't know any English speakers – which was very good for improving my French! My friends used to take me to parties, and one night it was one organized by a friend of Charles', an architect. That was nineteen years ago.
How did you find your apartment and what is its story?
Louise: We have lived here for nine years now, since December 2003 to be precise. Previously we lived on the other side of Montparnasse. We had to leave our place and were looking for a new one. We talked about our research to our entourage and someone who took drawing lessons at the atelier told us about it. The place was going to be available. I actually knew of the atelier, because I had worked on a special issue of Journal des Arts about Montparnasse "hot spots", with a section on artists' workspaces. The address immediately reminded me of Picasso! We went to visit the place and meet the owners. It was love at first sight! It is a blessing to live here, with an incredible light, which changes during the day and season after season. It gives the place such a special ambiance.
The building dates from 1905 and was imagined as ateliers for artists, by the architects Sue and Mare. Among the various artists who have worked here, was Picasso. He lived here from 1912 to 1913, the period during which he created his first collages. There are many pictures of him working in the studio. The place is actually listed at the Picasso Museum. In the 1950's, the architect Raymond Lopez bought the buildings. The ateliers were at one time used for a drawing school. When they decided to close the school, in 2003, we had the chance to visit the site before it was renovated to become a proper apartment.
Did you know from start that you wanted to use it as a gallery?
Louise: Not at all. We first chose it as a place to live in. The temporary exhibitions only started in 2009. It is not a permanent exhibition space, it is a home.
What kind of art do you show and how do you choose the artists?
Louise: Exhibitions are often related to our personal art collection. Charles started collecting art at the end of his studies. The collection grows over the course of our discoveries and mutual gifts. Last October, I offered Charles a Nieves Salzman piece, who was the first artist to have an exhibition at Atelier 7.
Do you have curatorial guidelines?
Louise: No, it revolves mostly around our personal tastes; with artists that we have known for a long time and others whose work we have just discovered. If we are interested, we meet them in person to see if we have things in common and could create an interesting exchange. We are not interested in commercial concerns with the gallery.
What is it like to live with art pieces that change for each exhibition?
Louise: The pieces, no matter what their medium, change the ambiance of the place, it is undeniable. They need to co-exist with our pieces of furniture, which are chosen for their aesthetic quality. Vintage meets contemporary and reflects our taste for various periods in the history of design.
Do you have a special installation set-up for the shows?
Louise: We use hanging systems on three walls. We also display pieces on these low shelves which are extremely flexible. The most complicated aspect is the lighting. The window lets a lot of light in during the day but before every show we have the same question, how to light the pieces when we cannot hang spotlights.
The space is reminiscent of art salons from another era, would you agree?
Louise: Yes indeed and I like it very much. Visitors often tell me that it is refreshing to see art pieces in another context than on a gallery's bare walls. Seeing the art in a living space even helps them imagine the pieces in their own homes.
How do you as art director and architect work together for the exhibitions?
Louise: Actually things come together quite naturally. We also talk a lot with the artist who has an important role in the process.
What is next at Atelier 7?
Louise: The latest exhibition took place not so long ago. Since then, we have not organized a new one, due to my agenda. I was fortunate to have the opportunity to curate the exhibition, "Eye on the World", for the International Herald Tribune which was a fantastic experience.
How did this opportunity arise?
Louise: One of the Herald Tribune directors was following our projects at Atelier 7 and he contacted me directly. He already knew my work as a graphic designer and asked if I would be interested in designing the exhibition's catalog and design. "Eye on the World" was a celebration of the newspaper's 125th anniversary. It took place at the private mansion France-Ameriques. I joined forces with designer Clementine Negre for the project. The photographs in the exhibition were displayed as rare historical documents. During our research, we discovered that many of these photographs had written notes on the back of them; giving information about the context of the picture and how they were intended to be used in the newspaper. These details were fascinating and offered an added insight into the context of the images. We decided to fully integrate this aspect into the exhibition's curation, by creating a special display that allowed visitors to see both the front and back of the works.
Could you tell us more about another project of yours, Citystyles, that offers services in interior design.
Louise: We had this idea with a friend I met on a book project about 1950's architecture. Both of us were a bit tired of spending all of our days in front of the computer. We wanted to build something with our skills and our shared knowledge. We come up with the idea of offering interior design services and vintage design consulting. I might have started too many projects at once in retrospect. I've since realized that I should focus on my graphic design and art direction activity. The idea and the will to do something with this idea is still there, but both of us are really busy, so I guess it is a project for later!
Both Charles and yourself are extremely committed and passionate about your chosen professions. I'm sure readers, at this point, are curious to hear about Charles and his background and career path.
Charles: I'm from the center region of France, near the Loire. My father is French and my mother is Spanish. These Iberian roots have had an important influence on my sensitivity and the directions I have pursued. At the beginning of my career, I mounted an exhibition about Spanish architecture, which toured in France and Spain. This provided many opportunities for writing and researching for publications. I have collaborated with academic critics and discovered and presented architects I admire. Seven years ago, I founded with an associate an architecture consultancy, GaP studio. We work on public commissions and large scale urban projects, while observing environmental issues.
Besides the studio, I share my time between writing and researching architecture. I also develop experimental sculptural and structural pieces. For example, someone saw a cross in this sculpture. She proposed casting it in silver to give as a present to the departing Saint-Severin priest, in Paris. I was able to construct this for her. It can be seen as a traveling cross, because it is able to be dismantled and easily carried around. The cross was shown on the cover of the magazine Art Sacré.
Outside of art and design, how do you relax?
I love good food and cooking. In my spare time I enjoy preparing Spanish specialties for Louise and our friends.
Thank you Louise and Charles for this afternoon full of light, punctuated by British and Spanish touches. You can learn more about Louise and Charles's activity on their website and follow the upcoming shows at Atelier 7 .
This portrait is part of our ongoing collaboration with ZEIT Online who presents a special curation of our pictures on their site. Have a look here.
Photography: Sarah Skinner
Interview & Text: Léa Munsch