Lizzy McGrath, editor in chief of BANGBANGBERLIN.com, greets us at the door of her Friedrichshain apartment in bare feet. There is an extensive row of shoes lining the hallway, from classic kicks to impressive heels, that seems to extend into the mirrored ceiling. McGrath knows fashion and nightlife — which anyone can tell after the first step into her apartment — and her website BANGBANGBERLIN.com has become one of the best sources for finding out what 'bangs' in Berlin.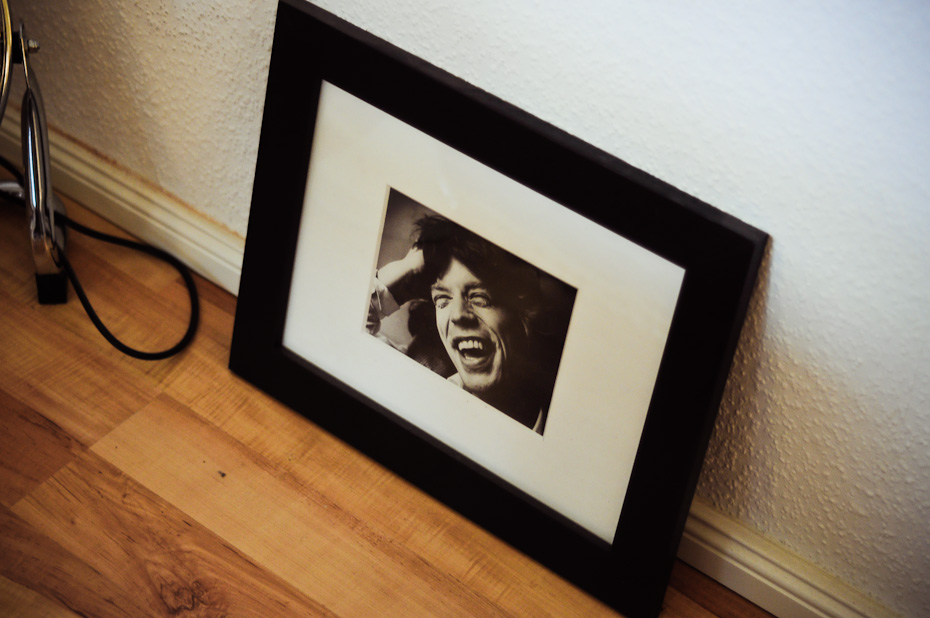 How would you describe your style influences in terms of your apartment?
I would call it fairly classic with a modern twist combined with a lot of influences from traveling. I also love pop culture and some of our pictures reflects in that, whether its a picture of Roxy Music or a Lost in Translation poster or a painting from an urban artist. I could also only ever live in an old house that has character to it. I like this apartment because its renovated but it still has beautiful stucco on the ceilings. Also when you live a freelance lifestyle, sometimes you have money and sometimes you don't. You have to be relaxed enough to deal with that sort of lifestyle. So some months its great and you buy a big new sofa and TV and sometimes there are months and months when you cant do any home-improvements! But I always love going to flea markets and second-hand antique shops. Like this carved wooden table I found on Brunnenstraße was a bargain and it came from India.
Do you have any specific items that follow you if you move?
Er, yeah, all my furniture comes with me! Haha!

Well, we find when some people pick up and move they leave the big stuff.
Well they must have more money than me! Something I do when we travel is look around at shops where they sell rugs, ornaments and things like that. This little ornament is from Thailand, and this rug is from Bosnia. This [points to Lost In Translation poster] is an original I picked up in Tokyo while the film was on, so the writing on it is Japanese which I love. The rest is just essentials you need, our desk-come-dining table is from DOM in Berlin, and the white leather sofa is from good old IKEA.

So how did you know you wanted to write about culture?
Writing has always been my thing, since I was a tiny kid. I didn't want to work at a newspaper—too stressy. And I've always been interested in Pop Culture and the broad spectrum of life. Even what's considered trash, Daniel always asks me, 'How can you watch Jersey Shore,' and I say, 'It's fascinating to me! They're like animals in a zoo!' And it's important as a journalist to be able to talk about John Keats or Shakespeare because you studied it at Cambridge, and also the Jersey Shore. (Laughs).
So once you knew your passion was writing, how did you start off your career?
I studied English at Cambridge from when I was 18 to 21. And then I went to work at the FACE MAGAZINE. That was my absolute favorite magazine growing up, it was such a fucking cool magazine. It was sort of an internship, and you can be lucky with internships or really unlucky. But I met really cool people and was really lucky at THE FACE. I'm still in contact with all the journalists there. They supported me and helped me a lot. After that I started working at The Fish Can Sing and that was where I got involved with Creative Marketing, which I am still doing. I'm actually doing a job now for 3 Minutes.de. Bastian came to me and said, 'we don't have much of a female audience, do you have any ideas?' And so I came back with some ideas, a show about famous females, (singers, models, designers) getting ready for a night out and us interviewing them at home or backstage before their performance. It's a little like Cribs, but with girls, music and fashion. Haha! And then we got Palina [Rojinski from MTV], which was a real coup because her star is rising, and I think the show will be really popular. Palina and the Glitz will be premiering on April 14 on 3min.de with the Jennifer Rostock episode – im really looking forward to it finally being on air.
When did you decide to move to Berlin?
I was born and raised in London. After graduating and working for a few years in London, I just realized I just really wanted to live abroad. I was thinking about moving to Japan, but that was a little too far away. Then I just discovered Berlin, and really fell in love with it. A friend took me here for a weekend and I was like, 'wow what a city, why have I not been to Germany before?' Maybe six years ago, there were still all these hang-ups between the British and the Germans, but I just thought 'God that's so ridiculous.' I only meant to stay for 2 months and here I am 6 years on.
What kept you here?
I started to work at Style and Family Tunes magazine. Then I got offered to do the Electronic Beats Magazine, which I established for T-Mobile. They offered me a job and a nice office, and then I was the Chief Editor of Electronic Beats for four and a half years! And then you make friends, and boyfriends, and decide that this is your home (Laughs).
Is there a neighborhood in London that you find similar to Berlin?
I can't really compare. I feel like the standard of living is higher here, you can still rent places you couldn't dream of renting in London. I love the greenness of Berlin too—the big open streets, and that I can ride my bike everywhere. And when I get on a tram or a train I always get a seat! I don't get this claustrophobic feeling like in London. I'm just a happier person in Berlin.

You covered Berlin nightlife in Bang Bang Berlin Magazine, how does the scene in London compare?
Generally, I think Berlin is so different. You can't compare the nightlife scenes. You can be spontaneous here. You can go to a club in Mitte, decide it sucks, then go out somewhere in Kreuzberg. And it's not a big deal. Whereas in London, those kind of on-the-spot decisions will cost you around 80 pounds extra in taxi rides, which I just resent.

How did you come up with the concept for BANG BANG BERLIN?
BANG BANG BERLIN came about because I just needed a new challenge. I really enjoyed Electronic Beats but of course working for a brand magazine means you have all these constraints, especially from the design aspect. I wanted to break free from that I guess. So I started working with Paul Snowden (from WASTED GERMAN YOUTH), who was really the antithesis of T-Mobile I guess, haha. I wanted to express myself in a new way and I saw that there was this International community in Berlin that could use a little fanzine. But to be honest it didn't work in print, we made too many mistakes financially with it, like choosing really expensive paper and not having an International distribution etc. So I took some time off and came back to build the BANG BANG BERLIN website. And now I have put a great new team together: Mertol, Jobot, Emer. They are people with real enthusiasm for what they do. It's all about having the right attitude. And I'm completely converted to doing on-line now. I would never go back to print (maybe a one-off if we had a sponsor) but it means that you reach a whole international/foreign community who love Berlin, whether they are in the UK, or NY or Paris or Spain, as well as of course the people here in Berlin
How was it starting a magazine here in Berlin as a foreigner?
Well, Paul Snowden's a foreigner too. And, it was from our point of view, but there are many people here who share this point of view. I do still really believe in the brand. It was hard, though. Advertisers are so cautious and while we got great feedback they didn't start really supporting us until our third and final issue which by then was too late. And there's this other thing in Berlin where they think 'what's this Auslander doing trying to tell me about my city?' But, it's a wonderful creative city that I'm passionate about and I want to give people a platform, so put your Haterade away and don't read it if its not your thing. My music editor Jobot is very plugged into the DIY scene and gay scene, (even though she's not gay), and she gives a platform to those events and people that otherwise are often not written about. It's about the sub-cultures and giving them a voice.
Do you feel that you have a connection with other foreigners here in Berlin?
Yeah, you have this common love for a city you came to live in, which is a great conversation starter. I instantly clicked with the British band Myriad Creatures, my friends took me to their gig and we did a great feature on them for the second issue of BANG BANG BERLIN with them.
Did you have any influences in creating BANGBANGBERLIN?
Not really, that was basically why we did it, and why I still do it, because something was missing, and now we've filled that gap.

What are your next step regarding the project?
The plan is to get the website functioning better. Then the next step is getting the traffic up, and become a respected, interesting, exciting source. I would love to have a budget for photo essays again, to really put the photographic power back into the website. We're also starting a monthly night together with Lux 11 Hotel called The 11th Hour. We'll collect names at the door and at the 11th hour one of the guests will win that night to stay in the Lux 11. So you can sleep off your hangover in style! Me and Jo will be DJing, and the first night is on April 10th.

Lastly, what are some of your favorite music venues/clubs?
Bang Bang Club has a really cool roster, and Astra is a pretty good venue, I saw Whitest Boy Alive there, they was awesome.
[Daniel] I like the Weekend rooftop, that's a really fun place to listen to DJ's and also just chill with friends. But we also like the kniepe, the real old school German style bars, just last week in the bar on our street, we saw a hilarious AC/DC cover band there.
To learn more about Lizzy McGrath, and stay up-to-date with everything fashion, club and culture related in Berlin, visit her website. Also make sure to look out for her web-series with Palina Rojinski called "Palina and the Glitz", airing April 14th, and The 11th Hour party at Lux 11 Hotel.
Interview and text: Olivia Murphy
Photography: Ailine Liefeld