The small seaport township and yachting center of Cowes, located on the north coast of the Isle of Wight, holds many childhood memories for artist and curator, Elizabeth Coleman. Since growing up on one of the UK's most southerly islands, Liz has spent extended time in Glasgow and Luxemburg over the years in addition to diverse range of travel destinations. One day she decided to pack her belongings and family into her mini and try her luck in Frankfurt. After two years, Liz finally made the decision to permanently lay down her roots and has now found her true home.
Her apartment is filled with splashes of colour and special objects, artworks, cushions and rugs that hold their own story; accumulated throughout her many years of restless traveling. Not to be missed with her shock of springy curls, this spirited lady is content with life in Germany, keeping busy with a range of artistic projects. Lizzie – as her friends and family refer to her – not only reveals her wanderlust through the artworks and asiatic inspired possessions that line the rich maroon walls and shelves of her apartment, but also through her favorite quote by Mohammed: "Don't tell me how educated you are, tell me how much you have traveled." During a visit at her home and atelier, Liz speaks about growing up in England, her multifaceted work and her love to the unique key elements of her living space.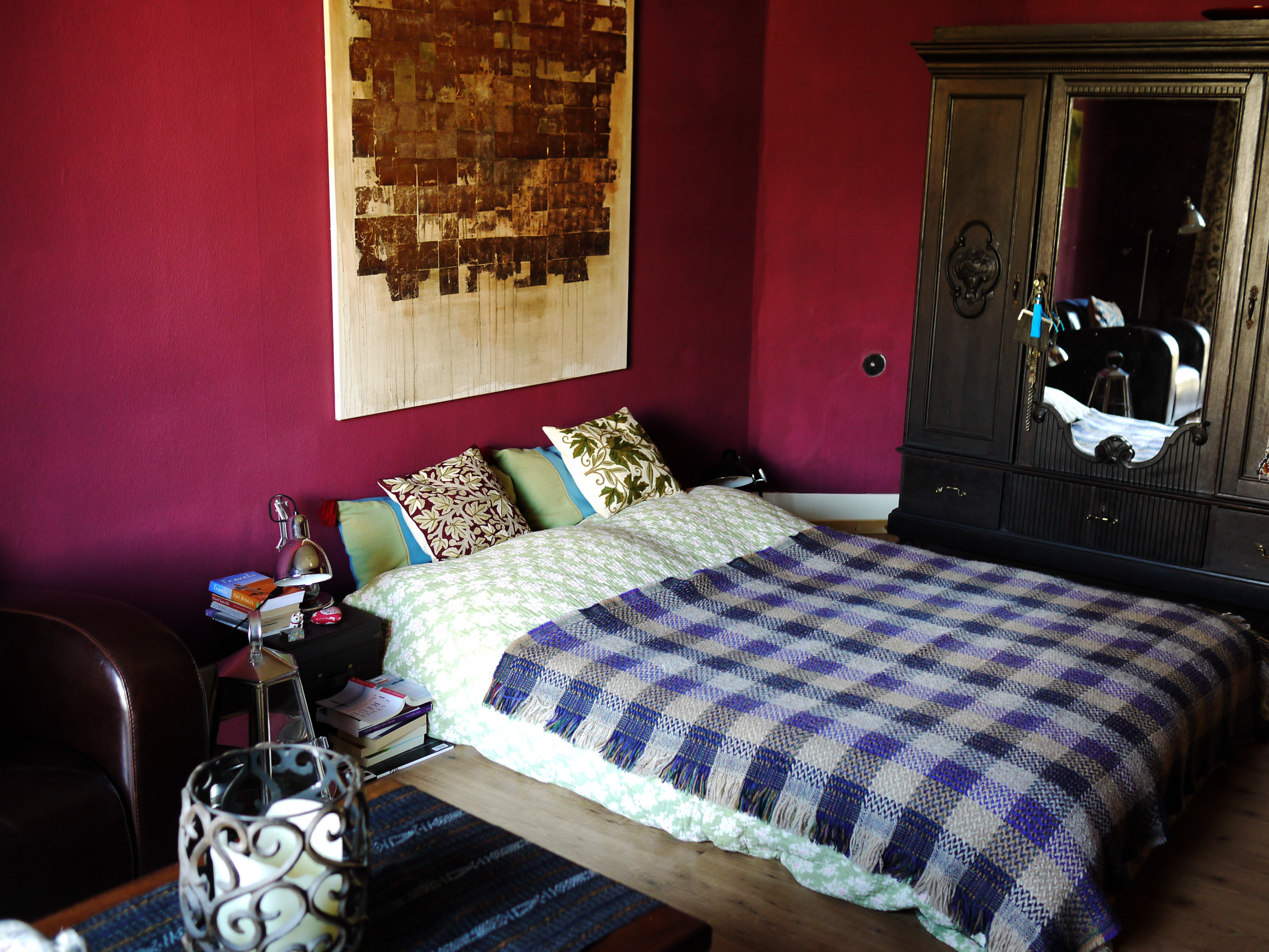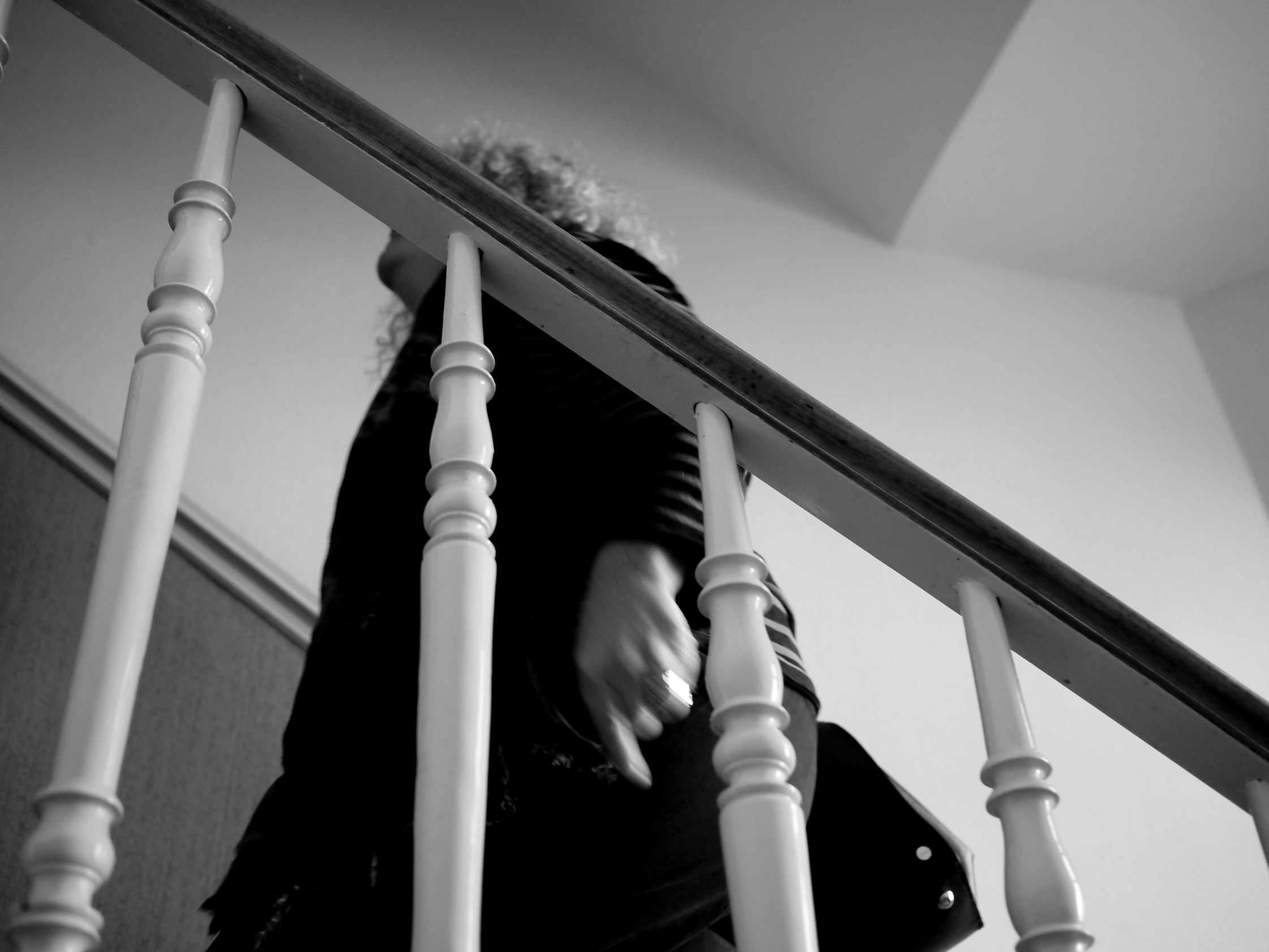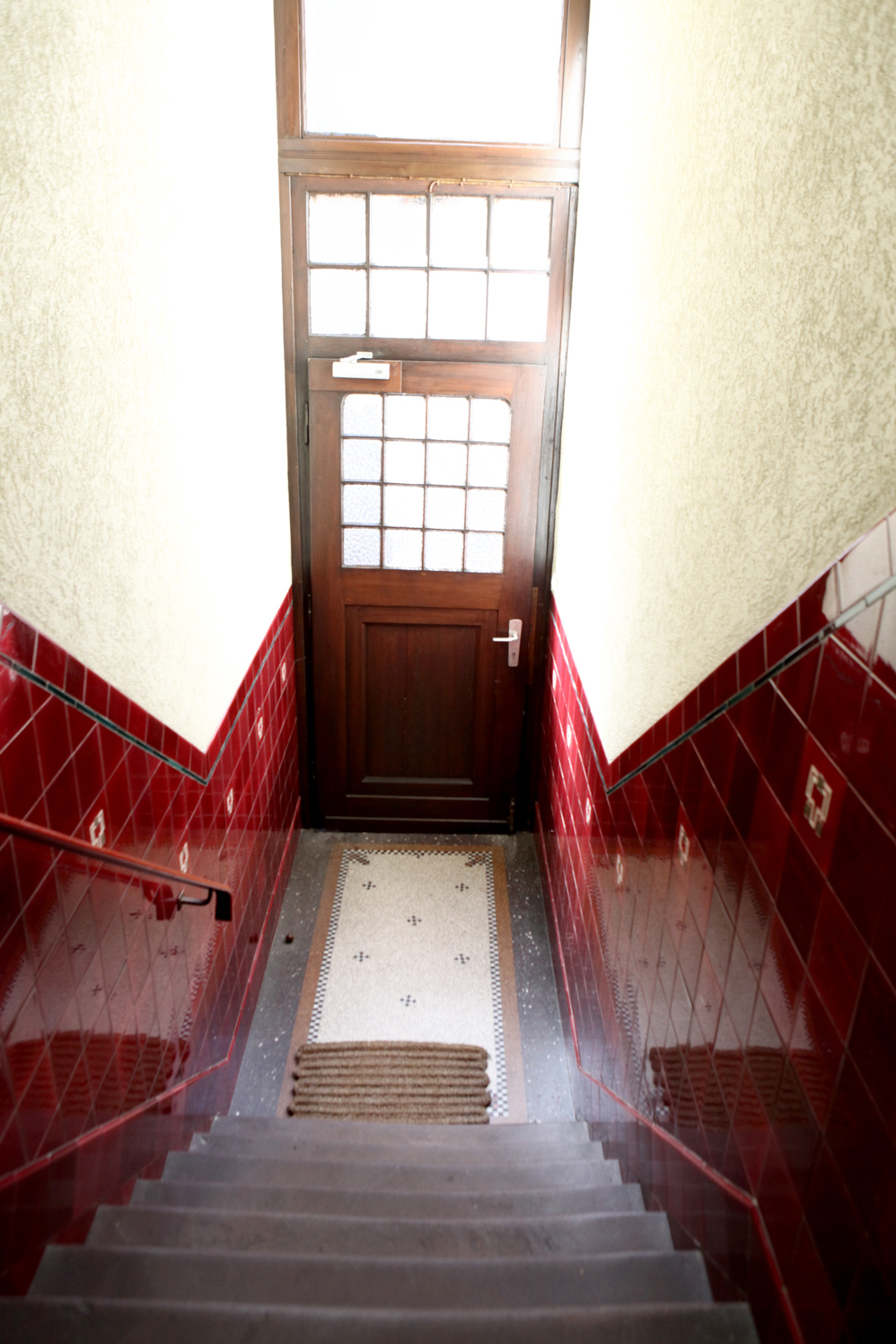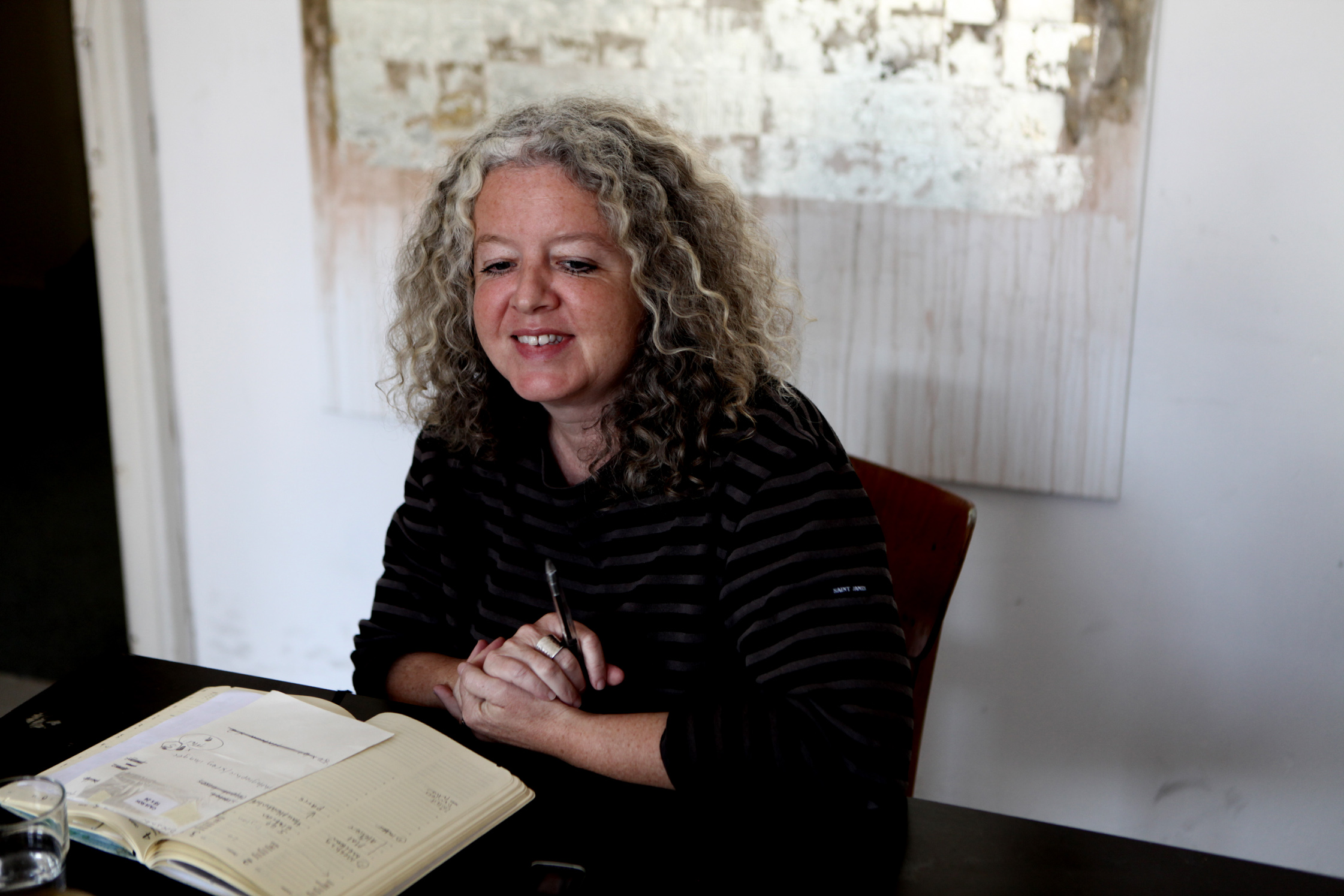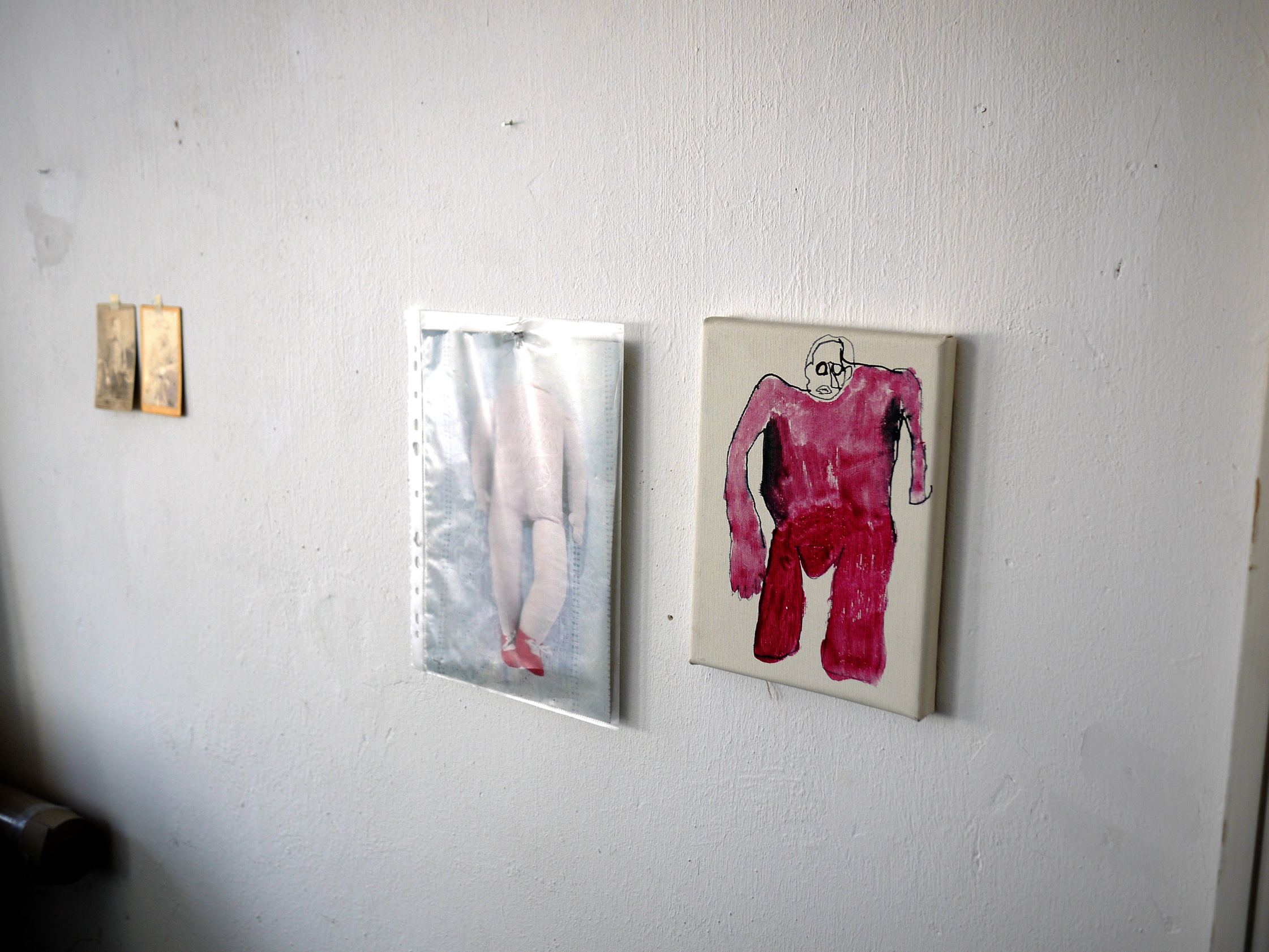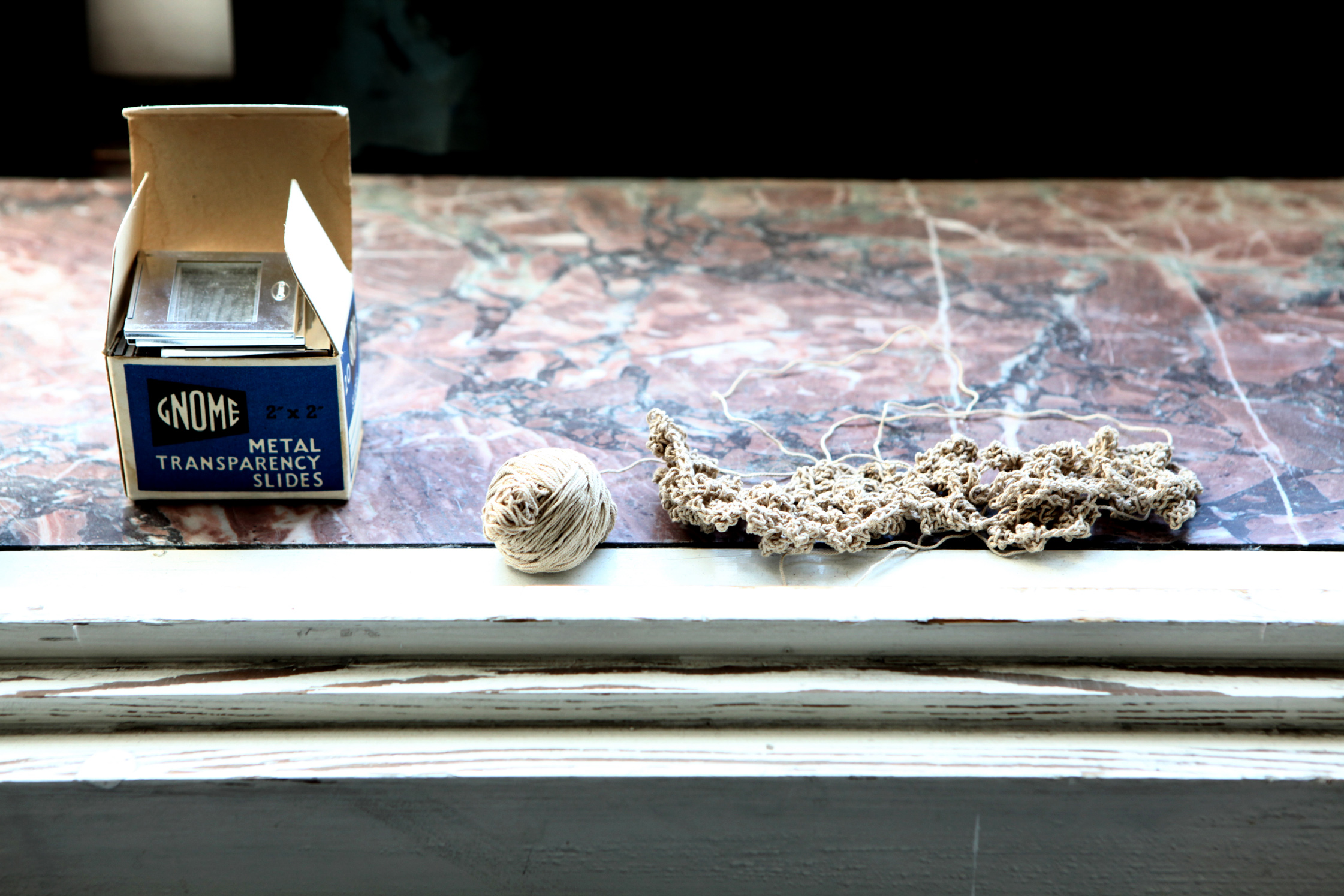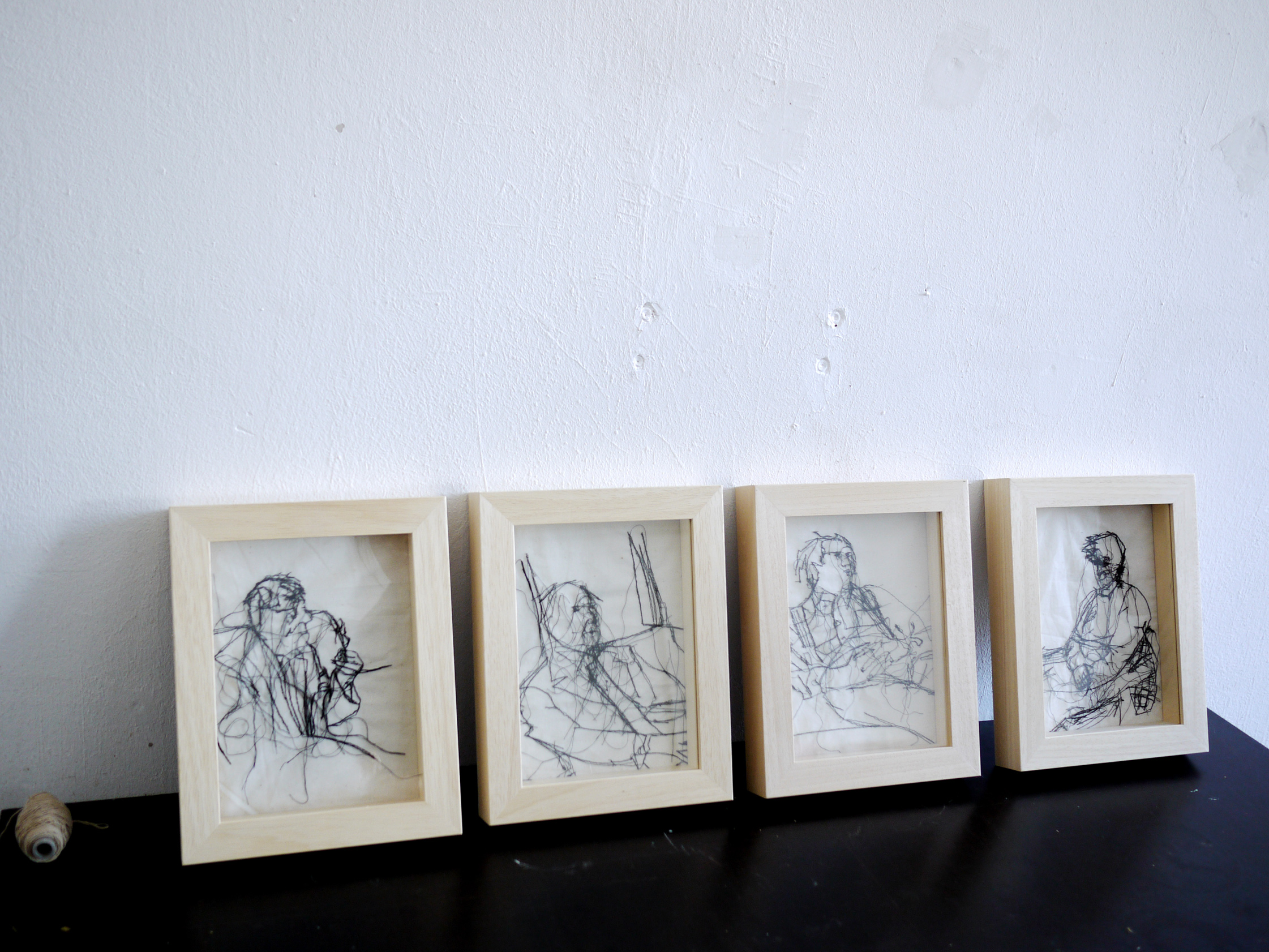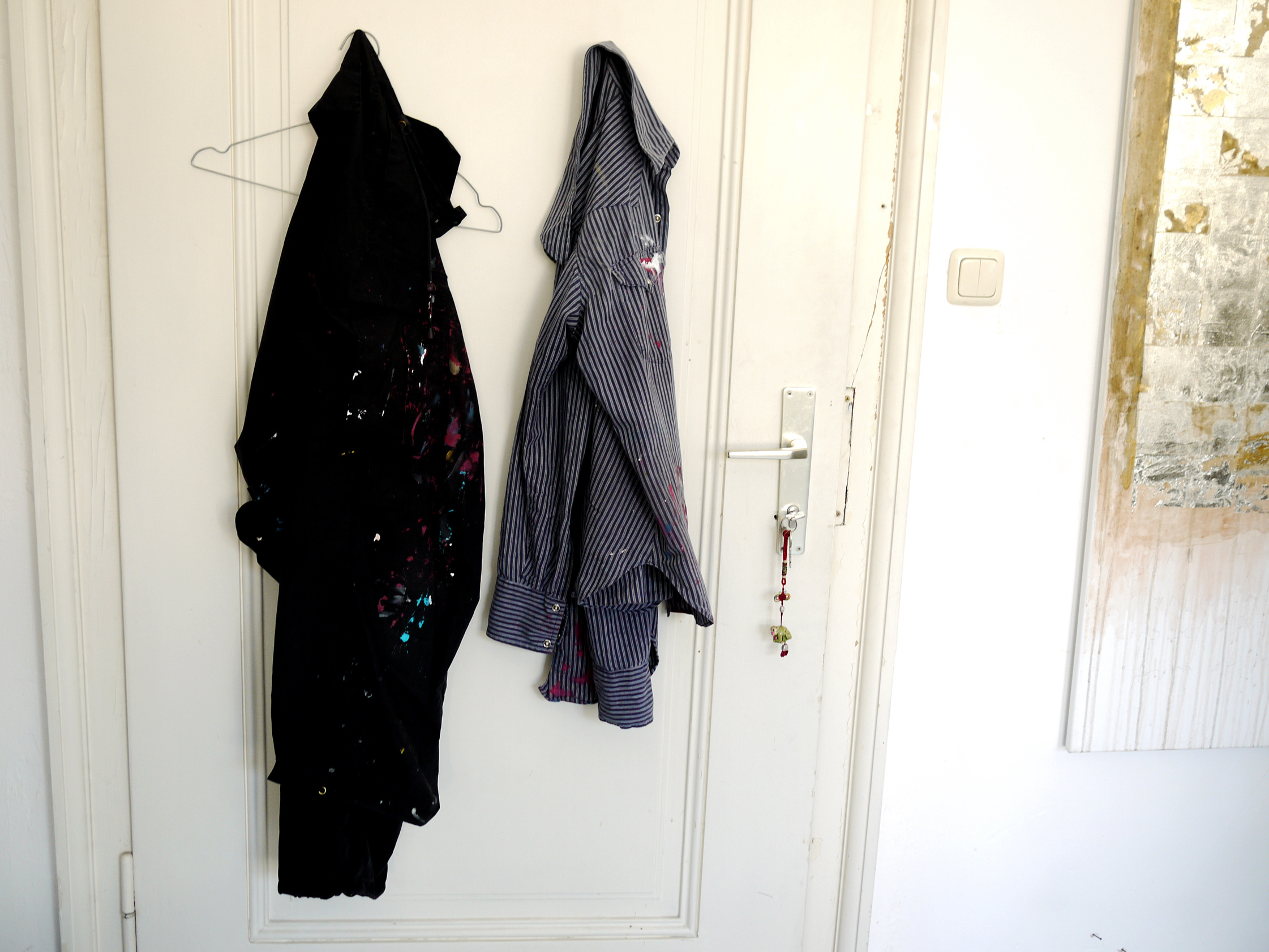 Tell us about your childhood spent in the South of England in the city of Cowes.
As you get older you realize what you had. As a child on the Isle of Wight I had the freedom to explore the surrounding fields, woodland and beaches, and my love of nature and the outdoor life has never left me despite living in a city. We were lucky to have sailing lessons instead of indoor sports when I was at school. I love the vastness of the ocean and the fact that you can walk for miles along the coastline and experience drastic changes in weather. I also love the the hollow sounds of the wind that circles and roams. We try to recapture that kind of freedom and sense of nature for our son now by going camping, canoeing and wild swimming. Even though I enjoy going back to see family and friends, I know what it means to live on a small Island and maybe that has shaped my decision to live in a country without seabound boundaries.
When did you leave Cowes?
When I was seventeen, I moved to Southampton in order to pursue my degree at Southampton Institute for Higher Education Foundation Studies. I have always loved to draw and knew that I was going to an art college one day. I was fortunate to be accepted at Dartington College of Arts.
What was special about this college?
Back then, it was a small college with only three hundred students. I studied Art & Design in a Social Context,, but was also able to visit theatre and music rehearsals, as well as concerts. It was a very general eduction of contemporary arts. It was liberal and located quite seclusively. I continue to make use of my learnings from Dartington today. The goal was to realise my own work, to display skills, work in groups or with individuals, and develop a dialogue. The object was also to develop different processes in order to generate projects.
Do you think these foundations have led to your successes in working as a curator and establishling dialogues with contemporary artists?
Yes, most definitely. After my studies, I had previously been given the opportunity to be an artist in residence at Übersee Museum in Bremen, Turmgalerie in Hochheim, and Kunst Symposium in Reutlingen. Besides this, I have led a range of workshops at Guangdong Museum of Modern Art in China, Station 17 in Hamburg and Atelier Goldstein, Frankfurt.
As a practising artist, can you discuss your artistic practice and the central themes within your work?
I create drawings, paintings and installations. I have always kept sketchbooks. When I travel I have a small one to write things down. It is always nice to revisit these faraway places through little snippets of visual and written information. I love how the books start to look a bit battered, don´t close properly and become objects in themselves. This is the main theme of all of my artistic work "bearing witness to the passing of time". Whether its making outdoor pieces with found materials, photographing and leaving the work to the elements, or other human interventions. Or my goldleaf works on canvas which are in a state of change due to the atmospheric conditions which leads to an oxidation and allowing other colours and tonal qualities to appear. I enjoy layering an using different materials, it keeps the ideas flowing; being confronted by a material and discovering the possibilities it holds. The materials become transformed in order to show juxtaposing contrasts.
Dialogues are also an important element of my work. In my installation, "Witness to the Passing of Time," different dialogues intertwine and including writing on the wall that speaks to etchings of a past time and references the impact of natural elements.
What are you working on at the moment?
Besides my own work, I am currently establishing a group of autodidactic artists who need a space to develop their pieces. It's called Raw Art Foundation and it is basically an experimental laboratory. Right now there is a collaboration with OhrenKuss and an artist from Raw Art Foundation, who creates illustrations.
Is it fair to say you are influenced by literature, and the power of words?
Yes I have always read a lot, I was taken every Saturday morning to the local library in Cowes, which was in a lovely bulding with creaking wooden floors. All my work on canvas has text or quotes in some form, from literature, newpaper headlines, quotes of conversations, lines that I have written. The written word is always my starting point, a trigger to produce a piece of work that encompass´s this element in some form, a collage of thoughts. I like an element of experimentation and enjoy creating a laboratorary space that allows for a constant dialogue in order to articulate the art making process.
What are you currently reading?
Esther Freud "The Sea House." Books are often a starting point for my work. Whether it is a special material or an atmosphere created through a word, I find inspiration in many places.
What is it like to work in the atelier?
One is able to get in contact with others, which as a solo artist, it is nice to have that interaction. Many work in other locations in addition to the atelier. It is interesting to see how other artists work. Atelier Frankfurt is an arts organization and exhibition space that supports artistic processes and offers 45 artists working in all mediums the opportunity to rent an affordable studio space in the city centre and provides an international platform for presenting work.
What does a city like Frankfurt offer to an artist?
A cheap atelier, exchange programs, a vast network, and the possibility to be part of Frankfurter Atelier Tage.
What do you like about the lifestyle in Frankfurt?
I appreciate the city's internationality. In comparison to Berlin, Frankfurt is a small and compact place. One is able to reach the opposite side of the city by bike in no time. It is also very multicultural. I have traveled to many different places, like Indonesia, Nepal, Australia and New Zealand, however, I always like to come back here. I feel that Frankfurt offers the same kind of variety. The only thing I really miss is the ocean. But for that I can visit Istanbul or Copenhagen, which are two other cities I really like very much.
Do you have any favorite travel experiences?
I was lucky enough to vist the studio of Páll Guómundsson in Iceland. He is a muscian and artist and builds Xylophone-like instruments from stones which he collects from around his house.
The instrument is called an Idiophone and he was making one for a Symphony Orchestra in England. Sigur Rós had also recorded in his studio. Páll is also an amazing painter and had painted the band as they were recording, which hangs in his studio. I was struck by the creative output of this man, living in this wildly beautiful landscape. I have a lot of music from Iceland, which portrays the landscape perfectly.
Do you have a favorite souvenir from you travels?
Many things that I own have a story connected to it, one of my favourites is a carved Asmat shield from Papua New Guinea. It became such a nightmare to transport and get on flights with, so I ended up posting it from Kathmandu. I never expected it ever to arrive, however, months later it arrived in Frankfurt slightly battered but in one piece. The postman couldn´t resist asking what the hell it was. He thought it was a surf board. From then on it became the Asmat surfboard!
Working as a curator and artist simultaneously, do you see any conflict in performing these two roles?
I see no conflict in the two roles. In some ways they can be complementary. As an artist collaborating with other artisits, there is a constant flux of ideas and often one has to take a step back to view the work as a whole and edit or redirect the end product. I try as a curator to articulate a process with clarity using an interdisciplinary approach, and this feeds into my studio as a space to create installations and juxtapose works.
Can you tell me something about Art Brut?
I have been working for a long time with so-called 'Outsider' artist. Art Brut consists of work produced by people that due to different reasons are not indoctrinated nor socially determined. Every individual who produces art outside 'the fine art system' creates a work that stems from the very profoundness of the self and does not exist for an audience. The works are original concepts of subject and technique, that do not follow tradition nor trend.
You were the guest curator at the Mousonturm Lüften Festival. What was you interest in selecting artist Yvan Rodic to exhibit?
I was particularly interested in Yvan's visual diary and blog. Naturally the theme of style contributed to the overall selection for the festival, but in addition to this, the overall thematic gained an interdisciplinary mood through the different artists included. Rodic's idea was to show his project in which others had the chance to participate by taking pictures and essentially becoming part of the exhibition via his installation 'Facehunter'. My intention was to show that many people are able to reach the same level with what he does with his blog. I also wanted to reveal the fact that he travels a lot to places that are no necessarily popular or well-known. He shows this in a strangely positive manner. It was interesting to see how many people approached him during the festival. For instance, there was a doctor from Glasgow who visited his blog every day. He said he would sit inside a room and that Rodic's blog provided a window to the outside. All sorts of people take an interest in his blog, which makes it very universal.
Not having grown up in the internet generation, what do you find fascinating about it?
I read about Rodic online on The Guardian. It is crazy to think about the rapidness of things. I saw his blog and wrote him that I was very interested in this work, to which he immediately replied. I like the internet because one receives an answer right away and can find things out immediately. One doesn't really go anymore to a library. The internet has become an indispensable research tool.
You have a twelve year old son. How does he view his mother's profession?
He finds my job very interesting. He is often present when I am working with groups. It is normal for him to be among many people and be surrrounded by creative discussion and practice. He is very confident.
Nowadays do you consider yourself to be German or English?
I like to think I am first a European. I have lived longer outside the UK than I have lived there, but I will always be a Brit, who happens to live in Germany and considers it home. My accent when I speak German always gives me away, I don´t think I will iron that out, people are always politely intrigued when they first hear me speak, its often how conversations get started.
What are your favorite places to visit in Frankfurt?
I love to walk or cycle along the Main, whether its visiting the many museums or the fleamarket on a Saturday morning and having coffee at the Main Cafe. I tend to seek out the small independent shops in Frankfurt. Living in Sachsenhausen I am lucky to have Brückenstraße just a walk away. I love stopping at Lieblingsstücke . Also I have recently discovered the blanket store, a wonderful collection of blankets from around the world.
And through visiting the exhibition "Trading Style" at the Weltkulturen Museum, I got to know the Azita store which has lots of great pieces.
Do you have any favorite weekend getaway places outside of Frankfurt?
One of my favourite places for a weekend away is Gent, Belgium. Luckily when we drive to England, we pass Gent and often make a detour to spend time there. Closer to home we are often out exploring, in our Camper Van along the Rhein and the Lahn.
Liz it was lovely to spend some time with you in you home and hear about you artistic practice, travels and life growing up in Cowes. To see more of Liz's work view her blog that acts as a visual diary
Interview: Meltem Toprak
Text: Rachael Watts
Photography: Nada Lottermann and Vanessa Fuentes