The word "Photographer" appears when one wishes to search for Linda Bujoli on the internet. But there is more to Linda than just photography. Poet, musician, model, artist, she seems to live several lives, all during which her curiosity knows no end.
To get to Linda's apartment, you have to walk through two glass doors and climb up a large wooden staircase, which ends under a beautiful glass ceiling. Even by Parisian standards, Linda's building is particularly charming. Once I reached the apartment's door, it is the photographer who opens: Linda is talking to a sculptor about her next project – which she will tell us about off the record -, in an adjacent room.
The first contact with Linda is not visual; it is the sound of her voice in the adjacent room and later on of her ballerinas cracking on the wooden floor in the living room while we wait for her. To make herself and us more comfortable, Bujoli offers us mint tea, home made in her cute kitchen, which is surrounded by various objects and paper cuts.
Linda is all about light. The lights in her apartment for starters, chosen carefully for many years, made of steel or glass, project shadows and colors on the walls. Secondly, the light of her photo shootings, for magazines such as Citizen K or Harper's Bazaar, and for artists such as Marianne Faithful or Air. These lights can surround, underline, or eat her characters up. We settle down in the living room and Bujoli climbs on a couch to take some pictures. The interview can start.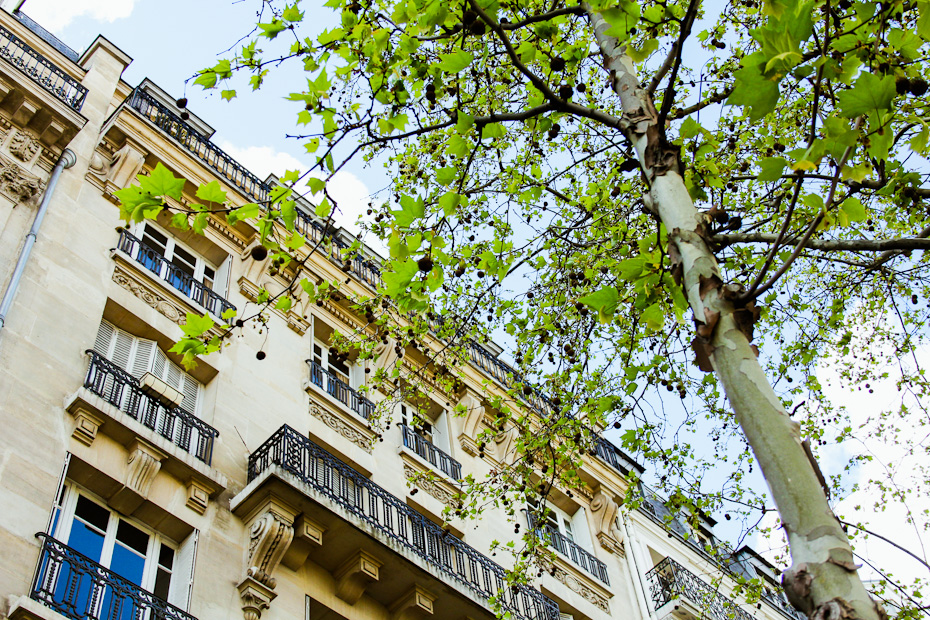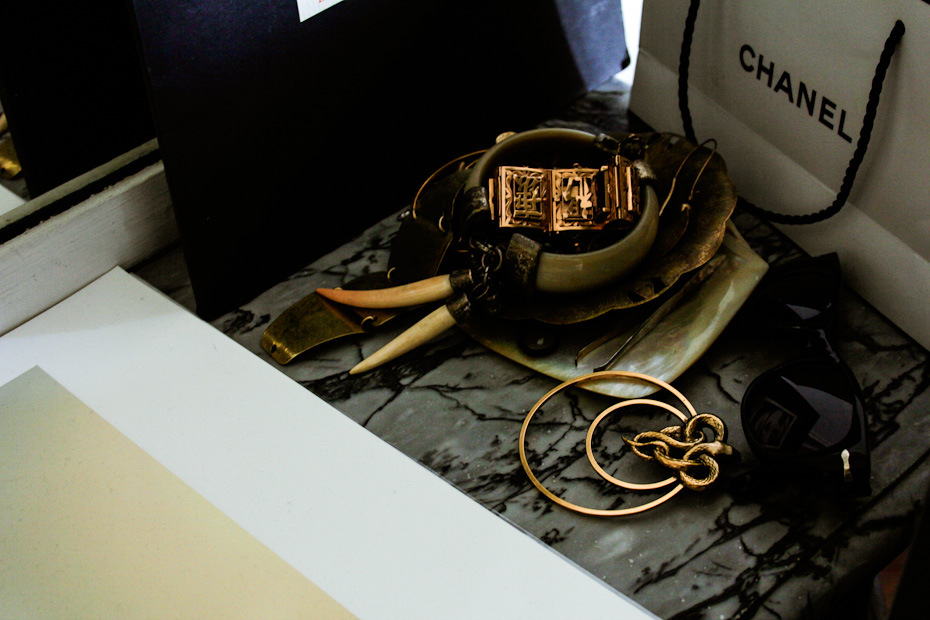 Could you describe your interior for us?
First of all, you have to bear in mind that I moved four times. Due to this, the objects you see in here have all moved from apartment to apartment, city to city. Each object has its own history. I only buy beautiful things and it has to be love at first sight. I love lamps and its light. I love having a space in which you can breath, something super clean. A mirror, a nice couch, an armchair, a nice lamp, and basta!
Your name, Bujoli, sounds Italian…
No, it's not. It's from Corsica, actually. It's complicated: my father is from Corsica and Vietnamese, and my mother is from Bretagne. They had me when they were young, my mother was only 20 at that time. I was born in Saint-Brieuc, so I grew up near the sea. My father was not there during my childhood and I think it played a role in my decision to leave Paris at 17. I was raised by my grand-parents mainly, since my mother was very young.
Did you see your father again since that day?
Yes, I saw him at age 14, and I went with him to Laos to find my roots. During that trip, I realized a photo series for Citizen K. Some time later, my father rejected me, so I went to Ventiane. I don't really know why, a family mess if you want. That's what made me who I am today. And it wasn't easy! I am Asian in my relation to others, in my modesty, my reserve, my being distant also… No, not distant, that wouldn't be true. But it's funny because I feel Egyptian. I love the Orient, the tales, the relation to women, the sensuality. I feel oriental.
What did you do in Paris?
I modeled for 10 years, it threw me into a adult world. I had some deep, exceptional encounters. Luckily I avoided bad ones, which obviously exist in that world. Probably thanks to my good star… After these 10 years, I was like a sponge, I started writing, I wanted to become a director. Then I started photography at 26, and eventually I didn't become a director. Above all, I wanted to be independent, that's something which is rooted in me.
If you had to sum yourself up, as a photographer?
I am self-taught. Usually, you follow a course and you have references, which you use in your work. I didn't follow any training. I was like neutral ground at the beginning. I wasn't shut, I found my own identity much easier. Comparing my work to references came much later, such as Hans Bellmer and his dolls. And I have a constant thirst for knowledge, an infinite curiosity. I was immensely lucky to go out with brilliant men, who deeply loved sharing, who cared for me. Learning comes through encounters, through people who spark desire in me.
Were you drawn to photography right away?
Yes, the transition from fashion to photography was natural to me. Thanks to my contacts, I gathered relations all through my 10 years of modeling. But fashion is a system which brought me back to my past, with no lightness. That's why I decided to stop my photography activities for one year, and went to Köln, Germany, to live with a musician.
And what did you do during that year off?
We played in places, I sang a little, and played the guitar. All that still nourishes my photos today. I work in resonance with music. At that time, I started writing concepts and poems. For example that sentence, that I wrote during a collaboration with the group Air: "The soul walks through the field in the blue monochrome." What I liked was that, as a contrary to fashion photography, my activities were focused on meaning, not only on the sublimation of clothes.
Do you still want to travel after all these different movings?
The field of possibilities remains open of course, but you have to settle down in order to build something. I left for Germany to live with the man I loved. There, I enjoyed nature, anonymity and silence. But it was a way to escape my life, before coming back to Paris. I love Paris because there are so many cultural activities, exhibitions, concerts. I love the architecture. What I like less is the tension you feel, the noise. When I am in need of calm, I meditate. Every day when I wake up, I immerse myself during 20 minutes, I "cut." Meditation puts space between you and negative things. It's physiological. I find myself in a modified state of mind. It's not easy to explain, but it takes your fears away.
So you became impossible to hurt, nothing is upsetting you anymore?
No, human nature still is. Human nature is disappointing and complex. I have very high expectations in my relationships with others and with myself. I am very upright and honest. And most importantly: I don't lie. I avoid conflicts as much as I can. Sometimes I can be vehement, but it is no longer a part of me.
Light also seems to play an important role in your life and in your work…
I love materializing light within a pictorial construction. I often create a universe in which I take a photo of the character. I can be quite directive, or on the contrary, let the character live and move in that light. You have to remain open to experimentation, to the return of the character, even. I have a good souvenir of the shooting with Léa Seydoux, for example: we worked a lot on the idea of breath, and she played along. To me, photography truly is the writing of light.
How do you feel when you think about the years to come, the future projects?
One thing is certain, I feel ready. I want to open the field of possibilities. You have to do it, you have to do it. People know me as a photographer. I think it is Montaigne who said: "The toughest is to know what you want." What I want is to keep doing exhibitions, to sell, and collaborate on various themes. Currently, I am working on a project that I can't really talk about, but it will focus on women. I am preparing myself to live a third life, and I want to show the invisible.
Thank you Linda for your warm welcome and your delicious mint tea.
Photographies : Schéhérazade Abdelilah
Interview : Léon des Lilas