Los Angeles-based artist Lauren Spencer King is quietly making a name for herself with a body of work that is deeply personal, but also public and participatory. Her work extends beyond the physical to include teaching and healing. She hosts regular workshops educating people about the meanings and therapeutic attributes of gemstones, minerals and herbs – information passed down from her mother and her grandmother. She is taking classes to work with children, helping them to deal with death and loss, two subjects she also often explores in her work. She is planning an active meditation and drawing workshop at The Hammer Museum's Arts ReSTORE LA project, a month-long project to re-energize a community in Los Angeles with the creative force of local Angeleno artists and craftspeople.
Born the daughter of an artist and a racing car driver, her world is filled with the artifacts of a life less ordinary. Her Silverlake home possesses a rare quality in today's world of fast furniture and new originals: layers of time and meaning. Everything has a story. The chair in the corner of the living room belonged to her grandfather, a prominent architect in the Midwest. An ancient birthing stool, picked up years ago by her mother on a trip to Africa, sits beside her bed. A harp belonging to her grandmother, a pianist who studied at Fontainebleu in France, sits in another corner of her bedroom. A poster from one of her mother's shows in the 70's, aptly titled, 'I Am the Summer of My Ancestors', hangs in her living room.
Over homemade golden almond milk, Lauren talks about growing into a legacy instilled by generations of artists, her moon writings and getting ready for an upcoming exhibition about darkness.
This portrait is part of our ongoing collaboration with ZEIT Online who present a special curation of our pictures on their site.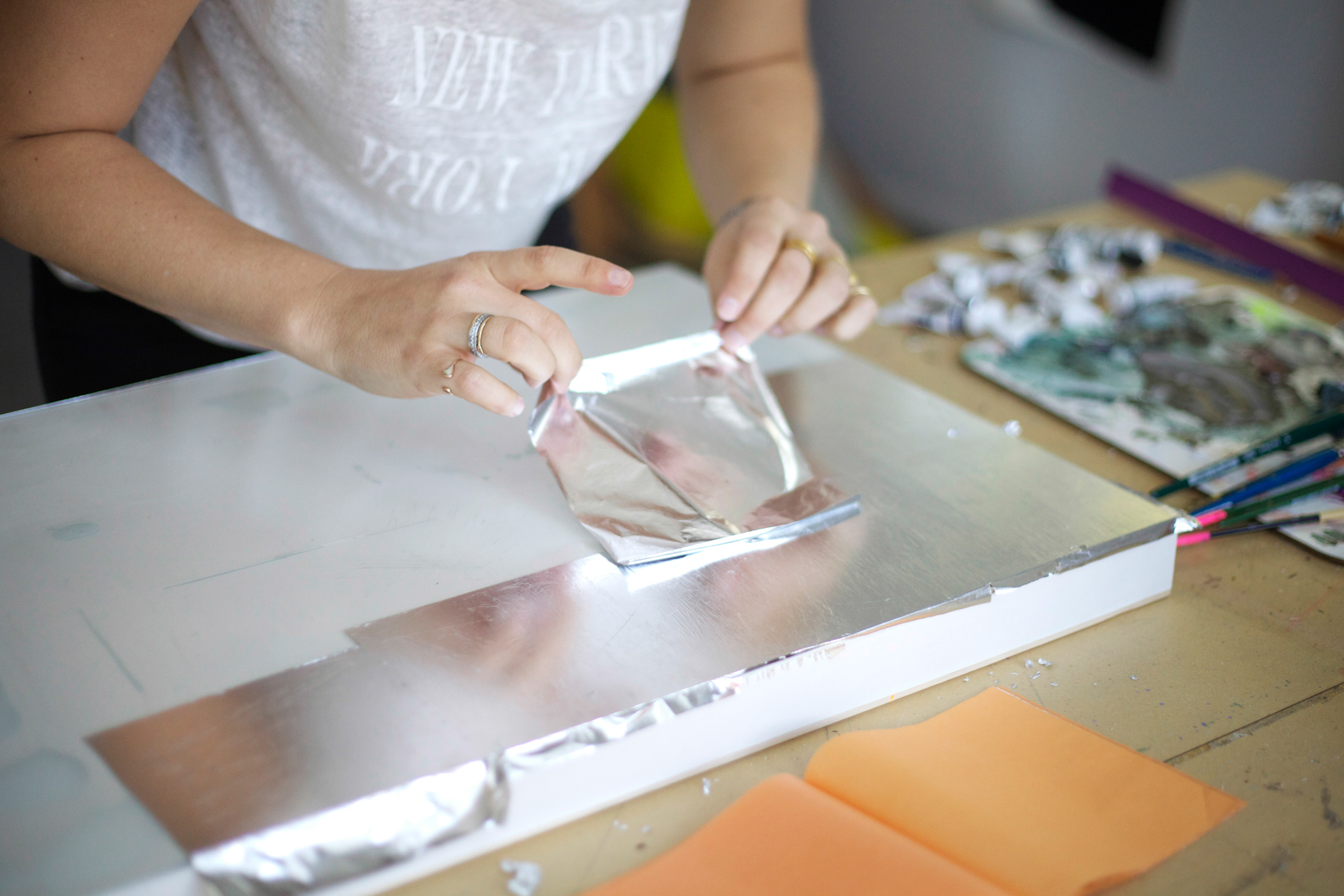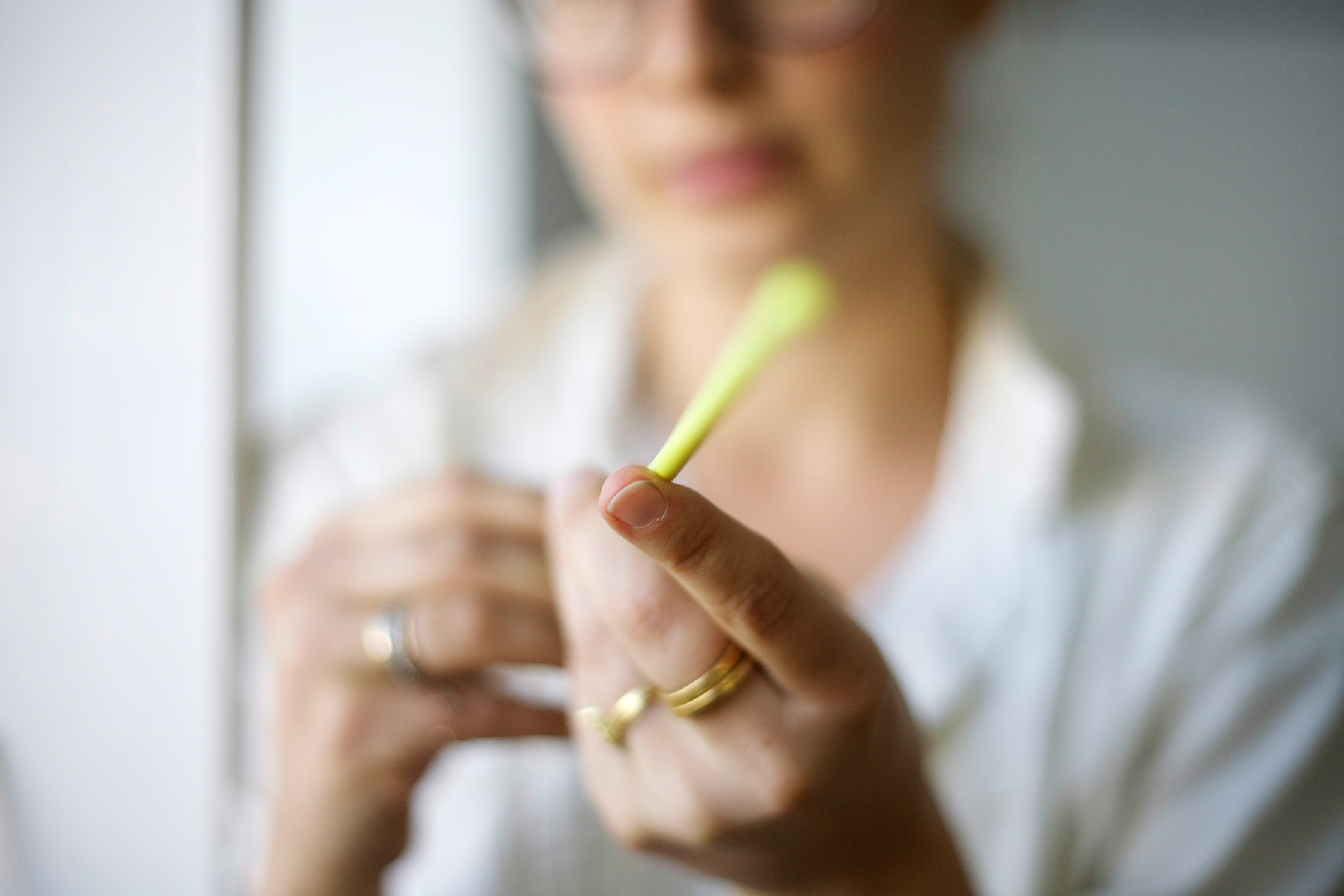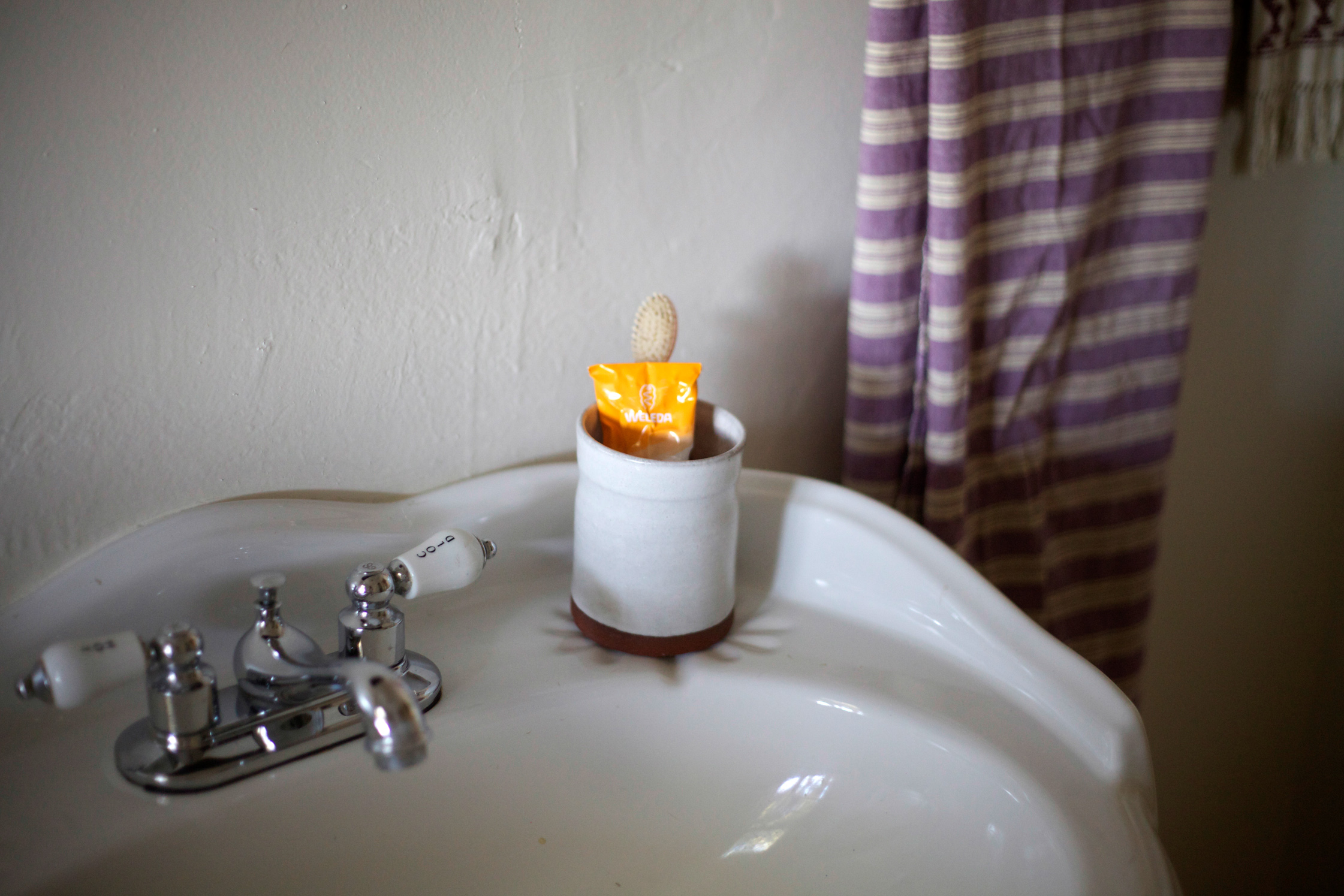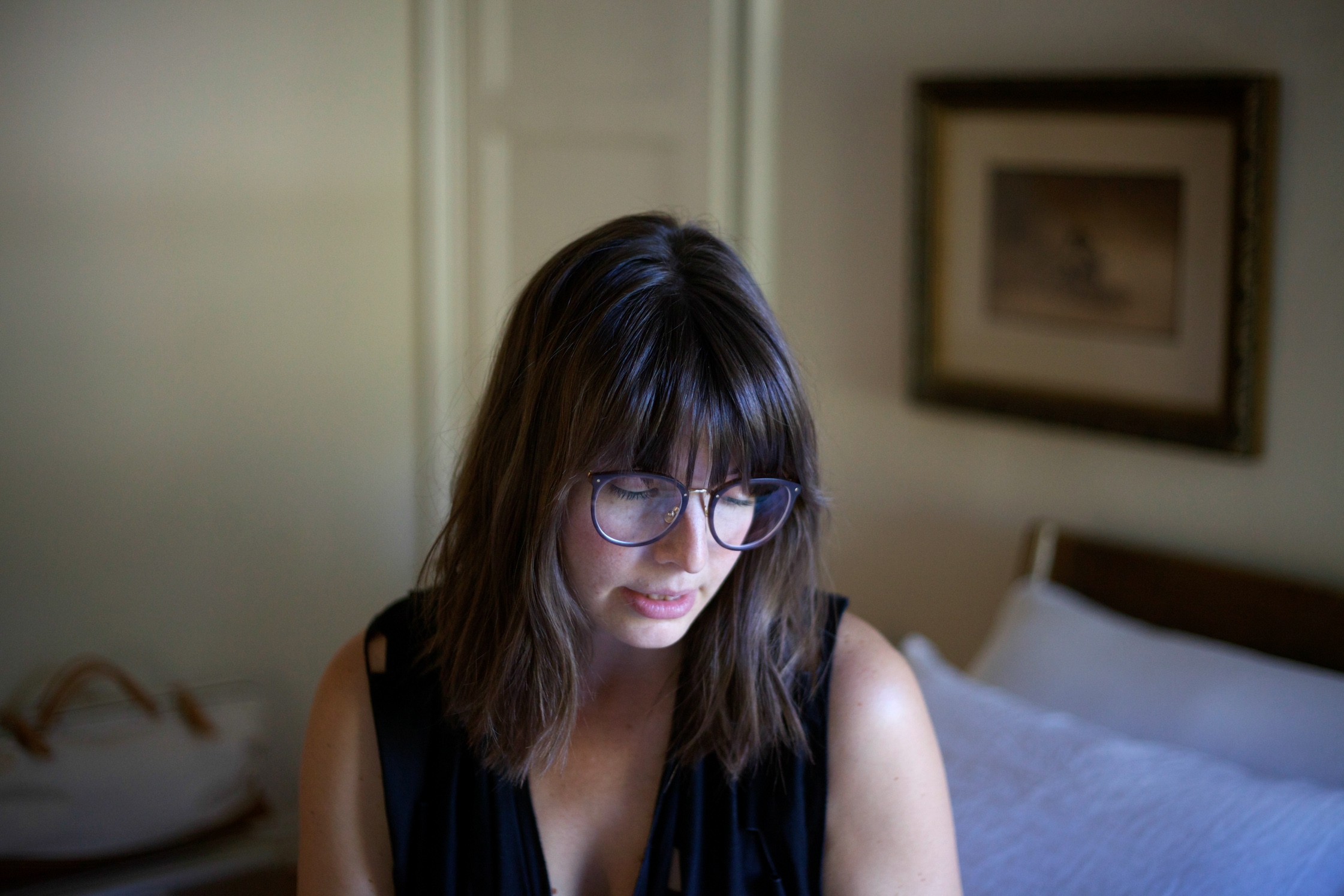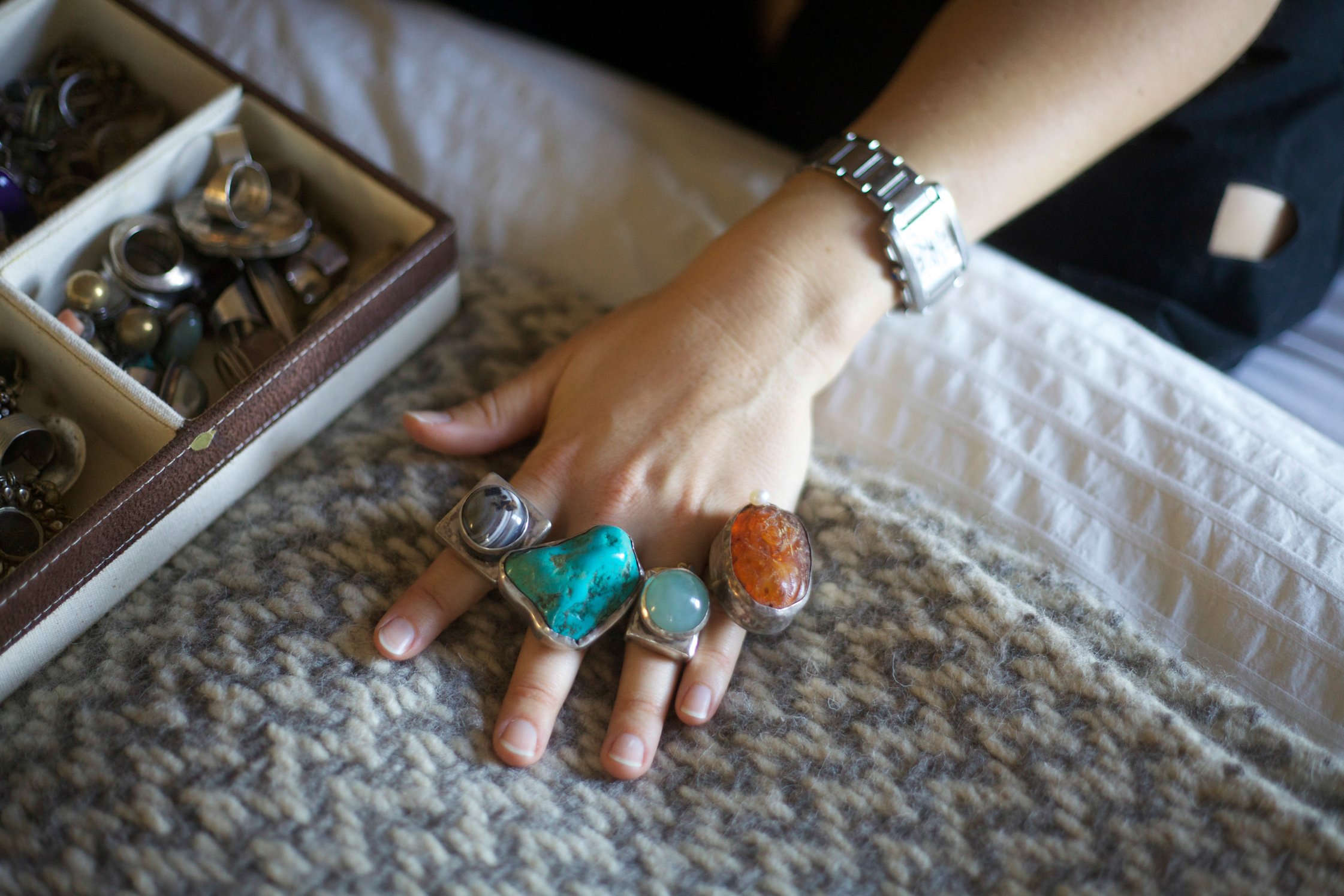 You come from a family of artists. Tell us about this, and what it was like growing up in an artistic household.
My mum studied sculpture in school and then afterwards started making jewelry. Her mother was a painter and taught dress design at Washington University. I was extremely close to both of them. I used to go to my grandmother's house after school when I was young and paint with her, or play in her Japanese garden. She was really the one who taught me to paint.
Being around both of them was incredibly inspiring. I learned so much from them – about being a hard worker and doing something in life that you are passionate about. Being an artist was so natural in our family, I never had a moment where I wanted to be anything else or felt like someone wanted me to take a different path. And that was such a gift. It's something that has kept me going when things get challenging. Because there are times when being an artist isn't easy. However, I have such a sense of purpose and have such faith in myself, and I know that is because of how I grew up.
Your dad was a racing car driver. How did a racing car driver and an artist meet?
My dad's mother, Audrey, used to race Jaguars. And her father raced too. So it was something my dad grew up around. When I was young I would occasionally go to watch, and now I try to go when I can, I love the sound and talking to the mechanics. He drives for and runs the Historic Grand Prix. They race historic Formula One cars all over the world. The fact that half of my family were artists and the other half racers overlapped in the way my mum and dad met. I think their parents had put them in contact and they went for a bike ride. My dad was telling my mum about racing and how he needed someone to weld something on his car. And she said, "I can weld!" The rest is history. I mean, a woman welder! It's the reason I know how to weld, and also went to driving school.
Tell us about your mom, and her outlook on life. How did it inform your pursuits and how you live today?
She was magnetic and inspiring, always making work, even excited by an idea she had had in a dream the night before. When we were out and we would see something great she would look at me and say, "I can make this!" And she did. She would go home and make it, and it would always be better than what we saw in the store. I loved this part of her, this part that was so willing, resourceful, creative and confidant. Growing up with this example shaped so much of who I am as an artist, it allows me to have such freedom. I never feel held back by the limits of my knowledge or ability. I'm always willing to learn a new skill, or make it up as I go, and always trusting that I can figure it out. Even if I have no idea how to do it I'm the first to say, "yeah, I can make that."
You've inherited the body of her work – and your grandmother's. Tell us about these two collections.
I have all of the jewelry my mum made from her personal collection, four decades worth starting in the 70's. It's so amazing to be able to look back and see her different styles and influences over the course of her career. I love looking through the collection, remembering when she made something specific, what event she made it for, or where she wore it. Each piece has a story. She used such amazing things in her work, things she collected during her travels all over the world like Ethiopian silver, ancient Egyptian carnelian, African amber, prehistoric fossils, and pre Colombian green stone. And she would mix them with the most outrageous and gorgeous gemstones. She loved the juxtaposition of something refined with something raw. I believe that each one holds the feeling of her, a different aspect of who she was, and when I put something on I feel her so close.
I also have all of the jewelry my mum made for my grandmother! It's amazing to have both collections. I can often tell what belonged to my grandmother because it's larger in scale and a little more unusual. She had arthritis from working with her hands so much and had this theory that if she wore big rings on every finger that no one would notice her hands, but the funny thing was that it just made them want to look closer. I also have many of my grandmother's paintings. They are amazing, and reflect how she saw the world – colorful and vibrant, dreamy and full of wonder. Both my mother and my grandmother believed in the power of beauty, and surrounded themselves with it in their homes, and also created so many beautiful things that went out into the world.
What themes and concepts do you explore in your work?
The unknown. My work is really a place where I try to figure stuff out, it's a place where I can dive deeper into things. It's often very personal experiences tied into things of a grand scale: natural phenomena, the cosmos, crystal caves, things that are ancient, elusive, mysterious, unexplainable, unseen but felt.
You work with children. Tell us about this.
This year I have started to train to be a grief counselor for kids. The experience of being with my mum both before and during her death was the most amazing experience of my life. It was profound, both in the amount of pain I felt and also the amount of beauty and magic it held. It changed so much in me. I had this new awareness of the range of my emotions, which were all coming from my experience of grief. It was so empowering. I believe that grief holds all emotions, and that it can be such a gift if you allow it to be. It's really what you do with it, how you allow it to move through you and open you up. So much healing can happen.
I have also done a lot of healing and meditation work, combined with my experience of being an artist it just seemed like a natural fit. And so far I love it. It's so interesting, and I think it is amazing to have the opportunity to hold space for kids during such a profound time and to help them get in touch with and express their feelings about death and loss. I believe in having an open and honest dialogue with them about death, and we shouldn't deny them understanding and experiencing something that is so much a part of life.
Tell us more about your interest in the cosmos.
During a period of time when I was reading a lot of alchemical texts I fell in love with this concept: As above, so below. I started looking at the cosmos as a mirror, what was it reflecting back? It is a place that holds so many unknown mysteries and it plays a huge role in divination through astrology. I have always had a strong connection to the moon, maybe it is partly due to the fact that I was born at the exact time of the new moon. In an effort to understand how it effects me on a deeper level I started writing about the moon and its phases. Each new moon and full moon I sit down and listen. I write about how I feel it is affecting me, what I notice happening in me is usually a reflection of what is happening around me and in others.
It's strange but true, that the more personal you make something the more universal it becomes. Occasionally really amazing people write to me sharing their stories and how what I write and share has affected them. It's incredibly humbling and heartwarming. It is a constant reminder that we all are so connected to everything.
What are you working on now?
For years I was working on a body of work that had to do with the relationship between pleasure and grief and how they are both felt similarly in the body through the intensification of the senses. The work was bright and reflective. Lots of mirrors, pink and vermilion! But over the last year it has shifted so much. It took me a year to sort through my family home and it sold earlier this year. During all my trips home I was spending lots of time in the woods, taking walks, photos and recording sound. I started doing a series of paintings of the woods at night called "Witnesses". They are almost black. I just had a show of them along with a group of sculptures about crying, and drawings of dolmens. The exhibition is called "In the Darkness" and it will be held from the exact times of sunrise to sunset. I wanted to juxtapose the darkness in the show with the daylight hours. I liked the framework of the natural light of the day. The work is also meant to be seen in daylight, as the light changes how the work is experienced. The show is the beginning of my exploration of darkness as a material, both formally as well as the darkness of emotion that is in me. I am fascinated about the mystery and power of the unknown.
You work with many mediums. Why? What do you love about each one?
I think mostly about light, and how the materials I use interact with it. How light passes through it, reflects off of it, or gets absorbed into it. I primarily work in watercolor, and with paper and glass. I also use other things to make unusual surfaces like mica, metal leaf, or ground up minerals like rainbow hematite. Recently I have really been loving drawing with graphite, when it gets really dark it creates a surface that is quite reflective. I love the blackness of it as a material, it's so physical in a way.
You often incorporate gems and minerals in your work. Is there a special significance in these materials for you?
Because my mum was a silversmith I grew up with rocks, minerals and gemstones around me. When she died they became really important to me and I started my own collection. At the time without knowing it I think I was searching for a link to the past, an ancient past, to connect to something much greater. I think of them as record keepers. I also really love learning about their legends and properties. Their shapes, brilliant colors, and how they interact with light inspire me in the studio.
You got your Masters at Art Center College of Design in the midst of some of California's most influential, living artists. What was your time like there?
I was really lucky and got to work on a daily basis with such artists, critics, and theorists as Patrick Hill, Kim Fisher, Tom Allen, Lecia Dole-Recio, Diana Thater, Bruce Hainley, Lita Albuquerque, Amy Gerstler, Walead Beshty, Jason E. Smith, Uta Barth, and Jeremy Gilbert-Rolfe among other amazing visiting artists who would come and give talks. It's hard to say who inspired me the most. It was really a mix of the wonderful and interesting conversations I would have in the studio, and then some that were really upsetting and difficult. There was a lot to work against, and in a way that forced me to learn to stand up for myself and my work. It made my work better. You can get so caught up in what you read in school and what others are saying. Right before my final review of my thesis show I remember Jeremy, who I worked closely with, said to me as we were walking in, "Just insist this is Lauren's point of view." For many reasons that's something that has stuck with me ever since.
You lived in Paris. Talk about your time there and how it influenced your work.
Well, when I was getting my undergraduate degree my work revolved around Paris, and the complicated relationship between it's history and our romantic notions of it through songs, books and movies. When I graduated I moved there for a year. In the beginning I wasn't sure how it was going to influence my work, I was afraid that it would change it, and it did of course. One thing that it did was instead of living in LA and longing to be in Paris, I was living in Paris and longing for LA. That year there happened to be lots of exhibitions by artists from LA in Paris – there was so much cross-over culturally.
I started to make work about a landscape that was made up of the two cities. And I did lots of work about Versailles, read lots of Proust and books on Marie Antoinette, and researched Rococo art. I was also doing these funny little paintings of French trash in bright pink, they all ended up kind of looking like wild roses. Despite my many efforts, after a year I didn't speak any French, and I still did not know a soul in the city. It was a lonely and difficult period, yet somehow it was still such a wonderful year for me. Paris will always feel like home to me, and I hope to live there again some day soon.
A favorite weekend trip to get out of Los Angeles?
The desert. Whenever I can I go out to Joshua Tree. There is something really magical and raw about it, I love that combination. Sometimes I drive out there really early in the morning, stay for the day, and drive home late that same night. When I can stay overnight I stay at 29 Palms Inn. It's such a special place. I also love going alone. I get these moments when something is calling me out there. It usually means I need to go for some reason: to see something in the future, to set an intention, to let something go, to hear something that can only be heard in silence and in the wind. I hike around, lay on the rocks in the sun, and watch the stars come out.
A favorite piece of furniture?
The Jens Risom lounge chair in my living room. It was originally my grandfather's. It was in the amazing mid-century home he designed and built for his family, the house my dad grew up in. The leather is all worn and beautiful, but it is brittle and falling apart. I am about to re-weave the whole thing, give it a new life and also for my children someday.
Favorite shops?
Kremer Pigments in New York. Iko Iko in Los Angeles. Librairie Florence Loewry and Astier de Villatte in Paris.
Lauren, thank you for sharing your home, studio and family story so candidly. It was such a pleasure spending the afternoon with you. To find out more about Lauren and to read her regular new moon and full moon writings visit her journal here.
Photography: Claire Cottrell
Interview & Text: Claire Cottrell