Kristoffer Gansing doesn't seem like a particularly anxious man. Boyish and soft-spoken, the 39-year-old Swedish native has been the artistic director of the new-media festival transmediale since 2012.
Yet, for the last year, he has been obsessing over the nervous energy of our digital age. The 2016 edition of transmediale, which opens on February 3rd at the Haus der Kulturen der Welt, is called "Conversation Piece," and its subject is a rapidly expanding landscape of new media that often leaves us hovering between action and inaction.
Although transmediale's traditional focus has been the digital world, Kristoffer finds it impossible to be confined to it. "How do you make a digital festival when almost every institution is affected by digitization?" he says. The 2015 edition of transmediale "Capture All" looked at some of the many physical manifestations of the internet – infrastructure like undersea cables and server rooms, but also geopolitics, the logistics industry, economic free-trade zones, and labor structures. "You have to look at this whole ecology, and not only say, 'Yeah, the internet is physical too.' What does that mean? It means that resources are being extracted in different places of the world under very bad conditions."
Just as the show explored the blurred divide between digital and physical spaces, it also looked at how work and home life are increasingly indistinguishable. It's a tension that Kristoffer feels as well, balancing his job at transmediale with other curatorial projects, writing, and a young family in Berlin. We spoke to him in a café underneath transmediale's offices about the anxieties of late capitalism, the continued reverberations of the Snowden revelations, and what keeps him up at night.
At Home In Berlin
A glimpse of Kristoffer's apartment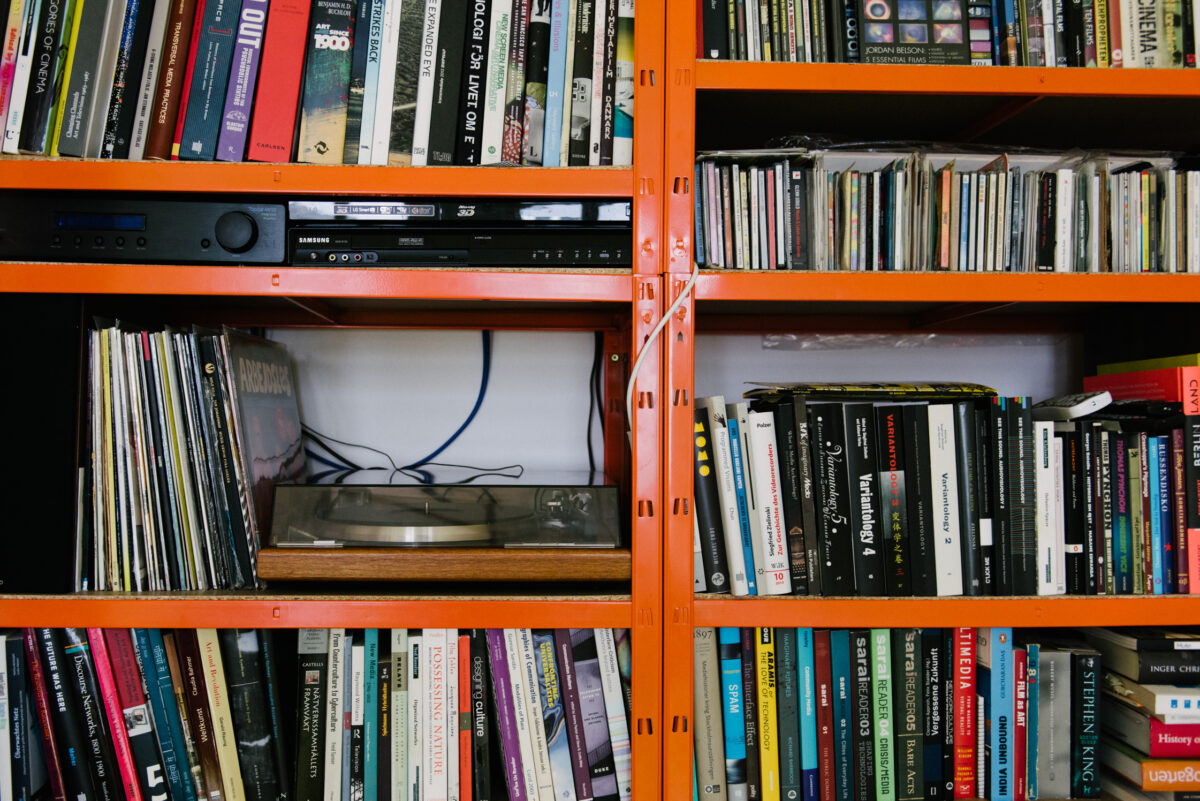 "I like that home is not just one place. It's a bit itinerant."
How does your sense of home play a role in your creative life?

I'm pretty used to changing contexts. I left Sweden behind pretty early and lived in Denmark for many years, and then came here. I like this itinerant living. We still have our apartment in Copenhagen. But I felt in the last year or two, more and more, my home is shifting to Berlin. I have my family here now. We have a kid who is in the kindergarten, so we want to stay here until he has finished.

I am not, like, an office-hours person that can stay 9 to 5. Our working times are usually 10 or 11 to 7 or 8, which is not compatible with having a kid. And anyway, I have to be very much on the move. Also, some hours working from home at least once a week in order to have a little bit of distance from the office flow, where you just have production, production, and meeting people all the time. I like that transmediale is a job where you meet people in the city a lot, or travel to other festivals and institutions.

That doesn't answer clearly, but home literally, concretely plays a role because I have home office hours every week. But also, I like that home is not just one place. It's a bit itinerant.

You grew up in Karlstad, a small city in the Swedish woods. What were your first memories of technology there?

Actually, my first real experiences with technology come from a neighboring city, Åmål, which was famous because of the movie Fucking Åmål. My grandfather worked there in a tax office. I spent time there as a kid, sometimes following him to work. It was the early 1980s. I was five or six years old. While my grandfather was away on meetings, the secretaries let me use these IBM terminals that had a blue plastic card and a red plastic card that you could insert. They said to me, "You can never use the red card, but if you put in the blue card you can play around with these computers." I was like, "OK, great," and I made these drawings just using the characters – ASCII graphics. They printed them for me on a dot-matrix printer.

So instead of childhood drawings of ponies and trees, you had ASCII graphics on your parents' fridge.

I still have them. In Sweden at the end of the '90s, there was a place called Hyper Island where they turned a prison into an IT school. I sent some of those pictures as my application. I got in, but luckily, I didn't choose to pursue this career – you know, net developer, graphic designer.
Snapshots From The Archives
A selection of past transmediale works
Exploring The Outer Limits Of The Art World
A range of artist talks and panel discussions happen every year as part of transmediale. We were particularly impressed by this Trevor Paglen interview.
How did you find your way to transmediale?

Well, it's not like I continued with computer art all my childhood. Today we talk about digital natives, but before that, there was also this video-games, home-computing generation. I guess I belong to that, so I have this interest in digital-media culture. Around the turn of the millennium, there was a festival in the south of Sweden, in Malmö, called Electrohype. It was one of the first computer-based arts biennials. My girlfriend, who is still my girlfriend, worked on that. She's an artist. Through her, I got interested in the net-art movement.

Before that, I was interested in experimental and underground cinema. When I was doing film studies in university, I had teachers who came from the San Francisco Art Institute. They had the American underground cinema in their veins. For me, there was a direct link to experimental new media and net culture in the late '90s.

And then in 2005, Linda – my partner – and I organized a festival called "The Art of the Overhead". It was a small "media archaeological" festival devoted to the overhead projector, this analog tool. The festival wasn't really a retro thing. It was more like a reflection on contemporary media culture, which already had this hype around the digital and interactive. But the overhead projector had all of this. You could work on it physically, with real-time manipulation. At the same time, this is probably the most boring medium ever made. It's sitting there in the back of the classroom; nobody had ever written its history. It had this institutional setting, but it was also used in the 1960s for psychedelic light shows and was very much part of that culture. The festival attained a cult status in Germany, and there was a strong response from German artists. So this was an entry point for me to the German network of media art.

And you were busy with a PhD at the same time.

Yeah, I was a PhD student when I got the job at transmediale. I was just about to finish, but instead, during transmediale I worked on weekends and vacations as well, to the curse of all social life.
The Enterprise At Work
The transmediale offices – where the festival takes shape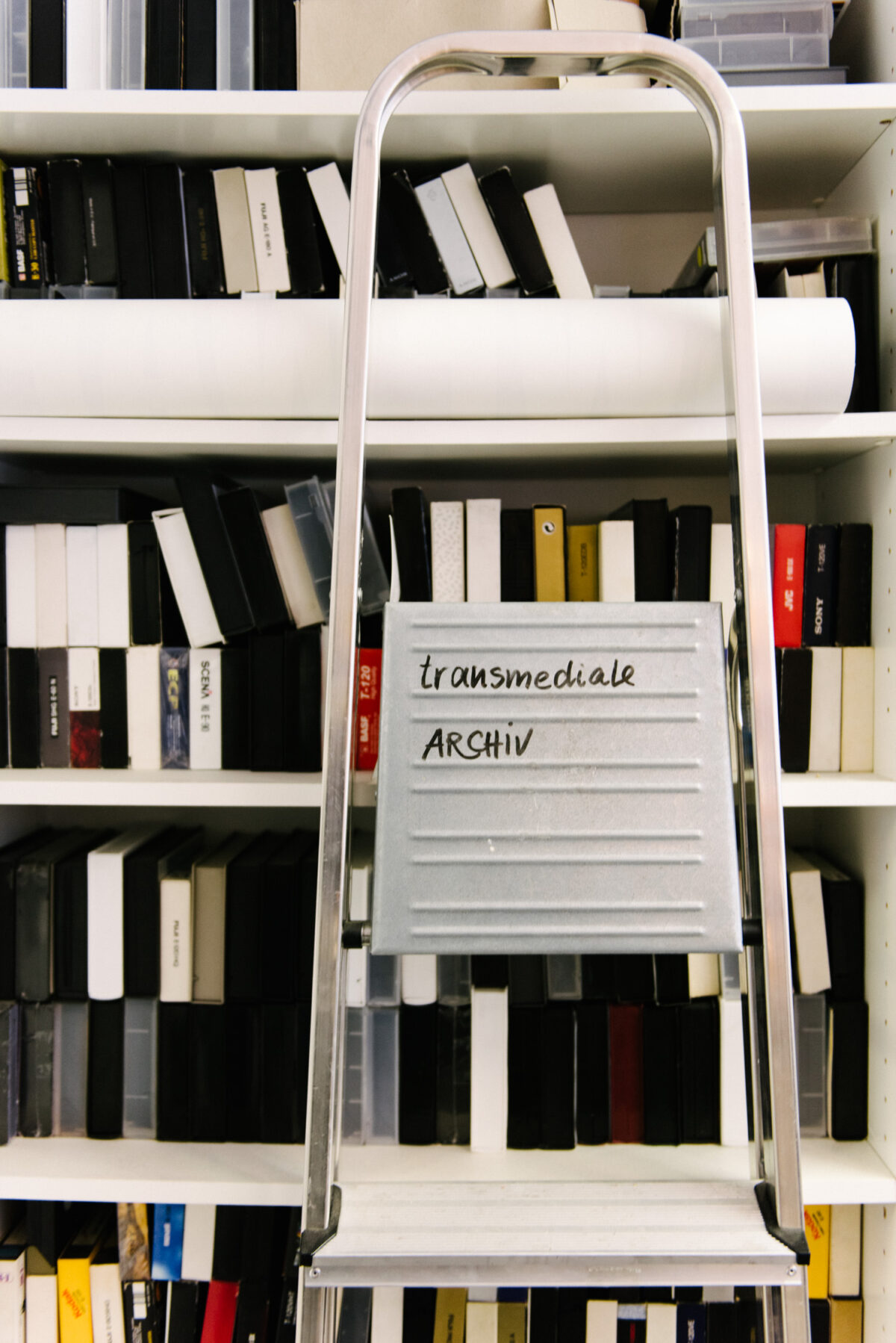 You said in another interview that transmediale is not about the future but about the present. What portrait does it paint of 2016 post-digital culture?

transmediale deals with the ambiguity of how technology influences society. This is why I'm saying it's not about the future, because usually when something is "futuristic," it's trying to predict how things will be, either in a techno-utopian way or in a dystopian way. That's kind of reductionist. transmediale tries to stay in the present world, focusing on the urgent topics at hand and also having a historical perspective. That is not to say that it shouldn't have a bearing on the future. It should be about taking responsibility for what the future can be. For "Conversation Piece," we're looking at the anxieties that underpin our relationship to technology, but also how certain technological, research, and economic agendas shape how we act in everyday life.

We have four streams that serve as conversation starters: "Anxious to Act," "Anxious to Make," "Anxious to Share," and "Anxious to Secure." These words—act, make, share, secure—are almost clichés of post-digital cultures. "Act" for me is about media activism. It's asking, how can we re-envision media activism when everything is super mediated today? Does this category even make sense?

"Make" talks about maker cultures. In Germany you have a new, almost holistic structure going from government policy to the fab labs, people who set up their own little 3D printing labs. It's the vision of Industry 4.0. It's in the funding structures of the Bundesministerium für Wirtschaft und Energie, and there are all these policy ambitions: "How can we render the great German industry as a more modular, customizable structure, with chains from the customer to mass production?" It's unclear exactly how it will function, but it's basically about how digitization makes industrial manufacturing processes more modular and more customizable. It's also very data-driven. With Volkswagen, you have the scandal, of course. It's an interesting clash there at the same time – what new problems come with this? It's called "Industry 4.0", as if there is a fourth industrial revolution going on.
"Anxious can signal an eagerness to do something, but it can also be read as nervousness or hesitation."
As though history progresses like software updates.

Exactly. There is an inflation of this kind of thinking going on. Volkswagen is a large-scale example of the anxiousness of not to fail within the new datafied industries. But there are other levels where this affects us also in daily life, as in the anxiety that comes within the idealized scene of always being active or of "Let's be makers, all of us." "Anxious" can signal an eagerness to do something, but it can also be read as nervousness or hesitation.

"Anxious to Share" is going to be about alternative economies and peer production in different ways. "Secure" is about surveillance, but also how we come to embody security mindsets. It's obvious in Europe after the terrorist attacks that there's a lot of anxiety, but how do we in our daily lives also come to embody such security-oriented thinking and structures and accept more and more security measures?
"Usually when something is "futuristic," it's trying to predict how things will be, either in a techno-utopian way or in a dystopian way. That's kind of reductionist. transmediale tries to stay in the present world."
For the last three festivals, transmediale has been shadowed by the Snowden revelations, which can sometimes feel like a bleak starting point. Are the artists in this year's show also looking at more hopeful strands?

One thing is the movement to set up your own internet infrastructures, which is being promoted even on an EU-level now. But for me the post-Snowden situation is not necessarily so depressing. It's kind of refreshing when a moment comes along where you can clearly state, "This is what is happening." I think this was a positive effect, indirectly, of the Snowden revelations. First you had this disillusionment, this feeling that everything was lost, especially among hacker cultures. But on the other hand, whoever was called a conspiracy theorist before could now be taken more seriously.

Given the themes of the festival, I'm curious what you're anxious about yourself.

I'm anxious about all of the things people are anxious about in transmediale. I project too much of my own worries on these themes in the end. In 2015 we had a focus on work-life balance. We didn't address it in this straightforward way at the same time – "How do you manage your work-life balance?" – but to the bigger perspective, talking about the gamification of work and things like this. This is something I struggle with in my life.

I'm anxious about – and I also see it happening in the cultural field – the development toward more and more innovation-focus, and I say "innovation" in the instrumentalized, quantified sense, which is not really even innovation. For example, we are asked to fill out quantified results and goals of the festivals. Funders become more and more focused on this, and the culture seems to be more and more focused on delivering results that are measurable and effective. This neoliberalization of the arts and culture scene, not only in a general, cultural-critique perspective, really is happening concretely in how projects are being funded and carried out. That makes me anxious to work in this field in the future.
"We are really lucky with our funders to have a high degree of freedom in how we can shape this project. But this is something that has made me anxious in my professional life."
"I'm anxious about the development toward more and more innovation-focus."
The discussion around the neoliberalization of the arts is somewhat less important in the US, where I'm from, because there's no government funding to begin with.

Exactly. Here there is lots of government funding, and transmediale is very lucky to have it. You could say it's a luxury problem. There are also bad cases of state funding where there's a more bureaucratic structure. We are really lucky with our funders to have a high degree of freedom in how we can shape this project. But this is something that has made me anxious in my professional life. Social-media culture makes me anxious too. I'm not on Facebook.

Somebody persuaded me to sign up in a weak moment. I've written them already, like, five years ago that I wanted out, and they confirmed that they would remove my profile, but they never did. So I still get reminders: Why am I not logging in to LinkedIn? And I still get friend requests from all over. So, I am on LinkedIn, unfortunately.

I'm not against interacting through media, but it's more these particular social media that are dominant that I don't care so much about. OK, I don't keep up sometimes with openings for events, but I usually don't have time to go to them anyway. So that's okay. There's this fear of missing out, of course. It's even better, then, not to be on Facebook because there is less fear of missing out.
Fine-Tuning The Designs
Visiting Manuel Bürger: the man behind transmediale's iconic graphics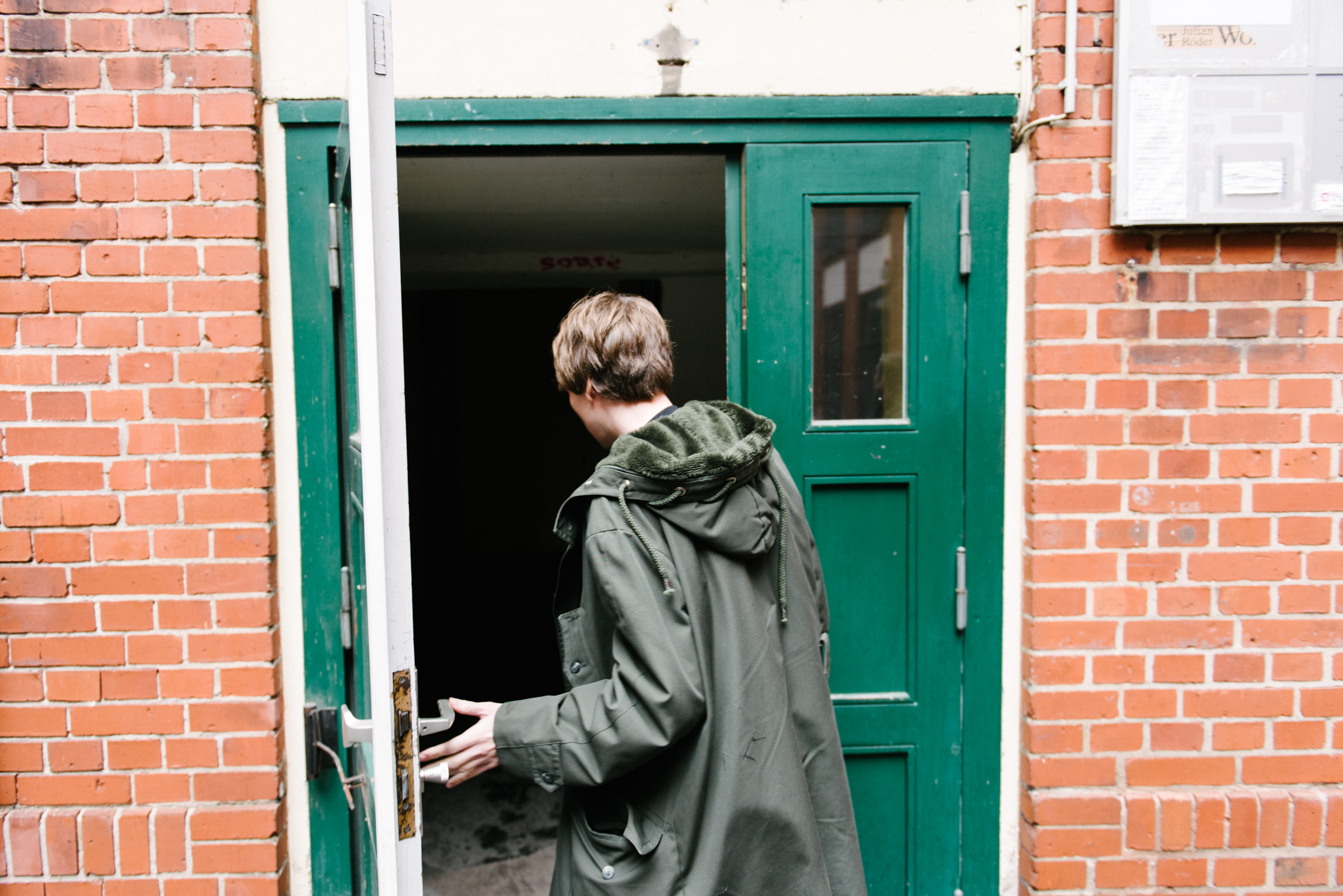 Taking Center Stage: Haus Der Kulturen Der Welt
The stunning location were transmediale comes together
"I'm not against interacting through media, but it's more these particular social media that are dominant that I don't care so much about."
Thank you, Kristoffer. It has been fascinating to understand a little more about what's behind transmediale, and how art, culture, and technology collide in your curation.
transmediale is a touchstone for many Berlin-based artists. Explore their work in our archives.
Text: Michael Silverberg
Photography:Robert Rieger