They are earnest and discreet, wear black and have minimally furnished habitats. This is the stereotype of a gallerist at least. But a walk through the door of Karena Schuessler's Charlottenburg apartment reveals the exact opposite: a hallway without a cloakroom, instead, a kitchen with a fireplace. And the workroom holds surprises for unsuspecting visitors, who may stumble over the mane of a zebra pelt or bump into the bright green racing bike propped against the wall.
What may seem like a quirky and eclectic safari collection is actually part of a very sophisticated, yet cozy combination of interior treasures. This is the home of the owner of Karena Schuessler Gallery Contemporary Design Art. Having once worked as a shoe designer in Florence and Paris, this Hanover native now passionately devotes herself to collecting and selling unique and design pieces.
Design Art involves limited-editions and highly individual pieces, situated within the context of fine art and design. Consequently, Karena's apartment is full of special objects, which have to be protected. Her sleepy-looking rhinoceros takes good care of this.
This portrait is part of our ongoing collaboration with ZEIT Online who present a special curation of our pictures on their site.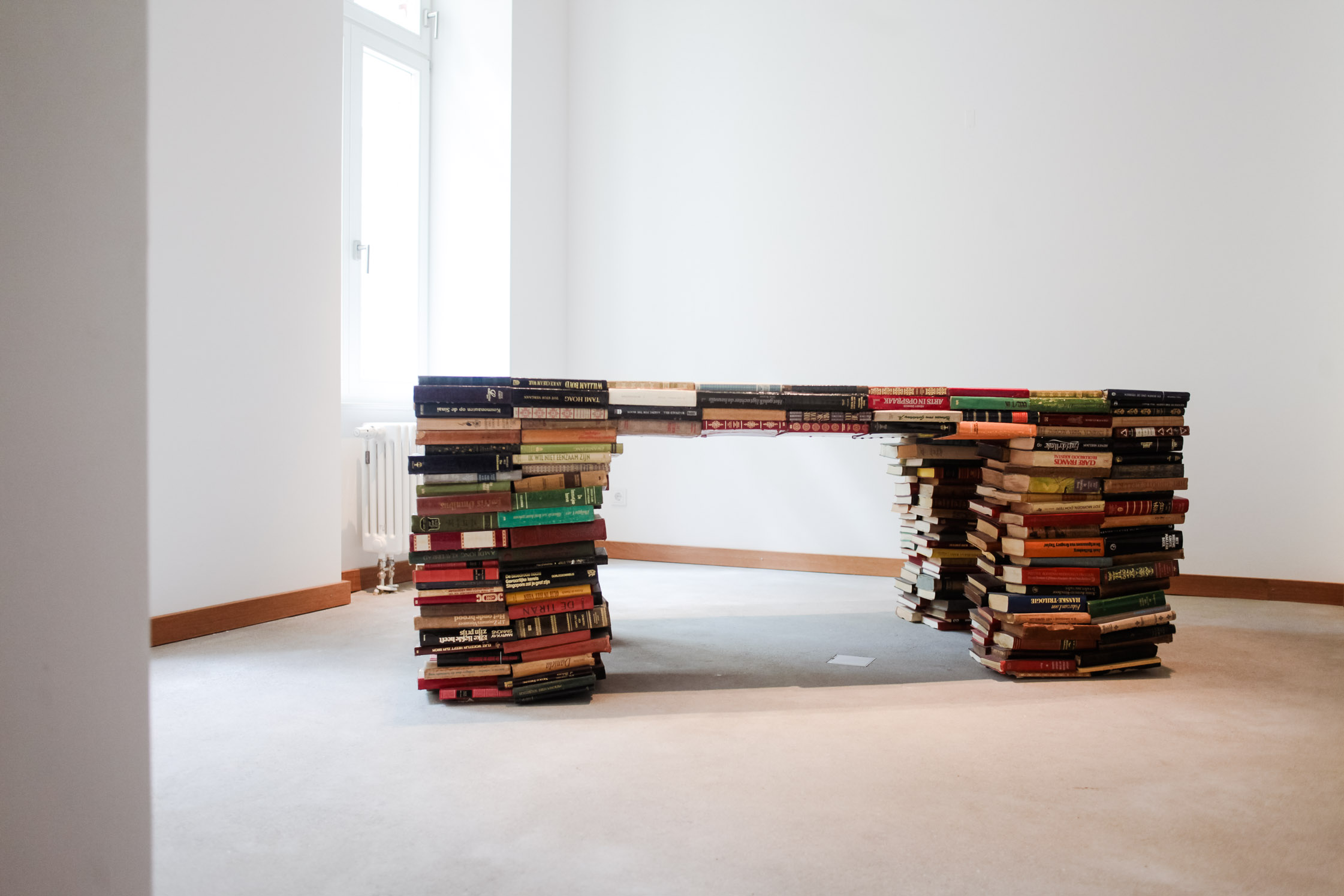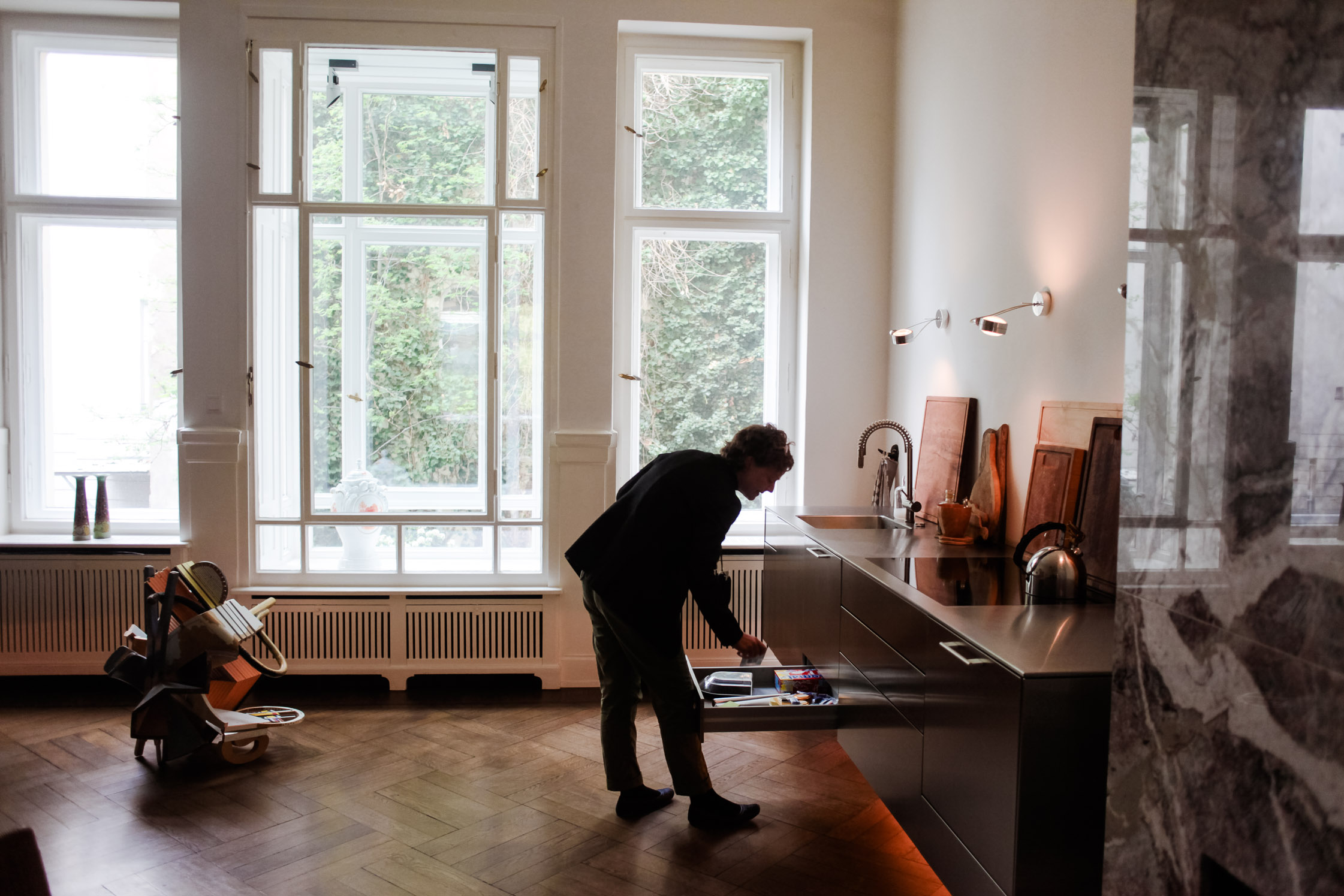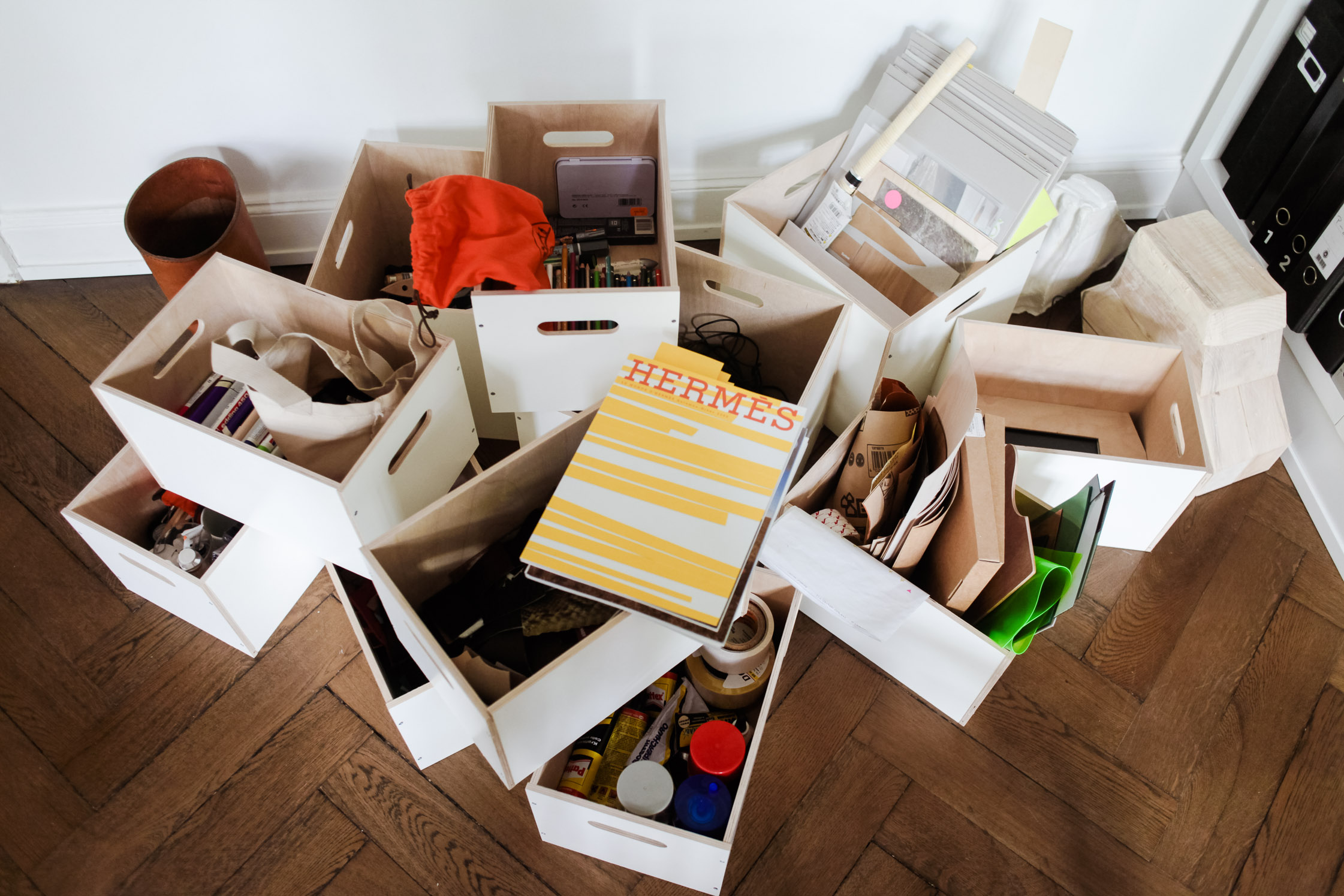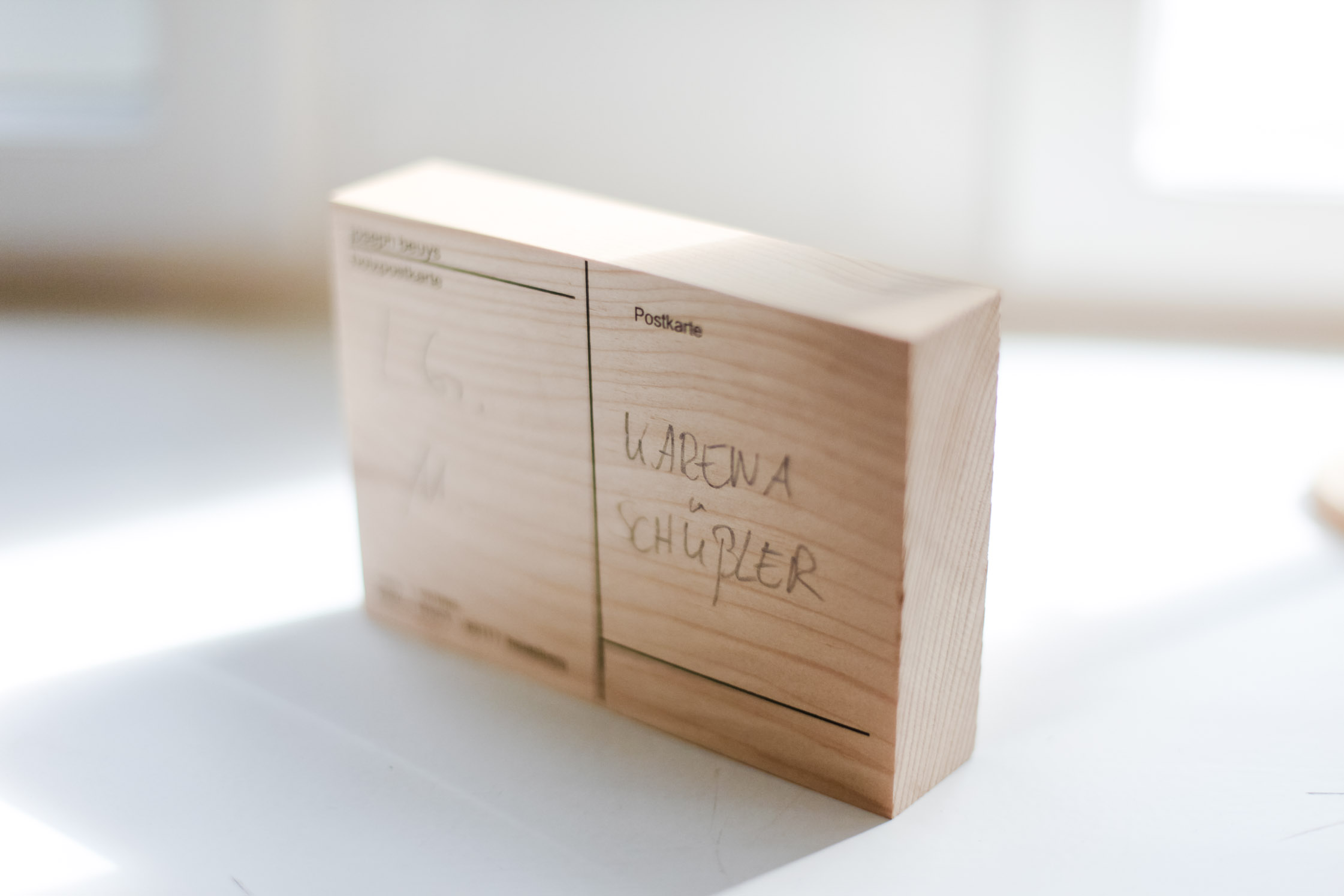 Where are you originally from?
From Hannover. I stayed there until my Abitur and then directly after finishing, I packed my suitcase, filled my car with my belongings and moved to Florence for a while. I learned Italian there and in fact wanted to join a shoemaking school. But it didn't work out and so I continued my journey to Paris.
Did you study in Paris?
Yes. At the Ecole Chambre Syndicale de la Couture. I studied Couture for three years and then immediately started a traineeship at the Stephane Kélian's shoemaking line. I stayed there for a year and a half and then did freelance work in Paris.
Have you always found shoes interesting?
Yes, always! That was my thing. I have always bought an immense amount of shoes and since I was young had a very specific vision of how they should look. At first, I wanted to study Liberal Arts in Berlin, but my mother was not too happy about that and was scared of she would need to feed me for the rest of her life. She suggested shoe-design, since it was my passion. To this day, I have huge closets full of shoes. It succeeded. And then for thirteen years I was in Paris. I had my own firm with a shop on Rue Saint Honoré. But I gave it all up after a few years. Even though we sold very well, the fashion industry had changed so much, that it became too difficult to have your own line. I began to work again for bigger firms and designed bags and shoes for them instead.
Why were you originally drawn to Paris? Was it a practical decision for you?
I think one always decides between Paris and London, and living in Paris for thirteen years gave me great pleasure. But the city transformed quickly, it became exhausting, and as a shoe-designer, you fly constantly back and forth between Italy and Paris. The prototypes are manufactured in Italy. So then I moved to Milan for five years, which didn't really make a difference. I still spent all my time in a plane. After this, I decided to quit the fashion industry altogether.
Why such a radical change?
When I began to work, one could still work freely, meaning 20-25% of every collection included your personal design ideas. But then this was presented to a merchandiser right in front of your nose and suddenly creative projects were discussed in groups beyond the designer.
Consensus work…
Yes, exactly. And that was not the career I wanted to practice anymore. Then, at the age of 40, I said to myself: That's enough.
And you began to collect designer-pieces…
Yes. I have always collected them privately, from flea-markets, or from galleries that had just opened. En Attendant les Barbares dealt with all the neo-baroque tales… André Dubreuil, Garouste and Bonetti. I had already started to buy objects, for instance, furniture. As much as my wallet could give. During the time I had my own line in Paris, I started to collect Jean Prouvé. Back then, nobody thought he was interesting. But to this day I am very fond of him and still have certain pieces in my flat. Perhaps this obsession with furniture and vintage stems from my shoe-background. A shoe is not a clothing piece, but something sculptural. One designs the heel, the form. Other people view sculptures as place-occupiers and prefer to collect paintings or photographs. I have always been drawn to that. This is how the idea of opening a gallery came into existence. It served the purpose to expose items that exist in the intermediate space between design and art.
The definition "Design Art" is quite fascinating to me. What does it mean to you?
I didn't invent this definition. It has a history. In the past, there were only art fairs, until a few galleries commenced bringing along vintage furniture to the stands. The first ones were Patrick Seguin and Philippe Jousse. It provided the objects with a different worth, since they were unique items, or were part of small editions. Design can be everything, for example the Alessi Wasserkessel or a typical kitchen-table. Design is produced in large quantities in massive amounts over the years but "Design Art" is about small editions or unique items that propels it towards the context of art.
Does your love of design extend to the decoration of your private home or do you view this functional everyday application as separate to your overall appreciation of design?
Definitely not. I don't collect things in order to stock them, but they sure serve a purpose for my flat. It is my sanctuary. It gives me immense pleasure to assemble the objects in different rooms. It is definitely about the act of living with the objects.
What brought you to Berlin?
After being abroad for 18 years, I wanted to return to my home country. My brother had lived here and I had always liked the city. Besides that, there were no other options. I didn't want to go to Hamburg or Munich. I was very surprised about the amount of galleries and the positive art-related conversations happening in this city.
Have you noticed changes within your neighborhood since arriving to Berlin?
Very much so. I moved here five and half years ago. Mitte is now completely renovated, while Charlottenburg is getting some of that too. The residential boutiques and restaurants try to sharpen their image. For instance, Filetstück, which is a great, fresh concept, is moving across the street from my gallery. A lot is shifting, not always into the right direction, but often it is. I will stay here for a bit. The reason I moved to Charlottenburg was to have a tree in front of the door. I didn't have that in Milan or Paris. As well, there are still small stores that sell buttons and old tailor shops that remind me of Paris.
Do you still have an attraction to Paris or did that chapter in your life die completely?
No, when a chapter ends, there is no caring involved anymore. I still have friends in Paris and Milan, of course, but there is no nostalgia involved. The opposite actually.
What comes next?
I am currently very satisfied with Berlin.
What has been the biggest step within your career recently? Have there been any gigantic changes or has everything develop naturally?
Nothing happened organically! I am always exploring new horizons. To create my own line in Paris was definitely a big step, but also, to simply step into that sort of creative business and establish a gallery are big moves indeed. Very often ideas came to me, which I let ripen for a while and when the time was right, I said to myself, 'This is what you do now.' These have all been gigantic steps, but I love it like that.
Do you have a strategy to find new artists/designers for your gallery?
One can look quickly through many types of work via the Internet. I receive many suggestions from friends and acquaintances, and some artists I notice through magazines or books and just research them. Sometimes I have a topic in mind and then search for the appropriate artists. I also travel a lot. I visit all my artists, from Korea to Belgium. I think it's necessary to visit prospective partners in their ateliers before deciding to collaborate with them.
I heard that you encouraged Judith van den Boom to make her Porcelain Topographies. Is there always such a strong personal collaboration involved?
I saw her final project in Eindhoven and contacted her. At that point she only had three stools, which I had already sold even before the opening of my gallery. From there, I asked her if she was interested to create an extra edition for my gallery. She then traveled to China in order to manufacture the seating surfaces. It is really exciting to burn such a vast format and process in porcelain in such a manner that one can sit on it. In Holland, the wooden legs were made and last year, in September, we were able to finally exhibit them here. In general, I would like to have the time to work as intensely together with everybody, but unfortunately this is not possible.
There was a great article in A&W about the "Editors of Taste," and your name was mentioned…
This is a big compliment. And yes, during the collaboration with Judith van den Boom, I am an actual éditeur. Other gallerists only buy, or conduct the trading, and don't do any actual gallery work as such.
Do you have friends with terrible taste?
Absolutely. I have friends whose suggestion of a restaurant I wouldn't even take. But that's nothing bad. One cannot expect artistic taste from everyone. Also, I can argue wonderfully with people, for instance about art. I know people with divinely terrible taste, which always revives the discussion.
Is there a typical Berlin-design collector that comes to you gallery?
No, it is extremely international and not very different from other European cities. Vintage is still collected. To broker contemporary pieces is a hard job but I like to do it. In the past few years, we did two fairs, Design Miami Basel and Cologne Fine Arts, through which we were able to expand our customer base.
Do you share the opinion with some of the Berlin gallerists that this is a great city for exhibitions but very difficult to sell?
That's true. If one would say Paris is the fashion-capital, I would say Berlin is the art-capital. But this does not mean that these people buy anything. My price segments are a bit higher, which Berlin cannot handle at this moment. But this will change someday.
Thank you very much for your time and this exciting interview. To find out more visit Karena's website here.
This portrait is part of our ongoing collaboration with ZEIT Online who present a special curation of our pictures on their site. Have a look here.
Photography: Ailine Liefeld
Interview & Text: Sarah Weinknecht