Julie Faure welcomed us with tea and coffee for a rendez-vous in the 16th district of Paris (Passy) in her spacious apartment on Rue Beethoven. Offering a wonderful view of the Eiffel Tower, Passy is well known for its expensive boutiques and chic buildings.
Julie is a young business woman, who has taken her love for organic food and retro fashion and created her own communication company, mixing her passions for luxury and sustainable development. Her apartment is her own beautiful creation, which mixes her close to ideal dwelling with her work space; everything from her dog Malitzia (that loves to be photographed), old photographs of her grandparents nicely arranged in a cabinet, to her antique jewelry, works together seamlessly. In this sweet and airy afternoon interview, she shows us her vintage universe, her fascinating objects and her passions beyond fashion and nature.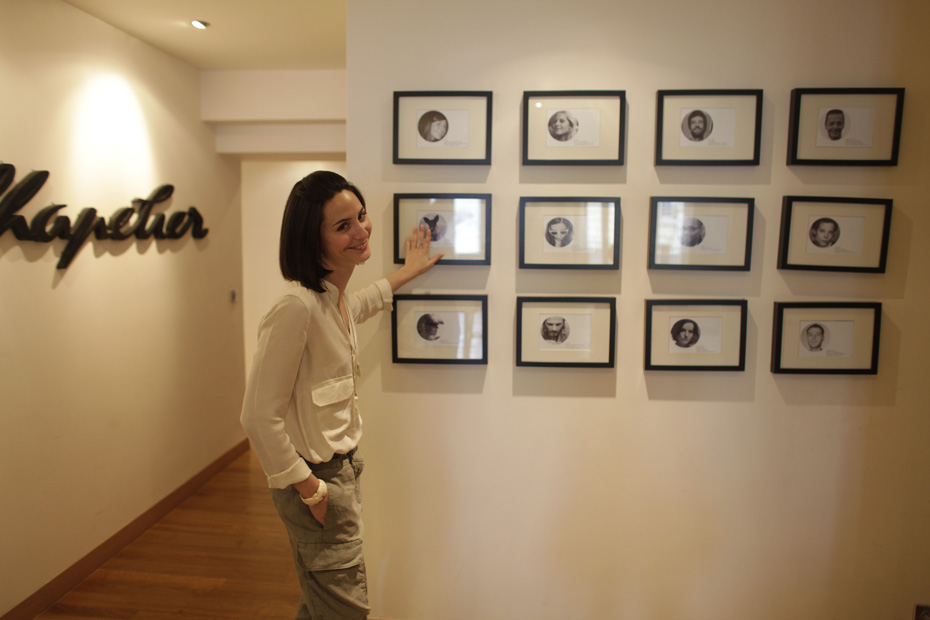 Where are you from?
I was born in south of France in Avignon. But since I moved around a great deal lot I might as well say I am a citizen of the world.
How do you mean? Where did you live after Avignon?
I traveled a lot for my studies (European Business School) and my three years in London and Madrid in a business school made me realize how much I wanted to have my own company. So I set up Mademoiselle Communication. After two years, I feel lucky to work for my own in Paris.
Speaking of, what do you love about Paris?
I love the architecture of Paris, these little streets, where you can really get lost in the city. This city is full of secrets. There are numerous tiny boutiques, young creators and good restaurants For example, I love typical French boutiques like Trudon, which sells candles from 1646.
What do you like to do in your free time?
Free time? What is that? – No, I am just kidding, my work is generally very busy. I like to go to flea markets with friends and I try to play sports as regularly as possible to stay in shape. For me, there is nothing better than physical activities. But I also try to read, even if it is quite rare, I'm happy when I've read a chapter per week.
So let's get back to your apartment, do you feel like there is anything left to do?
Oh! So many things. I didn't even do half of what I wanted to do. Right now, I am discussing with my boyfriend whether I can paint a wall go hopefully give a new dimension to our place. The most recent addition to the apartment are these old advertisement posters at the entrance that I got at a flea market. It gives charm to the apartment. I also recently bought this light that I fell for, Pipistrello, an Italian design typical from the 50s.
Also, I'm dreaming of a custom made library. But we do everything little by little, like the French saying, 'petit a petit l'oiseau fait son nid' which means 'little by little the bird makes his nest'.
Do you have any places for us to visit in Paris?
Oh yes. In my job I have to read lots of magazines (Grazia, Elle, Milk…) so I always know about new boutiques or brands that are opening up. There are lots of little vintage stores in the Marais. I particularly like Junco, a Japanese creator. She is doing jewels, she was working for Christian Lâcroix. I also love Merci concept store and the little boutique of Astrier Vilatte.
What is a typical day for you?
Since I work from home it is easy going. I wake up with a green tea around seven, the detox from the day before. After the bathroom I head towards the computer to check my duties of the week, my appointments and so on. My co-workers arrive. We have our little morning conference and start from there. I spend my lunch break with journalist or in front of my computer.
After lunch I continue to work until 18.30 or 19.00h, but problematically, I never really stop myself: the inconvenience that goes along with a home office.
What kind of clients do you have?
Le salon du Prêt à porter de Paris, le Cinéma La Pagode, Morgane Bello, Zadig et Voltaire, L'Oréal and many more. Especially little jewelry brands, fashion and beauty companies. If there is a brand or product that I really love I will do everything to do their communication. That's how I work.
After this tour discovering Julie's apartment I realized happily that even with a very time consuming occupation it is possible to decorate your place absolutely beautifully. If you want to see Julie's work don't hesitate and visit her website.
Photography: Natalie Weiss
Interview: Sophie Callet
Translation: Rindon Johnson