It's one a.m. on a Sunday morning. The line at one of Berlin's most popular nightclubs near Moritzplatz resembles a scene from Noah's Ark.
Joy and Mine are making their nightly rounds, checking on their selectors at clubs across the city. One of the selectors turns down a group of pretty girls in oversized sweaters. They cuss something in Italian and push back through the crowd. "Girls can be the worst," Joy explains, "They're not used to being rejected."
As professional selectors, Joy and Mine have witnessed their fair share of nighttime antics. Their doors have been peed on, they had bottles thrown at their heads, and they have hashed it out with more winos than they can count. They still love what they do.
After years of working the doors, lawyer and former model, Joy, and interior designer and former café owner, Mine, founded their agency and venue network "Selekt". They now train and employ a growing team of expert selectors and hosts, placing them as gatekeepers to some of the city's most buzzing nightlife locations.
During a visit at their respective Neukölln and Friedrichshain homes, followed by a tour of their Saturday night venues, Joy and Mine spilled the beans on polite rejection, steering clear of power trips, fashion selection criteria, and what it feels like to be the bane of every Berlin partygoer's existence.
Your backgrounds have little to do with the club scene. How did you become a "selector" in the first place?

Joy: I started selecting in Hamburg while I was going to university there. It started at a place called Neidklub. It was right on the Reeperbahn. When you select there, you've selected everywhere. Everyone washes up there – from pimps to tourists, the whole shebang. At some point an old basketball buddy from Berlin, who ran the Neue Odessa Bar at the time, asked me if I felt like working for him. So that was my first door in Berlin. Years later, when I returned to Berlin from abroad I just didn't feel like practicing law anymore. So I took up selecting again – I had to eat somehow – and it ended up being at Prince Charles.

Mine: By coincidence, I started working for a Berlin nightlife legend. He has a bar at Ostkreuz and he asked me if I could furnish it. While the place was being built he told me he was having problems over at a new place called Grand – apparently they wanted a woman at the door. It's very difficult to find women who understand the job and who want to do it. So I told him: "Call me whenever you need someone. Easy." Three days later my phone rang and he asked me to come over. From that point on they didn't want anyone else at the door. There I had it: selecting every Thursday, Friday, and Saturday night next to my actual day job.
How did you come up with the idea of founding Selekt? What initiated it?

Mine: I always thought training is great for bouncers and all, but why don't we do the same thing for the selectors? I always had it in mind and I kept wondering why nobody was doing it. The turning point was when Joy called me and said he had an idea.

Joy: Well, at some point Mine left The Grand and they didn't have a selector anymore. So they asked me. But I already had two places, Avenue and Prince Charles, and I turned them down. That was the turning point: Saying "No" to The Grand and thinking, 'Dude, why did you turn them down? Why don't you train people how to select and put them at the door?' First,  I knew I needed somebody who works at the same level as I do and second, preferably a woman who can balance me out, who is charming, and can talk to the people who don't want to talk to me. So I thought about it and called Mine. It was a matter of minutes. We talked very briefly, sat down together, and the thing was done.

So how did you build a team and train them?

Mine: We just tried it out with old colleagues and friends. Learning by doing. But it's risky business because you can't just give it a try like that. We have to tell them how to deal with people. How do you react to specific types? What's the body language? What do I say to calm someone down? What do I do with druggies and aggressive groups of people? I mean, everyone comes to these doors. How do you behave physically? When do you take a step back?

Joy: On our tour last night, for example: I was watching one of our selectors with a guy at the door. I went up to her immediately after and said to her: "Your distance is terrible." She was too close to the guest, had her chin thrust forward, and her arms behind her back.

Mine: You get beat up like that immediately – if the guy's in a strange state of mind.
Joy: That little bit of power you have for a few seconds means nothing in the grand scheme of things.
Aside from literally showing people the door, what does your job as a selector entail? What is your philosophy?

Joy: We are at the junction of everyone's interests. A place's success is always hinged upon the selection. If there aren't enough people in there, they say you turned too many away, and it damages the business when the audience is bad. Everything happens in conversation with the organizers. Essentially, it's a quality control and limitation-marketing tool. When people can't have something, they want it even more. If there's a place other people don't get into, but they do, then they're hooked.

Mine: Our agency's top priority is politeness. We want our selectors to understand that we're working for both the venue and the guests. That's why we've built a network. For example, guests who show up at Prince Charles in suits and cocktail dresses on a Saturday night – well, it's Hip Hop night and they won't enjoy it in there. So then we call Avenue and tell those guys they won't have to stand in line if they go there. You can't have bad publicity for a club. Those guys would just go around telling their friends what a terrible place Prince Charles is and suddenly you've turned off 100 people. Instead, they had a great night at Avenue and everyone's happy.
Mine: Of course, this isn't an easy job. But I always keep in mind that they are just people, and we're just people.
People recognize you on the street. Has this job affected your personal life?

Mine: Yes, it can happen that someone recognizes you on the subway in the middle of the day. Sometimes people come along and say: "Wait, aren't you that woman?" I mean, you have a rotation of about 2,000 people in any given line. You have to be aware of who is standing with whom, which group is breaking up, who's trying to find someone to stand in line with – yes, we notice everything and it's hilarious. You speak with them for two seconds – in and out – and you don't remember their faces, but they remember yours. I mean, they are standing there for an hour or hour and a half and staring at you.

Joy: Come on, just tell her the story…

Mine: Well, I had a little situation not too long ago. I went out to dinner with my boyfriend. We ordered our drinks and then one of the owners comes over and says: "Wait a minute. I know you from somewhere. Oh right, didn't you recently select at Burgers and Hip Hop at Prince Charles? Yes, you did, and you didn't let me in." Then I said: "For what reason?" He says: "Admission limit." So I say: "Well, admission limit is admission limit. There's nothing I can do" So he's like: "Yeah, no. I won't serve you here." First I thought he was joking, but he insisted and said: "Nope, your boyfriend can eat here, but not you." Stuff like that happens.

From an interpersonal perspective, rejecting people is uncomfortable. How do you cope with having to play judge on a regular basis?

Joy: Well, it's routine by now. I'm a machine. But at the end of the day you really have to look at the reality of it, you have to keep it real: Who do we think we are? Why do Berlin clubs think they can treat people like dirt? People, seriously, at the end of the day, it's just a club. It's just a bar. Don't let it get to your head. That little bit of power you have for a few seconds means nothing in the grand scheme of things. You don't have to put yourself on a higher level than you actually are. People go crazy and are made out to be some sort of cultural icon, which is fine, but you need to keep things in perspective.

Mine: Of course, this isn't an easy job. Who are we kidding? But I always keep in mind that they are just people, and we're just people. The thing is, the venue has invested a lot of money. They had a vision of how they wanted it to go, and there just has to be someone to implement it.

Berlin's party scene prides itself on being inclusive and open-minded. How do you see your work as a selector in the context of this supposed anti-exclusivity mentality?

Joy: Well, this anarchistic, freethinking mentality is in and of itself quite exclusive. They don't want to admit it, but even the old-Berlin party scene prides itself on being exclusive, and would rather be left alone. They were the ones who came up with the "selector" as an institution – with people like Sven Marquardt or Frank Künster or Smiley. They built the foundation for it. It's always been like that. It was more anarchistic, sure, but that's exactly why it was exclusive.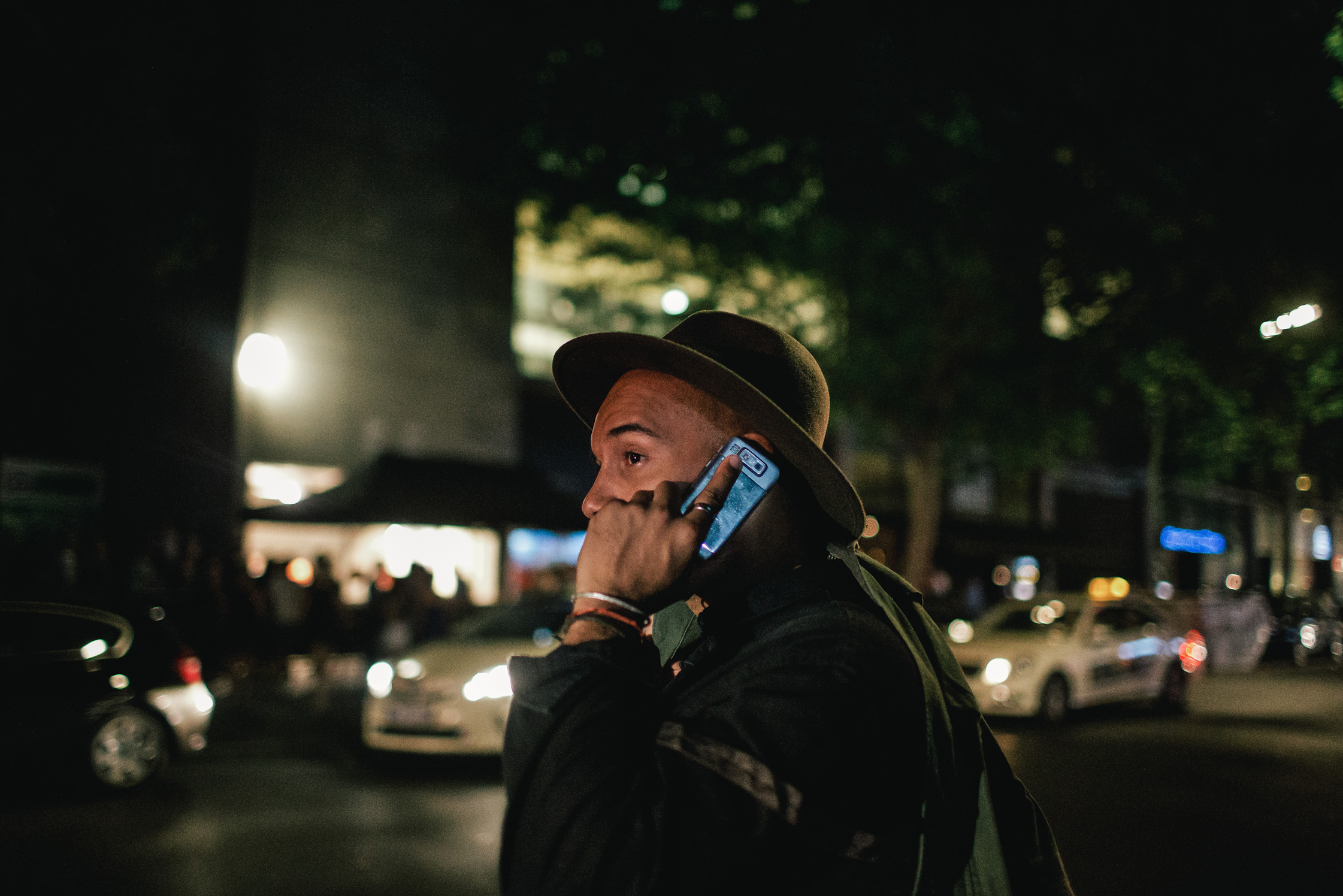 How important is fashion on the job? How would describe your own style?

Mine: It's a pretty important topic for us, of course. We also teach our team along those lines. They have to know what to wear and we have to represent the venue. Last week I worked at a Star Wars party wearing a Princess Leia outfit. It's part of the job. Personally, I like my jeans black and as tight as possible. I'm more of the skinny jean type. And it depends on the day, but usually I like it loose on top and tight on the bottom. I can actually implement every style. Maybe I'm not much of a sneaker person, but that's it. I come from the rock and roll scene and I used to wear petticoats and false eyelashes every day, and it would take me hours to do my hair. Now I'm more casual and chill, but I wear predominantly black.

Joy: I like my pants relaxed. I rarely get dressed up. I did enough of that back when I was practicing law. I'm more into street wear. And I used to play basketball somewhat professionally, so that's why I like sneakers. Of course, I liked hip-hop, so I used to wear baggy pants a lot. When I was modeling, I wore skinny jeans – the whole androgynous thing. Now I'm very laid back – relaxed jeans, just a shirt on top. That's it. It takes about 10 minutes for me to get ready.

So what are your selection criteria at the door and how does fashion influence your choices?

Joy: It's the nature of the job that we base our decisions on purely superficial criteria. Often I tell people I'm rejecting, "Listen, it's not personal. I can't look into your head or heart. You might be a sweetheart, but that's not what it's about here." I decide within a fraction of a second, and it's based on my own tastes and feelings, and my understanding of what the organizers and the venue expect. And sometimes I don't even agree with it. I've selected at places I wouldn't even go to. But then you have to be fashion savvy and know, for example, if that suit fits or if that watch is real. And you have to be able to differentiate between sneakers and trainers. In my case, when someone's standing in front of me and I really have no idea, but I have to make a quick decision, what do I do? I always, always, always look at the shoes. When I'm unsure, they are make-or-break. Then I know what I need to know.
Mine: Our agency's top priority is politeness.
Thank you, Joy and Mine, for inviting us into your homes and taking us on a tour of Selekt's nighttime venues. We'll make sure to grab the right pair of sneakers next time we go out on the town.
This interview is part of our collaboration with G-Star RAW on the occasion of their new Fall/Winter '15 collection. We talk to intriguing creatives across the globe, gaining deep insight into elements of their personal style. The portraits are part of "How Do You Wear Yours?" – a campaign that champions how people wear their jeans around the world.

Photography: Fabian Brennecke
Interview & Text: Jennifer-Naomi Hofmann