City and country have always been part of the picture for Josh Powe and Darcy Penick. The couple met in Boston after Josh finished his studies at Harvard University and Darcy was at Wellesley College. Upon their first meeting, Josh gave Darcy one single peacock feather. This was the beginning of their adventure.
On weekdays, their Williamsburg loft is a sunny, airy home with high ceilings and balconies overlooking McCarren Park. A quick walk to the L stop gets them to their offices in Manhattan, where Josh runs an internet company focused on educational software called Linkit, and Darcy is the Chief Merchandising Officer for the online retailer, Shopbop.
On most weekends, the country house in Patterson has been home to the Powe family for decades. The house was originally constructed in 1871, and even with significant restoration and renovation work over the years, remains imperfect and far from pristine. The kitchen is outfitted with two ovens, two sinks, and two dishwashers to accommodate feasts on any given weekend. A homemade medieval castle was constructed in the backyard one summer, heirloom tomato garden the next. The barn has been converted into a fully furnished apartment on the second floor, and you can hear Latte and Annie, the baby goats on the first floor.
Sharing a love for animals and history, the couple has figured out how to respect and preserve it in their own way. In their spaces, Josh and Darcy have an expanding taxidermy collection, adding to the family's impressive collection of artifacts and relics from far-flung travels. The best thing about these objects though, may be the epic and never-ending tales from this family of adventurers that seem to grow bigger and bigger, every time the stories are told.
This portrait is part of our ongoing collaboration with ZEIT Online who presents a special curation of our pictures on ZEIT Magazin Online.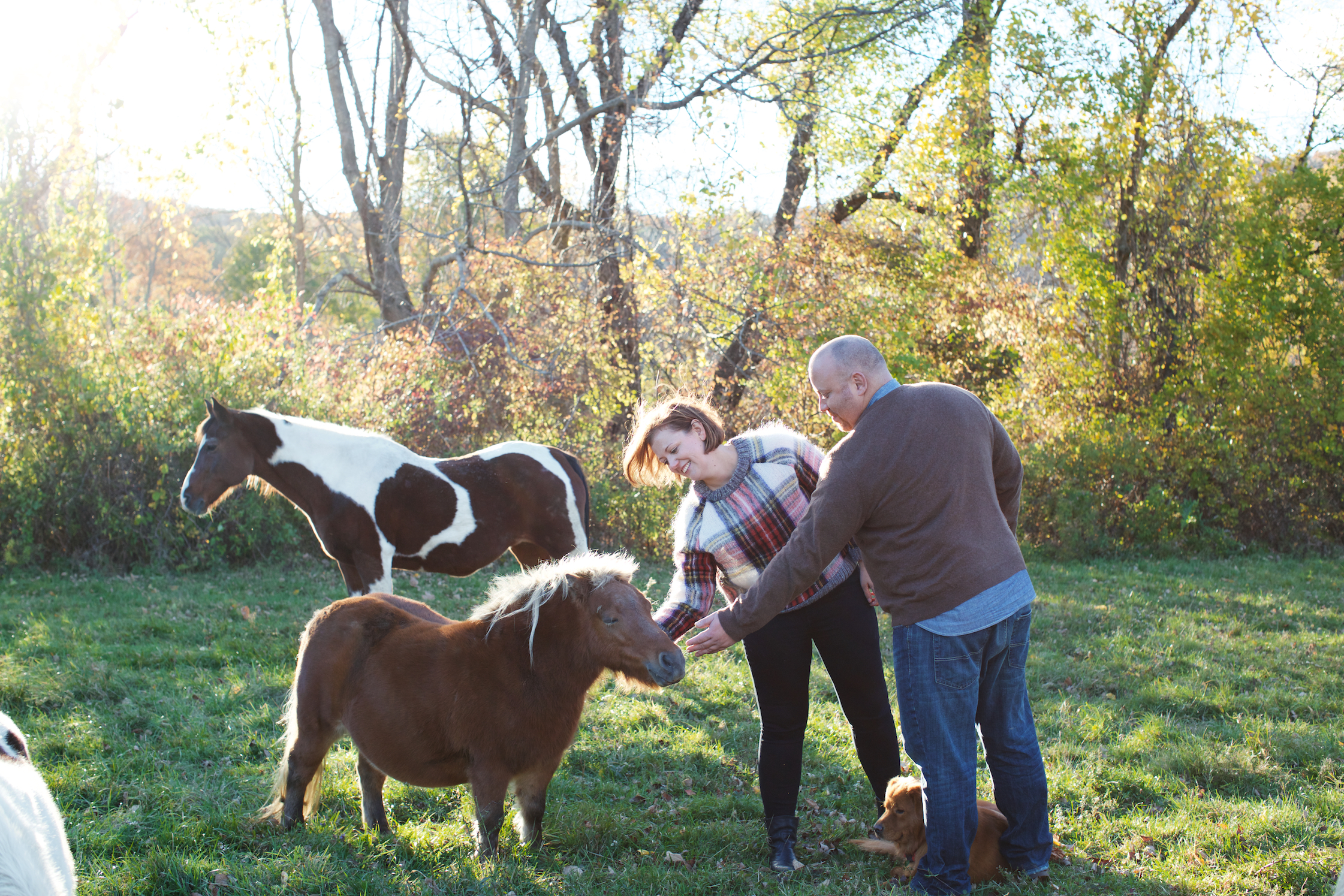 Can you tell me a bit of history about your country house?

Darcy: Reggie and Colleen, Josh's parents, originally had a house in Vermont and would spend a lot of time up there. They got into the idea of having a place they could go more easily to on the weekends and started looking in this area. The realtor said she was scared to take them to this house because she had a feeling that they would want to take it, but it would be the worst mistake that they ever made.

Josh: They took it in 1987. Two Polish brothers, the Tuz Brothers, began work on the house and lived here during that time. For at least a year, I think it was actually more than that.

Darcy: Colleen would know.

Josh: You know how long the Tuz brothers worked on our house?

Colleen: A year and a half, I think. Reggie?…That's close enough. And full-time, every day.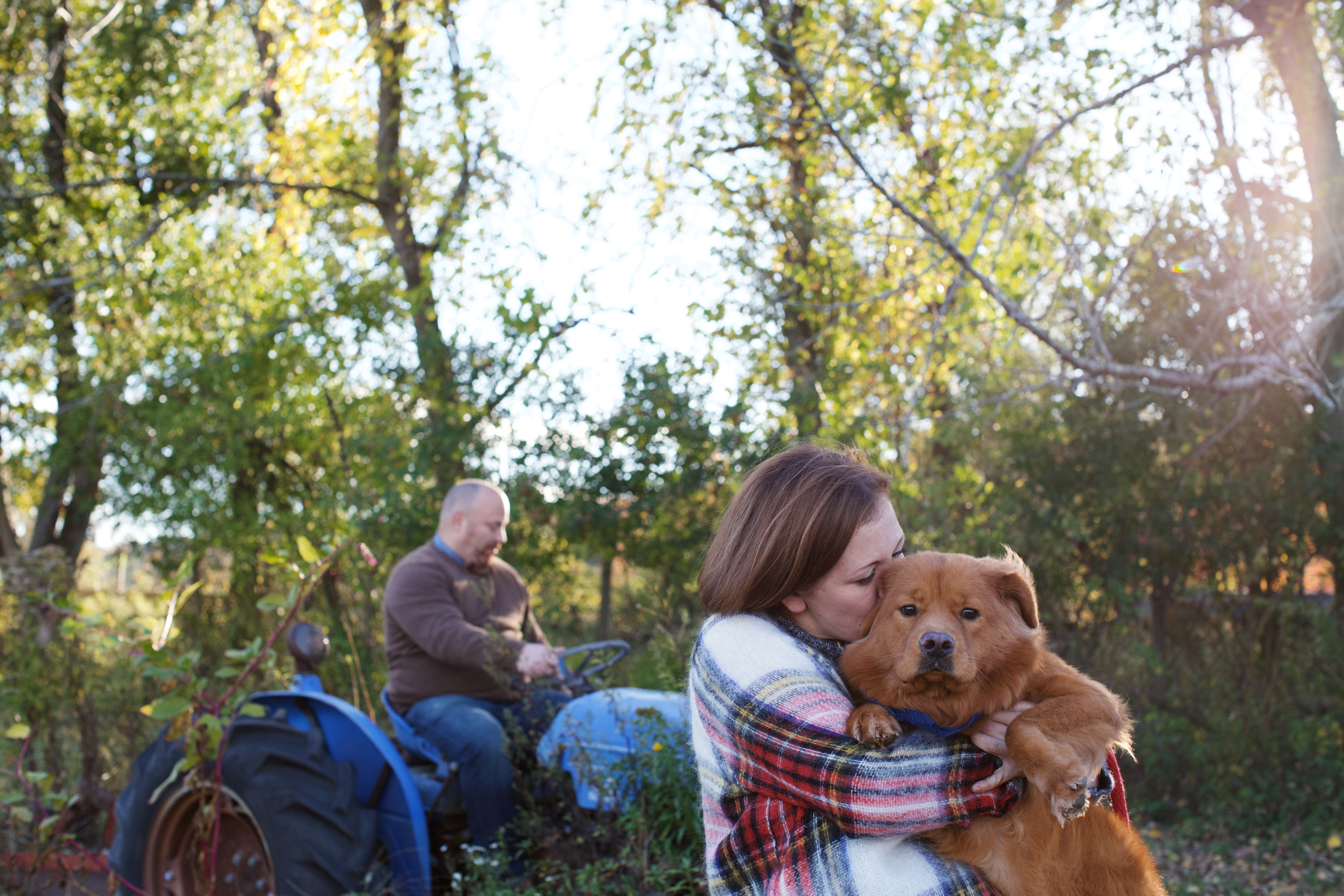 Do you remember the country house as a child?

Josh: Completely. I remember the wallpaper peeling off the walls, in almost every room. I remember leaves blowing through the house. The guy that was last here, was increasingly unable to keep up with the house and was living in smaller and smaller portions of the house. I guess he was sort of a hermit and had died many years prior to us getting here. And there were homeless people, vagrants, who were coming and staying here. Literally, you could go up to the second floor and see the first floor, where the toilet had fallen through the floor and was sitting in a pile of rubble. The house was in danger of being condemned. My brother and I were skeptical, and at seven years old we didn't really understand the magnitude of the task anyways, but my parents saw the vision. And they actually have an award, right there on the wall, from the town for restoring the house.

What was your favorite thing about the house as a child?

Josh: Well, I always liked animals, so I really liked the fact that it had a chicken coop. Actually I think it was a turkey coop. Well we had both – turkey and chicken coops – and I liked the fact that it was turn-key and ready-to-go unlike the house. So that was one of my favorite things for sure. The turkey coups were not salvageable but the chicken coop, we were mostly able to restore.
What's your favorite room in the house now?

Darcy: The parlor. It's where our taxidermy collection began. The Greater Kudu was our first purchase. We were on a family fishing trip with Josh's whole family far upstate in a funny town called Mexico, New York and we decided that it would make for a good road trip back home for the two of us. We were meandering through the Catskills, it was one of those unbelievably beautiful winter days with giant snowflakes falling from the sky. Josh had seen the library card cabinet online and knew it was at Fisk Antiques, a shop in the Catskills. And this friend, the kudu, was there.

Were you intimidated by the size and the logistics of transporting it?

 

Josh: It barely fit in the car, but I was confident that where there was a will there was a way. I would not be denied, because it was so monumental and spectacular. I felt like it needed to come home with us. Once you start there, it's a slippery slope (both laughing). The other species of African antelopes in the room, the Gerenuk Antelope, Gemsbok, Sable Antelope … came after that.

Was that a conscious decision based on all the other African art and relics in the house?

Josh: It was. This room has a Victorian parlor theme, and it would not have made sense to mix American animals here, like bison or elk. Of course! (laughs) There's a protocol for these types of things. You have to respect the taxonomy.
What other pieces are important to you and worth recognizing from your collection?

Josh: The extinct passenger pigeon, even though it looks very humble. It's pretty amazing. At one point, these were the most numerous birds in the world. There were about five billion of them, mostly in the U.S. and Canada. They were brought to extinction by about 1900, the last one died in a zoo in 1914. It's the most iconic example of what we do to the environment when hunting and deforestation goes unchecked. I felt like the collection would not be complete without a passenger pigeon. It's not the most beautiful bird in the collection, but it's certainly the most valuable, and the most famous amongst avian taxidermy.

Darcy: This is one that Josh has on his Etsy page, and it has a ridiculous price on it because we don't want to sell it. One day, he told me that someone started contacting him and that person is very interested.

Josh: Nick!

Josh: Nick started to contact me a lot through the Etsy site and he was desperate to purchase it. I said, "well, it's 25 thousand dollars to acquire this" and he responded, "I'm just a kid," and explained that he has mental challenges. He said his dad would only let him spend ten dollars, but he's obsessed with natural history and he's been dreaming about having a passenger pigeon. I said well, "with ten dollars, there's not that much I can do," but he asked, "well, couldn't I please just buy a feather?" and we went back and forth. I didn't want to injure my taxidermy bird but it so happened that there was a feather that was basically falling off.  I took a tweezer, gently extracted the feather, framed it, wrote a description, and I sent to him as a gift.

Darcy: We didn't know how old he was, or much about him at all, but he did email a lot. I did some fancy cursive writing, made a plaque, coffee-stained the paper…

Josh: We went to extreme lengths to make it realistic. He was very excited.
Darcy: I've spent the last five years at a website called Shopbop where I now oversee buying, planning, creative and marketing as the Chief Merchandising Officer. Prior to that, I was at Saks Fifth Avenue, Bergdorf Goodman, and Neiman Marcus where I started my career as an assistant buyer.

Josh: Me, for the most part I've never had a traditional job. I've always been involved in some sort of entrepreneurship. Mostly because of my parents, who started their business 35 years ago, which very much influenced me growing up. Right now and for the last ten years, I've been working on an internet company focused on educational software, specifically a data management and reporting company that works with K-12 schools and publishers, to allow schools to use data more effectively to improve student achievement. The company is called LinkIt.

Josh, what are your other entrepreneurial efforts that you mentioned?

Josh: When I graduated from college, I started a marketing company with a couple of partners and did marketing and consulting for companies such as Source Magazine so we were very much in the hip-hop scene. We traveled around for six months, following artists like Eminem and Busta Rhymes and shooting behind-the-scenes documentaries. Once it was time to move on, I started to get into education software because my parents were in the publishing business. While I was working at Linkit during the day trying to build that business, I had a restaurant lounge in Harlem called "The Den" that I worked at during nights for five years.

Who influenced you to get into antiquing and collecting?

Josh: My grandmother on my mother's side, Grandma Jones, was a big collector. She collected little ivory Inuit-carved animals, as well as crystal animals. I was very obsessed with her collecting growing up, and when she passed away, she left me these ivory items.

Darcy: So many pieces in the country house have stories that go with them. Reggie and Colleen got into antiques when they were our age, and went on a lot of antiquing trips. A mirror that they fell in love with, apparently from the 1700's, that they brought back from France. A gramophone that they brought back from India.

Josh: My father went on his first trip to Columbia with my uncle in the 70's. Back then, my uncle used to lived with these indigenous people for many years in the jungles of Columbia and learned how to speak their language. Probably one of the only Westerners that was able to do that. He wrote books about not only linguistics but culture, mythology, martial arts.

My father is a big history buff so a lot of things he collects have some historical significance, like the original letters and autographs from the Civil War and Civil Rights era. I was interested in history too, but I was always much more interested in natural history. That came from visiting the Museum of Natural History as a kid, and like most kids, being obsessed with dinosaurs and animals. Most people get over it, but I never entirely did (laughs).
How did you get into collecting all of these objects in your home?

Josh: From the time I was a little kid, I've had collections of various things: fossils, rocks, a very large collection of animal-themed salt and pepper shakers. That dates back to when I was six or seven years old.

Darcy: In the last few years, we've gotten more and more into collecting things together. There's been a taxidermy theme but also lots of other things that are industrial or Victorian. The time we got the kudu and library card catalog, started our roadtripping to find things.

Josh: Yup, that's absolutely right. That was the first time we went out of our way to pick up a piece that we had found. It was very exciting.

Darcy: I think it's a funny downside to the country house, that it makes us less apt to plan a weekend road trip four or five hours away because we go to the country.
Josh:  We don't need to. We've never felt the need to go to the Catskills, go to the Adirondacks, go to the Pocanos. We've never been to any of those places until recently. The mission to find these pieces and to secure them has taken us to a lot of places that we would never otherwise have gone to.

Is the travel part of the fun in collecting things?

Darcy: Definitely. For Josh's birthday one year, he had come across an auction in Texas so we flew to Fort Worth to the largest taxidermy auction in the world.

Josh: It was basically an aircraft hangar full of taxidermy.

Did you guys buy anything?

Josh: Did we.

Darcy: We may have bought a few things.
How did Rubert's General Store come about?

Darcy: As our collection expanded, Josh started realizing that we have more than we had space for. So he started an Etsy store called Rubert's because our dog Ruby is frequently in the mix on our adventures. Then Josh picked up a co-op space in Williamsburg, then a space that we use as half-storage half-museum in the country.

Josh: These outlets helped justify the continued search for new treasures. The process of search, find, and acquire satisfies a very primal instinct.

Darcy: Josh has always been so passionate about the science side and we both see the art in it. It feels like we're giving a second life to some of these pieces.

Do you see a future in antiques and a taxidermy business?

Josh: Once you make it a business, there's the pressure that goes along with that. So for the foreseeable future, this is fun for us and we want to keep it that way. I've started to sell some of the pieces to make some room, but I don't see it as being a full-time business. It's certainly not about making money or making a profit. It's more about continuing to go on these adventures.

Darcy: It surprises people when we say this, but neither of us are that attached to specific things. It's more the fun of the journey, and the exciting moment of the find.
What have you discovered by embarking on these missions?

Josh: It's a relatively small group of people who are into this stuff so you actually get to know people. They know your pieces, you know their pieces. Some of these pieces are almost famous. I'll talk about a piece that I've acquired, and someone without ever having seen it or knowing me will say, "I saw that piece, some guy in Ohio posted in on Craigslist, is that the same one?" And you're having this conversation in New York or Maryland or Florida. It's interesting that these pieces almost become iconic and take on a life of their own because the community of people are essentially, curators.

That happened with the drunken monkey piece. I was passing through a store in Baltimore where I picked up a couple of pieces, and the guy asked, "where are you going next?" I told him that I had another pickup, that I had made a deal to acquire this monkey. He tells me, "I saw that monkey and I called the guy, and was trying to come to an arrangement with him but he was asking for too much money for the monkey and we couldn't come to a deal." He knew that the monkey was anthropomorphic and that it's drinking from a cup. I've never met this guy before and he knew about this monkey.

So I met the monkey guy in a parking lot. I had a bunch of stuff in the back of my trunk that I had just picked up  – oddities and curiosities – and we literally traded for the monkey. No cash was exchanged.  I traded him some medical posters, some goat skulls, some glass prosthetic eyes from the early 1900's, and a medical device. And he gave me a taxidermy monkey from 1930 in a box. In the back of the parking lot at Red Lobster.

Has that spirit of adventure become an important part of your lives?

Darcy: I think when we're getting up at five in the morning on a Sunday to go to the flea market, or going on funny weekend trips; Reggie and Colleen giggle at us and some of it is because it reminds them of the kinds of things they did when they were in a similar phase in their relationship. Their version didn't look exactly the same, but I think there's a common theme there.

Josh: You don't have to go far. Everything can be an adventure. The fact that you found something on Craigslist, you're going to seek it, and you don't know what it's actually going to be until you get there, makes it an adventure. It's not about the pieces themselves. You can make an adventure out of almost anything, and that's kind of fun.
Darcy and Josh, thank you for sharing your two beautiful homes with us and telling us all these nice stories. 
New York is one of the cities we've visited the most – meet the locals.
Photography: Emily Johnston
Interview: Akiko Kurematsu