Nestled between a strip of red-brick buildings in Toronto's Junction neighborhood, the Mjölk House – acting as both a store and home – stands out with its simple and classic white façade.
Stepping into the house of John Baker and Juli Daoust Baker is like entering a sanctuary of calm. Warm light, minimal design and a tranquil atmosphere fill the space.
Together, the pair are the creative minds behind Mjölk (which means 'milk' in Swedish), a gallery and lifestyle store with a focus on artful Scandinavian and Japanese design. Founded in 2009, they describe Mjölk as "pure, honest and essential", a motto that also seems to permeate their living space.
We spoke to the couple in their home and store, surrounded by pale wood and natural light. In our conversation, John and Juli consider their holistic aesthetic, the proximity of their work to their home life, and the strong relationships they've built with their artisan suppliers.
This portrait is part of our ongoing collaboration with ZEIT Online, who presents a special curation of our pictures on ZEIT Magazin Online.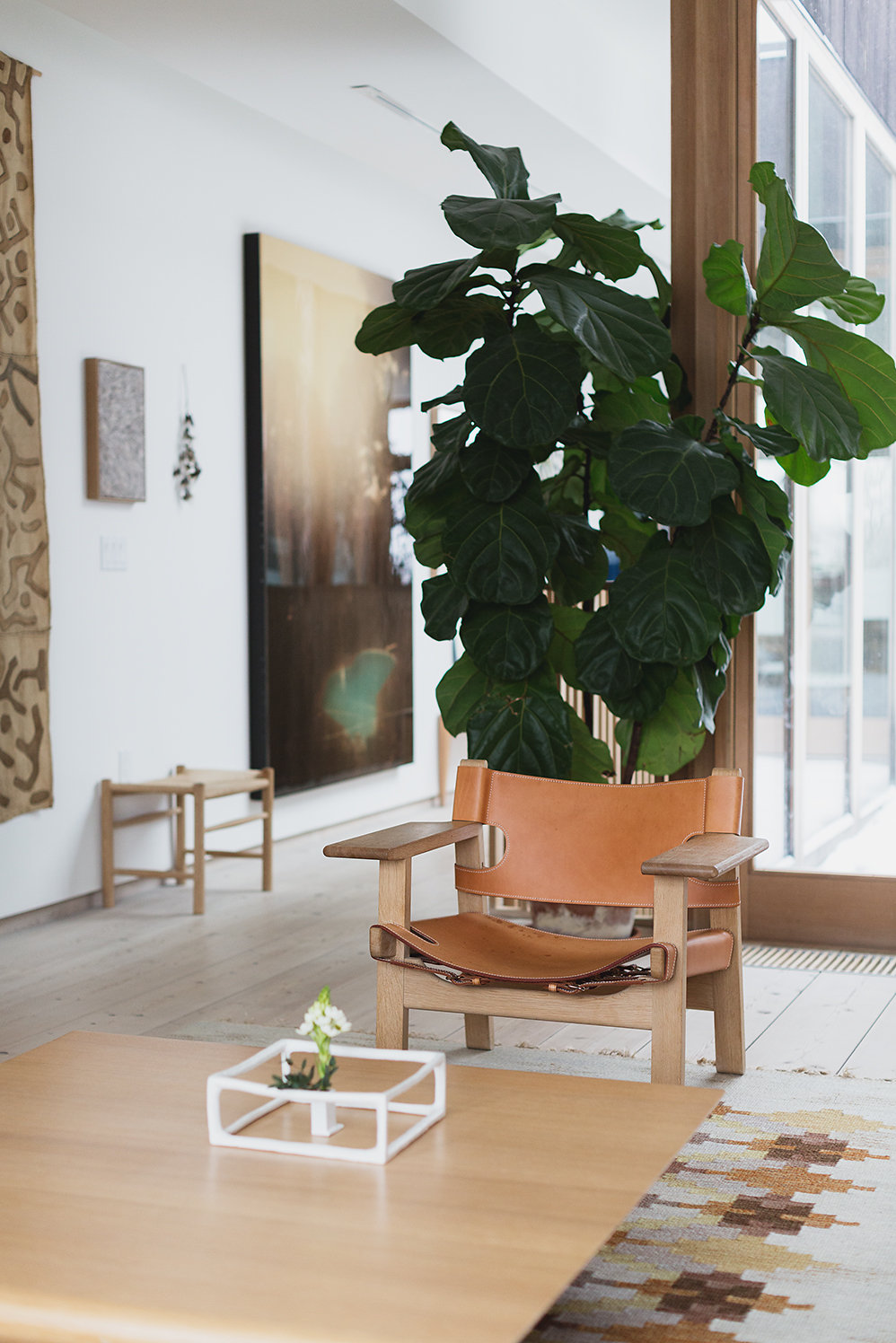 What were you both doing before opening the store?

John: Juli had a degree, but she went back to school to study art curation and photography. She also worked in publishing. Shortly before we met, I had the idea to open a store so I thought it would be a good move to get a job at a big furniture-maker. I worked at a Toronto-based furniture-maker and retail store. Before that, I worked in advertising. The things we did before helped in a weird way.

What attracted you to this flat in The Junction?

John: It's a very beautiful building with the last tin façade in the city; or so we've been told. Opening a business and owning any property in Toronto was really expensive so we thought, What's the best and cheapest neighborhood that we wouldn't mind living in? At first, we didn't think we wanted to live in The Junction, but as we started spending time here, a lot of the quirks of the neighborhood added value to it in some ways. It was kind of the empty ghost town of the city, so people didn't even repair a lot of the century-old buildings. But we knew Mjölk would be a destination-store, so it just became about where we wanted to live and put down roots.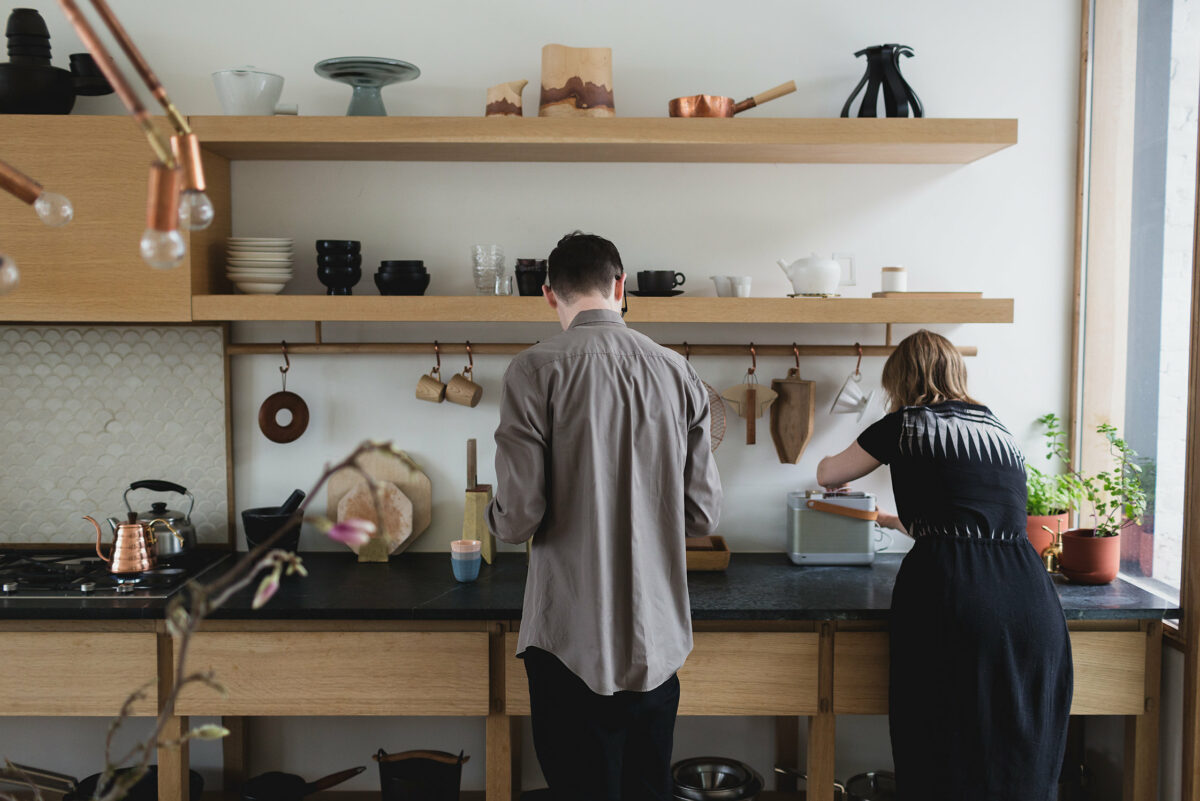 What was your vision when you furnished the apartment?

Juli: Japan and Scandinavia are our aesthetic touchstones; this makes our vision one that is simple, classic and pared down.

What is it about Japanese and Scandinavian design that draws you in?

John: Scandinavia and Japan are two places we've traveled to and they had a profound impact on our ideas about design and architecture, but a lot of philosophical aspects resonated with us as well. As for how Scandinavia connects to Japan, I think there's a reverence for nature and an almost spiritual connection to it, which is really important. I think any Canadian can probably identify with that, because our cultural identity is so tied up in this great, expansive landscape.

In a weird way, we were thinking about these elements in architecture, design and lifestyle and how we could make that relevant to people here in Canada. If I think about someone like Alvar Aalto, the Finnish architect, a lot of his buildings are informed by landscape, and the Finnish landscape is actually very similar to that of Ontario. Naturally, I can make the argument that if Canada was this homogenous place, which had a thousand years to develop a kind of central aesthetic taste, maybe it would resemble something like that. Maybe it will never happen, but we can take elements from architecture and design there and improve our lives here quite quickly just by seeing what they did.
How do you select the furniture that goes into your home? Are there any qualities you're especially attracted to?

Juli: We're drawn to natural materials and finishes, pale wood and vegetable tanned leather. Clean lines, Danish woodworking, Shaker style and the sensitivity of Japanese form. Børge Mogensen is one of our favourite designers; our dining set, sofa and lounge chairs are by him. We try to select classic pieces that can be enjoyed over time. Actually, in a lot of ways, they will grow and change with our family, which is really special. In ten years time, our vegetable tanned leather sofa will have darkened considerably, and will continue to do so. Our children stand on the Nakashima bench while looking at the street below and chew on its back, leaving tiny teeth marks, forever a reminder of these fleeting early days.
You live and work together, and the store is just beneath your home. How do you maintain boundaries between your business and personal life?

John: We encourage ourselves to have less boundaries, because our store is really about more simplistic living. We live upstairs and we work downstairs, but the feeling of the spaces doesn't change. The door is constantly opening and closing between the two; there isn't really a distinction.

Does it ever get overwhelming that the two spaces are so intertwined?

John: There's a lot of space in here, it's calming. Of course, things happen when you have a business and that can be stressful, but the atmosphere helps soothe quite a bit. We're also a bit more mellow. We have kids and they're the world's best distractions. When we're upstairs, we can't work because they'll take the computer away from us or talk until you can't ignore them.

Is there a difference in how you select the objects that furnish your home compared to those that you exhibit in your store?

Juli: There's no difference, the store is an extension of our home. In the store we like to display objects and furniture in a living context. The main focus is surrounding ourselves with objects, artwork and textiles that we enjoy.

John: Our home is like a living laboratory, where we live with these things. If you look at the store, there's very little in-store competition, we don't want to have three different shoehorns or six different kettles. The idea that one kettle can match your personality, and then having a selection of colours is absurd. We are trying to come up with the archetypes of these objects. That's kind of our goal. Our home is kind of like a way of selecting through actual, first-hand use.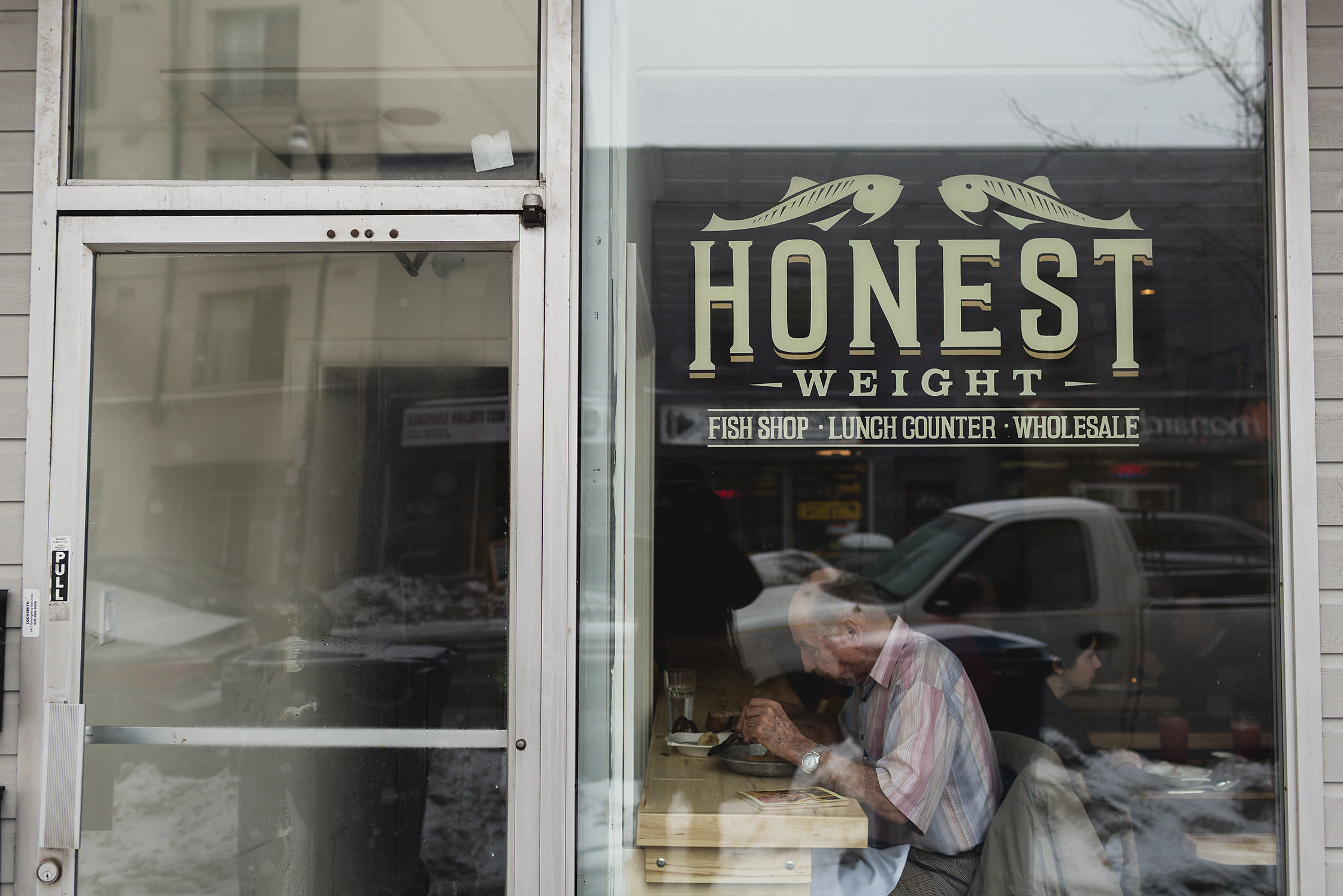 How do you select the artists and artisans you show in your store? Do you have specific criteria?

John: There are a couple of people who are significant relationships for us. From Scandinavia, the architecture firm Claesson Koivisto Rune, who we did a product collaboration with. They introduced us to that design world and took us under their wing. For the Scandinavian furniture in our store, a lot of it came from meeting these contemporary architects and designers in person. On the other hand, with Japan it's a very closed culture. But once you get into the world,  everyone knows each other. Once you're in, you're in. Basically, we built relationships from scratch and it was very challenging. But now, we're at the point where I'm surprised at the caliber of the people we've been able to show after five years of working on it.

It's hard to say why this person and why not this person, I think we kind of trust our guts and feel it. Another thing is that I talk about Scandinavian design and Japanese craft with such a different vocabulary. Japanese aesthetic is so spiritual for me and we don't even have the right vocabulary in English to describe its characteristics. Then the Scandinavian side is much more pragmatic. I think they balance each other and it's an important balance for our store.
Thank you John and Juli for showing us around your home and store. If you're not in the Toronto area, you can browse their online shop at Mjölk.ca. Look through our archives to read about other FvF guests from Toronto.
Photography: Titus Chan
Interview & Text: Charmaine Li