Johanna Tagada is a young French artist based in Berlin. She lives in Prenzlauer Berg, in an apartment with extremely good vibes with her English fiancé Jatinder Singh Durhailay, who also happens to be an artist. They have chosen to fill their world with love, respect, plants, drawings, paintings and many laughs. Their home reflects their joie de vivre, a home which is also a studio. It is a typical Berliner environment for a non-typical Berliner couple, living a happy life in the German capital.
Over homemade matcha cookies, herbal tea and with the sweet sound of Japanese music playing in the background, Johanna and Jatinder talk about their lives, their work, and their new adventures that will take them all around the world.
This portrait is part of our ongoing collaboration with ZEIT Online who present a special curation of our pictures on their site.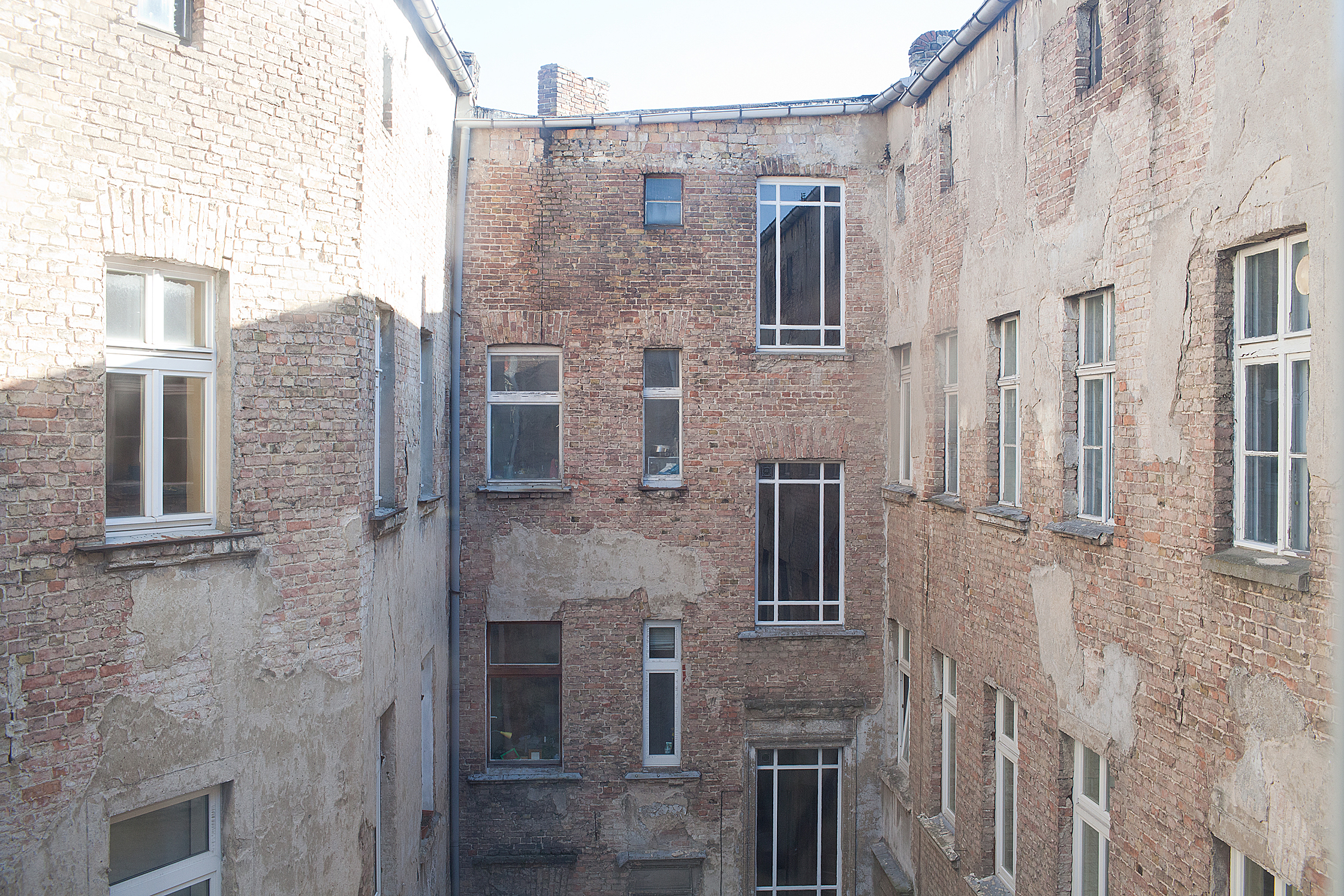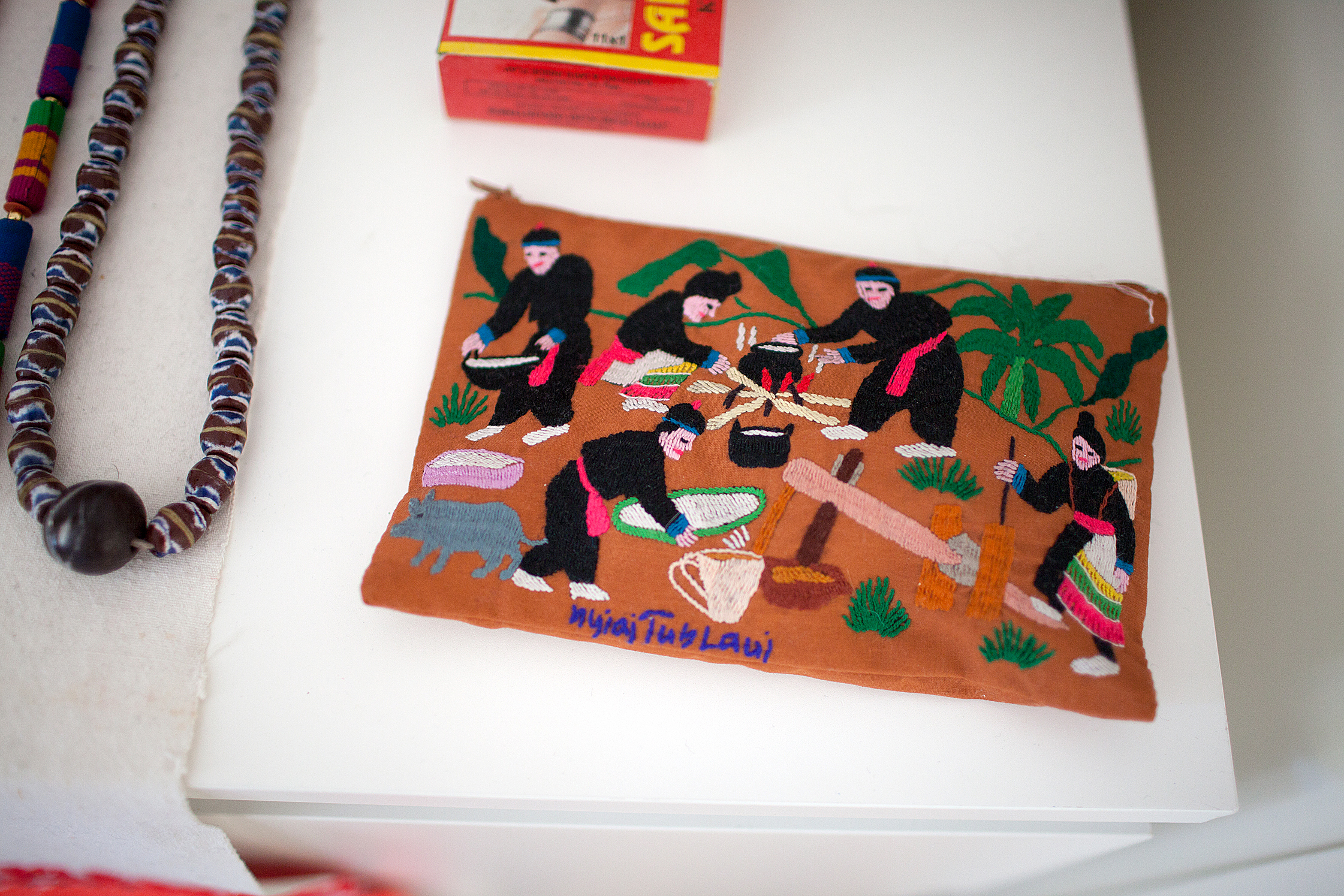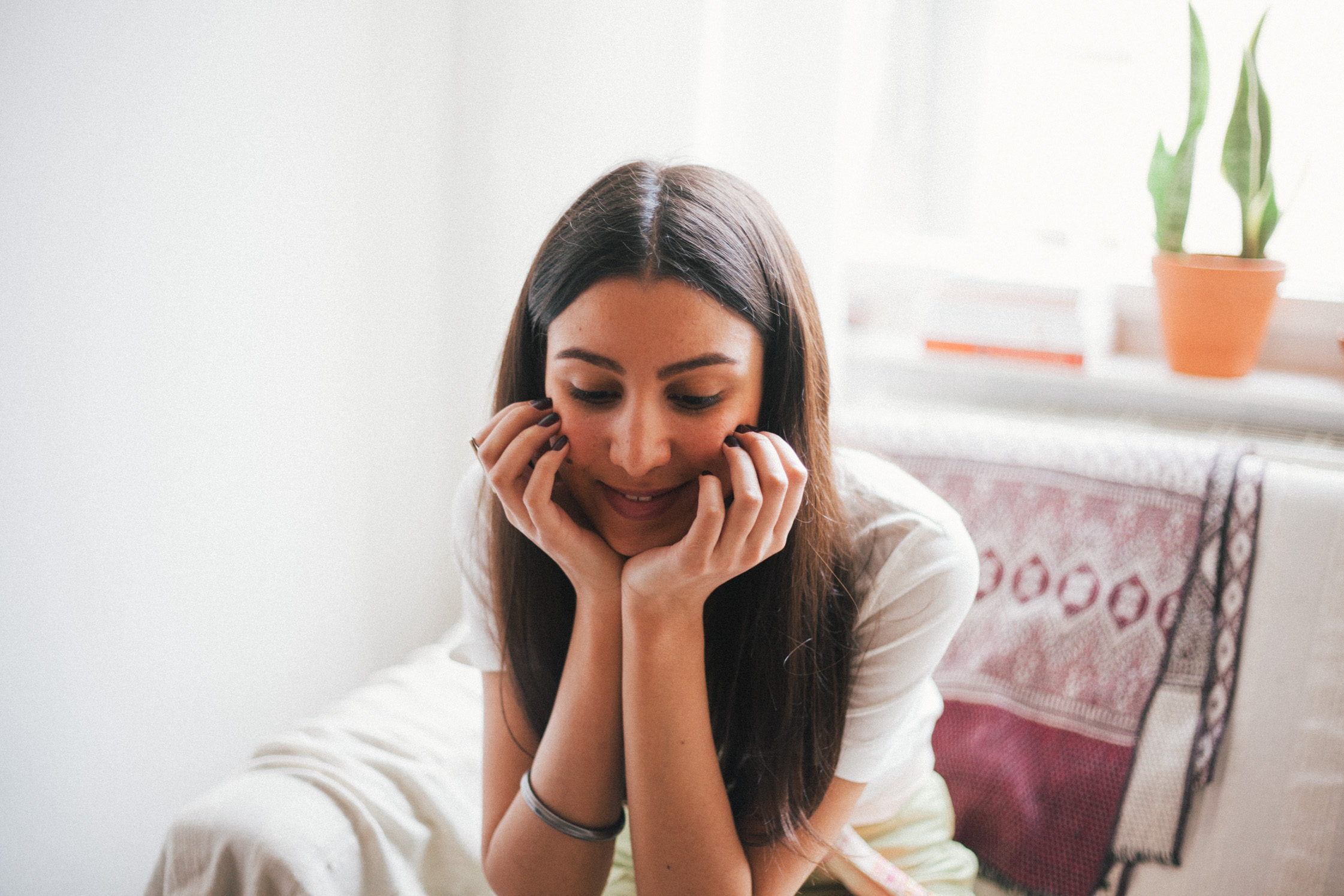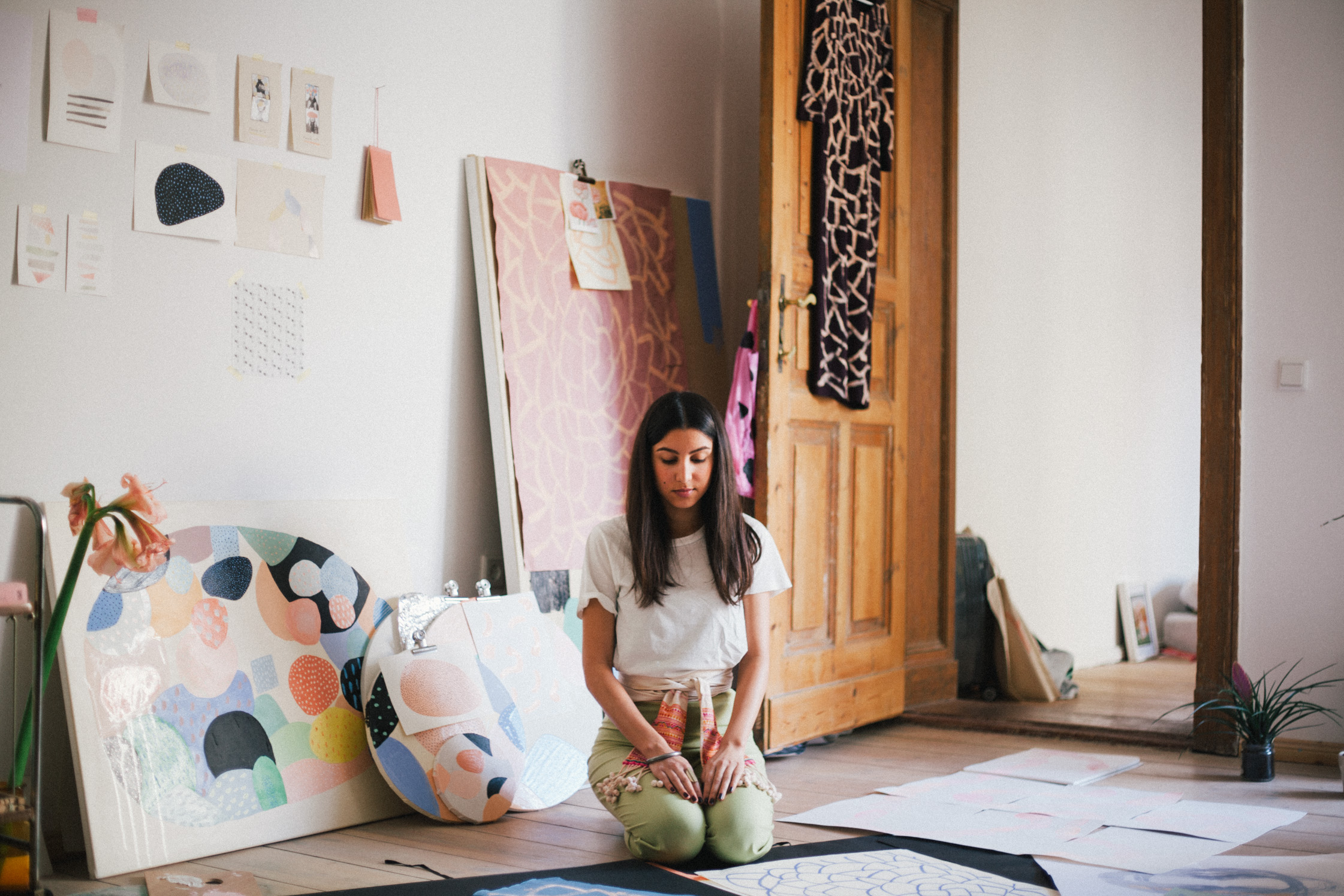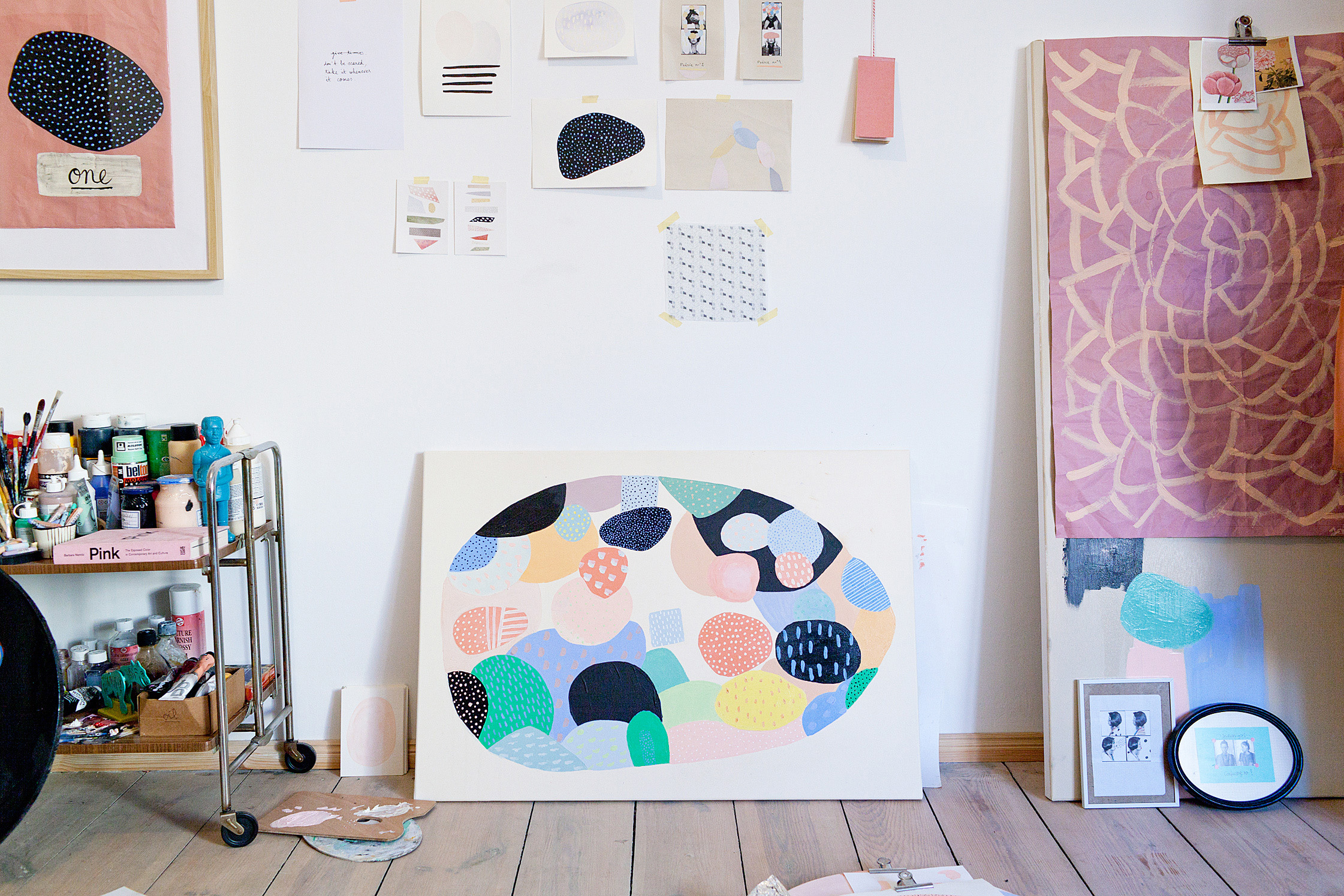 Let's start from the beginning. Where are you from? What do you do?
Johanna: Jatinder is from London. He paints, draws, plays music, is vegetarian and likes broccoli.
Jatinder: Johanna was born in France, she does many things from painting to textiles and photography and loves biscuits.
What is your daily routine like?
Johanna: Getting up for a nice and healthy breakfast, often with books and music or a short movie
Jatinder:Then shower and start the day!
Johanna: Yes! And then the daily things of course depending on where we are that day.
Jatinder: If in Berlin, we dedicate the entire day working on our projects and meet our friends in the evening for dinner.
Johanna: If in London, we often go out early for important meetings, come back and have fun with Jatinder's family and friends.
Jatinder: In any case we try to draw, learn and have fun each day!
Is art something you discovered from an early age? Why did you decide to focus mainly on painting?
Jatinder: Well, growing up I was surrounded by paintings. I remember clearly going to my auntie's house and seeing my uncle's oil paintings displayed on the wall. He made these photo realistic paintings of icons such as Marilyn Munroe and Bruce Lee. I was a massive fan of Bruce Lee from a young age, so I always took my sketchbook and tried to copy his paintings. I remember also just drawing my favorite characters from cartoons. I was always drawing even as a hobby.
I discovered oil painting a lot later, I was discouraged from oil painting in high school because I was too much of a naughty student and made everything messy. I started using oil paints a lot later. I was never taught how to paint but I picked up a lot of tips from working with my favorite artist Conor Harrington in London as a stretcher boy and handy man. I like the fact that it's easy to manipulate and dries slowly. I also like the fact that I can break up my paintings with illustrations and enjoy a balance of both. Painting is something I believe I was natural at, and I feel comfortable with. The more I painted the more I realized there is a bliss between the brush and the canvas, much like spreading butter on toast. There is feeling in it, and that's what makes me appreciate abstract paintings.
Johanna: I think I always wanted to be a painter. When I was a child and a teenager I was really into dance and I trained hard. I even went to a high school with a contemporary dance program, but I was always more attracted to the paintings used as backgrounds and to the costumes. Dancing and the hard work you have to put into a movement really left a deep mark on me – specifically with the urge to always seek perfection. The costume design by Rei Kawakubo for Merce Cunningham in 1997 really struck me. Of course at the time I was just a child but it was breath taking to me, the memory is still really vivid. Those costumes were like a dancing painting to me. Later on I really connected with the paintings by Yoshimoto Nara and the abstraction of Yayoi Kusama. Despite working across various mediums including photography and textile design, painting is my first love. I write and research a lot about what I do as well, the impact of colors, how everyone in the world react differently depending on the culture and heritage of the viewer.
Was it an easy process to decide you were dedicating your life to being an artist?
Johanna: I never thought of that, it's something I wanted, still want, it's natural. And if you mean financially, easy or not it's how I want to live, from my own work.
Jatinder: I am an artist of life, so I am always learning and enjoying that. So it's pretty easy. Art is our life and breath.
Did you attend art school?
Jatinder: Yes, I paid too much money just to watch slideshows!
Johanna: Yes, Fine Art School in France, Haute École des Arts du Rhin. I do not have so much to say about it to be honest, other than in my opinion there is a problem with the system in France.
What inspires you?
Jatinder: Events in life, things I have experienced. Inspiration is something that is deep inside and I am always trying to express it either in the form of music or art. I like to look at everything and just enjoy it. Reading poems written by Guru Nanak Dev ji i was really inspired by Sikh culture and history. There is so much of a rich history waiting to be touched by art, so much visual beauty in these poems. I am always finding new things and contemplating writings of devotion, they are a deep part of my life. I feel these things are very powerful and motivate me on a daily basis to serve my love for painting. Life is so temporary, that notion itself is an inspiration to me that keeps me going.
Johanna: If I had to chose two words: feelings and experiences. My relationship with daily life and ordinary things is a big inspiration to me. I always try to seek beauty in ordinary and simple things, so the Wabi Sabi philosophy means a lot to me. I see a big connection though all the mediums I work with. And of course traveling, the fact of moving and seeing different faces and cultures.
Is the notion of travel and of mobility, somehow related to Bonjour Supermarket, your online shop?
Johanna: Yes, definitely! Bonjour Supermarket is on the internet. Everybody can access it and I can send orders worldwide from wherever I am. I would love to do pop-up stores in various countries in the future, to give Bonjour Supermarket a physical presence. I'm really happy Bonjour Supermarket is successful. I relaunched the shop last January with a new design and "Guest" feature where I curate and invite other creatives to sell their work. Of course Jatinder is the first "Guest" and it has been a big success! His limited fine art prints are selling worldwide. I'm also selling my publications, prints and textiles made from fabrics I have designed.
What brought you to Berlin?
Jatinder: Johanna Tagada! (laughs)
Has living in Berlin changed your work? Is there a Berliner feeling in your works?
Jatinder: Not at all.
Johanna: Berlin just allow us to have the time and space to focus on our work.
What is your favorite place in Berlin?
Johanna: Probably some of the tea house such as Mamecha and Chenché in Berlin, Mitte. The Ethnology Museum in Berlin Dahlem, the big parks and of course our flat.
Your studio is basically a part of your flat. What is it like to share a space?
Johanna: Our artwork is part of our life, I couldn't image a studio that isn't part of our home.
Jatinder: Its amazing when we tell people we share our creative space. Most people say, "You must want to kill each other working as artists together." It is in fact the opposite situation as Johanna's work doesn't clash with mine. It is a harmonious environment that is simply due to the fact we both have different styles so there is no sense of competition, but rather a sense of understanding and encouragement. I believe she helps me with my work and I couldn't be more thankful.
Johanna, you have recently published a photo essay 'Jatinder ballade quotidienne' and 'Colletion #3' that introduces your latest work, tell us about it.
Johanna: I love printed matter so it's natural that I got into making a publication. I create fine limited edition publications and I dedicate a lot of time working on them. I produce everything from designing to assembling and packing them. I aim for them to be as delicate as I can make them. I also give a unique touch by adding one original hand painted page in each copy of Colletion. They are sold at the Tate Modern and have been described as poetic and beautiful – something I was so happy to hear!
I'm also extremely happy that the Tate Modern and The Photographer's Gallery in London sell them! Lately the Palais de Tokyo in Paris and the Museum of Contemporary Art in Strasbourg also took some copies. Jatinder, ballade quotidienne is a photo and written essay about my ongoing project Analog Diary. It focuses on relationships, nature and giving up oneself. Colletion#3, which was preceded by Colletion#1 and #2, introduces my latest work in various mediums and comes with an Annexe that also included some interviews.
Jatinder, you also make music. You play a pretty rare instrument, I have never seen it before! Tell us about it.
Jatinder: Yes well I play an instrument called the Dilruba which is translated as 'heart stealer'. It honestly is, it stole my heart. I was like any old teenager, not interested in classical Indian music, but listened to the likes of Eminem because everyone else was listening to it. But when I heard the Dilruba being played for the first time, it struck a deep chord within my heart. I actually felt something and knew I had to learn it. I don't know what overcame me but I bought one the following week. I have been playing and learning Indian classical music for over 10 years. Later on I learned that the instruments such as the Taus, Saranda, Jori and Dilruba, are all instruments that were used and invented in Sikh Courts. It is sadly a dying traditions and there are not that many people who know about these instruments or know how to play them anymore. I can't live without it.
What are you looking forward for this year?
Johanna: Japan! We will travel there later this year. It has been one of our shared dreams to visit there and we will also travel to America for Miami Basel and also to New York.
Thank you so much for allowing us into your peaceful space to discuss your creative pursuits. To find out more about Bonjour Supermarket, visit the website here. You can also view Johanna's blog here and her portfolio here. To see more of Jatinder's work visit his portfolio here.
Interior Photography: Mary Gaudin
Portrait Photography: Marlen Mueller
Interview & Text: Marion Berrin