Dressed effortlessly in soft desert tones, Jesse Kamm has an ease about her that extends to the simple, beautiful habitat she has created with her husband and son in the hills of Northeast Los Angeles. Their home is made up mostly of warm woods and clean whites. The plain, unfussy lines of mid-century modern furniture are punctuated by deeply personal objects, art pieces and unexpected treasures. Discovered robin's nests sit next to a delicate hummingbird skeleton positioned in a display cabinet.
A portrait painted by a dear friend hangs in the living room. Stoneware vessels made by Jesse's mother – a potter – line the windowsill. Each piece, loved and adored and chosen with intention and meaning, imbues the space with a profound thoughtfulness that reflects the philosophy of its inhabitants. This motivation extends to the Jesse Kamm fashion label, a line made up – season after season – of enduring classics. Pieces that carry with them the vibrations of Jesse's own hand in their making. Pieces that tell a story of time, place and purpose.
For Jesse, this unflinching belief that simplicity is best comes from the teachings of her parents, and also her husband, who shares in the same guiding principles. In her sun-speckled studio space nestled in a back room of the family's beautiful home, Jesse shares with us stories of building a second home on a Panamanian archipelago, dumpster diving for the sake of running her beloved vintage Mercedes on discarded vegetable oil, and hitting her 10,000 hour stride.
This portrait has been produced in partnership with mb! magazine by Mercedes-Benz. FvF presents a personal portrait of Jesse Kamm while mb! magazine takes us on a tour to Jesse's favorite spots around Mount Washington which you can enjoy here.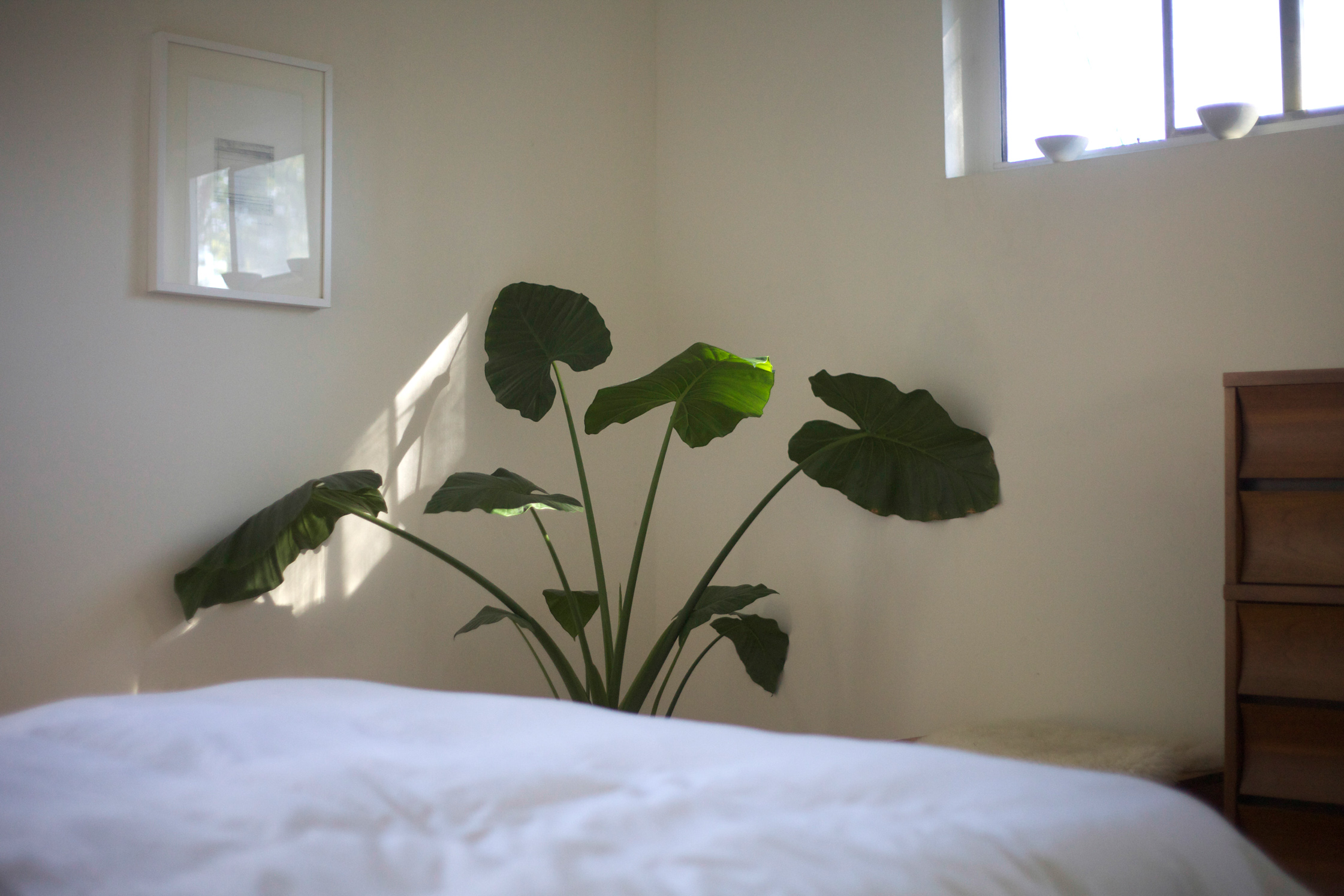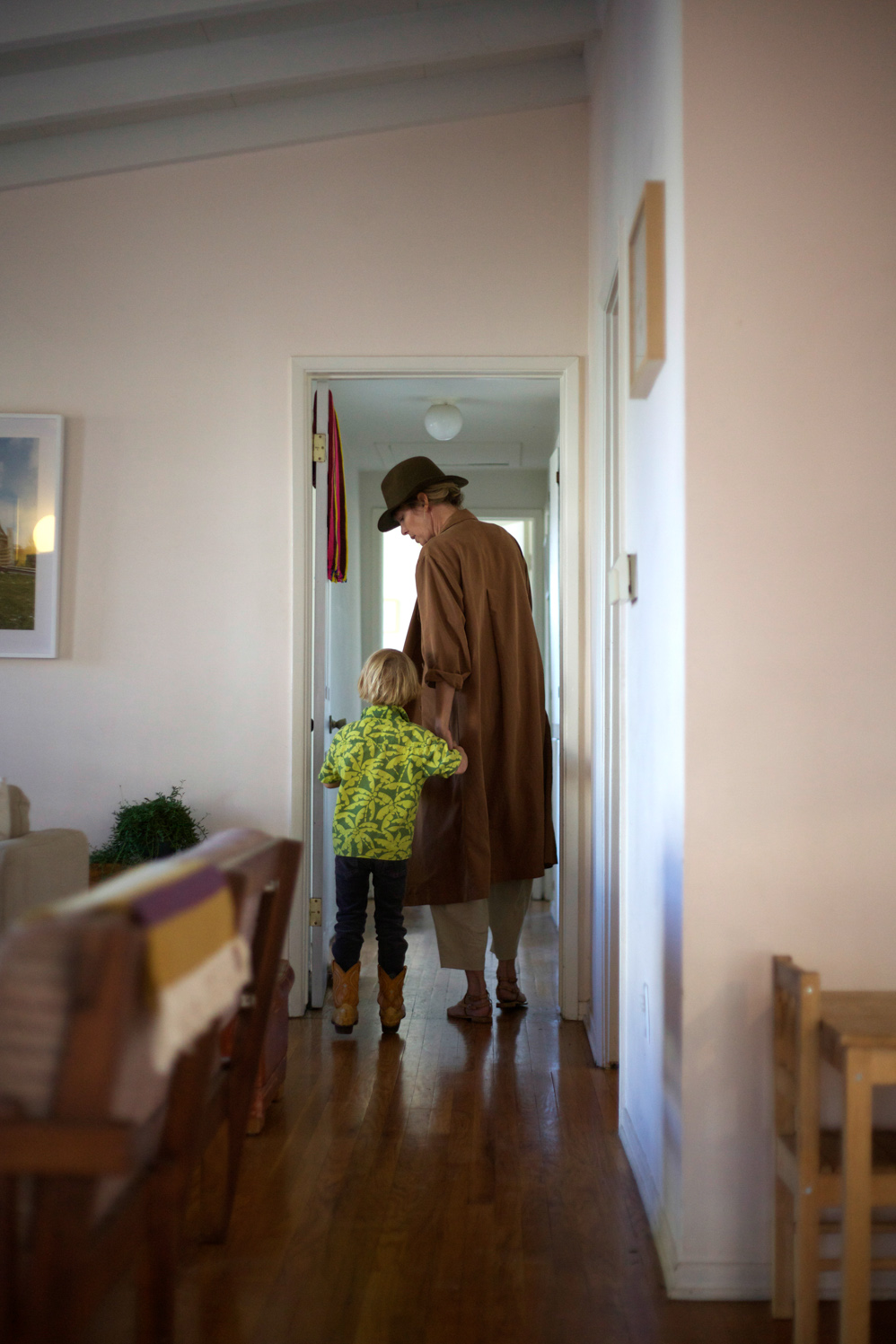 Your dad built the house you grew up in Illinois by checking books out in the library, right? Can you tell us a bit more about your family, and your own home?
Yes! It's true. And you know, the books he checked out, he actually referred Lucas, my husband, and I to, and they now sit on our coffee table in Panama. Those are the books we used to build our house there. When I did the illustrations for our house, I basically used the shape of the house that I grew up in. But yeah, I am like him, and he is like me, and I am like her, and she is like me; we're just very simple people with a super minimalist aesthetic. My mom was a potter, and she makes really super simple functional stoneware, My dad is an engineer, but he started as a draftsman. I just am so enchanted by his story. He was in a community college where he got his associates degree, and was working as a welder at this company. On his breaks he would draw. One day, the head of the engineering department was like "Wow, you're a really good draftsman, would you ever consider drawing houses?" So my dad started doing draftsmanship. He got hired as a draftsman at this company and they kept sending him to school to learn more and more. He kind of stumbled upon his vocation, much in the same way that I have.
You and your family spend three months out of every year living on an archipelago in Panama in a house you and your husband built from scratch. Can you tell us the story behind this?

There was this one day when we were there just visiting, and we were out surfing, just sitting and looking at this property where our house now sits, going "why is there something built on every other part of this archipelago, but not right here?" Luke started to investigate, and found this woman. She was actually looking to sell but didn't want to sell it to a developer. So, he told her about how he has a degree in environmental science and how he'd love to find a way to protect the land. He came up with this idea to build 24 home lots on this 33-acre plot of land so that no hotels could come. It's zoned residentially and there are lots of codes that will keep it protected. And it happened. We thought about it and put our minds to it, and it happened. And it's hard work too. Everything we bring we trek in with. There is this very kind of country, small life view there. I fell in love. It's taught me so much.
What made you want to make California (and LA in particular) your home?
I had been on a trip to Hawaii, and it was there that I realized I didn't have to live somewhere that was freezing cold in the winter. I was like "Oh my god, you can chose to live like this! That's phenomenal, I'm gonna do that…" My boyfriend at the time was like, "I'll move somewhere warm, but I can't move to Hawaii." I suggested California. So, really the reason I came here was for the sunshine. And I was such a nerdy, hilarious California girl in my mid-20s. I drove a convertible red Volkswagen Cabriolet, kept my rollerblades in the backseat and would drive down to the beach three times a week listening to my Prince CD and go rollerblading on the boardwalk. I was just like, oh man, I am into this. Even today, I just got back from a walk with my husband Lucas, and it's 80 degrees out there in mid-October. I was wearing shorts. By now I feel so into this environment; the warmth, the palm trees, I think it's officially seeped into my every cell. And I've tried to leave – we tried to go to Austin to raise Julien, my son – but this is my home now, and I don't know how to leave.
What is your story with fashion?
After I got out of school, I worked in recreational therapy with children for two years. I worked with kids with disabilities helping them rehabilitate through play. That's what I got my degree in. Then, after I moved to Los Angeles I got into modeling. And that was the first point which I feel like I had stepped onto a path, and you know, I wouldn't trade it and I wouldn't take it back, but it was really bad for me. So I did that for four and a half years, and when I came out of that I felt pretty empty and lost, but I knew that I was interested in fashion.
So I started working at Resurrection because a friend of mine had told me that working with Mark Haddawy would be the best fashion education I could get. And so for two days a week I would go there and listen to him and be surrounded by Issey Miyake, Comme des Garçons, Halston, and Jean Muir – all of these amazing, pristine designs. He taught me the right way to sew a button and how to clean or repair fabric that had been damaged. He inspired in me this appreciation. Then, I took a six week sewing class at Los Angeles Community College, my friend gave me a sewing machine, and I started making these little cotton jersey tunics. Shortly after I got into screen-printing because I had been experimenting with illustrations on the garments. Some time later a girl at Ron Herman complimented my dress, I told her I made it and she asked how much. I told her $500. And she said great. A few weeks later a friend took a tiny book of my images to Colette in Paris. Sarah placed an order for 16 pieces, and they were the first store to carry the Jesse Kamm collection.
Then what?
After that, all of this stuff started happening, I called my dad and told him how crazy I felt it all was, that it was all happening so fast, and he said, "Well, now you know you're on your path, that's how you know when something is natural and it flows. That's how you know."
I feel like I've put myself through an undergraduate, graduate, and doctorate degree in clothing construction in my own personal quest for knowledge and understanding. And I feel like there's this nice thing that has happened. My friend and I were talking about this theory – that if you've been doing something for long enough – ten to fifteen years, logged something like 10,000 hours of time doing something, it becomes part of you. It becomes completely natural, you're in the flow, it's easy, you're almost like a master. I feel like I've hit my 10,000 hours! Not to say that I'm a master of clothing, but of what I do, of my tiny little thing that I create, this little microcosm that I'm in charge of in this world, I'm the master of that. And I feel really happy about it.
You often craft your collections like storybooks. Can you talk about this idea of storytelling through clothing?
There's always a little bit of verbiage that goes with each collection that introduces the story. In the fall/winter 2013 collection, the one with the model parachuting in, the idea behind that collection was military-inspired pieces. The text for that one reads:
"War, what is it good for? Fashion, and absolutely nothing else… Inspired by the incredible function and simple form of vintage military issue garments dating back to WWI. Ingrid Sophie Schram parachutes into a new world. The clothing she wears are her base units. The special T-ops, the rear guards, the direct covers, the dressings, and the accessory units."
Now I'm not a fan of war. But military clothing is incredible. It's so utilitarian. Everything is in the right place. I'm really inspired by that. With fall/winter '12 and HAIM, I was at my friend's house who is a musician, we were drinking some whiskey and having a lovely night, and he was like "Oh, Kamm, I gotta play you this music! You're gonna love it." So he plays that song "Forever" and I was kinda sitting there with my hair blown back. Once I heard they were three sisters from the valley I just knew, I was like, where are they?! And two weeks later we were in Highland Park shooting! For the spring 2013 "The Free State" collection, we wrote:
"When I was in Panama this summer I entered a state of mind, I call it the free state. It's a place of total contentment, a place of peace, a place of good intention. I surfed, I designed, I built a house. I played, I laughed, I sat in silence. I made a commitment to bring the free state home with me in my daily life, and I remain there. I designed the spring/summer 2013 collection as a group of pieces to wear in your daily life that will remind you of the freedom and happiness of vacation. I say, stay on vacation in your every day life… let the sand stay in your sheets, wear a bikini under your work clothes, turn off the phone, eat a pineapple."
I feel like everything does have a story, and I'm very interested in building this dialogue around what the designs mean and are. Sometimes I have these nights where I can't sleep, my heart is just pounding, and it's very uncomfortable, but then usually in the dark hours of the night something amazing will happen in my mind, and it will just occur to me.
Can you talk about some of your main inspirations?
Nature has always been my biggest inspiration because I spent the greatest portion of my time outdoors, and a lot of my color palettes and texture ideas, all of that comes from what the earth has already created… I'm just attempting to copy it. I don't do much in the way of looking at my contemporaries. I will often keep my head down and not look, and when I look up, I realize we're all doing similar things…. Which is so interesting, and strange, from a sociological standpoint. What is it? Were we all born in a certain moon? I find that so interesting. But really, people just walking down the street, seeing the way a woman is wearing her scarf, carrying her handbag… I'm a really visual person, so I see things in the way people wear their clothing and yeah, I find it in lots of strange places. Well, maybe it isn't strange and that's how inspiration works for everyone.
You've been designing for eight years. Can you describe your approach to the business of Jesse Kamm?How has it evolved? How has it stayed the same?

My business approach has really remained quite consistent through the years. Very early on, my friend and mentor, Mark Haddawy gave me the best advice I could have received: "Grow slow, grow organically, and don't take any investment, you don't need it." I get into relationships with stores because I believe in their approach, stores that really understand the brand and can share the story with the customer. I have no interest in being with a store for one season. I generally do not do much outreach at all, but choose to work with stores who come to me, having already done their research. I do all of my sales myself. I go to New York twice a year, in September and in February for market. I like to think of myself as an old-time salesman from the 50's with my suitcase full of merchandise and a story to share.
I love sitting with my buyers and helping them understand my process and what the tune of the collection is each season. It is a very personal process and it has always been this way. I was with a showroom for one season, after my son was born, and I missed being part of the sales meetings. I missed being the one to share where each fabric was sourced, and where each design originated, and I missed the control. I like looking into the face of the person who is buying my goods and understanding which pieces really move them. I love watching the buyers pull their pieces onto a rack and organize the pieces of the story that they wish to tell. Every store does such a different and unique buy and I really love that. I love getting to watch them process the work in their own way, because the truth is once it leaves my studio, I can no longer control it, style it, direct it, or nurture it. I like to know the next steward. It is very important to me.
What is a typical workday like for you? Can you share your routine?
I feel like my workdays really vary, because I am a one-man show. I'm really multi-tasking at all times, so for example this morning I got up, had breakfast with my family, got my son off to school, and then I came back here to the studio and I made some calls to check on production for spring. Checking to make sure the fabric is coming in, the dye houses have everything they need, the buttons are coming in in the appropriate increments, and so on. After that I continued work on the fall/winter 2014 collection, so I got all these color cards laid out. Additionally, I'm working on pricing a bunch of pieces that are going to go to the trunk show at Mohawk General that I'm doing with Apiece Apart. So there's always lots of multi-tasking happening, and every day is different, so that keeps it really interesting. But I have to also be very good about getting to work and getting things done, because if I don't do it, nobody else will.
There is definitely such a sense of you in Jesse Kamm designs – handmade pieces that reflect your sensibilities and interests, that have been with you every step of the way.
I even package up orders myself, wrapping them in the tissue paper before sending them out.
When you design, are you designing for yourself, making things that you want to see and have?
Absolutely. You know, I take some flack once in a while from girls who are of a smaller stature than me. Because I am nearly six ft. tall, they wonder why I'm not designing for shorter girls, or heavier girls, and so on, and the truth of the matter is that I had a really difficult time finding clothes that fitted me properly. Fortunately, the shapes that I use, because they are so shapeless in a lot of cases and they come with a lot of ties, belts, or places where you can fold or wrap a piece, they actually fit lots of different body types in different ways. I love standing in a line with a girl who's 5'4" and another who is 5'8", and then me, all wearing the same piece, and it looks amazing on everybody, but it looks like a completely different garment on each person. I love that flexibility within the collection.
A lot of times, pieces will come from me taking an old JK piece and wearing it and turning it around or cutting off the skirt or belting it and then seeing the shapes that I hadn't seen before, and then moving forward in that direction. Or, right now I have something pinned to my inspiration board, and it's just a collar, but I can see it on this other dress that I've always done. I really like the idea of embracing the notion of slow fashion. Of having the collections really flow from one season into the next season and not having it be big drastic change. I feel like my customer really appreciates that because they can get into a piece and then into the change that's made to it and not feel like I'm all over the map with the direction that I'm going in. I feel that's how I want to dress; my style from season to season doesn't really change that much, so I feel like the consistency within that is something that I'm really into.
There's a real 'trendlessness', and so there's also a timelessness to your designs.
Definitely. I'll see a girl who bought a piece six years ago, and it still looks modern today when she wears it. That's one of those pat yourself on the back moments! It means that the piece is sustainable, which is really important to me, and something I really believe in.
Your designs are described as "luxury artisanal". Can you speak to this?
The "luxury" aspect comes in because the fabrics are really expensive and they were hand-chosen because of the texture and drape. A lot of the times the fabrics are coming from Japan, and the reason I'm choosing them is because they are experimenting with doing more eco-friendly versions of fabrics that I like, like silks. A silk is not really something you can do in an environmentally-friendly way because, you know, it comes from a silk work, and it goes through these processes and there's really no way of changing that. However, there are these other manmade fabrics where people are taking wood parts and trying to turn them into beautiful fabrics that feel like these amazing silks. And they're beautiful and amazing, but very expensive. I use a lot of those in the collections. But then, the fact that they are made locally here in Los Angeles, and not in a small factory in Italy to me, makes it more "artisanal". All of the pieces of the puzzle are being transported around in my car! That is the craft, art part, but it also has that luxury sensibility because of the high quality fabrications. So that verbiage, "luxury artisanal", was the best way to describe what I do. It's a little bit rustic but very luxurious.
Can you describe your design process from start to finish for us? How do you dream up a new project?
There's always a point at which an idea begins, and it could be something completely obscure. The Sanguine Moon collection really started with this full moon that I saw and I started researching the full moon and hunting at night, and then all of these things came from those ideas. That's where the JK trench originated, which is a shape I've moved forward through many collections, and that's where the moon tote originated. So it can start with an obscure moment. Right now I have all of these pictures of those fluorescent orange roadblocks up in the San Bernadino Valley, and the sun has bleached them out, they're now this pale neon peach color, and its so gorgeous in contrast to the dusty desert background.
I often don't exactly know where an idea will lead to, but I sit with it, and then something will happen where I'll see it as a closure, or a button, or a piece that'll go with something else. It's really quite random, but often my mind will be empty in regards to an idea and then a first idea will come, and they'll just flow from that. I'll get a group of ideas, and I'll have to scrawl them down so I don't lose them, because they do go away. And as I experiment with one thing, I'll see a pattern or a shape reoccurring, I don't know, it's very organic. In the process of moving forward with that one idea, I have these 50 books that I always go back to, and they're just images of people and places and things throughout time. I like to look at them because I'll see a color palette in an image that I never paid much attention to before; I always find something new in these images that I've looked at time and time again.
What's the story behind your house here in Los Angeles?
Oh, it's so good. This area was a really big gay community, and the house was nicknamed the "Swish Chalet" – there was a 16-man hot tub and the model who lived here back then used to date Elvis. There was a box of photos in the attic of Elvis partying here at the house.Wow! That is pretty special.
Do you have a favorite shop/restaurant/café in your neighborhood?
I love La Mill for their iced coffee, Cortez for a meal out without kid, and Forage for a meal with the kid!
What about shopping?
You know, I was thinking about this other day, I realized that I haven't gone shopping in years – I don't shop! I wear clothing that I make, and any bag or shoe that I get in my life, is a gift or a trade from another designer. I'm not really a consumer! Neither is my husband! If we need something new, we build it, or we find it at the Rose Bowl. And it allows us to really have so much more, because we're not really spending. We buy groceries and health insurance.
A lot of the beautiful art in your home was made by friends of yours. Why is supporting your friends' creative endeavors important to you?
I feel like the people I surround myself with and the reason that their work ends up in my home is because I'm drawn to what they're doing and creating. One of my closest girl friends, Claire, who made all those paintings in my house, I really couldn't be a bigger fan. I'm just such a fan of her work and of her as a person too. There is something very intertwined about a person and what they create. It feels like a really natural exchange; I feel most comfortable surrounded by these things. My dishware is either made by my mom or my friend Victoria Morris, and every day when I have my routine coffee, I have my mom with me even though she is thousands of miles away. I feel like I'm a really sentimental person, and so the things in my home are quite sentimental.
What is your most beloved possession?
I don't know that I can say just one. But if there was a fire, that type of thing, the things I would try to grab would be my painting of Emma, the portrait, as many of my wool felt hats as possible because they are very important to me, and really, there aren't many things I couldn't live without. My boys, they are the most important. But I feel very much like I understand that I am only on this earth as a passing visitor for a short amount of time, and when I'm gone all of my stuff is going to be here and it's going to belong to someone else or it's going to go to the dump. So, I understand that I can't take it too seriously. But actually, you know, my car is pretty special to me.
When you started designing it felt easy and right, like you were setting out on the right path. How did you learn to follow your gut?
Part of my personality and who I am is very moral, and I feel like that comes from being a good Midwest girl, and having those values. I always knew right from wrong, for me. My parents always really relied on their gut instincts too; my dad is the type of guy who just won't do something he doesn't want to do. I learned by watching him, and her. My mom has always run her business in a very similar way to the way I run my business. I have a pretty loud internal voice – and you know, I've made plenty of bad decisions in my life. Coming to where I am now has been by learning from my mistakes. I always feel like I come away with a lesson. And I think I see the world differently than a lot of people. I don't need that much, so it's easy for me to turn down opportunities that equate money, because financial gain doesn't drive me. I can make decisions that are based on other things because I don't feel like I need that much.
You and your family do tread lightly in the world. How can we all simplify a bit?
I don't ever want to get preachy, because I'm all about doing my own thing. I can pull back my scope and see that we are diminishing our limited resources in such a way that is just not sustainable. I want to participate in that as little as possible, I want to respect our earth in the best possible way that I can without being that person who lives in a tent out somewhere. I feel a bit like a hypocrite, because then I turn around and make goods, and making goods requires resources. You know, we don't actually need more clothing. But people will buy more. So if I can make decisions that are positive, and people who buy clothing buy from me, then hopefully their impact is lighter than if they were buying things from big throwaway fashion retailers.
I only wear the clothing I make, pretty much, and the clothing I made eight years ago. Also the way I think of clothing…. If something has a hole, you patch it, if a shoe wears through on the bottom, you get it re-soled. I'm not into buying and getting rid of it. The most important thing is to think about where everything is coming from, and what it took. Being mindful.
Jesse, Lucas and Julien, thank you so much for welcoming us into your home, sharing your morning and enlightening us with your words. To find out more about Jesse, her current collection or to browse her archive visit her website. Take a special tour around L.A. and Jesse Kamm's favorite spots here.
This portrait is part of our ongoing collaboration with ZEIT Online who present a special curation of our pictures on their site..
Photography: Claire Cottrell
Interview: Dana Covit
Text: Claire Cottrell