Jennifer Wiebking considers Frankfurt a city where one can be left to their own devices. However, the fashion journalist didn't choose her temporary residence for personal reasons, but rather, for professional ones. She currently works for the newspaper, Frankfurter Allgemeinen, within the 'Life' department and contributes alongside Alfons Kaiser for the magazine supplement.
Growing up in Hannover, she discovered her passion for the sociology of fashion during school. With early teacher-pupil relationships, Jennifer began to test the sociological impacts of clothing while beginning to engage with new fashion trends and designs being presented on international catwalks. During a temporary stay during eleventh grade in England, she became so fascinated with the notion of 'dressing up', that soon after she made the decision to study fashion journalism at the University for Creative Arts in London.
Continuing on this trajectory, she interned and worked freelance for publications such as Harper's Bazaar, The Times, Vogue in London, Elle.com, W in New York and Women's Wear Daily in Berlin. Following this, Jennifer then packed her bags for Hessen to work for Frankfurter Allgemeine. This keen young fashion journalist has already seen a great deal and worn many outfits along the way, however, as she reveals to us, she feels most comfortable in her mother's clothes. Her apartment is also furnished with a similarly modest approach. Jennifer is less concerned about materiality and more in examining the sociology behind every single object.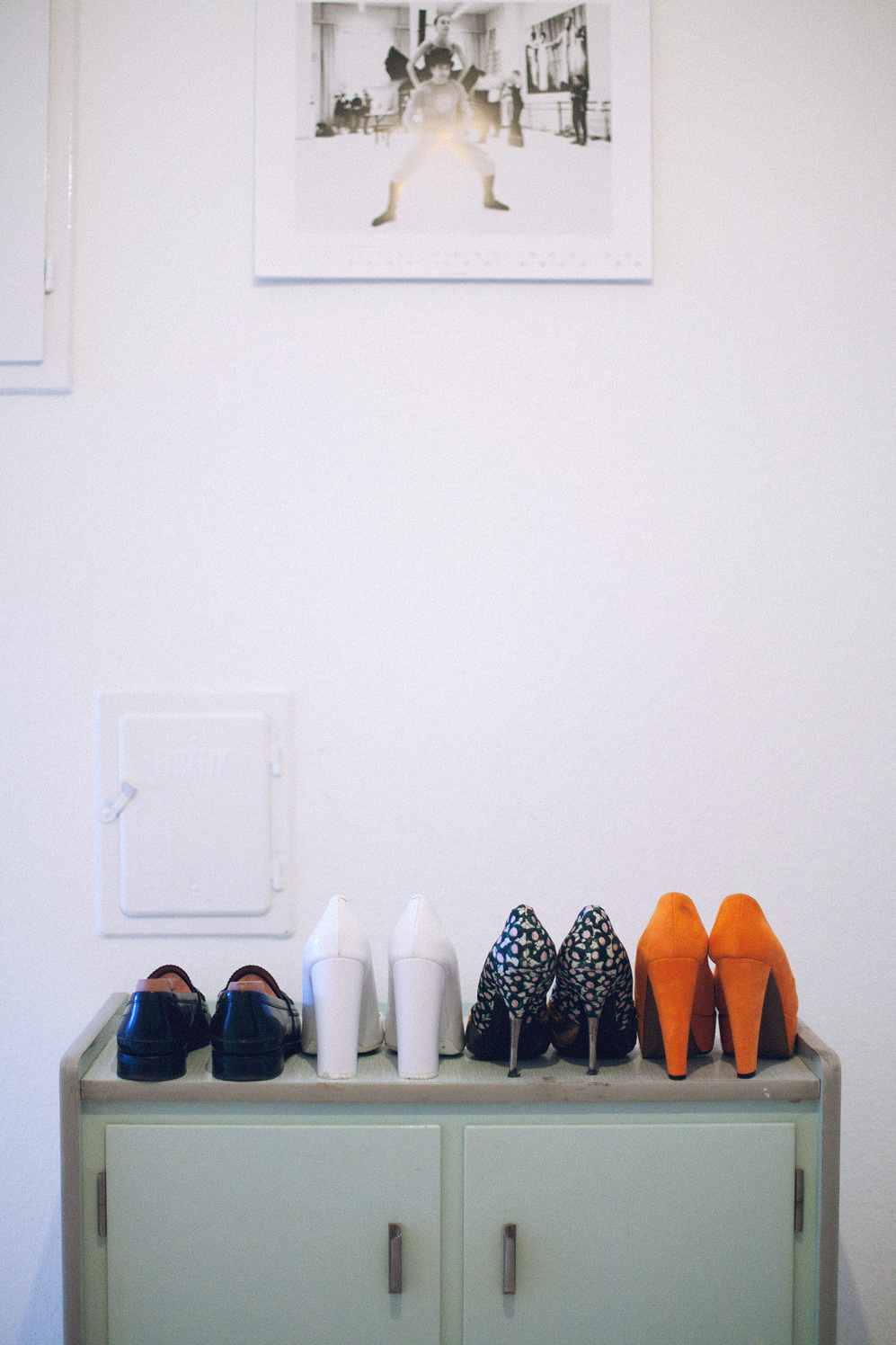 When and how did you get interested in fashion?
I have always been unconsciously interested in fashion, primarily in the way we like to dress. I remember observing people's outfits. I also always had my own particular style to dress. In 9th grade I had a physics teacher who would dress quite differently from the other teachers. Very conservatively. As I was godawful in physics, I would also dress conservatively and sit in the first row. I convinced myself that was how I ended up with an 'amazing' C!
Generally fashion functions as identification. I was interested in experimenting with that very idea. At that point I hadn't looked at the runway yet, but I then somehow started to read magazines like Vogue. When I went to school in England in 11th grade, I was to able to see for the first time how fashion functioned within daily newspapers as an everyday topic. I was really excited about that discovery. I wanted to participate in this talking and listening, I simply wanted to belong to that world. I also assisted for a range of fashion productions, but it usually consisted of writing.
For you, what is interesting about fashion?
I am primarily interested in its sociology. I believe that many readers would find it much more interesting, for example, to know what statement it would be to wear a hat in the streets than to know what kind of wool it is made of. Materials are the starting point. Unlikely things will look good with bad material. Good materials are very important, but that it is not necessarily the topic I want to explore. I also appreciate the scientific aspect of it. The market situation, the position of companies who also say something about society.
How does fashion critique work in Germany?
I think it functions well. Of course, it is not such a big thing like in England or America with Style.com or The New York Times. Due to that it can't be the most up to date. It just can't be compared to foreign countries in regards to quality. German fashion criticism is very critical, the way it should be.
In your opinion what constitutes good fashion design?
It doesn't depend on the fashion designer. Instead of having a favorite designer I try to decide season by season if the created looks on the runway work or not. These are object critiques. A collection has to be cohesive. Has the designer continued since his last collection or is he/she showing just the same thing again. All of this is very important. It also has to be contemporary, it has to belong to our time.
Is there a designer that fulfills all these ideals?
MiuccIa Prada does an extraordinary job. There is so much life in her work. Just take a look at the current spring collection. I think it commented on the spending capacity of the far East. Currently many designers are opening their boutiques there and a certain gold-digger sensation is very much present. Prada's collection was influenced by Japan, even though she says it was pure coincidence. But even if it were, it could have been done unconsciously. Japan counts as part of the Western world. This is why it is a certain symbol of solidarity.
What do you think about the well-celebrated Raf Simons?
Amazing. I really liked his first Dior collection for Spring. I also thought what he did for Jil Sander was quite beautiful. But I also appreciate that Jil Sander is back, as it provides a different wearability and closeness to real life that is commercial and nowadays wanted by fashion houses.
There is an ongoing discourse between fashion being art, and art being fashion, what are your thoughts on this?
I think that fashion serves as applied arts. At least, it has this function at best. Fashion always has a practical purpose. Fashion is there to be worn, it has its own right. There is a reason for the existence of fashion and art. It is like design, which has something pragmatic and practical. But of course, something shown on the runway always functions as an art performance. On the other hand, one doesn't see many women wearing those particular skirts in the streets. Again, it proves itself as an example of applied arts.
Are your parents interested in fashion also?
My mother likes it. She considers fashion a medium which makes people feel good or even makes them feel better. I wear lots of things of hers. I take many things of hers that she doesn't want anymore and keep wearing them. Today I am not wearing anything of hers, but usually it happens a lot. My father always reads my articles but isn't really into fashion.
What is the status of fashion in Germany?
In comparison to other countries, like America or England, it is not very high. There, fashion is much more part of the daily life. In Germany it is rapidly considered as superficial, something that I think lies within the roots of German tradition. They have a protest-like relationship with fashion and in general with beautiful things. It's a pity, as fashion can be considered as a mirror of the soul.
I am much more interested in the way we dress than the fashion presented on runways. I think it looks beautiful and am definitely interested in seeing it, but I am fascinated by the face we decide to show every morning. This could hold a higher status in Germany, but I think it is on the right track. As the next generation emerges they will treat fashion differently and consider it to be much more important.
What could be one the reasons that this growing generation considers fashion more important?
I think that 'having a good life' has become something much more important within recent decades. The Germans are no longer ashamed to show that they want to live well. This is very much noticeable within the importance taken with food and interiors, as well as how we dress. This is becoming more important because people have started to care. Health and fitness are also topics that have become more interesting to society.
In the Sunday newspaper's 'Life' section, there are two new additional pages concerned with health. Fashion has also taken a more important part within the entire paper.
There are still journalists who strongly refuse blogs. What is your response to that?
I am definitely not against it. I think it's good that they exist. Through them, media landscapes like fashion have become more diverse and much more colorful. I really like reading Modepilot and your blog. I also like Fashionista, New York Magazine's 'The Cut,'Into the Gloss, and Style's 'Style File Blog.'
However, I just don't understand why bloggers are so easily sold out by products and brands. Personally, I think a blogger's unique characteristic is his or her freedom. To just give this up for a C&A coat is incomprehensible to me. Through this, many of the bloggers lose their credibility. The blogs I read don't do that and are very trustworthy. Nowadays I wouldn't much separate blogs from online magazines.
What is the contemporary definition of fashion?
Everything we have nowadays is defined by the past. I am kind of done with that. Of course it is nice to recognize roots. The retro-trend focuses on the market's clients. It is here where the last seventy years are being narrated down to the toe for those who missed it. I am curious to find out what defines us, not what we used to be, but the here and now.
Jennifer it was great to get a brief glimpse into the fashion world, we appreciate this conversation. To read some Jennifer's articles in the Frankfurter Allgemeine, go here.
Photography: Marc Krause
Interview & Text: Meltem Toprak