Design is in the blood of Jeannette and Frank Urech. Frank is an interior architect and industrial designer, Jeannette worked as a fashion designer and stylist before switching to fashion journalism. The pair met while working together on Frank's curated online shop – Mooris.
The lovingly crafted presentation is enriched with an in-house photographer and inspiring texts from Jeannette, who joined the team as head of editorial, setting off their love story. The success of Mooris lies in the range of offered products: ten thousand customers trust the taste and selections presented by Frank, Jeannette and their team of eight. The staff of Mooris search for the newest designers, labels and startups that bring innovation and an avant-garde flair to the creation of furniture, lighting, clothing, bags, watches, books and bicycles.
Their shared apartment is located in the trendy 3rd district of Zürich, which has developed in recent years, and since the recent closure of a thoroughfare it's grown into a popular neighborhood for young families and creatives. The little bijou with high ceilings and consistently arranged rooms has been Frank and Jeannette's home for two years – and for the last few months, also for their son, Leon. When we came to visit, we were greeted with an original Swiss carrot cake.
This portrait is produced together with USM and is part of the series "Personalities by USM". Find out more about Frank's and Jeannette's interior here.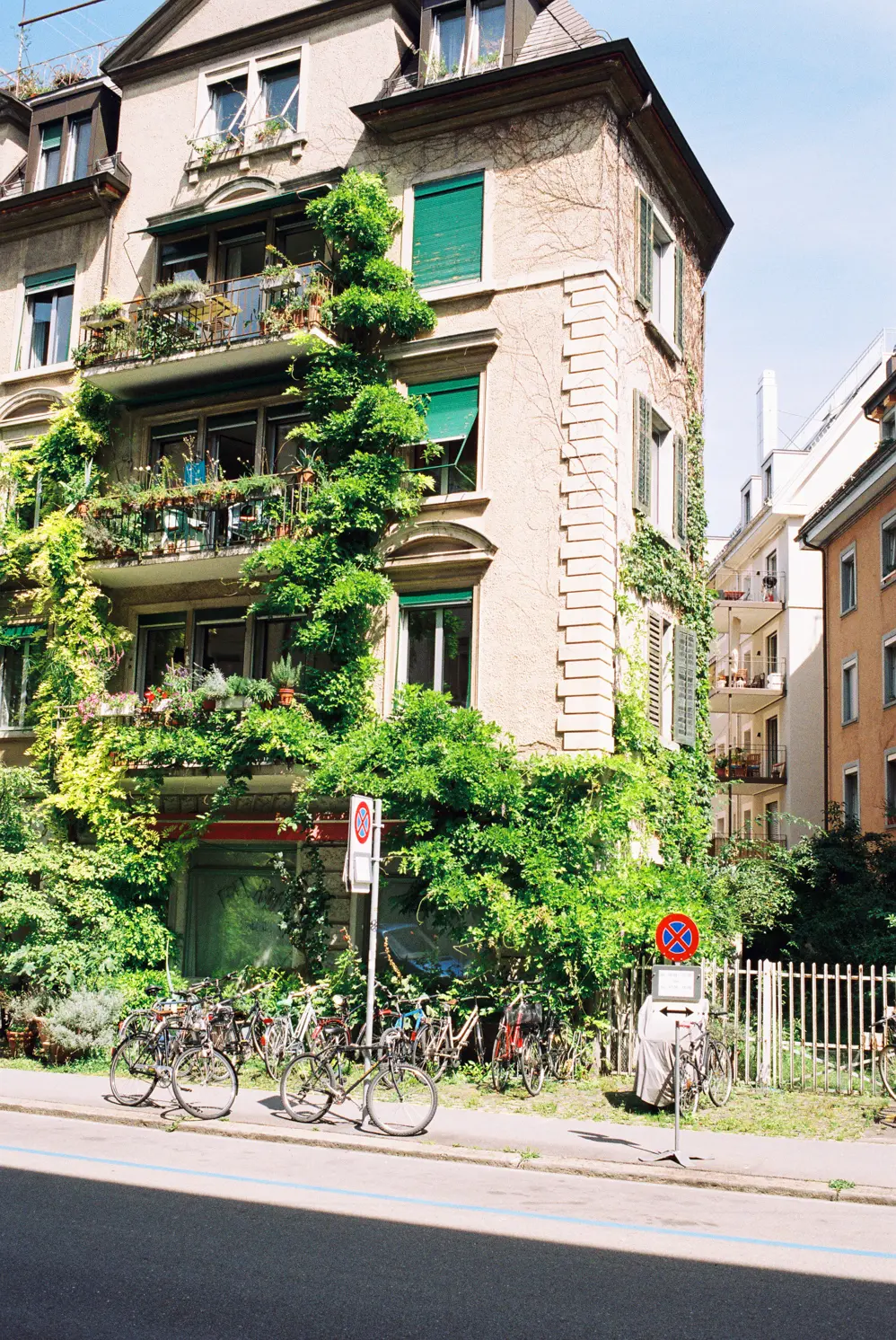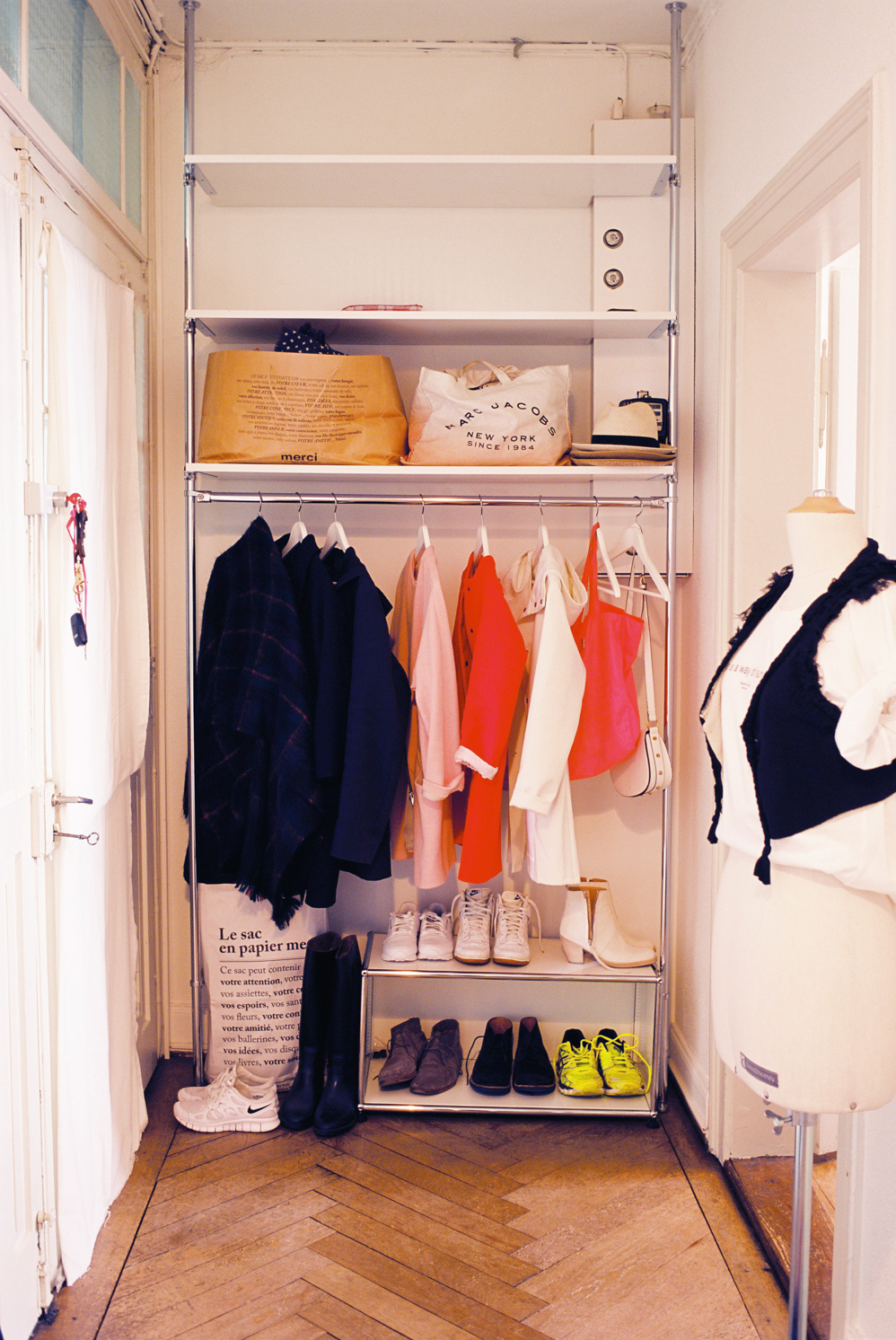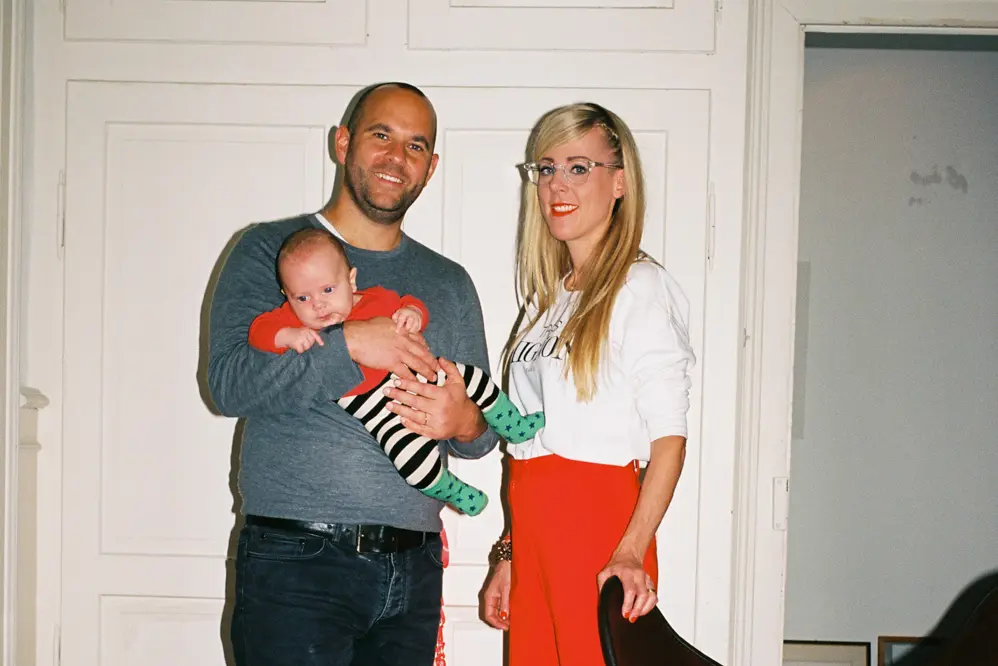 How did you end up in this fantastic apartment?
Frank: Our historic three-room apartment is located in my favorite neighborhood in Zürich, the 3rd district. The apartment is part of our love story: I moved into my former studio, directly under this apartment nine years ago. Even now my company, Mooris, and our eight employees are in a studio directly opposite the apartment. What's fascinating about this particular space, is that the doors are positioned in the right places. They're not, as one usually finds, in the middle of the room, rather they're on the side, thus creating a comfortable passageway throughout the entire apartment.
Jeannette: We've only been together for two years – after we met everything happened really quickly: Just two months later we moved in together, then I became pregnant with Leon and half a year later we married. (laughs) The charm of this apartment is surely because it matches this style. And that it has high ceilings – this is rare for an affordable apartment in Zürich.
The walk-in closet that takes up an entire room is impressive. What will you do with it as Leon grows and eventually needs his own room?
Jeannette: For Leon I will give up my dressing room, of course. (laughs) Back when I moved in here, Frank showed me the floor plan for the apartment and lured me in with the idea of my own dressing room. (laughs) When you've been working in fashion for a few years, you accumulate some things. I like the idea of an open closet, where you can always see what's there, and it's just easy to grab your favorite pieces.
Frank: There's only one third of all the clothes here – the rest are in the basement!
How would you describe your individual styles?
Frank: I'm more of the simple type and keep a foundation of good, quality and durable furniture. Jeannette is playful and likes to collect small eye-catchers and objects from flea markets or shops, especially abroad. These two approaches can immediately be seen in this apartment. The simple furniture is imbued with a kind of "soul" through the objects and pieces that are placed on them. The old apothecary bottles and colored vases are on display on the shelf. There you can see my propensity for staging small still-lifes. Or the photo gallery in the hall, where the images are sitting on the floor, rather than being hung on the wall.
Jeannette: Furniture and décor don't need to be expensive, but to increase its value, sometimes you have to take a saw into your own hand and turn a few screws. There are also one or two furniture pieces from our old apartment.
Frank: You can't just hire an interior decorator who magically conjures an individual oasis from a few pieces of design furniture. I'm always very open and direct with people in terms of décor. I tell them that they need a picture there or the arrangement of the bedroom isn't really working. Otherwise, everything is interchangeable and looks the same! And designer furniture looks beautiful, but only when they are placed properly in the context of an entire apartment or house.
Jeannette: That's true. For example, Eilersen's cubic divan isn't randomly placed in this corner, it's meant to complement the window. The furniture shouldn't be in competition with my "exhibition." This means that the furniture can also pull back a bit, so the focus of the viewer falls on the books, objects, and the small trinkets and souvenirs. The white USM shelf, the cubic divan and the mid-century designer stool go well with the light wood paneling and the old wooden floors.
How long have you had your USM furniture?
Frank: I've had this furniture for 20 years. That says something about the quality and utility of the pieces. We even made a changing table from the USM furniture. I posted the design on Facebook with the words, "A great CHANGING table" in reference to our little Leon.
Jeannette: There are simply no nice changing tables on the market. Now we've just taken a piece of furniture, which is probably the last thing out there for use as a changing table, and used it as such. I think you can instill all furniture with its own sense of identity. This is also the idea behind Mooris. With the curated concept store, we want to show the customers how many possibilities there are for furniture. Many people design their homes exactly as the existing ideas and arrangements are shown, even if they have expensive design furniture. It's the same with clothes. They have a closet packed with clothes, but somehow don't get the combination right.
Where does your passion for furniture come, Frank?
Frank: I was always fascinated by furniture, it's in my heart and soul. I studied architecture first, and then I came into the field of industrial design. But I can't make the claim that any shelving system or whatnot, designed by me is sold worldwide. I'm happy when I can design a single table that will be used in an institution. The furniture trade was added later because I just didn't find furniture that I wanted in Switzerland.
Curated online shops are a established trend worldwide. Why does this trend continue to grow among buyers?
Frank: It's about the love of the people for the products. We're not business students who have founded a startup to quickly earn money on the Internet. On Mooris we only present chosen products from the furniture, design, fashion and interior realms. It's about our approach, our selection, and people trust it.
Jeannette: Despite the fact that they're shopping on the net, people want, just as always, a consultation, personalized service and a selection of good products. This is also a guide through the huge number of offers on the Internet. That's why we call it "emotional shopping." And that's why we don't focus on the price, rather we offer a beautiful and stylish selection of design products. I write texts to go with them, to explain to the customers why this lamp is great, and why we've chosen it.
Frank: It's alike all business sectors that are concentrated on the web. The selection of online shops has become huge. Our customers don't have to surf through countless shops to discover new designer pieces, rather they receive personal and selected shopping tips. We place value on the text and photos. Online shopping should be fun – yet still personal, even if it is online.
What are your favorite places here in the neighborhood?
Jeannette: I like to go to Café Z am Park. You really feel welcome when you're there with a child, and it's calm in the afternoon. When the weather is nice then you can also go to the park. This place has become more and more popular in the last few years. Because Weststrasse closed to traffic and is now just for pedestrians, the entire 3rd district has experienced an upgrade – in the last two years there are constantly new cafés offering breakfast or great drinks. This is also important because the Mooris office is right next to our apartment, and you have to be careful to not just go from one to the other, you also have to explore the neighborhood.
Jeannette and Frank thank you for talking to us and welcoming us in your home.
If you want to know more about their online shop Mooris head over here.
Together with USM we've been producing portraits for the Series "Personalities by USM". Find out more information on Frank and Jeannette's interior and discover more stories here.
Discover more FvF stories from Zürich here.
Photography: John Patrick Walder
Interview: David Torcasso