We're in the heart of Kreuzberg. Zossener Straße seems to overflow with cars, people and bikes. Through the door of one of the few unrefurbished buildings in the area, we pass one courtyard after another.
With every step, the city's turbulence seems to recede further and further into the background, as long-forgotten sides of Berlin show their face. We meet Jan beneath an enormous chestnut tree, growing between the commercial portion of an old residential building, some unrenovated carriage houses and a few garages. This is the world of Jan Rösler. The young Berlin architect grew up here. Today, he occupies one of the carriage houses with his girlfriend and their daughter, and has both his studio and workshop here as well.
Jan takes us on a tour of some of his favorite buildings in his hometown. He himself is still at the beginning of his architecture career – albeit an auspicious one. His renovations and constructions are exactly as low-key as he is. They testify to a high degree of precision, a smart and honest handling of sustainable materials, and a keen sense of contexts. In their own way, the locations we visit on our tour stand for the same things. They serve Jan as inspiration and motivation to keep tilting at the windmills of conventional architecture.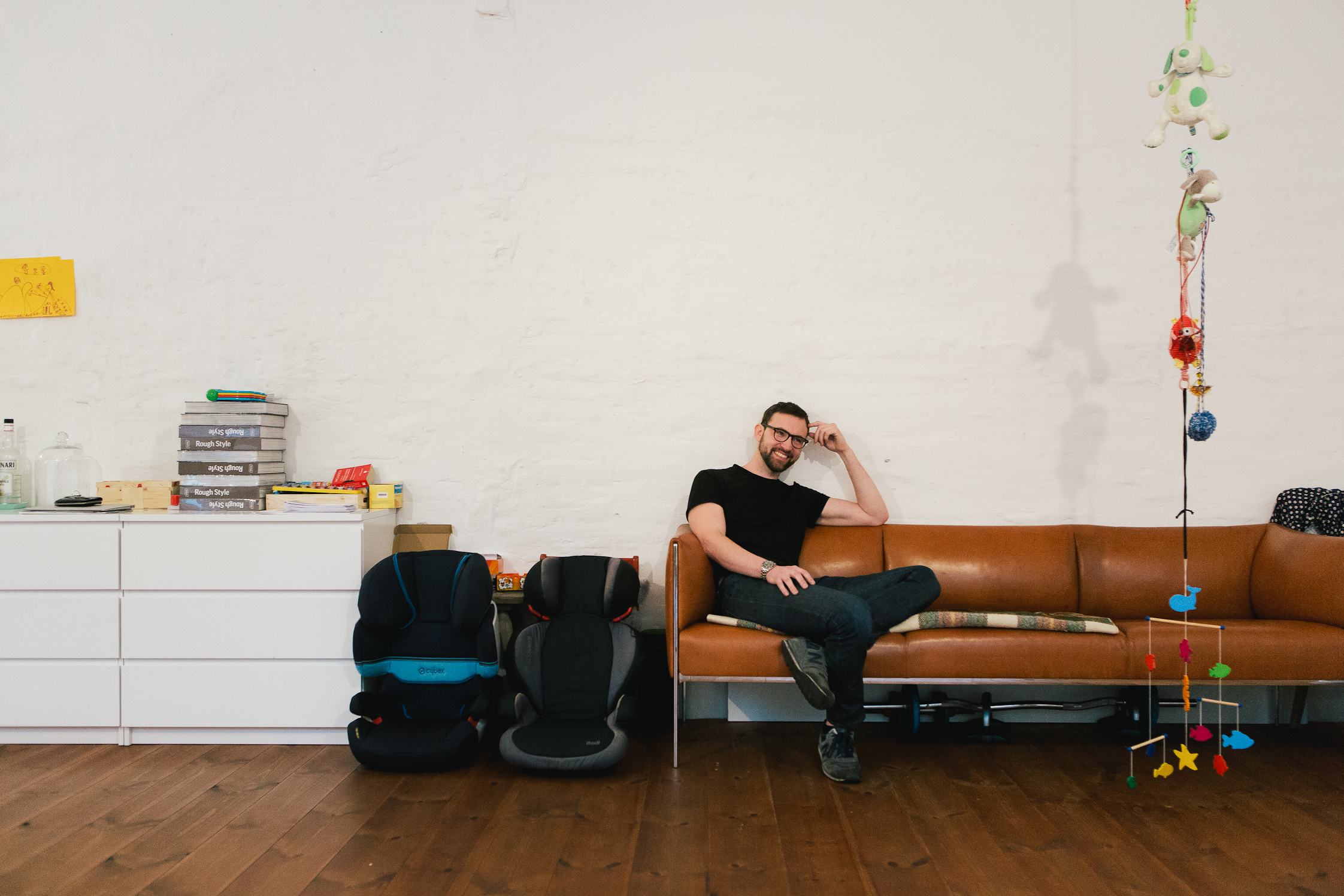 Home And Studio in Zossener Straße
You work and live in the building where you grew up and did your apprenticeship. This place seems to be really important to you.

I grew up in the front building. Even back then, there was a carpentry shop in the courtyard. I interned there as a high school student, then started my apprenticeship after graduating. My whole life really seems to have played out around this courtyard. At the same time, I travel often; I lived in Norway for a year, among other places. I've gained a lot from that.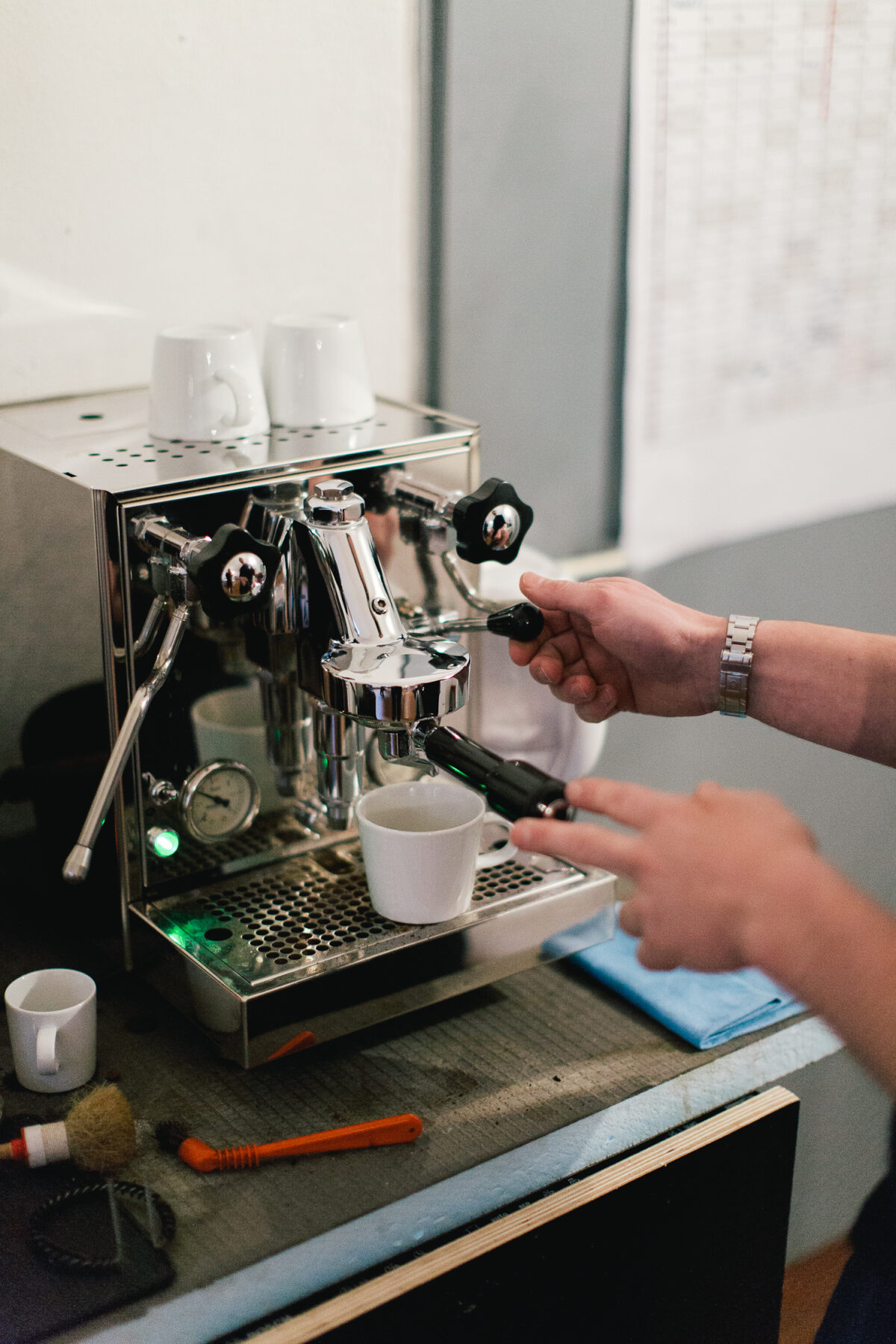 And yet you never moved away. What makes the courtyard so attractive?

The opportunities that I had and have here are simply too good. Nowhere else in the city could I afford such spaces; I always appreciated the value of that. As a teenager, I had a workshop room here; as a student, I had a work space for me and some of my classmates; and now, I have my home, workshop and office here. Everything that's played a role in my life I've somehow brought here – maybe to avoid ever having to leave. If an apartment ever opens up again, I want to take it immediately and make something out of it.

How does Berlin play a role at the center of your life?

Since childhood, it's been normal for me that you can't buy things even on a Sunday, that not just German is spoken on the street and that it's simply more open here than in a small town. But I consume very little of Berlin's cultural offerings. On the contrary, I'm more of a countryside type.
You did build your own little village here…

That's true. I've made myself quite at home here, and I enjoy this seclusion from the hustle and bustle. But Berlin is just out the front door. My plan is to eventually add another story to the wing, which was damaged in World War II and now consists of just two. That way, I can greet the sun.
"In my family, making things yourself and being self-sufficient were standard."
You apprenticed as a carpenter, founded a small construction company and studied architecture. Now you have your own office. Where do you find your drive?

It's definitely not normal. But I was always like that. In my family, making things yourself and being self-sufficient are standard. That's true to this day.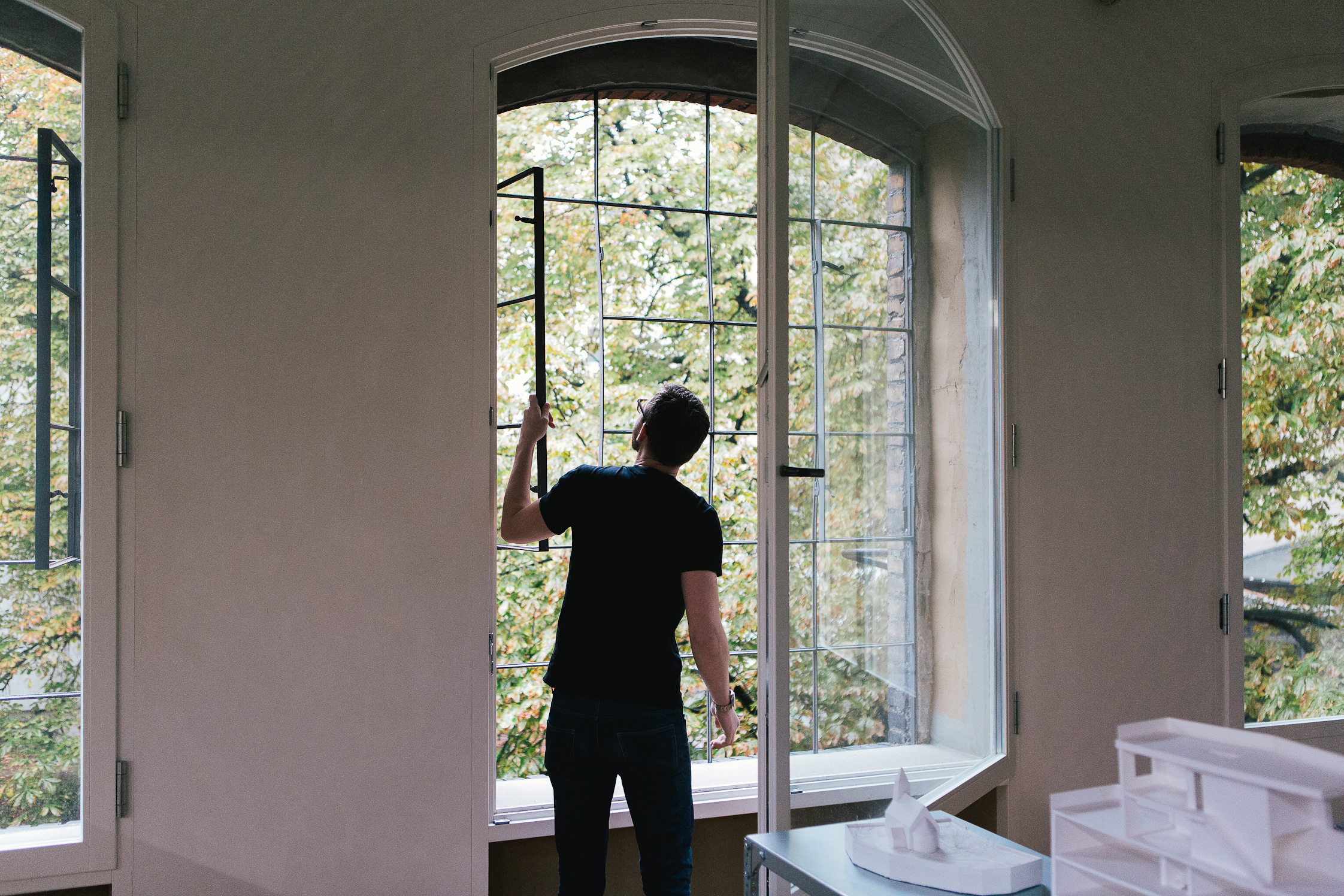 How did you come in contact with architecture?

After my apprenticeship exam, I still didn't know if I wanted to become a doctor or an architect. We have both professions in my family – and both fascinated me. I'd already enrolled in medical school with the goal of becoming a trauma surgeon when my ex-girlfriend's father started renovating his weekend house in Bernau. He not only used sustainable materials, but also had even the smallest parts specially made for the project. Things like copper nails. He was a violin maker and thus very interested in good, well-done details. This incredible degree of handcrafted precision impressed me, as did the choice of building materials made without chemicals. After that, it was clear that I wanted to become an architect.

Precision runs like a common theme throughout your career.

Precision is always the goal. As a carpenter, I worked at an incredibly small scale; I drafted baroque inlays by hand. Since my first architectural projects were rather small, I could not only execute them myself but also go crazy with the details.
Architectural Tour Through Berlin
Visiting One Of Jan's Construction Sites: Free Evangelical Congregation In Kreuzberg
We discover a small spatial wonder at the first stop of our tour: we walk through the narrow entrance of the old residential building in Kreuzberg, and we're faced with a pit that descends diagonally towards the outer walls of the side wing. With this clever intervention, Jan endowed a former basement story with unexpected spatial qualities. In the future, a wooden staircase will connect the new community space with the outer room, providing an almost theatrical quality. Naturally, the concrete and wood work will be done by Jan and his team. But the pastor, an old friend of the architect's, will also lend a hand.
Do you want to maintain this way of working?

Of course I'd like to have larger construction sites at some point, ones you can drive across in a crane, taking in everything under your purview as the architect. You learn much more quickly what's possible and how to make the most out of situations within certain limits. But that sort of volume also has its disadvantages: the use of one's own hands disappears, and suddenly there are investors driven more by financial returns than by an architectural vision. Sometimes I ask myself why people go to architects at all. But that's exactly the great art of our profession: pushing for quality!

You do a lot of things yourself at your building sites. What about your employees?

I send them to our sites at least once a week to lend a hand. That way, they learn processes and workflows significantly faster than they would elsewhere. We recently did the concrete work ourselves on a construction project – that means my people can now build suspension and formwork. They know what to look out for in the future and when additional costs and efforts are worthwhile.
Visionary Architectural Elements At Am Lokdepot
The radiant red residential block at the border between Kreuzberg, Schöneberg and Tempelhof is a refreshing sight on the Berlin cityscape. "It's definitely an extraordinary project, and you can see that it was designed with a little more love," says Jan of the buildings, conceived by Berlin architecture office ROBERTNEUN. "Here, it's clear what qualities make a good building. When you're talking about these buildings, it's on a much higher and more sophisticated level." But the project also reveals the problems inherent to the architectural profession: While the first seven properties of the 14-building ensemble were constructed under the architects' direction, their high quality standards led to rising costs for the project developer and he had to eventually withdraw the designers from the project. This, too, is part of Berlin's architectural reality.
So basically, you send your employees to apprentice training.

Exactly. I make it clear to every candidate that with me, they'll sometimes get their hands dirty and exhaust their bodies.
Bare Concrete And Simple Materiality At Katharina Grosse's Studio
The building in Moabit where artist Katharina Grosse works was designed by Jan's former professor, Ute Frank. The impressive concrete construction represents "his basic education," which revealed to him early on the possibilities offered by architecture. The building makes a radical gesture precisely because of its simple materiality, affordable formwork engineering and imprecision. "Here, they worked with what they had and tried to remain within the realm of the possible."
Your office is full of very beautifully crafted models. Is that your favorite tool for handling projects?

The initial ideas usually comes to me while driving. After that, the model is definitely one of the first tools – that's how I was taught at university. It allows you to effectively check dimensions and measurements and quickly detect errors. We also try to set up 1:1 models at the actual construction sites in order to test the proportions and the interplay between the elements. We do that until there's no turning back. I want to get the most out of even the smallest projects, no matter if it's an outhouse or a tool shed.

Wood seems to be an important part of your work, occurring regularly in your projects. Is it your material?

It's the material I've mastered the most – which of course has something to do with the fact that I learned the carpenter's trade. But it's also one of the finest materials in terms of treatment and processing: wood is neither as dirty nor as cold as stone, steel and concrete.
An Impressive Addition To A Historic Building: Museum Of Natural History
Standing in front of the hidden side wing of the Museum of Natural History on Invalidenstraße, you can hardly believe your own eyes: the old brick façade flows seamlessly into a monolithic concrete surface that smoothly compliments the historic building. "Here, they built with incredible precision," says Jan of the approach taken by the Swiss architecture firm Diener & Diener, where he once worked. The planners chose to repair the damage with a monolithic filling, but at the same time accentuated the building's historic state. The old façade's pattern was transferred to the concrete expansion using latex matrices; the result is a surreal image that unsettles and moves in equal measure.
How would you describe your architectural language?

Formally, my work is quite reduced and oriented towards Swiss architecture. In that regard, I was strongly influenced by my university and Professor Ute Frank; my program was very Swiss-heavy – in a good way. I like how much value is placed on quality in Switzerland and that public buildings aren't calculated according to a standard price per square meter, but sometimes get more money for their architectural design. In Germany, and especially in Berlin, it's always about cutting costs. As a result, the quality of new buildings is pretty low.
The Odd One Out: Monohaus Is Making A Statement
Next stop, next concrete artwork. This time around, it's a residential building north of Torstraße designed by Berlin office Zanderroth. The 55-cm thick walls of insulating concrete lend this project not only the shape but also the gravity of a monolithic block, nestled as a quiet counterpoint among the neighborhood's Gründerzeit (late 19th century) buildings. No accommodating historicism here, rather an autonomous and uncompromising interpretation of Berlin's residential building history.
Your studio is located in the commercial part of a Gründerzeit (late 19th century) building. How did you end up there?

About two years ago, I was offered the chance to take over one floor. My predecessor had divided the loft into small units and ran a furniture workshop out of it. First off, we rebuilt everything back to its raw state to recapture the original character. Then we tried – as we always do in our projects – to test out materials, techniques and methods, like the mud wall, for example. We want to know if the material is easy to handle, if it corresponds to our aesthetic and, quite simply, if it works at all. If it does, we have one more material on our list. In fact, I always try to use materials that can be left in their raw state. I don't like to coat things or change their surfaces. But it's my dream to use every material at least once and thus know exactly the advantages and disadvantages of each. Mud, I definitely like!
A Gradual Appropriation For Creative Purposes: Spreestudios
Last stop: Rummelsburger Bucht. Where once up to 17,000 visitors a day enjoyed themselves at the public swimming bath in Lichtenberg, and later the Customs Administration of the GDR had its offices, today the Berlin firm TBBK oversees the development of several commercial properties. TBBK architects have preserved the buildings' raw structure, enhancing their look with minimalist additions. Even the way the buildings were used has now changed: between the private and semi-private Spreestudios, the planners have created public spaces meant to invite intermixing on the grounds. The gradual appropriation of the building is explicitly desired.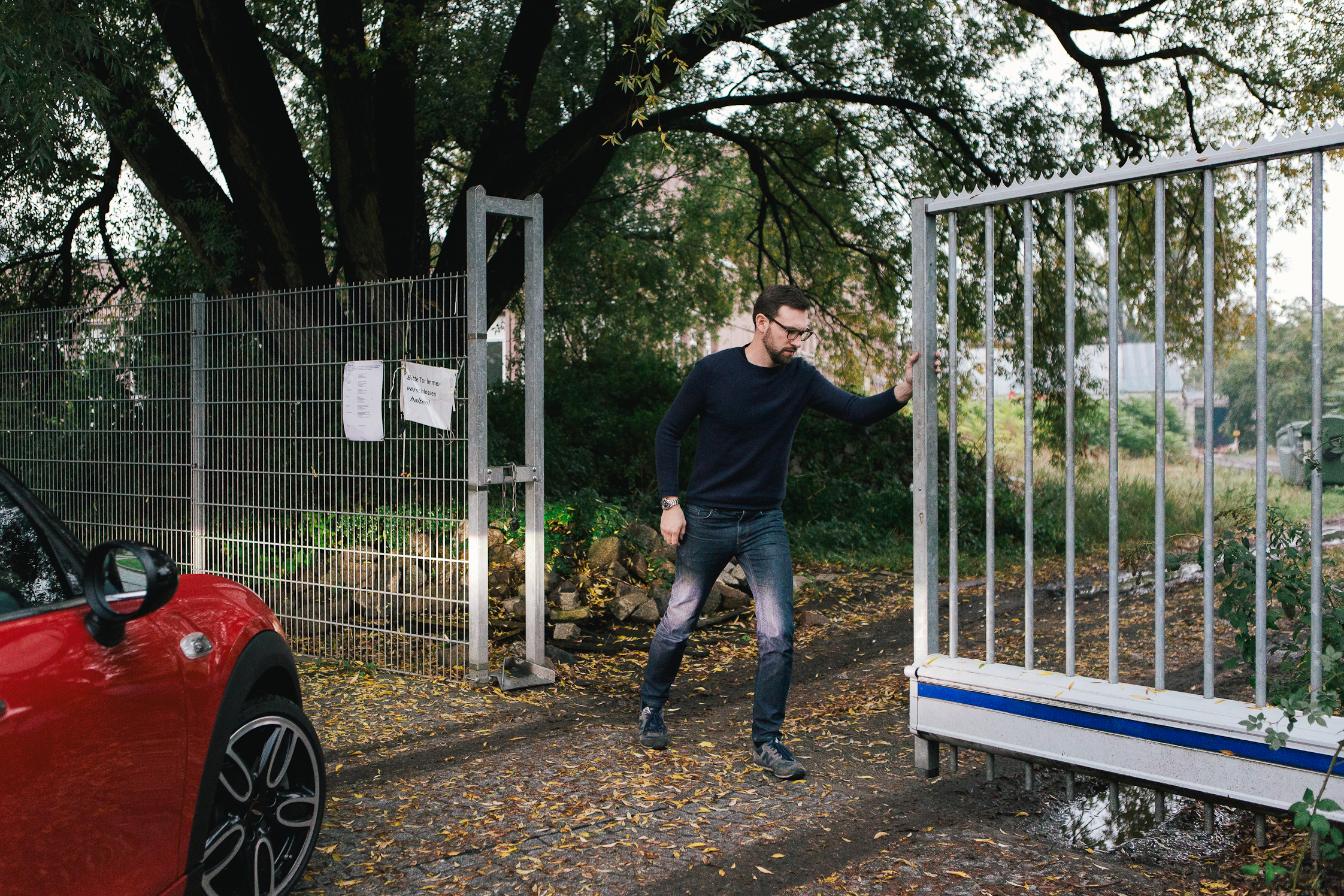 What does architecture mean for you?

Architecture is a blend of functionality, materiality and aesthetics. It must have a purpose and a goal. But the balance can always be different: sometimes the artistic side outweighs the constructive, sometimes the other way around. What's important is that those three aspects are kept in reciprocal balance.
Thank you, Jan, for taking us to some wonderful and exciting places in Berlin and sharing your thoughts on architecture. Find out more about Jan's projects on his website.
This portrait is part of our Guided and Curated series produced in collaboration with MINI Germany. Selected individuals give us insight into their cities through guides tailored to their area of expertise.
Interview & Text: Tim Berge
Photography: Fabian Brennecke