Kathrin Schuster and Jan Friese approach their work and life with a zeal that radiates into their surroundings – from the people they meet to their creative endeavors. Sitting next to each other at a café on Berlin's Torstrasse, the pair seem as at home as if they were in their own living room, of which they have two: they live alternately in their apartment in Mitte and in a country house in Brandenburg.
Summer is spent at their country home, just under an hour outside the city. In the winter, they're drawn back to the bustle of Berlin. The two homes have a practical purpose as well – they allow the couple to change their own perspective on their world and work. As a product designer, Kathrin uses the colorful palette of the countryside as a source of inspiration for the eyewear she designs, whereas it allows Jan to expand his vision in his work as a photographer for major auto manufacturers.
Their house in the country could come out of a Astrid Lindgren novel. The red brick home with white window frames and the light blue shutters have a familiar charm. In the bright living room, scratched-up wooden furniture is placed next to a designer sofa and a baroque chair in red velvet. "We don't organize the rooms that we live in overnight," says Kathrin. Sometimes it can take years. Often it starts with a sudden whim of Jan's to completely turn the entire set up on its head. Then, when Kathrin comes home, everything looks different. A home has to become a place to live, not just a place to sleep, and it's rare that something is only changed once. "We often sit there and think – it's not quite there yet."
The need to live in the country came about slowly. During the summer two years ago the two traveled through the US. They only took a tent with them on the road and in the open wilderness they camped alone. For Jan, this was a key experience, he suddenly understood the rules of nature. "The neighbor said that if he saw a black bear, he'd shoot in the air twice," explains Jan. When it actually happened, Kathrin and Jan fled to the car. "Then I understood what nature was capable of."
Back in the city crowded with people, the absence of nature became all the more noticeable. It's an impulse to escape this juggernaut, at least for a bit, that resulted in Jan and Kathrin taking a trip to Brandenburg. At this point over coffee Kathrin laughs and looks at Jan mischieviously. "We didn't plan on buying a house at all. We just couldn't decide what area we wanted to go to." Through the internet they made an appointment to see a place. "So that we had a reason to go there," explains Kathrin. "And of course we fell in love with the house," adds Jan.
During the viewing appointment, Kathrin saw a run-down house with old carpet and an ugly floor. "But Jan visualized the beauty of it in his mind."
With these kinds of decisions, Jan often has the greater "assertiveness," as he puts it. His parents put a certain value on comfort and had an understanding of mixing different types of furniture. "My parents also brought furniture that had been thrown away from home with them," he clarifies. "They still do it today." Jan probably inherited his tendency for collecting from them: old-fashioned school blackboards hang in every room – Jan bought them all at once at a flea market. "The garage will be full soon," Kathrin predicts. But instead of trying to hold him back, she'd rather get carried away by his ideas.
This was also the topic of their very first conversation. Kathrin and Jan met each other four and a half years ago through a good friend at Bar 3, close to Rosa-Luxemburg Platz. They talked about design and decorative styles. Kathrin found the fact that Jan didn't just have a precise idea of good furniture, but also felt downright uncomfortable when he didn't like something, to be something unique. "It's physically painful for him," she says, looking at him. "At first I found it absurd," Jan grins, "But when I went into the bar, I thought: If I go in now, I've got a problem, I've got to marry her."
Today, the two compliment each other in more than just their relationship. Professionally, they often have the opportunity to work together. In his assignments he is often bound by certain motif rules, meaning that he enjoys his freelance photography projects all the more. There he can experiment with visual language and style. Last summer Jan bought an old soapbox car on eBay in order to photograph it in the midst of Scotland's raw wilderness. For the same production he also bought the G-Model Mercedes, because he thought it looked good with the little silver race car on the roof. Kathrin accompanied him to Scotland and after the trip, so many memories were associated with the car, that they decided to keep it.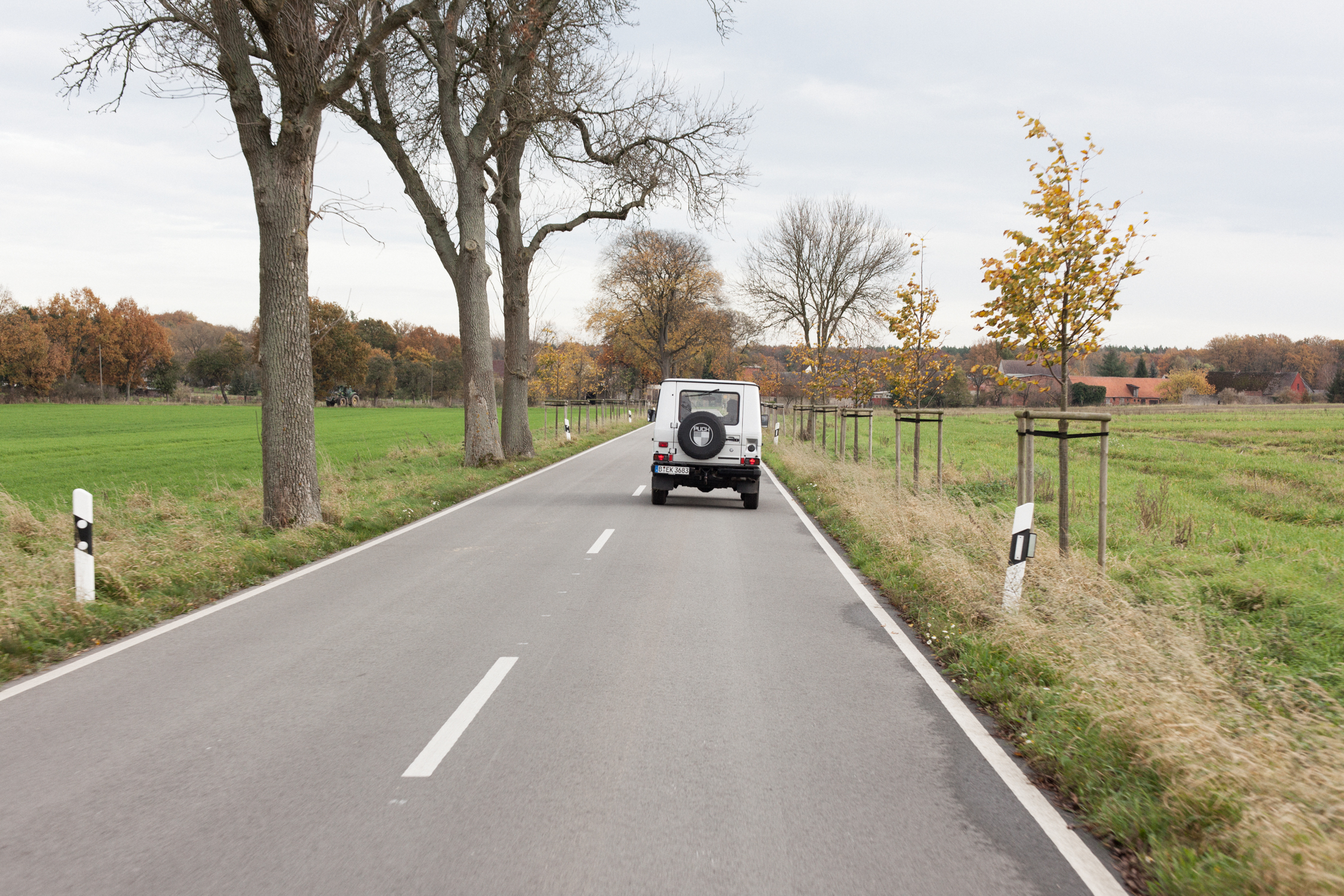 Having a photographer in the house is very convenient for Kathrin, because Jan also photographs her eyewear collections. "Then I'm really the service provider and she's the customer," says Jan, because Kathrin has very clear ideas. "Glasses are a very intensive product, you wear them on your face! Every detail has to work." For Kathrin glasses are the perfect combination of classic product and fashion design. "What's great is that it doesn't take so long from the design to become an actual product. Sometimes I see someone on the street wearing my glasses!"
In their country home, Jan and Kathrin now also have working spaces. Jan likes to photograph nature there, using the images for mood boards. Kathrin also see the nature of Brandenburg as an important source of inspiration, worlds of color that she ultimately brings into her designs are opened up to her there.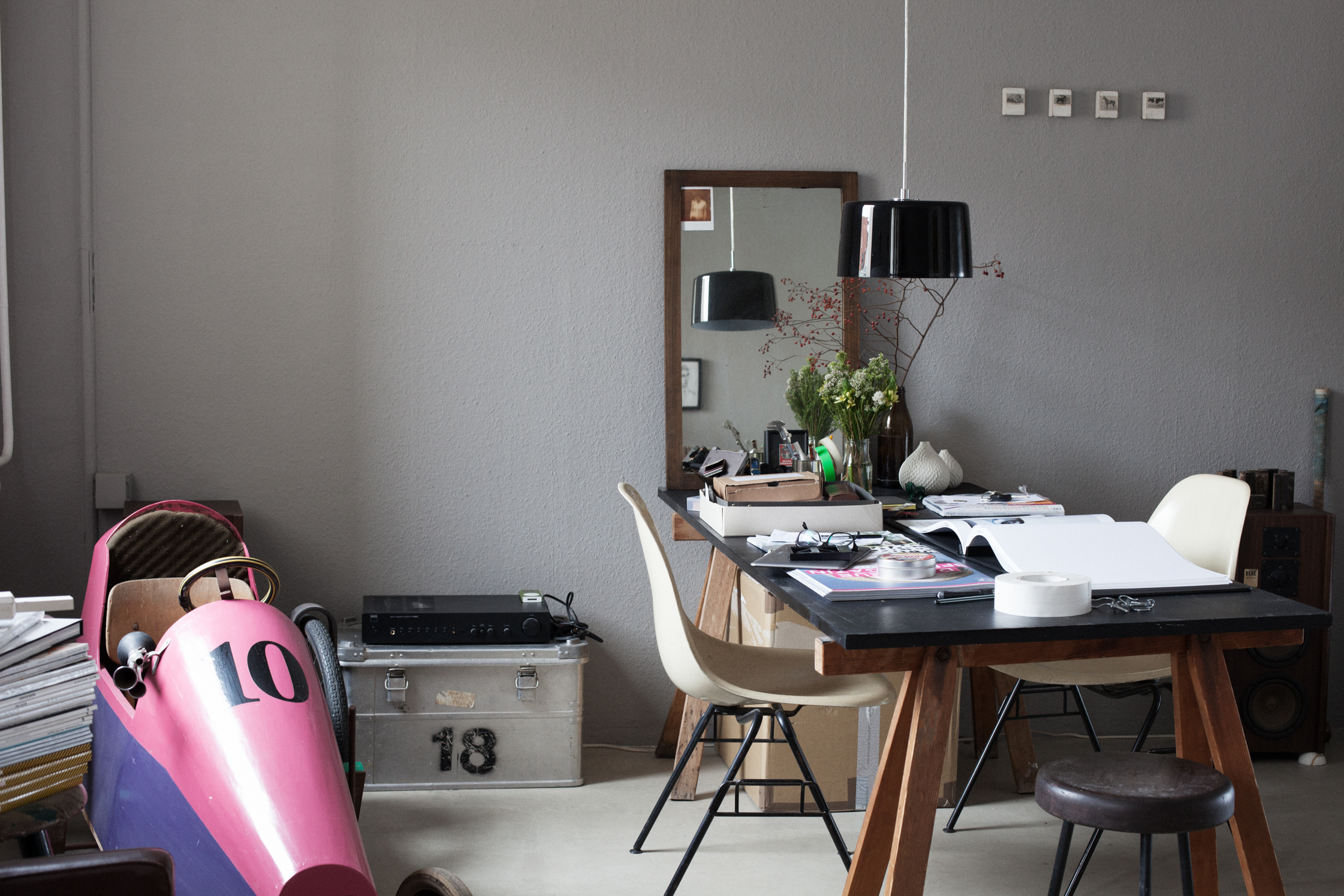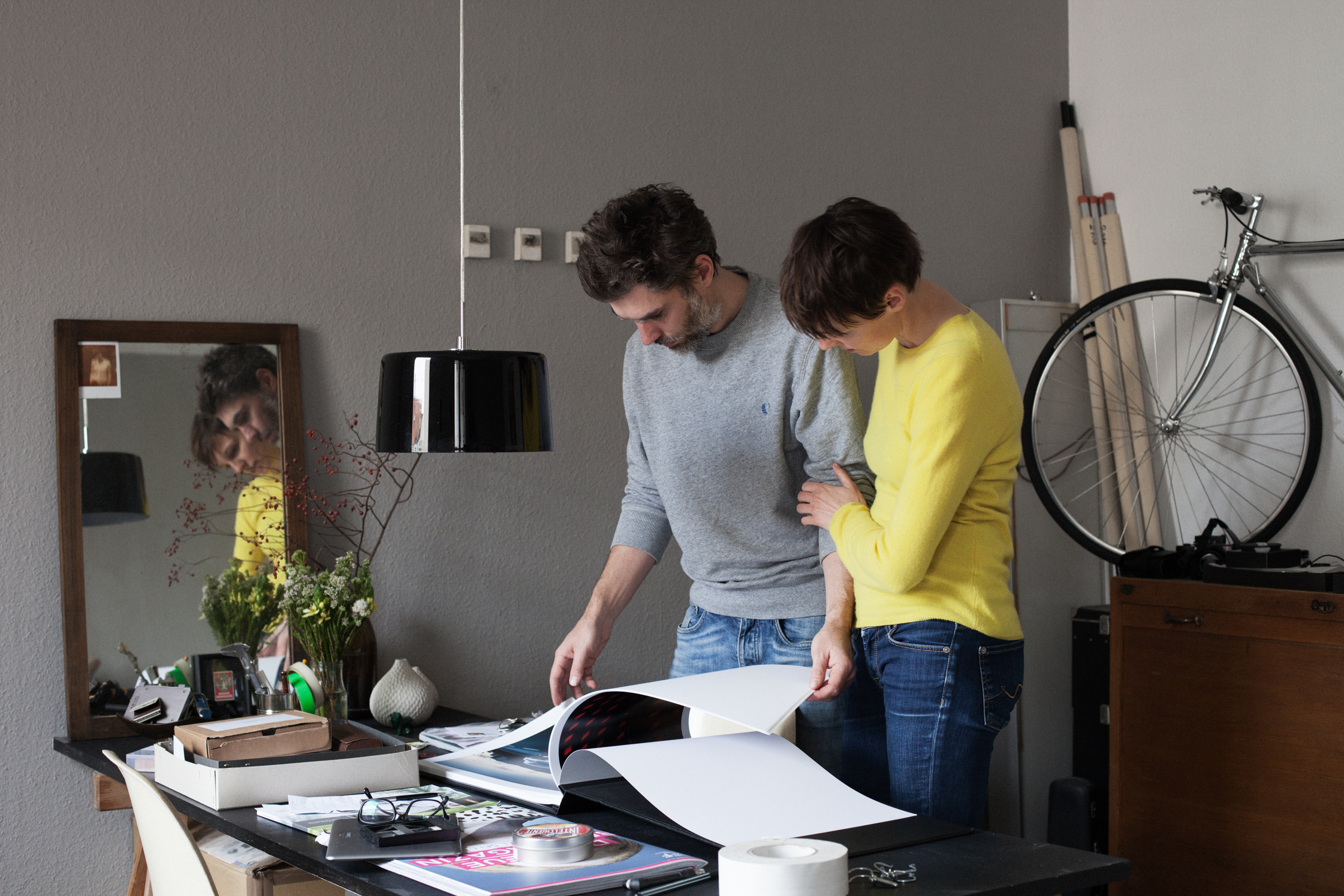 But surprisingly, both are less focused when they're away from the hectic city. "You don't want to sit in front of a computer the entire time, you want to be outside. In the garden I'm like a little boy who wants to play," explains Jan. Kathrin, also, would prefer to work in the garden all day. "Maybe it's really clichéd, but thanks to you, the garden looks really good." The pair enjoys experiencing the seasons, observing when different plants bloom, or what birds are sitting in the trees.
Whether they could imagine always living in the country? No, it's simply the contrast between city life and nature that they like. When they're in the country for a longer period, they miss the city, and the other way around, says Kathrin. For Jan, regular contact with friends is also important. "Or just to sit at the kitchen window with a coffee and know, you're in the middle of it all," adds Kathrin.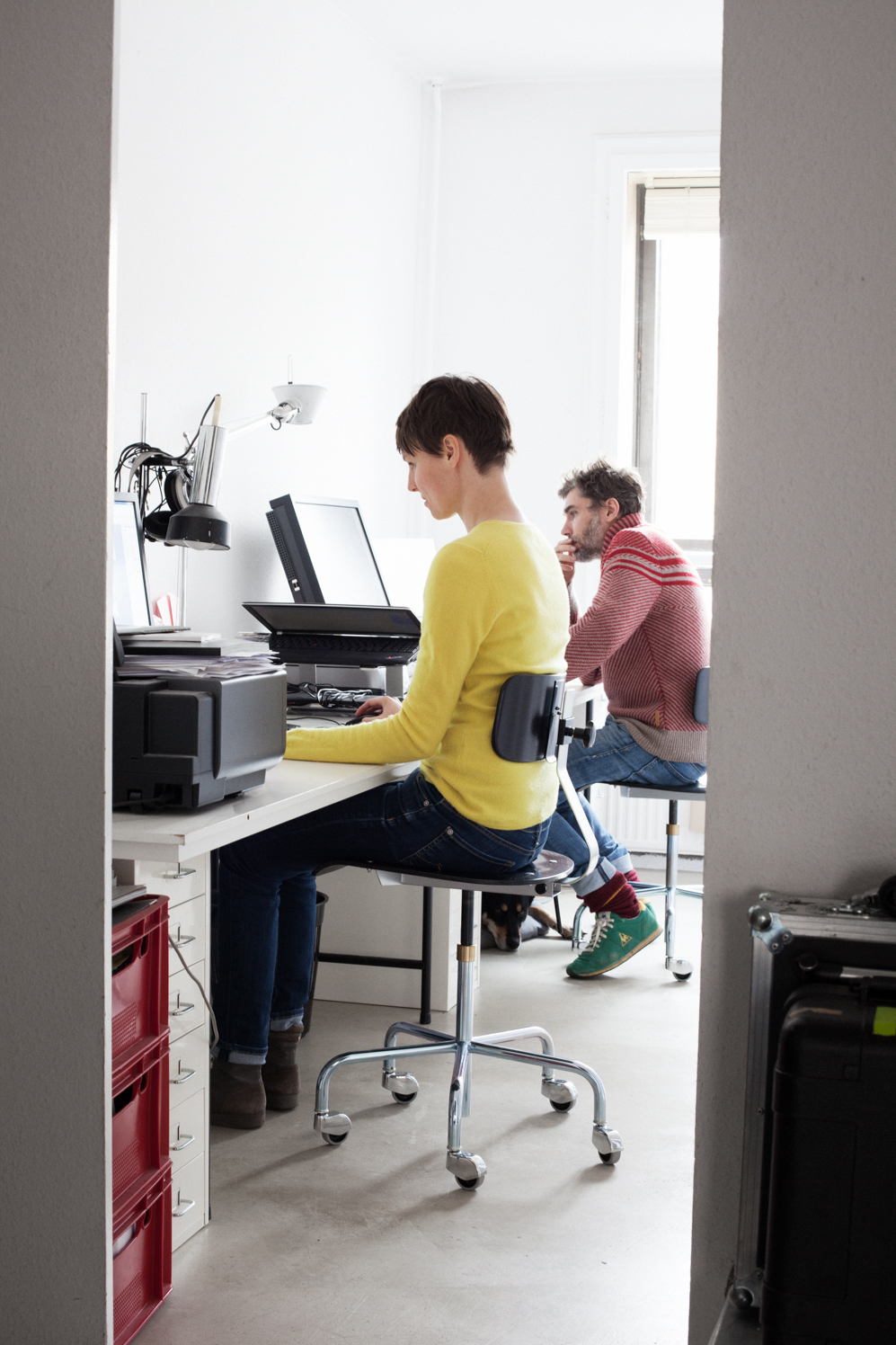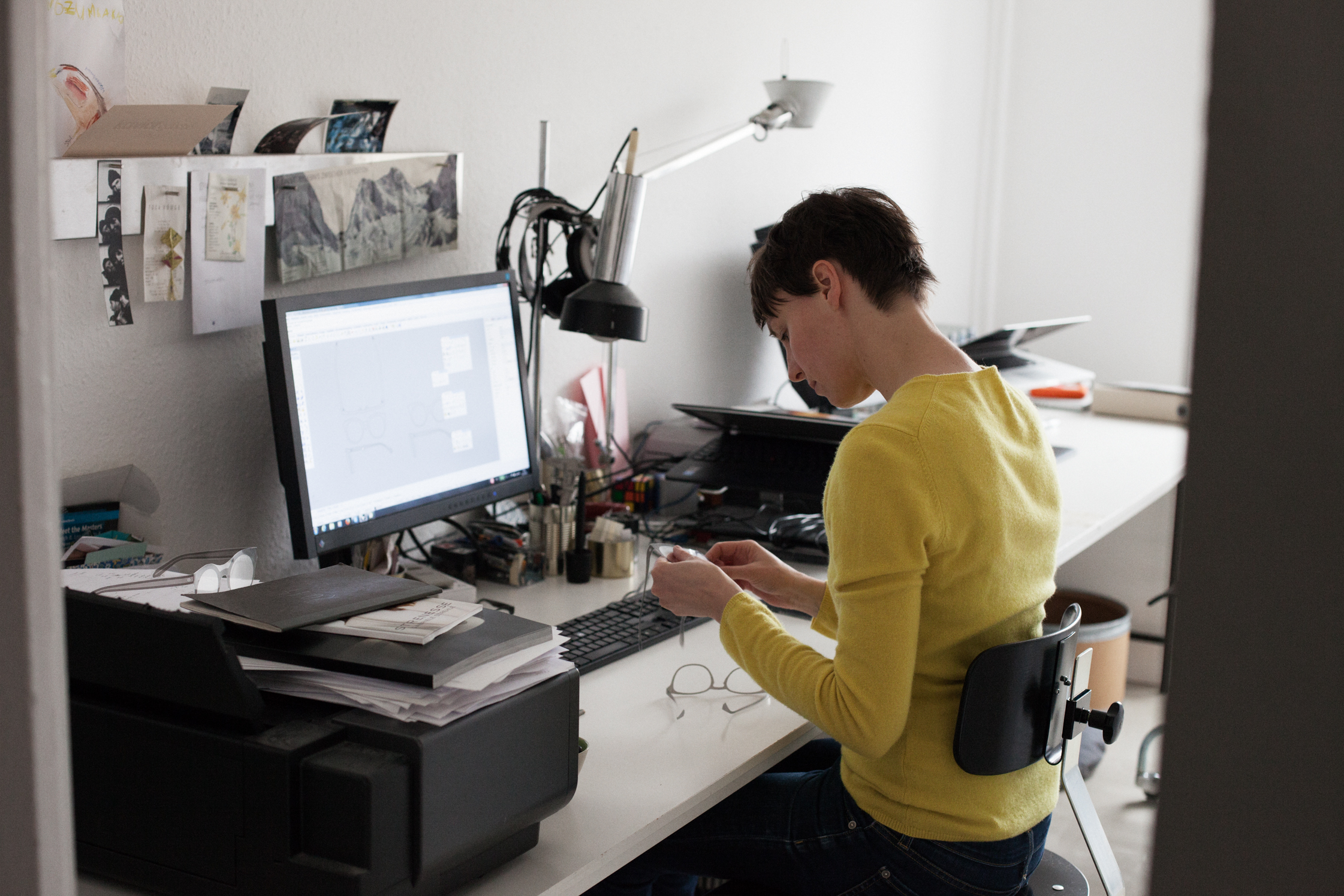 The constant change of scenery is an important source of inspiration, not only for work, but also for their own spheres of thought. "In Berlin, I only know my immediate neighbors, at our place in Brandenburg, everyone knows everyone," remarks Kathrin. When they moved in, the neighbors came and helped where they could. A completely different sense of community, that just doesn't exist in the city. Jan adds, "And no one is interested in what you're wearing for shoes or how much money you make. The people in the country have completely different problems than those that we grapple with here. It grounds you, you learn a lot and above all it sharpens your focus on what's essential."
"But," Kathrin throws in, "at times it pushes you back into the city, out of this closed hemisphere, to be anonymous again."
Kathrin and Jan say goodbye to the waitress, whom both know well. A few guests nod goodbye, even the hairdresser next door waves at them through the glass. Here, at least, there is very little about them that is anonymous.
This portrait is part of our series "Friends Of Cars" in collaboration with Spiegel Online. See the second part of the story on their website.
Read more interviews with interesting individuals in Berlin.
Photography: Mirjam Wählen
Interview & Text: Kai Kolwitz & Leonie Haenchen