The beauty of living in a light-filled, steel and concrete structure with floor-to-ceiling windows is that every square meter becomes a backdrop for spontaneous photoshoots. Whenever inspiration strikes, Creative Director Iris Alonzo grabs her camera and transforms areas of her open-plan apartment into beautiful backdrops for photo shoots. As a child she remembers telling her parents when thinking about career aspirations that she just wanted to be "paid to have ideas", and somehow today she has found a way to make that happen. Never having an idle moment and always with a camera in hand, Iris truly loves everything about her job. For almost ten years her post has seen her travel to many international destinations that include her beloved Mexico City.
Her home is a true reflection of her dynamic personality. Divided into separate activity areas by plants, overarching lights, and homemade glass-steel furniture, Iris's interior feels like a futuristic modernist spaceship suspended in the sky. Fruit-shaped furniture and vintage dolls defiantly claim their importance over the powerful concrete structure that are in contrast to the unsettlingly exposed interior with a near 360-degree view of MacArthur Park, Koreatown and downtown Los Angeles. Iris' abode is certainly not for the weak-hearted. Surrounded by mementos and tchotchkes from her world travels, this lady is also an accommodating hostess who enjoys a revolving cast of internationally-based friends working within fashion, art, and design industries.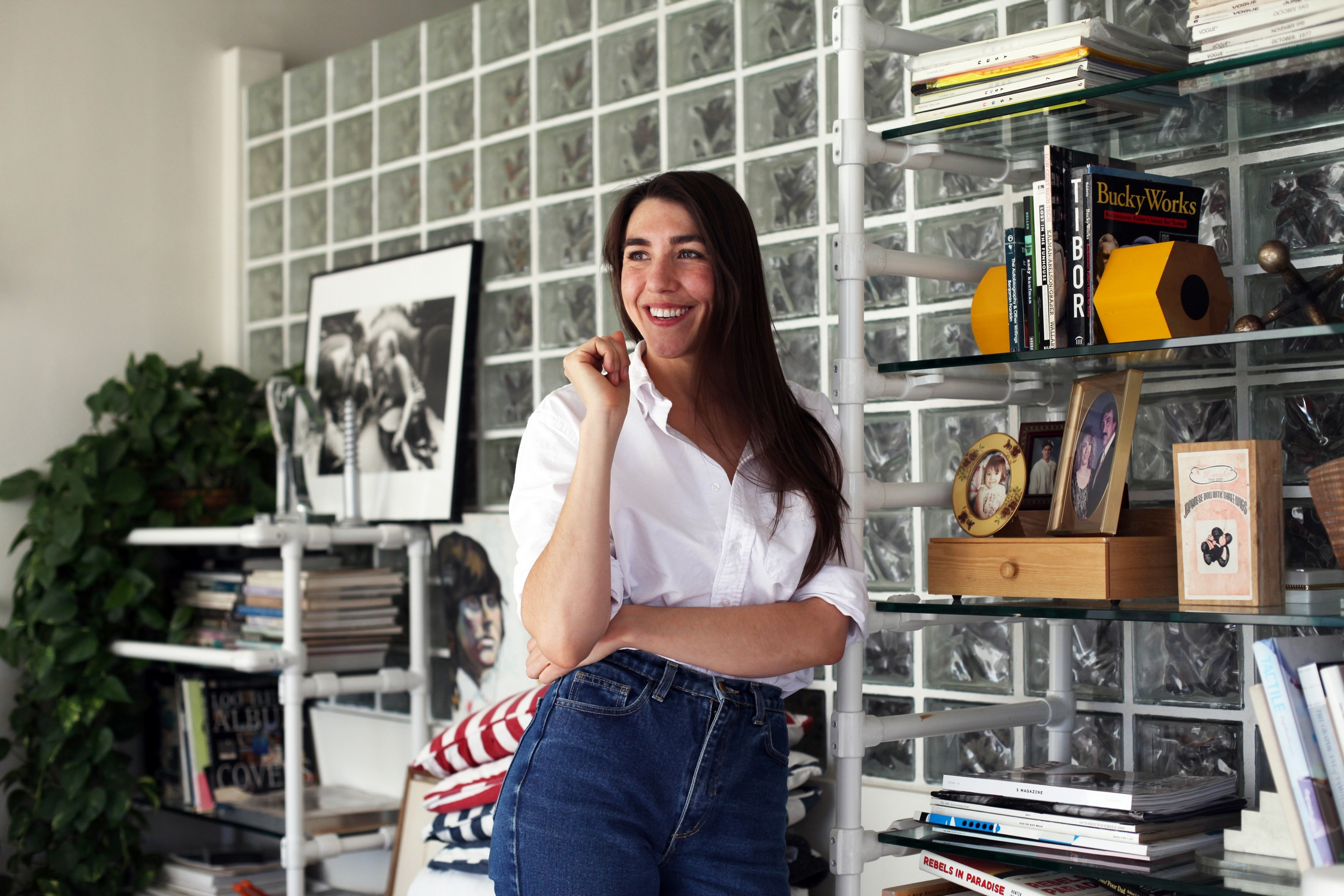 You have such a large collection of interesting objects. Do you bring back souvenirs from your travels?
I like finding things that create an instant mental spark. I look for the best flea markets in any city I visit and I always come home with "stuff". It is a very rare and very sad day when I do not find something worth carrying back to LA. I love finding objects that are functional as well as beautiful, though I have no problem with buying a lump of clay if it gives me good vibes. As for a specific collection, I inherited that from my grandparents. When in retirement they visited a different country every year and brought back a locally-made doll for me. They're all from the 80's and 90's and they're very dear to me.
How do you feel about living at a high altitude with almost no barrier between you and the city?
It's an interesting feeling to look out of a massive glass wall and observe the events taking place in the busy park and streets below. I sometimes feel like I'm stepping into other people's lives, seeing things I shouldn't necessarily see, watching people who are oblivious that they are being watched. That applies to me too – my apartment is almost completely open to the outside world. I try not to think about that too much, though. I feel very connected to the city, the weather patterns, the sunrise and sunset. Sometimes birds fly inside of my apartment which is always fun for Charlie my dog.
Did you build most of the furniture yourself?
Yes, I built some of the furniture. I made a lot from leftover Speedrail and merchandising elements that were utilized in American Apparel stores. The rest is a hodgepodge of things I've found at flea markets, Craigslist, local woodworking shops and everywhere in between.
As a Creative Director, how would you define a normal work day?
There is no such thing as a normal work day for me. From product development to store renovation, advertising design to managing artist collaborations, each day is totally different and fairly unpredictable, which keeps it exciting. Nearly ten years in, I can honestly say that I've never been bored or watched the clock waiting to go home. I feel very lucky.
Where do you get your inspiration?
It's a generic answer, but I'm inspired by everything. My physical desktop is a mess of xeroxes from old books and magazines and my computer desktop is a mess of screenshots. I carry a camera with me everywhere I go and take pictures all the time. If I'm awake, my eyes are on the hunt for inspiration.
Out of all your time spent travelling, what is your favorite city and why?
Mexico City is my favorite. So far, it has been the most inspiring, exciting city I have been to. My first time there was in 2005, to see a potential American Apparel retail location. As someone who is enthralled by cultural history and deadstock, I was thrilled to discover that there were robust publishing, art, music and manufacturing industries in the 60's to the 80's in Mexico City and remnants popped up in every direction I turned. Every neighborhood I went to felt like a time capsule. Also, the 1968 Olympics were held in Mexico City and leftovers from that time are super cool. I found lots of groovy information graphics and signage.
Was the store in Mexico City received well?
In 2005, there was a feeling of a youth culture that was just about to reach a boil in this city. There were hardly any cool stores, magazines, restaurants or bars for young people, but you could sense that kids were starved of these things and were waiting for them to arrive. We opened our store and in 2006 I created a project called Mexico City Monthly, a free newspaper about our explorations of the city that we distributed in our stores all over the world. It was so much fun to make and was largely an excuse for me to spend a week there every month for a year. Fast forward eight years and Mexico City is a completely different – but still inspiring – place. Stores, independent publications, and bars seem to pop up on a weekly basis. Many come and go, but the ones that last are some of the best businesses I have seen anywhere in the world. It's a wonderful place and I could go on forever.
What are your favorite places in Los Angeles?
I absolutely adore my neighborhood of Koreatown and Westlake. Malibu is gorgeous, though I only get out there a few times a year. And I have a soft spot for weird little pockets in the Valley and industrial zones of East LA.
Were you born in this city? Where is your family from?
My mother's family is from LA. They were original homesteaders dating back to before California became a state. I am the fifth generation born in LA. My father's family is of Mexican descent. Both of my parents now live in a small town near Yosemite National Park.
Do you think your apartment is an accurate reflection of yourself?
People have said that it's very "Iris". That's probably their way of saying no one else would be able to live with all of my weird things, haha! But really I hope it is an accurate reflection, as I hand-picked every item in here.
How did you get started working in fashion? Have you always wanted to work in a creative field?
I interned at NYLON magazine when I was about 19 when it was based out of two rooms at the Standard Hotel in Los Angeles. I became an agent for photographers and started producing photo shoots. I loved production, but didn't really enjoy selling other people's creative talent. After that, I worked with Rick Klotz, the founder of Freshjive – and more recently Warriors of Radness – and eventually he introduced me to Dov at American Apparel.
I have always wanted to do creative work with a strong visual component, but I also think a lot about efficiency, science, manufacturing and sustainability. I remember telling my parents that I just wanted to be "paid to have ideas" but they told me such a career didn't exist so I had better pick something else. With my role at American Apparel, I feel like I have managed to create that career, as well as meld my other interests into my role.
Who are some of your favorite clothing designers?
I love vintage clothing and designers. I have dozens of favorites but a few best-loved are Liz Claiborne, Benetton, DKNY, Norma Kamali, Esprit, Sonya Rykiel, Marni, Yves Saint Laurent, Jones New York, Jordache, and Calvin Klein. Otherwise I wear American Apparel.
Do you have any muses?
Not sure I can consider them muses in the traditional sense, but Tibor Kalman, Buckminster Fuller, Andy Kaufman, Benjamin Franklin, and Ettore Sottsass have all made a great impact on my life and work. Though none of them are still alive, their ideas live on and inspire me every day.
Iris it has been an absolute pleasure spending time with you in your palace of glass. Thank you!
Photography: Marco Annunziata
Interview & Text: Yanyan Huang