The murals inside Detroit's Main Public Library depict a century of developments in the state of Michigan. Entitled 'Man's Mobility 1855' by artist John S. Coppin, the triptych is best described by the late Detroit artist who said that 'Man's will and his creative imagination have impelled him ever onward, thus has come new knowledge, understanding, peace, dignity and fulfillment.'
It's a sentiment that rings true for politician, artist and curator Ingrid LaFleur. Creative imagination and looking onward into the abyss of our collective futures is a core aspect of her ongoing mission. And, as one of the most democratic institutions in the US, the public library was a fitting place for the former mayoral candidate to show us. A neo-classical architectural gem in downtown Detroit that speaks to the grandeur of a city—a city that in recent years has been overshadowed by its challenges rather than its successes—something Lafleur is insistent on revolutionizing.
"My main focus is definitely human-centered governance, and how the creative and technology sector empowers citizens on the ground," says LaFleur. While she wasn't elected last year, her work strongly reflects her platform issues, namely improving conditions for black citizens and residents of the city. Importantly, LaFleur actively pursues system change through the lens of Afrofuturism.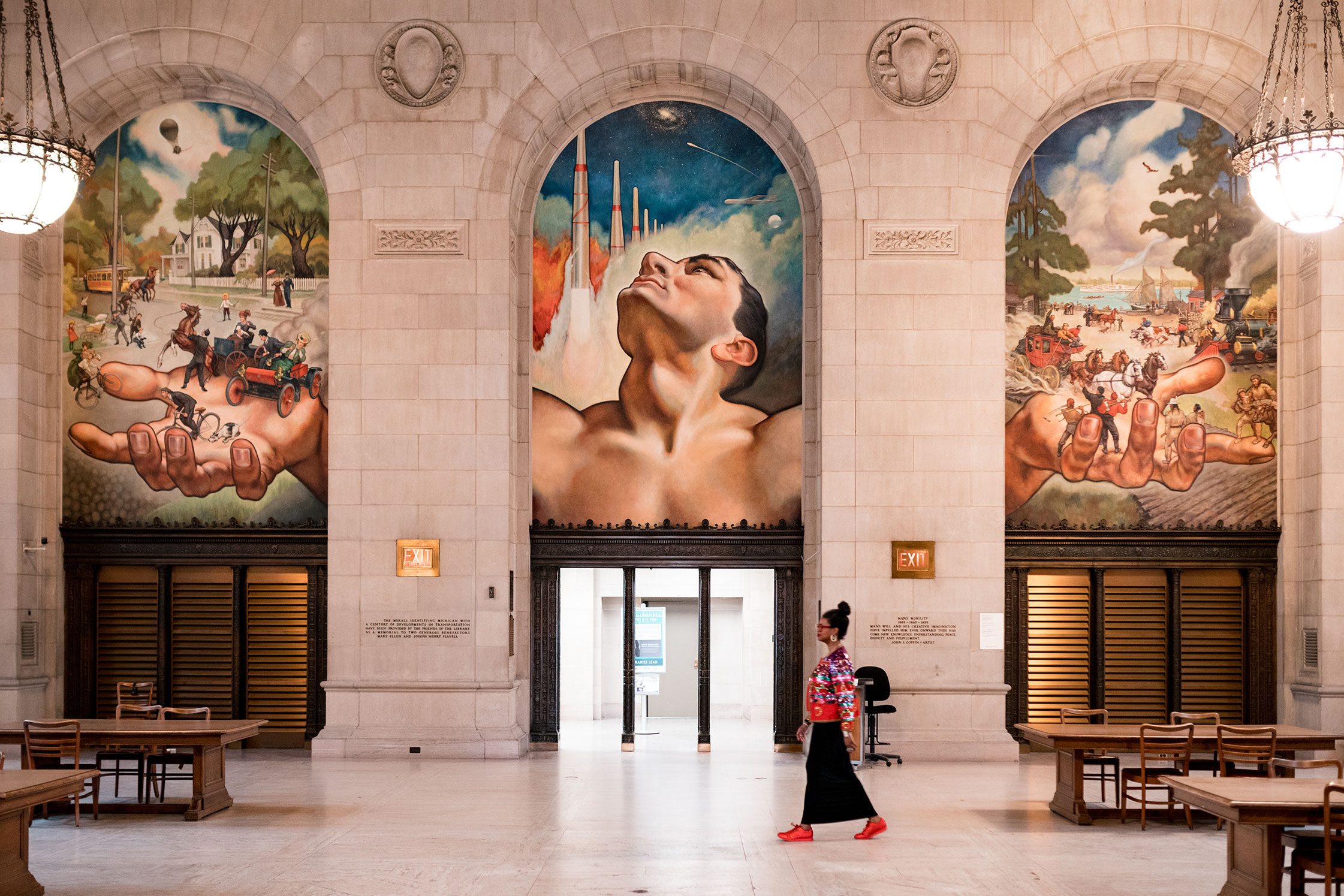 "My main focus is definitely human-centered governance, and how the creative and technology sector empowers citizens on the ground."
With her upcoming talk at IAM Weekend 18 in Barcelona, which looks at the next seven years and how we want to live, work, create and exchange ideas by 2025, we caught up with LaFleur to find out her vision of the not-so-distant future, the issues she is striving to highlight and resolve in the city, and how her creative platform Afrotopia aids her to do just that.
You founded Afrotopia. What is that, exactly?

Afrotopia is a creative and experimental platform for researching and implementing Afrofuturist strategies to address socioeconomic challenges. We use the cultural movement Afrofuturism as a framework for building new systems of finance and government.

We believe Afrofuturism provides the mechanism for black bodies to imagine futures where they are in control of their destiny. Those strategies for the past couple of years have included hosting panel discussions, curating a film series and creating afro-global parties. The reason parties are important is that I believe in the power of connecting with music from around the world. But it's also about bringing people together that aren't used to being in the same room to socialize, laugh together, dance together—it's important to try and de-segregate Detroit because culturally and racially we tend to be quite segregated.

Afrotopia also organizes Sigi Fest, a performance art, and spirit science festival. It's my way of making sure people understand Afrofuturism as a spiritual technology. It's important to understand the foundation of Afrofuturism is based on spirit science. Afrofuturism is multidisciplinary. We recognize Afrofuturism in music or literature, but it's also happening in performance art so I wanted to bring that to Detroit and highlight Afrofuturist performance art as well. The festival is named after Sigi Tolo aka Sirius based on the Dogon cosmology that amphibian-like beings came from the star Sirius through the ocean and imparted knowledge for which a lot of their agriculture, governance, and spirituality stemmed.

We do teach youth about Afrofuturism as well—we are now partnering with a group called Afrofuture Youth— and we're super excited about it. We also have a book club where we choose Afrofuturist literature. We're reading a book by Neil Degrasse Tyson this month called Astrophysics for People in a Hurry. I also have an archive of Afrofuturist literature, film, and video. I would love to one day grow that. It's open and accessible to the public at any time; you can take a book if you want to, provided you pass it on when you're done or bring it back to us.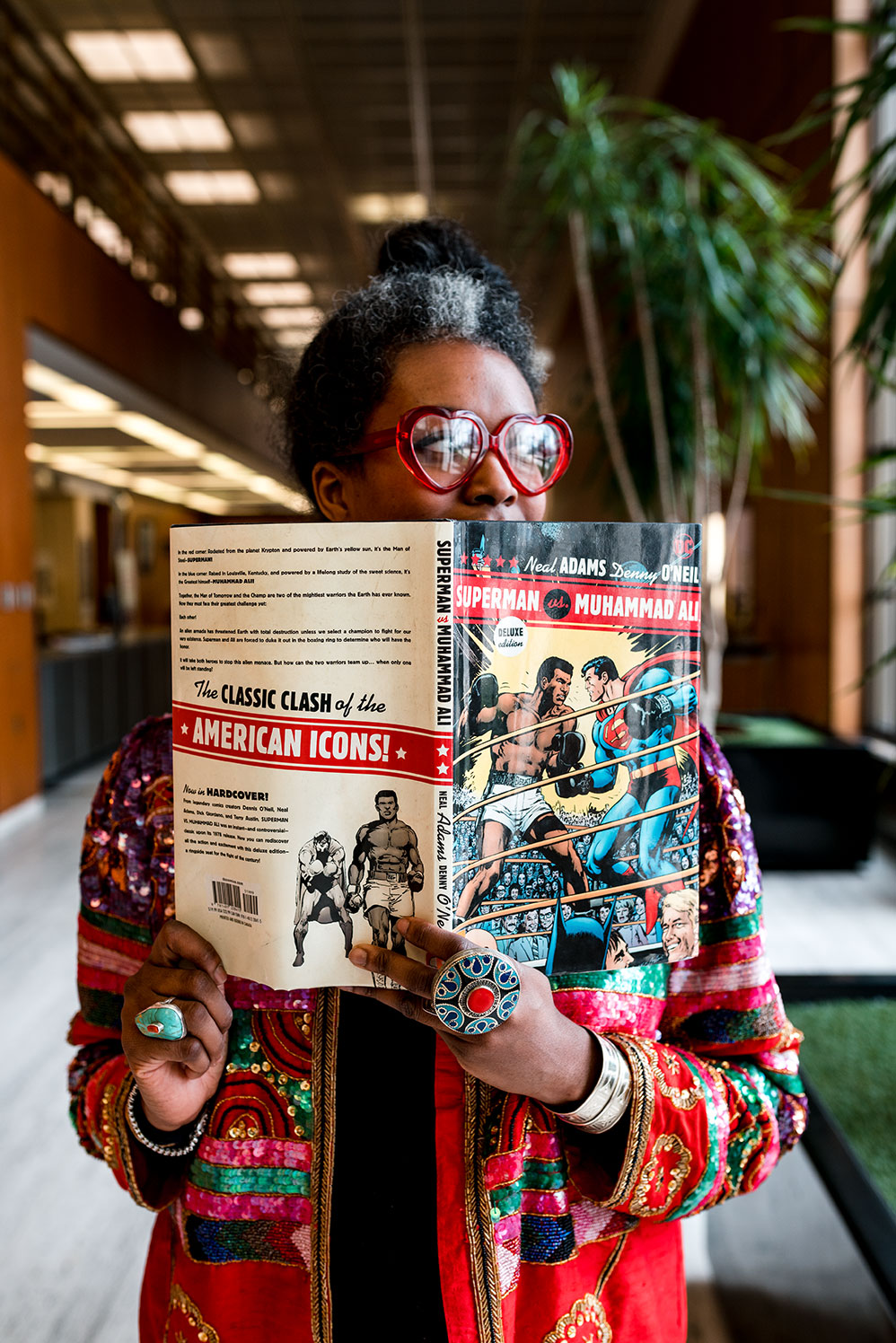 "Detroit is already a futurist place, we have a long legacy of forward-thinkers—just look at Motown."
You've recently launched a new project, the Ancient Future News (AFN) podcast, and described it as being: "At the crossroads of social justice, art, and technology." What does this mean in practice, and what do you want your listeners to know?

What I realized is that the idea of a futurist is regulated to certain people. I want to highlight the futurists within our community and discuss the technologies they're looking at that might advance their work, and what their predictions are based on that work. The podcast highlights future trends that are in development. I don't believe the average American is aware of all of the experimental technology that will affect our lives, not now but eventually. When I was on the campaign trail it became clear that a lot of people didn't realize that automation was going to take 30 percent of jobs in 15 years—they just had no idea. A lot of people don't know that Google is investigating ways to extend life… The reason I think all of this is important is that if you're already part of a marginalized community, you want to be informed about what the big money is doing and where they're investing their time and energy because it will trickle down into our cities and neighborhoods. My question is always, this thing that they're investing in right now, is this something that will further negatively impact marginalize people? Will it create a new marginalized community? And if so, what can we do to prepare in order to create equity? These are all the things that run through my mind. That's why as an Afrofuturist I focus on black bodies—to be an Afrofuturist in a futurist world and have that centering is something that I feel like the futurist world needs more of, but also I think it's a really good time to get into the future space, especially when we're dealing with the Black Lives Matter movement.

How do you balance the learning of histories with future-oriented learning?

Detroit is already a futurist place, we have a long legacy of forward-thinkers—just look at Motown. It wasn't just a new sound that was introduced, Motown literally created a new system for the music business and it was one of the wealthiest companies in the United States. We can go on and on about Detroit's innovation legacy. For instance, Detroit techno the cultural innovation of the moment. Detroit has been a fertile ground for forward-thinking radical ideas, forward-thinking ideas. Unfortunately, most of our energy is in putting out the "fires" the city government creates. Thankfully we have many groups of citizens innovating to fill in those gaps, to take care of all that the government refuses to do.
"I think it's important for politicians to always remain humble and in listening mode with the people that they're representing."
You ran for mayor of Detroit last year. What were your platform issues?

I'm all about human-centered governance because the city government is criminalizing and penalizing residents. I'm constantly thinking about how to create a better relationship between the resident and government. Being human-centered really means that I'm considering a holistic approach to the challenges that we face here in Detroit.

I'm really looking at the root of the problem, so I do not believe, for instance, that jobs will solve poverty. And I don't even think it will create a good band-aid for poverty. This is why understanding what's happening in the future realm is important. We must know what to expect to help us prepare for the impending shift. The fact that jobs are going to slowly disappear because of automation underscores the significance of future visioning and remaining informed. I focused on how to grow the creative economy and strengthen it, how to prepare people for the growing cannabis industry in our state and city. Cannabis is legal for medicinal use in Detroit. This November we are going to be voting on legalization for recreational use which will attract even more people to participate in the multi-billion dollar industry. We are already witnessing racial disparities within the cannabis industry. It's something we have to really focus on and make sure that it's as inclusive as possible for our 85% black city. To give a clear example of the disparity, we only have five dispensaries out of 100-plus that are black-owned.

Finally, I proposed a universal basic income for Detroiters that would be partially given in cryptocurrency. I also outlined how blockchain technology could support city government and help make it more efficient. During the campaign, I hosted co-creation sessions where I invited Detroiters to come and talk about various topics. For example, how to increase adult literacy or how to stop tax foreclosures on occupied homes. I was really asking for Detroiters to give their ideas simply because a lot of people who attended are actually dealing with those problems. The understanding of an issue through actual experiences is super-important when thinking through resolutions. As a politician, we tend to only know certain issues intimately but we don't know everything and I think it's important for politicians to always remain humble and in listening mode with the people that they're representing.

Because of the co-creation sessions, I learned even more about cryptocurrency and the crypto community here—what they're looking at and what they want to see. It's important for a community to feel their ideas are validated and of value. It's super important to do that authentically. For me, it was less about the vote and it was more about how we really tackle and solve these problems at the root and make sure that it doesn't happen anymore.
"In Detroit, the creative industry has no representation or voice in city government. I would like to see Detroit invest in the creative economy by establishing a cultural affairs department."
Even though you weren't elected, these are areas you are still working in and striving to highlight?

Yes, I'm working in all of these areas. I'm a cannabis advocate, I see it as a social justice issue, so I do educational outreach. I'm part of a blockchain meet-up group. I just organized a conversation about why blockchain technology and bitcoin tech matters to the Black community. It was really focused on inviting Black people and women to the conversation since we aren't represented within that sector. I really want to make sure that everyone's included in the blockchain technology sector so that marginalized communities aren't just consumers but also innovators. That can only happen through exposure and education.

I'm still investigating universal basic income and universal basic assets as a viable option for Detroit. Detroit's a great city to try and incubate these forward-thinking ideas simply because we have some extensive challenges to tackle. I believe in not just trying to catch up with the rest of the world but to really push the envelope and be as radical in how we solve and address these issues.

There seem to be certain expectations from government institutions about how art might save the city. What are your thoughts on this?

In Detroit, the creative industry has no representation or voice in city government. I would like to see Detroit invest in the creative economy by establishing a cultural affairs department. Because of the lack of representation, the mayor and his administration seek to penalize and ignore artists who are working diligently to usher our city into the future.

Artists working in Detroit are very civic-minded and tend to support and/or work within our vibrant social justice community. The intersection of art and activism is what will "save" the city, increase the quality of life and encourage innovation.

How is the internet helping or hindering your work? Do you see it as a positive tool to challenge dominant cultural narratives or a hindrance that simply endorses the status quo by presenting our own version of the present world?

The internet is quite diverse so the narratives within it vary greatly. The internet does help in creating and strengthening communities, which has expanded the reach of movements of change like Black Lives Matter and Afrofuturism. Social media, in particular, is a very important tool for this reason.
What challenges will you be facing in your work over the next seven years?

I think I will face the same challenges in seven years as what I'm tackling now, race and class inequities because of institutional racism and white supremacy. I believe that the emerging technologies of the now will mimic the current systems by encouraging a class divide if we don't do the work now to decolonize our minds and the systems that rule our world.

How do you imagine the city of Detroit to be in the future?

I dream of Detroit being a global city on par with a Paris or a Johannesburg. Global while still remaining majority black, because oftentimes we think of a cosmopolitan city as being majority white. Also, if city government would stop trying to hold us back and would actually support us, we can lead all global cities in innovation as that's our legacy. To be a driving force in innovation with more citizen-driven projects that are supporting us—that's what's exciting.
Find more of LaFleur's instrumental work and events in the city of Detroit on both her website and the Afrotopia site. This month she will be speaking at IAM Weekend 18, Subversion of Paradoxes in Barcelona. Find out more about the series of weekend talks here.
Longtime collaborating partners and friends of Freunde von Freunden, IAM founders Lucy Rojas and Andrés Colmenares aim to introduce their audience to such visionary characters; speakers also include Pinar Yoldas.
Text: Andie Cusick for FvF Productions
Photography: Nick Hagen for FvF Productions