Maike Cruse doesn't have time for morning rituals, leisurely breakfasts or long showers. Once she has taken care of her two children, the director of Gallery Weekend Berlin and abc (art berlin contemporary) art fair jumps straight onto her bicycle and starts her journey into work.
"I'm usually already on the phone when I'm cycling," she admits with a laugh during our chat. It's a remarkable testament to Maike's passion for her work— it takes just ten short minutes through the park at Gleisdreieck to get to her office on Potsdamer Strasse.
Maike works here with two colleagues, and together the trio are a well-oiled machine. Mutual trust and years of experience mean the team can often approach things without all the red tape. If you can make the rules, you can also bend them creatively, conjuring up new ideas at the last minute. The freedom to work unconventionally within a successful format like the Gallery Weekend is a luxury, which the former communications manager of Art Basel appreciates. For Maike, the two events she heads are all about the content: "What I find interesting about art are works that open people's minds."
Spending the day with Maike, we delve into her passion for art, career background, and the Gallery Weekend Guide, which makes its first appearance in 2016 with the support of Audemars Piguet.
Berlin as a developing art capital
A walk through the park at Gleisdreieck
We start our tour in the south part Gleisdreieck park, passing Station Berlin on our way to Potsdamer Strasse—the venue of the abc art fair. At every turn along the way, Maike has something to add about new little details and is visibly excited about the diverse possibilities for using the park.
What makes Berlin so engaging for you?

Maike Cruse: So much is moving forward in Berlin. For example, I find what's going on here in the park at Gleisdreieck and around Potsdamer Strasse particularly interesting. Especially from the perspective of the art world. In recent years a completely new art centre has developed here with established galleries like Esther Schipper, Guido Baudach and Blain Southern and young galleries like Tanya Leighton, Supportico Lopez or Micky Schubert. There's a lot of potential for tension and development, enhanced by all the creatives who are moving to the city from all over the world. It's also true of selling art. Berlin used to be a weak art market, but now lots of collectors have moved here and young people are also starting to collect art.

There are lots of new galleries, but also lots of new independent project spaces. How successful do you think they will be?

The sheer number of project spaces is unbelievable. I think there are about 130 of them by now. That's great of course, because they are places where curators, artists and critics can experiment. It really suits Berlin and shows the city in a great light. It's developing so quickly that it's difficult to keep an overview of it now. But I think that this is exactly what has to happen to stop these project spaces from being institutionalized, meaning they keep their energy.

Can you tell us about your path in Berlin and how you became director of Gallery Weekend and the abc art fair?

My favorite spot in Berlin was always Die Kunst-Werke [KW]. I've actually seen every exhibition there since the start of the '90s and always wanted to work there. So after studying, I moved to Berlin, went into the KW and asked if I could work there. They said, 'You can start tomorrow with an internship'. That was in 2001. It was still fairly chaotic back then. Then, one thing led to another and the whole institution gradually became more professional. I was the press officer for KW and the Berlin Biennale. At the same time, I had my own exhibition project in Kreuzberg, "The Forgotten Bar Project", where we did a different exhibition every night for a whole summer. Then more international projects followed with a group of artist friends.

You switched to Art Basel later on, right?

Yes, I was asked if I wanted to take the job of communications manager by Marc Spiegler [director of Art Basel from 2007]. After three years there I came back to Berlin and was approached by the gallerists—who had founded and were running abc and Gallery Weekend up until then—whether I would be interested in running the abc art fair as director. Later on I took on Gallery Weekend as well.

In light of your career, we're interested to know: What does success mean for you?

I am only successful when everyone else is. If an exhibition looks good at the abc, when the architecture works and particularly high-quality exhibitions take place at Gallery Weekend. And, finally when collectors, curators and museum people from all over the world come to Berlin and art is bought. From my observation point, I inevitably always keep an eye on what is not going well. I'm always working towards making things even better.

How did you choose the galleries that we are going to visit on our tour?

The galleries that we are going to visit are both located near my office. Alfons Klosterfelde from Klosterfelde Edition took over the gallery a few years ago from his mother. He runs it very confidently and has a lot of plans for it. Société is a younger gallery that started as a project space. It has a very independent, specialized program with its own base of artists like Bunny Rodgers, Timur Si-Qin and Trisha Baga, which is building up over time.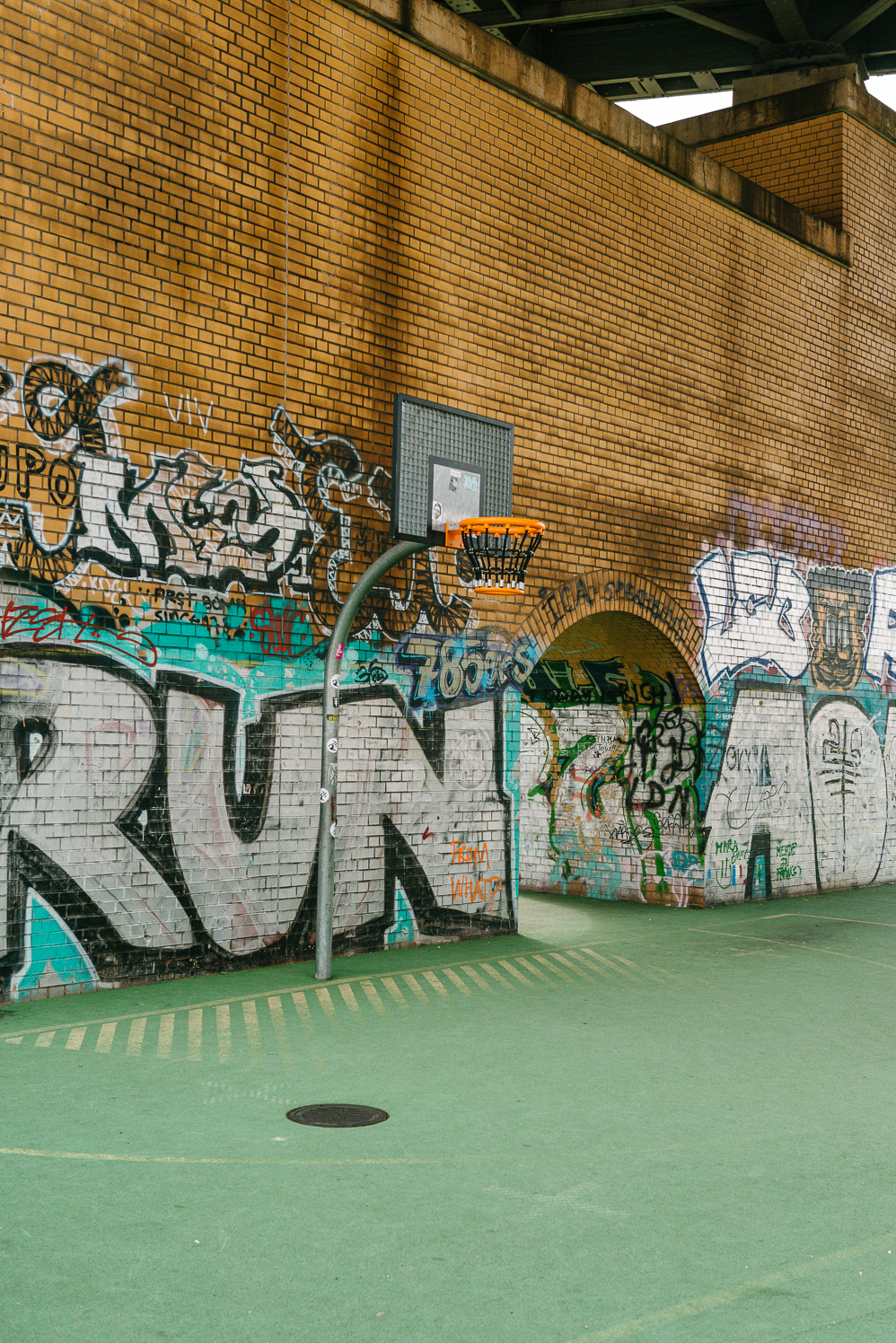 On the other side of the establishment: Société
Near Maike's office on Potsdamer Strasse we make a little detour onto Genthiner Strasse. Société, the gallery we are visiting there, is hidden away on the first floor. Next to Société an exhibition of the artist Bunny Rogers is being prepared, which will take place before the Gallery Weekend and can therefore only run for two weeks. This unusual time management highlights the unofficial motto of the gallerist: Anything he likes is allowed. It also demonstrates his unending support for artists he believes in.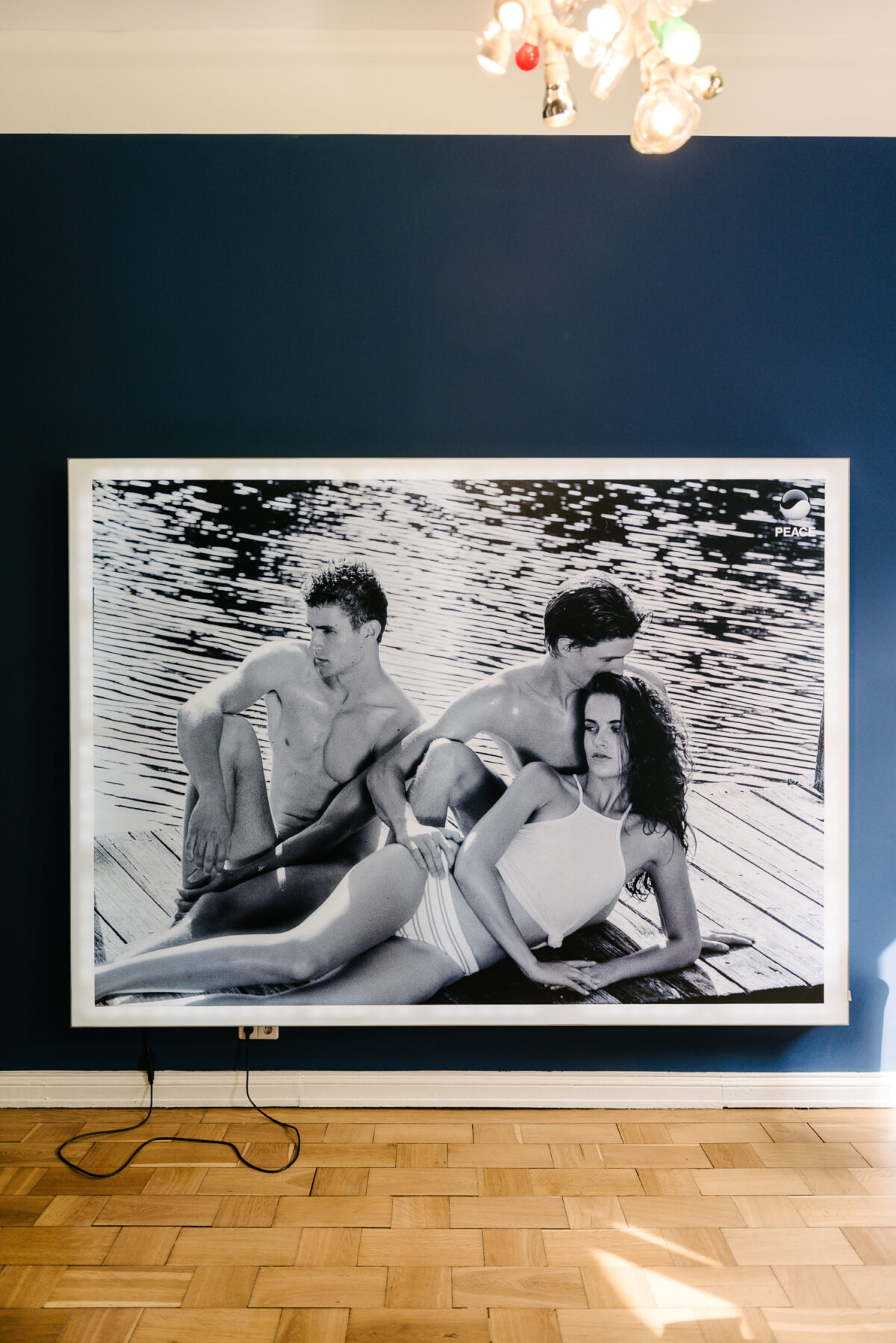 "The Gallery Weekend is Berlin's most interesting two days."
What does the Gallery Weekend and Berlin mean for you as a gallery?

Daniel Wichelhaus (Société): I think the Gallery Weekend is the weekend that most attracts international visitors to Berlin. So I would also say that it's Berlin's most interesting weekend. The city is generally a good location: You can do your projects relatively unceremoniously here.

What are you exhibiting for the Gallery Weekend this year?

We are showing the work of the artist Petra Cortright, especially her work with video.

How long has "Société" existed and what is your focus?

At first we didn't have any premises and just started to do projects. We have existed as a gallery for about four years. I am most interested in artists of my generation – strong characters who operate independent of styles and trends. I enjoy implementing things in direct collaboration with the artists, independently designing my program and taking these steps with the artists.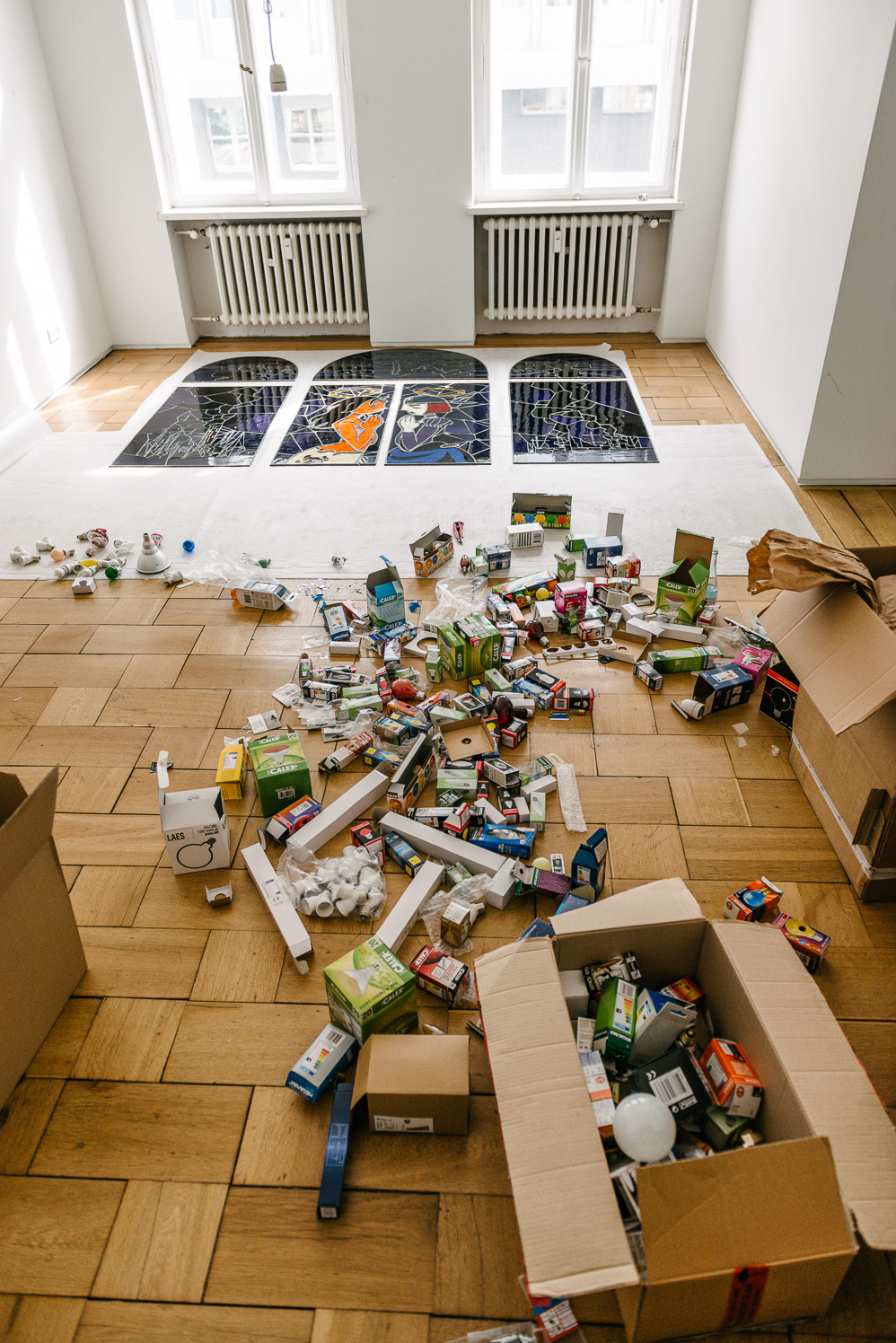 Culinary art and editions: Helga Maria Klosterfelde Edition
After visiting Société we return to Potsdamer Strasse. Alfons Klosterfelde is already waiting for us, and waves through the big front window of his gallery Helga Maria Klosterfelde Edition. After studying law, Klosterfelde followed his passion for art and trod in the footsteps of his mother, whose gallery he has led for several years. Through the work of the artist Dan Peterman, which he and Maike settle down onto, he energetically shows us that you are absolutely allowed to touch art.
"Everyone is happy when you can celebrate the art and love of art at the end."
How long has Helga Maria Klosterfelde Edition existed and what is your focus as an editions gallery?

Alfons Klosterfelde: The gallery has existed since 1990, founded in Hamburg where I come from. It moved to Berlin in 2006 and we've been in this space since 2010. Lots of our artists are inspired by the premises, which is a lot of fun. Contrary to the traditional gallery, in an edition gallery you are more involved in the idea and production, and the gallery accompanies the production process. The great thing about editions is that the exhibition is more widely disseminated and, depending on run length, more people can participate in the work. There is also a democratic aspect, because works are often cheaper than they are if they're one-offs. We are interested in traditional printing techniques and specialize in screen printing, because it offers great possibilities.

What will you be showing at the Gallery Weekend this year, and what does this format mean for you?

This year we are showing new works by Rirkrit Tiravanija, a Thai artist, who is also linked to the gallery and the family as a friend. He is known for his "Social Sculptures", for cooking for exhibition visitors. Of course it's a challenge to develop an edition work out of it, but we constantly search for challenges. The form of the Gallery Weekend is great, because everyone opens up their doors and it's not just about the exhibitions, but also about the locations and the people. It's loads of fun— it generates a collective energy, because everyone smartens themselves up. And everyone is happy when you can celebrate the art and the love of art at the end.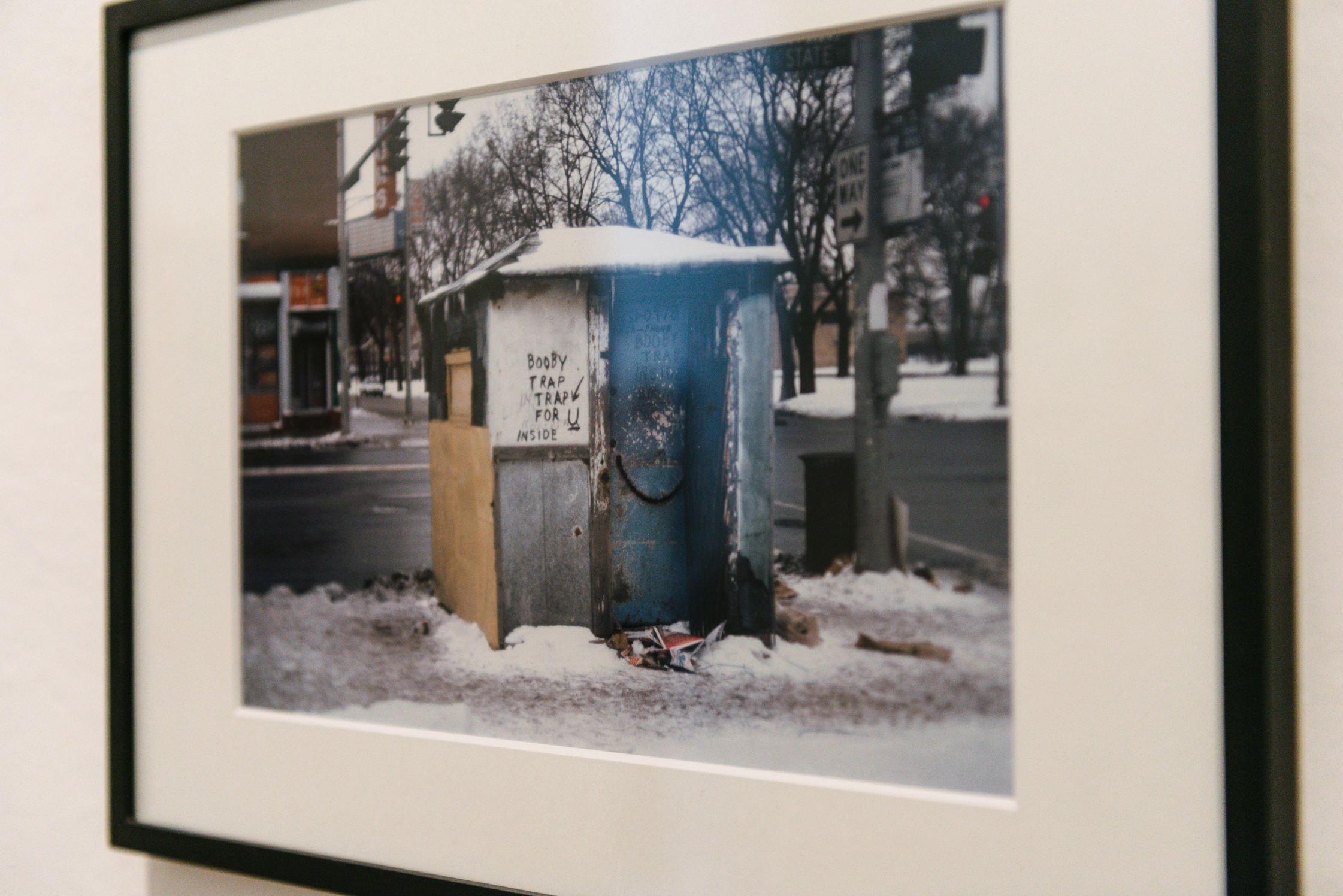 The thrill of staying spontaneous: A visit to Maike's office
Klosterfelde is a stone's throw away from the office of Gallery Weekend and the abc. Maike Cruse and her two colleagues share the historic building in Potsdamer Strasse as a co-working space with other artistically and culturally oriented groups—dogs make a regular appearance too.
"Despite being a big organization, my work is almost playful."
This suits their open-minded attitude and their interest in creating synergies. What particularly stimulates you about your work?

Maike Cruse: We have unbelievably short official channels, we work really closely with the gallerists and can because of this we're able to react very flexibly and quickly to new ideas or changes in the market. At any one time you can do something in a very different, very new way. Berlin is one of the most exciting centres for art and we're right in the middle of it. We connect the international art scene with the city and through Gallery Weekend and abc we develop important formats for galleries and artists. Doing so means our creativity knows no bounds.

How do you choose which galleries take part?

Based on their programs and also the sustainability of the programs. There are about 50 galleries, for the most part the group stays the same, but we also taken on younger galleries, like this year with Gallery Mathew that will present work by Richard Phillips. For the abc you can apply—it  includes international galleries as well as younger Berlin galleries. Both the abc and the Gallery Weekend are formats that want to support  and strengthen galleries.

Do you sometimes miss the ad hoc work? The process of having an idea and immediately implementing it, like the Forgotten Bar Project, for example?

Despite being a big organization, my work is almost as playful as it was in the Forgotten Bar Project. Yes, in that project everything kind of happened from one day to the next – we rang everyone up, everyone did something, and then brought something to it. But the spirit behind the very established formats that I supervise now is similar: first and foremost it's all about being excited about art.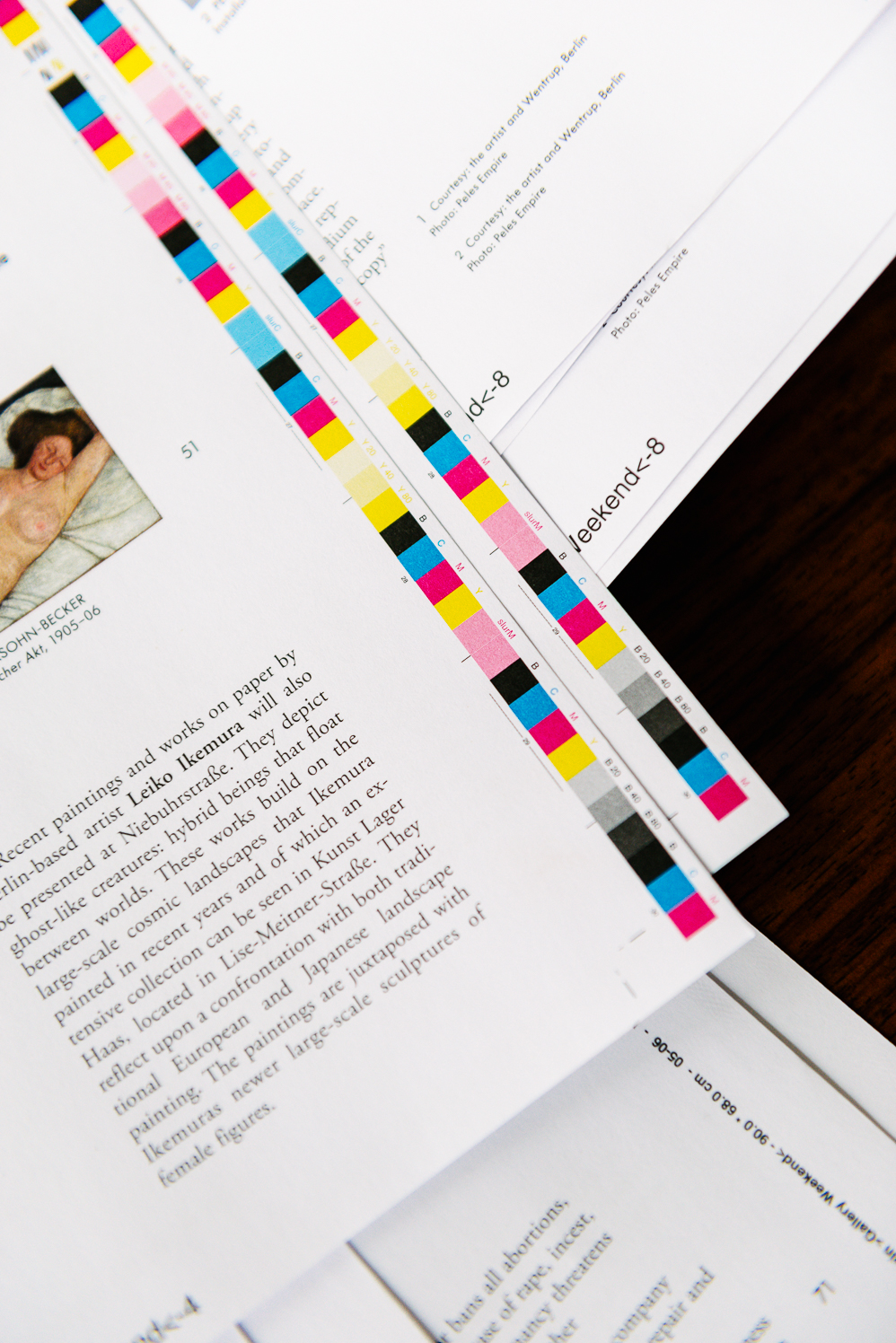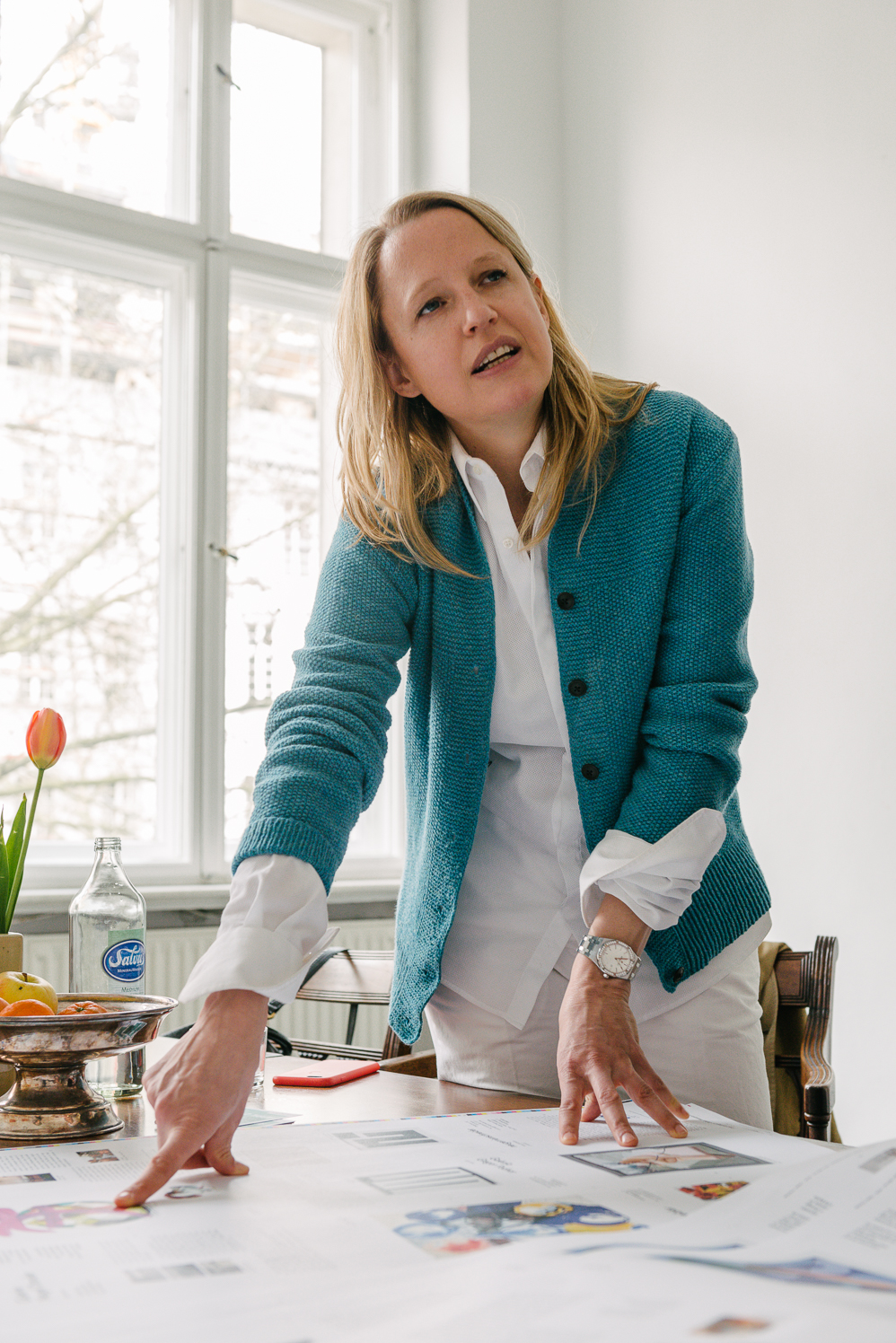 What do partnerships with sponsors mean for you?

The partnerships are really important to us. For the Gallery Weekend we have two main partnerships: BMW, who set up an exclusive limousine service, and the Swiss watchmakers Audemars Piguet. They choose who they want to support very carefully—just as we do with working out which partners are the right fit. We met at the beginning of 2014 and quickly noticed that there was lots of overlap. Audemars Piguet not only demand very high standards of quality in their work, but also an artistic understanding – that connected us. This first good impression was then confirmed by our collaboration, and so this partnership has continued to develop year after year. This is important because without this partnership our event just wouldn't be possible on this level. The same is true of the "specials" which we started doing this year. Like the guide, which we also do with the help of Audemars Piguet—it will be available in all of our exhibitions and will be a big help to all visitors.

Last but not least: How do you organize your time and energy in order to reconcile your family time and all your projects?

Granny, granny, granny (laughs). She often comes to see us in Berlin. Without her it really wouldn't work. My husband is a cameraman and works on films, so he's away a lot. It really is the case that the grandparents have our backs, meaning that we can do everything.