Known for its regional epicurean culture, rustic and refined, the Austrian university city of Graz has an unsuspecting contemporary cultural edge. One just needs to know where to look.
With a range of cafes, excellent restaurants offering superb dining experiences and hidden art and design secrets, Graz is a destination off the established international tourist map. We follow FvF Editor Rachael Vance as she explores the capital of Styria and introduces us to a city that she will always return to.
Set within a green and heavily forested area in the south-east of Austria the city is centered around the ancient hilltop Schlossberg castle. Once local greetings such as 'Servus' and 'Grüß Gott ' have been mastered and you experience the wonders of the local elixir, Kurbiskernöl (pumpkin seed oil), you slip into a positively Styrian way of life.
With a small town feel, Graz is the second largest Austrian city after Vienna. Visitors and residents alike enjoy a contemporary perspective framed within the city's historic context. Labels such as 'City of Design' and 'City of Culinary Delights' are a mere starting point for understanding the rich cultural diversity and interest in this city by the Mur river.
With the well-preserved old town listed as a UNESCO world heritage site and Baroque-era buildings, there is always the option to take in the stunning beauty of yesteryear. As far as history is concerned, Graz has it all: churches, the historic Stadtpark, traditional coffee houses, monuments and palaces such as the elegant residence and grounds of Schloss Eggenberg. Principally, however, it is a city of alluring contrasts.
A sense of romance is complemented with contemporary innovation. The harmonious co-existence of traditional buildings from different epochs are spliced with the face of the new. For locals, the iconic towering Uhrturm (clock tower) is considered equally as important as the prominent and futuristic form of the blue Kunsthaus – often lovingly referred to as the 'Friendly Alien'. With its shiny acrylic facade, it is at once a mixture between a spacecraft and underwater creature that comes to life at night with a programmed exterior lighting display. The steel Murinsel (island in the Mur) structure and bridge designed by the American architect Vito Acconci is yet another example of contemporary visions applied to a historical backdrop.
Moving beyond the city's obvious tourist drawcards, it is clear Graz's palpable joie de vivre infused by the presence of its six universities has been translated in a distinct cultural and cosmopolitan mix. The city's Lend district, west of the Old Town is an up-and-coming area with a vibrant nightlife and distinct creative energy.
Graz's emphasis placed on locally grown produce, specialities and wine from surrounding areas make it a must for any foodie or wine lover looking for a relaxed, peaceful, and at times, indulgent getaway.
Stadtpark/Park House
Located in the City Park of Graz the Park House is a heritage listed pavilion. Once used as a milk bar, today it is a sought after meeting place as a cafe by day and bar and music venue by night. On warm summer evenings the party spills outside into the park where regular concerts are held.
Kaiser Josef Bauern Markt
Demonstrating the strong local food and wine culture, Graz has 14 different farmers markets and the most market days in all of Europe in the calendar year. There is no excuse for eating anything other than fresh organic produce at the Kaiser Josef Bauern Markt and no mistaking that when farmers come to town, there's tasty fare to be had.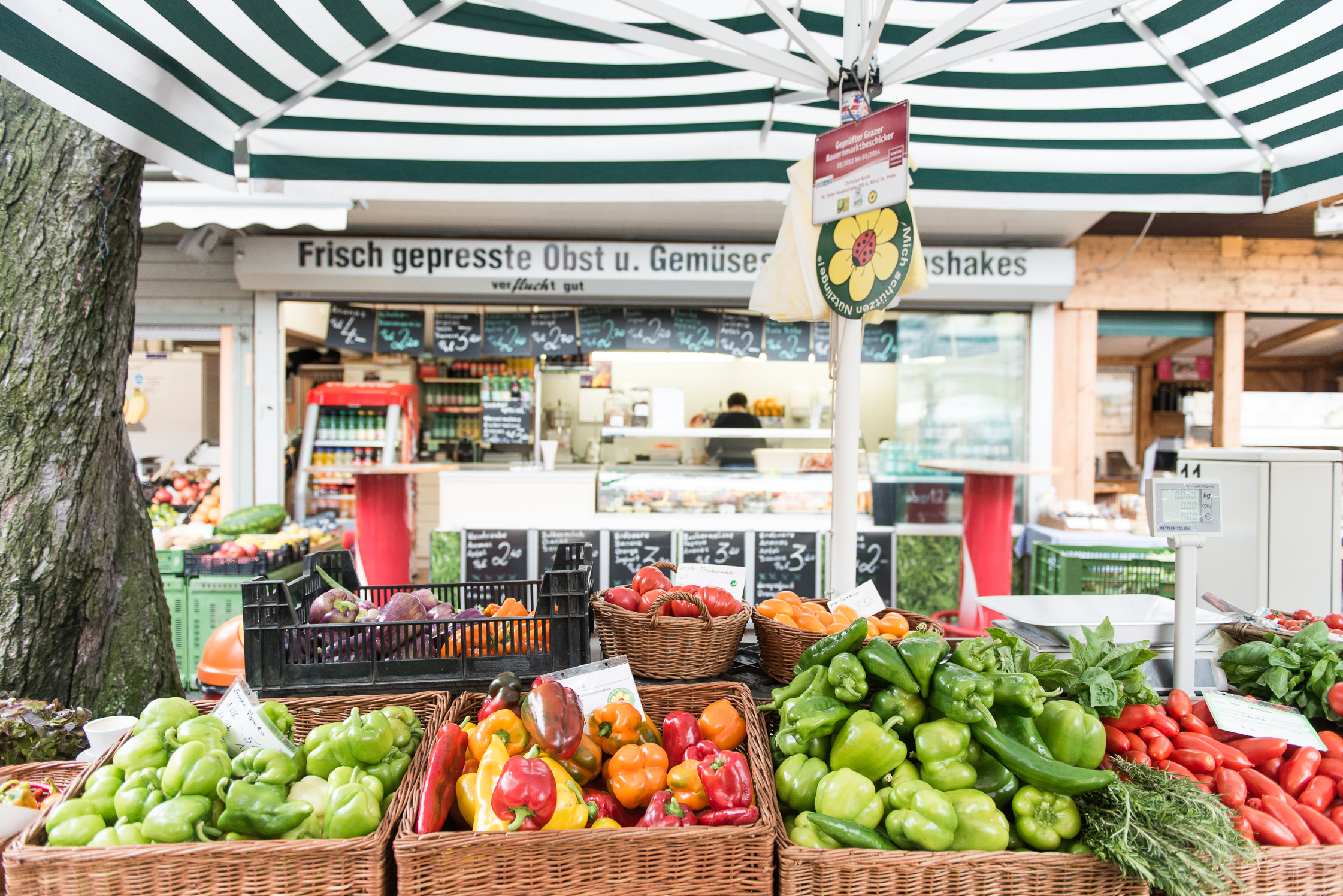 For a traditional market experience the market on Kaiser-Josef-Platz is a good place to start. Farmers display their delicious wares direct. From the prized luxurious staple for any meal, Kürbiskernöl, to holunderblütensirup, marmelade, Bergkäse, cured mangalitza speck, sausages, freshly cut flowers and seasonal fruit and vegetables, it is a feast for the senses.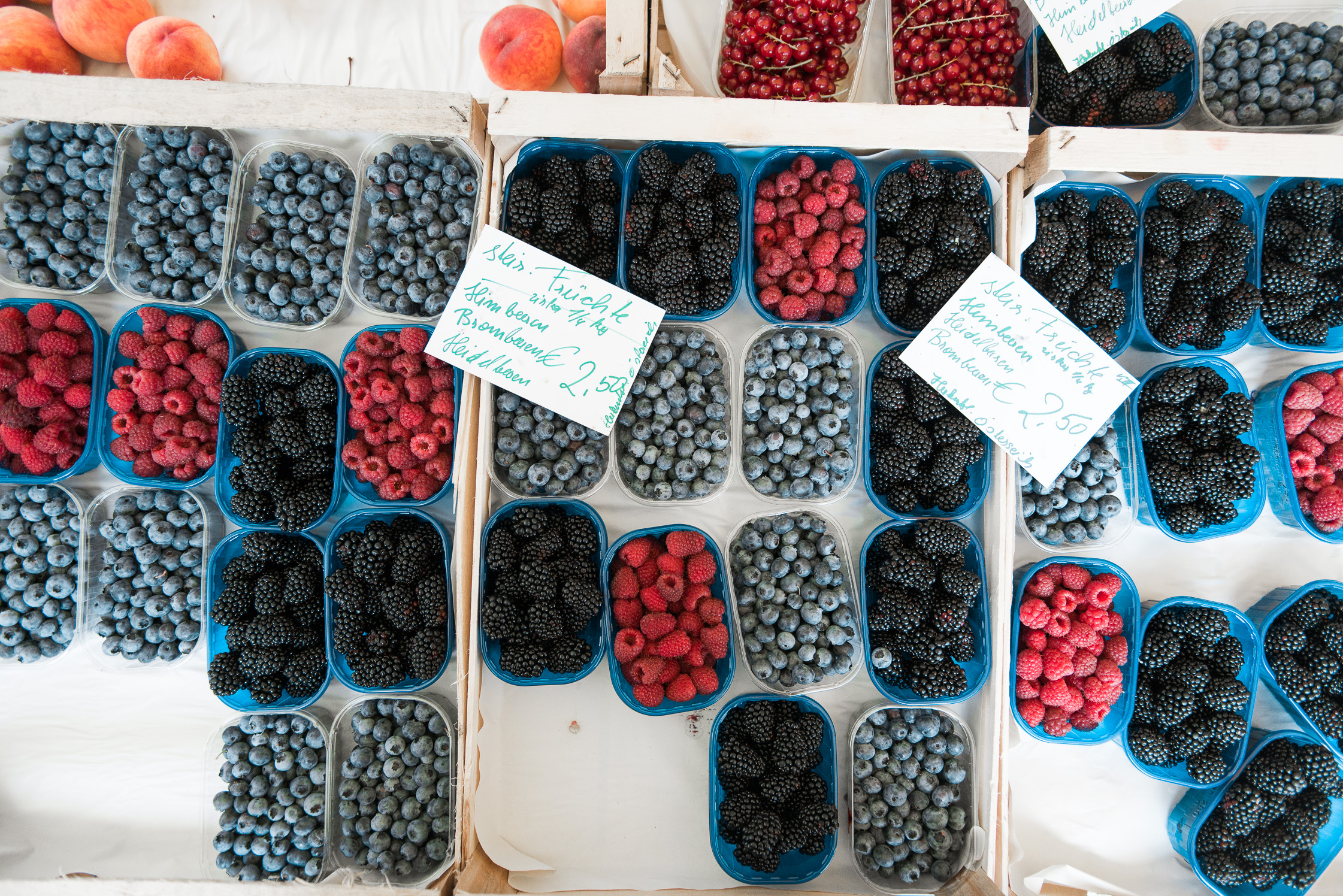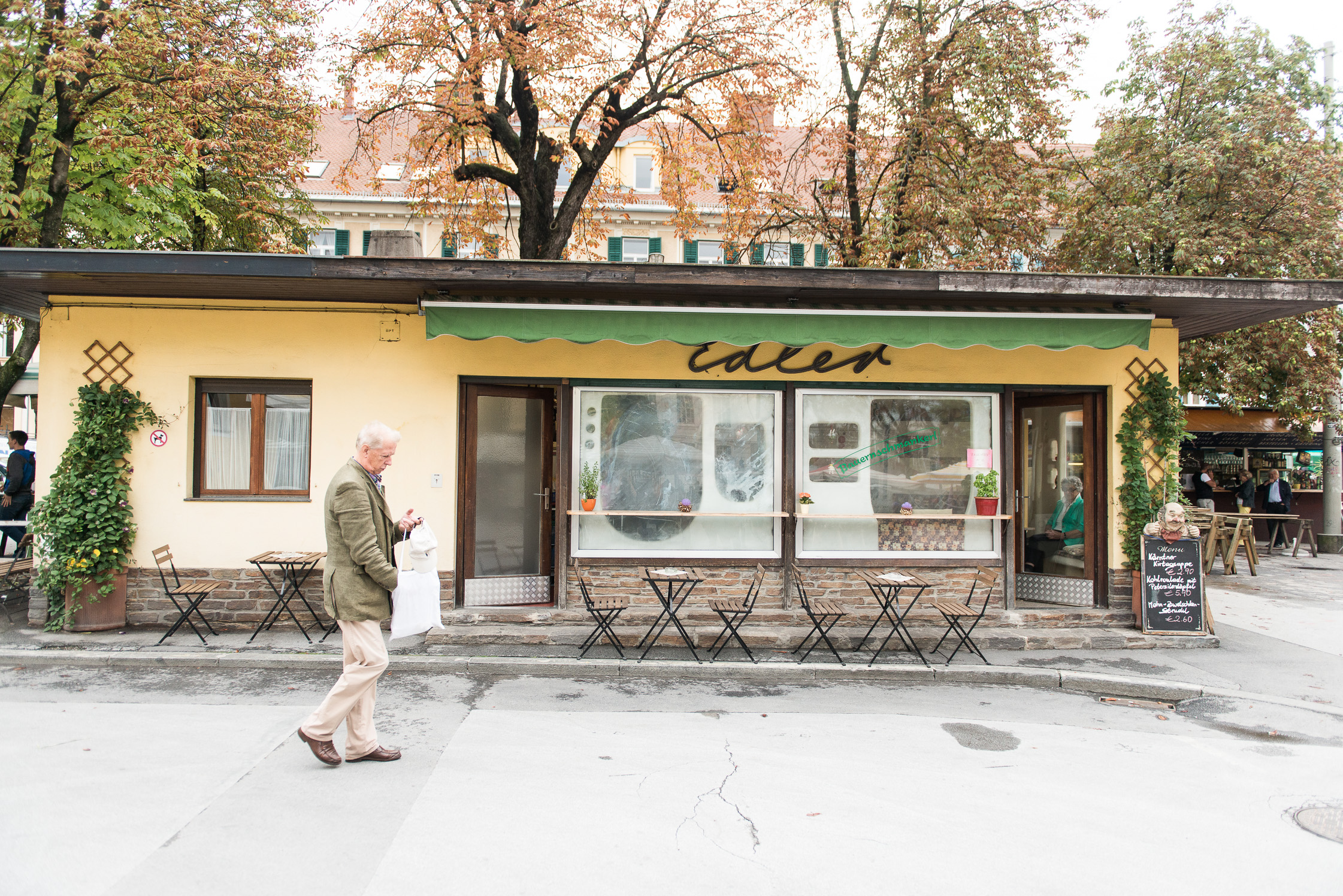 Surrounding area
Graz's refined culinary culture is a way of life and reinforced by the countless Buschenshänke (wine taverns) dotted across Styria that serve local wine and food for any hungry and thirsty pleasure seeking traveller. Styria is also known as a spa retreat region, with a range of exclusive luxury refuges for that perfect downtime. An outstanding local secret is Loisium Wine and Spa Resort in South Styria with its emphasis on combining local wine and food with wellness.
Cafe Mitte
No city trip to Austria is complete without a coffee house experience – this is also true in Graz. Just one of Graz's many surprises, Cafe Mitte is a relaxed spot for a coffee, delectable cake, beer or even an Asian inspired dish. With live music throughout the week, an ad-hoc in house library and the offer of free haircuts on specific nights, the subdued space with staggered bench seating reinterprets coffee culture. A popular spot for the Grazer hipster scene. Continuing on the coffee trail, Blendend is another extremely popular newcomer worth checking out.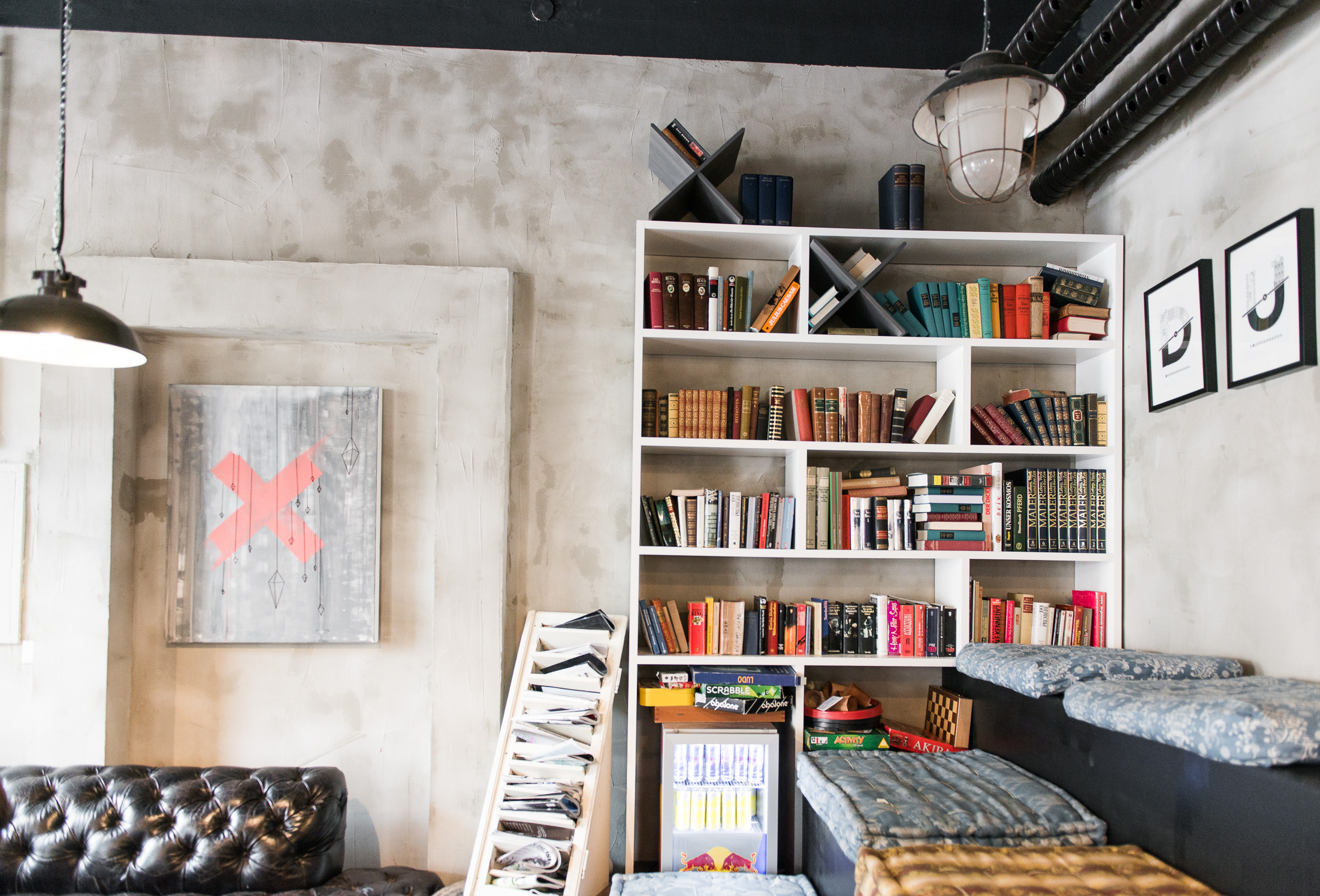 Freiblick
The best place to take in a view of the city's rooftops in style. With an outdoor decking filled with umbrellas, Freiblick offers a 360-degree vantage from morning until late afternoon. With stunning views over the old town, it is a must for first time visitors to Graz. Located atop the Kastner & Öhler department store, Freiblick's entrance is for those who know. This popular lunch spot is the perfect spot to sip on an Aperol spritz or sample some dishes from the à la carte menu. Inside, leather and wooden chairs fill the angular loft interior.
Der Steirer Shop
Endearingly Styriancentric words from the local vernacular have been given new life and a contemporary spin in the context of the Der Steirer Shop that prides itself on stocking the very best of Styrian produce. With an emphasis on wine, from the local Sauvignon Blanc, Gelber Muskateller and Morillon, it is a treasure trove for wine lovers.
Additionally, there are books, schnapps, plants, gardening tools and of course a multitude of different brands of Kurbiskernöl! The shop is attached to the restaurant Der Steirer which dishes up regional classics reinvigorated in the form of tasty Styrian tapas. All wines on the menu can be paired with the dishes and later purchased in the shop after your meal.
Frankowitsch
This brötchenbar is a cut above the rest and somewhat of an institution in Graz. Frankowitsch is an iconic deli which has been serving its open sandwiches topped with different types of pâté, cheeses, cured meats and seafood for over 70 years. The perfect informal place to stop by during the day and sample some delicious bite size morsels accompanied by a glass of local sparkling wine. The roast beef or ham with horseradish sandwiches are highly recommended. The adjoining deli sells a range of cured meats, cheeses, olives, oil and wine when you are in search of some special delicacies for home. With its range of chocolates and cakes from ganache to Topfensoufflé, Frankowitsch also accommodates those with a sweet tooth with its Patisserie.
Laden 21
Hidden down a small lane off Schmiedgasse in central Graz up some winding stairs, many designer treasures await. Laden 21 is a furniture, lighting and homewares boutique that stocks a curated selection of work by local and international designers. Quite simply, owner Alexa Holzer presents a range of living concepts, promoting the work of makers that align with her own personal style. Discernible by the color swatches and design sketches lining the walls of the office, Laden 21's team of experienced architects, furniture-scouts and interior designers also work on a range of projects for clients and products for the store on site at this subdued gem of a showroom.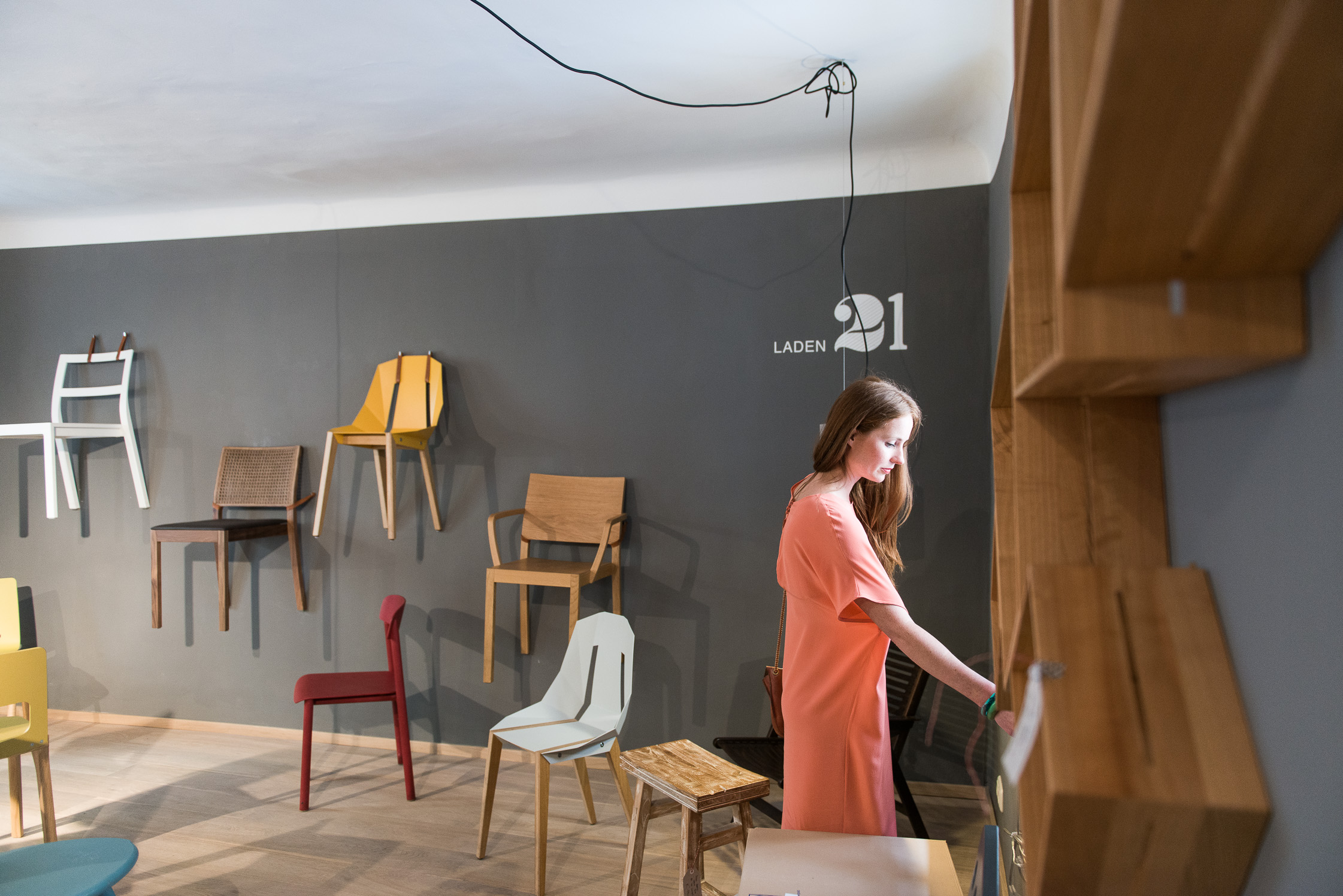 Downstairs you will find the cafe and gift store Tischlein Deck Dich that stocks a myriad of small collectables and gifts in addition to a delectable cake selection.
Speisesaal/Hotel Wiesler
Connected to the hip boutique Wiesler hotel, acclaimed for its successful reinterpretation of contemporary luxury and synthesis of tradition and innovation, Speisesaal – which translates as 'dining hall' – transcends expectations of a conventional 'restaurant hotel'. Overlooking the Mur with views of the Schlossberg, upon entering via the hotel's reception visitors are at once welcomed by a golden Art Nouveau Klimtesque ceramic frieze by artist Leopold Forstner that is echoed within the restaurant in the form of a wall painting by local street artist Josef Wurm.
"I'm sorry for what I said when I was hungry" is one of the first things you read in the menu at Speisesaal. With this youthful, tongue in cheek attitude that extends to their urban chic interior, rotating list of performing DJs and forward thinking dining philosophy, Speisesaal is a local favorite. The selection of mouth watering dishes for both the vegetarian and meat lover alike – with pulled pork sandwiches and arguably the best charcoal grilled burger in town – served with Ottolenghi inspired salads, furthers their fresh approach to food.